This post may contain affiliate links. Read my disclosure policy.
This homemade Sweet Potato Shepherd's Pie is an easy weeknight dinner filled with hearty beef and tender-cooked veggies, baked beneath a buttery mashed sweet potato topping. It's a flavorful, healthy twist on classic shepherd's pie!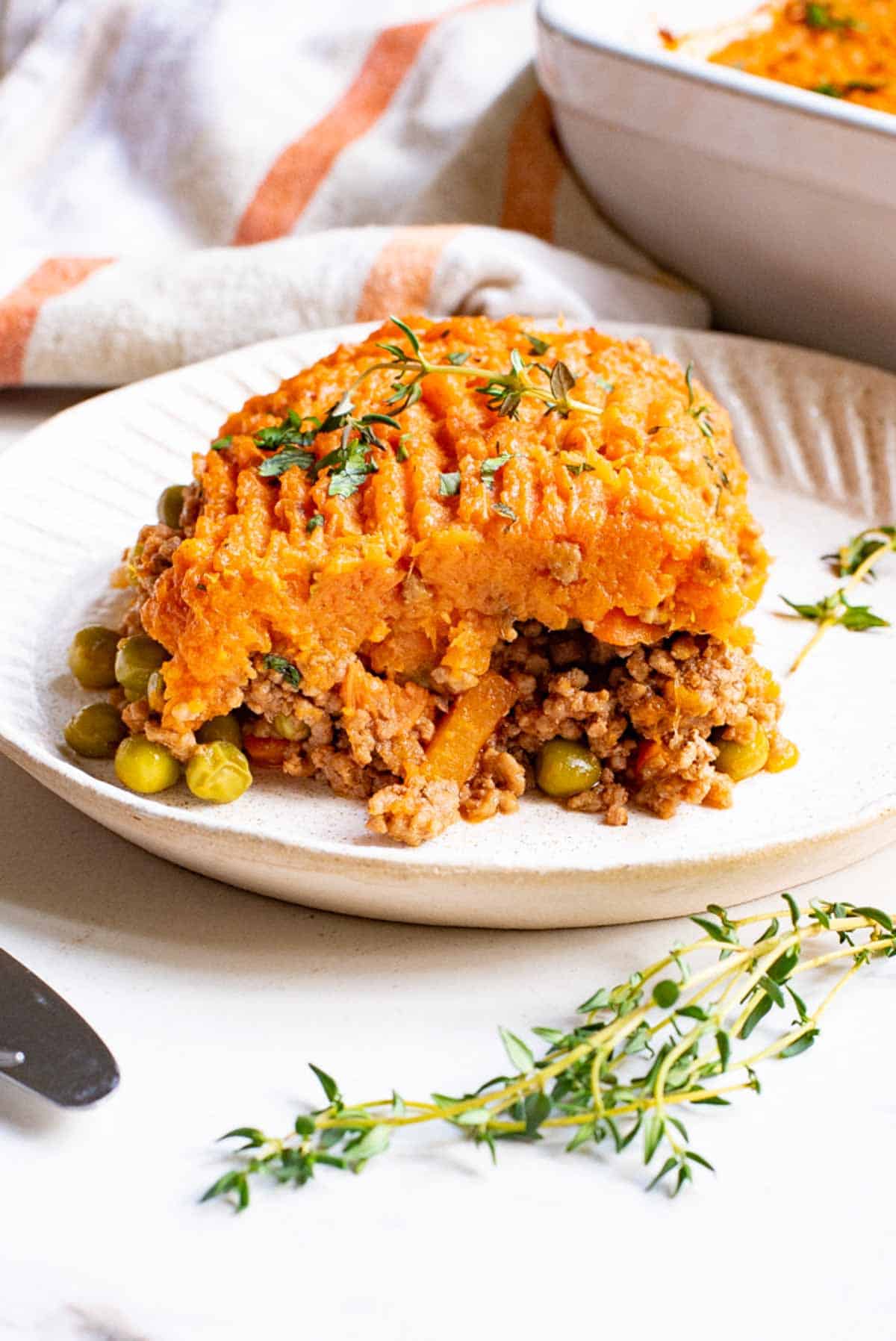 Healthy Homemade Sweet Potato Shepherd's Pie
This recipe for sweet potato shepherd's pie is a hearty and balanced gluten-free dinner that's perfect for weeknights. It's the purest form of comfort food, and it's good for you, too!
Making this shepherd's pie with sweet potatoes is a fun twist on a classic family recipe. It's an easy ground beef shepherd's pie made with a filling of flavorful meat and veggies, topped with a crust of smooth and buttery mashed sweet potatoes. It's assembled and bakes up like a casserole, and I'll always make this in the wintertime when cold evenings call for hearty meals that stick to your ribs.
You're going to love this homemade shepherd's pie recipe (I list the reasons below). My family always goes back for seconds and thirds!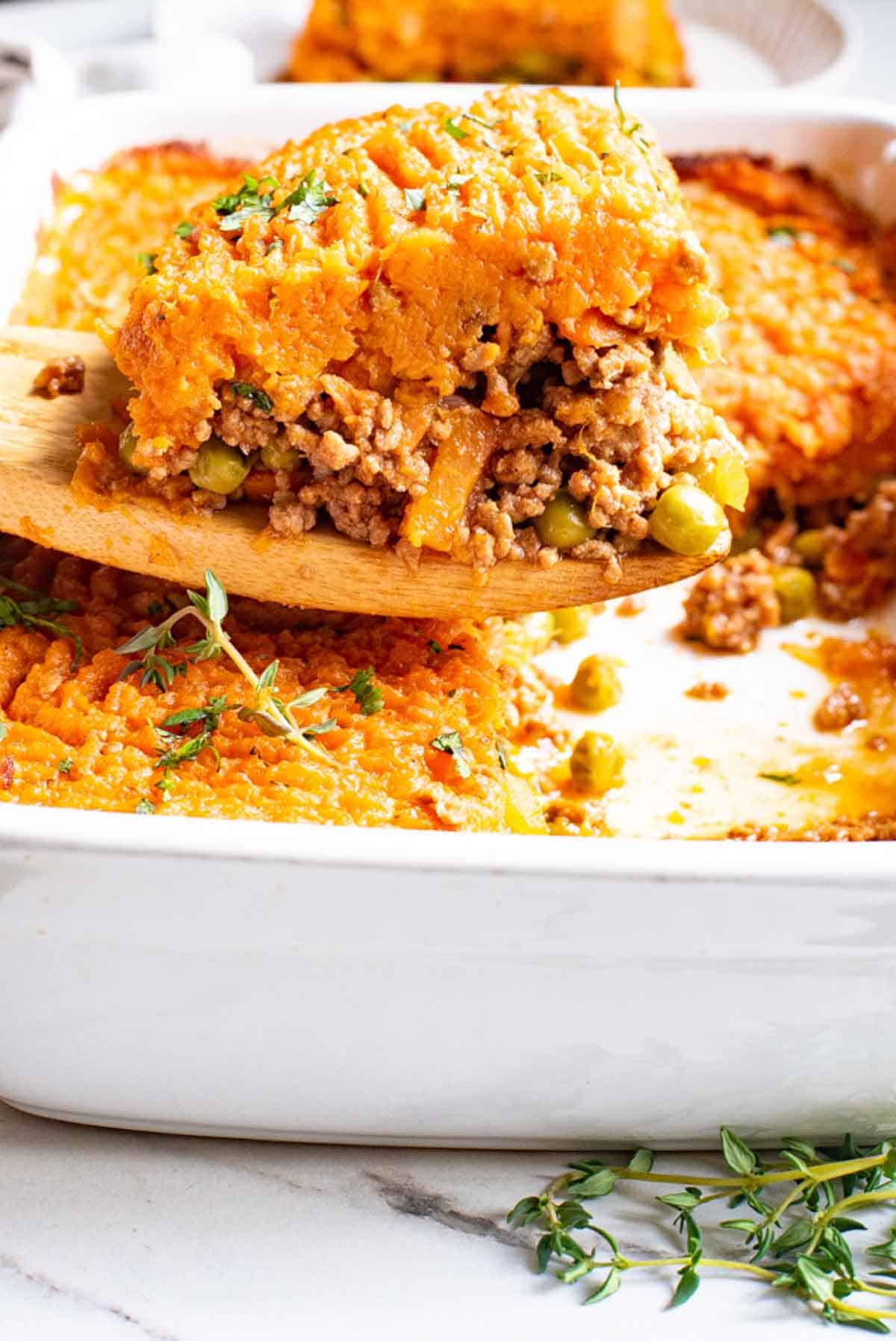 What Is Shepherd's Pie?
Shepherd's pie is a traditional dish from the UK, originally made with lamb (with reference to the "shepherd") and veggies in tomato gravy. The filling is then baked in a casserole dish beneath a layer of mashed potatoes. Shepherd's pie is also called cottage pie when it's made with ground beef like in my Classic Shepherd's Pie, and also this recipe.
There are loads of variations out there, but this sweet potato shepherd's pie is one of our favorites.
Why Sweet Potatoes?
Shepherd's pie is a wonderful way to get in your daily dose of protein along with some sneaky veggies. Using sweet potato mash in place of regular mashed potatoes adds tons of flavor, with the added bonus of sweet potato's healthy benefits. There's a whole lot to love. This recipe is:
Easy and festive. This easy shepherd's pie recipe looks great, smells great, tastes great – basically, a feast for the senses. Nothing brings cozy vibes like a home-baked shepherd's pie.
Flavourful. The subtle sweetness of the mashed sweet potato topping paired with the rich and savory beefy filling is just plain irresistible.
Healthy. Sweet potatoes are one of the healthiest foods, packed with vitamins, fiber, and antioxidants. They're also lower in carbs than regular potatoes.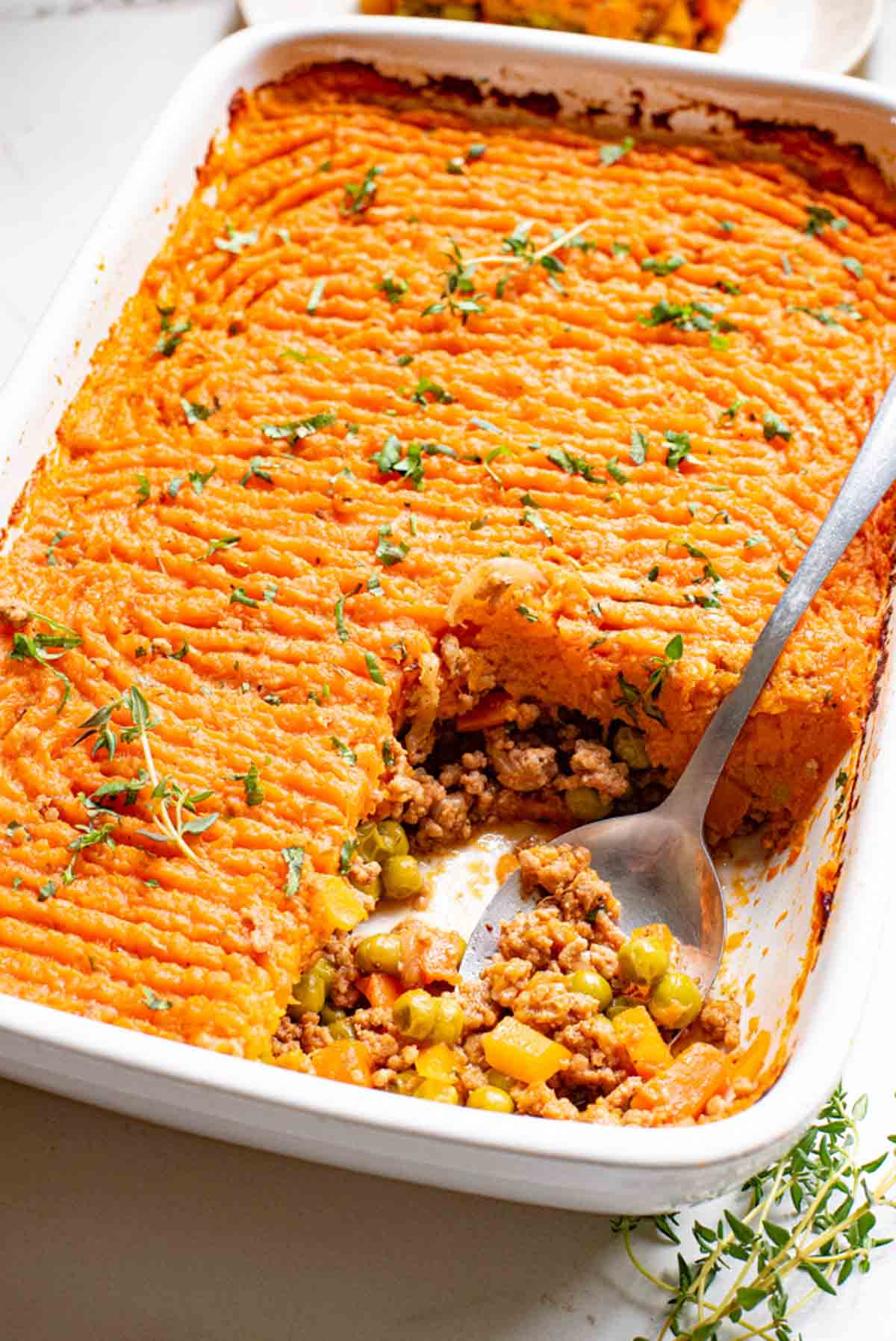 What You'll Need
Below you'll find the necessary sweet potato shepherd's pie ingredients. I've given a brief overview, but make sure to refer to the recipe card for the full details.
Sweet Potatoes: You'll boil and then mash the sweet potatoes with butter for the topping.
Seasoning: To enhance the flavor of the sweet potatoes, I toss in a pinch of Italian seasoning, along with sea salt and black pepper.
Onion and Garlic: Necessary aromatics for the beef filling.
Ground Beef: I prefer to use lean ground beef (85-90% lean). This way the filling comes out flavorful but not too oily. Feel free to use ground turkey for something even lighter.
Carrots: Peel and dice up the carrots beforehand.
Thyme: My favorite herb for beef recipes like shepherd's pie. Adding a couple of fresh, sweet-savory thyme sprigs to the filling ties everything together.
Frozen Peas: Green peas are an easy way to bring extra veggies into the mix while lending a nice pop of color, too. 
Soy Sauce: A dash or two of gluten-free soy sauce, or Worcestershire sauce, brings an additional depth of flavor and umami to the beef filling.
Tomato Sauce: Use your favorite brand of jarred tomato sauce from the store.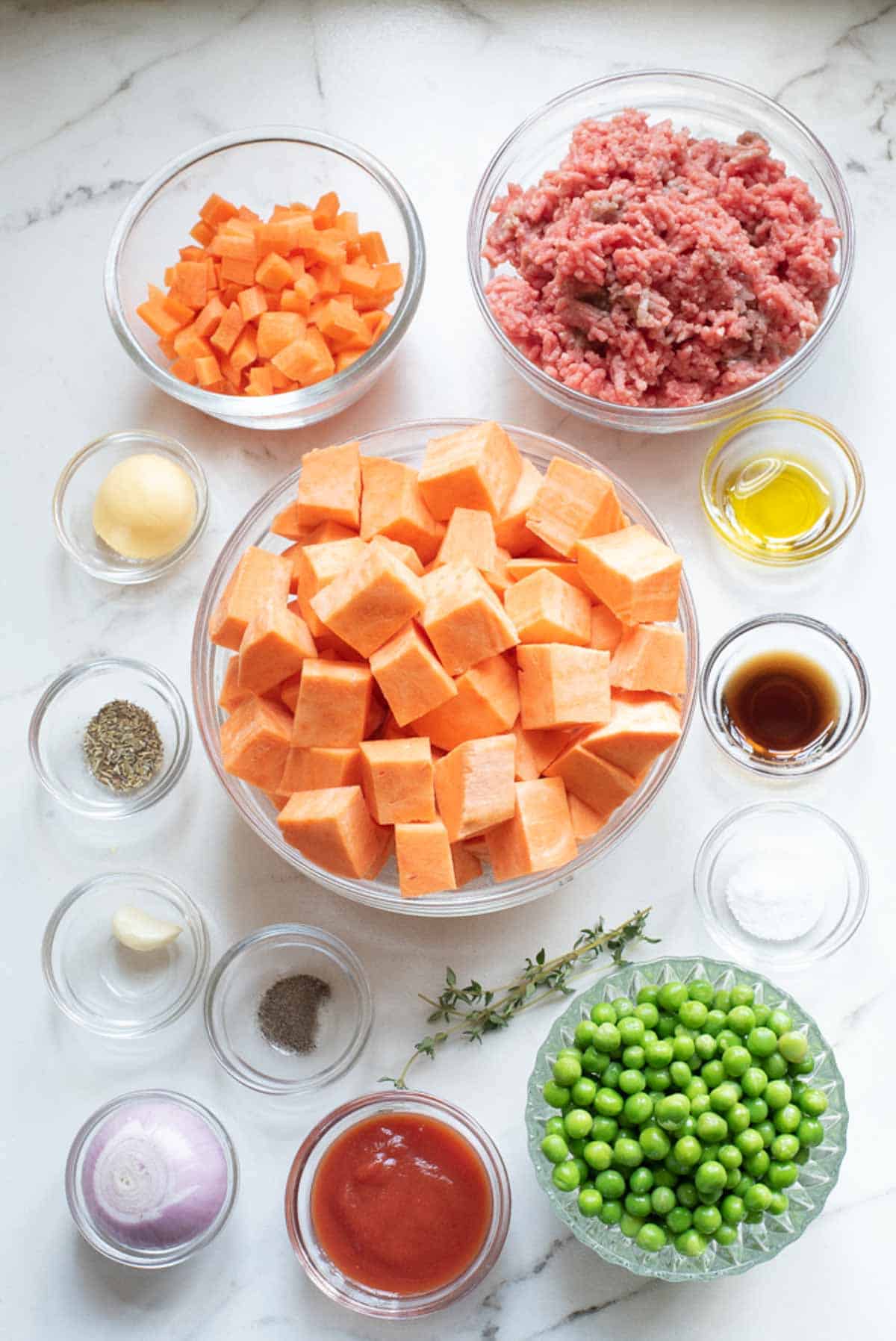 How to Make Shepherd's Pie With Sweet Potatoes
This sweet potato shepherd's pie doesn't take hours of kitchen duty or fancy cooking methods. I take it back to the basics, with delicious results. You can have the filling prepared and the potatoes mashed in the time it takes to preheat your oven:
Boil and Mash the Sweet Potatoes: First, boil the sweet potatoes in salted water for about 15 minutes, or until soft. Afterward, you'll drain the potatoes and then give them a good mashing with butter, salt, and pepper, as well as Italian seasoning.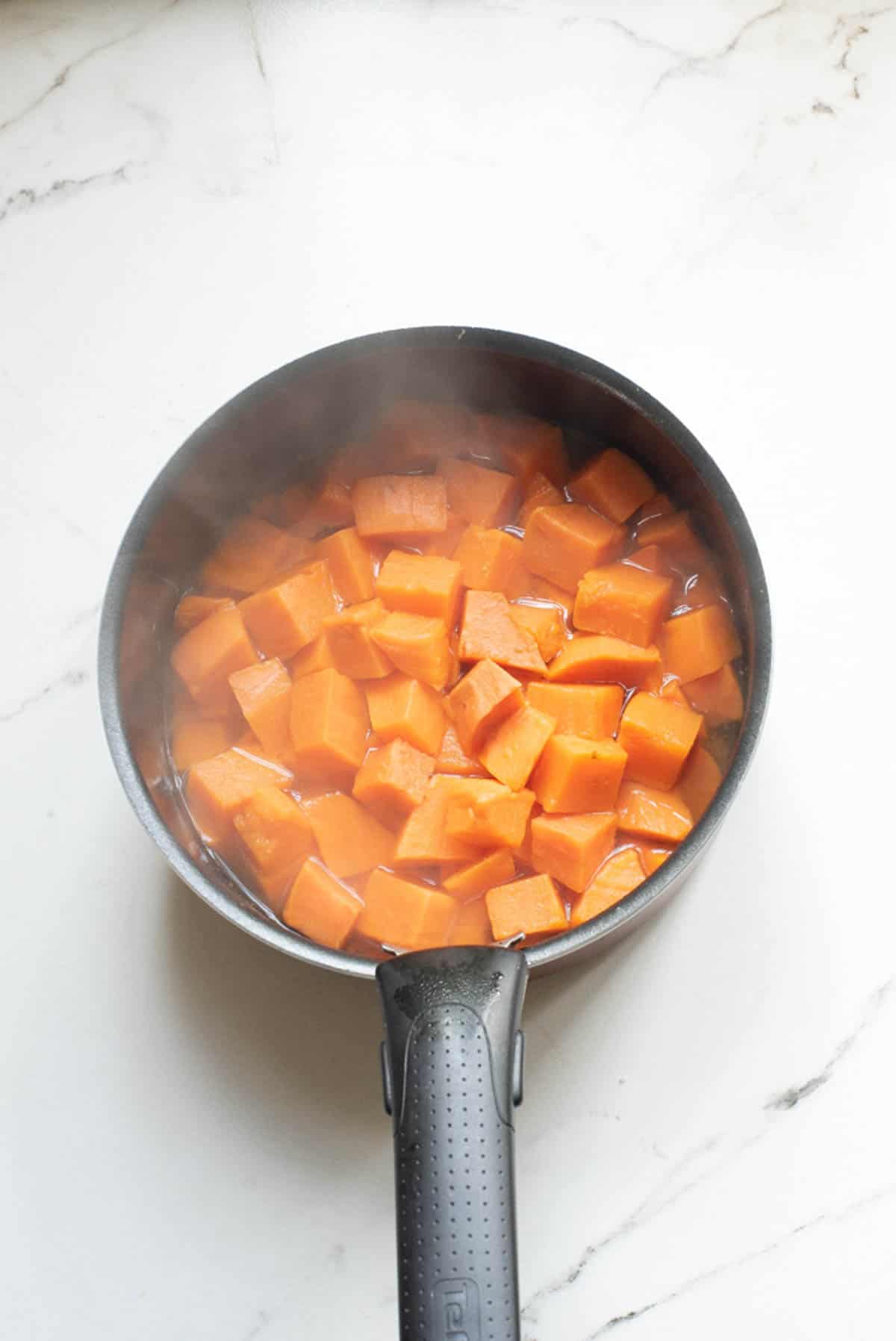 Brown the Beef: Sauté onion and garlic in a skillet with oil, and then add the ground beef. Use a wooden spoon to break up and stir the beef as it browns.
Add Veggies and Cook: After about 3 minutes, stir in the diced carrots. Toss in your thyme sprigs while continuing to stir. Next, add the frozen peas, followed by the soy sauce and tomato sauce. Allow the filling to cook for a few minutes more.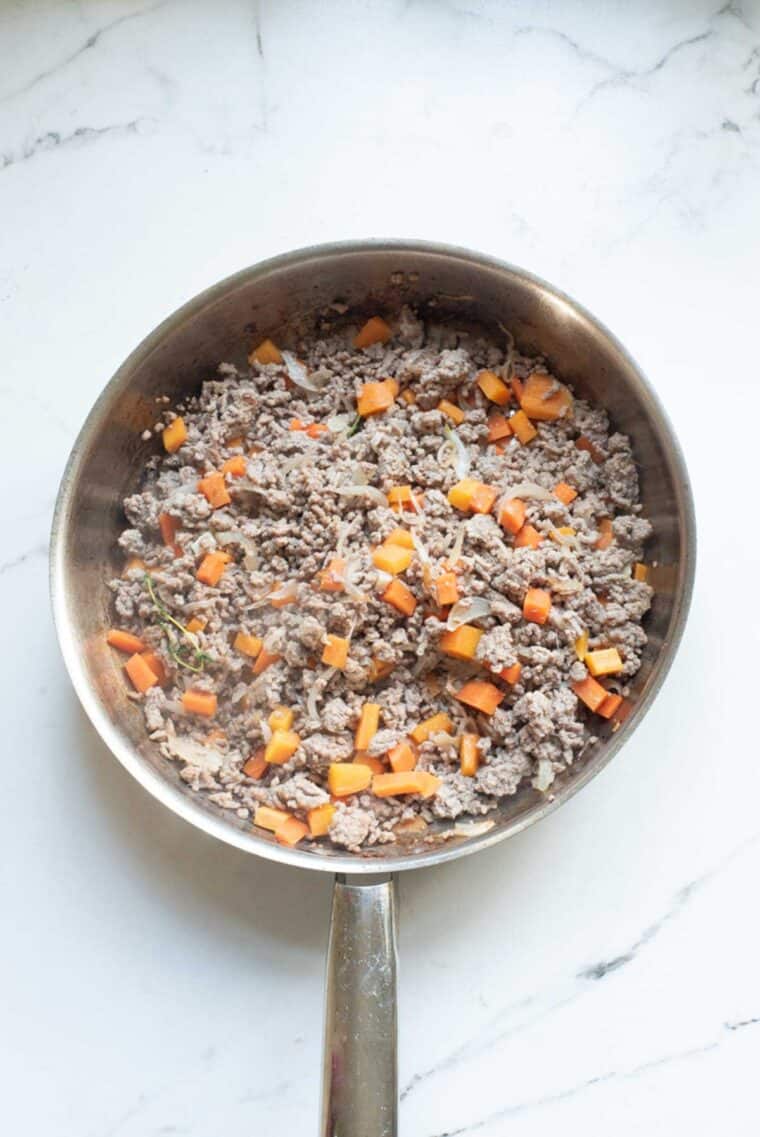 Assemble the Shepherd's Pie: Transfer the beef mixture to a large greased baking dish. Spread it evenly in the bottom of the dish, then top it with the mashed sweet potatoes. Make sure everything is spread out in an even layer.
Bake: Bake your sweet potato shepherd's pie at 375ºF for 25 to 30 minutes. Finally, crack the oven door open a bit and leave the casserole to rest inside the oven for an additional 5 minutes. Then, serve! See further on for easy ways to make this shepherd's pie recipe into a meal.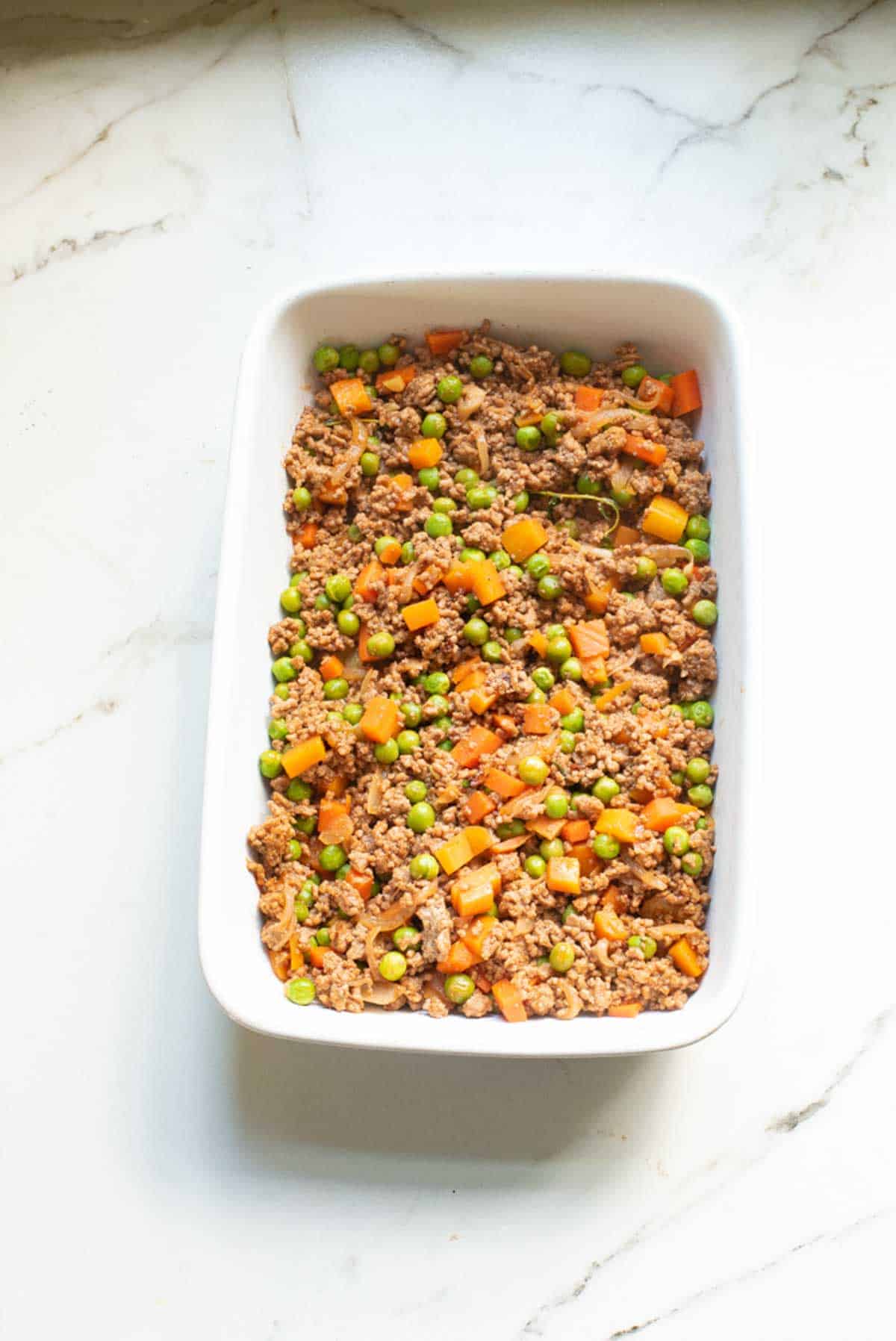 Can I Make this Recipe Ahead?
Definitely! Your sweet potato shepherd's pie can be prepped a day in advance and stored covered in the fridge until you're ready to bake it. See more tips for storing and reheating shepherd's pie below.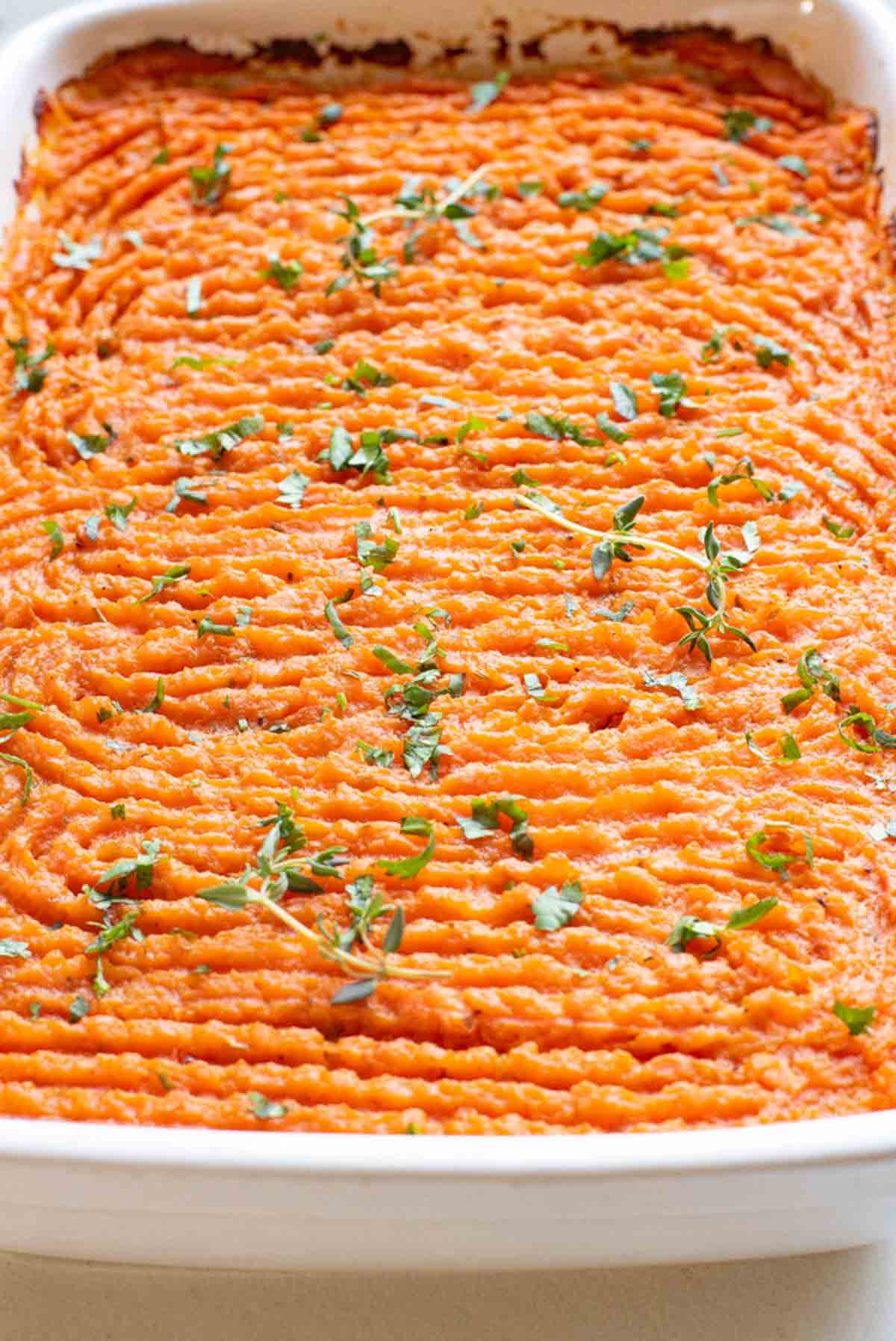 Tips for Success
A homemade shepherd's pie is wonderfully no-fuss, and this sweet potato version is no different. Below are some bonus tips for making the best sweet potato shepherd's pie:
Mash the potatoes while they're hot. This ensures a creamy, smooth sweet potato mash.
Use a fork to draw furrows in the mash. The little ridges will crisp up and brown in the oven, for the perfect sweet potato crust.
If you notice your shepherd's pie is a bit soupy, this could be because you didn't sauté the meat and veggies long enough. Make sure you budget enough time for most of the liquid to cook off.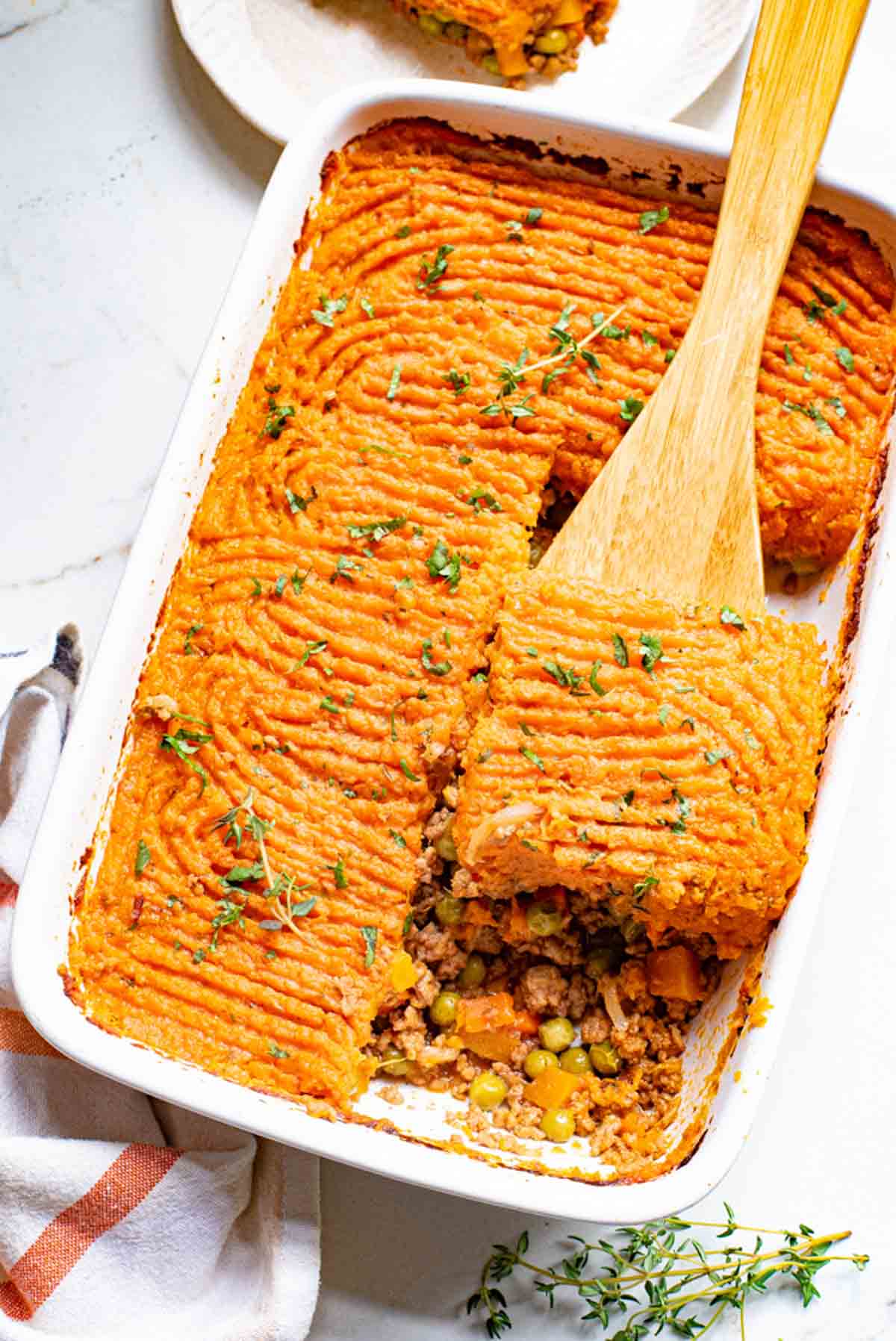 Add-Ins and Variation Ideas
Add Cheese: Top your shepherd's pie with shredded mozzarella or gouda.
Different Protein: In place of beef, make a traditional lamb shepherd's pie, or use ground chicken, ground turkey, or ground pork.
Regular Mashed Potatoes: Swap out sweet potatoes for regular Yukon gold or russet potatoes, as you'll find in my traditional Shepherd's Pie.
Cauliflower Mash: For another low-carb variation, you can also make Low Carb Shepherd's Pie with Cauliflower Mash. Or, for an extra Irish twist, try topping your cottage pie with Cauliflower Colcannon.
In Place of Soy Sauce: Worchestershire is a good alternative to soy sauce in this recipe. You can also use beef broth.
More Veggies: Shepherd's pie filling is a great way to use up any veggies in the fridge! Good options are spinach, bell peppers, mushrooms, zucchini, kale, and celery.
Vegetarian: You can substitute the ground beef in this recipe with cooked lentils for an easy vegetarian version. It can also be made as a vegan shepherd's pie by substituting butter with olive oil.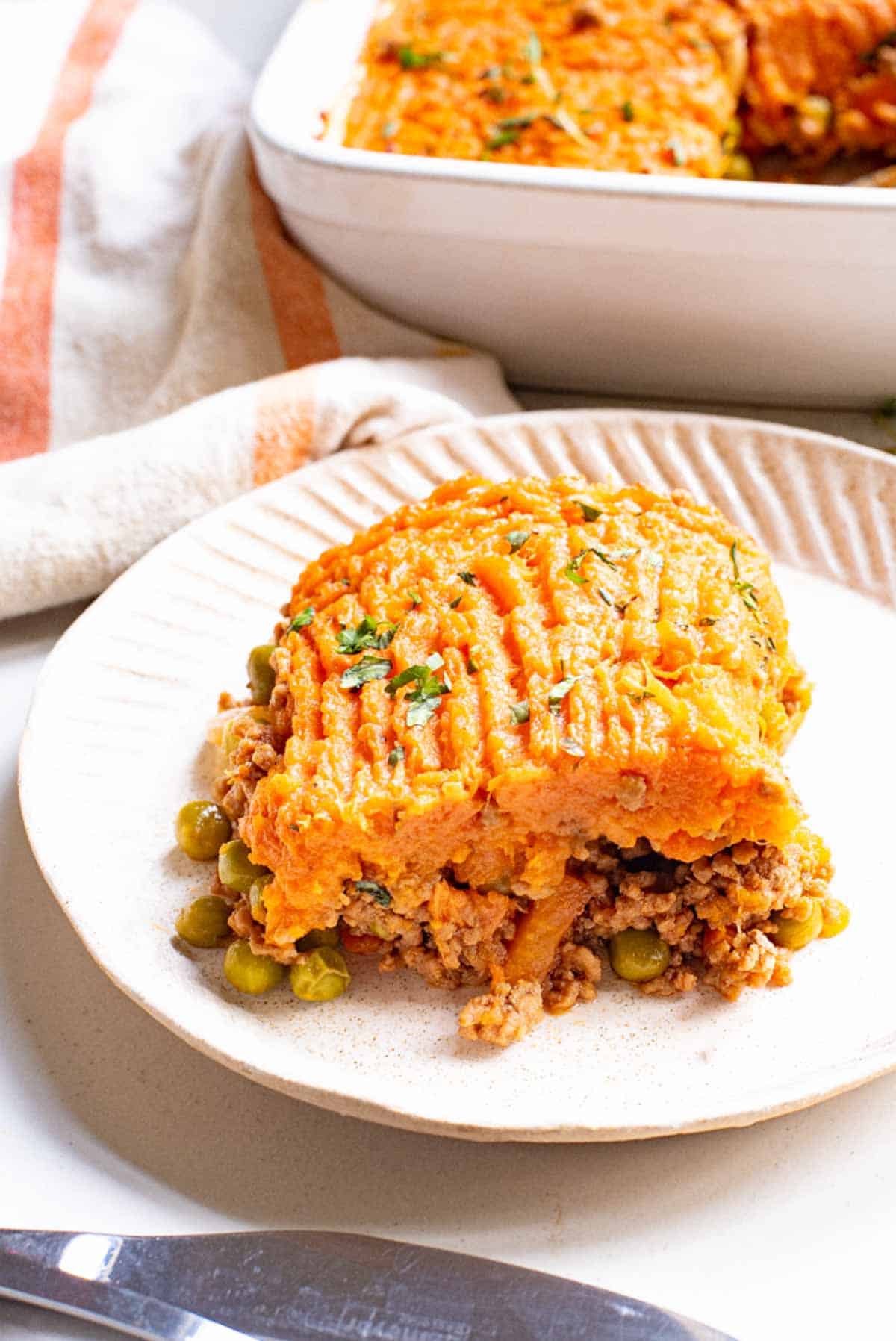 Make It a Meal
This sweet potato shepherd's pie is a filling and easy dinner. We'll serve ours as is or with a simple side of Farmhouse Salad and Texas Toast or Gluten-Free Garlic Breadsticks. To really bulk up a meal with some Irish flair, serve shepherd's pie as a side with Easy Slow Cooker Corned Beef.
Here are more easy dishes to pair with sweet potato shepherd's pie: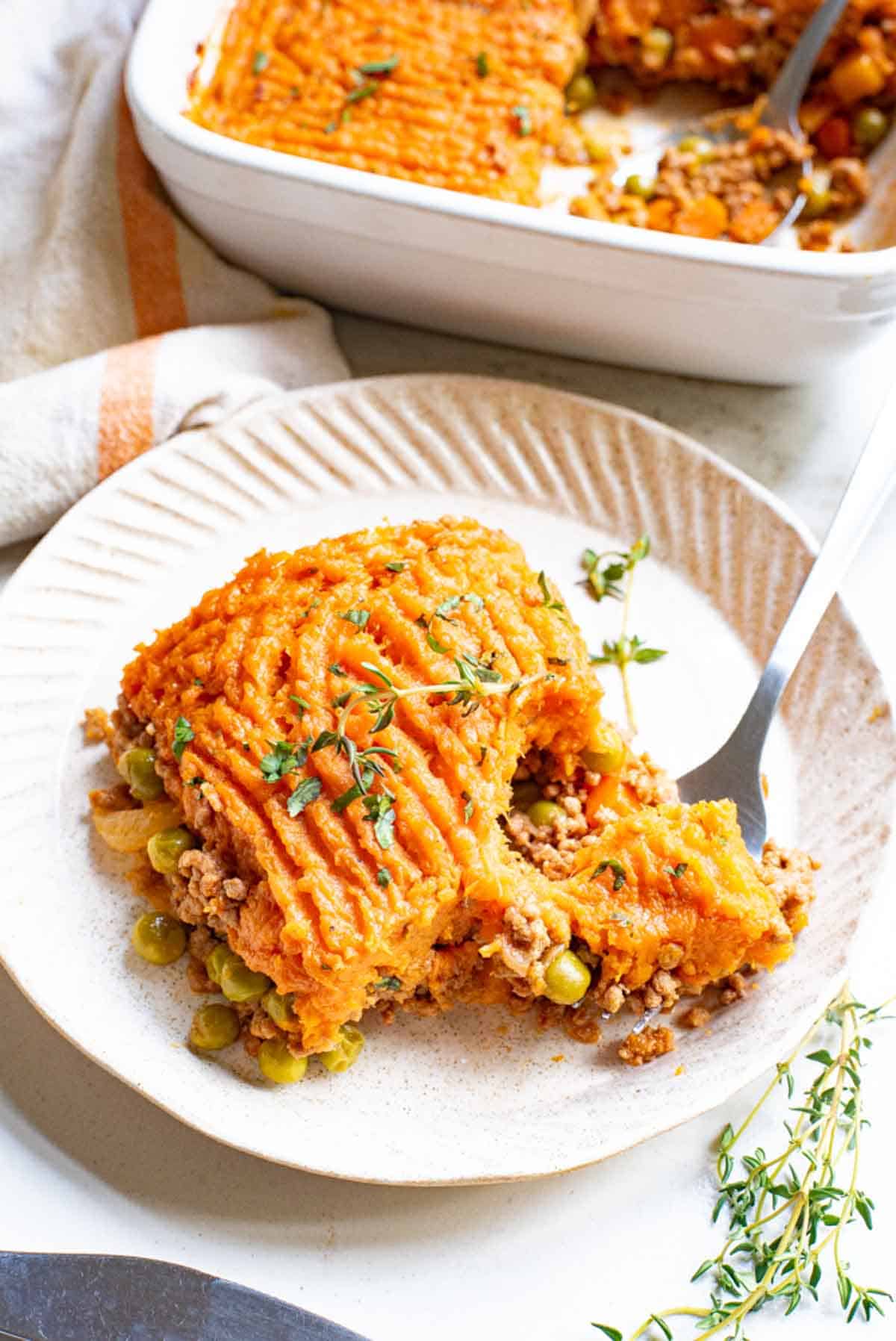 How to Store and Reheat Shepherd's Pie
Allow any leftover shepherd's pie to cool to room temperature, then store it airtight in the fridge for up to 3-5 days.
Reheat servings in the microwave for a minute or two, or in the oven at 350ºF until warmed through.
Can I Freeze Sweet Potato Shepherd's Pie?
This sweet potato shepherd's pie rarely lasts long enough for us to freeze leftovers in this house! I usually don't recommend freezing this recipe due to the mashed sweet potatoes. Some recipes are freezer-friendly, however, I find that freezing changes the texture, and the thawed potatoes can become grainy.
If you absolutely must freeze it, wrap the shepherd's pie tightly and store it frozen for up to 1 month. Thaw the pie in the fridge overnight and then reheat it in the oven until warmed through.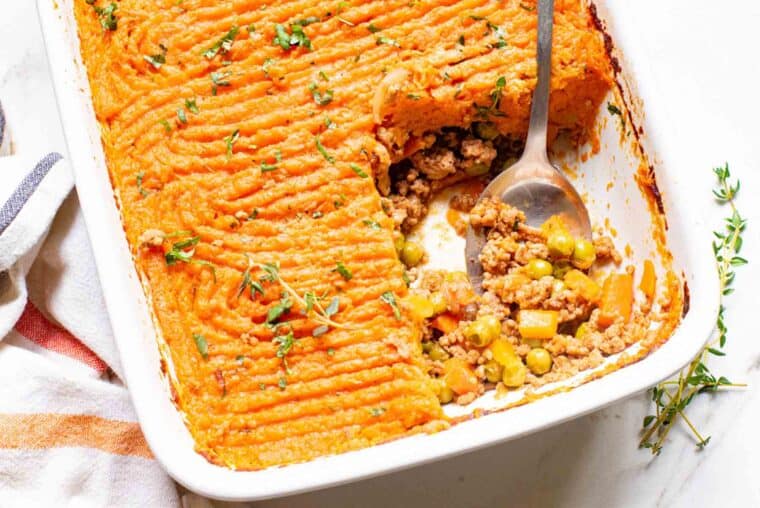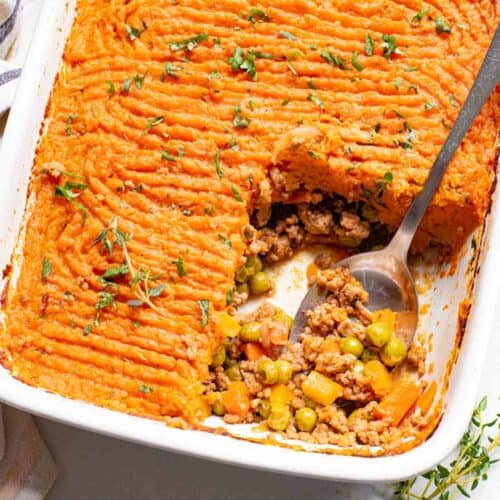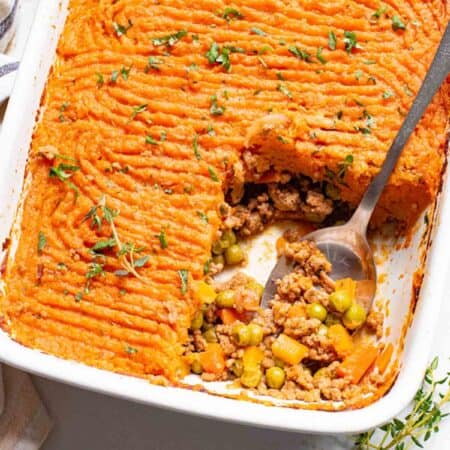 Sweet Potato Shepherd's Pie
This homemade Sweet Potato Shepherd's Pie is filled with hearty beef and tender-cooked veggies baked beneath a creamy mashed sweet potato topping.
Ingredients
For the Sweet Potatoes:
1

lb

sweet potatoes

, peeled and chopped

Sea salt

, to taste

Ground black pepper

, to taste

1

tablespoon

butter

, unsalted

½

teaspoon

Italian Seasoning
For the Ground Beef Filling:
1

teaspoon

extra virgin olive oil

1

medium onion

, peeled and sliced

1

clove

garlic

, peeled and minced

1

lb

ground beef

1

cup

peeled and diced carrots

2

thyme sprigs

1

cup

frozen peas

1 ½

teaspoons

gluten-free soy sauce

or Worcestershire sauce

3

Tablespoons

tomato sauce

Sea salt

, to taste

Ground black pepper

, to taste
Instructions
Preheat the oven to 375ºF.

Bring salted water to a boil in a large saucepan and add sweet potatoes. Boil for about 15 minutes. Drain and mash with salt, pepper, butter and Italian seasoning.

While sweet potatoes are boiling, heat a nonstick pan with oil. Sauté onion for 1 minute, then add garlic. Cook for another minute.

Add ground beef and cook for about 3 minutes.

Add carrots and thyme, stir and cook for another 3 minutes.

Add peas, soy sauce and tomato sauce. Stir all together. Cook for a few minutes.

Grease a large enough baking dish. Spread the meat mixture evenly into the bottom of the dish. Add mashed potatoes on top. Spread evenly.

Transfer in the oven and cook for 25-30 minutes.

Open the oven and let it rest for 5 minutes. Serve.
Notes
Storing leftovers: Allow to cool down completely. Store in the refrigerator in an airtight container for up to 3 days.
To reheat: Reheat shepherd's pie in the microwave on medium heat, or put it back in the oven at 350ºF until warm.
Freezing is not recommended.
Nutrition Facts
Sweet Potato Shepherd's Pie
Amount Per Serving
Calories 391
Calories from Fat 144
% Daily Value*
Fat 16g25%
Cholesterol 81mg27%
Sodium 364mg15%
Potassium 1025mg29%
Carbohydrates 35g12%
Protein 28g56%
Vitamin A 21876IU438%
Vitamin C 23mg28%
Calcium 84mg8%
Iron 4mg22%
* Percent Daily Values are based on a 2000 calorie diet.
Categories:
More Cozy Comfort Foods to Try