This post may contain affiliate links. Read my disclosure policy.
Inspired by the menu from A Land Remembered at the Rosen Shingle Creek resort, home to the 2014 Food & Wine Conference, covered with sliced beef, sautéed mushrooms, slightly melty cheese, toasted pecans, and a Fig Balsamic Vinaigrette, this salad definitely makes a meal. Use any leftover steak from your barbecue in this Bella & Brie Steakhouse Salad.
Bella & Brie Steakhouse Salad with Fig Balsamic Vinaigrette
OK, people, the nerves are starting to kick in. In just over a month, I'll be speaking at the 2014 Food & Wine Conference as part of the panel presenting on engaging your audience via the different social media platforms. My focus will be on Facebook. When I was young, I had such a hard time doing oral reports in front of my class. My voice shook, I shook. It was terrible. In high school, I gradually got more comfortable, and even delivered my valedictorian speech to an audience of, hmmm, hundreds, maybe close to a thousand people.
My confidence grew as an adult, and I even managed to present my lab research on a tricky asymmetric hydrogenation reaction to a room full of chemists and chemical engineers, and a global outsourcing strategy for bulk pharmaceutical chemical manufacturing to a panel of senior leadership. I think I even sounded like I knew what I was talking about. Probably all Jedi mind tricks, but whatevs.
But it's been awhile, and these days my audience typically consist of my two little boys, who rarely listen to the words coming out of my mouth anyway. So my childhood anxieties are cropping up in the back of my mind. I mean, these aren't even classmates or coworkers. I've met a few in person, gotten to know more of them online, but there will also be a bunch of utter and complete strangers. And the mystery of Facebook sometimes seems more nebulous and confusing than the mystery of asymmetric hydrogenations.
My session is first thing after the opening keynote, so if you are there, please remind me to stay away from the coffee and tea beverages at breakfast so that I am not all jittery from caffeine, since I'll be jittery enough from nerves.
One area where I do feel more confident is making meal-worthy salads…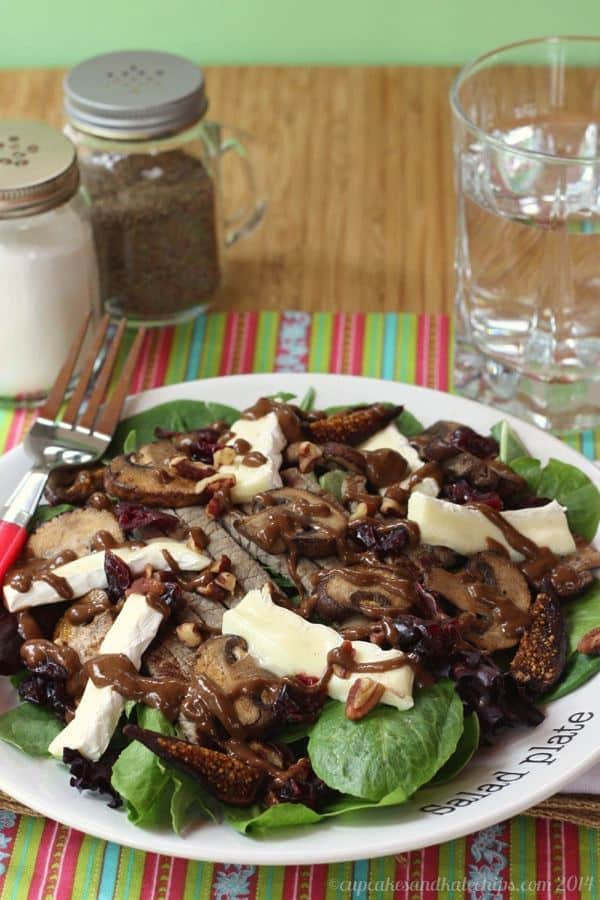 I mean, I am married to Mr. It's Not A Meal If It Doesn't Have Meat, and Mr. Soup Is Not Dinner. If I tell him we are having salad for dinner, it better be substantial and  amazingly tasty. Yet I still want it to qualify as a salad, you know, somewhat healthy and not totally covered in fried chicken fingers and cheese and croutons and gobs and gobs of a heavy, creamy dressing such that you can hardly find a vegetable. I think this Bella & Brie Steakhouse Salad hits the mark.
There are plenty of crisp, fresh salad greens, graced with the presence of that perfect pairing of beef and sautéed mushrooms, baby portabellas (portobellos? Oh, to-may-to, to-mah-to). While the steak and 'shrooms are still warm, pieces of Brie cheese are laid on top so that the warmth slightly melts the gooey cheese. A little toasty crunch from pecans and chewy sweetness from dried figs and cranberries, all pulled together with the tangy Fig Balsamic Vinaigrette, and what you have a is salad that will satisfy the biggest appetites and complex palates. This is truly a gourmet meal of a salad!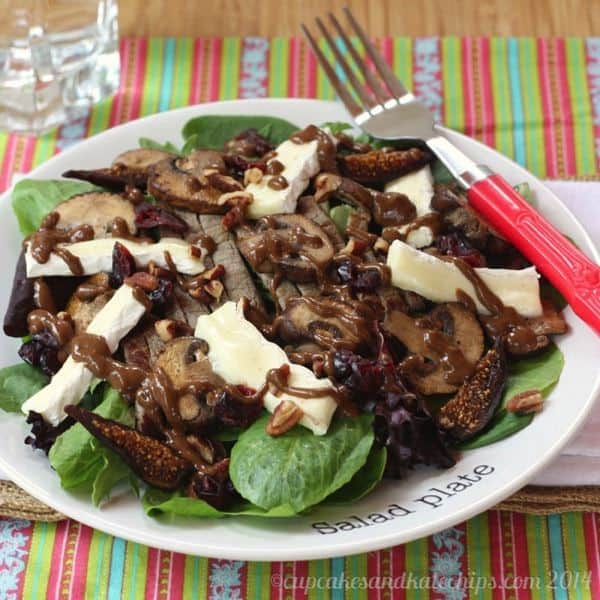 I am so excited to enter my Bella & Brie Steakhouse Salad into the Rosen Shingle Creek Recipe Contest 2014. It was actually inspired by the steakhouse at the resort, called A Land Remembered. I do love steak, but as I was gazing at the menu, what called my name was an appetizer of warm brie and portobellos with dried fruit, nuts and fig puree. When I am there, I'll definitely have to try it, but in the meantime, I though I would combine the app, and, well, the steak, and reinvent it as a salad. I hope the judges like it as much as my family and I did!
Do you want to go to the Food & Wine Conference? Get all the registration details HERE, and check out the awesome recipe contests where you could win your ticket and much more!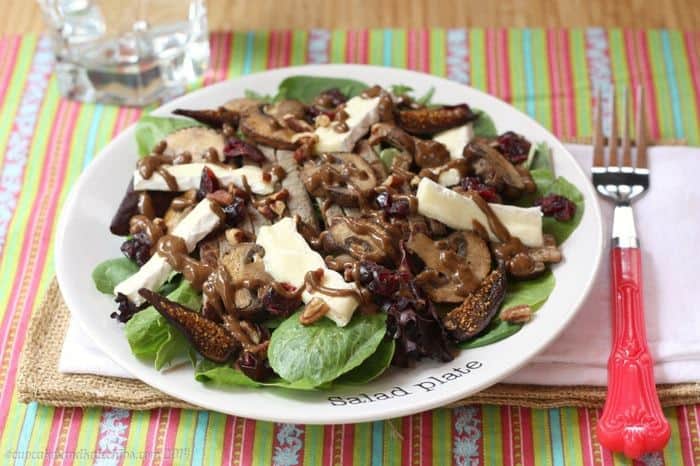 Do you have any tips of tricks for speaking in front of a group?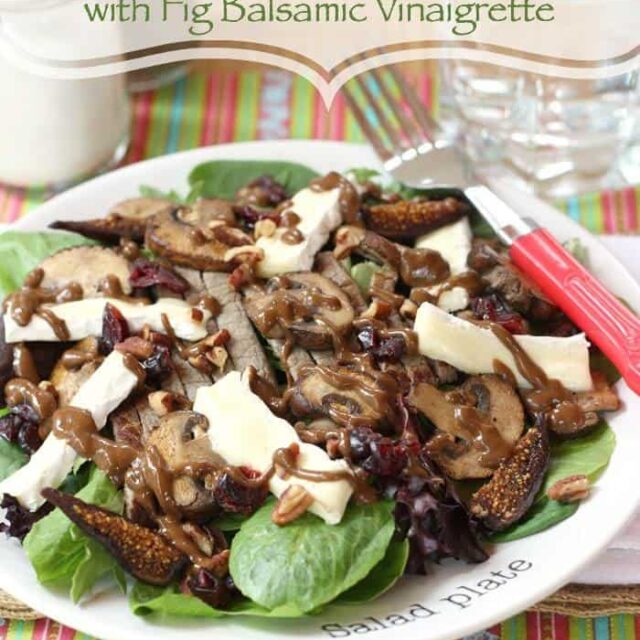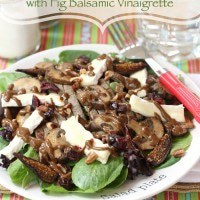 Bella & Brie Steakhouse Salad with Fig Balsamic Vinaigrette
Topped with sliced steak, sautéed mushrooms, melty Brie cheese, toasted pecans, and Fig Balsamic Vinaigrette, this salad definitely makes a meal.
Ingredients
About 1 teaspoon olive oil

4

oz

baby Portobella or cremini mushrooms

sliced

a pinch of kosher salt and freshly ground pepper

About 6 oz steak

sliced (can be any leftover steak you have on hand. I pan-sauteed beef eye round, and combined that with leftover beef short ribs. I think flank steak would be amazing.)

About 3-4 oz mixed baby salad greens

2

oz

brie cheese in thin slices

2

Tablespoons

dried cranberries

2

dried figs

quartered

1

Tablespoon

chopped pecans

lightly toasted in a pan or in the oven

Fig Balsamic Vinaigrette Salad Dressing
Instructions
Heat olive oil in a small pan over medium heat. Add the mushrooms and saute for several minutes until browned and softened. Season with salt and pepper.

If you are using leftover steak, you can add it to the mushrooms to gently warm it. Other wise prepare you steak as desired, and cut into thin sliced.

Toss your salad greens in a small amount of the Fig Balsamic Vinaigrette Salad Dressing, and divide between two plates.

Divide the steak and mushrooms between the two plates, then top each with about 1 oz. of Brie cheese while still warm, so that the cheese slightly melts.

Top each salad with about 1 tablespoon cranberries, one quartered fig, and half a tablespoon pecans.

Drizzle with additional salad dressing. Serve immediately.
Categories:
Need some beef to put on this salad? Try one of these recipes…
And here are a few from my friends…
Enjoy!