This post may contain affiliate links. Read my disclosure policy.
These tantalizing homemade Gluten Free Lemon Cupcakes start with my favorite vanilla cupcake recipe, but add a burst of bright, fresh lemon flavor. Enjoy them as they are, or top them with lemon buttercream frosting for the perfect summer-infused treat.
Easy Gluten Free Lemon Cupcakes
Every so often I'm inspired to make a lemon dessert. Every time I do, I wonder why I don't make them more often! After falling in love with these Easy Gluten Free Lemon Bars and swooning over my Gluten Free Lemon Pound Cake, I figured it was time to squeeze the day.
So, I've adapted my Gluten Free Vanilla Cupcakes into something super zesty and just as irresistible. These gluten-free lemon cupcakes are a dreamy dessert, infused with the flavors of fresh summer citrus and a lingering hint of vanilla. They're soft, moist, and mouthwatering, and quite possibly my new favorite thing.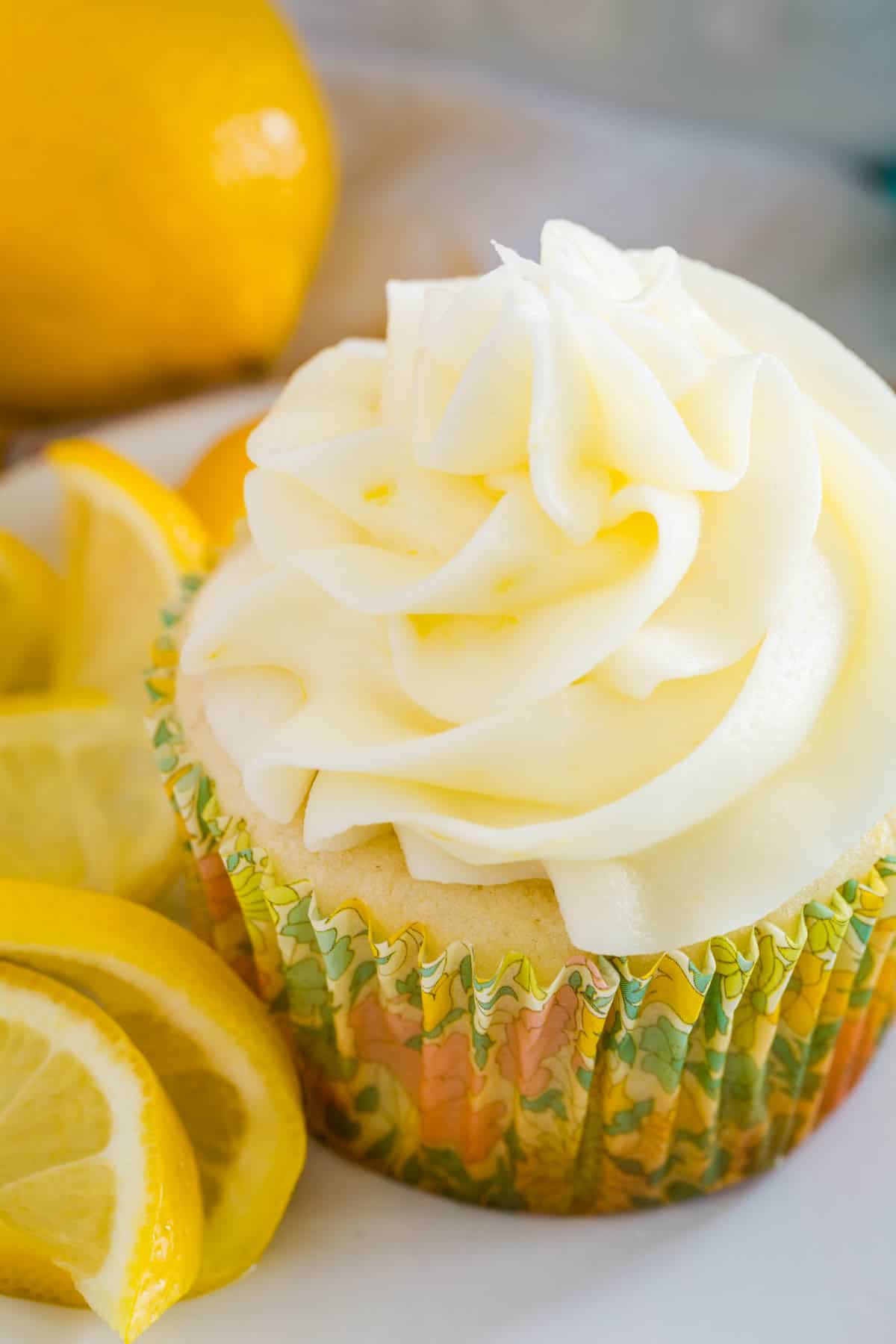 Why You'll Love These Cupcakes
If you've never made lemon cupcakes before, you're in for a treat. These delicious gluten-free cupcakes are like little rays of sunlight in dessert form. Here's why they're the best:
Full of flavor. I can't get over how fresh and sweet-but-not-too-sweet these cupcakes taste. The zesty citrus in the cupcakes and frosting warms you from the inside out!
Easy to make. If you're just tipping your toes into gluten-free baking, these gluten-free lemon cupcakes are the perfect place to start. You only need basic baking ingredients to make the batter, and the cupcakes always come out amazing.
Perfect for warmer weather. Of course, you can make these cupcakes all year round (I know I'll be tempted!). But they really are the perfect summer dessert, especially if you use in-season lemons.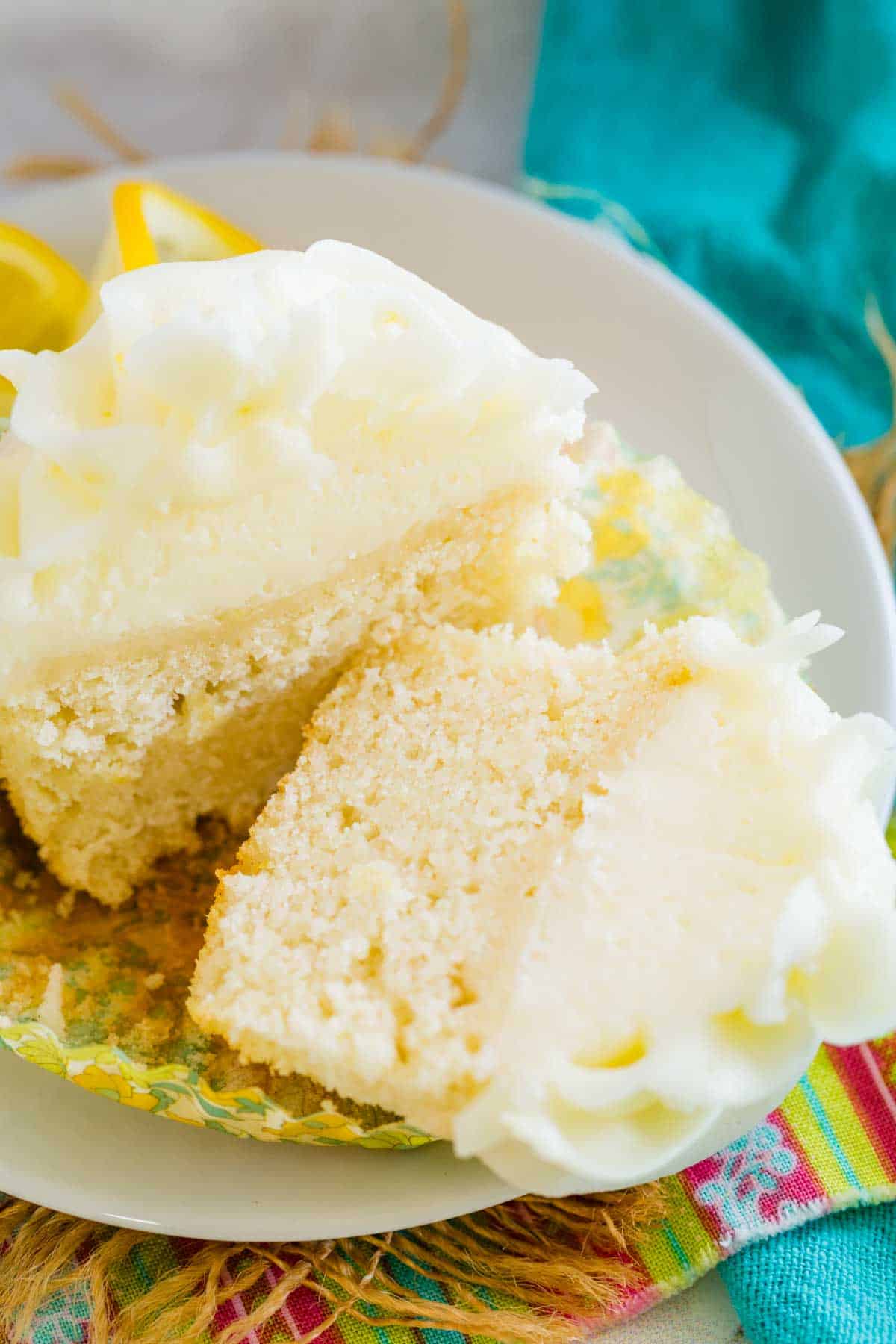 What You'll Need
This easy cupcake recipe involves your average gluten-free baking ingredients working together with some fresh lemon zest and juice. The result? Lemony cupcake bliss! Let's have a look at what you'll need to make them, and don't forget to refer to the recipe card for the full details:
Gluten-Free Flour: Like in my original vanilla cupcakes recipe, I use a gluten-free 1:1 baking flour for these lemon cupcakes. I always have the best results with King Arthur Flour Measure-for-Measure or Bob's Red Mill 1-to-1.
Baking Powder and Salt: Our leavening ingredients. Baking powder gives the cupcakes lift, while salt enhances the flavor.
Butter: Take the butter out of the fridge to let it come to room temperature before you begin. I like baking with unsalted butter, as I can control the saltiness of the recipe to taste. If you do use salted butter, consider leaving out any added salt.
Oil: Cutting the butter with vegetable oil (or another neutral-flavored oil, like canola) in this cupcake recipe makes these lemon cupcakes ultra soft and tender.
Sugar: Regular granulated sugar is best and yields the most consistent results.
Eggs: For structure. Like butter in this recipe, you want your eggs at room temperature before you start.
Lemon: You'll need both the zest and juice from a fresh lemon. No bottled lemon juice, here!
Vanilla: Use pure vanilla extract for the best flavor.
Milk: Either whole or 2% milk will work fine.
Frosting: Use Lemon Buttercream or your preferred frosting. I've also included more decorating ideas later on in this post.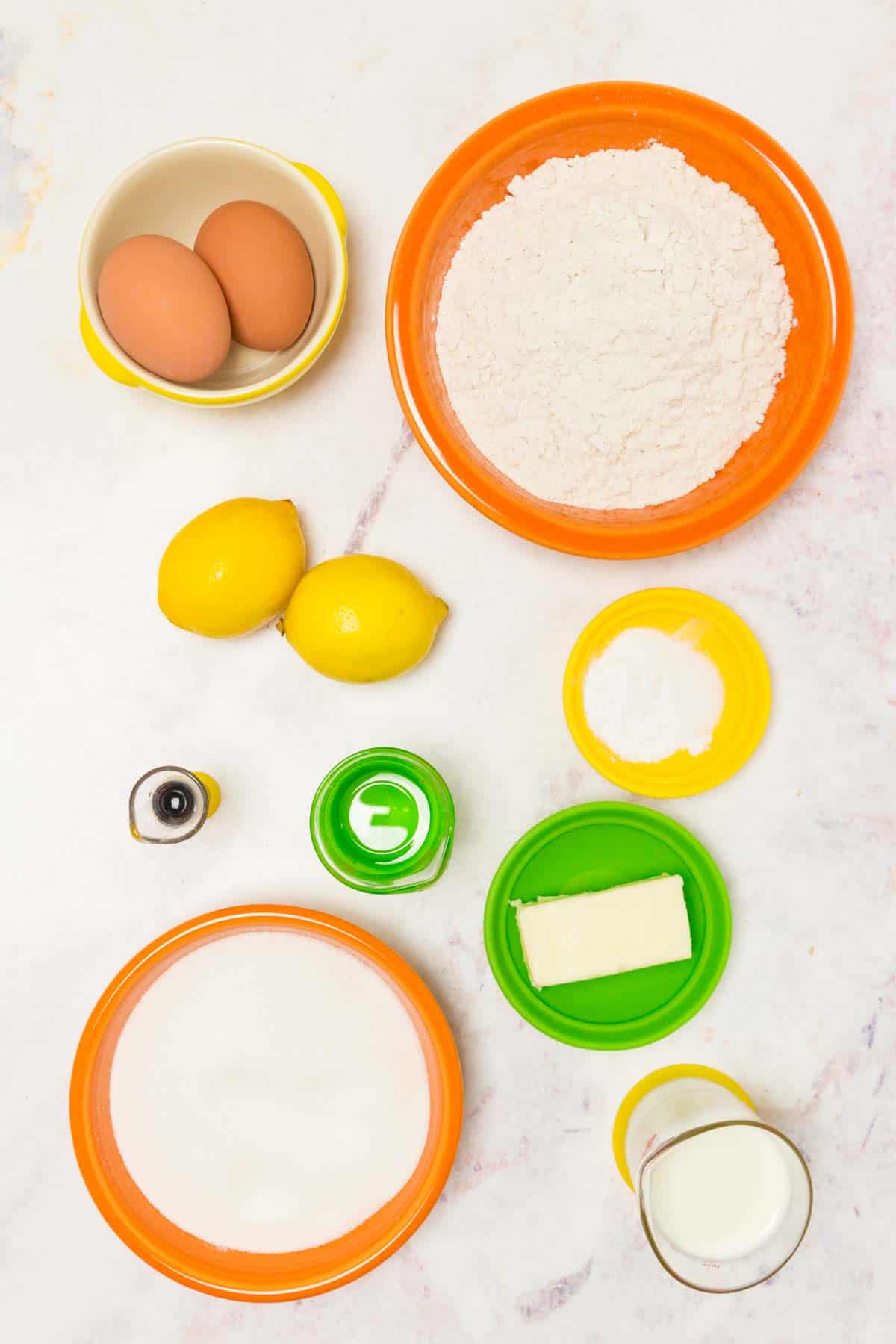 How to Make Gluten Free Lemon Cupcakes
These cupcakes might taste as though they come from a professional bakery, but you don't have to be a wizard in the kitchen in order to make them. Set your oven to preheat, and I'll walk you through it:
Sift the Dry Ingredients: To start, you'll sift together the flour, baking powder, and salt to break up any lumps.
Beat the Wet Ingredients: In a separate bowl, beat the butter, oil, and sugar until the mixture is light and fluffy. Next, beat in both eggs, followed by the lemon zest and vanilla.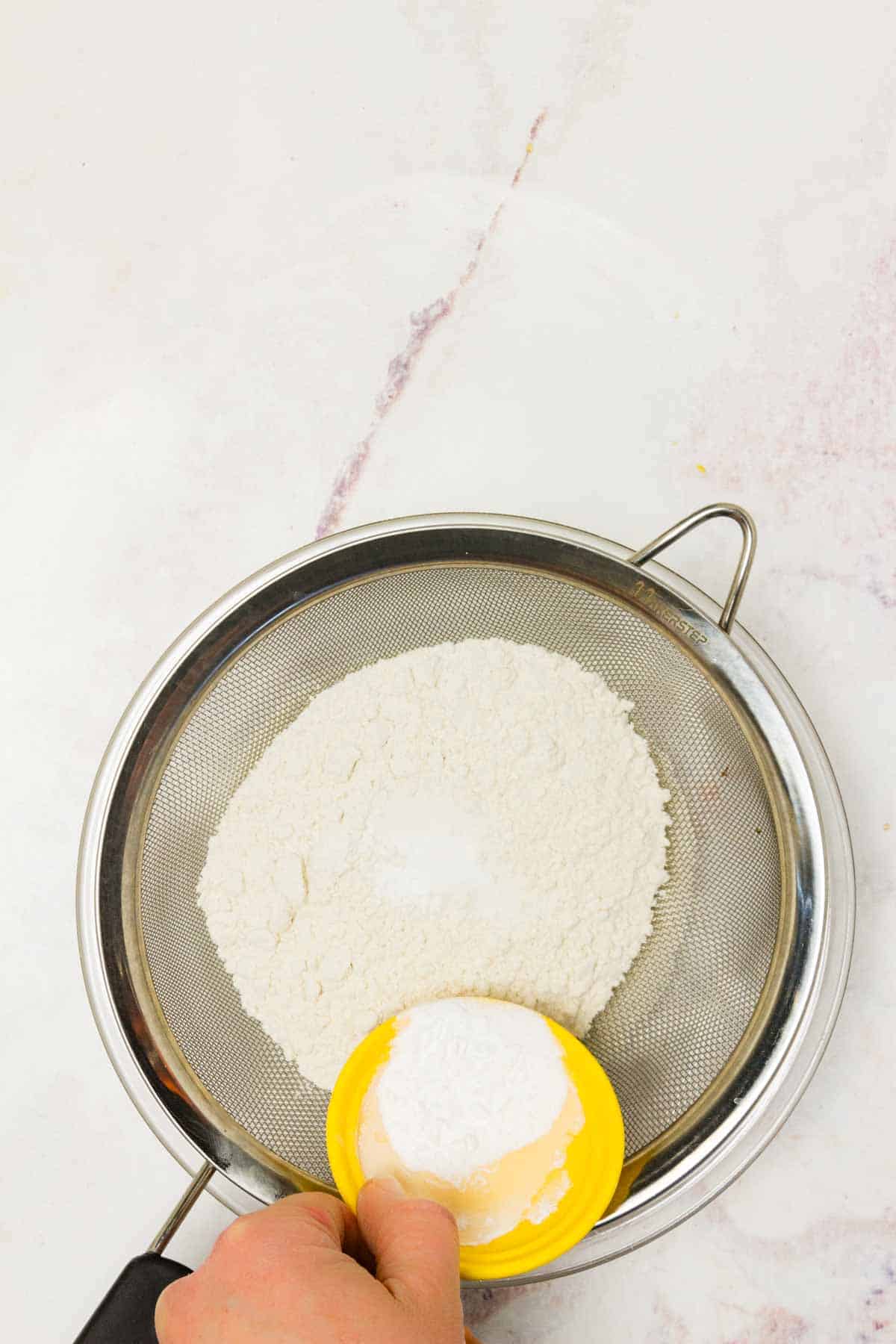 Combine: Slowly add the dry ingredients to the wet ingredients, mixing until everything is just combined. Gradually stream in the milk and lemon juice, and beat until the batter is light and airy. This can take a few minutes, so stick with it! Afterward, let the batter rest, covered, for about 20 minutes.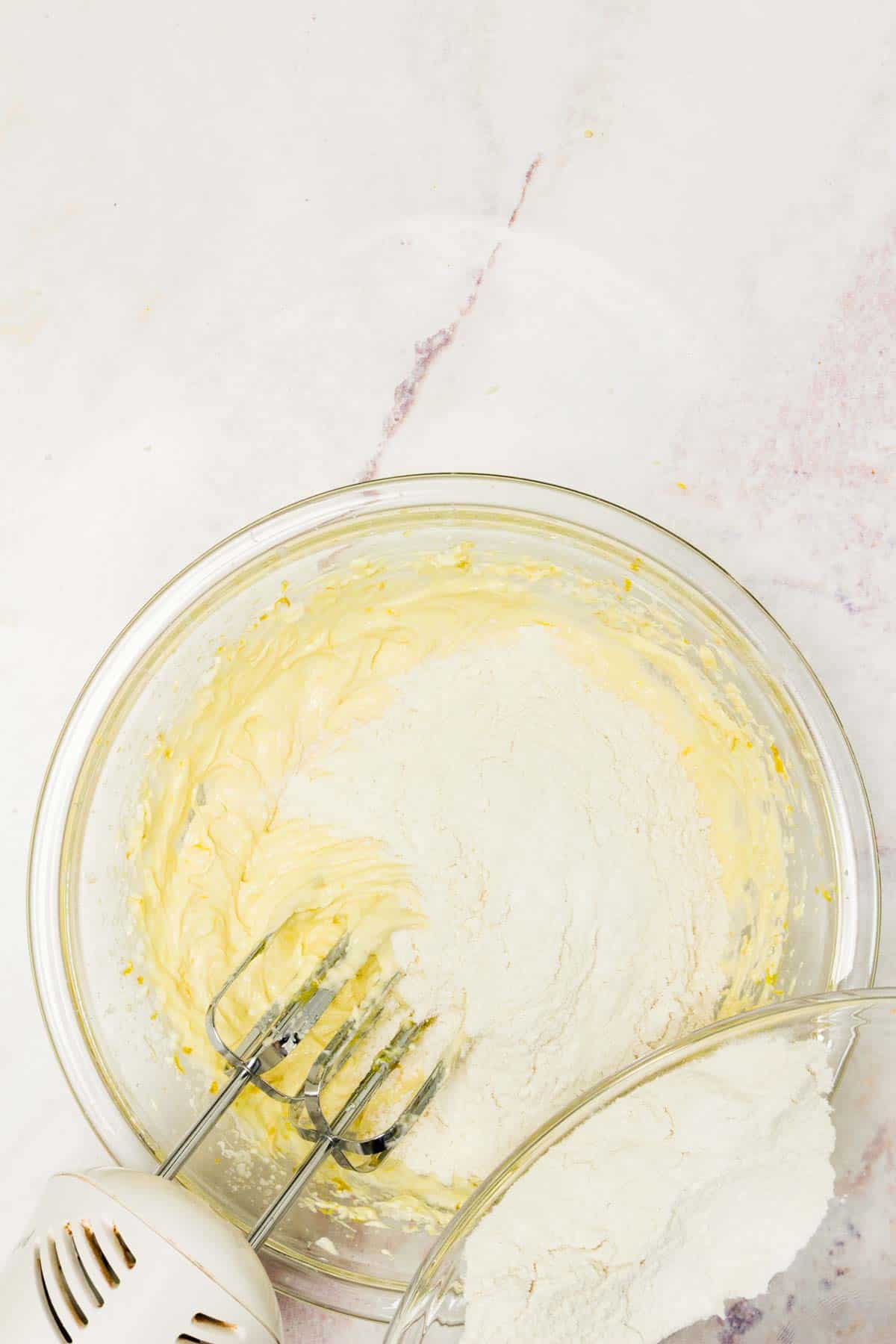 Fill the Pan: After the batter has rested, divvy it up between the wells of a lined 12-well cupcake pan. It's fine if the cupcake liners look on the full side, as gluten-free cupcakes don't tend to puff up as much as traditional cupcakes.
Bake: Bake the cupcakes at 350ºF for +/- 20 minutes. Bask in the smell of lemons wafting from the oven. Then, let the cupcakes cool in the pan for a bit before moving them to a wire rack. Your lemon cupcakes will need to cool to room temperature before you frost them.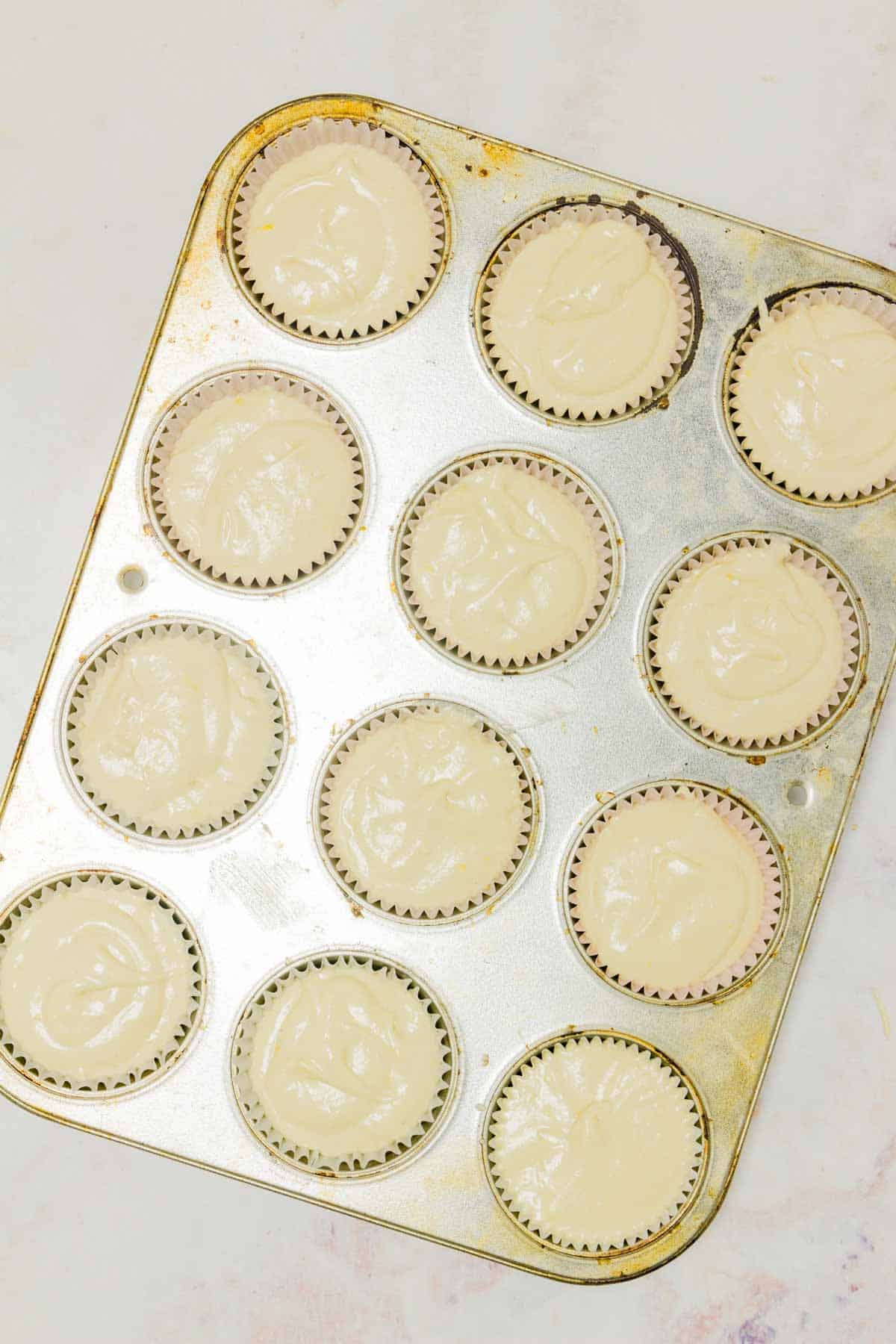 Frost: When you're ready to frost your lemon cupcakes, whip up a batch of Lemon Buttercream, or use your favorite frosting and get piping! See below for more easy cupcake decorating ideas.
Tips for Success
In case cupcake territory is new for you, here are some helpful tips to have your gluten-free lemon cupcakes come out perfect:
Use fresh lemons. For the juice and the zest. You'll taste the difference!
Measure correctly. This is especially important with ingredients like gluten-free flour. Be sure to use the spoon-and-sweep method. Spoon the flour from the bag into your measuring cup, and use the back of a knife to level it off.
Rest the batter. Letting the batter sit once it's come together hydrates the starches in the gluten-free flour. This strengthens the batter, leading to fuller, fluffier cupcakes. Don't skip this part!
How to tell if your gluten-free cupcakes are done: Your cupcakes are ready to come out when a toothpick stuck in the center of a cupcake comes out clean.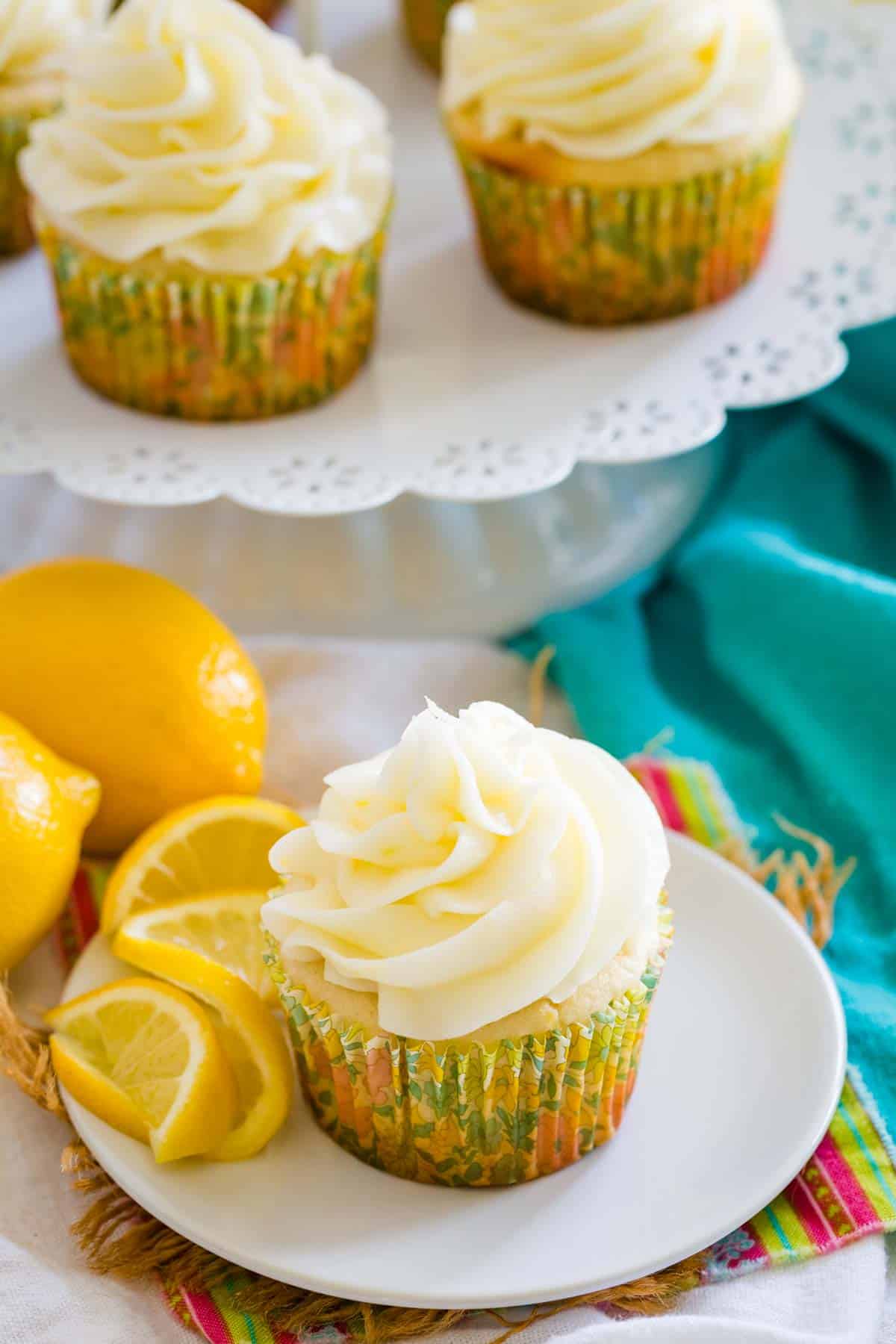 Decorating and Variation Ideas
There's nothing wrong with letting a perfect, frosted lemon cupcake do all the talking. But you can also customize your gluten-free cupcakes any way that you'd like. Here are some ideas:
Add Garnish: Top your lemon cupcakes with a fresh or candied lemon wedge, a sprinkle of coconut, or a drizzle of thinned-out lemon curd.
Use Different Citrus: These gluten-free cupcakes can also be made with lime juice and lime zest, or orange juice and zest. Freshly squeezed and zested, of course.
Try Another Frosting: Top your cupcakes with another homemade frosting, like this Vanilla Frosting or Cream Cheese Frosting.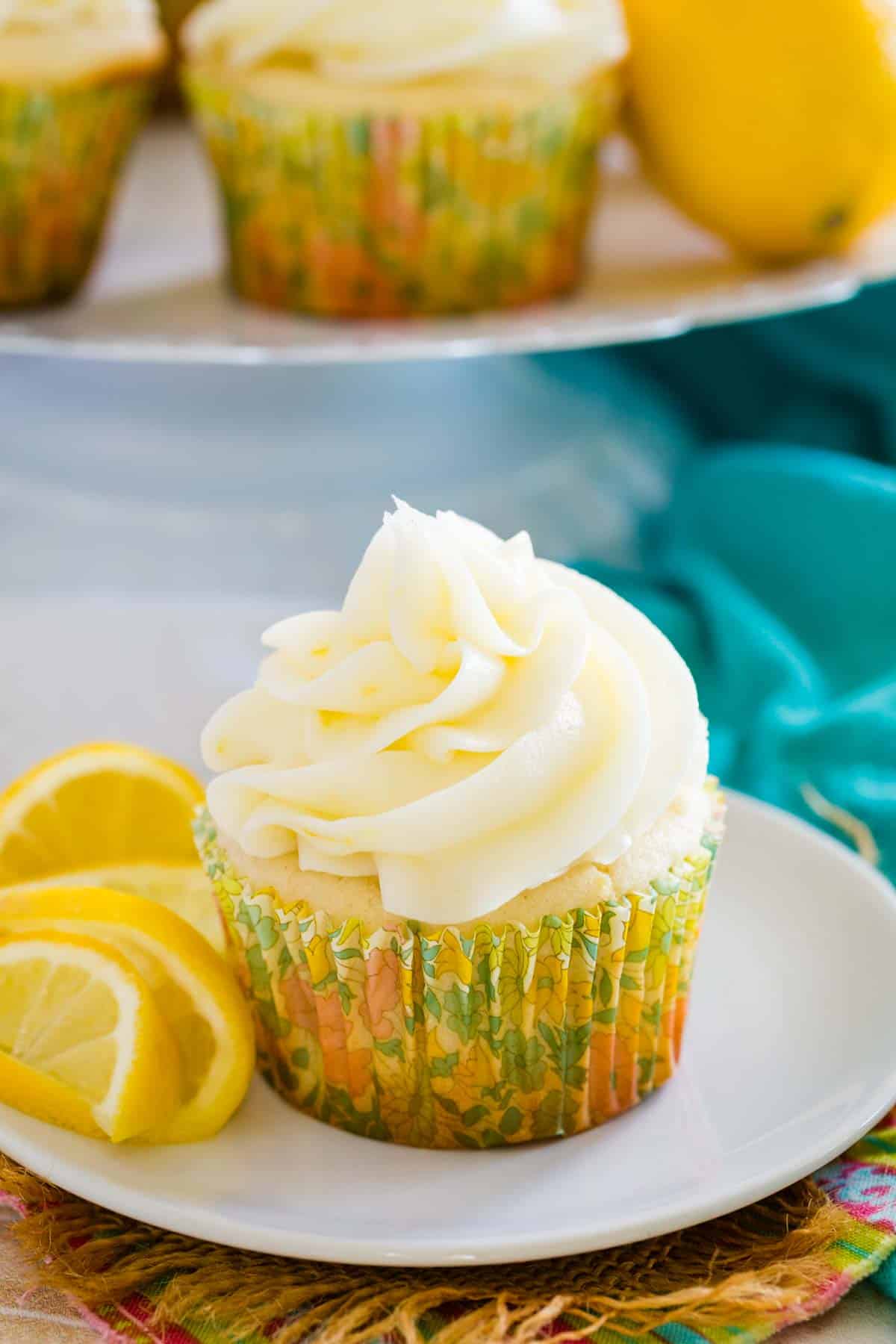 How to Store Homemade Cupcakes
Store your frosted gluten-free lemon cupcakes airtight at room temperature for up to 1-2 days. After that, or if you live in a particularly warm climate, I'd recommend keeping them in the fridge (note that they may dry out a little). Let the cupcakes come to room temperature again before serving.
Can I Freeze Lemon Cupcakes?
Yes, though you'll want to freeze these lemon cupcakes before you add the frosting. Store the cooled cupcakes in an airtight container and keep them frozen for up to 3 months.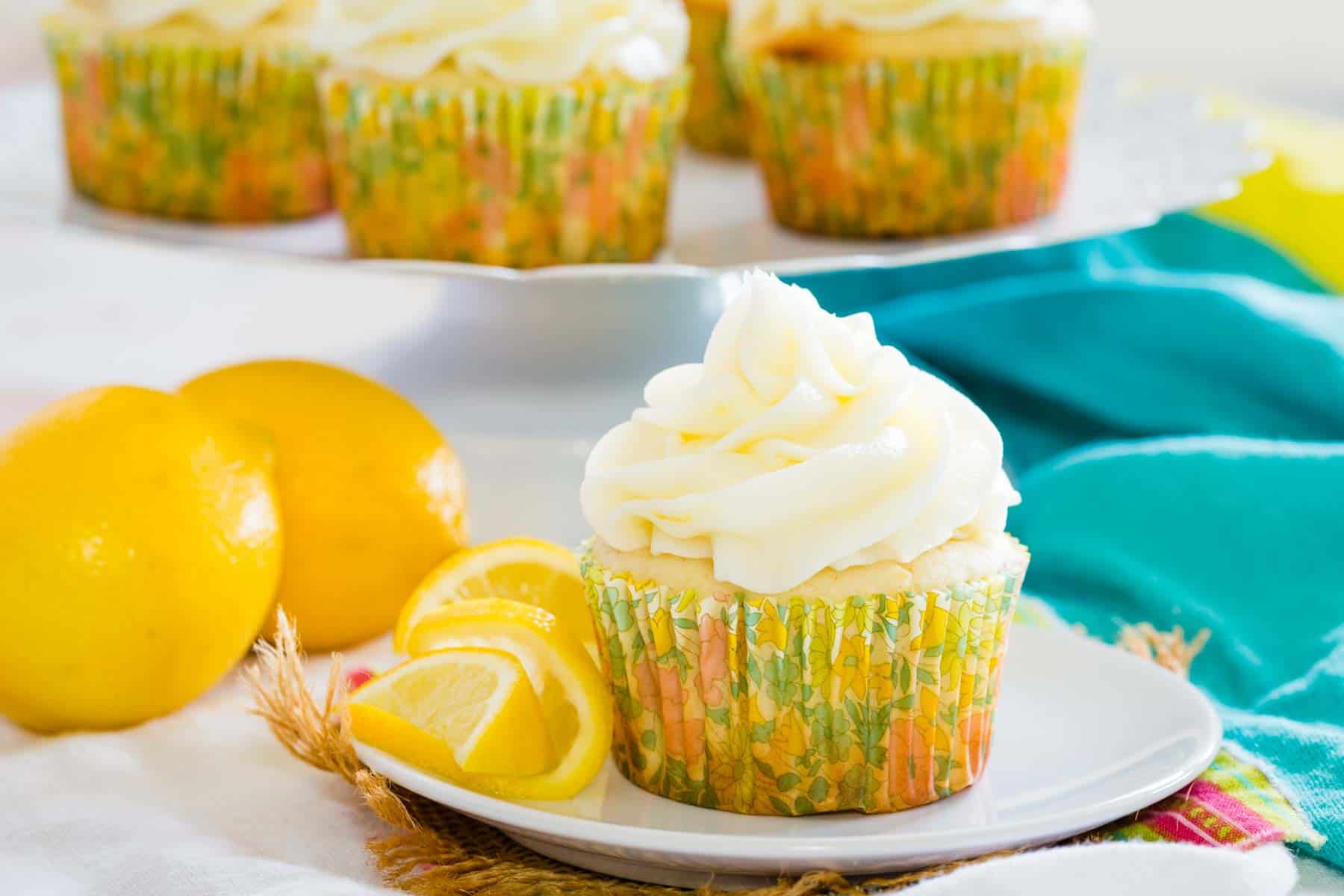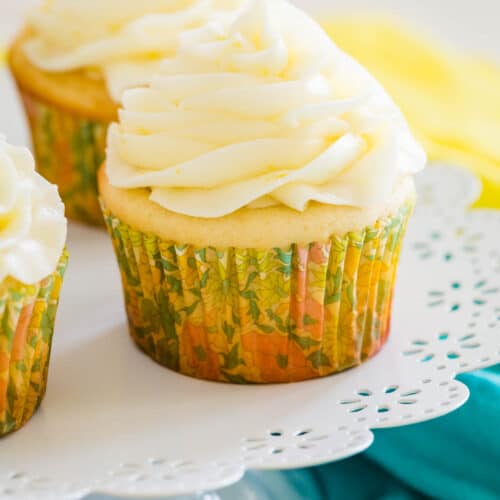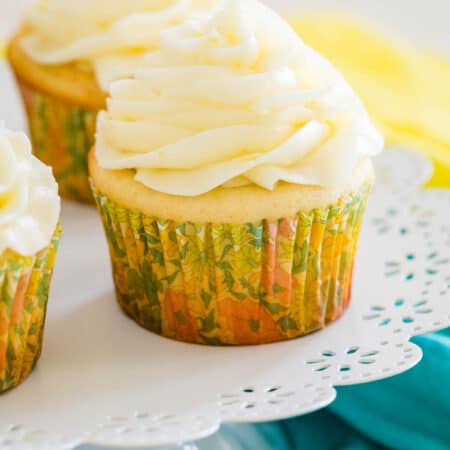 Gluten Free Lemon Cupcakes
Gluten Free Lemon Cupcakes are moist homemade vanilla cupcakes filled with bright, fresh lemon flavor. Enjoy them as they are or top them with your favorite lemon buttercream frosting.
Ingredients
1 1/3

cup

gluten-free 1:1 baking flour

(recommended: King Arthur Flour Measure for Measure or Bob's Red Mill 1-to-1)

1 1/2

teaspoons

baking powder

1/2

teaspoon

salt

1/4

cup

unsalted butter

, softened to room temperature

1/4

cup

vegetable oil

1

cup

granulated sugar

2

large eggs

, at room temperature

1

Tablespoon

lemon zest

1

teaspoon

vanilla extract

1/2

cup

whole milk

or 2% milk

1/4

cup

fresh lemon juice

Lemon Buttercream

or your favorite frosting
Instructions
Preheat oven to 350°F and line a 12-well cupcake pan with cupcake liners.

In a medium bowl, sift together the flour, baking powder, and salt. Set aside.

In a mixing bowl, use a hand mixer to cream together the butter, oil, and sugar until light and fluffy. Reduce the mixer speed to medium, and blend in the eggs one at a time, followed by the lemon zest and vanilla extract, scraping down the sides of the bowl as needed.

Turn off the mixer, then add the flour mixture to the bowl. Turn on the mixer to low speed and blend until just combined, then gradually pour in the milk and lemon juice. Increase the mixer to high speed and beat for 3 minutes until the batter is light and fluffy.

Cover the mixing bowl with plastic wrap and allow the batter to sit for 20 minutes. This allows the gluten-free flour time to absorb more liquid.

Once the batter is ready, divide it between the 12 muffin cups. They will be nearly full.

Bake for 18-22 minutes, or until cooked through. A toothpick should come out clean when inserted into the center of the cupcake.

Allow the cupcakes to cool for 5 minutes in the pan, and then transfer them to a cooling rack to cool completely.

Use a piping bag or offset spatula to frost the cupcakes with Lemon Buttercream or your favorite frosting.
Nutrition Facts
Gluten Free Lemon Cupcakes
Amount Per Serving
Calories 202
Calories from Fat 90
% Daily Value*
Fat 10g15%
Cholesterol 39mg13%
Sodium 112mg5%
Potassium 84mg2%
Carbohydrates 28g9%
Protein 3g6%
Vitamin A 175IU4%
Vitamin C 3mg4%
Calcium 50mg5%
Iron 1mg6%
* Percent Daily Values are based on a 2000 calorie diet.
More Gluten-Free Cupcake Recipes