This post may contain affiliate links. Read my disclosure policy.
Make rich and creamy Lemon Buttercream Frosting flavored with fresh lemons. Use this easy homemade buttercream recipe to decorate cakes, cupcakes, and cookies. Just TRY to resist eating it by the spoonful!
The Best Lemon Buttercream Frosting
Whenever someone mentions lemons and spring baking, the first thing that comes to mind is Meryl Streep's Miranda Priestly in The Devil Wear's Prada: "Lemons? For spring? How original." She was in fact speaking about florals, but you get my drift.
Original or not, nothing signals warmer weather better than fresh, zippy citrus. This is why I'm on a lemon kick lately, with my Gluten-Free Lemon Cupcakes, and this easy homemade lemon buttercream frosting. This buttercream recipe only needs three ingredients, and it always comes out smooth and creamy, with a delicious lemony punch. 
Every bite tastes like summertime. The first time I made this sunny lemon buttercream, half of me wanted to forget the cupcakes altogether and inhale the frosting with a spoon! So, yes, lemons for spring, summer, and beyond.
What Is Buttercream?
Put simply, American buttercream frosting is frosting made with butter. While other frosting recipes call for shortening or cream cheese as a fat component (like in my Cream Cheese Frosting), buttercream is made from a base of butter, sugar, milk, and in this case, lemon flavoring.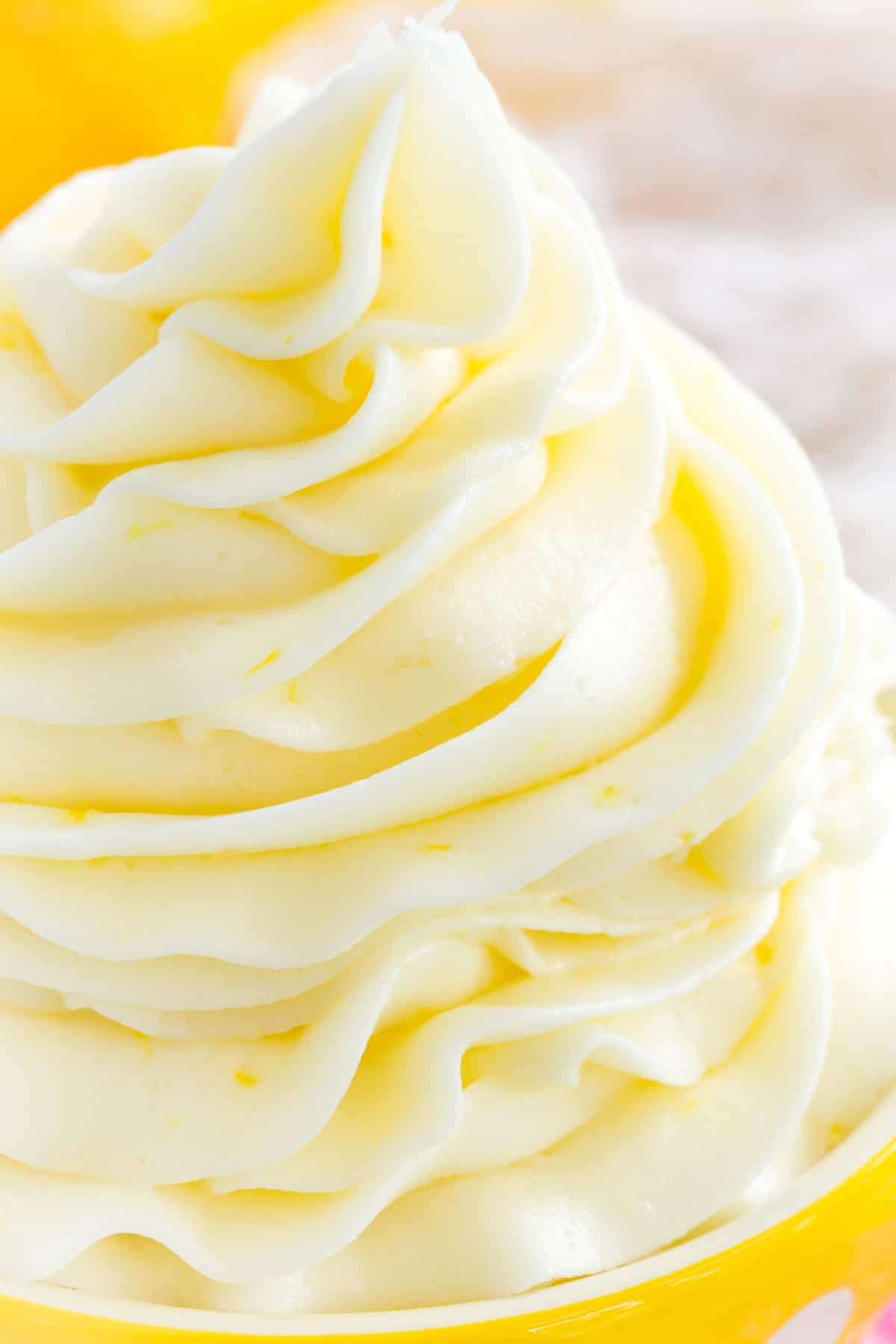 What You'll Need
You need just 3 ingredients (plus salt) to make this basic lemon buttercream. The full ingredient amounts and recipe details can be found further down in the recipe card:
Butter: I recommend using unsalted butter, but if you use salted, consider leaving out the added salt. Take your butter out of the fridge so that it can soften to room temperature beforehand.
Powdered Sugar: You might also know it as icing sugar or confectioner's sugar. This is a must for frosting that's smooth and creamy, and not grainy.
Lemon: You'll need the fresh zest and juice from real lemons. Leave the bottled lemon juice in the pantry for this one!
Salt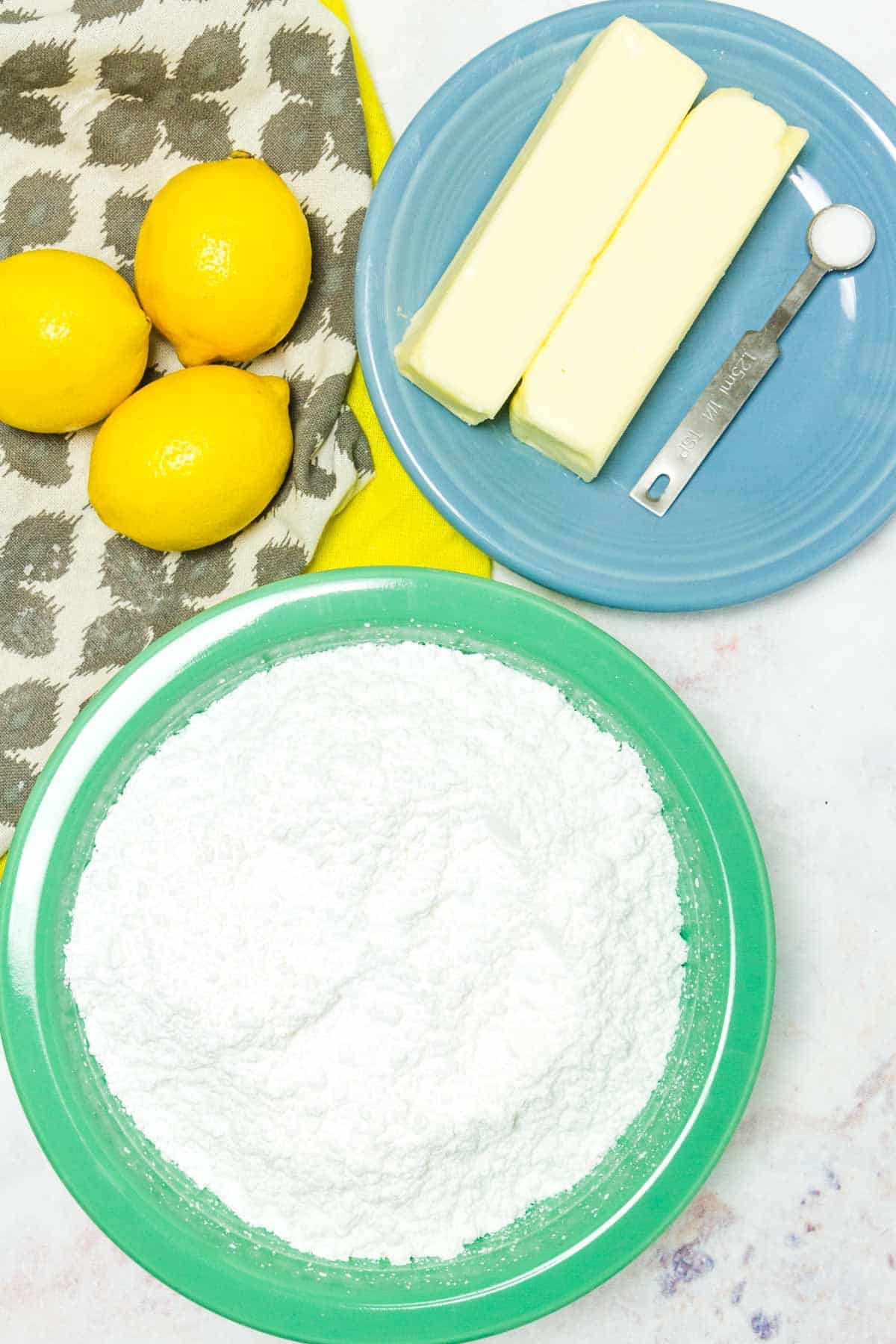 How to Make Lemon Buttercream
If you have an electric mixer and 10 minutes, you can make your very own bright and zesty lemon buttercream. It's so simple, and you'll never want to buy the store-bought kind again. Here's how to make it:
Beat the Butter: Begin by beating the softened butter for a good 2-3 minutes.
Combine: Slowly mix in powdered sugar, lemon zest, salt, and lemon juice, then up the speed and give the frosting a good whip until it's smooth and creamy. You can adjust the consistency by adding more powdered sugar or lemon juice (to thicken or thin it out as needed).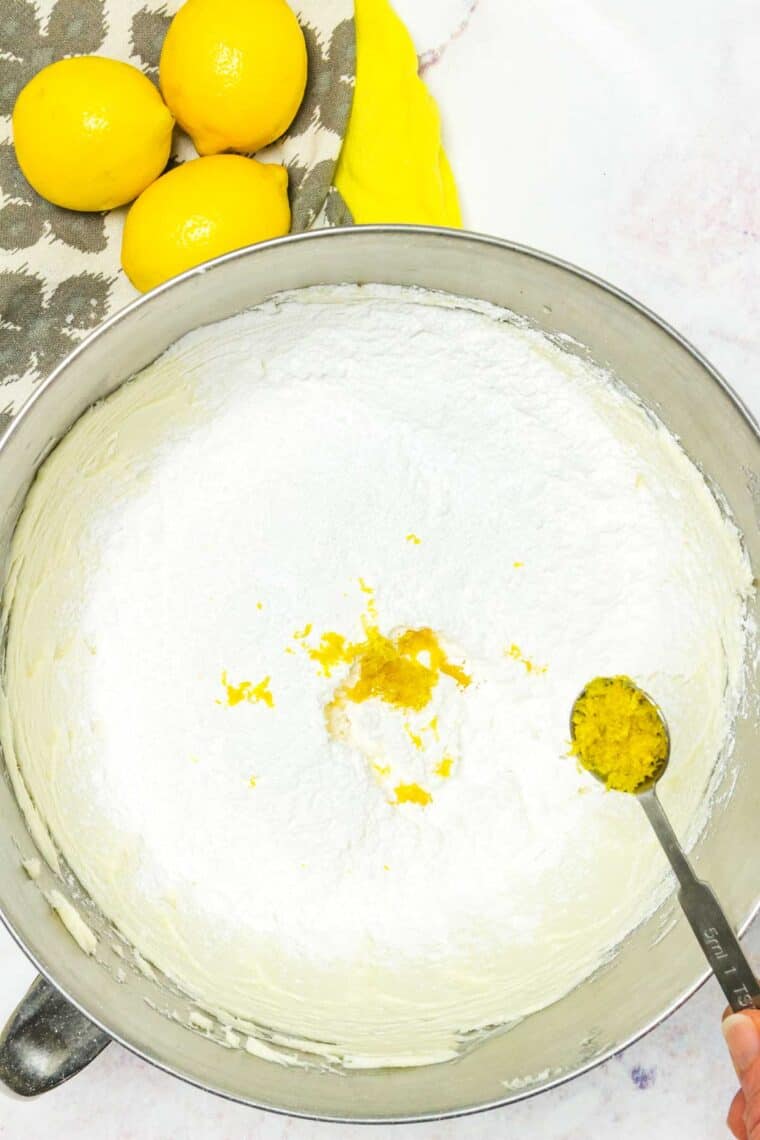 Frost: Transfer the lemon frosting to a piping bag, or spread it over your cooled cakes and cupcakes right away. See below for more ideas on how to use your lemon frosting, along with how to store leftovers.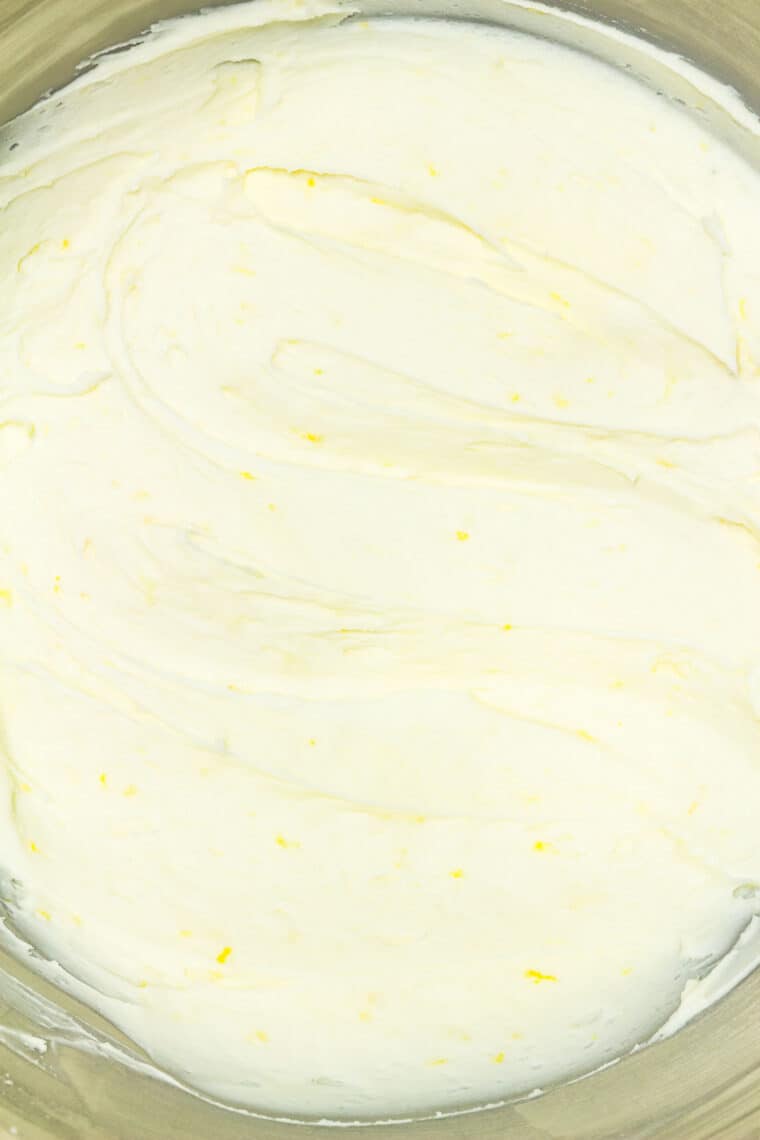 Tips for Success
This lemon buttercream is maybe the easiest frosting you'll ever make! There are a few tricks to getting it perfect, though:
Use room-temperature butter. Whether you're making buttercream frosting or cream cheese frosting, your ingredients will mix more smoothly if they're at room temperature before you start. Remember to take your butter out of the fridge about 30 minutes ahead of time.
If you don't have fresh lemons, your next best bet for flavoring the frosting is to use a few drops of lemon extract. It will be far less tart than bottled lemon juice. Using lemon extract is also a good idea if you're making this lemon frosting for kids, as the flavor tends to be milder.
Add the ingredients a little at a time. I always go with the approach that you can always add more, but you can't take it away. Incorporate the powdered sugar, zest, and lemon juice gradually, and adjust the flavor and consistency as you go.
To thicken the frosting, add more powdered sugar. To thin it out, add more lemon juice one spoonful at a time.
Store buttercream airtight. To prevent a crust from forming over the frosting while it sits out, make sure you cover it airtight. See below for detailed storage instructions.
To make a vegan lemon frosting: Swap the butter for your preferred dairy-free vegan butter or margarine.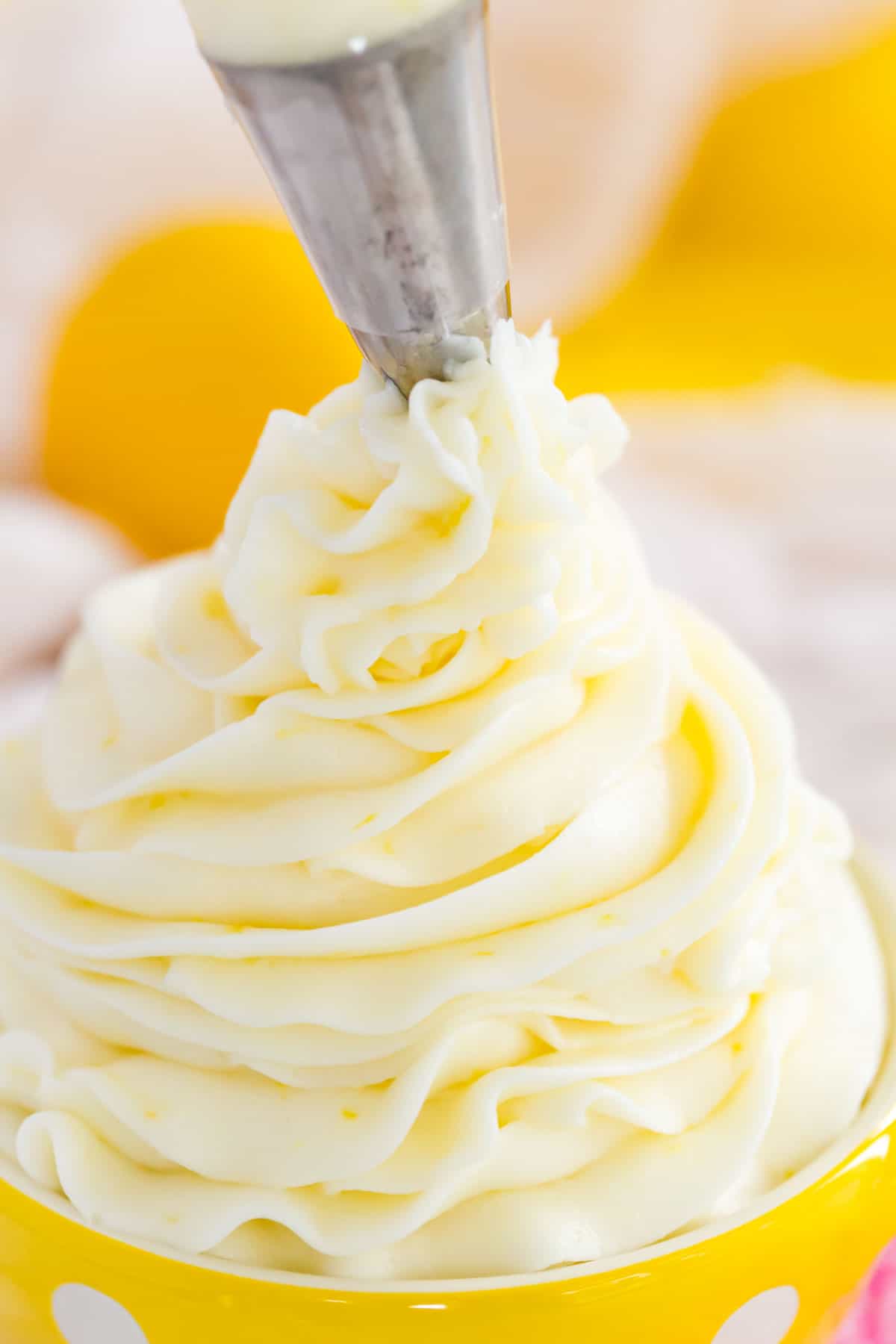 Ways to Use Lemon Buttercream Frosting
This frosting recipe makes enough to frost two dozen Lemon Cupcakes or your favorite homemade cupcakes (try my Gluten-Free Vanilla Cupcakes, too!). You can also use it to decorate everything from layer cakes to Gluten-Free Sugar Cookies with a bit of zesty lemon flair. Four double the lemon goodness, add a layer on top of Gluten Free Lemon Pound Cake.
The stiffness of buttercream frosting is ideal for piping beautiful frosting swirls and rosettes. It's also smooth and creamy enough to spread. So if you're not comfortable with a piping bag just yet, this frosting has you covered!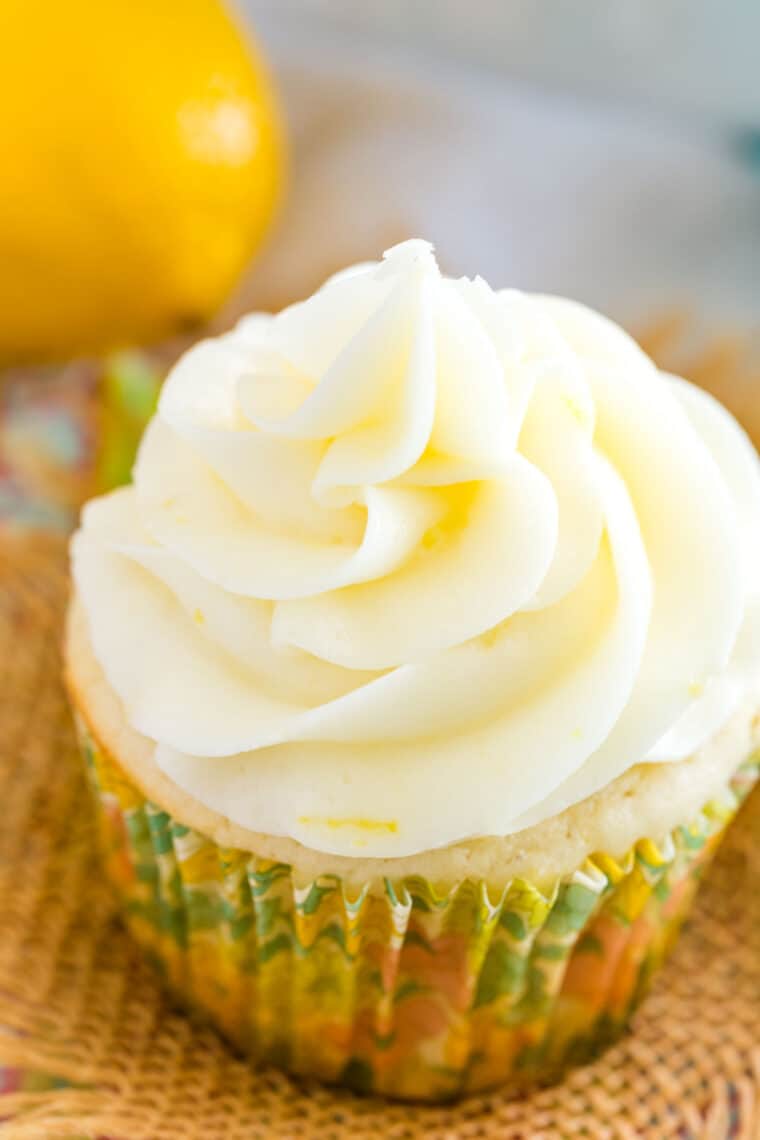 How to Store Homemade Buttercream
Store any leftover frosting airtight on the counter for up to 2-3 days, or in the fridge for up to one week. You'll want to let it come back to room temperature again before you use it.
Can I Freeze Lemon Buttercream Frosting?
Yes, this buttercream frosting can be stored frozen, airtight, for up to 3 months. Defrost the frosting in the fridge before using it.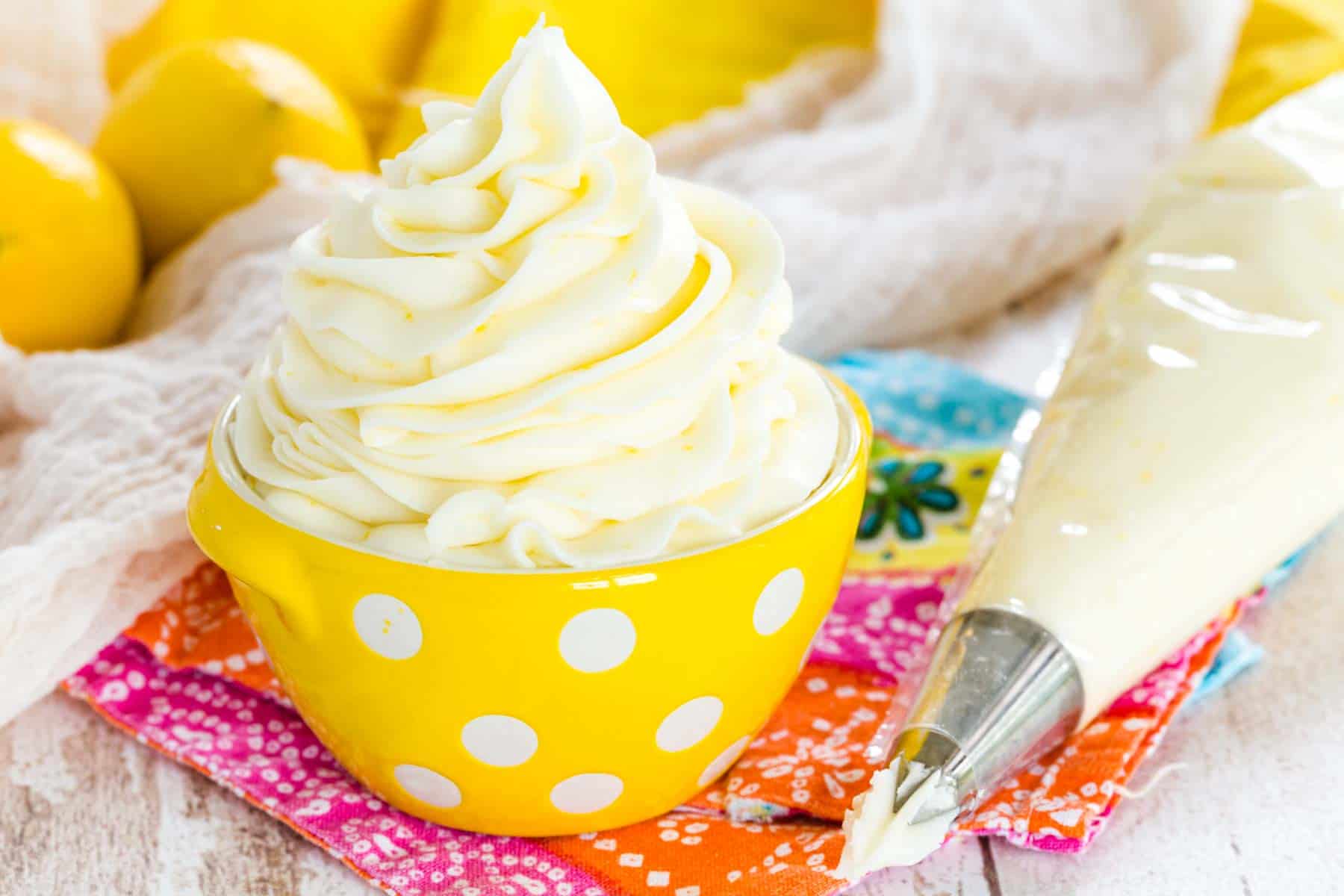 Things You'll Need
When decorating cupcakes, there isn't anything easier than using a disposable piping bag to pipe on a gorgeous swirl of buttercream using a star tip. For covering a cake, a small offset spatula is great for spreading the frosting, while a large offset spatula helps you get a nice, smooth finish over the entire cake.
Last updated on Dec 1, 2023 3:26 pm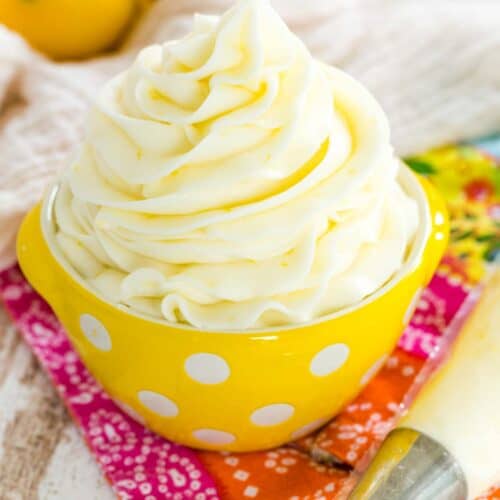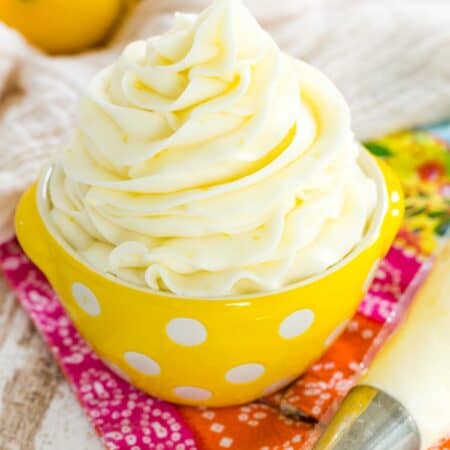 Lemon Buttercream Frosting
Make rich and creamy Lemon Buttercream Frosting with the fresh, bright flavor of real lemons! Use this easy homemade buttercream recipe to decorate cakes, cupcakes, and cookies.
Ingredients
1

cup

unsalted butter

(2 sticks), softened

4-5

cups

powdered sugar

2

teaspoons

lemon zest

1/4

teaspoon

salt

3-4

Tablespoons

fresh lemon juice
Instructions
In a large mixing bowl, beat the butter with a hand mixer or the paddle attachment of a stand micer on medium speed for 3 minutes.

Add 4 cups of the powdered sugar, lemon zest, salt, and 3 Tablespoons of the lemon juice. Starting on low speed, beat until everything is incorporated then gradually increase the speed to medium and beat until smooth and creamy. Add additional lemon juice or powdered sugar to achieve desired consistency.

Immediately frost a cooled cake or cupcakes, or store the frosting in an airtight container for later use. If stored in an airtight container in the refrigerator, the frosting will keep for up to a week. Bring to room temperature before using. Frosting can also be stored at room temperature for 2 or 3 days.
Nutrition Facts
Lemon Buttercream Frosting
Amount Per Serving
Calories 146
Calories from Fat 72
% Daily Value*
Fat 8g12%
Cholesterol 20mg7%
Sodium 26mg1%
Potassium 5mg0%
Carbohydrates 20g7%
Protein 0.1g0%
Vitamin A 237IU5%
Vitamin C 1mg1%
Calcium 3mg0%
Iron 0.02mg0%
* Percent Daily Values are based on a 2000 calorie diet.
More Easy Homemade Frosting Recipes