This post may contain affiliate links. Read my disclosure policy.
Soft, light, fluffy, and sweet, my Gluten Free Vanilla Cupcakes are a lovely simple treat that everyone will love. Their sumptuous vanilla flavor is perfectly balanced. Plus, they're super-simple to make with just a few basic ingredients!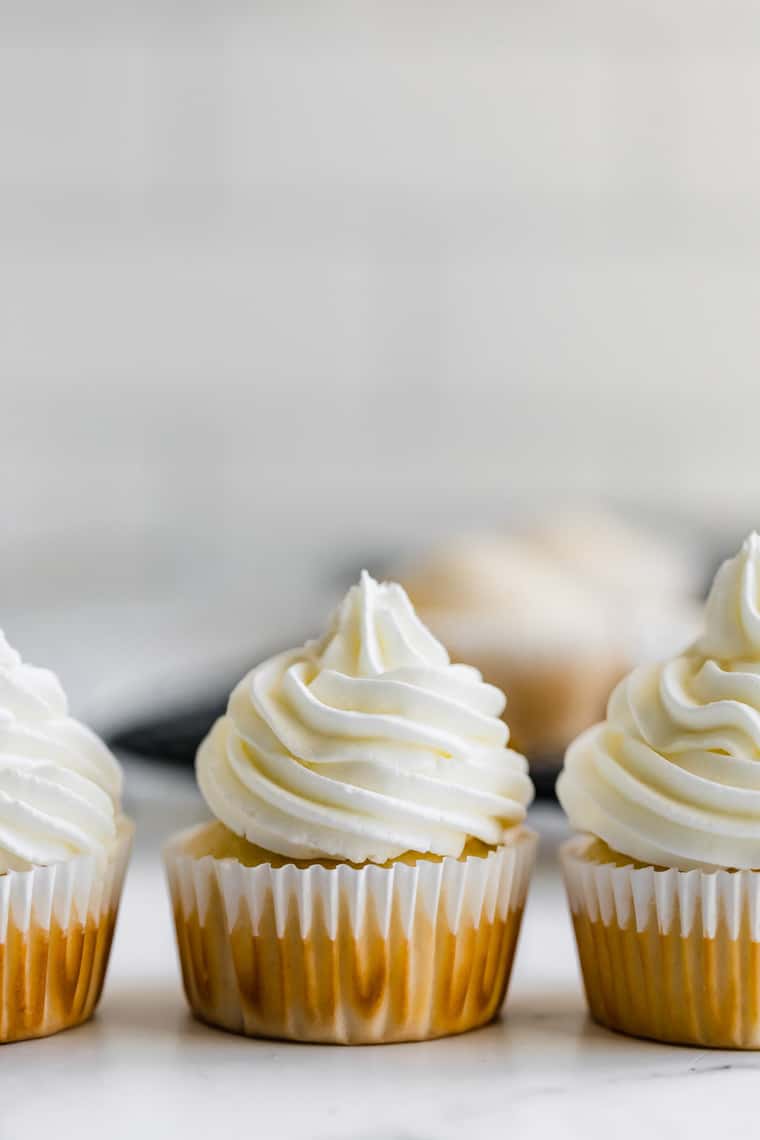 Moist & Fluffy Gluten Free Vanilla Cupcakes
Whether you're getting ready for someone's birthday, an Easter celebration, or just a simple weekend treat, these cupcakes are everything you want and more!
Okay, so you guys know me. I love, love, love fun recipes full of flavor and twists. If it's swirled with Nutella and studded with tempting mix-ins, I'm there! But sometimes, I like to just set all of that aside and do something simple.
And this sweet vanilla cupcake recipe is not only simple, it's simply perfect. The pale, soft, fluffy cupcakes are light, sweet, and satisfyingly flavored with pure vanilla extract. They're wonderful to decorate any way you choose and go with just about any type of frosting. And the best part? They're so, so easy!
Keep reading or check out this web story to see how to make gluten free vanilla cupcakes!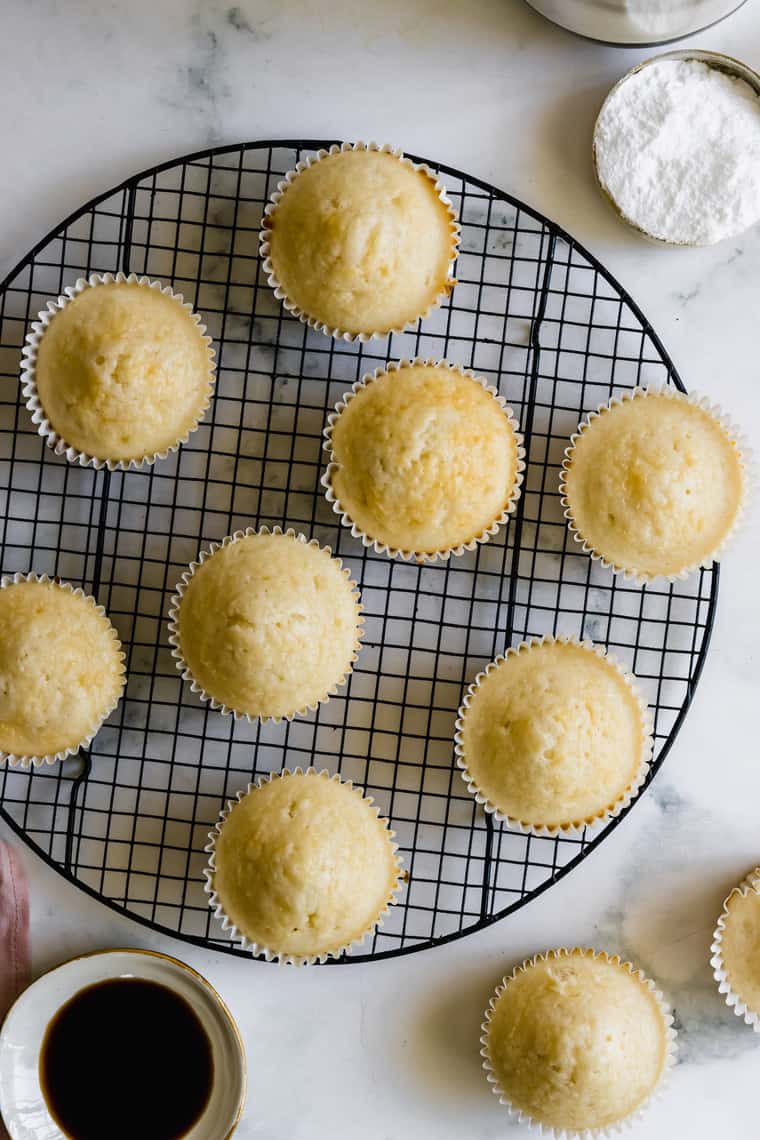 Why this Recipe Works
Do you usually shy away from gluten-free baking? If so, that's totally understandable! Lots of us have had our share of gluten-free fails, usually including heavy, gritty, or gummy results. Not good! You may be thinking that it's just easier to leave it to the pros and buy commercially-made gluten-free snacks and treats.
But this recipe will change your mind! It's super-simple to make, and the ingredients all work together really well to create a fluffy, tasty, vanilla-y cupcake that everyone will love. I'm using yogurt, oil, eggs, and milk, all combined with just the right amount of gluten-free flour, to create a soft, tender crumb. We'll also let the batter stand for a while after mixing so that all of the ingredients can absorb and stabilize.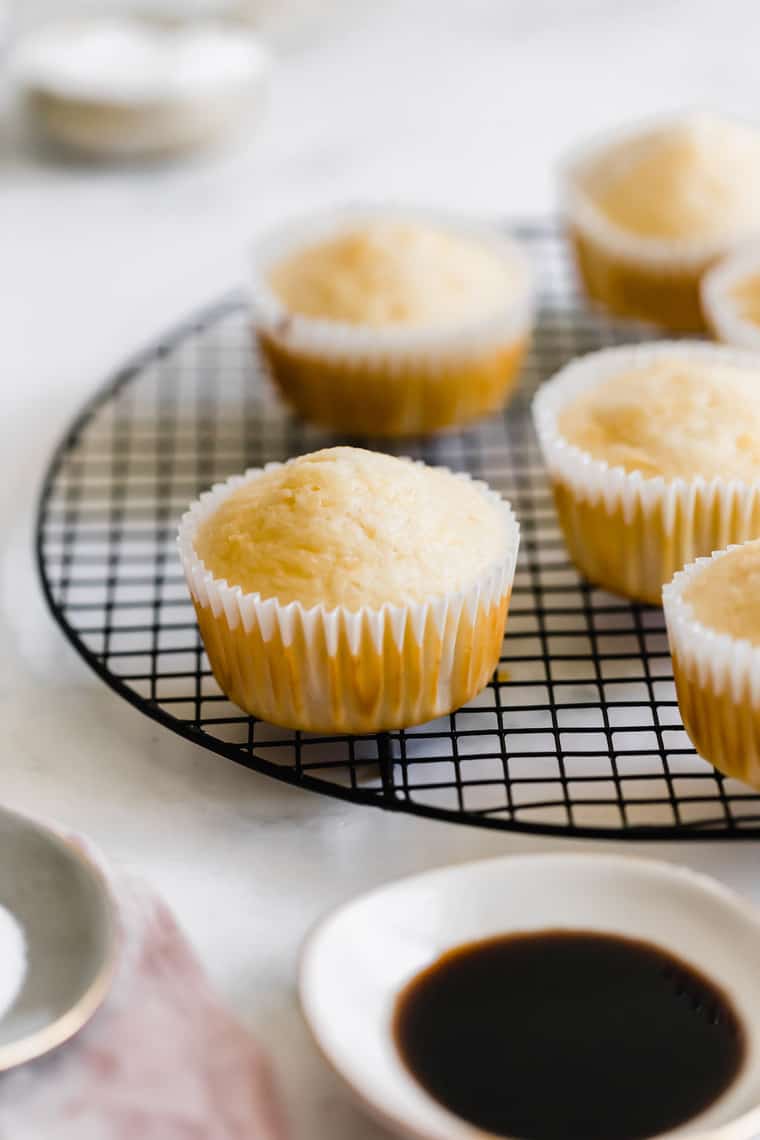 Do Gluten Free Cupcakes Taste Different?
Gluten-free cupcakes can taste a little bit different. This is because wheat flour is kind of the "standard" in baking, and it is a very bland ingredient. Gluten-free flours, on the other hand, are made with mixtures of nut flour, corn flour, rice flour, etc. They taste similar to wheat flour, but at the same time, slight differences may be noticeable in the finished bake.
Aside from the flour, you may not be used to using yogurt in your cupcake batter, so it may taste a little bit different, somewhat like a coffee cake without the cinnamon.
Overall, I think that these cupcakes have a light, sweet, deliciously vanilla taste that everyone will love! It's very much like regular vanilla cake, especially when frosted.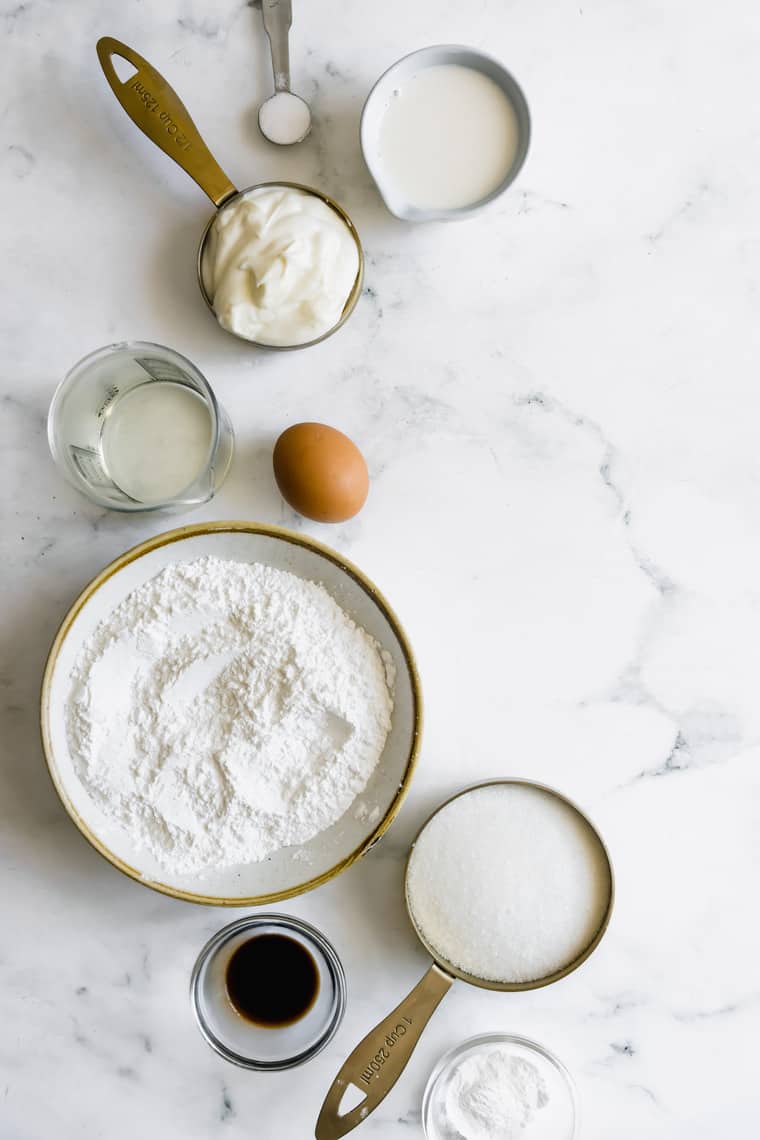 Ingredients
One thing I love about making this recipe is that the ingredients are so easy to find and so easy to work with. Back in the day, baking gluten-free could be pretty challenging, but gluten-free flours have come a long way! There are some great blends out there pre-mixed, but you can also mix your own if you like!
Yogurt: Half a cup of good, thick yogurt brings a creamy flavor and great texture to the cupcakes. Use plain yogurt, rather than flavored yogurt.
Oil: You'll need ¼ cup of vegetable oil to make the batter. If you like you can substitute cooled melted butter or a different oil, like coconut oil.
Vanilla: I use two teaspoons of vanilla extract for that classic vanilla cupcake flavor.
Egg: To bind the batter, you'll need one whole egg. Room temperature is best.
Milk: Half a cup of whole milk is needed for this recipe; I use regular milk, but you could substitute non-dairy milk if preferred. This may change the texture of the finished cupcakes somewhat.
Flour: You'll need 1 ⅓ cups of your favorite gluten-free flour. It should be an all-purpose or baking blend that you can use in a 1:1 ratio for regular flour.
Sugar: Sweets to the sweet, right? You'll need 1 cup of granulated sugar or your favorite sugar substitute. If you choose to substitute, keep in mind that this also needs to be a 1:1 ratio.
Baking Powder: To bring fluffiness and a good rise to the mix.
Salt: Half a teaspoon should do it!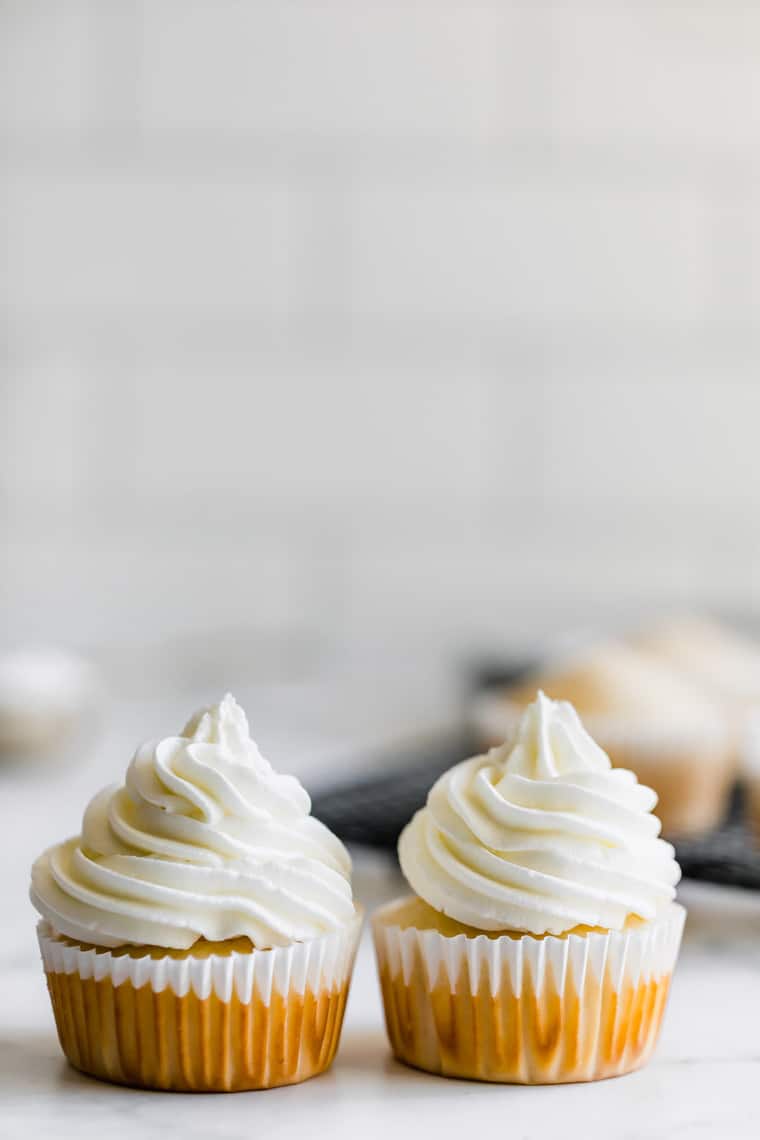 How to Make Gluten Free Vanilla Cupcakes from Scratch
Making these cupcakes is a really simple process, so if you're new to gluten-free baking, it's a great recipe to start with. Basically, all you have to do is mix the wet, then the dry, and bake in cupcake liners. Let's get into it!
Prep the Oven and Cupcake Pan. Before you get started, go ahead and preheat the oven to 350°F. Then line a 12-count muffin tin with cupcake liners.
Combine the Wet Ingredients. Whisk together the yogurt, oil, vanilla extract, egg, and milk in a large mixing bowl.
Add the Dry Ingredients. To the wet mixture, add the gluten-free flour, sugar, baking powder, and salt. Whisk together until just combined.
Let the Batter Stand. Cover the mixing bowl with plastic wrap, and allow it to stand at room temperature for about 20 minutes. This allows the flour to absorb more liquid.
Fill Cups, Bake, and Cool. Once the batter is ready, fill each cupcake liner 2/3 of the way full. Bake for 15 to 20 minutes, or until a toothpick inserted into the center of a cupcake comes out clean. Allow the cupcakes to cool for 5 minutes in the pan, and then transfer to a cooling rack to cool completely.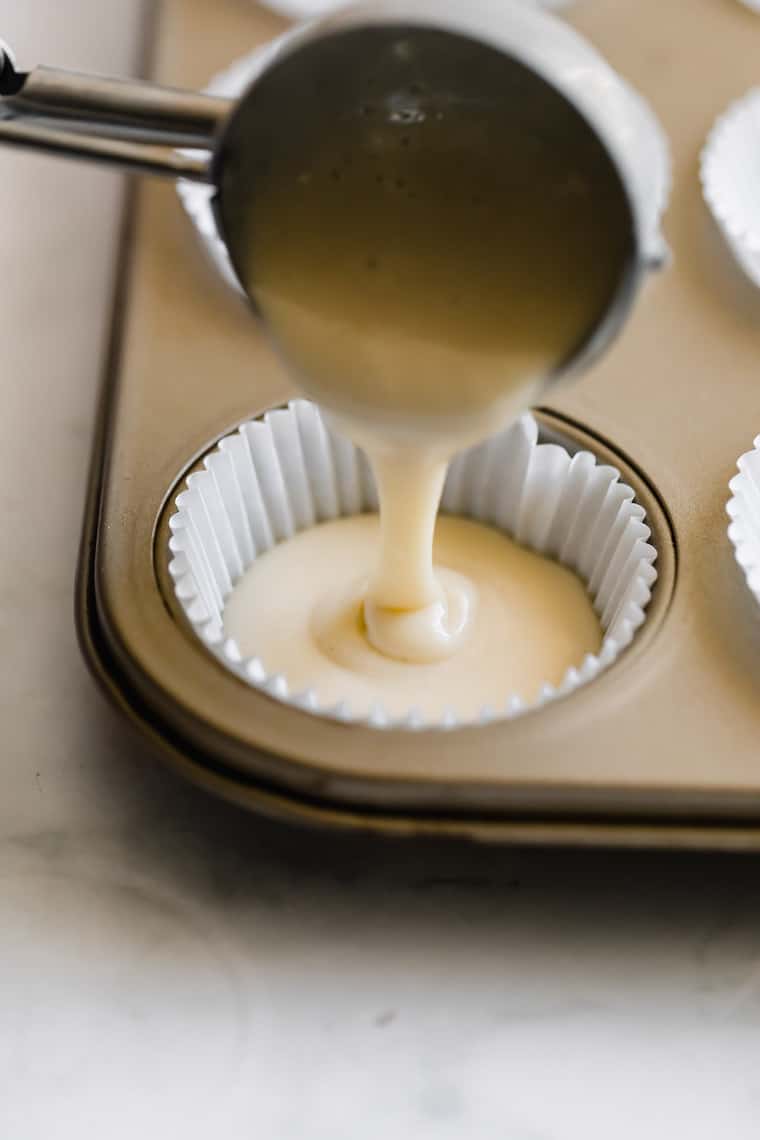 Enjoy! Once the cupcakes have cooled, you can frost and decorate them any way you want!
Tips for Success
There are a couple of important tips I'd like to share here, to help you get the best results when making this recipe! Read on, and enjoy!
Measure Your Flour Correctly
It's important to measure your gluten-free flour by spooning it into your measuring cup and then leveling it off. The reason for this is that if you scoop flour out of the bag with your measuring cup, you may pack it in tightly. The same goes for pouring it into the cup. We want to avoid packing the flour in or piling it up. Just spoon it in until the correct amount is in the measuring cup, and then use a knife to level it off.
Don't Over Mix the Batter
Usually, over mixing has to do with developing the gluten too much in your cake batter. So why does it matter in a gluten-free baking?
The problem with over mixing batters like this is that you can accidentally work too much extra air into the mixture. That extra air may cause a nice, puffy rise as the cupcakes start baking. But after the cupcakes are removed from the oven, the cupcakes may sink in the middle.
Don't Over Fill the Cupcake Tins
You might be thinking about oversized muffins, which are sometimes purposely overfilled so that the muffin top will rise way out of the liner. But for these cupcakes, I really recommend filling only ⅔ full. If you try to fill them up much more than that, you may end up with exploding cupcakes! That's right, the steam and pressure from too much batter in each little cup can actually cause them to erupt a bit as they bake. Still tasty, just not as pretty! And not as easy to clean up afterward.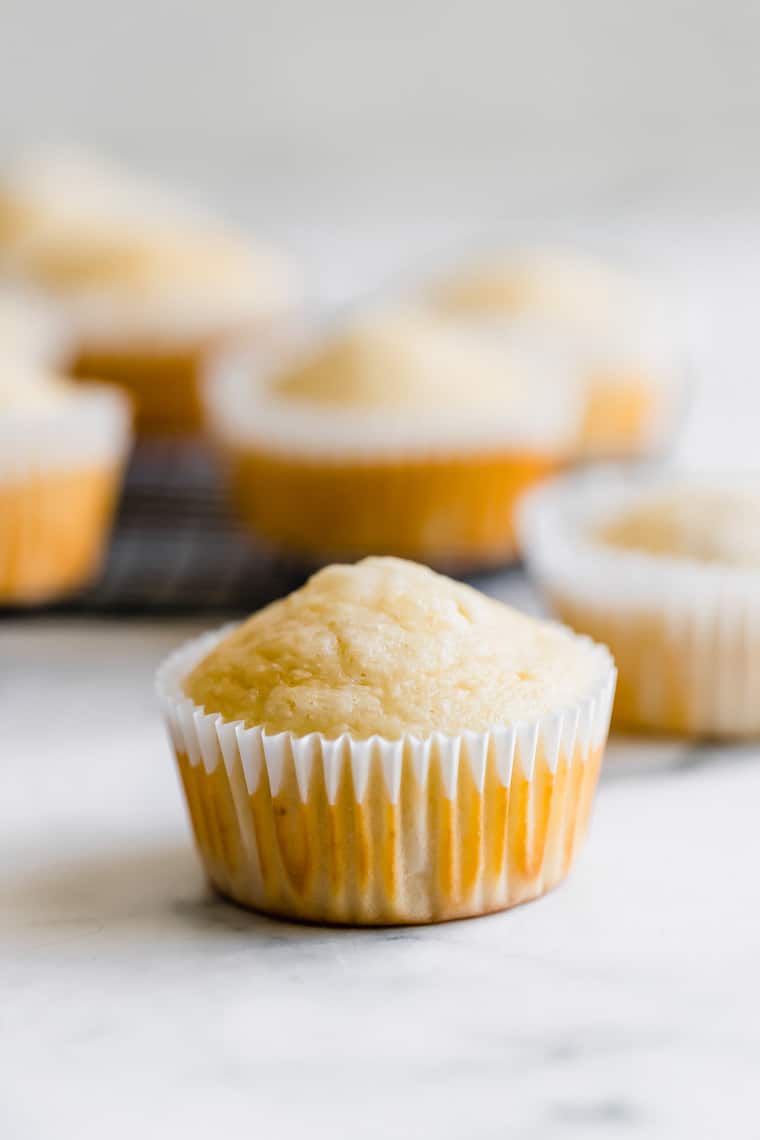 What is the Best Frosting to Use?
These cupcakes are so versatile, you can use whatever frosting you like! I know at least one kiddo who's an avid fan of chocolate frosting on vanilla cake. Another adores Oreo frosting.
But I'll be honest, my personal favorite is a beautiful, simple, vanilla buttercream. For Easter and Mother's Day, especially, the pale vanilla frosting over pale vanilla cake is fresh, spring-like, and dainty!
Need some color? You can always decorate them with seasonal sprinkles (check that they are gluten free) or top each frosted cupcake with one of these Funfetti White Chocolate Strawberries!
For an added surprise, scoop out the middle and fill it with lemon or grapefruit curd.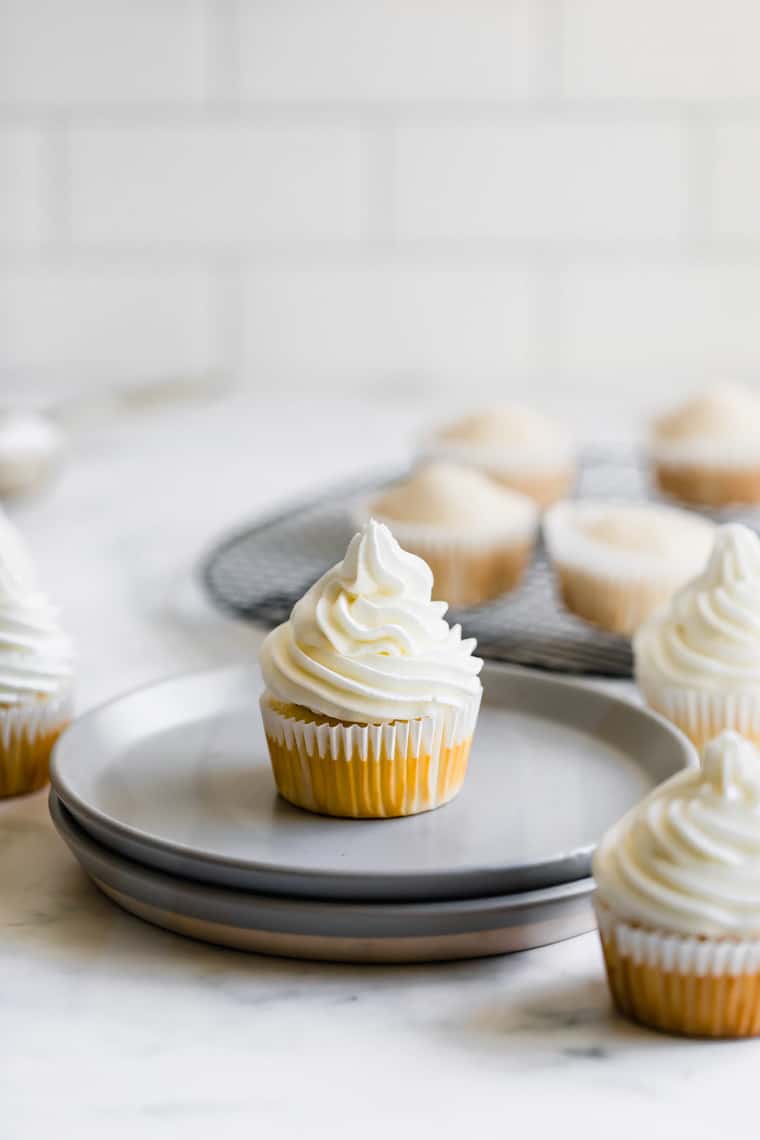 How to Store Homemade Gluten Free Vanilla Cupcakes
Most gluten-free resources recommend storing homemade gluten-free baked goods at room temperature, rather than in the refrigerator. The cupcakes themselves will keep for up to two days at room temperature, in airtight containers. Buttercream frosting will also keep for two days, but cream cheese frostings need to be refrigerated past 24 hours.
Can I Freeze These?
Yes, these freeze really well! It's super-helpful to have a simple, gluten-free dessert like this in the freezer, just in case you need to pull one out for a special occasion when regular wheat-based desserts won't cut it. To freeze, just place these in a shallow, air-tight container or zip-top bag, and store in the freezer for up to three months.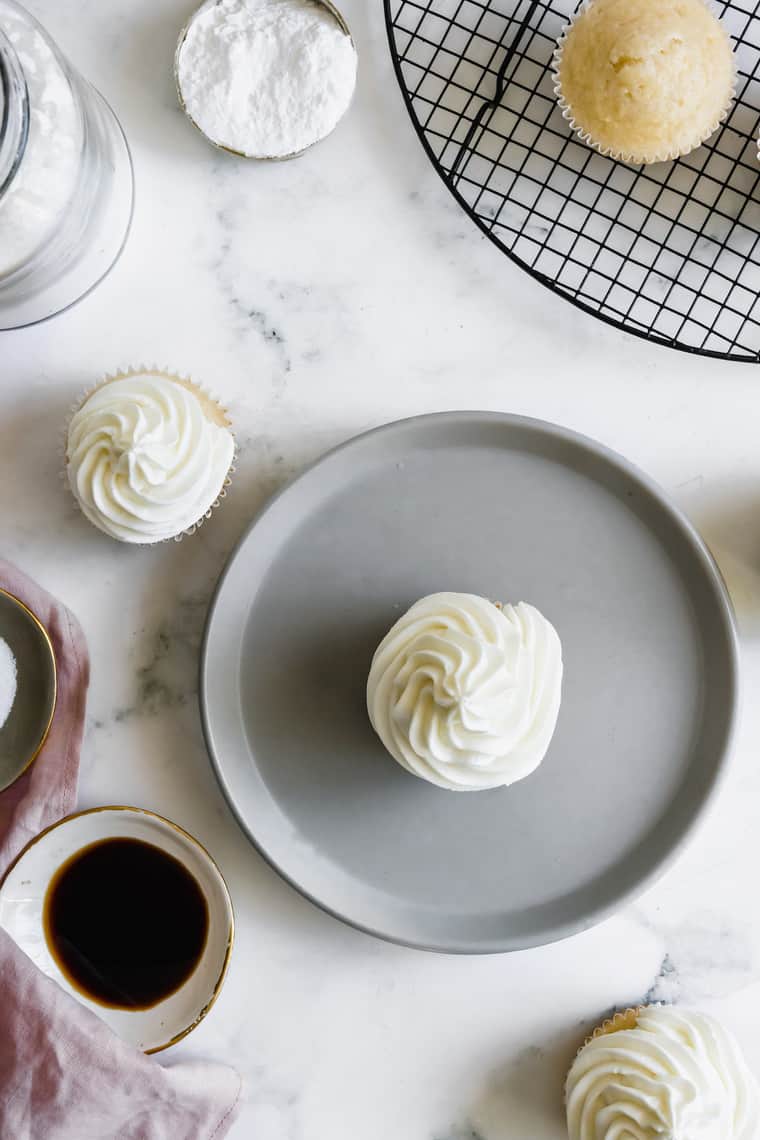 Brianne Recommends
Brianne Recomends
Of course, you've gotta have a cupcake or muffin pan. I have one similar to this and love it.
Don't forget the cupcake liners.
You'll definitely need the 1-to-1 gluten free flour, like this one from Bob's Red Mill.
And I love using a scoop to make nice, evenly-sized cupcakes.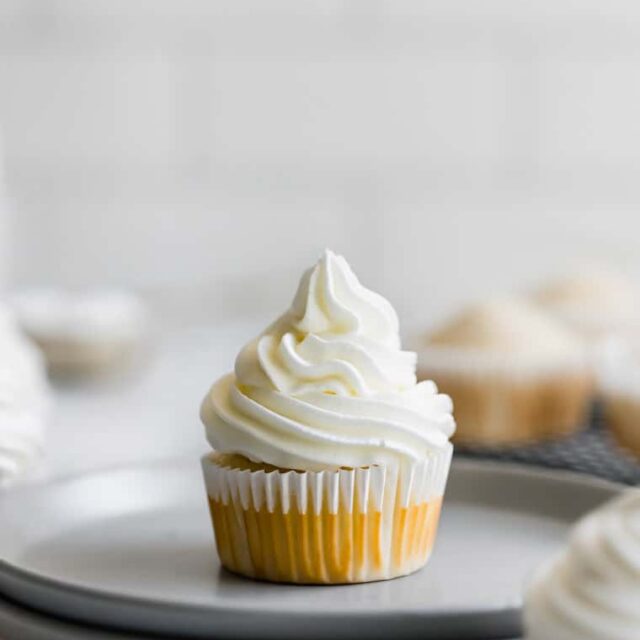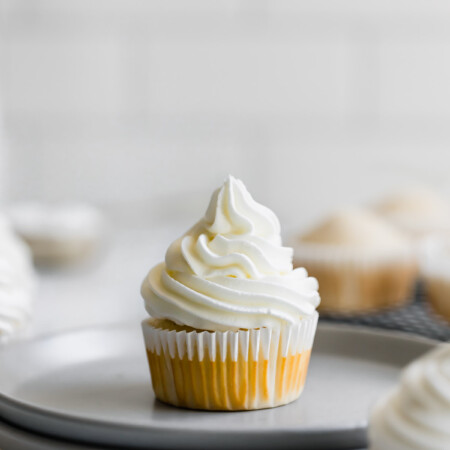 GLUTEN-FREE VANILLA CUPCAKES
A soft, light, and fluffy vanilla cupcake recipe made with gluten-free flour, yogurt, and real vanilla.
Ingredients
1/2

cup

plain Greek yogurt

1/4

cup

vegetable oil

2

teaspoons

vanilla extract

1

egg

at room temperature

1/2

cup

whole milk

1 1/3

cup

gluten-free 1:1 baking flour

1

cup

sugar

1 1/2

teaspoons

baking powder

1/2

teaspoon

salt
Instructions
Preheat oven to 350°F and line a 12-well cupcake pan with cupcake liners.

In a mixing bowl, whisk together the yogurt, oil, vanilla extract, egg, and milk.

Add the flour, sugar, baking powder, and salt.

Whisk together until just combined.

Cover the mixing bowl with cling film and allow to sit for 20 minutes. This allows the gluten-free flour time to absorb more liquid.

Once the batter is ready, fill each cupcake liner 2/3 of the way full.

Bake for 15 – 20 minutes, or until cooked through. A toothpick should come out clean when inserted into the center of the cupcake.

Allow the cupcakes to cool for 5 minutes in the pan, and then transfer to a cooling rack to cool completely.
Notes
Hit your cupcake pan on your counter before putting it in the oven. This will bring any air bubbles that are trapped in the batter to the surface.
These unfrosted cupcakes can be stored in an airtight container for 2 days at room temperature, or up to 3 months in the freezer.
Nutrition Facts
GLUTEN-FREE VANILLA CUPCAKES
Amount Per Serving (12 g)
Calories 124
Calories from Fat 54
% Daily Value*
Fat 6g9%
Cholesterol 16mg5%
Sodium 112mg5%
Potassium 86mg2%
Carbohydrates 18g6%
Protein 1g2%
Vitamin A 46IU1%
Vitamin C 1mg1%
Calcium 48mg5%
Iron 1mg6%
* Percent Daily Values are based on a 2000 calorie diet.
More Gluten Free Desserts to Try