This post may contain affiliate links. Read my disclosure policy.
Easy Gluten-Free Pikelets are the perfect breakfast or snack to whip up in minutes on the stovetop! These are light and fluffy mini pancakes made with gluten-free flour, with the added richness of heavy cream. Top them with whipped cream and jam, and dig in.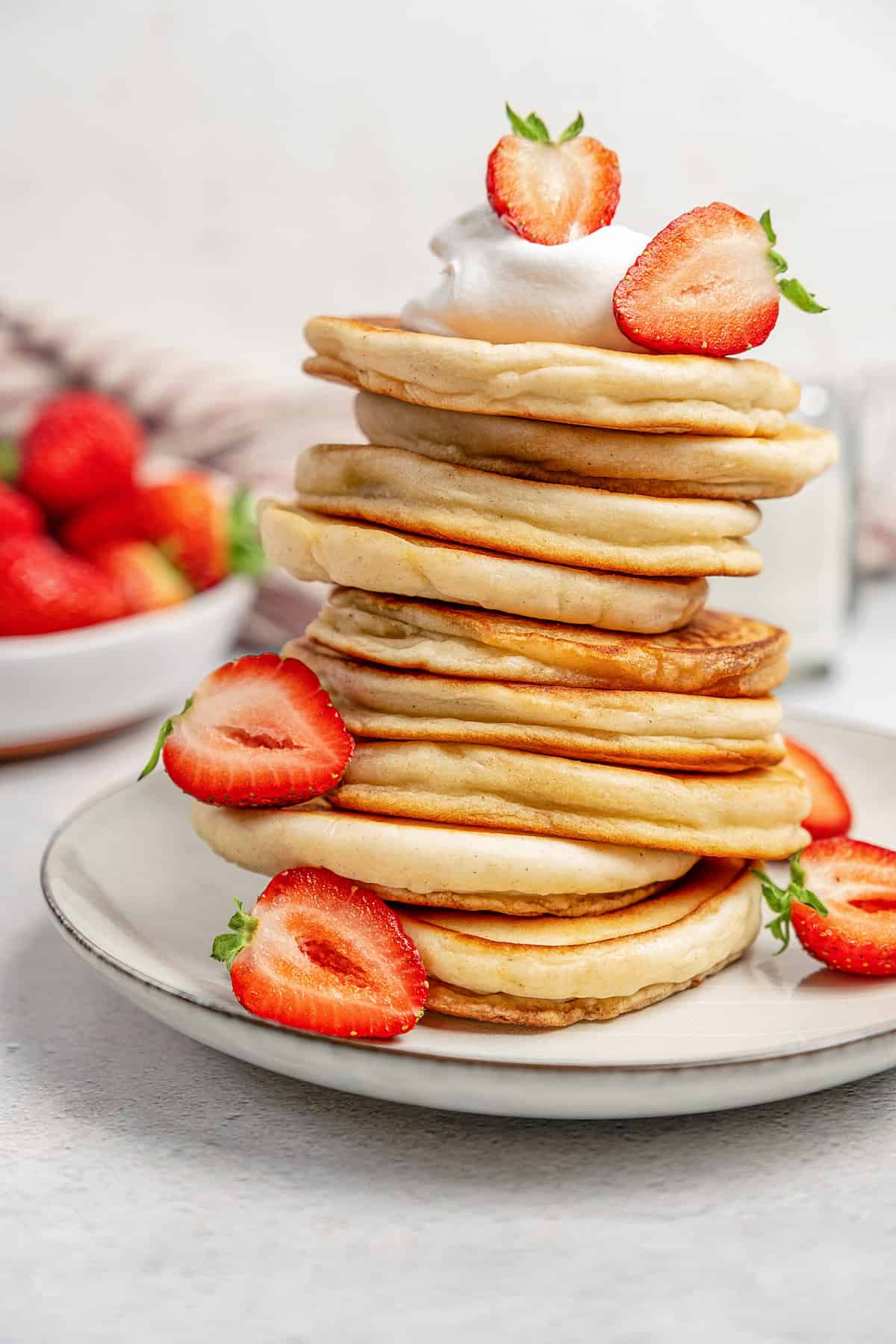 Light and Fluffy Gluten-Free Pikelets
If have any ties to Australia, you might already recognize pikelets as an Aussie favorite! These are a popular breakfast or snack Down Under, but we love them too. Pikelets are made from basic batter ingredients like eggs, milk, and flour, and fry up in minutes in a skillet.
These fluffy gluten-free pikelets make the perfect after-school snack, lunch idea, or fun and easy breakfast, and the kids go crazy for them. We pile them high with whipped cream and strawberries for the ultimate treat.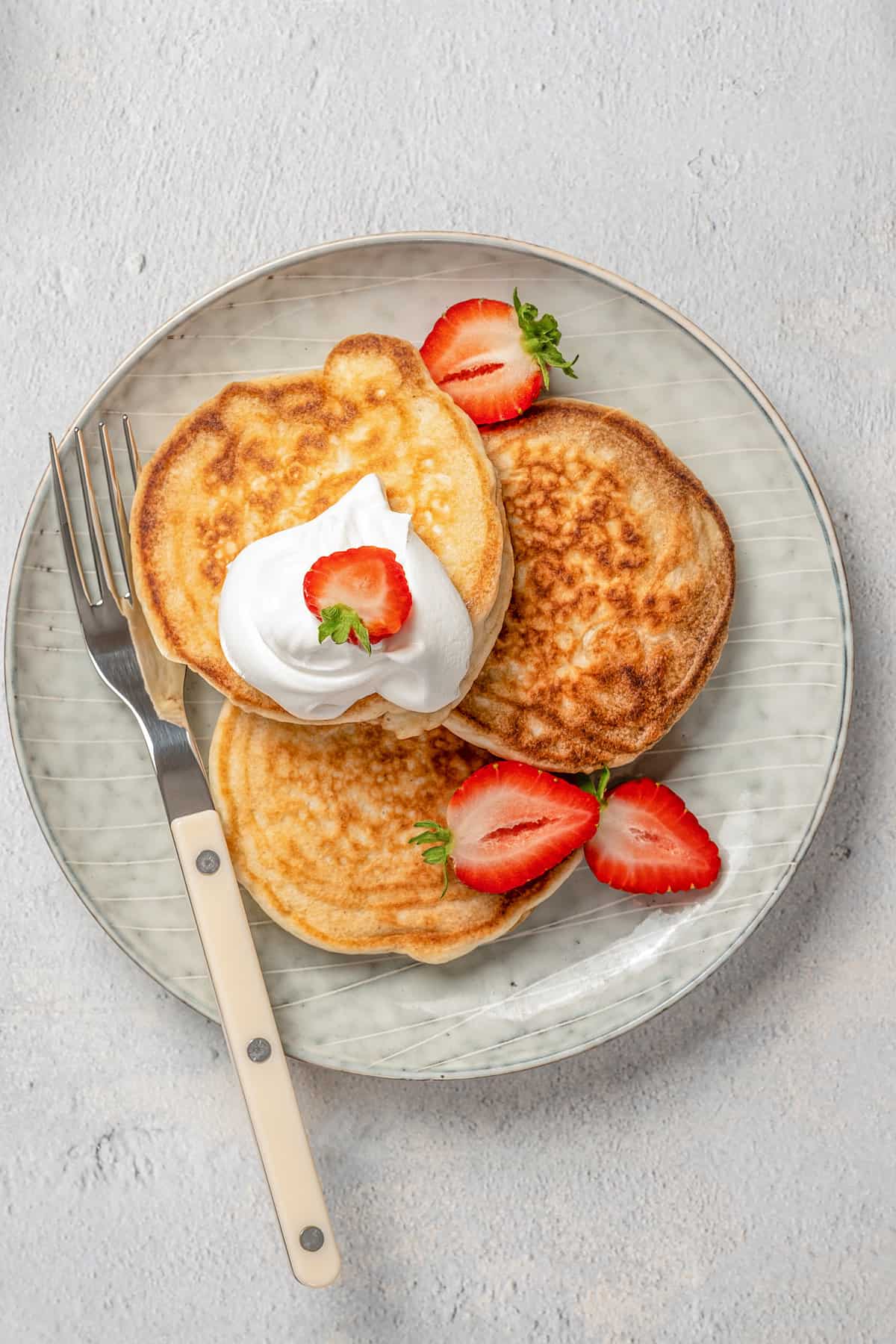 What Is the Difference Between Pancakes and Pikelets?
Pikelets are basically mini pancakes! The name "pikelets" comes from Australia and New Zealand, where this type of pancake is a staple.
These are small enough to eat with your hands, and a bit denser than traditional American-style pancakes. But you can still enjoy your gluten-free pikelets as you would regular homemade pancakes!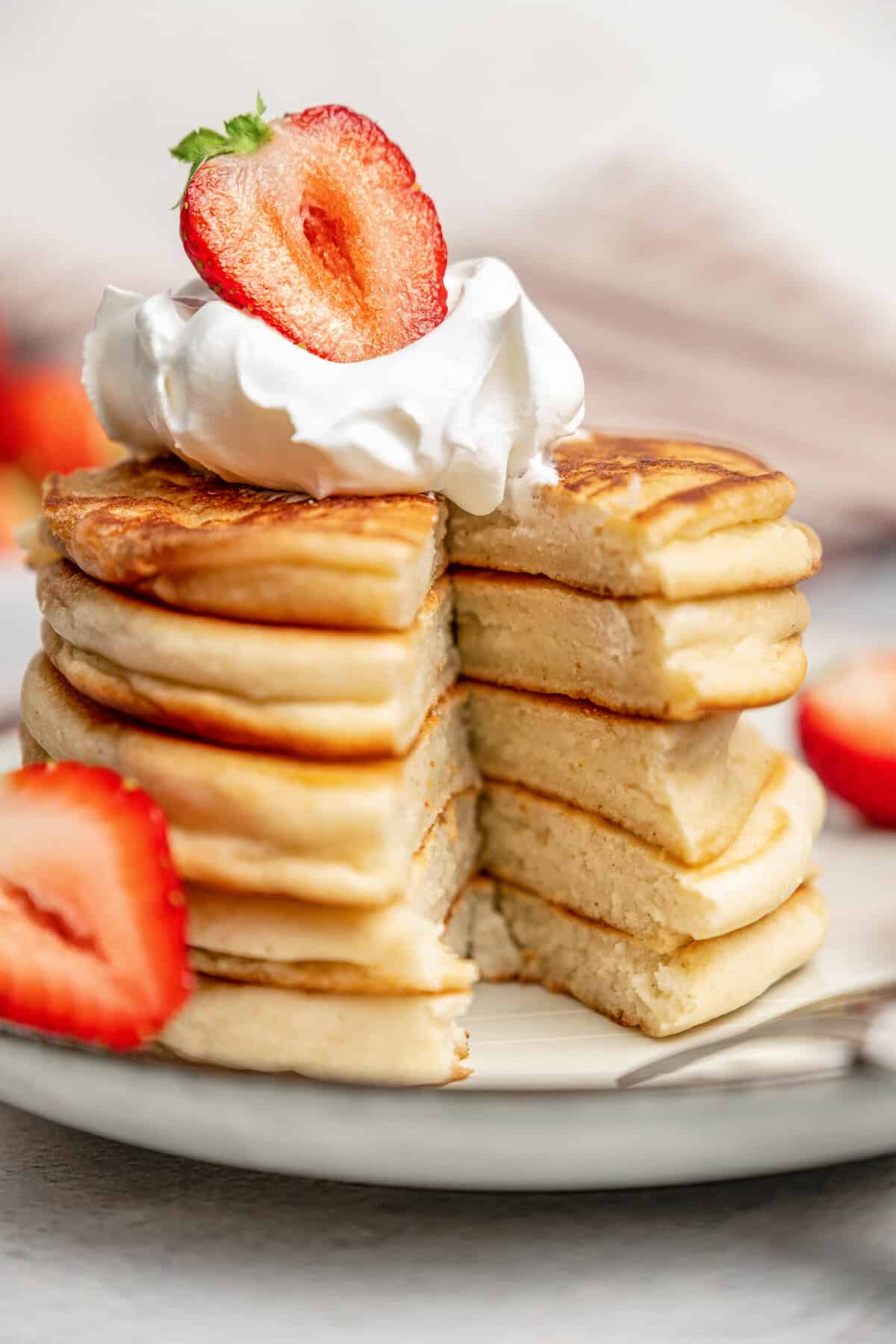 What You'll Need
Let's go over the short list of pantry ingredients you'll need to make this gluten-free pikelets recipe. I've included the full details in the recipe card further down, but here's a quick overview:
Gluten-Free Flour: I've had great results when making this recipe with King Arthur Measure for Measure. If you're not making your pikelets gluten-free, use regular all-purpose flour instead.
Baking Soda and Salt: Baking soda gives the pancakes some lift, while salt enhances the flavor.
Xanthan Gum: Xanthan gum stabilizes and binds the ingredients in these gluten-free pancakes, much in the same way that the gluten in flour would.
Sugar: I like to add a bit of sweetness to my pikelets, but this is optional. Feel free to omit the sugar if you'd prefer a more savory, crumpet-style pancake.
Milk and Egg: You'll need one beaten egg as well as milk for richness and moisture.
Heavy Cream: Adding heavy cream to the batter makes pikelets a bit denser, but the result is a mini pancake that's golden on the outside and irresistibly tender and moist in the middle.
Butter: Or a neutral-flavored oil like vegetable oil or canola, for frying your pikelets.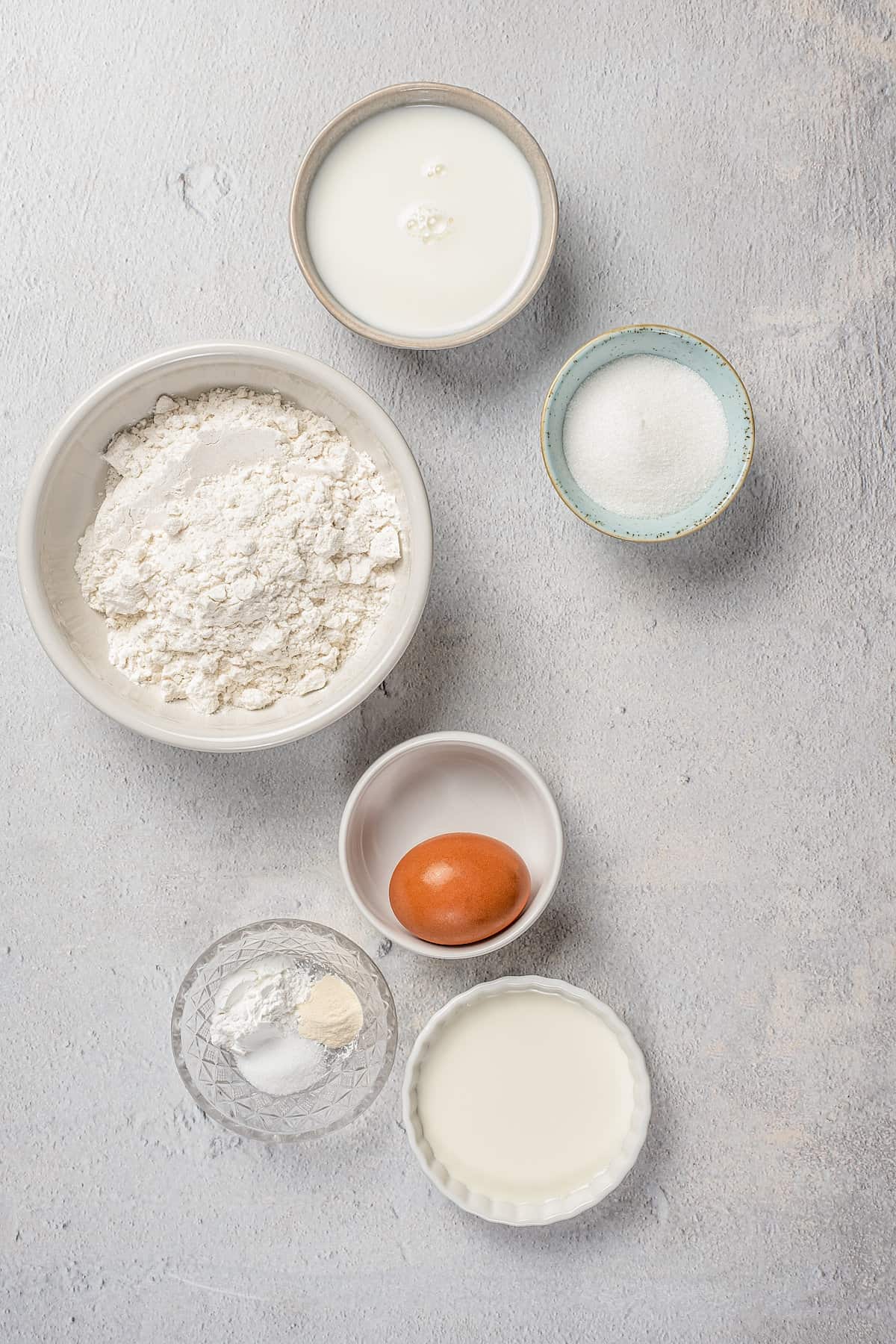 How to Make Gluten-Free Pikelets
Pikelets follow the same process as pancake making: make the batter, fry it on the griddle, and then smother your pikelets with all your favorite toppings! Let's get started:
Mix the Batter: First, whisk together the dry ingredients in a large bowl. Next, in a separate bowl, whisk the egg, milk, and heavy cream until smooth. Add the wet ingredients to the dry, and stir to combine. You'll notice that pikelet batter is thicker than regular pancake batter. However, if you find that yours is too thick, add more heavy cream.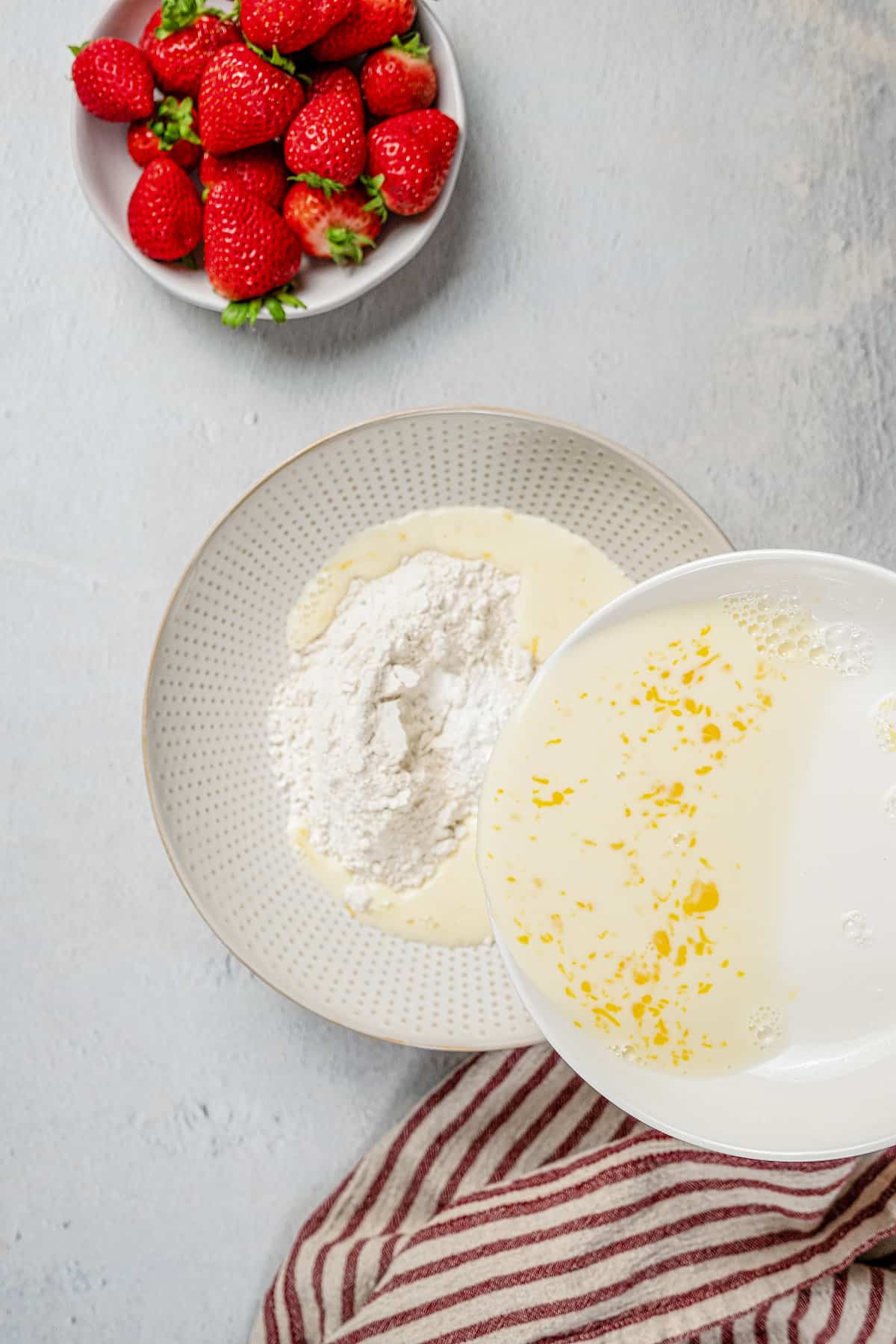 Cook: Make sure to give the skillet enough time to heat up before you cook your pikelets. You can sprinkle a few drops of water over the pan – if it evaporates right away, the pan is ready! Once your pan is hot, drop the batter into the skillet with a bit of melted butter or oil. Working in batches, cook the circles of batter until bubbles appear on the surface, then flip. Repeat until you've turned all your batter into a stack of fluffy pikelets.
Serve: You can keep your finished pikelets warm beneath foil. When they're all ready, it's time to serve! See below for easy serving ideas.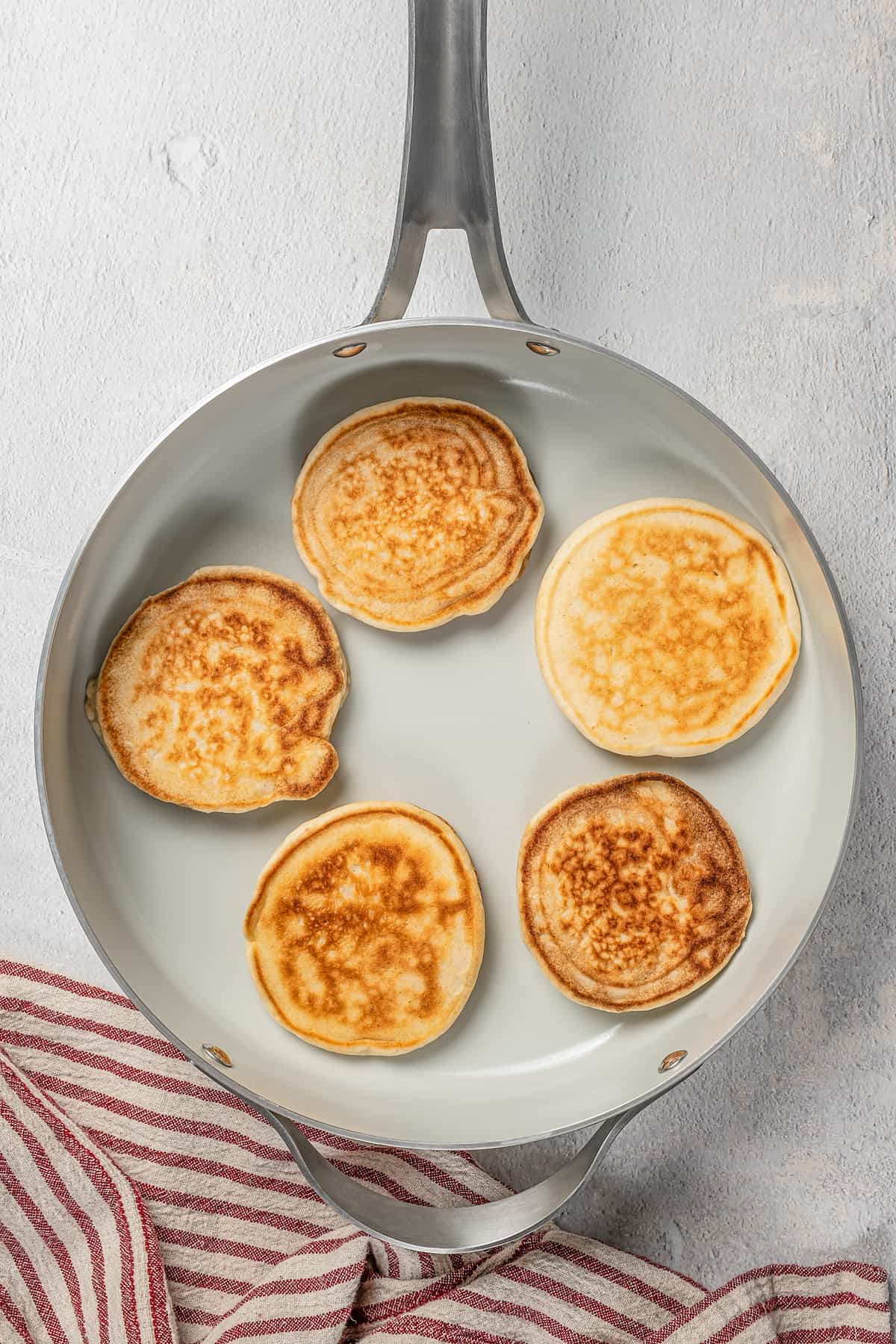 Tips for Success
Pikelets are so simple to make, I'm sure you'll be a pro in no time! But in case you're new to making pancakes of any kind, here are some helpful tips to keep in mind: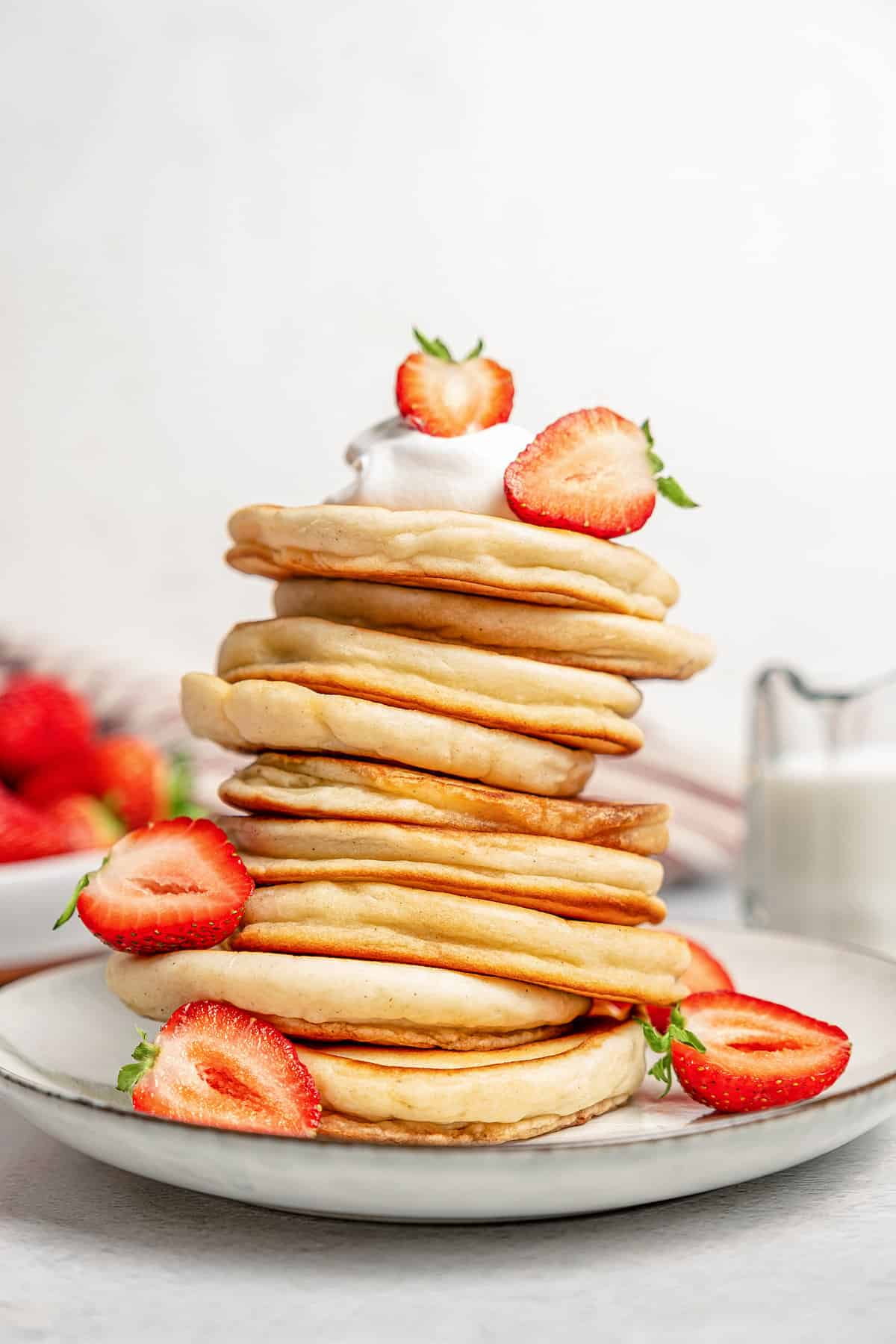 Easy Add-In Ideas
Just like pancakes, homemade pikelets can be customized with loads of easy add-ins. Here are some ideas to stir into the batter:
Topping and Serving Suggestions
Pickelets are traditionally served warm with butter or topped with piles of whipped cream. We love ours topped with fresh fruit, like strawberries! Here are more easy topping ideas and ways to serve gluten-free pikelets:
You can easily make these pikelets into a meal, too. Serve them with a side of Crispy Bacon, Baked Eggs, and Hash Brown Potatoes for breakfast or brunch. Or, pack them for easy school lunches!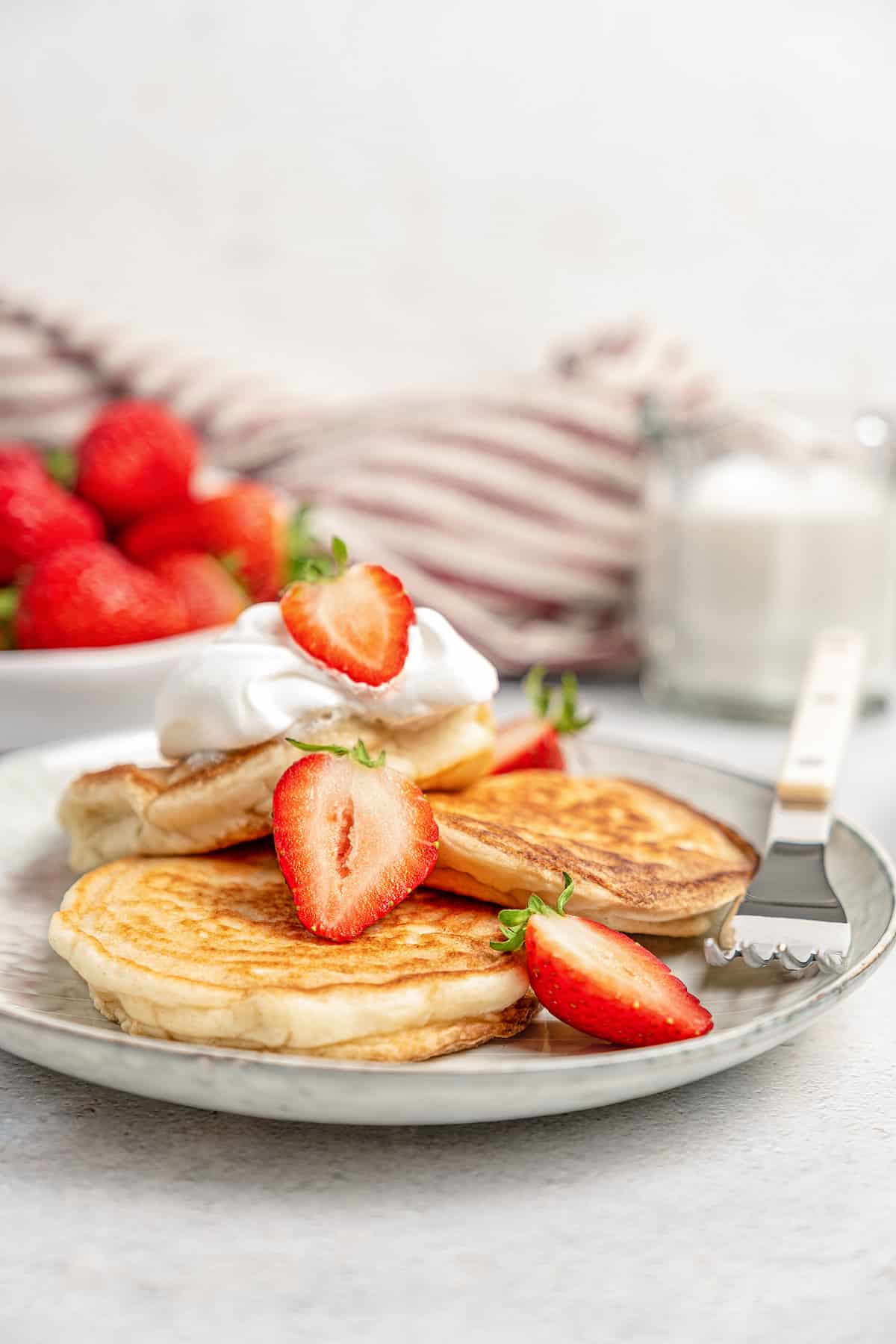 Storing and Reheating Pikelets
Store gluten-free pikelets airtight at room temperature for up to 3 days. You can also keep them in the fridge if you prefer (or if you live in a particularly warm climate).
Leftover pikelets are great to enjoy cold or reheated. To reheat, simply pop them into the microwave for a few seconds to warm them through. You can also use the toaster oven.
These also freeze well for longer storage, see the next section for details.
Can I Freeze Pancakes?
Yes! Freeze your pikelets in a single layer, airtight in a container or in a resealable freezer bag. They can be kept frozen for up to 3 months. Thaw your pancakes at room temperature, and enjoy right away or reheat them as usual.
You can also reheat these mini pancakes straight from frozen. Arrange the frozen pancakes on a plate in a single layer, cover them with a paper towel, and zap them in the microwave for 10 seconds. If they're not warmed all the way through, flip the pikelets and microwave them for another 5-10 seconds until hot.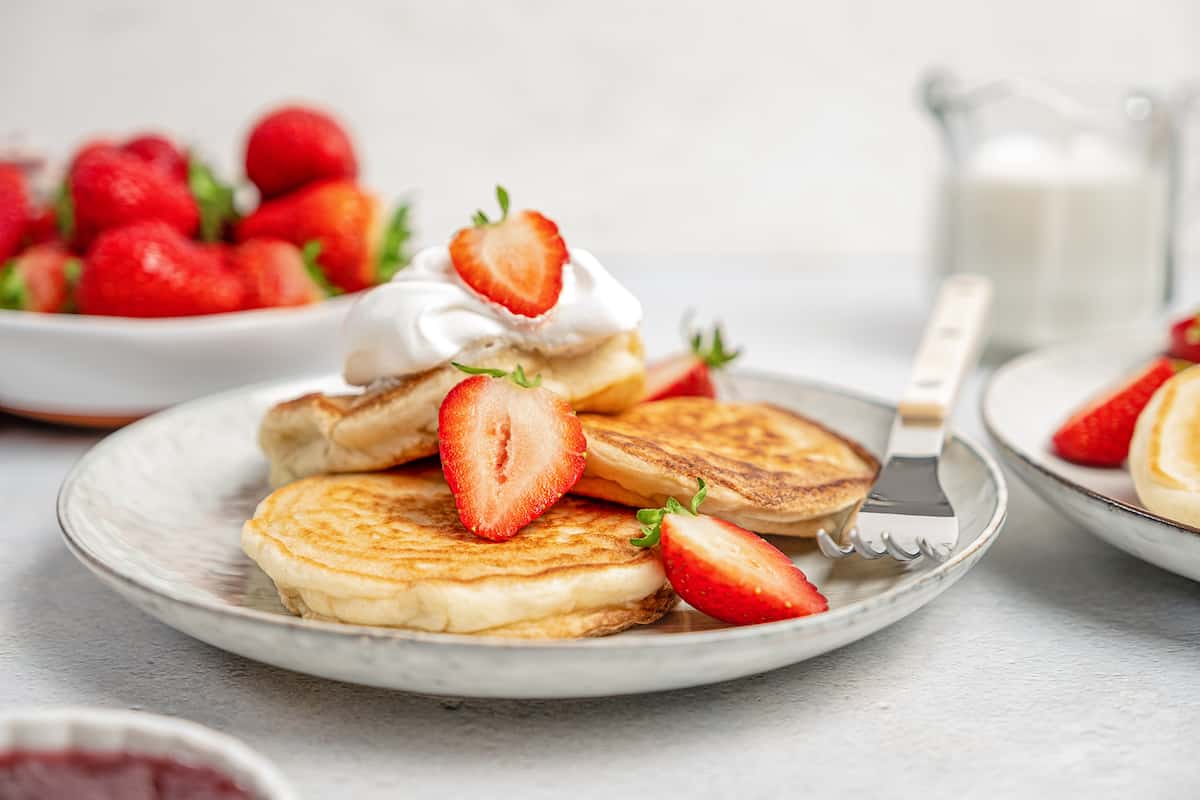 Flipping Pancakes
When I am making mini pancakes, I like to use a mini flipper. Those regular-sized spatulas are just too big, and end up hitting the other pancakes and messing them up. This little guy is also great for picking up cookies and brownies too.
$14.99
in stock
as of September 21, 2023 2:57 am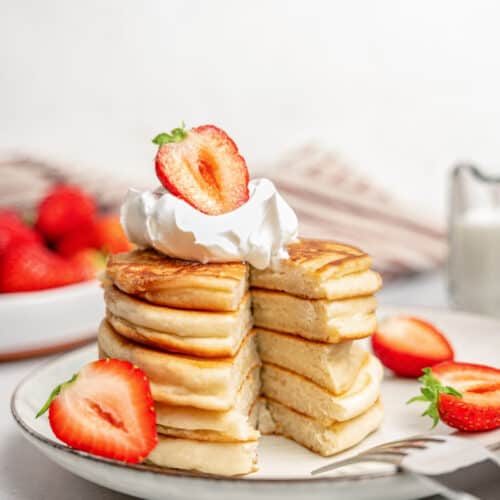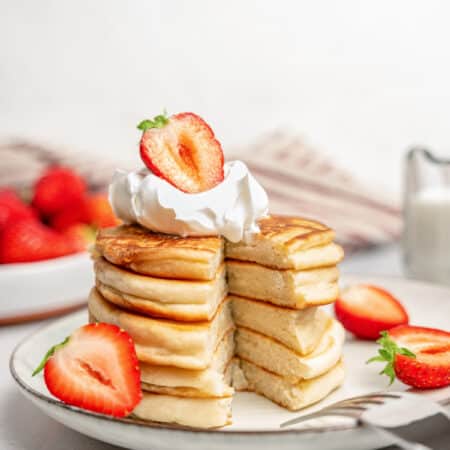 Gluten-Free Pikelets
Light and fluffy Gluten-Free Pikelets are so easy to make in a skillet! Top these mini pancakes with strawberries and cream for an easy breakfast or snack.
Ingredients
1

cup

gluten-free flour

, I used King Arthur Measure for Measure

1 1/2

tsp

baking powder

1/4

tsp

salt

1/4

tsp

xanthan gum

3

tbsp

granulated sugar

1

egg

, beaten

1

cup

milk

1

tbsp

heavy whipping cream

Butter or oil for frying
Instructions
In a large mixing bowl, combine the flour, baking powder, salt, xanthan gum and sugar. Set aside.

In a small bowl whisk together the egg, milk and heavy cream.

Add the egg and milk mixture to the dry ingredients and whisk until just combined. The batter will be a little bit thicker than regular pancake batter. If your batter is too thick, add in a bit more heavy cream.

Add butter or oil to the bottom of a large non-stick pan over medium heat.

Allow the batter to stand for a few minutes while your frying pan heats up. Do not drop the batter onto a pan that is not hot enough.

Working in batches, use an ice cream scoop or large spoon to scoop the batter into your hot frying pan. Cook until bubbles appear on the surface of your pikelets. Flip and cook the other side. Repeat until you have used all of the batter.

Serve with whipped cream, strawberry jam and fresh strawberries.
Nutrition Facts
Gluten-Free Pikelets
Amount Per Serving
Calories 195
Calories from Fat 45
% Daily Value*
Fat 5g8%
Cholesterol 50mg17%
Sodium 197mg8%
Potassium 254mg7%
Carbohydrates 35g12%
Protein 7g14%
Vitamin A 175IU4%
Vitamin C 0.1mg0%
Calcium 165mg17%
Iron 1mg6%
* Percent Daily Values are based on a 2000 calorie diet.
Categories:
More Easy Gluten-Free Breakfast Ideas