This post may contain affiliate links. Read my disclosure policy.
Indulge in a nutritious breakfast with this Brownie Batter Chocolate "Zoats"! You'll be shocked at this sweet and delicious zucchini oatmeal that packs in whole grains, protein, and veggies first thing in the morning. All while satisfying your chocolate cravings!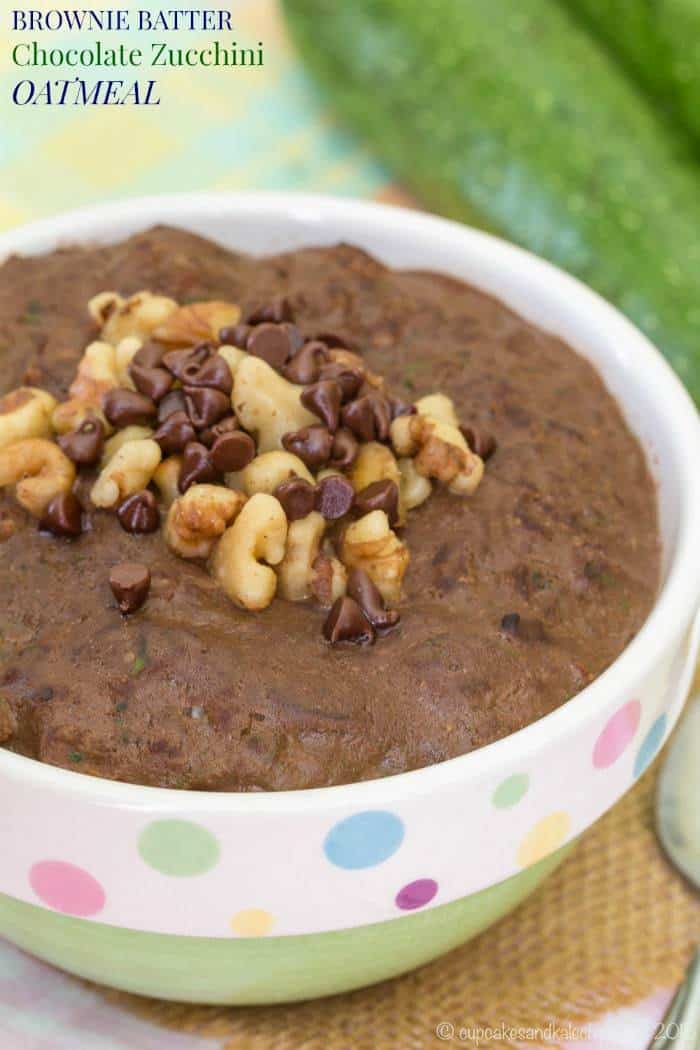 Brownie Batter Chocolate Zoats
I made my kids French toast sticks for a little Sunday brunch a couple weeks ago. My little guy cried. Yes, he cried because apparently French toast is "so yucky, Mommy!" You guys, I sang praises to the heavens when my mom made French toast. Although French toast was a special treat, sweet carbs were the breakfast of choice in our house – muffins, pastries, cereal, and even my toast was swirled or sprinkled with cinnamon-sugar. If I were having a savory breakfast, it was typically a plain bagel with cream cheese – I am a Jersey girl, remember.
So with my boys' weeklong visit to my mom's approaching, I had to text her to remind her that although she still thinks that everyone, especially kids, would love a daily morning diet of pancakes and waffles and donuts, this kind of treatment reduces my little one to tears.
While my mom is still quite happy with the breakfasts she raised me on, I eventually moved on to a daily oatmeal habit, which I continue to this day. However, I realized I needed more protein in the morning. Now most people would suggest a veggie omelet to get a good dose of protein and produce to start your day, but my brain and stomach and just aren't ready to embrace that. Not to mention that I'm trying to get the kids up and fed and ready. Chopping and sauteeing a bunch of vegetables, shredding cheese, and tending to an omelet just don't fit into the schedule.
So I started stirring egg whites into my oatmeal. Sounds strange, but trust me on this one because when you add in all kinds of amazing flavors you'd never even realize. It just becomes thick and creamy in a matter of seconds. I started with Mexican Chocolate Oatmeal back when I was pregnant and first felt like the plain bowl of oats just wasn't cutting it, and have kept up the habit, especially now that I try to get in my workout early in the morning. I can put everything in the pot the night before, just add the milk and water in the morning (heck, sometimes I even just let it soak in the fridge overnight which speeds up the cooking time even more), heat it up, and do a quick chore like put away some dishes or put the lunchboxes in the backpacks while it cooks. And then you just have to stir in that dose of protein when it's done.
So I had the protein covered, but what about the vegetables? I do go the green smoothie route sometimes, but there's a new trend that you are starting to see all over Instagram – let's all say "hello" to Zoats…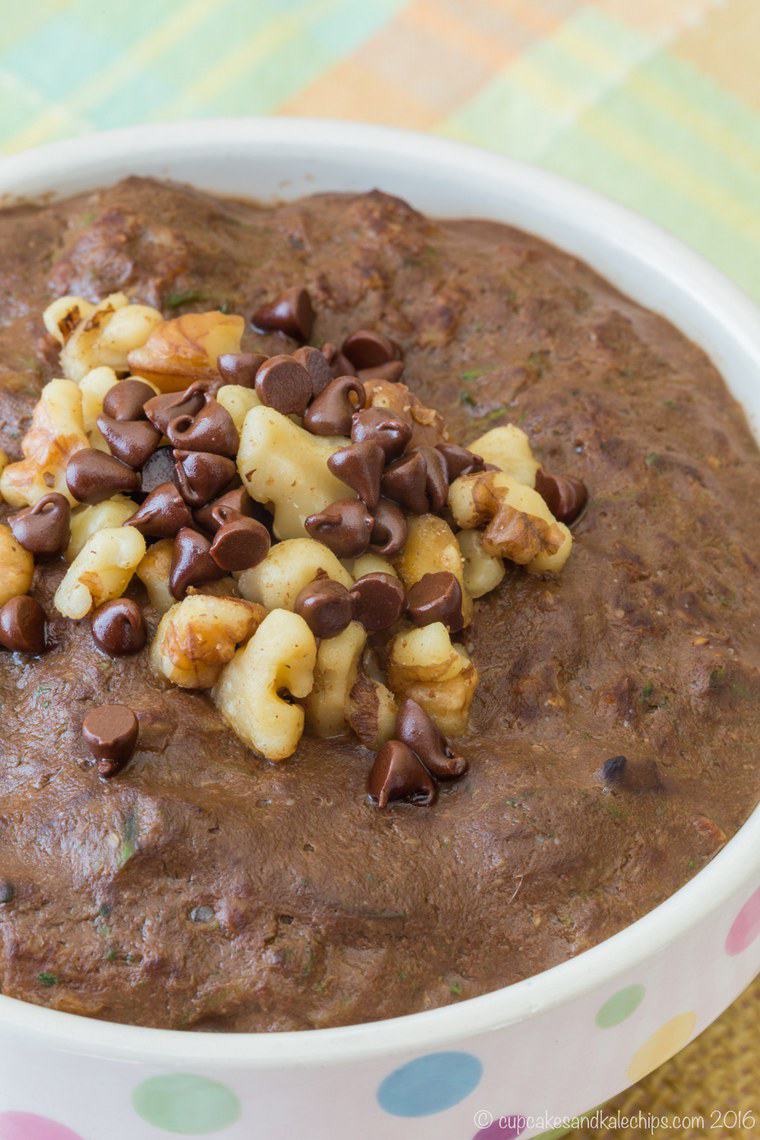 Yes, you guys, zucchini oatmeal. It's a thing, and a thing that I was totally skeptical about until I tried it, but it is seriously a great way to add veggies to your breakfast, especially when you make it taste like brownie batter. And now I am hooked on Brownie Batter Chocolate Zucchini Oatmeal, which doesn't really take any longer than making a basic bowl of plain oatmeal, but gives you a ton more good stuff.
The zucchini cooks down and pretty much blends in with the texture of the oatmeal, and I mean really, do people actually put zucchini in brownies and muffins and cakes because they think, "Wow, I really love eating vegetables in my chocolaty sweets!"? No, they do it because it adds bulk and nutrition without a lot of calories, and it's never a bad thing to squeeze in some extra vegetable goodness sometimes. Sweeten it up, top it with some chopped walnuts and mini chocolate chips, like any good brownie should have, and you have a heaping bowl of breakfast brownies in just minutes!
As I mentioned, if you really want to save time, mix everything together the night before and store it in the fridge. Then in the morning you just have to heat it up and it'll cook even faster.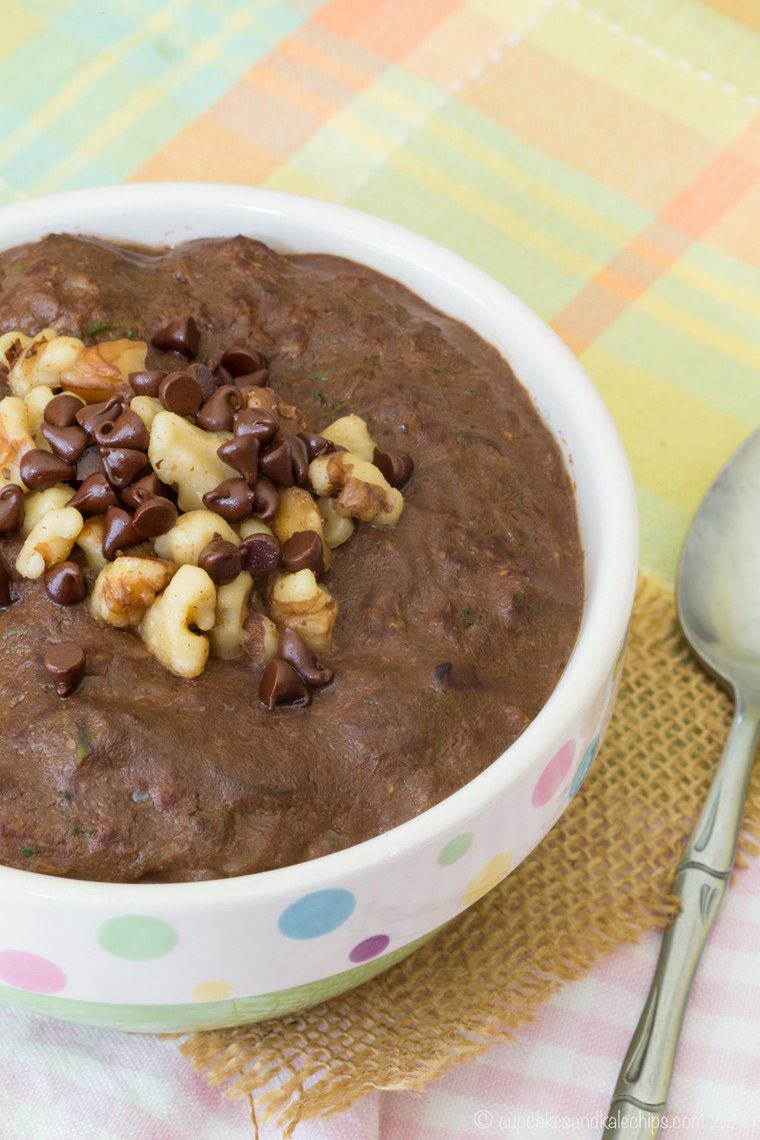 In addition to all the veggies, these oats are packed with protein thanks to AllWhites 100% liquid egg whites. I mentioned I started putting egg white in my oatmeal when I was pregnant. Since I only cook them for another minute or two after adding the egg whites, I felt much safer using these because even though they are 100% egg whites, they are pasteurized for safety. Plus while you are adding plenty of protein and plenty of volume to your breakfast you aren't adding any fat or cholesterol, and less than half the calories of whole eggs. For more great recipe ideas, check out AllWhites on Facebook, Twitter, Instagram, and Pinterest.
So hop on the zoats bandwagon with this easy and tasty bowl of Brownie Batter Chocolate Zucchini Oatmeal for a quick and easy way to fuel your body till lunchtime!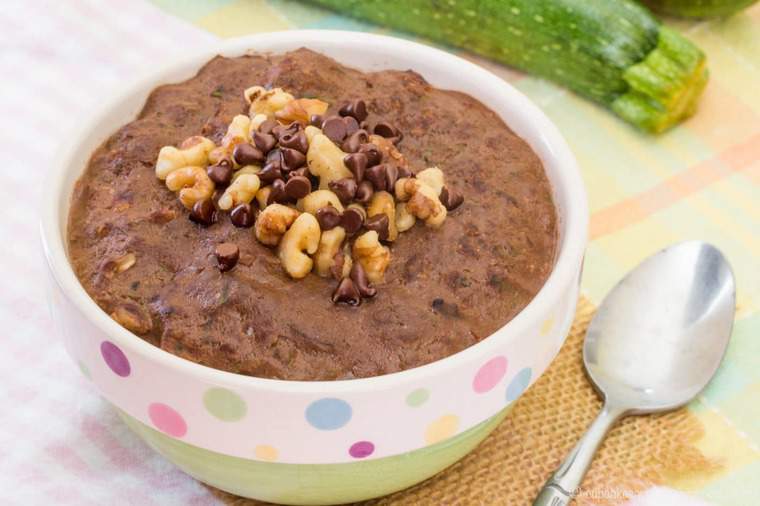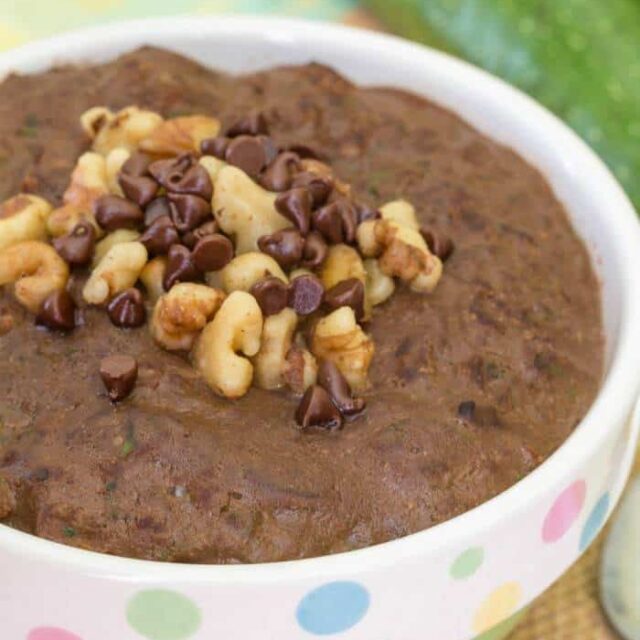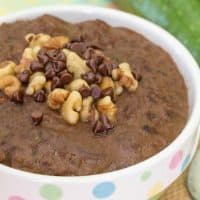 Brownie Batter Chocolate Zucchini Oatmeal
Get your veggies in the morning with these sweet and delicious "zoats", an easy protein-packed breakfast recipe.
Ingredients
⅓

cup

old fashioned rolled oats

gluten-free, if needed

1

small zucchini

finely shredded (about 1 cup)

1

Tablespoon

brown sugar

coconut sugar, or desired sweetener, or to taste

pinch

salt

2

Tablespoons

unsweetened cocoa powder

1/4

teaspoon

vanilla extract

1/3

cup

milk

(I use unsweetened almond milk)

2/3

cup

water

⅓

cup

liquid egg whites

1

Tablespoon

chopped walnuts,

optional

1

teaspoon

mini chocolate chips,

optional
Instructions
Combine the oats, zucchini, sugar or sweetener, salt, cocoa powder, vanilla, milk, and water in a small saucepan.

Cover and bring to a boil over medium heat.

Uncover and reduce heat to low. Simmer for 5-10 minutes, or until the oatmeal is cooked to desired doneness, but a little excess moisture remains (you can add more water if the liquid evaporated before the oats were as soft as you like).

Slowly pour in liquid egg whites while stirring constantly.

Stirring constantly, cook for another 1-3 minutes, or until mixture slightly thickens.

Pour into a bowl and top with the walnuts and chocolate chips, if desired.
Notes
Nutritional information includes nuts and mini chocolate chips
Nutrition Facts
Brownie Batter Chocolate Zucchini Oatmeal
Amount Per Serving (1 g)
Calories 377
Calories from Fat 108
% Daily Value*
Fat 12g18%
Cholesterol 7mg2%
Sodium 219mg9%
Potassium 915mg26%
Carbohydrates 51g17%
Protein 20g40%
Vitamin A 1125IU23%
Vitamin C 35.1mg43%
Calcium 153mg15%
Iron 4.7mg26%
* Percent Daily Values are based on a 2000 calorie diet.
Categories:
Enjoy this Brownie Batter Chocolate Zucchini Oatmeal recipe!
Here's some more protein-packed breakfast recipes that you can make with AllWhites 100% liquid egg whites…