This post may contain affiliate links. Read my disclosure policy.
Tis the season for candy canes. These Peppermint Frosted Chocolate Donuts are an easy and festive treat for Christmas. They are also gluten free, egg free, dairy free and vegan so everyone can enjoy!
The Twelve Guest Posts & Roundups of Christmas continues with this fabulous recipe from my friend Laura! Make sure you also head over to Petite Allergy Treats to enter our amazing giveaway for a $200 Amazon Gift Card and your choice of cookbooks!
Gluten Free Peppermint Frosted Chocolate Donuts

Hi there! I'm Laura, from Petite Allergy Treats and I am super excited to be talking to all of you! Like Brianne,  I'm constantly in the kitchen making easy homemade meals and treats that tend to be on the healthier side. My boys are ages 6 and 3, but they have a bunch of food allergies, so I create things that are: gluten free, egg free, soy free, peanut/tree nut free, seafood free, and sunflower free. It's been a quite a transition but I'm proving that you can still enjoy favorites foods, modified to meet our restrictions.
Happy December by the way… and start of the busiest season. Not to cause anyone panic, but there are only 3 more weekends for before Christmas. Whaaat?! (Ok, maybe panic a little.)
I'm typically a last minute shopper looking for all those in store deals. I used to love grabbing all the Black Friday steals too. I never got up at 2 am or anything but I would be out jumping from store to store the entire day. Shopping with young kids has put an end to that. 😛  Just heading to the grocery store can be painful at times. But since I can't pass up last minute steals, I have no doubt that I'll be out (without the kids) during the week of Christmas hunting for gifts.
I told myself, this year, I was going to start early. As soon as all the holidays decor started appearing,  I started a very long list. I've been grabbing little gifts here and there, slowly picking away at that list. Those iconic candy canes showed up waaaay too early in October. (Is it just me, or does that seem little wrong?)  I've been dying to use them, since nothing puts you more in the holiday mood than seeing classic red and white candy canes.
Since I'm so last minute with things, these Coconut Cream Peppermint Donuts seemed like a perfect treat to share. Instead of taking extra time to make a buttercream frosting, I used canned coconut cream, and whipped it for just 5 minutes with a touch of peppermint oil and powdered sugar. These mini donuts are baked and super simple: just mix, pour and bake for 12 minutes.
The frosting is a lighter and less sweet version of frosting, that is still a classy white with red candy cane flakes. You could even use marshmallow instead of frosting like my S'mores donuts or good ole melted chocolate from my Double Chocolate Donuts. Either way, if you love peppermint and chocolate, you need these little delectable bites in your life. I used my miniature donut pan but I'm sure a regular size donut pan would work as well.
Holidays are for spending time with friends and family. I wish you all a wonderful holiday season! And get shopping. 😉
If you like these donuts there are plenty more recipes you'd love. 🙂  I'd love to connect with you on all my social media and you can see the latest foods I'm cooking.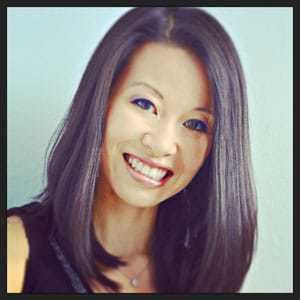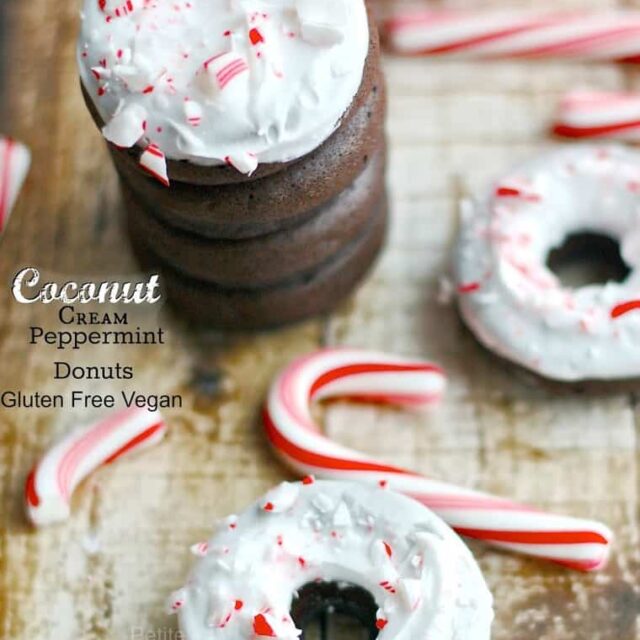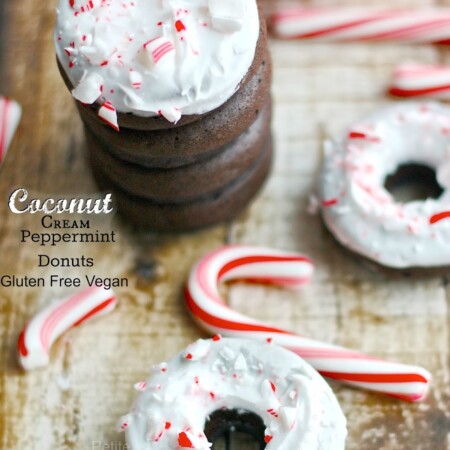 Gluten Free Peppermint Frosted Chocolate Donuts - Guest Post from Petite Allergy Treats
Ingredients
For the Donuts:
1/2

cup

brown rice flour

1/2

cup

gluten free all purpose white flour

1

cup

milk of choice

1/3

cup

cocoa powder

2

Tablespoons

oil

I used avocado

1/2

cup

applesauce

1/4

cup

maple syrup

1

teaspoon

baking powder

1

teaspoon

guar gum or xanthan gum
For the Coconut Cream Peppermint Frosting:
1

cup

coconut cream

canned and refrigerated overnight

3

Tablespoons

powdered sugar

1/2

teaspoon

peppermint oil

crushed candy canes
Instructions
For the Donuts:
Preheat oven to 375°F.

Combine all ingredients and mix well.

Pour into donut pan and bake for 12-15 minutes or until toothpick comes out clean in the center. Allow donuts to cool on a wire rack.
For the Coconut Cream Peppermint Frosting:
Open coconut and whip with sugar until fluffy. Add peppermint oil and whip another 1-2 minutes.

Spread cream on cooled donuts and sprinkle with crushed peppermint. Enjoy!
Notes
Keep extra cream refrigerated for up to 5 days. If you will be serving the donuts at a later time, keep frosted donuts refrigerated and wait to sprinkle with peppermint candy or else the candy will bleed. The donuts alone freeze extremely well.
Here's a few of my more popular recipes on Petite Allergy Treats: