This post may contain affiliate links. Read my disclosure policy.
At the best of times and the worst of times, there is very little that can comfort someone more than the utter decadence of a chocolate dessert. So today I am celebrating all things chocolate and the life of a special person who loved all of those things. We might all have loved her as much as she loved chocolate. Enjoy some Chocolate, Chocolate and More Chocolate Recipes.
Chocolate, Chocolate and More Chocolate Recipes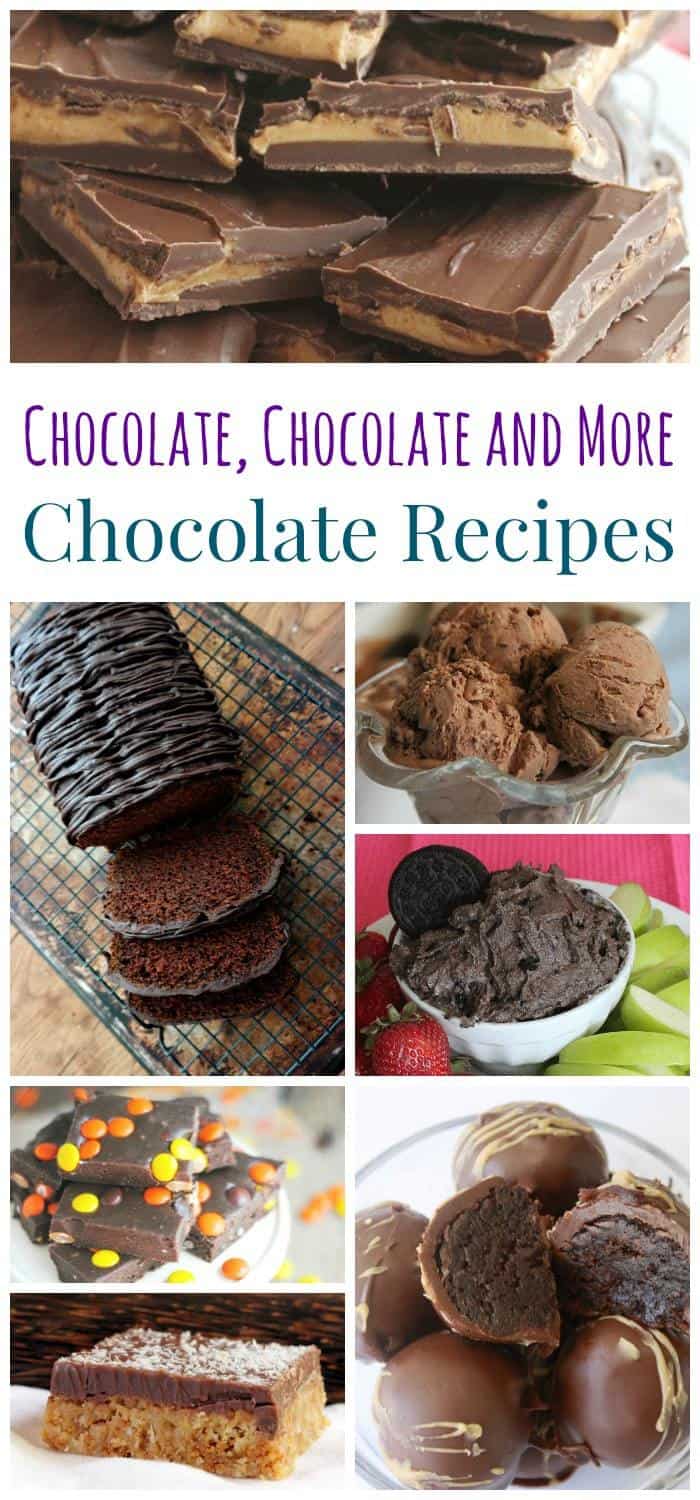 So here we are, it's Wednesday, and I'm usually posting a roundup of some of my favorite recipes from last week's Whimsy Wednesdays party. Well if that is what you are looking for, scroll on down, but things are going to be a bit different this week. You see, the blogging community, the world, and especially her family lost an amazing woman last week. Joan Hayes, the sweet genius behind the blog Chocolate, Chocolate and More passed away suddenly. Today (and probably for a while), bloggers from around the world want to cover the internet and social media with #ChocolateForJoan.
I don't remember exactly when Chocolate, Chocolate and More first showed up in my Facebook feed, but Joan was one of the earliest blogging connections I made, as I think she started her blog merely months before I started mine. Back at that time, we were both thinking it would just be a fun little side project, a hobby. In the nearly four years, she has amassed a Facebook following of well over 2 million fans who waited with baited breath for the next sinful sweet she was going to share on her page. My mom is one of those devoted followers. It always cracks me up that nine times out of ten, any recipe my mom is pinning or sharing is one of Joan's. And if it isn't one of Joan's, it is one that Joan shared. I always told Joan how much my mom loved her.
And I'll be honest, we bloggers waited too, to see if she would be sharing one of ours because it always provided a nice little traffic spike for our own blogs. And in that time, she also became a savvy and successful businesswoman while still staying true to her caring, genuine, and supportive nature. She didn't care if it was a famous blogger or someone who just posted their first recipe. She just knew that when she found the most wonderful sweets out there, she was both helping others while simultaneously making her Facebook page, and there for her blog and her own sweet treats, more and more popular everyday. And anytime she found someone whose passion for their work shone through, she was there to support them every step of the way. Everyone wanted to know her secrets, and she was always happy to talk shop, talk life, or just talk chocolate. But whatever she was talking about, she didn't hold back and she told it to you straight. It is for all of these reasons that everyone loved Joan. Goodness, did she have a heart.
So let me tell you about when I met Joan this summer at the Food & Wine Conference – and oh my, I can just her what she is saying right now as I share this story. Actually, I think I can hear her laughter. At the opening reception, she was one of the first people I had intended to seek out, and the second we saw each other, our eyes lit up and she gave me the biggest hug as if she had known me her whole life. People flocked to her, and she was thrilled to talk to anyone and everyone. Over the course of that weekend, she surpassed 2 million fans on Facebook – she was totally aware of her success, and while she wanted to celebrate and have that milestone acknowledged, she was also truly genuine and humble, and didn't want to toot her own horn. So at our "after-party" on Sunday night, I came over to her table to chat with her a little more, because I felt like I hadn't soaked up enough Joan-ness that weekend. She leaned over to me and said, "Brianne, I need you to do me a favor. Can you take a selfie, post it on Facebook page, and tag me, saying something like, 'Congratulations to Joan Hayes as her page Chocolate, Chocolate, and More passed 2 million fans on Facebook this weekend. That was your friends and my friends can see it so that they know that I reached this milestone. I can't bring myself to announce it, but I want people to know so that they can congratulate me.'?" I laughed a little and told her I'd do it in a heartbeat, since that was one of the reasons I had come over to see her anyway – to get that photo before we parted ways. Here's that photo, which unfortunately is a bit grainy due to the selfie cam and low light. I only wish it captured how truly beautiful she is, inside and out.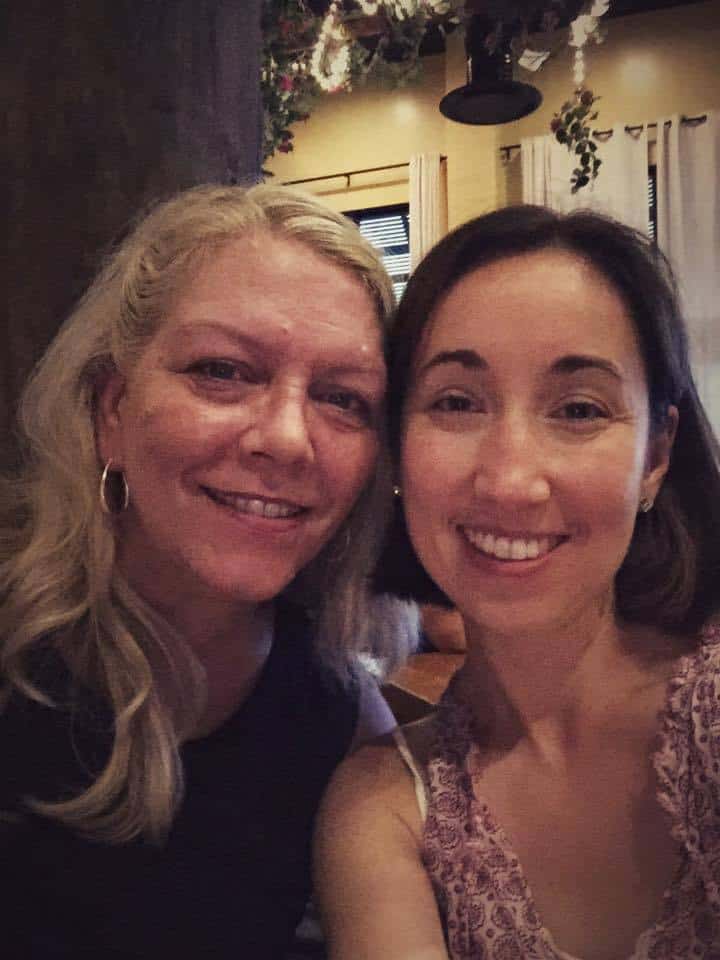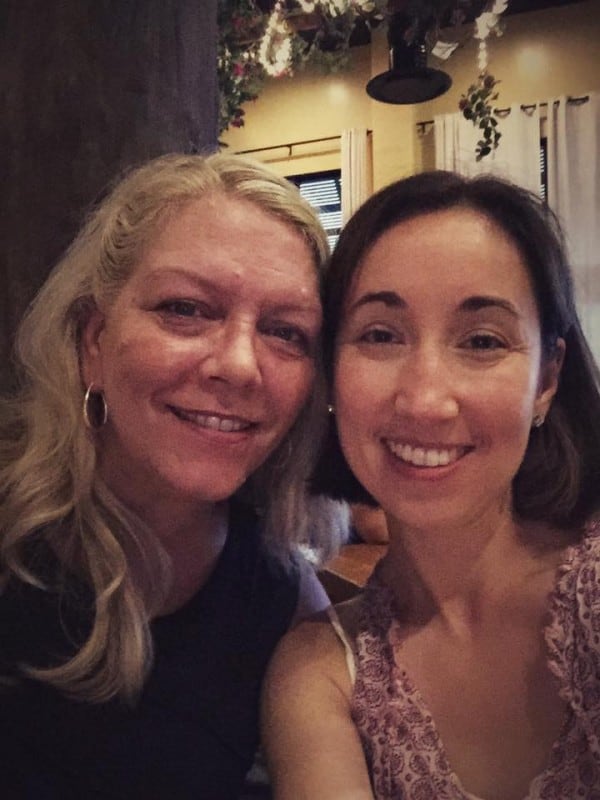 And then we proceeded to dance on a table together.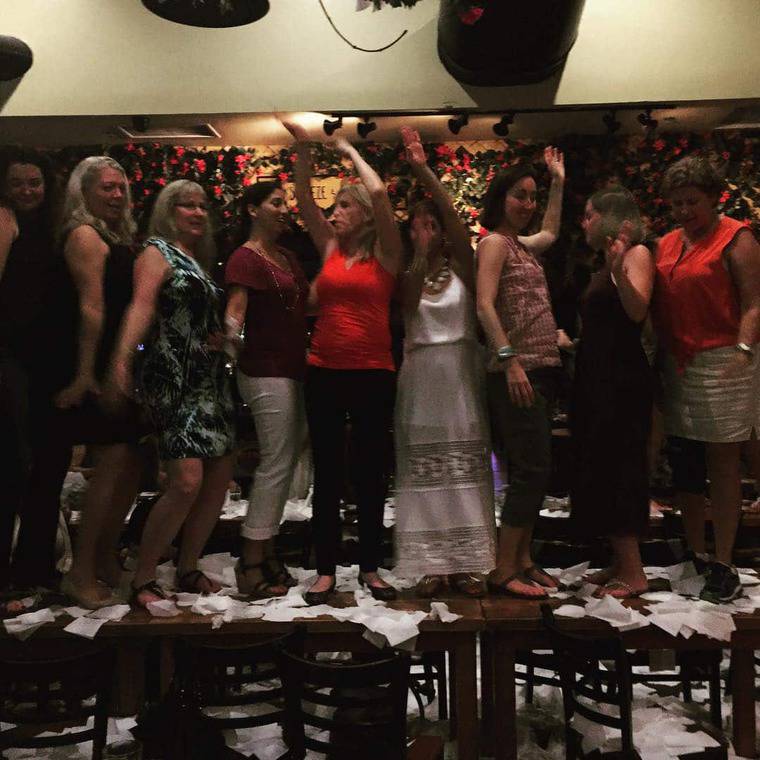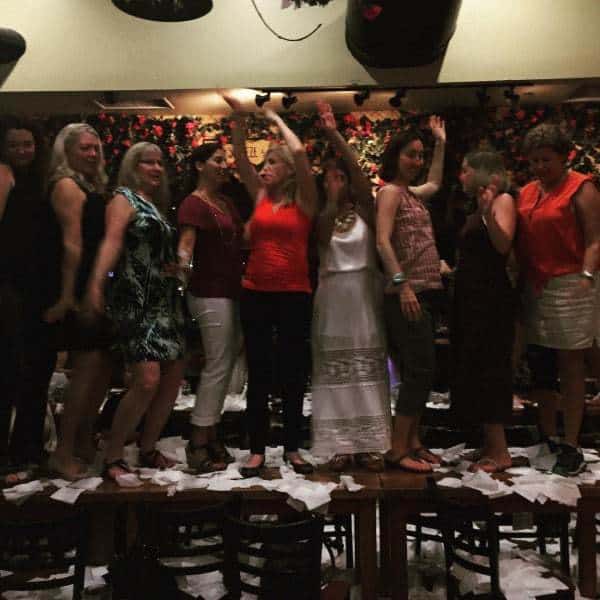 Since all of her blogging friends scattered all over the world can't come together in person to celebrate Joan, we are virtually hugging each other and honoring her memory the only way we know how, the way Joan would if the situation were different – by posting and sharing and Tweeting and Pinning and Instagramming (and of course eating) #ChocolateForJoan. We are also encouraging everyone to visit her site, Chocolate, Chocolate and More. She was a no fuss, no muss kinda gal who loved all things sweet and decadent. So if you are ever looking for a dessert recipe, her site is a treasure trove of wonders. I'm sharing a few of my favorites below, and know that, as per her wishes, her family and friends are coming together to keep her site alive. So every time you click over to her site, you are helping it continue to earn money to support her three children whom she loved to pieces, yes, even more than chocolate.
Loaded Peanut Butter Muddy Buddies Snack Mix
And I have to share one of mine because I was tripping over a mouthful of words to describe it and out of nowhere she said, "Salted Ripple Chip", and that was it. Salted Ripple Chip No-Churn Ice Cream.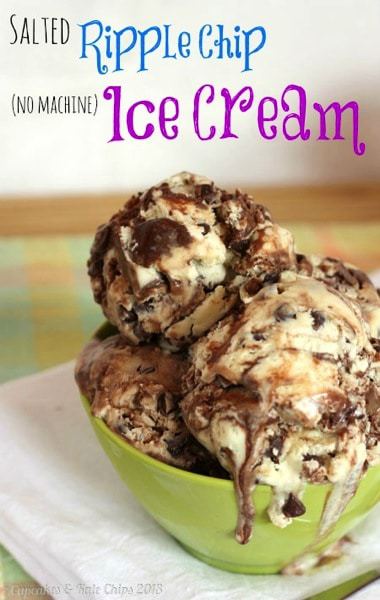 Joan was passionate about discovering and sharing delicious desserts from around the web, but she especially loved discovering new talent, mentoring them, and sharing their creations. So I am also doing that today. OK, so maybe these aren't all newbies to the blogging world, but they are new to me. Here are the chocolatiest creations from some of my newest discoveries. I hope that I can give back even just a fraction of what she gave me.
Peanut Butter Brownie Truffles from Sincerely Jean
No-Bake Chocolate Coconut Slice from Treat Yourself Sweeter
Boozy Bacon Bark from PJ Eats
Reese's Pieces Fudge