This post may contain affiliate links. Read my disclosure policy.
First, let me apologize if this post is choppy or incoherent. I am writing it in the car on my way home from our vacation in Vermont while The Bug, who only slept for an hour, versus his usual 2 1/2 to 3 hour nap, repeatedly throws his blankie and water then whines about needing them. Let's just say that I am happy I still have a few of these…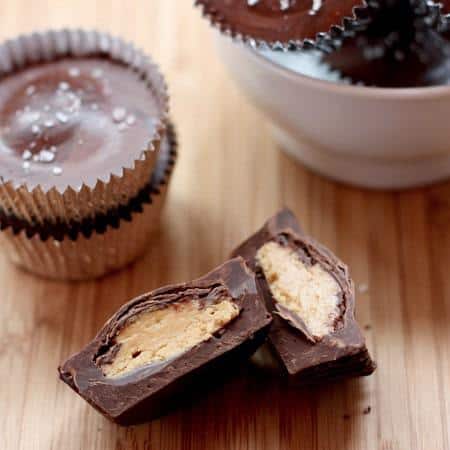 stashed in my fridge for when I get home late tonight.
It's First on the First time again, and unfortunately the last time I could join in was way back in April, when I made these yummy sugar cookies. Since it has been so long, I'll remind you that First on the First is a monthly blog hop started by Kate of Food Babbles and Carrie of Poet in the Pantry where all of the blogger participants make something for the first time, or put a new spin on something they have made before, based on the theme. At the bottom of this post, you'll find the links to see what all of the other participants made.
This month, instead of assigning a particular thing to make, like pretzels or churros, the theme is Your Favorite Candy. Now if you have been reading my blog, or keep up with my posts and comments on Facebook even just a little bit, you may have seen me mention about a billion time how much I love peanut butter, especially with chocolate. So I am sure it comes as no surprise that my favorite candy is, without question, Reese's Peanut Butter Cups. I think my favorite thing to eat is the Reese's Peanut Butter Cup Sundae Dasher from Carvel, since it combines Reese's with my other favorite food – ice cream!!
So I decided to make a grown up spin on good, old Reese's. I used my awesome new Ninja Blender that I won from My Judy the Foodie to make the peanut butter. I'll give you the instructions here, but that truly warrants a post of its own, which I just didn't get done before to during vacation. And I just used the pure peanut butter (which had a little salt and honey), with no added powdered sugar like other PB cup recipes I have seen, just to keep that pure-peanutty flavor. Then I encased it in Ghirardelli dark chocolate, and sprinkled a little sea salt on top for there perfect sweet and salty, creamy and rich little bite. Oh goodness, how many more hours till I get home?!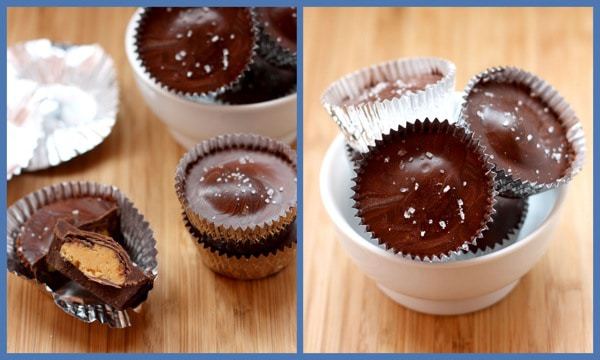 Then I may have jammed them into some cupcakes.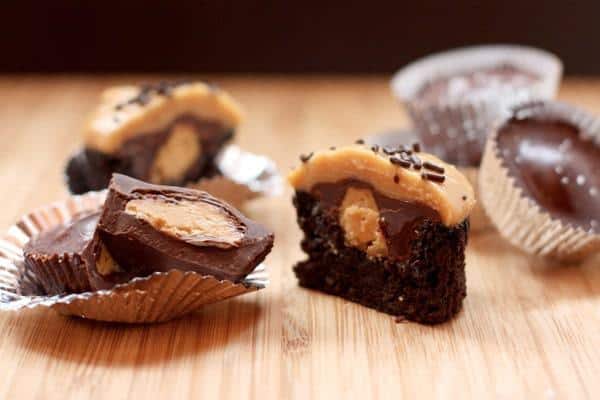 Oh yeah, you bet I'll be sharing that recipe. I was hoping to put all of these recipes together, but I was too busy eating ice cream and chocolate and ice cream and cheese and ice cream and chocolate and ice cream and burgers (and more ice cream and other goodies that I didn't take a picture of on Instagram) for the past week.
But I won't be sharing the rest of the PB cups in my fridge, or the (gluten-free!!!) cupcakes I stashed in my freezer.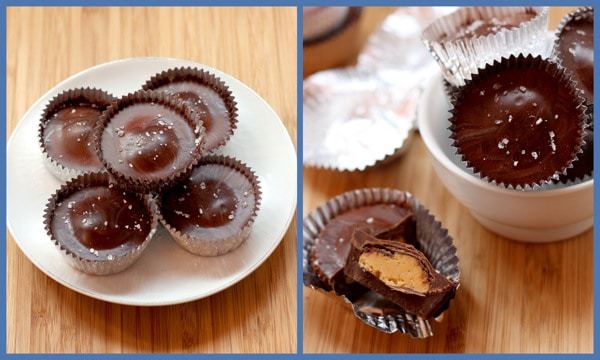 Make sure you check out the other First on the First candies below!
What is your all-time favorite candy? Oh, and how do you occupy your toddler during long car trips?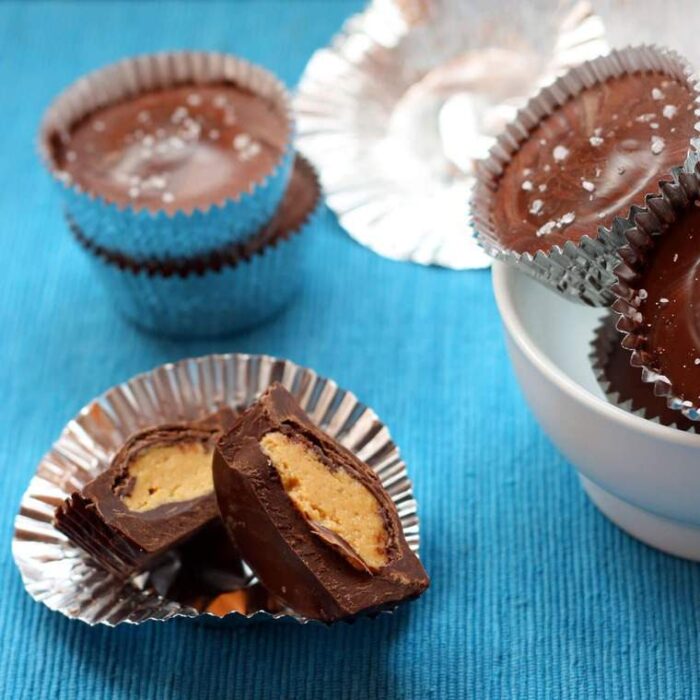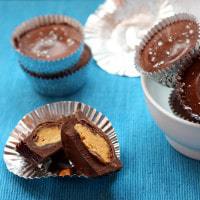 Peanut Butter Cups for Grown-Ups (or kids too!)
Ingredients
For the peanut butter:
16

oz.

jar of dry roasted

unsalted peanuts

2

t

coarse seal salt

2

T

honey
For the peanut butter cups:
About 3/4-1 c peanut butter

the homemade above, or another natural peanut butter would probably work if you pour off the oil, well chilled in the refrigerator.

2 10

oz.

bags of Ghirardelli 60% Cacao Bittersweet Chocolate Baking Chips

Coarse sea salt

for sprinkling
Instructions
For the peanut butter:
Place all of the ingredients in a blender or for processor and blend until it reaches the desired consistency. This will take several minutes.

Place in a jar or other storage container and store in the refrigerator.
For the peanut butter cups:
Separate and spread out about 30-32 mini foil cupcake wrappers on a cookie sheet or in a baking pan (use the kind that you can use without a muffin pan when baking muffins or cupcakes. If you use smaller ones, you can make more peanut butter cups, with less peanut butter in each one).

Melt one bag of chocolate chips following the instructions on the bag.

Divide the melted chocolate between the muffin cups, and use a small brush to spread some of the chocolate partway up the sides of the wrappers. Place in the fridge until set.

Roll 1 tablespoon balls of peanut butter, and place one ball in the middle of each chocolate cup.

Melt the second bag of chocolate chips according to the instructions on the bag.

Divide the melted chocolate between the cups to cover the peanut butter balls.

While the chocolate is still soft, sprinkle the sea salt over the tops of the peanut butter cups.

If desired, let the chocolate finish hardening in the refrigerator.
Enjoy!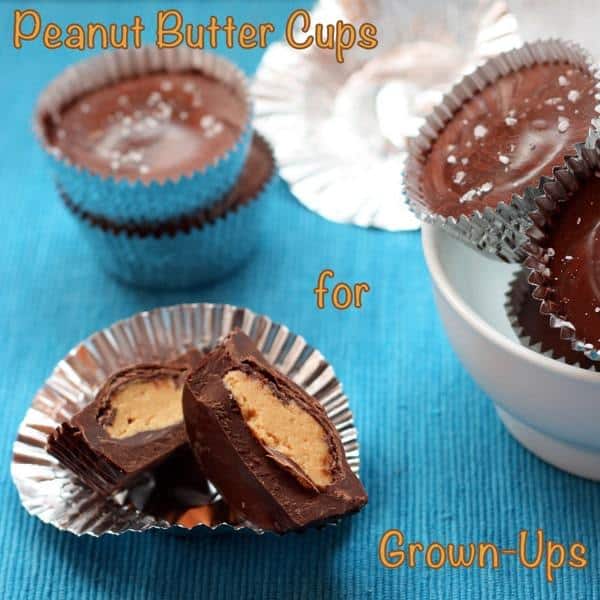 And please check out some of the other delicious candies made by the other First on the First Participants!
This recipe was shared with: