Banana Almond Mocha Smoothie
Disclosure: This post may contain affiliate links. Cupcakes & Kale Chips is a participant in the Amazon Services LLC Associates Program, an affiliate advertising program designed to provide a means for us to earn fees by linking to Amazon.com and affiliated sites.
Move over Starbucks, there's a leaner, meaner option in town. Satisfy your Frappuccino cravings with a healthy snack by whipping up this Banana Almond Mocha Smoothie recipe.
Banana Almond Mocha Smoothie
Disclaimer: Blendtec provided blenders for the giveaway and the three hostesses for review purposes. No other compensation was received, and, as always, all opinions are my own.
You guys, I'm about thisclose to going over the edge. The snow started falling late in the afternoon last Friday. By late Saturday it was done. It's now Thursday, and granted almost three feet of the white stuff came down, but my kid neeeeeeds to go back to school. Little Dude's preschool reopened on Wednesday and yes, I totally sent him even though The Bug is still home. It was time to separate the boys. Little Dude got to run around the gym and sing and dance and play with his friends while The Bug spent the day playing educational games on the computer and watching a bit more TV than I usually allow because I had to get some work done. Not sure who got the better end of that deal.
In my defense for today's lack of parenting, I have managed to keep screen time to a minimum over the past week given the circumstances – i.e. we really couldn't even leave the house until Wednesday because driving conditions were still iffy on Tuesday if you didn't really need to venture out.
We've baked muffins. We've made granola bars. We've taken them out sledding. There's been snow forts and snow balls and snow shoveling. Foosball has happened. Legos have happened. Dress up has happened. The rest of January's homework assignments were completed a few days ago. We've watched movies. The Bug went to karate class. They've watched Clone Wars. Birthday cards and other random paper crafts have littered my kitchen table. I also foolishly gave them trays of uncooked rice and noodles thinking it would be less of a mess than PlayDough. Spoiler alert – it wasn't.
To be fair, they have actually been pretty good, but the kid is bored. And as someone who tends to work in silence, mommy can't focus well then there are computer game noises and rocket ship and racecar sound effects and squeals of brotherly fighting love and ongoing requests for snacks and let's not forget that nagging little voice known as "mommy guilt".
So yeah, a week later, it's time for the kid to get back to school. It's for mommy to get her work time back so that she can actually be a good, less distracted mommy once the boys get home. But with the way things work around here, we have to wait not only until all of the school parking lots are cleared, but also until every single sidewalk in the entire county are passable so that kids can make it to bus stops and school. I'm guessing this won't happen by Friday. This is just totally beyond the brain capacity of this Jersey girl. They had nearly as much snow back in my hometown this weekend and the kids were back at school on Wednesday. And here we are, with an entire county of kids who are getting a surprise week off of school in January with a couple feet of now-sloppy-and-icy snowy slushy stuff on the ground.
I need a drink…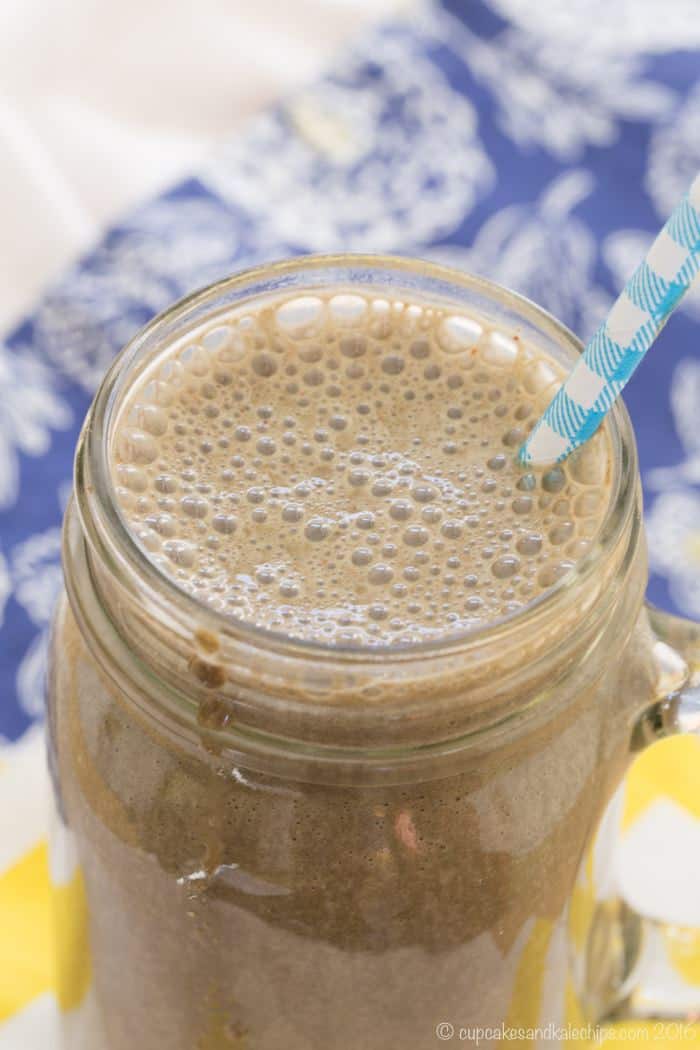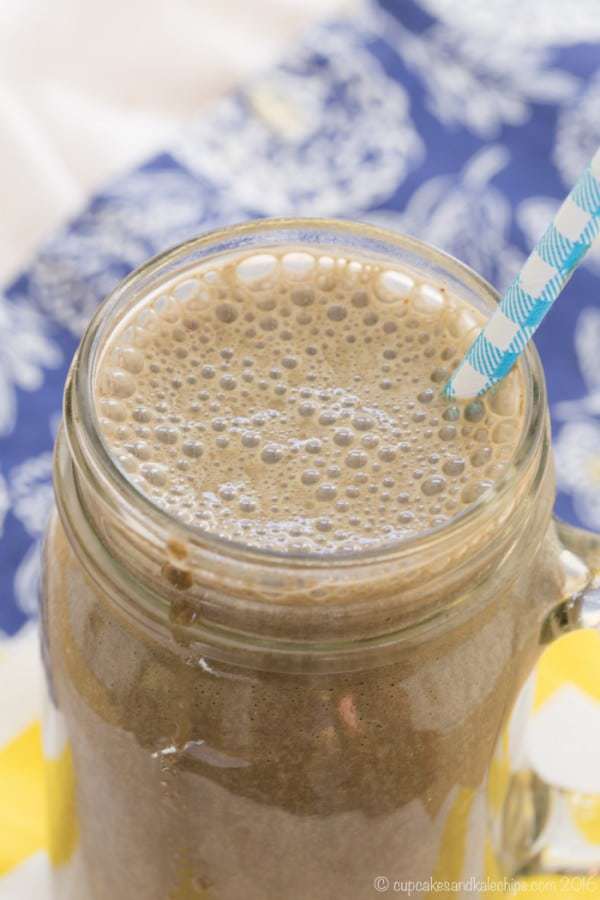 This Banana Almond Mocha Smoothie is just the little glass of indulgence I need in the afternoon. Rich, creamy, chocolaty, with enough protein to keep me satisfied till dinner, but comforting enough to help calm my frazzled nerves, all without packing in eleventy billion calories and costing eleventy billion dollars like those frapped up coffee drinks you can get at the ubiquitous coffee chain with the green and white mermaid logo. Plus there's all kinds of vitamins and minerals and omega 3s and other good stuff, but let's not focus on that. Let's focus on the chocolate. Chocolate that you can totally have for breakfast. Or lunch. Or snack. Or dessert.
Do it, people.
Also, let me tell you, I'm not a coffee gal. Not that I drink them often, but when I do, I'm a sweet, caramely, chocolaty, whipped cream laden with a hint of coffee flavor kinda gal. So while I love a smoothie with a hint of coffee flavor just to enhance the chocolate, this isn't slam you over the head coffee flavor. I found using cooled brewed coffee did not make my smoothie creamy enough, and coffee ice cubes worked, but you have to plan ahead. So I started using instant coffee in my mocha-fied smoothies. I happen to use decaf, but use the leaded stuff if that's how you roll. If I get a caffeine jolt any time after noon, I'm up till 2 am. It kinda sucks.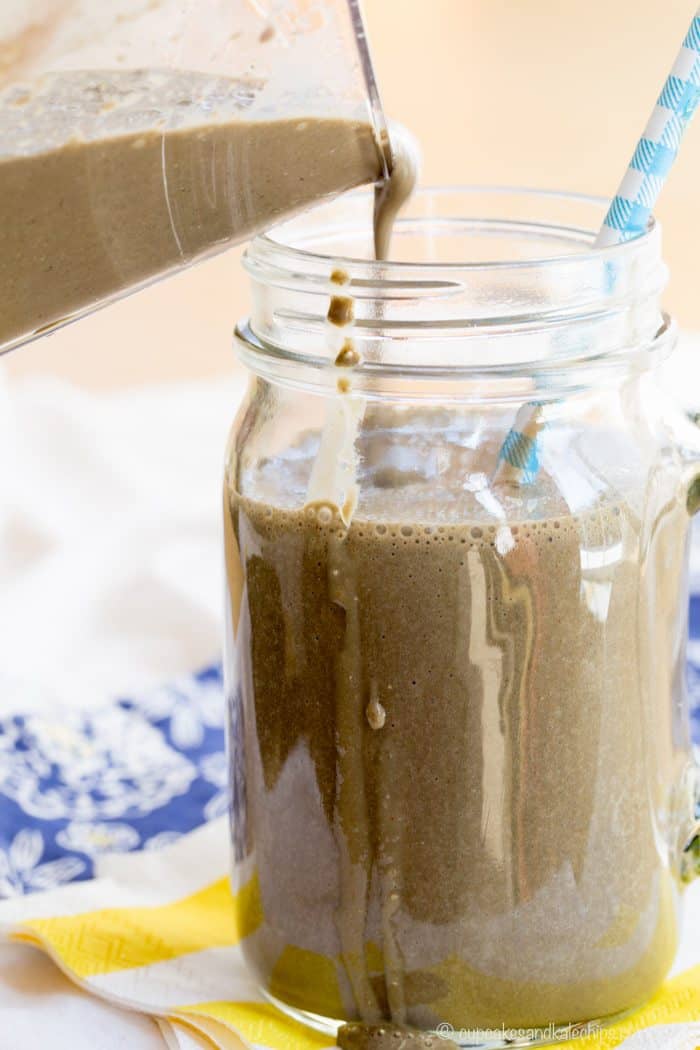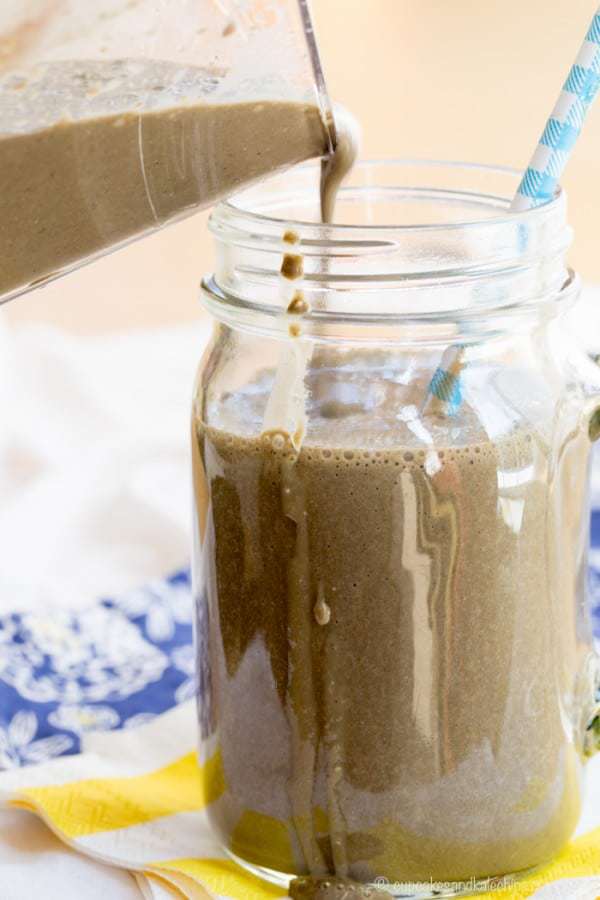 You know what else helped to make my smoothie super creamy and frothy? My Blendtec 725 of course. I don't know how I survived without this thing. I'm literally just a few blends away from one thousand and it is still going strong. And I'm not being gentle with it – smoothie after smoothie after smoothie filled with frozen fruit, banana "nice cream", nut butter, hummus. These are some pretty thick blends that really require power, and the Blendtec plows through like it's nothing. The only thing that could make the Blendtec better is a smaller container. I mean, I use the Twister Jar, but the WildSide Jar does tend to be better for smoothies except that it's a little too bid for single serving smoothies. I lose too much of my precious smoothie in the corners way down deep in the bottom. Oh wait, Blendtec has a solution for that – the Mini WildSide Jar. This size is ideal for single serving smoothies (it does jump around a little at first if you load in a lot of ingredients, but hold the handle for a second till it chops up some of the bigger chunks), and I can't wait to use it for my Strawberry Lime Poppyseed Vinaigrette and Blueberry Balsamic Vinaigrette.
Check out how I whipped up this Banana Almond Mocha Smoothie…

Easy peasy, and soooo smooth!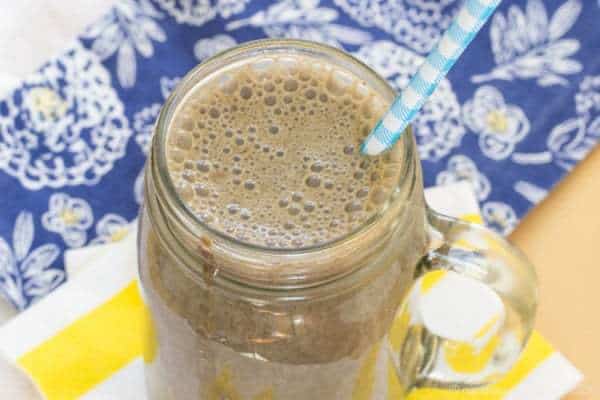 Do you have any creative way to entertain the kids when you are stuck inside?
Print Recipe
Banana Almond Mocha Smoothie
Satisfy your Starbucks Frappuccino cravings in a healthy way with this chocolate and coffee-flavored smoothie for breakfast, snack, or dessert.
Ingredients
1

cup

baby spinach

kale, or other greens

1

cup

milk of choice

I use unsweetened almond milk or cashew milk

½

cup

cottage cheese

or plain Greek yogurt

1

teaspoon

chia seeds

1

teaspoon

instant coffee

1

Tablespoon

cocoa powder

1

teaspoon

almond butter

1

frozen banana

cut into chunks

4

ice cubes

add more for a thicker smoothie

1

tsp

honey

sugar, stevia, or desired sweetener, if needed to taste
Instructions
Place the ingredients in your Blendtec or other blender in the order listed.

Use the Smoothie cycle, or pulse a few times then slowly increase to maximum speed, stopping once desired texture is achieved.
Nutrition
Serving:
8
oz
|
Calories:
168
kcal
|
Carbohydrates:
22
g
|
Protein:
8
g
|
Fat:
6
g
|
Saturated Fat:
1
g
|
Cholesterol:
8
mg
|
Sodium:
368
mg
|
Potassium:
423
mg
|
Fiber:
4
g
|
Sugar:
11
g
|
Vitamin A:
1520
IU
|
Vitamin C:
9.3
mg
|
Calcium:
230
mg
|
Iron:
1.1
mg
Enjoy!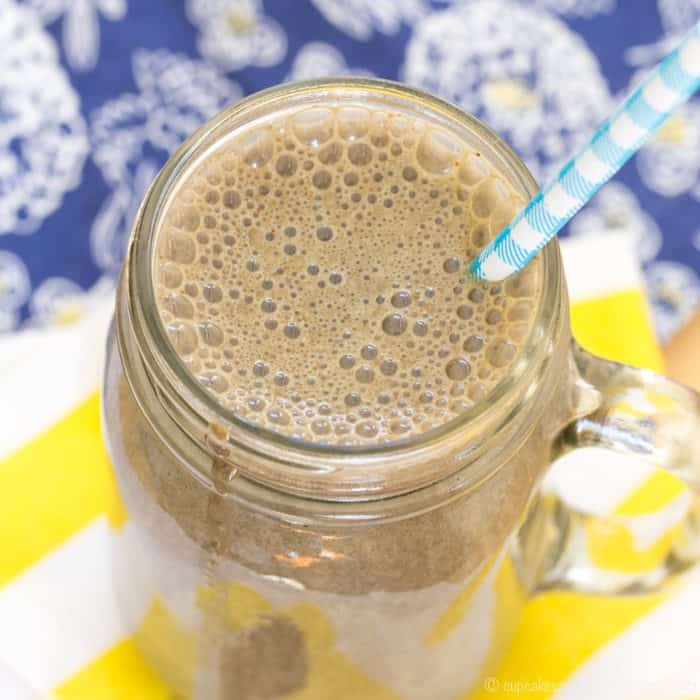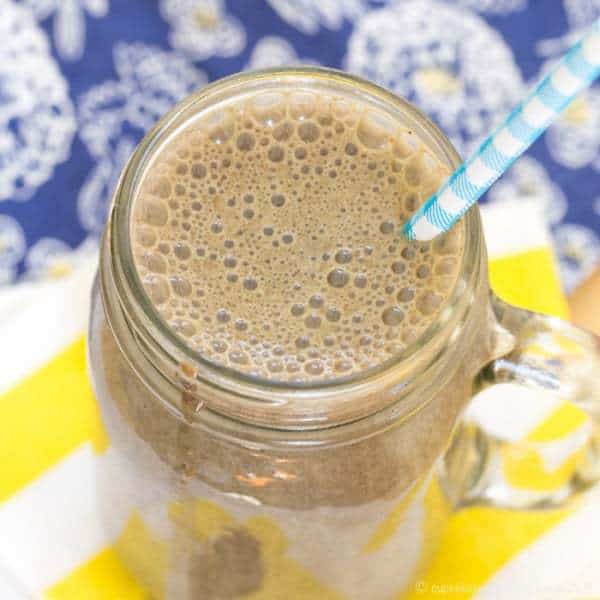 Here are some more of my favorite smoothie recipes…
Plus a few from my friends…