This post may contain affiliate links. Read my disclosure policy.
A Banana Almond Mocha Smoothie is a healthy way to satisfy your Frappuccino cravings. Coffee and chocolate come together with a frozen banana and almond butter make it rich and creamy, but still good for you. Move over Starbucks, there's a leaner, meaner option in town for your next breakfast or snack.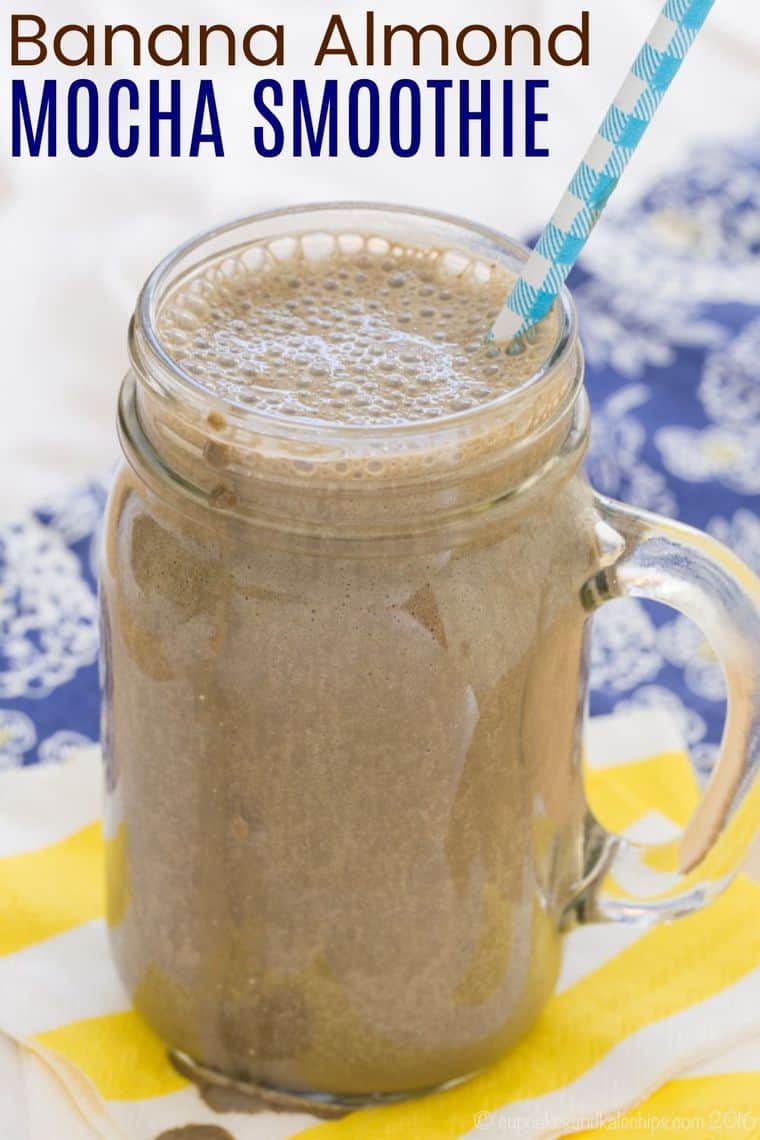 Sometimes you have a snowstorm that literally has you trapped inside your own home for a solid week.
And other times you spend six months with the kids unable to go to school, play with friends, or, you know, be normal. I think we all know what I am referencing here.
You've baked banana bread. You've made granola bars. There have been snow forts or blanket forts. They've biked or sledded or swam or shoveled.
And screen time. So. Much. Screen time.
Now the fighting begins. Or continues.
You're about thisclose to going over the edge. You need a drink. But it's 10 am on a Tuesday. You can't have that kind of drink.
This Banana Almond Mocha Smoothie is just the little glass of indulgence you need. It's a perfect kickstart to the day or afternoon-pick-me-up. Rich, creamy, chocolaty, with enough protein to keep you satisfied till lunch or dinner, but comforting enough to calm frazzled nerves.
And that's all without packing in eleventy billion calories and costing eleventy billion dollars like those frapped up coffee drinks you can get at the ubiquitous coffee chain with the green and white mermaid logo.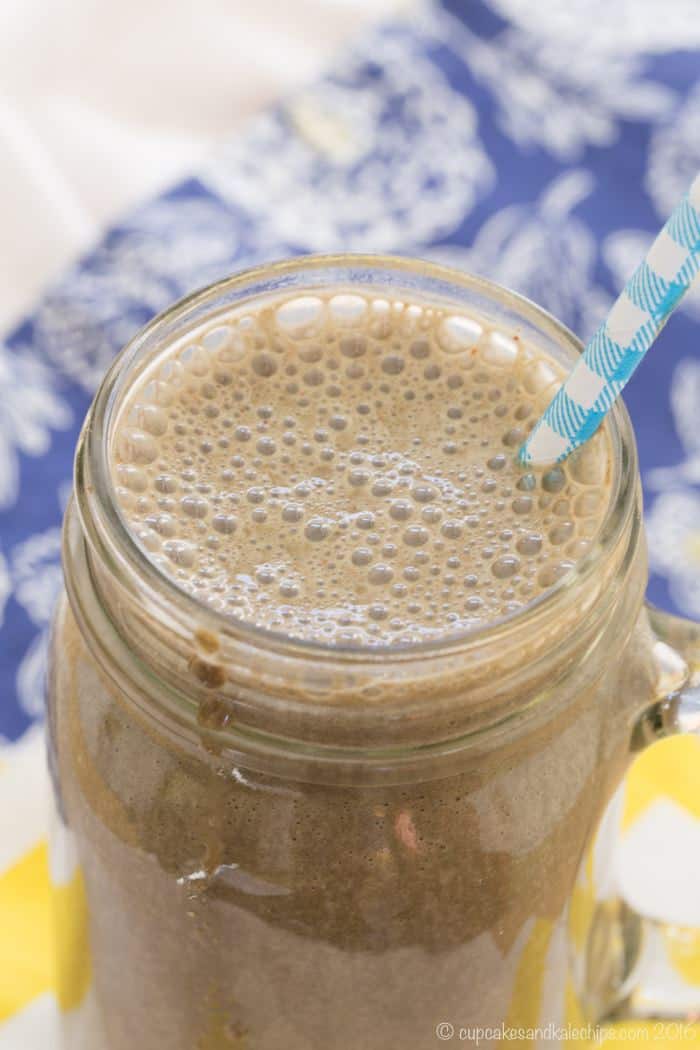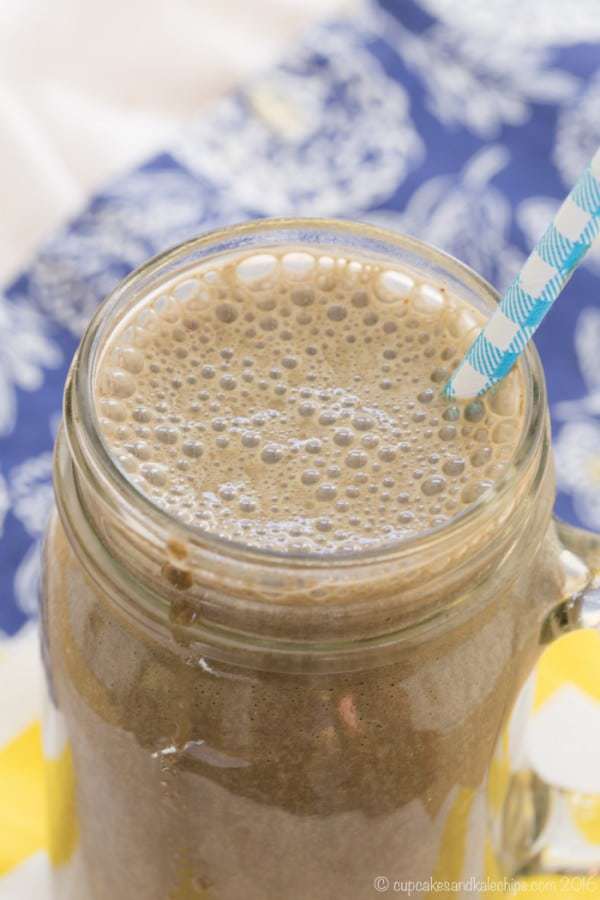 Chocolate and Coffee Breakfast Smoothie Recipe
I'm not usually a coffee gal, so I love the perfect hint of coffee flavor that just enhances the chocolaty goodness and bit of nutty flavor. This isn't slam you over the head coffee flavor, but you can always adjust it to the way you like it.
Using instant coffee in mocha smoothies allows you to adjust the intensity of the flavor. But you also have the option to replace some of the coffee with cold brew, though that will make it slightly less creamy. Or plan ahead and use coffee ice cubes instead of regular ones and it won't be diluted at all.
Is it OK to have a smoothie for breakfast?
While some smoothies can be as sugar-laden as those Starbucks drinks, as long as you are choosing the right ingredients, it is healthy to have smoothies for breakfast.
It's easy to add ingredients that provide protein and fiber to keep you satisfied while keeping the calorie count reasonable for your morning meal. You can also add all kinds of vitamins and minerals and omega 3s and other good stuff.
But if you prefer, focus on the chocolate. Chocolate that you can totally have for breakfast. Or lunch. Or snack. Or dessert.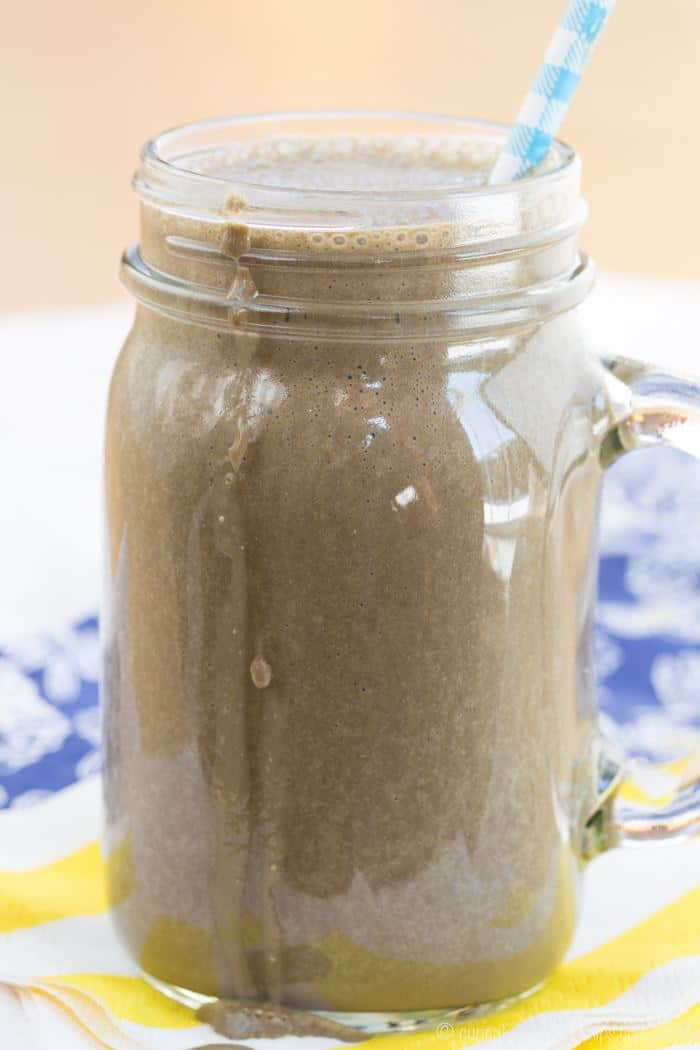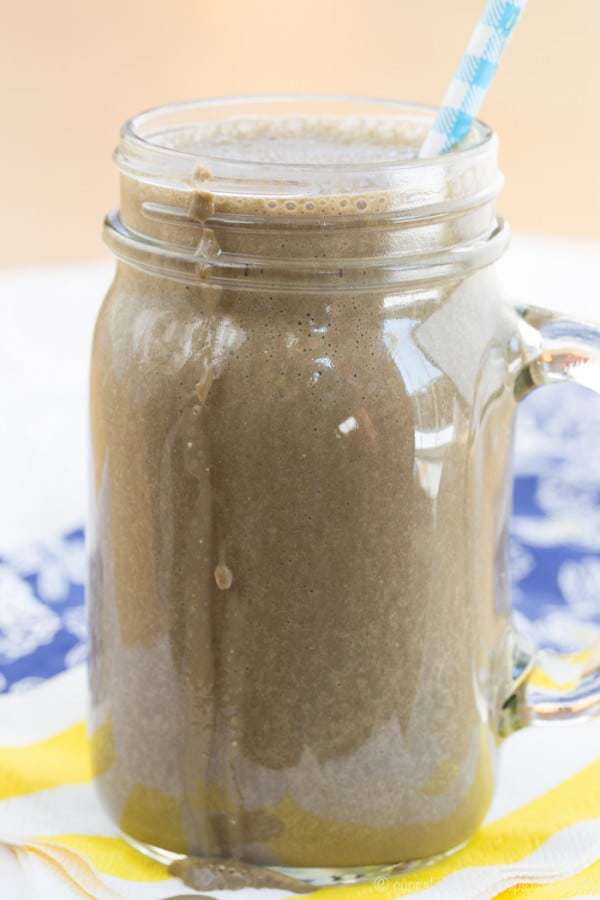 What is in this mocha smoothie?
Baby spinach kale, or other greens
This is optional, but a great way to add extra nutrition. Baby spinach is my preference as it blends up completely and does not impart any flavor.
Milk
I use unsweetened almond milk or cashew milk, but any dairy or non-dairy milk will work.
Cottage cheese or plain Greek yogurt
If you've never used cottage cheese in smoothies, trust me on this one. It blends in completely smooth and, in my opinion, makes it even creamier than using yogurt. Plus the bit of salt enhances the natural sweetness of the banana.
But yes, plain Greek yogurt is always an option. You can even use vanilla if you want a sweeter smoothie.
Instant coffee
Using instant coffee allows you to easily adjust the level of coffee flavor without diluting or thinning out your smoothie. Though you can also replace some of the liquid with cold brew coffee, or use coffee ice cubes instead.
Chia seeds
This isn't a required ingreident, but they make it thicker and add heart-healthy Omega 3s.
Cocoa powder
A great way to add lot of chocolate flavor with minimal extra calories. I usually use regular Hershey's Cocoa Powder, but the Special Dark variety will add a slightly bitter, intense chocolate flavor.
Almond Butter
Just a little adds the perfect hint of nutty flavor and a bit of richness and healthy fats to make it satisfying.
Frozen banana
Cut into chunks before freeing or after. This is the key to the creamy texture because blended bananas take on the consistency of ice cream.
Ice cubes
Adjust the amount based on your desired consistency. You can also freeze any leftover coffee to keep on hand so you add more flavor and don't dilute your smoothie.
Honey, sugar, stevia, or desired sweetener
Bananas give it a lot of natural sweetness, but that can vary depending on how ripe your banana is. So add your favorite sweetener to taste, if needed.
PRO TIP: Want some extra protein? Lately, I've been adding Collagen Powder to my smoothies, which I think also makes them frothier!
Just add all of the ingredients to your blende din the order listed, turn it on, and blend until smooth and creamy!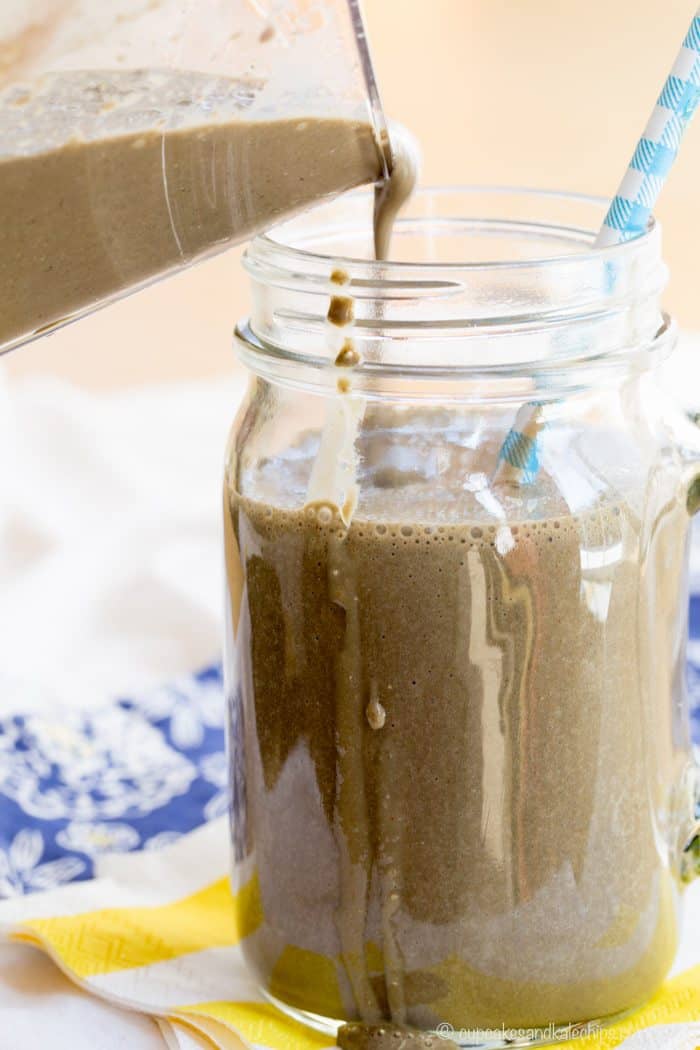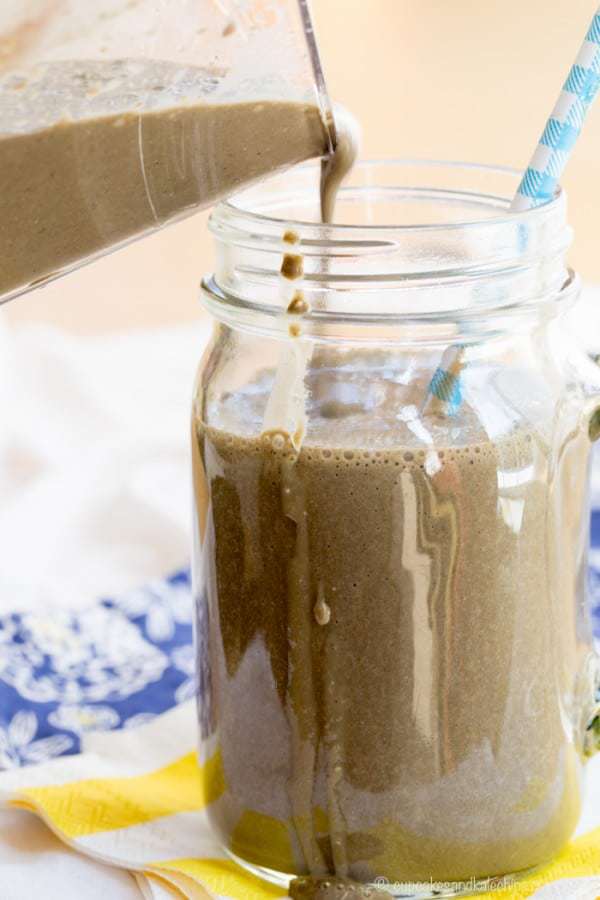 I always recommend a high-powered blender like the Blendtec for the smoothest, most creamy smoothies. The Mini Wildside+ Jar is the perfect size for one or two smoothies. You can even use the "Smoothie" setting to have it gradually increase the speed to perfectly incorporate the liquids and frozen ingredients. Note, I do usually stop it a little before the cycle is over because I prefer an extra thick smoothie.

I am a Blendtec ambassador, and should you make any purchases through my Blendtec Store link, I will receive a small commission, but that also means you can use the code CUPCAKESANDKALECHIPS to receive 20% off.
I have thousands of blends on my Blendtec it is still going strong. And I'm not being gentle with it – smoothie after smoothie after smoothie filled with frozen fruit, banana "nice cream", nut butter, hummus. These are some pretty thick blends that really require power, and the Blendtec plows through like it's nothing.
The Mini WildSide Jar is ideal for single serving smoothies, plus it's just the right size for Strawberry Lime Poppyseed Vinaigrette and Blueberry Balsamic Vinaigrette.
And I absolutely love the BlendTec Go Jar to blend and take it on my way out the door.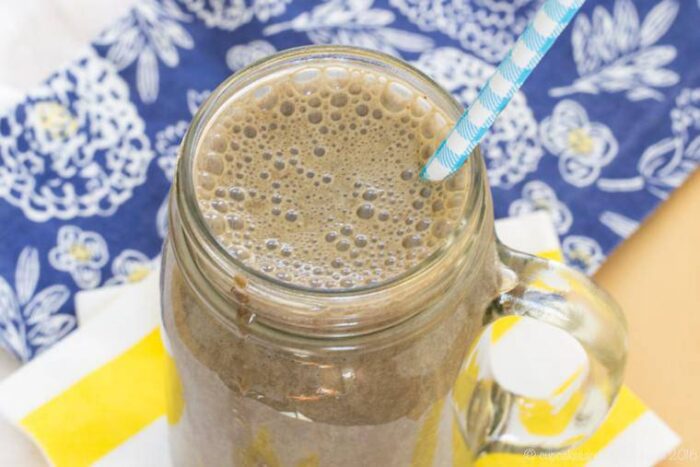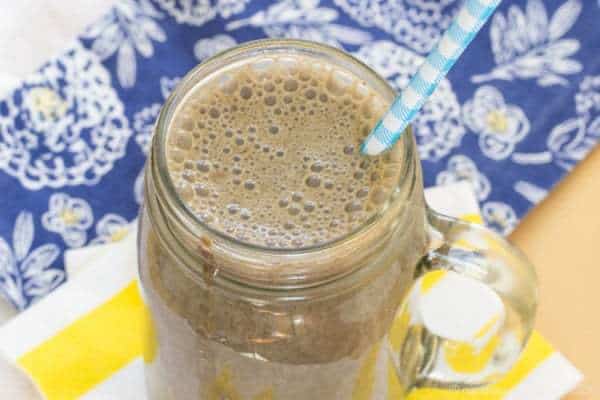 More recipes with coffee
More banana smoothies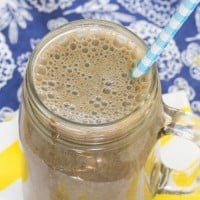 Banana Almond Mocha Smoothie
Satisfy your Starbucks Frappuccino cravings in a healthy way with this chocolate and coffee-flavored smoothie for breakfast, snack, or dessert.
Ingredients
1

cup

baby spinach

kale, or other greens

1

cup

milk of choice

I use unsweetened almond milk or cashew milk (see Note)

½

cup

cottage cheese

or plain Greek yogurt

1

teaspoon

instant coffee

1

teaspoon

chia seeds

1

Tablespoon

cocoa powder

1

teaspoon

almond butter

1

frozen banana,

cut into chunks

4

ice cubes

add more for a thicker smoothie

1

tsp

honey

sugar, stevia, or desired sweetener, if needed to taste
Instructions
Place the ingredients in your Blendtec or other blender in the order listed.

Use the Smoothie cycle, or pulse a few times then slowly increase to maximum speed, stopping once desired texture is achieved.
Notes
If you don't want to use instant coffee, you can replace some of the milk with cold brew coffee. Start with 1/4 cup and adjust to your preference based on how strong your cold brew is.
Nutrition Facts
Banana Almond Mocha Smoothie
Amount Per Serving (8 oz)
Calories 168
Calories from Fat 54
% Daily Value*
Fat 6g9%
Cholesterol 8mg3%
Sodium 368mg15%
Potassium 423mg12%
Carbohydrates 22g7%
Protein 8g16%
Vitamin A 1520IU30%
Vitamin C 9.3mg11%
Calcium 230mg23%
Iron 1.1mg6%
* Percent Daily Values are based on a 2000 calorie diet.
Categories:
Enjoy!