This post may contain affiliate links. Read my disclosure policy.
A creamy smoothie topped with the sweet, slushy taste of summer, then swirled together for the ultimate berries and cream combo, blend up and cool off with this Honey and Vanilla Swirled Blueberry Smoothie.
Blueberry Swirl Honey Vanilla Smoothie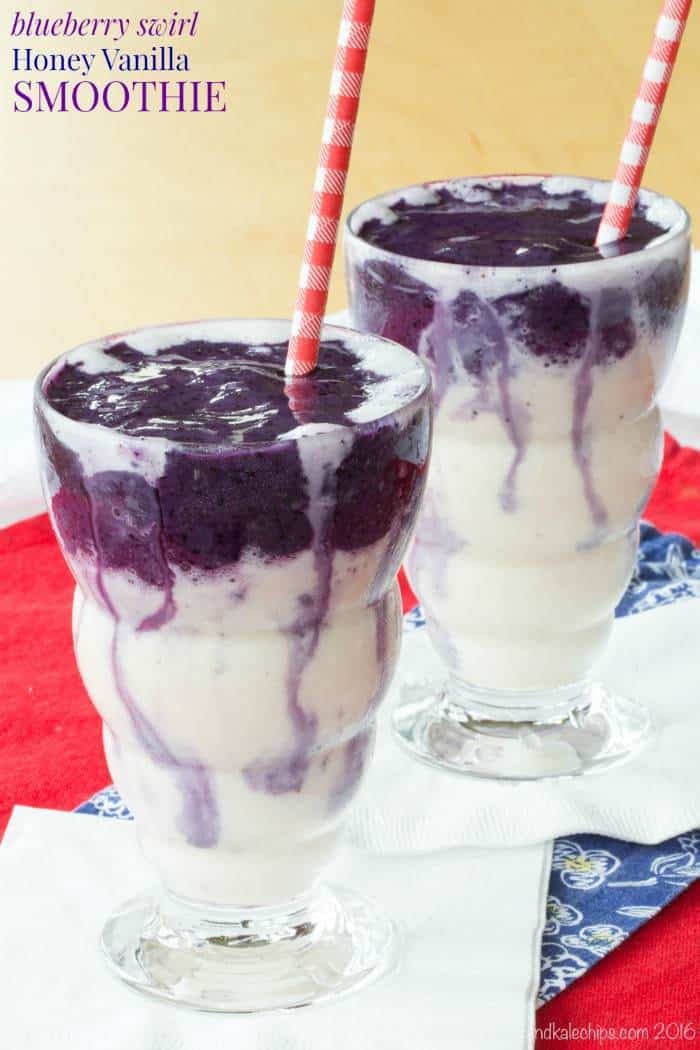 I was just in Prince Edward Island for three days. I had a wonderful time, and I can't wait to tell you all about it, but it was so busy and we learned so much that it definitely deserves its own blog post because I think you will all really enjoy it too.
But for now, let's talk about flying. Some people are super afraid of flying. My mom needs anxiety meds to get through a flight, and truthfully she just tries to avoid it altogether. I love to fly. I love being at airports, watching people, treating myself to Starbucks, having a period of time where I literally cannot be anywhere other than in this confined area so I can really use the time however I wish. The same goes for the time on the plane. I love knowing that I am going to a vacation or conference or event that I am excited about, or I love knowing that after being away, I am on my way to the comforts of home.
However, I have such anxiety until I am through security and approaching my gate. If my flight is early enough, I can't eat even if I am hungry. I always have to leave super early. I feel like I am not focused on driving because what if I encounter something on the road that causes me to miss my flight. I'm worried the line at security will be long, or I'll be a disheveled mess trying to pull out my liquids and laptop and take off my shoes as I am going through the checkpoint. My stomach is literally in knots till all of my items are safely back in my hands and my shoes are back on.
I was able to carry on my small rolling suitcase for the flight to Canada, but on the way home I was told when I checked in that I had to check my bag. In my rattled state, I forgot my camera, lenses, and memory card were in my bag – not things I typically want to check. I totally felt off my game.
But now that I am on the plane, I feel totally fine. OK, I'm lying. First of all, puh-leeeeeeze, camera and memory card make it back to DC. And second, I'm actually on a propeller plane with the propeller literally right outside my window, so I am staring at my computer screen just to keep from watching out the window for the next hour silently repeating, "Just keep spinning. Just keep spinning."
I seriously think I need that two hour layover to just decompress. Feeling stressed about the fact that I am feeling stressed in a situation where I don't usually feel stressed.
You know what would make me feel way less stressed? A valium. Just kidding. Maybe all I need is one of these…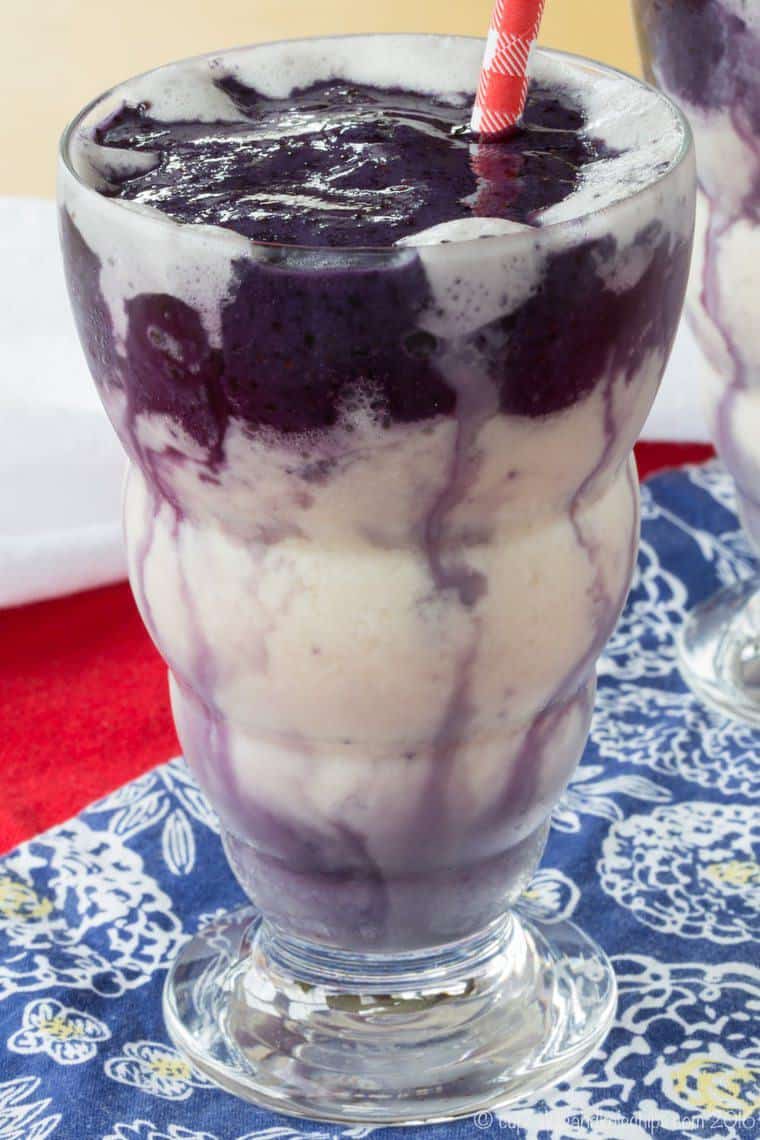 This Blueberry Swirl Honey Vanilla Smoothie is a beautiful way to start the day, and it is so simple to make something that looks as amazing as it tastes. All you have to do is make a fairly basic, super creamy banana smoothie with the addition of a bit of honey and vanilla extract to give it a dreamy, slightly floral flavor. Pour that into your glasses and toss them into the freezer for a few minutes while you blend the blueberry layer. No need to even wash the blender because the blueberries will certainly be plenty blue even if you leave a bit of the white layer in there. Just pour it gently on top and swirl a little with a straw, spoon, or skewer.
Soooo pretty! Easy enough for a quick snack, but also lovely for a brunch.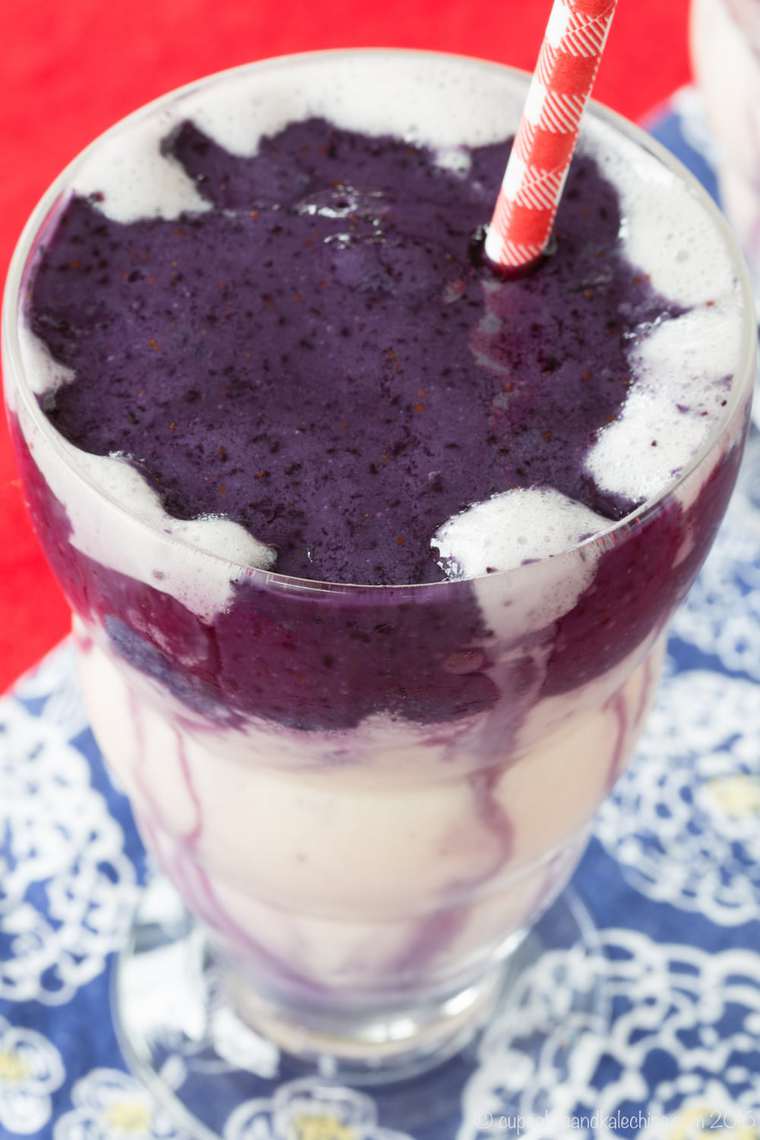 And just to give you a little preview about the trip, I just traveled to Prince Edward Island with Wyman's of Maine for the #LiveFromTheHive Summit to learn more about their efforts to help preserve the bee population that is so critical for the berry crop. I truly have a newfound appreciation for those hardworking little insects, as well as the people who take care of them.
Not only did we gain incredible knowledge through a truly unique experience, but we had the opportunity to experience Wyman's wild blueberries incorporated into everything from cocktails and condiments to dinners and desserts. While a smoothie may be a bit more of a traditional use for frozen blueberries, I thought this one was a little special with it's pretty swirls, also highlighting another thing we get from the bees – honey! But I am so inspired to find new and creative ways to work with these bitty berries.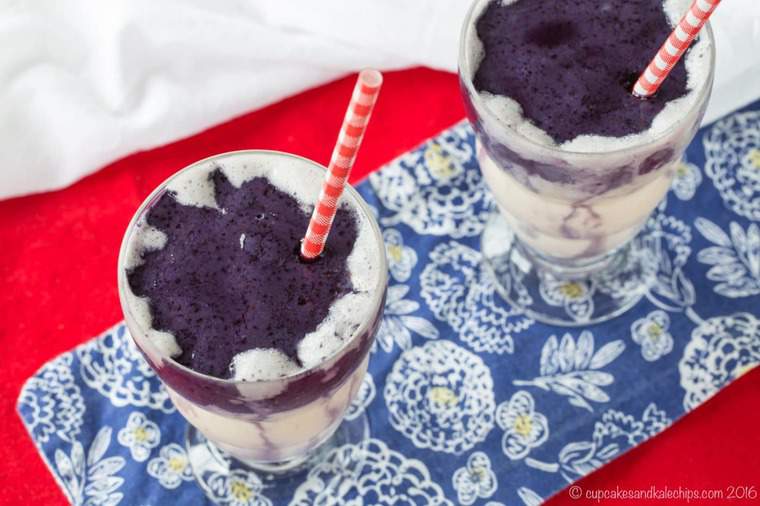 Flying – love it or hate it?
For more yumminess from me and my foodie friends, keep up with me on…
Or sign up to have Cupcakes & Kale Chips delivered straight to your Inbox!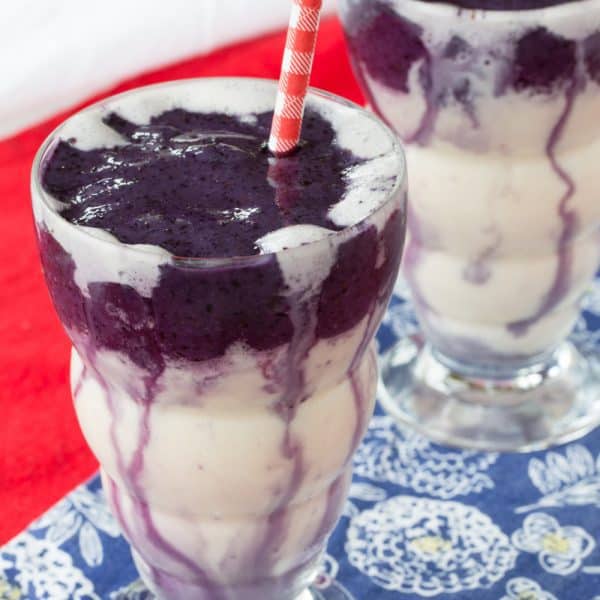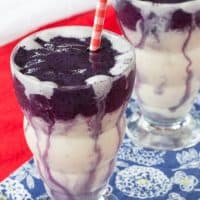 Honey and Vanilla Swirled Blueberry Smoothie
This easy blueberry smoothie swirled with vanilla yogurt is a creamy and delicious, healthy smoothie recipe for breakfast or a snack.
Ingredients
For the honey vanilla layer:
1

cup

milk of choice

1/2

cup

plain Greek yogurt

1-2

teaspoons

honey

or to taste

1

teaspoon

vanilla extract

1

frozen banana

cut into chunks

4

ice cubes

more for a thicker smoothie, less for a thinner smoothie

1

scoop

protein powder

optional
For the blueberry layer:
1/2

cup

Wyman's frozen wild blueberries

1/2

cup

milk of choice

1

teaspoon

honey

if needed
Instructions
Combine the ingredients for the honey vanilla layer in the jar of your blender and blend to desired texture. Divide between 2 glasses and place in the freezer while making the blueberry layer to slightly harden the top.

Using the same blender jar (no need to wash it out), add the ingredients for the blueberry layer and blend to desired texture.

Gently pour the blueberry layer on top of the honey vanilla layer and swirl with a straw, spoon, or skewer by pressing it through the blueberry layer and down the sides of the glass.
Nutrition Facts
Honey and Vanilla Swirled Blueberry Smoothie
Amount Per Serving (8 oz)
Calories 231
Calories from Fat 54
% Daily Value*
Fat 6g9%
Cholesterol 6mg2%
Sodium 319mg13%
Potassium 409mg12%
Carbohydrates 30g10%
Protein 14g28%
Vitamin A 445IU9%
Vitamin C 13.2mg16%
Calcium 366mg37%
Iron 1.5mg8%
* Percent Daily Values are based on a 2000 calorie diet.
Categories:
Enjoy this Blueberry Swirl Honey Vanilla Smoothie recipe!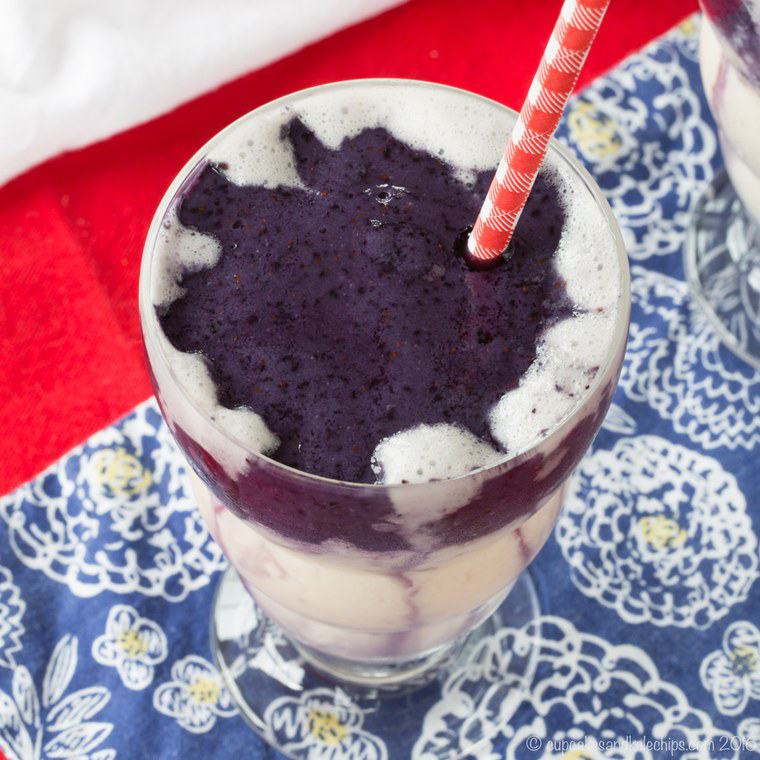 Here are some more blueberry recipes…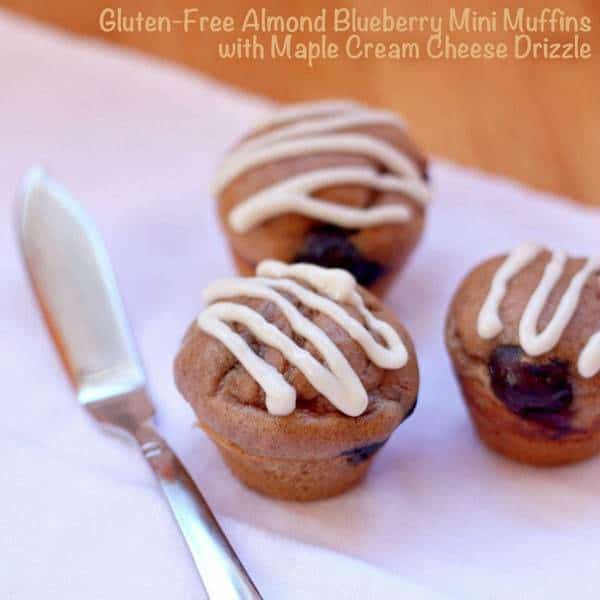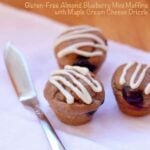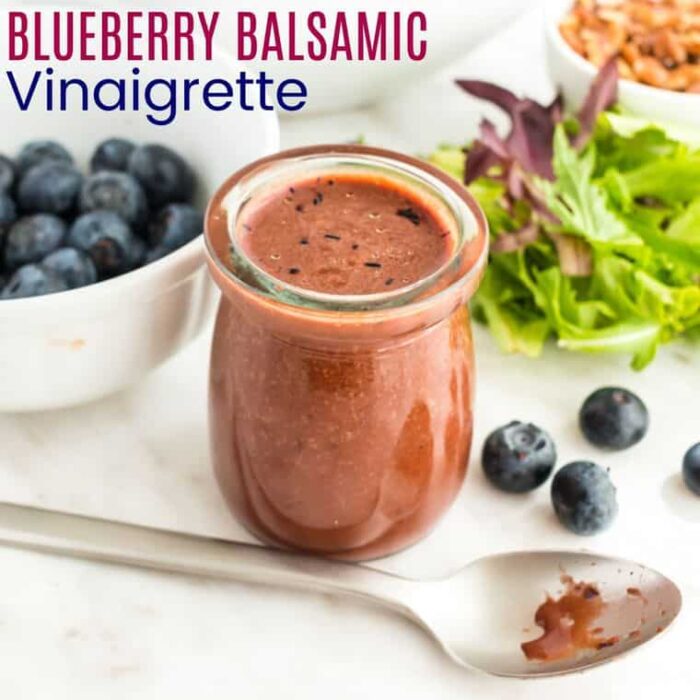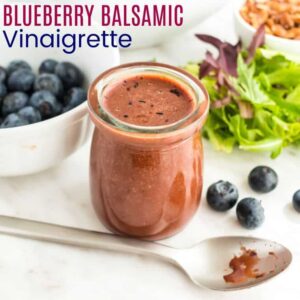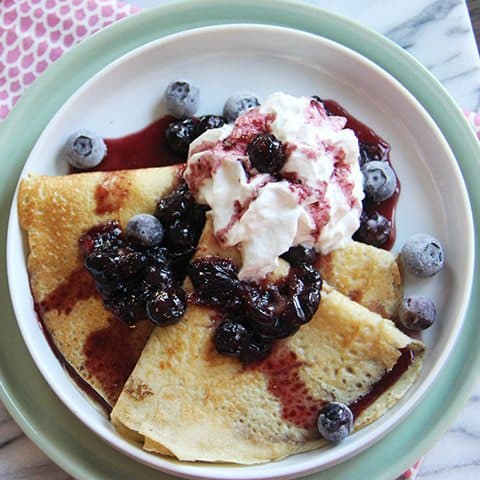 And some from my friends…