This post may contain affiliate links. Read my disclosure policy.
For a delicious and healthy way to start your day or power you through the afternoon slump, try one of these Cherry Smoothies! Not only are cherries sweet and tasty, and they pair well with so many other fruits and flavors. There are countless ways to customize to find your favorite combination. So here are some cherry smoothie recipes to inspire you.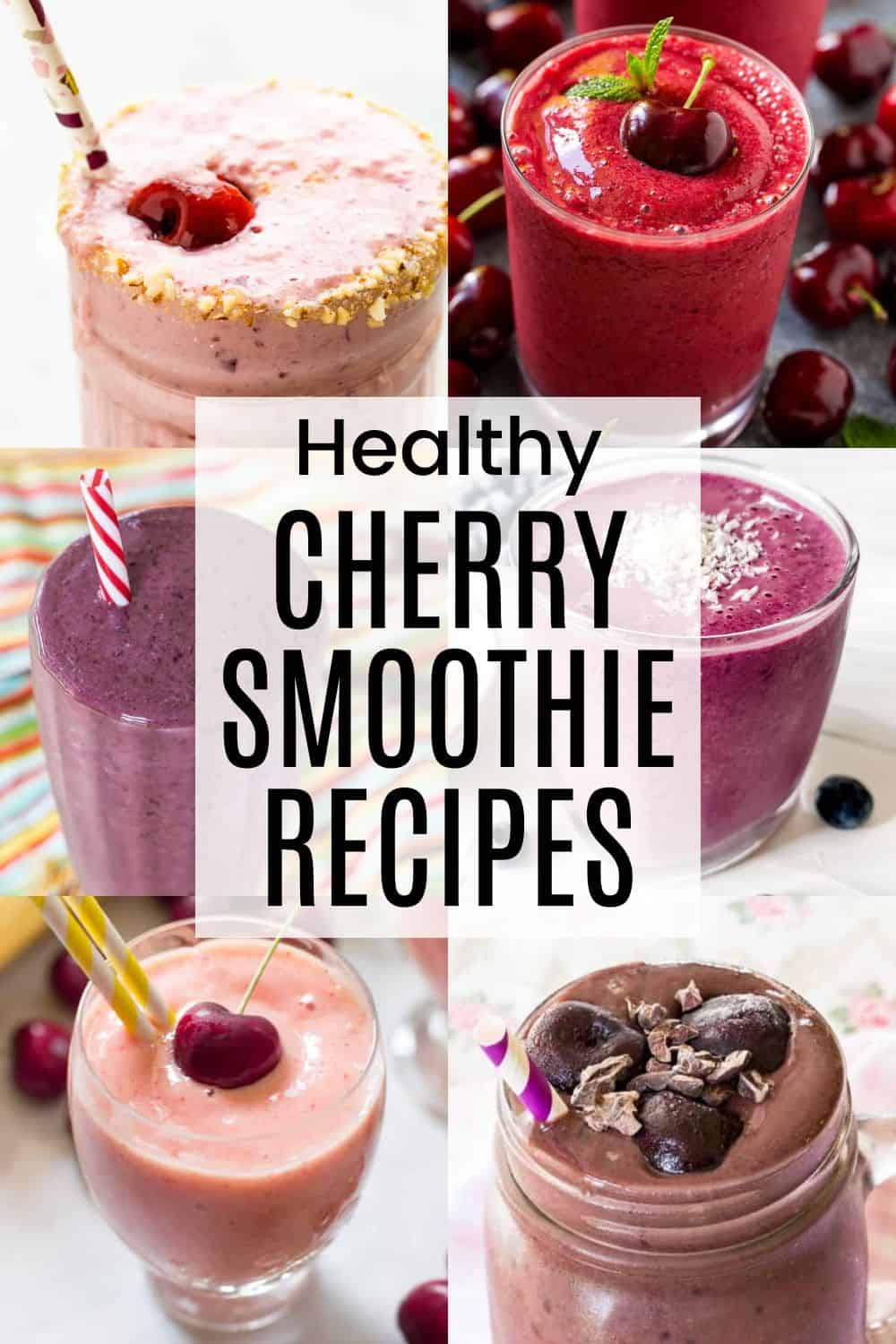 What's so good about cherry smoothies?
Because cherries are so sweet and intensely flavored, they truly make delicious smoothies that don't get watered down by the milk, ice, or other ingredients you might add. Speaking of other ingredients, cherry pairs well with so many other fruits and flavors. So there are lots of cherry smoothie recipes you can try.
While smoothies can generally be a healthy option, cherry smoothies are especially nutritious because of the health benefits of cherries themselves. That's in addition to the other items you add to the smoothie. But more on that in a minute.
No matter which recipe you choose, cherry smoothies are a great way to add healthy foods to your diet in a delicious way and jumpstart your day on the right foot. So go ahead and experiment with different flavor combinations. You are sure to find the perfect cherry smoothie for you and your family! Yes, kids love them too!
Health benefits of cherries?
Like most fruit, it shouldn't surprise you that cherries are low in calories and high in vitamins and minerals. In particular, the high levels of vitamins A, C, and E mean that these antioxidant-rich fruits are anti-inflammatory. These antioxidants mean that cherries are also beneficial for helping you recover from soreness due to exercise. There is some evidence that the high levels of potassium may help keep cholesterol in check. And the high amounts of melatonin and serotonin can promote sleep.
Plus you also get the health benefits of the other ingredients that you add to your smoothie. That can be omega 3's from flax or chia seeds, minerals and fiber from dark leafy greens, or protein and calcium from yogurt and milk.
What fruits mix well with cherries?
While not necessarily the fruit combination you might think of first, adding frozen bananas to any smoothie helps to give it a rich and creamy consistency. Plus, the flavor of the bananas often gets neutralized by the other ingredients.
Cherries also pair well with other stone fruits, like peaches and nectarines. They also have a natural affinity for summer berries, such as strawberries and blueberries. And don't discount the potential of pairing them with tropical flavors like pineapple, mango, and coconut.
You'll find all of these fruits added to cherry smoothies!
What other ingredients pair well with cherries?
Because cherries do have an intense and concentrated flavor, they stand up to a lot of different ingredients, as well. Chocolate, vanilla, and almond all perfectly complement the fruit. The sweetness of honey and the tangy flavor of yogurt or cream cheese are also a great balance. So these are often found in many cherry smoothie recipes. And mint can contribute a little burst of freshness.
Is it safe to put frozen cherries in a smoothie?
Can you put frozen cherries in a blender? The answer is yes! Frozen cherries will blend in both basic kitchen blenders and high-powered blenders. The key is to make sure you used pitted cherries. Your standard blender might not break up any pits, which could be a choking hazard. And the other risk is that cherry pits contain cyanide, which is toxic. So if they are broken down by the blender, it will release cyanide into your smoothie. So you want to avoid ingesting them.
Brianne's Favorite Blender
I always recommend a high-powered blender like the Blendtec for the smoothest, most creamy smoothies. The Mini Wildside+ Jar is the perfect size for one or two smoothies. You can even use the "Smoothie" setting to have it gradually increase the speed to perfectly incorporate the liquids and frozen ingredients. Note, I do usually stop it a little before the cycle is over because I prefer an extra thick smoothie.
I am a Blendtec ambassador, and should you make any purchases through my  Blendtec Store link, I will receive a small commission, but that also means you can use the code CUPCAKESANDKALECHIPS to receive 20% off.
Now that we've settled that, let's get to all the cherry smoothies you'll want to try!
10+ of the Best Cherry Smoothie Recipes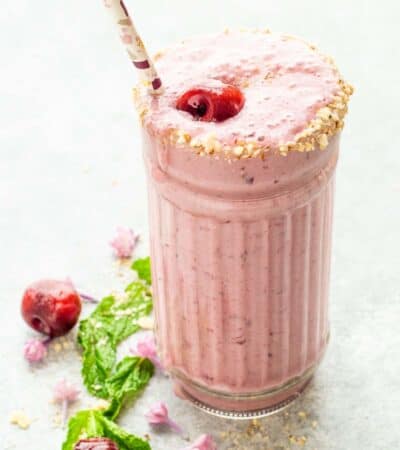 With the rich and decadent flavor of cheesecake in a healthy smoothie, you can feel good about indulging in your favorite sweet tooth craving. It's a delightfully creamy option for everything form breakfast to dessert.
Get The Recipe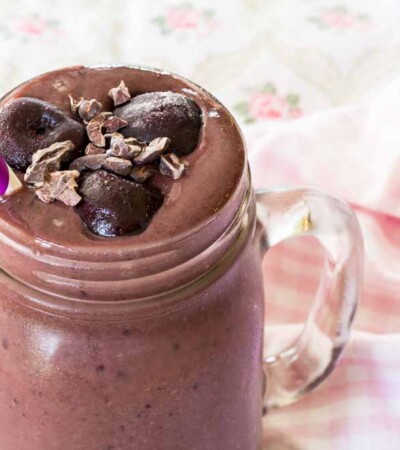 If you love chocolate-covered cherries or Black Forest cake, then this smoothie will be your new favorite. The combination of chocolate and cherries in a protein-packed smoothie is the ultimate pairing.
Get The Recipe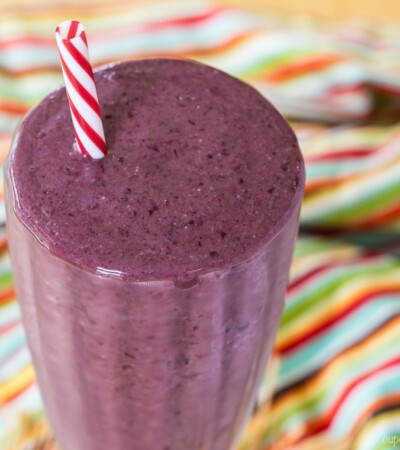 The nutty flavor of almonds is a wonderful complement to the flavor of cherries, and a splash of vanilla enhances the sweetness. Don't forget a handful of spinach to sneak in the benefits of dark, leafy greens.
Get The Recipe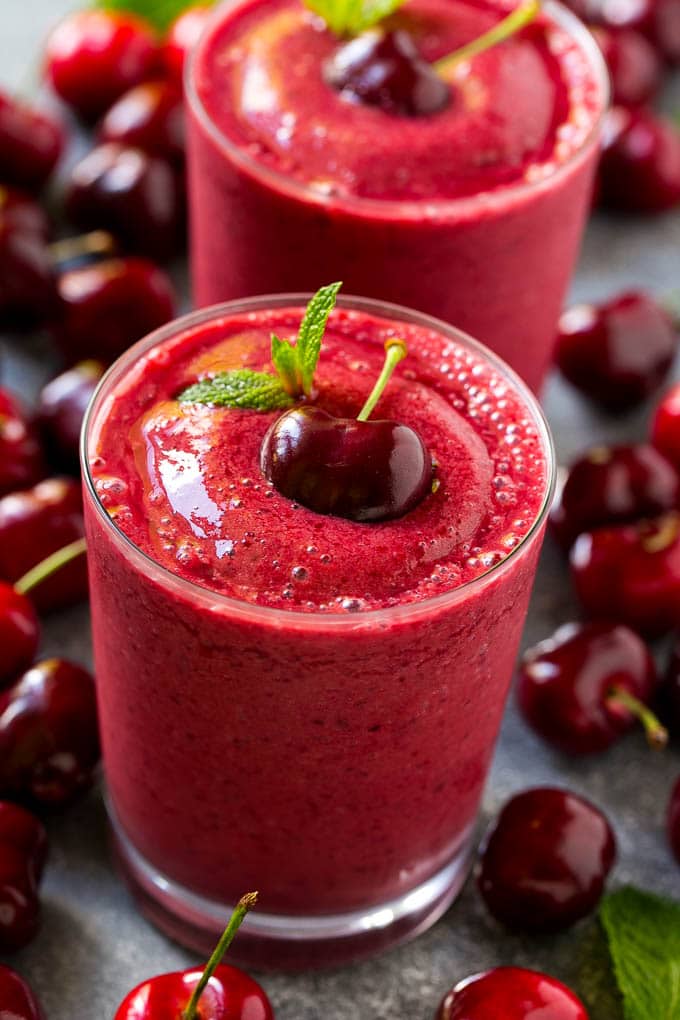 This truly is your best basic cherry smoothie. With cherries and juice, it has tons of cherry flavor, and yogurt makes it a creamy and delicious drink.
Get The Recipe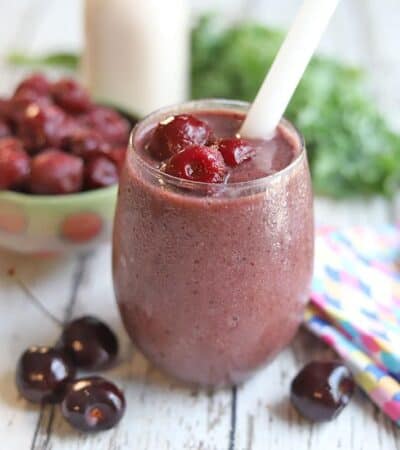 If you prefer to skip the dairy, you can still make an incredible cherry smoothie. The thick, creamy consistency comes from frozen bananas.
Get The Recipe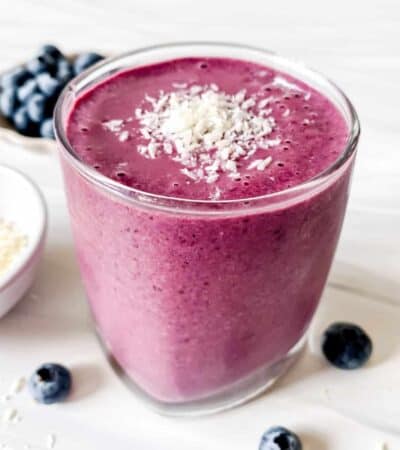 Blueberries add some summery flair to this smoothie. Plus oats and a touch of coconut make it extra satisfying.
Get The Recipe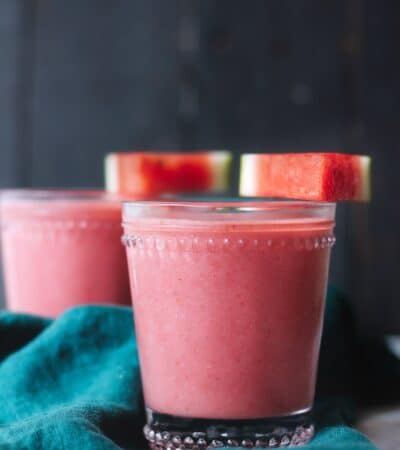 With berries, cherries, and watermelon, this smoothie is extra refreshing. It's a great way to use up any of your leftover fruit after you've tossed it in the freezer.
Get The Recipe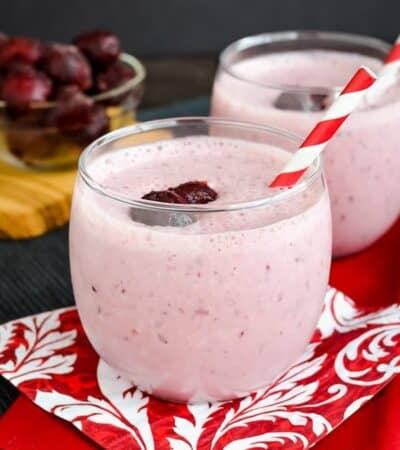 An extra dose of protein makes this thick and rich smoothie more filling. That means you can enjoy it as a refueling snack or a quick light meal.
Get The Recipe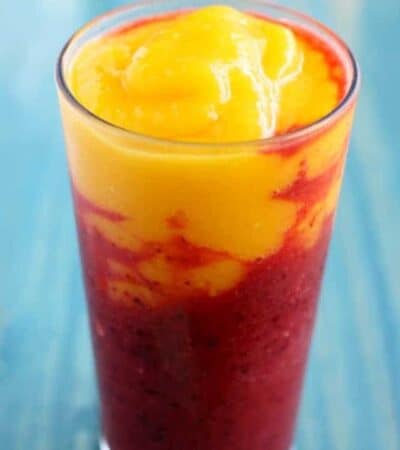 This layered smoothie is bright, colorful, and fun. But you certainly don't miss out on all of the antioxidants in this dairy-free anti-inflammatory smoothie.
Get The Recipe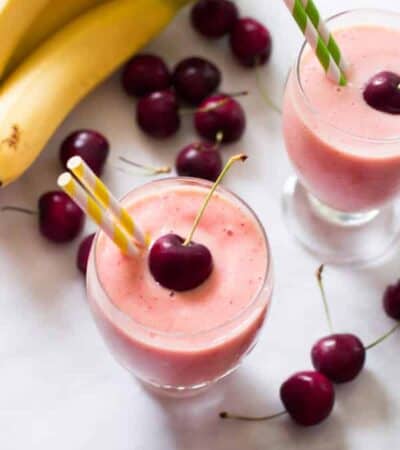 Add a delicious burst of tropical goodness to our cherry smoothie. Because it is so naturally sweet, you might not even need to add any additional sweetener.
Get The Recipe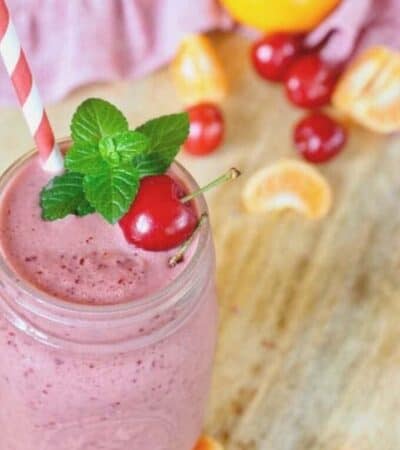 This recipe tastes like a cherry version of an Orange Julius. But unlike the frothy drink from the mall, this one is full of healthy ingredients.
Get The Recipe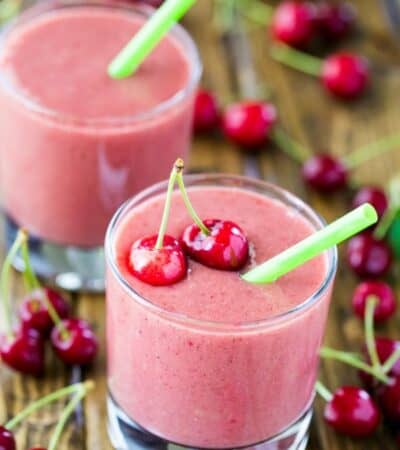 Talk about a pick-me-up, the fresh flavors make this smoothie hard to resist. And you can use fresh or frozen cherries and strawberries, so you can truly make it anytime.
Get The Recipe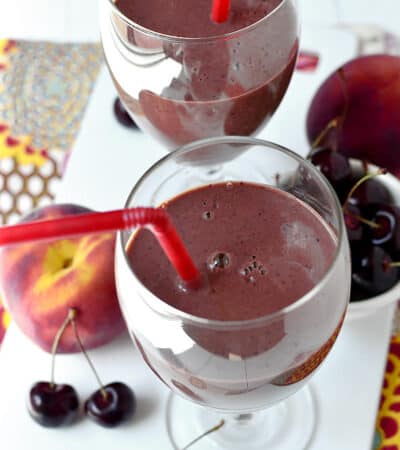 With lots of summery fruit flavor, you won't even know there is tons of spinach in there. The deep colors hide all that green so you can sneak it past the kids.
Get The Recipe