This post may contain affiliate links. Read my disclosure policy.
This classic Gluten-Free Bread Pudding is an easy dessert that's loved by all! Transform day-old bread into a luscious treat that's rich, creamy, and filled with warm spices. I top my recipe with a decadent bourbon bread pudding sauce to really warm your heart!
An Easy, Classic Dessert the Whole Family Will Love
Sweater weather is on its way, which means a few things around here. The main one: it's time for cozy desserts.
This recipe for gluten-free bread pudding is a classic and an honest-to-goodness family favorite. Something about rustic bread pudding just makes me think of Christmas and the holidays. It's like I'm manifesting the upcoming season.
My house always smells so incredible after I make a batch of this bread pudding. The kitchen is full of warm spices and sweetness, as though someone baked up a huge batch of French toast. Which, to be honest, isn't far off. After all, bread pudding and French toast come from the same humble beginnings.
This gluten-free bread pudding upcycles the other day's bagels into a delicious dessert, baked in creamy custard and dotted with (optional) sweet raisins. I've also included my recipe for homemade bourbon bread pudding sauce to top it with, and the result is to-die-for.
It's the most simple, classic recipe that will no doubt carry you through fall, winter, and into the new year!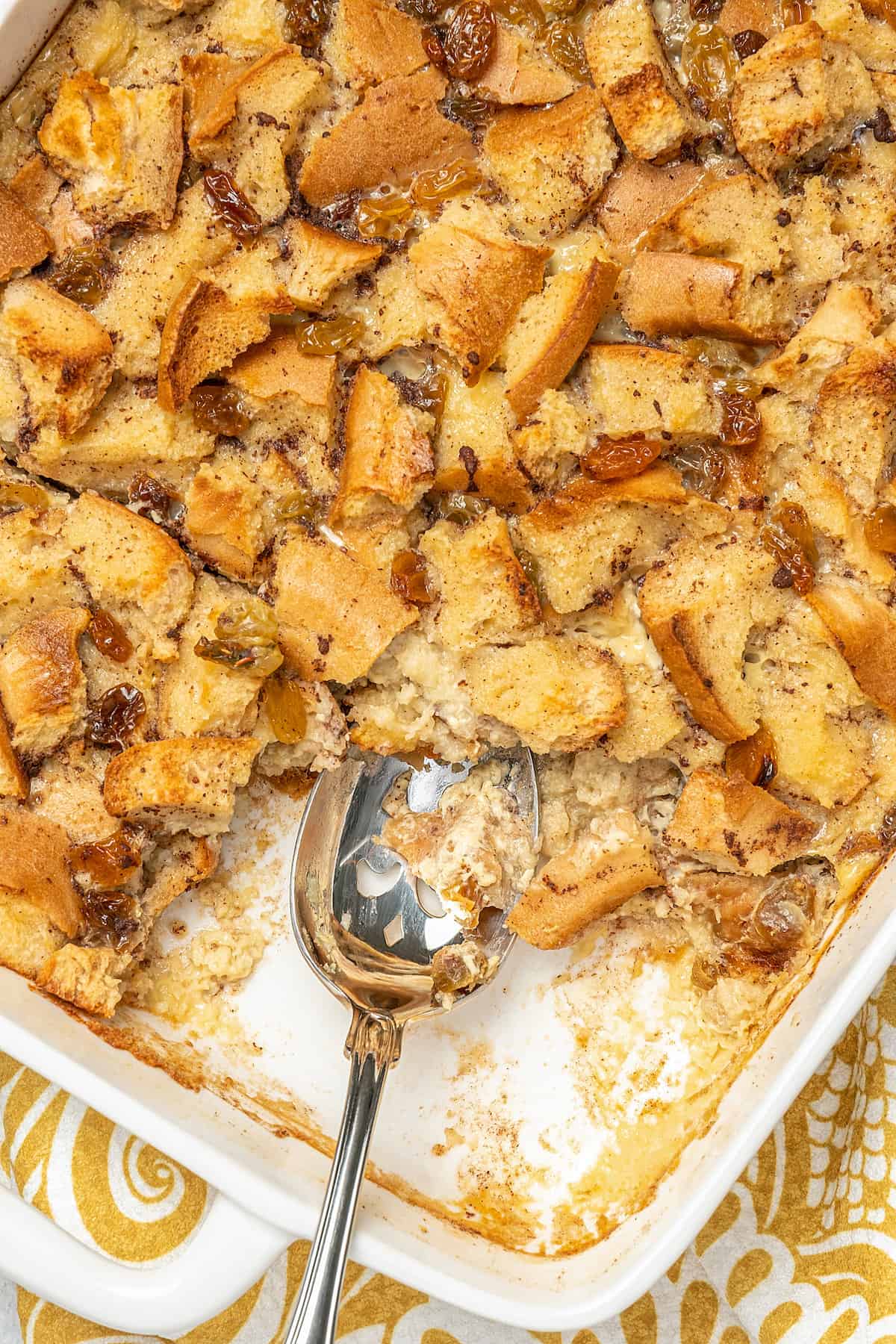 What You'll Need
Let's go over the ingredients for the perfect gluten-free bread pudding topped with bourbon sauce. The list is short! Don't forget to check out the recipe card for the full details and amounts:
Stale Bread: I've discovered that next-day Gluten-Free Bagels are perfect for bread pudding! They have the perfect amount of chewiness with a neutral flavor. The bread you use when making bread pudding shouldn't be fresh, or overly stale. Instead, get your hands on bagels (or a loaf) that are a day or two old, and cut them into inch-sized pieces.
Raisins: I prefer golden raisins in my bread pudding, for nice little fruity bursts throughout. Feel free to use regular raisins, Sultanas, or even currants. Or, if you're raisin-opposed, skip them altogether.
Eggs: Lightly beat your eggs. I also recommend using room temperature eggs so that they mix more easily and bake evenly.
Sugar: Regular granulated sugar is just fine.
Whole Milk: Alternatively, 2% milk will also work.
Vanilla Extract: Pure vanilla extract gives just the right amount of natural vanilla flavor.
Spices: I use a pinch of ground cinnamon and nutmeg to bring a warming quality to the pudding.
Bourbon Sauce: I whisk up a quick and easy homemade bourbon sauce with butter, sugar, milk, and bourbon. I highly recommend making it from scratch!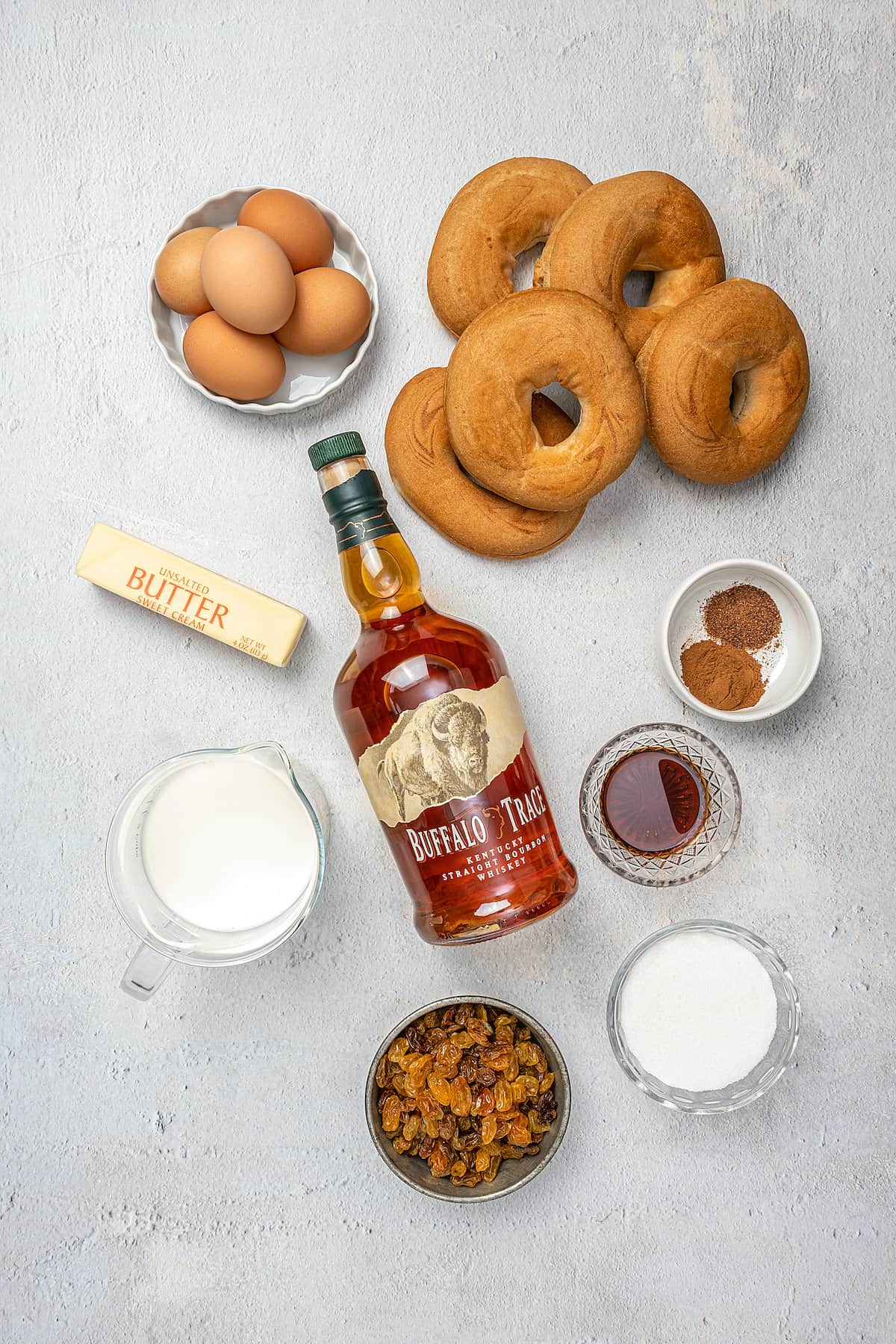 How to Make Gluten-Free Bread Pudding
This bread pudding recipe comes together easily enough. Before you begin, set your oven to preheat to 350°F. Meanwhile, coat a baking dish with cooking spray. Now, here's how to assemble your bread pudding:
Add the Bread: Spread the cubed bagels in an even layer on the prepped baking dish. Generously sprinkle the raisins over top. Set this aside while you make the egg mixture.
Add the Egg Mixture: Whisk together the eggs, sugar, milk, vanilla, and spices. Pour this mixture into the baking dish over the bread/raisin layer. Make sure to get all the bread pieces coated, then leave the mixture to rest. Give it about 20 minutes to really let the bagel bits soak up the creamy flavors.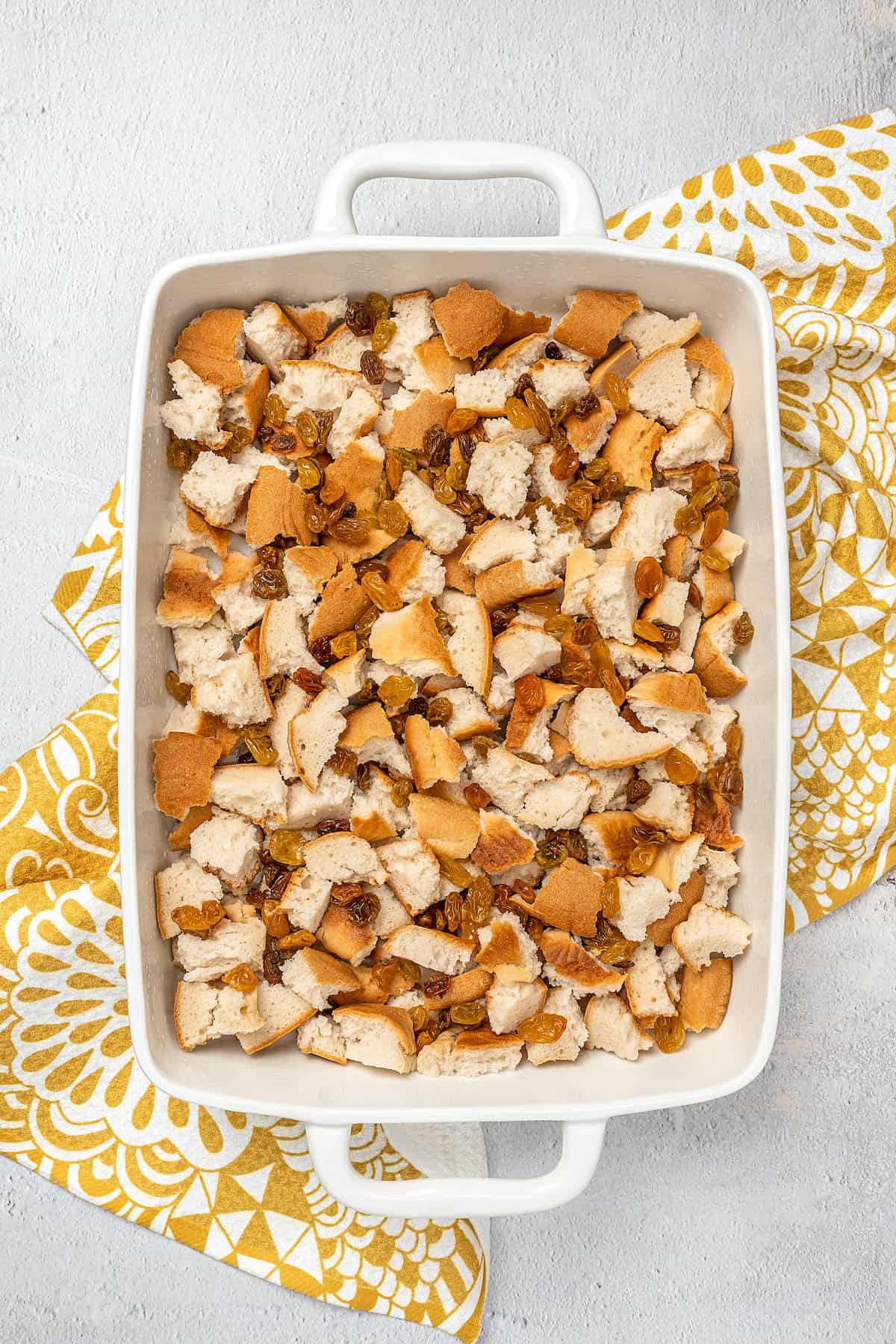 Bake: Once it's ready, pop the bread pudding into your preheated oven. Bake the bread pudding until the top is set, which should take about 45 to 50 minutes. Take the pan out of the oven and, while it cools off a bit, mix up your bourbon sauce!
Make the Sauce: The sauce for this recipe is super easy! Heat butter, sugar, and milk in a saucepan until the sugar has dissolved. Remove the pan from the heat and slowly stir in the bourbon a little at a time.
Sauce and Serve: When your bourbon sauce is finished, slice up and serve your bread pudding. Give each serving a generous drizzle of sauce, and enjoy!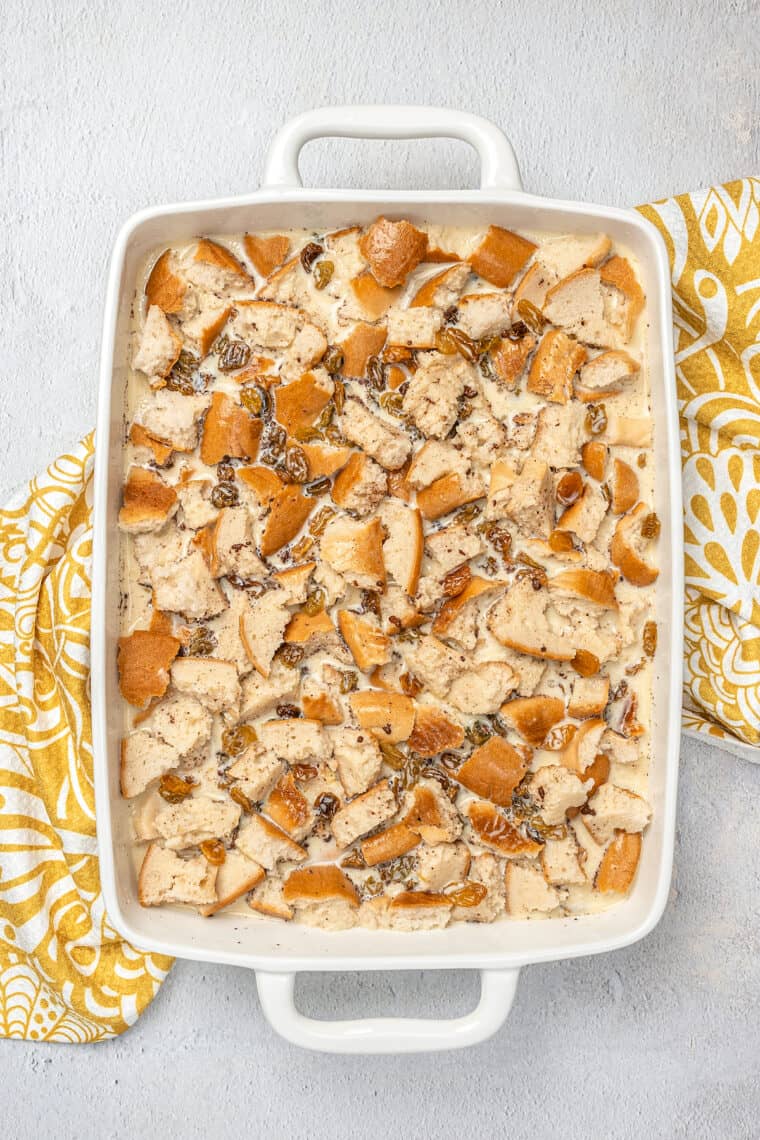 Can I Make This Dairy-Free, Too?
Yes! Making this a dairy-free bread pudding recipe is as easy as swapping out the dairy components for your preferred dairy alternatives.
The milk in both the pudding mixture and the bourbon sauce can be substituted with oat milk (personal fave), almond milk, or coconut milk.
Replace the butter in the sauce with coconut oil or vegan butter, like the one from Miyoko's Creamery.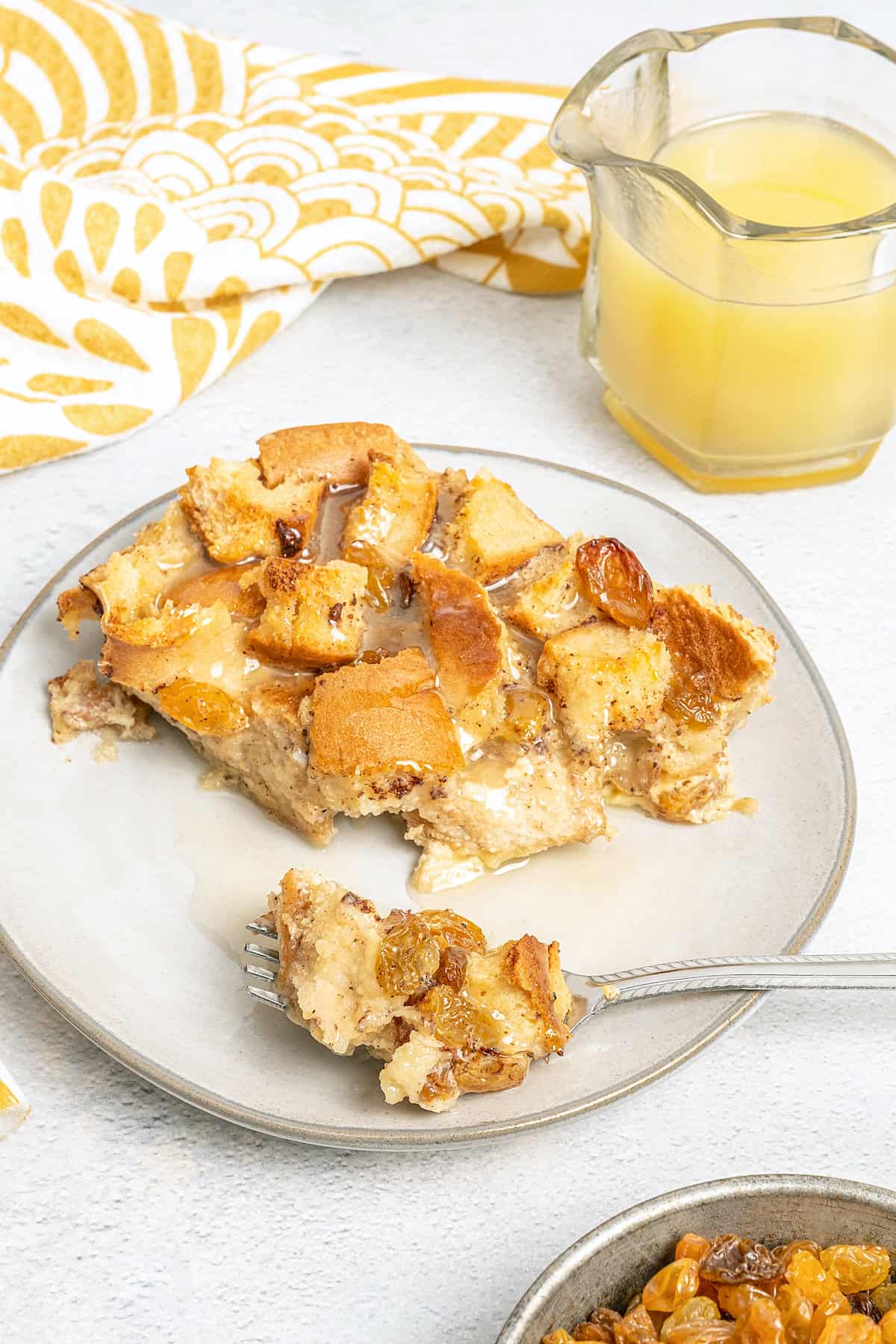 Tips and Variations
Here are more easy tips to make your gluten-free bread pudding a rollicking success:
Use the Right Bread: Hit the sweet spot and use day-old bread. If your bread is aged to the point that it's dried out and crumbly, or rock hard, give it a pass. Also, if you're not using bagels like in this recipe, make sure to use another hardy white bread, like brioche or leftover Gluten-Free Baguette. You could also cube up plain ol' Gluten-Free Sandwich Bread, too.
Last updated on Nov 30, 2023 3:06 pm
Check for Doneness: How do you know when bread pudding is set? One way to tell is to stick a metal knife into the center of the bread pudding. If the knife comes out clean, the pudding is done.
Serve with Ice Cream: Warm bread pudding served with a scoop of vanilla ice cream is basically the closest you'll get to heaven.
Different Sauce: If you prefer to cook without alcohol, try serving your gluten-free bread pudding topped with Hot Fudge Sauce or caramel sauce. This also makes it a great kid-friendly dessert!
Add Nuts: Crumbled pecans and walnuts give this bread pudding a nice added crunch.
Storing and Reheating
Once the bread pudding has cooled completely, it can be stored in the fridge for 4-5 days. Either wrap the baking dish with plastic wrap or transfer the pudding to an airtight container before storing.
Gently reheat the bread pudding whole or in slices in the oven until it's warmed through. If you're reheating it in slices, you can also reheat it in the microwave.
This gluten-free bread pudding is also a great dessert to make in advance during the holidays (or any other time). See the next section for make-ahead and freezing options!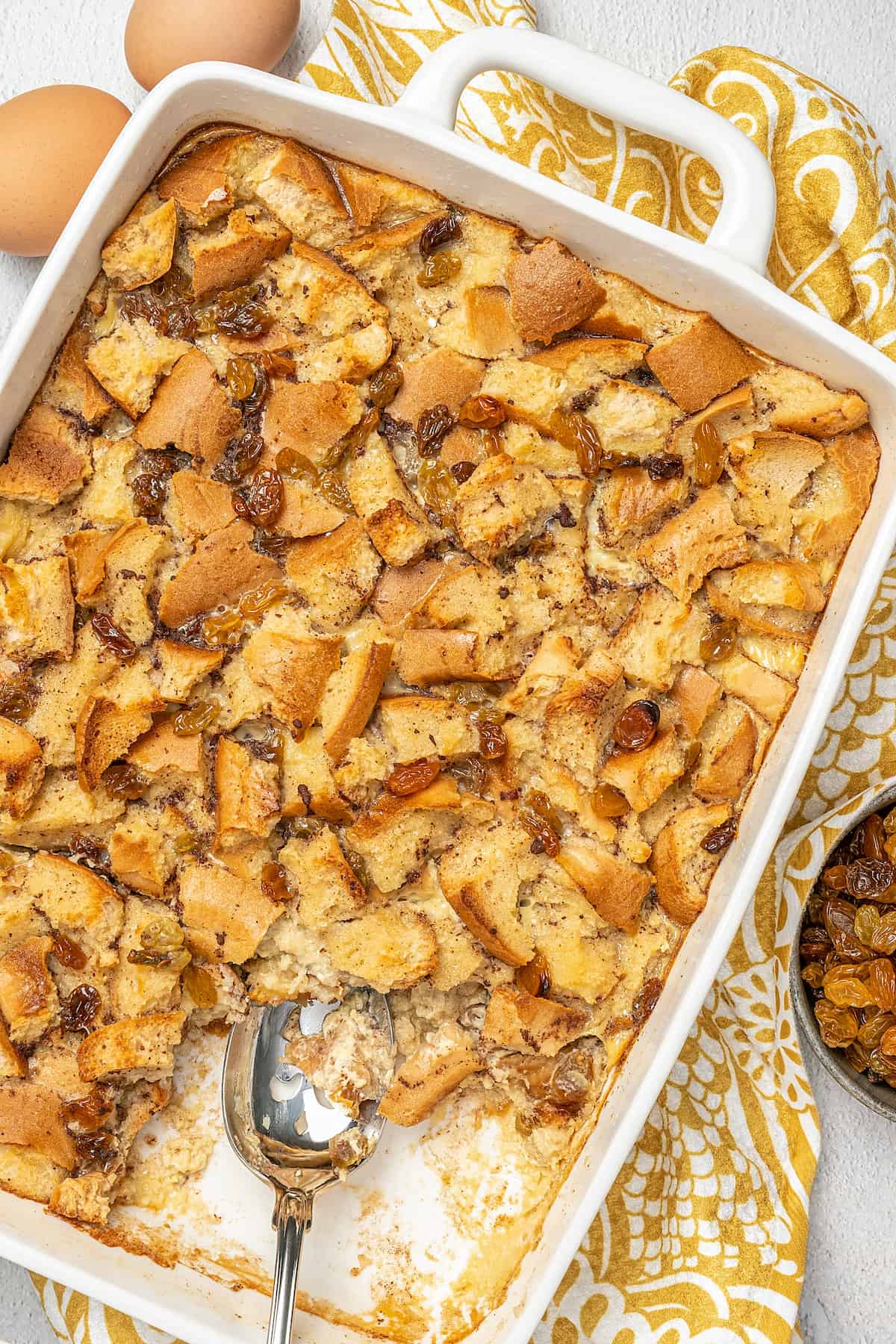 Freezing and Making Ahead
Gluten-free bread pudding is an easy dessert to make ahead and have on hand. It also freezes wonderfully. There's a reason many swear it's the perfect holiday dessert!
Freeze: Preparing this bread pudding for the freezer is as easy as following the recipe and baking it as directed. After the pudding has cooled, wrap the baking dish in a layer of plastic wrap, plus a layer of foil, and pop it into the freezer. It can stay frozen for up to 2 months. Whenever you're ready to serve it, take the bread pudding out the night before and let it thaw in the fridge. Then reheat as directed above!
Make Ahead: Soak your bread pieces in the egg mixture, and then cover the dish to refrigerate. Bake as usual the following day.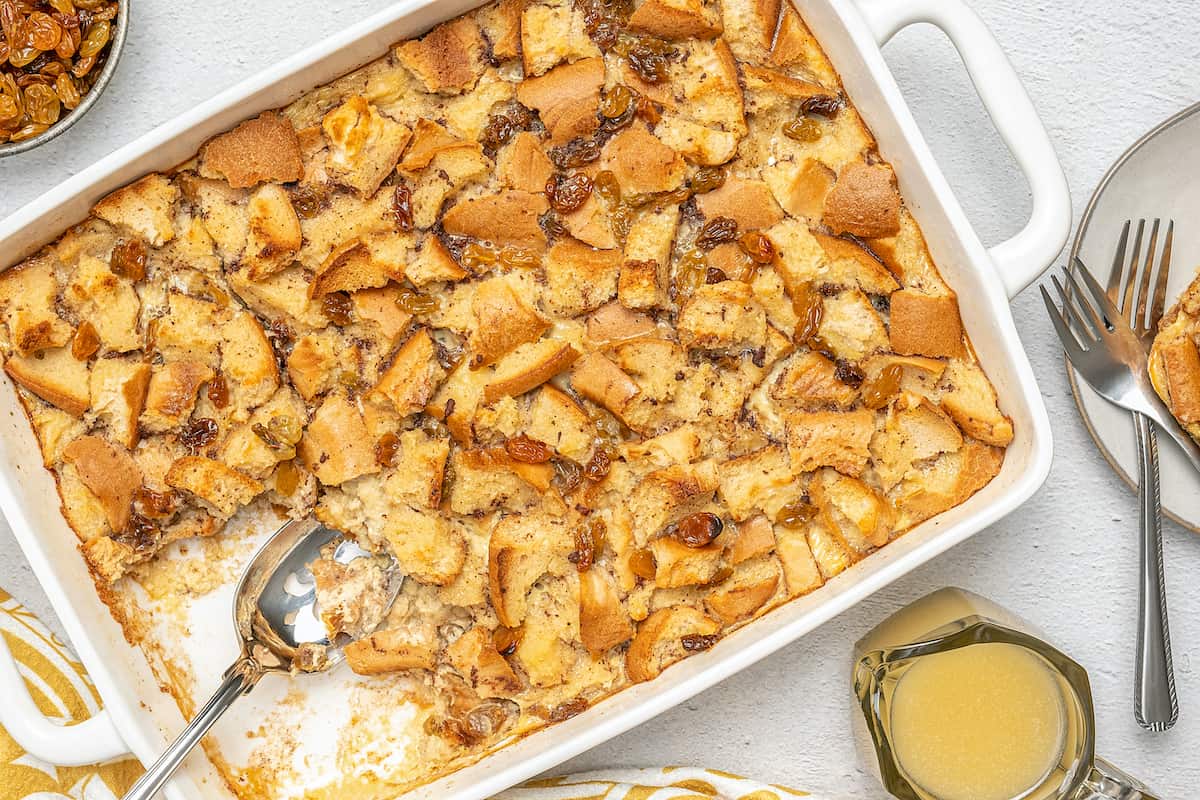 More Gluten Free Holiday Dessert Recipes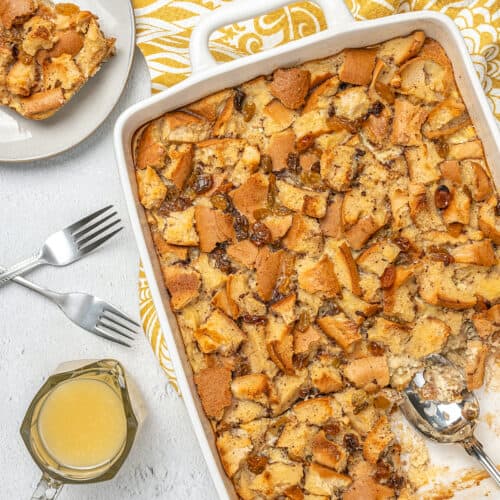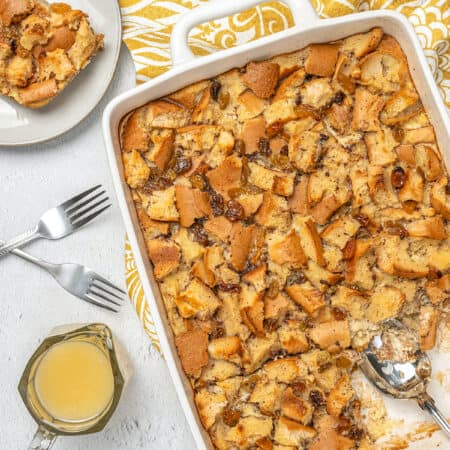 Gluten Free Bread Pudding
This easy Gluten-Free Bread Pudding is a cozy and classic dessert. My family-favorite recipe is topped with homemade bourbon bread pudding sauce to really warm the cockles!
Ingredients
4-5

day-old plain gluten-free bagels

cubed into 1-inch pieces

½

cup

golden raisins

5

large

eggs

lightly beaten

1

cup

granulated sugar

4

cups

whole milk

1

tsp

vanilla extract

1

tsp

ground cinnamon

1

tsp

ground nutmeg
Bourbon Sauce:
½

cup

butter

1

cup

granulated sugar

¼

cup

milk

¼

cup

bourbon
Instructions
Spray a 9X13 baking dish with nonstick cooking spray. Placed the cubed bagels into the prepared baking sheet and spread to form and even layer. Sprinkle raisins over the bagels and set aside.

In a large mixing bowl, whisk together the eggs, sugar, milk, vanilla, cinnamon and nutmeg until combined. Pour the mixture over the bagels in the prepared baking dish. Make sure all of the bagel cubes are evenly coated. Allow the mixture to sit for 20 minutes to soak up the flavors.

Bake your bread pudding in the preheated oven for 45 to 50 minutes or until the top is set.

Remove from oven and allow to cool slightly before serving.

While your bread pudding is cooling, combine the butter, sugar and milk in a small saucepan. Cook over medium-high heat until the sugar is dissolved. Remove from heat. Slowly stir in the bourbon. Be careful when adding in the bourbon as the sauce might bubble. It is best to add a small amount at a time.

Spoon bourbon sauce over sliced pieces of bread pudding and serve.
Nutrition Facts
Gluten Free Bread Pudding
Amount Per Serving
Calories 382
Calories from Fat 126
% Daily Value*
Fat 14g22%
Cholesterol 108mg36%
Sodium 356mg15%
Potassium 208mg6%
Carbohydrates 58g19%
Protein 7g14%
Vitamin A 486IU10%
Vitamin C 0.2mg0%
Calcium 191mg19%
Iron 2mg11%
* Percent Daily Values are based on a 2000 calorie diet.