This post may contain affiliate links. Read my disclosure policy.
These Gluten Free Cream Puffs are the ultimate bite-sized indulgence made from homemade gluten-free pate a choux and filled with thick, velvety vanilla pastry cream. You only need simple ingredients to make these delightful mini desserts from scratch!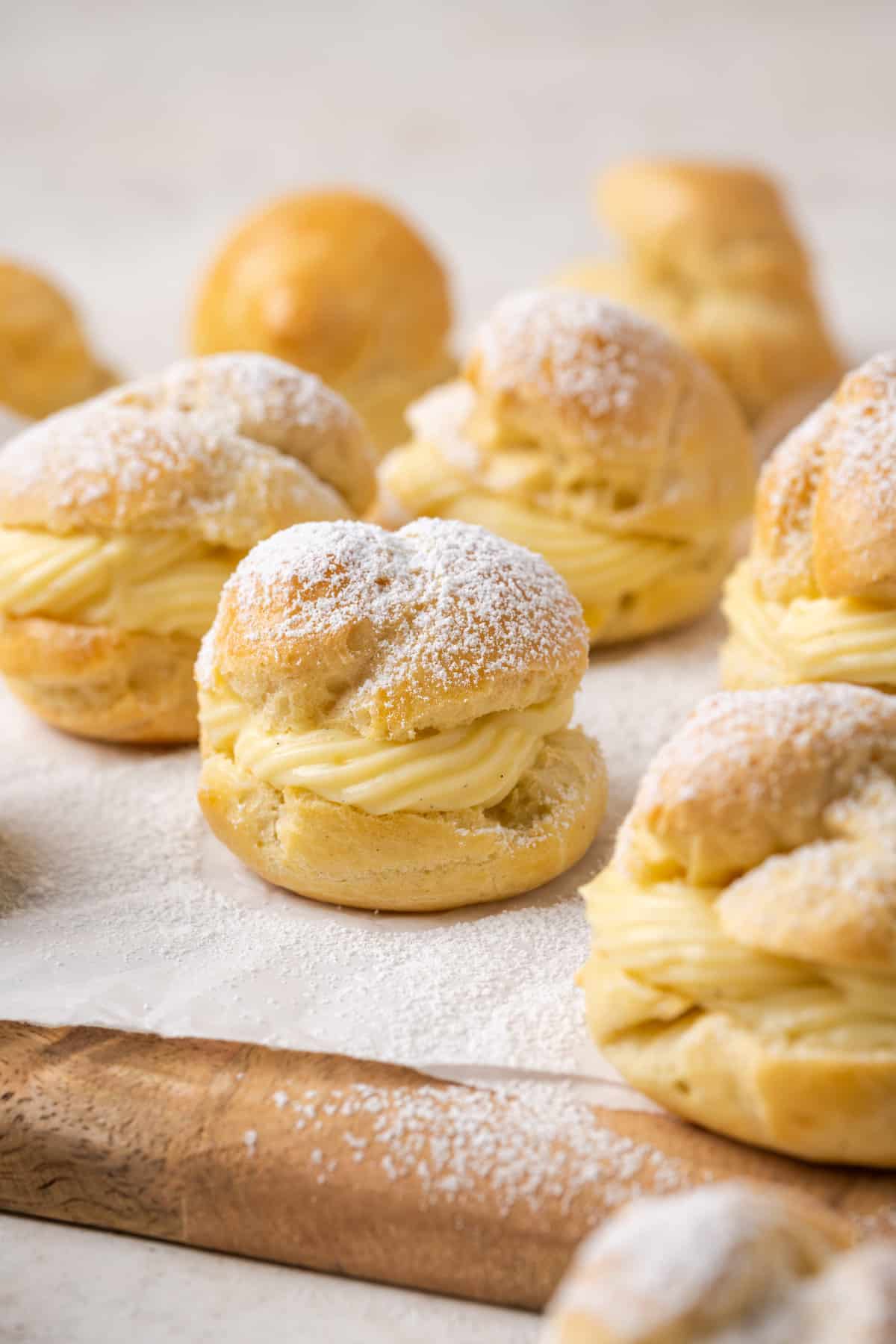 Perfect Gluten Free Cream Puffs
I've fallen in love with Gluten-free Pate a Choux. One dough recipe, so many possibilities! Also, making choux pastry is also way easier than you'd think. Once you master it, finding new ways to use it becomes a little addictive.
Between my Gluten-Free Eclairs and these light and delicate cream puffs, I've been piping pate a choux into dots and dashes all week. Like delicious and fluffy Morse Code. The filling is thick Vanilla Pastry Cream, velvety smooth, and flavored with real vanilla bean.
They might look and sound fancy, but homemade cream puffs only call for a few select pantry ingredients. That's the beauty of classical baking: simple, straightforward, and easy enough if you stick to the recipes. I can't wait for you to give this gluten-free cream puff recipe a try, you're going to be SO thrilled with the results!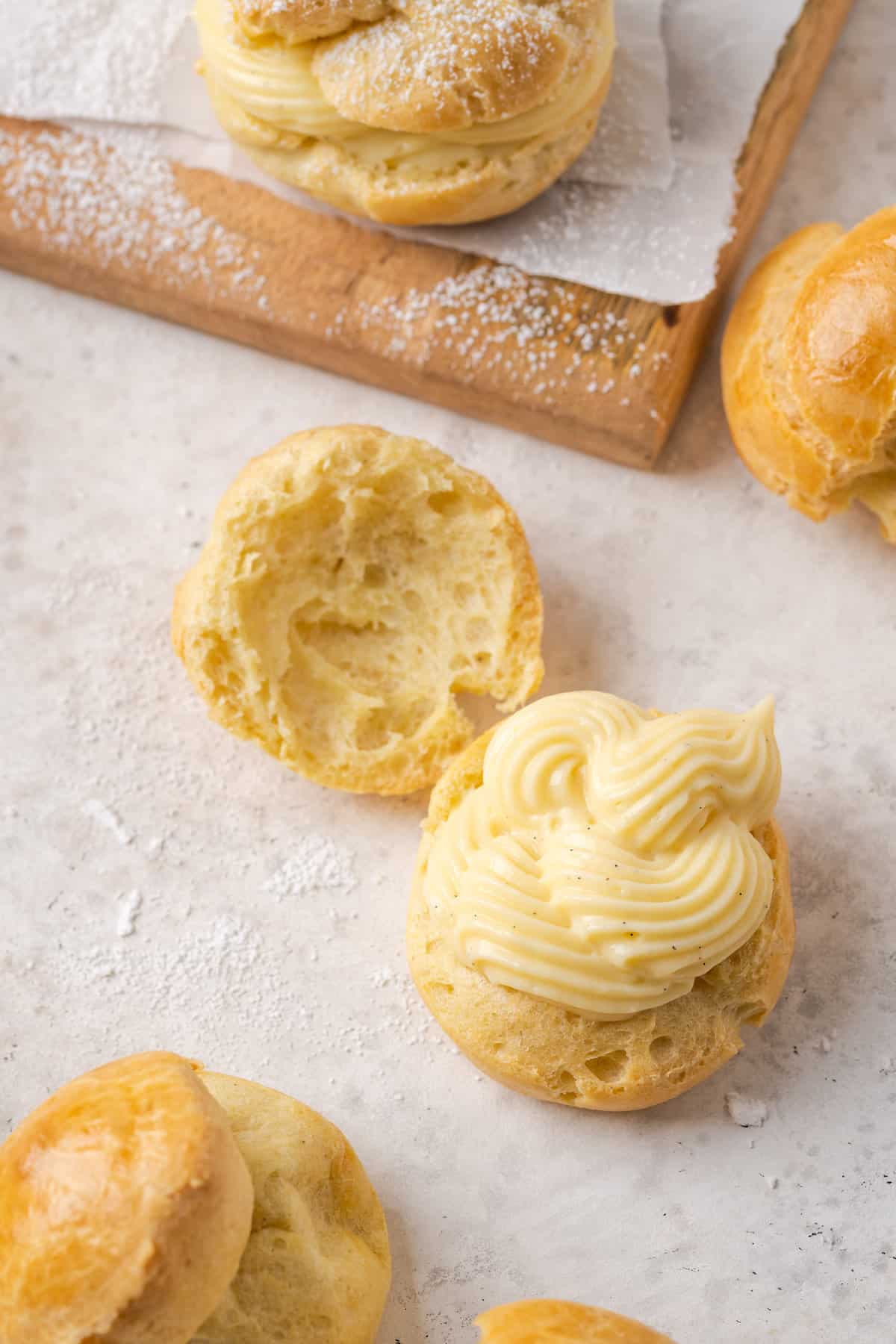 What Is Cream Puff Filling Made Of?
Cream puffs are made by filling classic French pastry shells, or pâte à choux, with whipped cream or Pastry Cream. Pastry cream, a.k.a. crème pâtissière, is a type of vanilla custard that's made from sugar and eggs and thickened with starch (in this case cornstarch).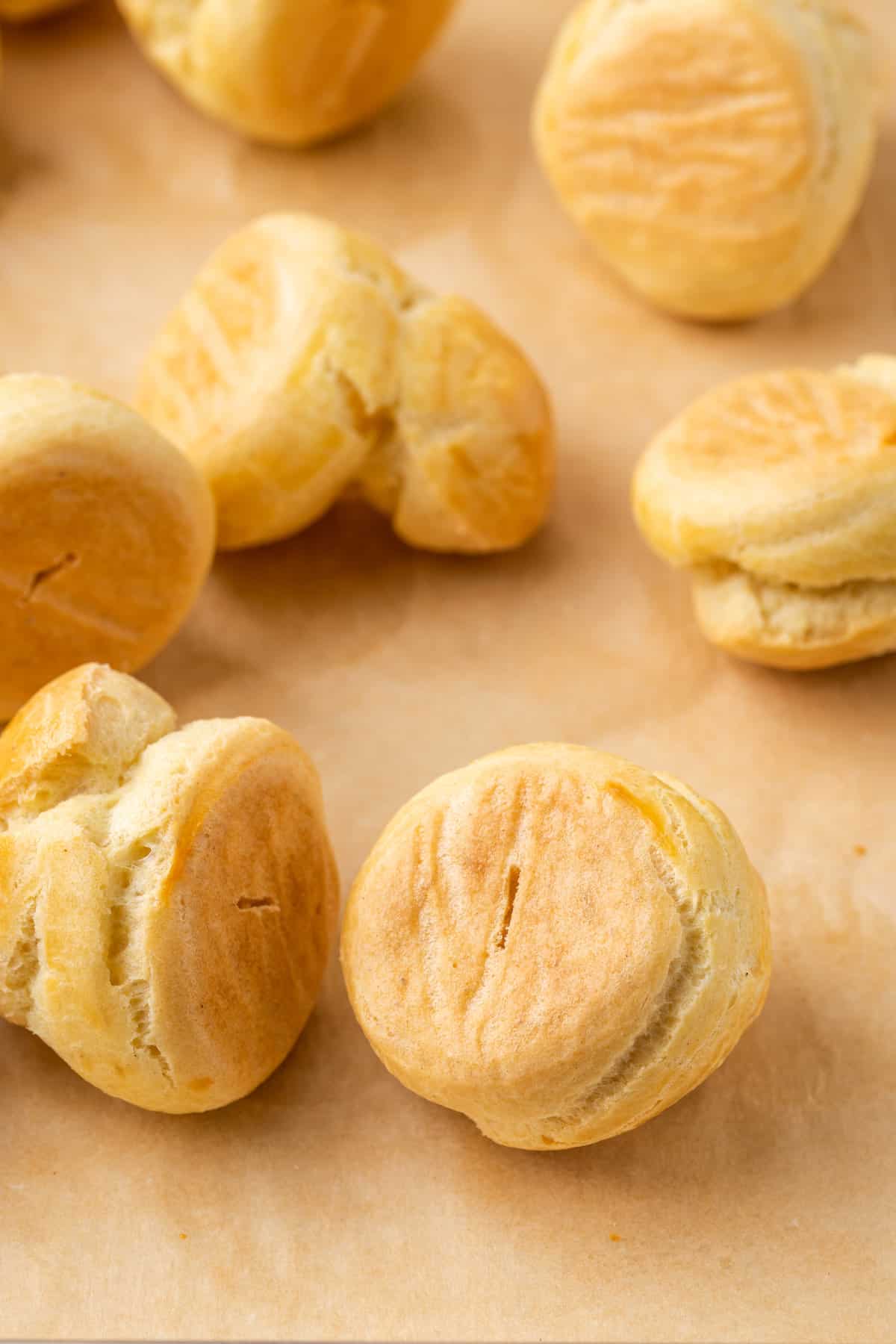 What You'll Need
The components for gluten-free cream puffs are make-ahead friendly. For instance, the pastry cream can be prepared and chilled the night before.
Below is a brief outline of what you'll need to make your pastry puffs. Full details are available in the respective recipes and in the recipe card below this post.
Pate a Choux: This is a classic pastry dough. One recipe of my Gluten Free Pate a Choux dough is enough to make roughly 28 cream puffs.
Vanilla Pastry Cream: I fill these cream puffs with my homemade Vanilla Pastry Cream (crème pâtissière). This is a type of vanilla custard that's thickened with eggs and starch and used to fill pastries like eclairs. You can also fill your puffs with regular whipped cream if you prefer.
Powdered Sugar: Also called confectioner's sugar, for dusting the tops of the puffs.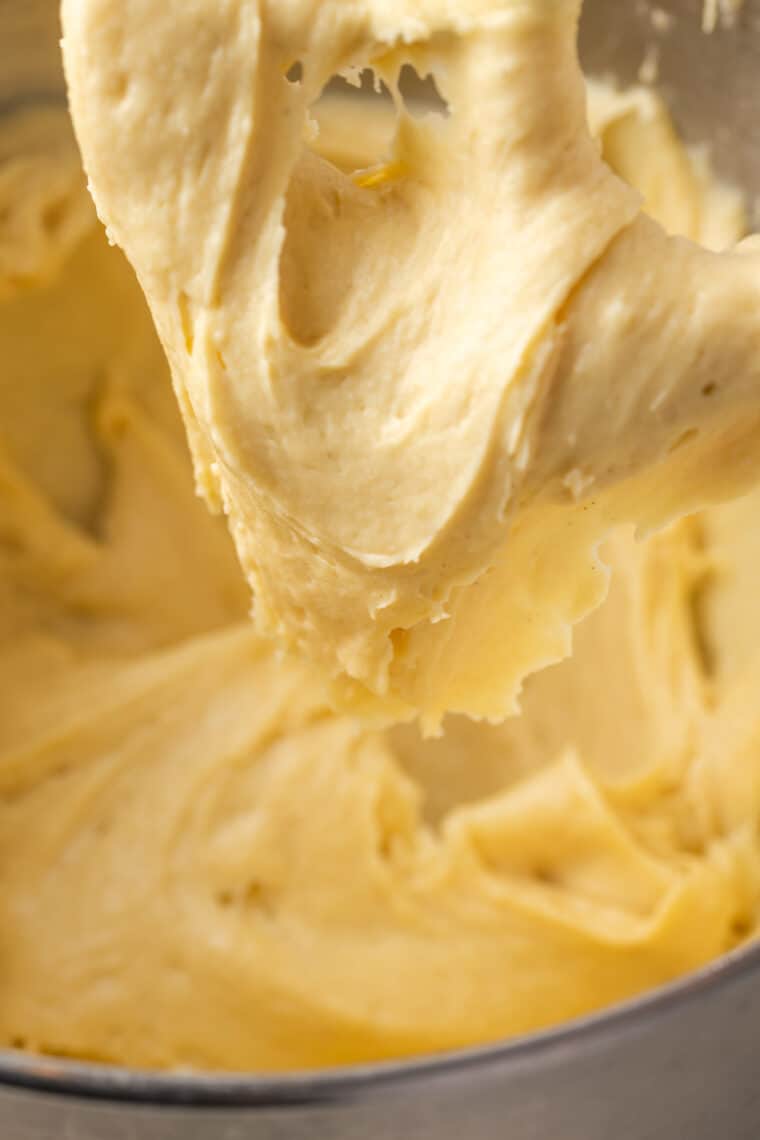 How to Make Gluten Free Cream Puffs
Before I pipe out my pastry dough, I like to mark out 1 1/2-inch circles on the parchment I'll use to line the baking sheet. It makes for more even-sized cream puffs. Use a pen or pencil and flip the parchment over afterward so that the ink faces downwards. Then, set the oven to preheat to 425ºF while you prepare your cream puffs:
Prepare the Pate a Choux: First, prepare a batch of Gluten-Free Choux Pastry, and transfer it to a piping bag. If you don't have a piping bag, you can use a cookie scoop to portion out your dough instead.
Pipe the Shells: Position the piping tip over your circle guides and pipe out small round spheres, about 1 1/2 inches wide and 3/4 inches tall. Brush the tops of the dough with egg wash.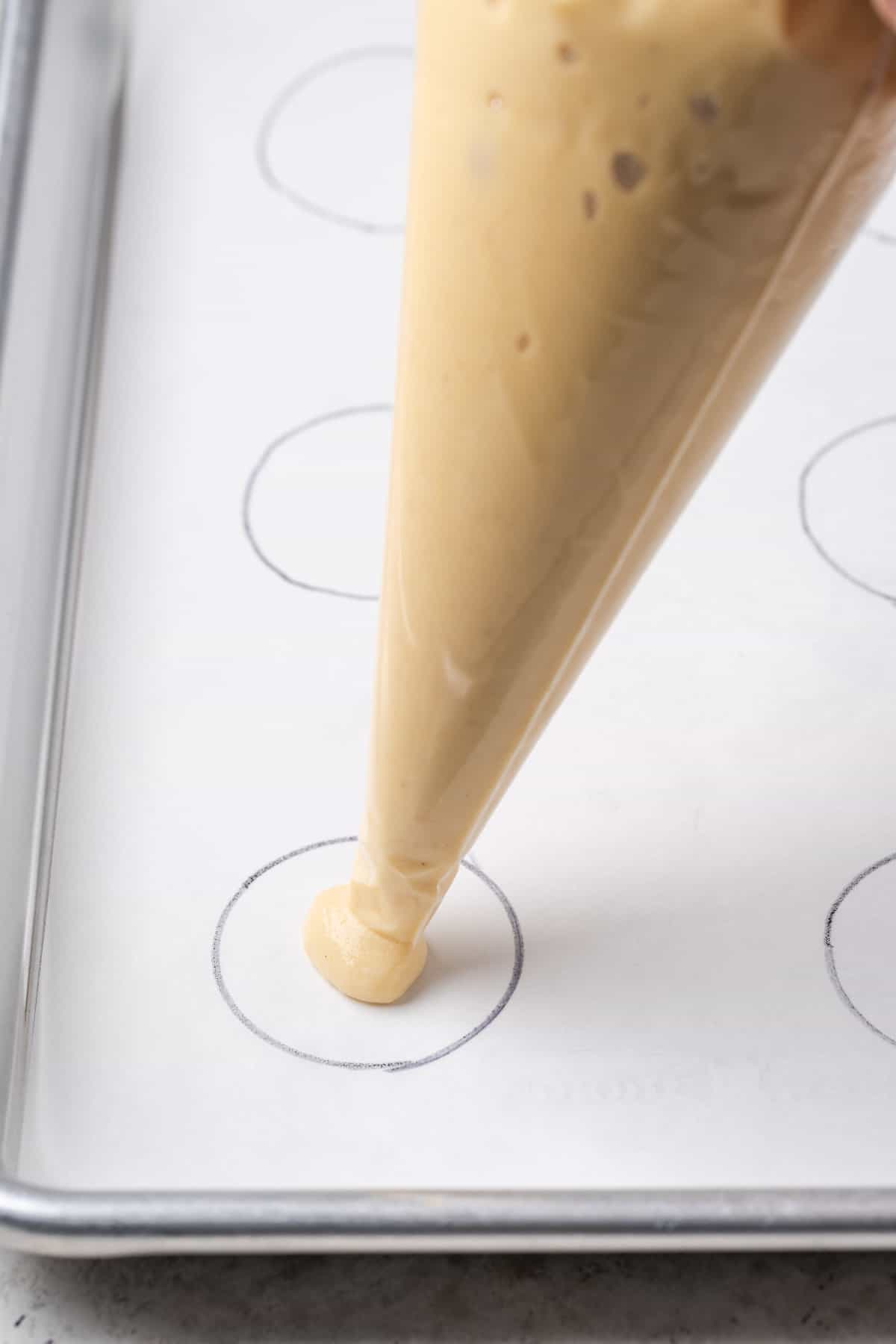 Bake: Bake the cream puff shells at 425ºF for 10 minutes, and then lower the oven temperature to 350ºF for the remaining 20-25 minutes. When you take them out, turn the pastries over and poke a small hole in the bottom of each puff, to vent the steam. Leave the pastries to cool completely before you fill them.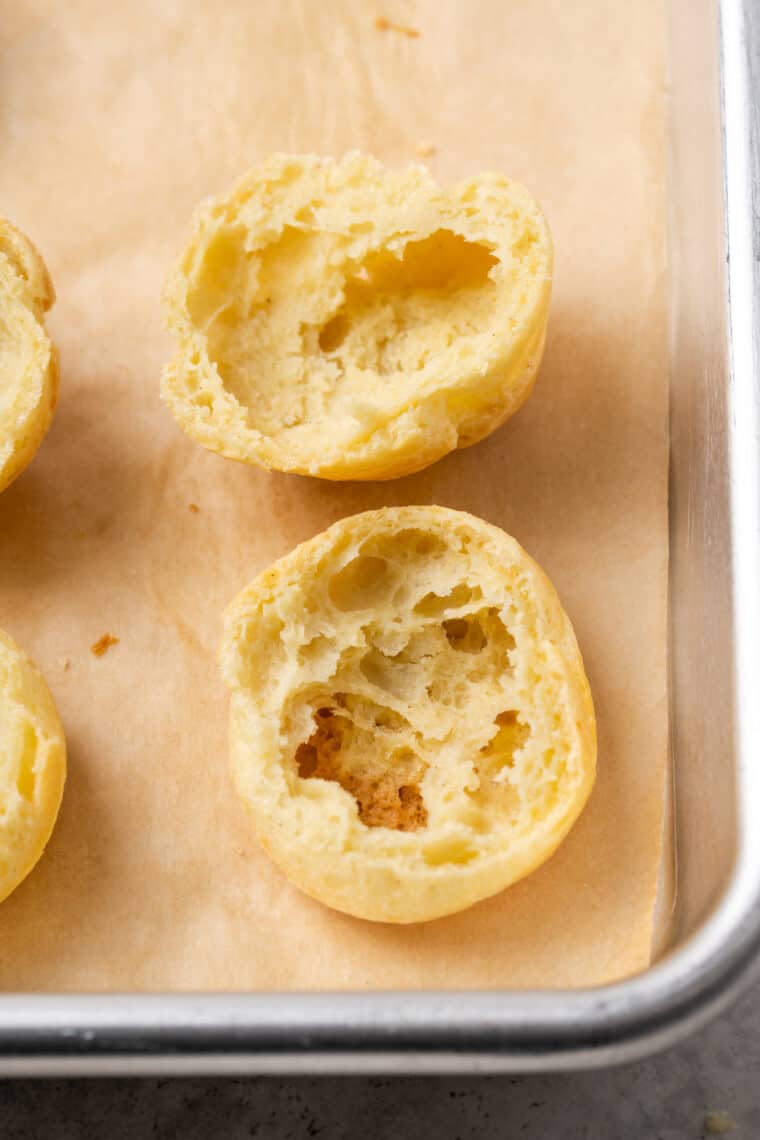 Filling the Cream Puffs
When your gluten-free cream puff shells have cooled completely, they're ready for filling. If you're not serving the puffs right away, you might want to consider filling them just before you serve them so that the shells stay light and airy (see below for more storage tips).
Here's how to pipe the filling into your gluten-free puff pastry:
Prepare the Pastry Cream: You'll need one recipe of my Vanilla Pastry Cream ready to go in a piping bag.
Fill: Slice a puff in two, and then pipe the crème pâtissière into the middle of one half. Repeat with the other puff pastries, then place the tops over the cream. Give each cream puff a light dusting of powdered sugar before serving.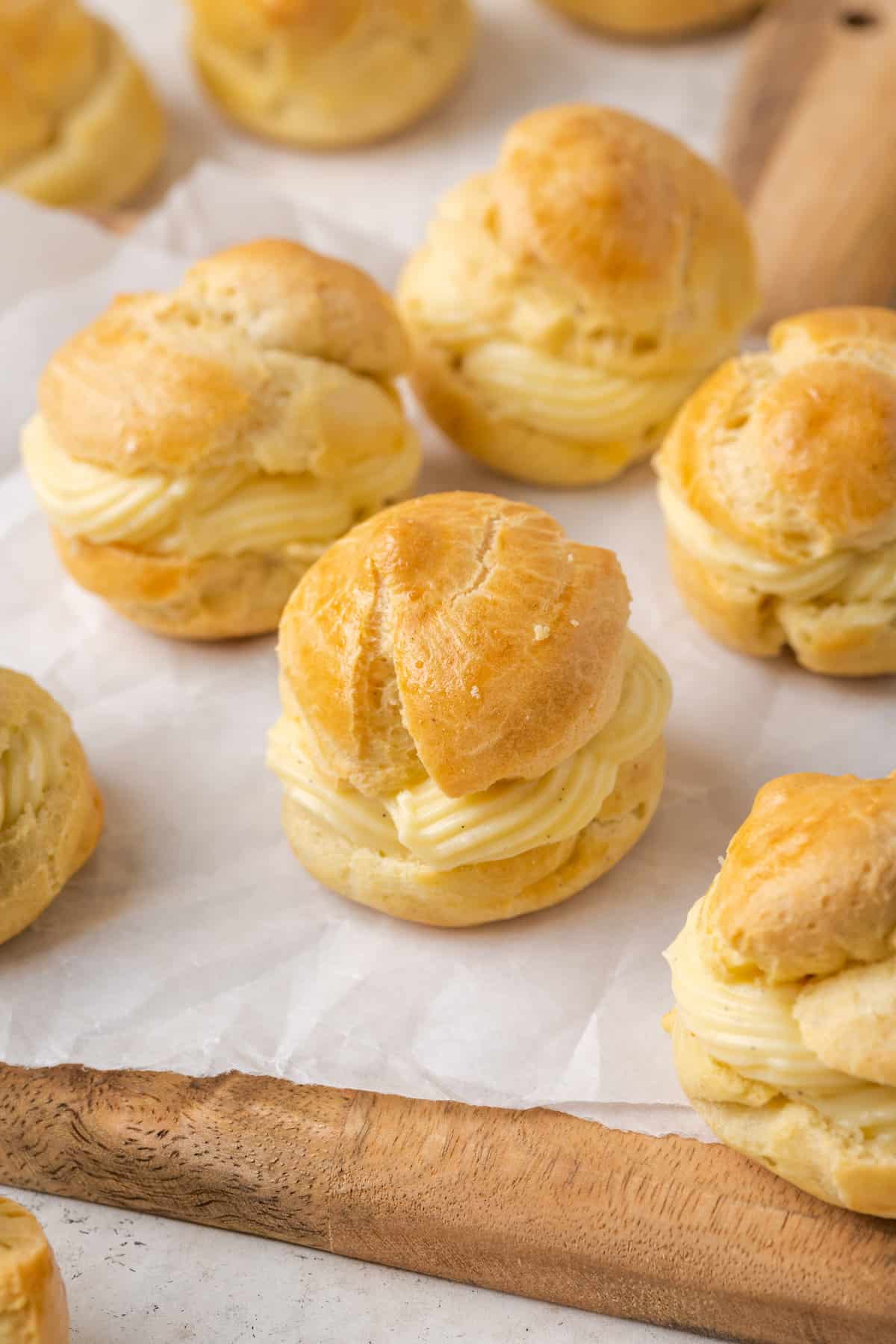 Tips for Success
Making gluten-free cream puffs doesn't have to be an intimidating task. There's something so relaxing about methodically piping the choux pastry, and later the creamy filling. You'll get the hang of it quickly! Here are some final pointers:
Don't open the oven door. Once your cream puffs are baking, it might be tempting to peek inside. Resist! Since pate a choux relies on steam to rise, opening the oven door prematurely can cause the pastries to deflate.
Cream puffs are done baking when they're golden brown and the bottoms make a soft hollow sound when they're tapped.
If your cream puffs fall flat, firstly: don't despair. It happens! This could occur for a few reasons, but aside from opening the oven door too soon, the main one is too much moisture in the dough. If your gluten-free cream puffs don't bake for long enough, the dough won't dry out enough to hold its shape once it cools. Make sure your oven is at the right temperature, and time it correctly.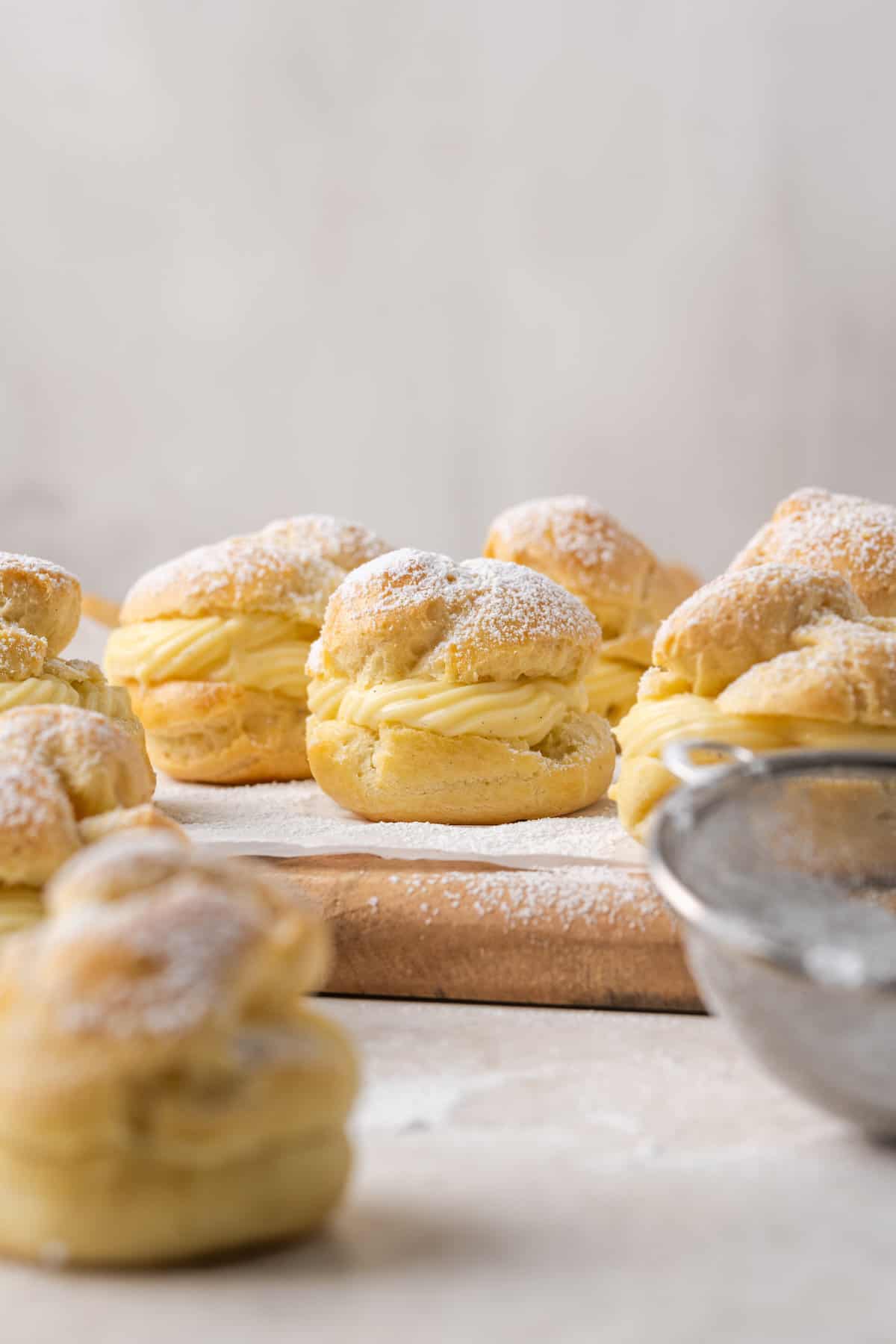 Easy Variation Ideas
There's more than one way to fill a gluten-free cream puff. We love finding new ways to change up these simple French pastries with different ingredients and flavors. Below are some more cream puff filling ideas and variations to try:
Toppings: Top your gluten-free cream puffs with Chocolate Glaze, chocolate ganache, or caramel sauce.
Whipped Cream: Instead of vanilla pastry cream, you can fill these with whipped cream. You can also fold whipped cream into your pastry cream to create a lighter version called crème légère.
Gluten-Free Profiteroles: Fill your cream puff pastry with a scoop of vanilla ice cream and drizzle them with chocolate. Or, try a homemade flavor! We love our No-Churn Cookies and Cream Ice Cream.
Flavor Extracts: When making your Vanilla Pastry Cream, add lemon extract, peppermint extract, or another flavoring. There are tons of ways to flavor pastry cream, so you can really get creative. Refer to the post for more details.
Savory: Fill these choux pastries with chicken salad, egg salad, or another savory filling. They make cute and easy appetizers!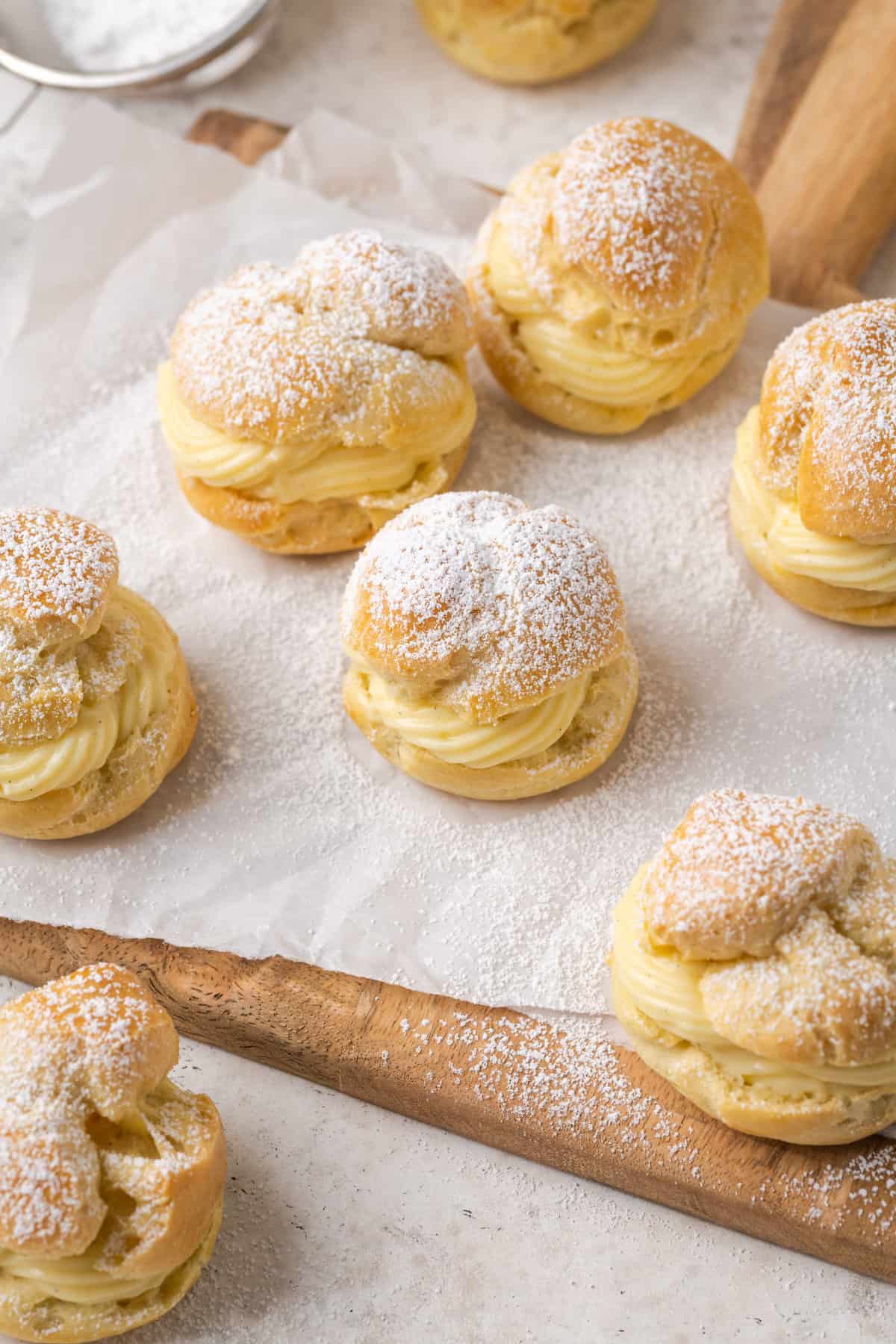 How to Store Gluten-Free Cream Puffs
Gluten-free cream puffs are best enjoyed right away, however, if you need to store them you can keep them in the fridge for up to 24 hours. The filled pastry will soften over time, though.
Can I Freeze Cream Puffs?
I recommend freezing the baked pate a choux shells before filling them. Store the cream puff shells airtight and freeze them for up to 2 months. Defrost the pastries at room temperature and then fill them as usual.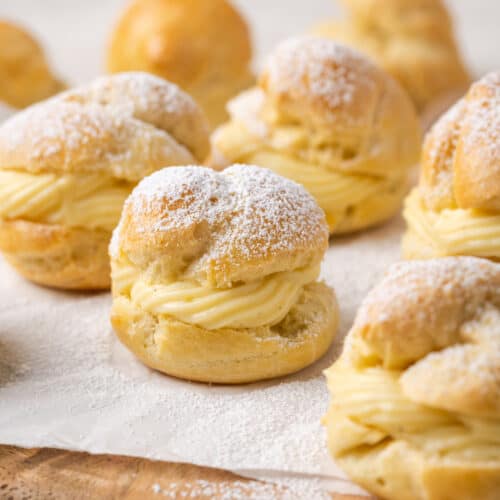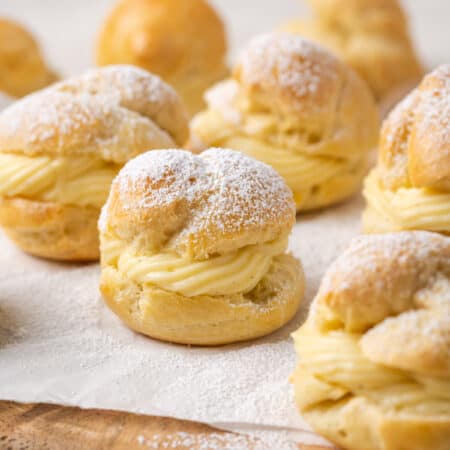 Gluten Free Cream Puffs
These sweet and pillowy Gluten Free Cream Puffs are easy to make with homemade gluten-free pate a choux filled with thick vanilla pastry cream.
Servings:
28
2-inch cream puffs
Ingredients
Powdered Sugar for dusting
Instructions
Preheat the oven to 425°F. Line a large baking sheet with parchment paper. You can mark the parchment with circles measuring 1 1⁄2 inch in diameter. Make sure to turn the parchment over so the ink doesn't transfer to your pastry.

Prepare the pate a choux dough as indicated.

Use a piping bag with a 1⁄2" wide opening to create spheres of dough. Hold the piping bag straight up and down about 3⁄4" above the surface of the baking sheet. Squeeze the bag to make a dough ball 1 1⁄2" in diameter and about 3⁄4" tall. If you don't have a piping bag, use a cookie scoop to create the spheres.

Brush the tops gently with egg wash.

Bake on the prepared baking sheet at 425°F for 10 minutes, then reduce the temperature to 350°F for 20-25 minutes. Bake until the tops are golden brown and the bottoms make a hollow sound when tapped.

Remove the baked pastries from the oven and turn them over on the baking sheet. Poke a small hole in the bottom of each pastry to allow the steam to escape. Allow the pastries to cool completely with the hole side up before filling.
To Fill:
Prepare the pastry cream as indicated. Transfer to a piping bag with a decorative tip.

Cut each pastry in half.

Pipe 1-2 tablespoons of pastry cream into the center of each pastry and replace the top.

Dust with powdered sugar and serve.
Notes
The chilling time above is for the vanilla pastry cream, which can be made ahead.
Nutrition Facts
Gluten Free Cream Puffs
Amount Per Serving
Calories 100
Calories from Fat 54
% Daily Value*
Fat 6g9%
Cholesterol 63mg21%
Sodium 99mg4%
Potassium 39mg1%
Carbohydrates 10g3%
Protein 2g4%
Vitamin A 213IU4%
Calcium 33mg3%
Iron 0.4mg2%
* Percent Daily Values are based on a 2000 calorie diet.
Categories:
More Gluten-Free Baking Ideas