This post may contain affiliate links. Read my disclosure policy.
Pumpkin spice white chocolate bark with bits of buttery toffee, a hint of pumpkin pie spice, and a drizzle of dark chocolate is an easy no-bake dessert perfect for fall. This simple candy recipe is one of the best gluten-free no bake dessert recipes to make for the holidays, especially because it makes a great gift. You only need four ingredients plus a few minutes to make this easy Toffee Pumpkin Spice White Chocolate Bark.

How was your Halloween? Ours was, well, not uneventful, but not complete chaos, so I'll take it.
We didn't do any costume-wearing activities prior to the main event, which means I didn't take out the little guy's costume until Sunday night, and then found out I bought the one to fit one- to two-year olds, even though it says "Size 2-4" and he wears a 4. I had to squeeze him in, basically making him look like a Teenage Mutant Ninja Sausage. Cue Mommy-Fail Meltdown, until I saw him running around the house gleefully shouting, "My costume is awesome!"
He wore the sausage-casing to school in the morning, but Daddy went to Party City to buy the next size up. It was a different style costume, and while the actual bodysuit portion was the right size and pretty cool, the turtle shell and mask weren't as nice as the ones that came with his original costume. So we put together bits and pieces of each costume for him to wear trick-or-treating and my "Inja Turtle" (as he called himself) was a happy little dude.
The big guy can't wear a costume to school and they only have a "Fall Party". Don't even get me started on this. Since he was upset that his little brother could dress up for school and he couldn't, I ordered him a Hogwarts shirt to wear to school today in place of his Harry Potter costume, and then was in a panic late last week when the shipment was delayed. Luckily it arrived on Saturday, and I could sorta bend the no-costume rule by sending him to school as "Harry Hanging Out in the Gryffindor Common Room".
He had a bit of a piece-meal costume too. Not being the trendiest costume choice this year, Hogwarts robes were hard to come by, and the ones I found online looked kinda lame for the price. So he wore his maroon preschool graduation robe with a cheap black cape and a laminated printout of the Gryffindor crest, and then I bought him a scarf, glasses, and wand, and of course drew a lighting bolt scar on his forehead. I was really worried his costume would look totally makeshift, but it turned out awesome. The kid was so excited and totally in character, and he got so many compliments on his costume as we went around the neighborhood.
So despite some potential costume debacles, all in all it was a good Halloween. Oh, and since it's the day after Halloween and I'm sure you aren't at all tired of chocolate, it's totally appropriate to post a candy recipe, right?!
I hope so, because toffee pumpkin spice white chocolate bark is worth mentioning, and you'll want to make it pronto.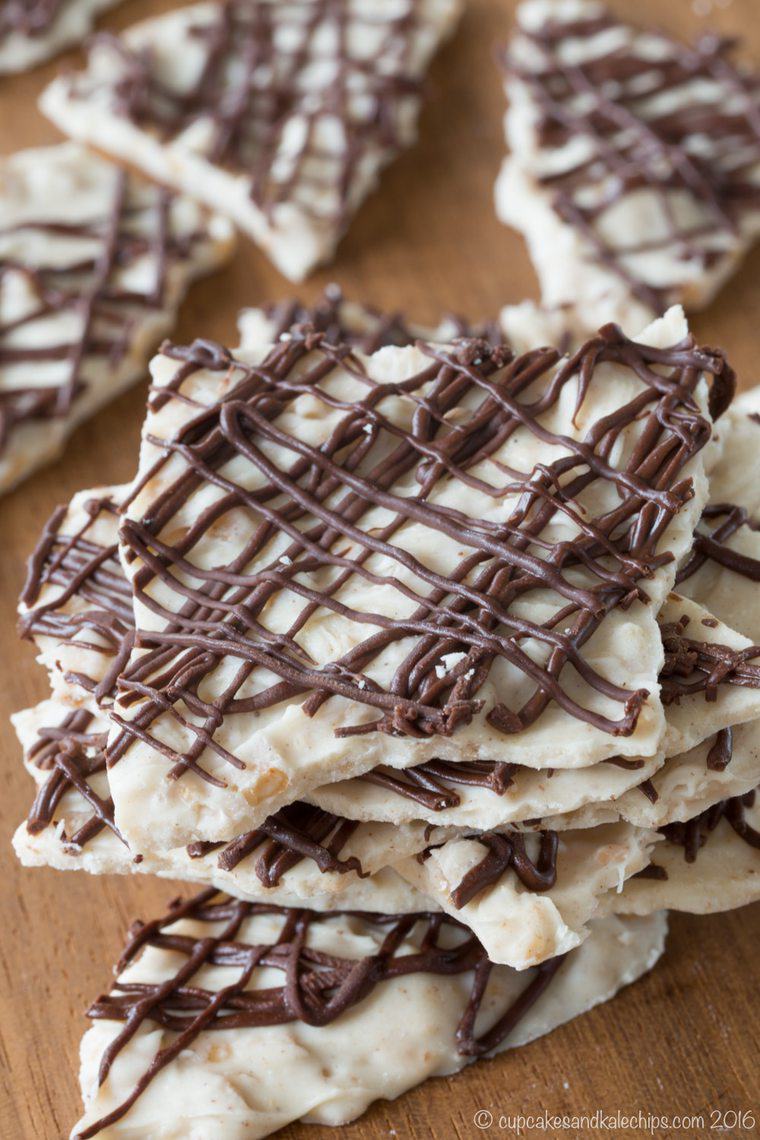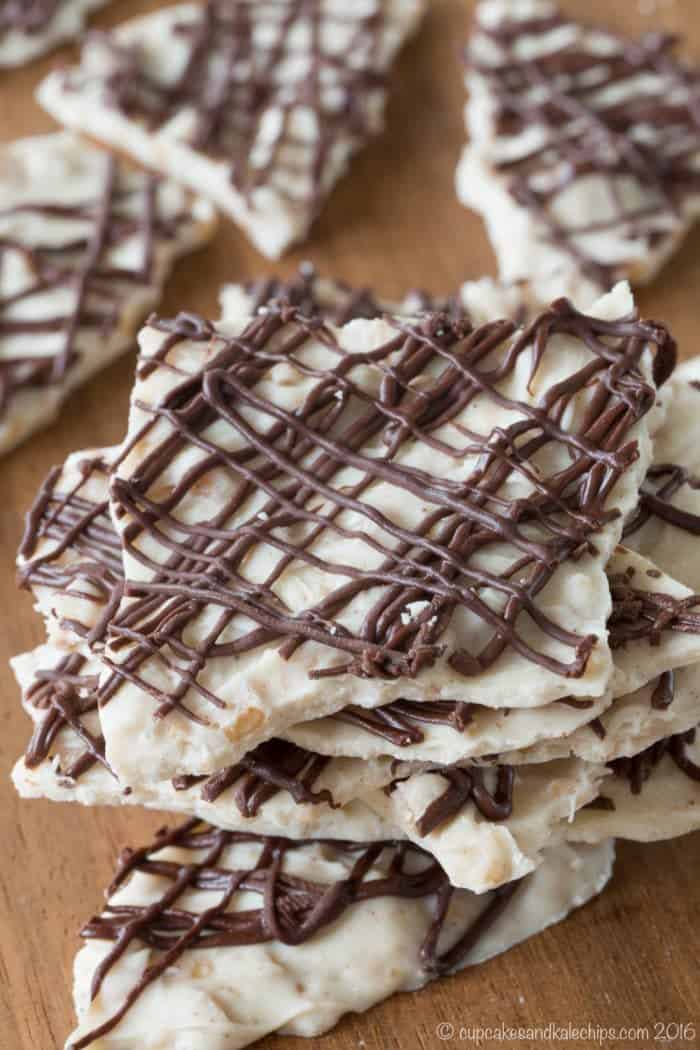 Toffee Pumpkin Spice White Chocolate Bark recipe tips…
How to make chocolate bark candy? You can use white chocolate chips, melting wafers, or candy coating and melt it. For this recipe you'll then stir in pumpkin pie spice and toffee bits and spread it in a thin layer on wax paper or a silicone baking mat placed on a baking sheet with a small offset spatula. Drizzle with melted semisweet chocolate chips, then let it cool and harden.
How to melt chocolate? In the microwave you want to use 50% power and stir every 30-45 second to avoid burning the chocolate. Or you can use a double boiler or bowl placed over a pot of simmering water over low heat to melt it. In each case, remove from the microwave or heat while there are still a few small unmelted pieces. Stir and let the residual heat finish melting it.
How to break chocolate bark? Once the white chocolate bark has completely cooled and harden, you can just use your hands to break it up. But you can also cut it with a knife if you prefer.
How to store chocolate bark? Can you freeze chocolate bark? You can keep chocolate bark in an airtight container at room temperature, just be sure to keep it out of the sun or it will melt. It can also be kept in the refrigerator or frozen if you want to make it well in advance.
Is chocolate bark gluten free? Just check the labels on your specific ingredients, but yes, chocolate bark is typically gluten free. Be sure to avoid Ghirardelli white chocolate chips, as those are not gluten free, but most are. Heath Toffee Bits O'Brickle are gluten free.
How to package chocolate bark? Toffee Pumpkin Spice White Chocolate Bark would be perfect to package up for someone special. That is, if you don't polish it off yourself! If you are storing it, just use a plastic storage bag or airtight container. As a gift, you can use food-safe cellophane bags, mason jars, or other decorative container.
[amazon_link asins='B00375LBPI,B006299MBG,B008O0MP92,B0725GYNG6,B0049C2S32,B00KQ0XWZY,B075VJXTQZ,B01N3JJNRB,B0747452T8′ template='ProductCarousel' store='cupkalchi-20′ marketplace='US' link_id='f8b8e69f-c8f5-11e8-bbc0-ed83db73baa5′]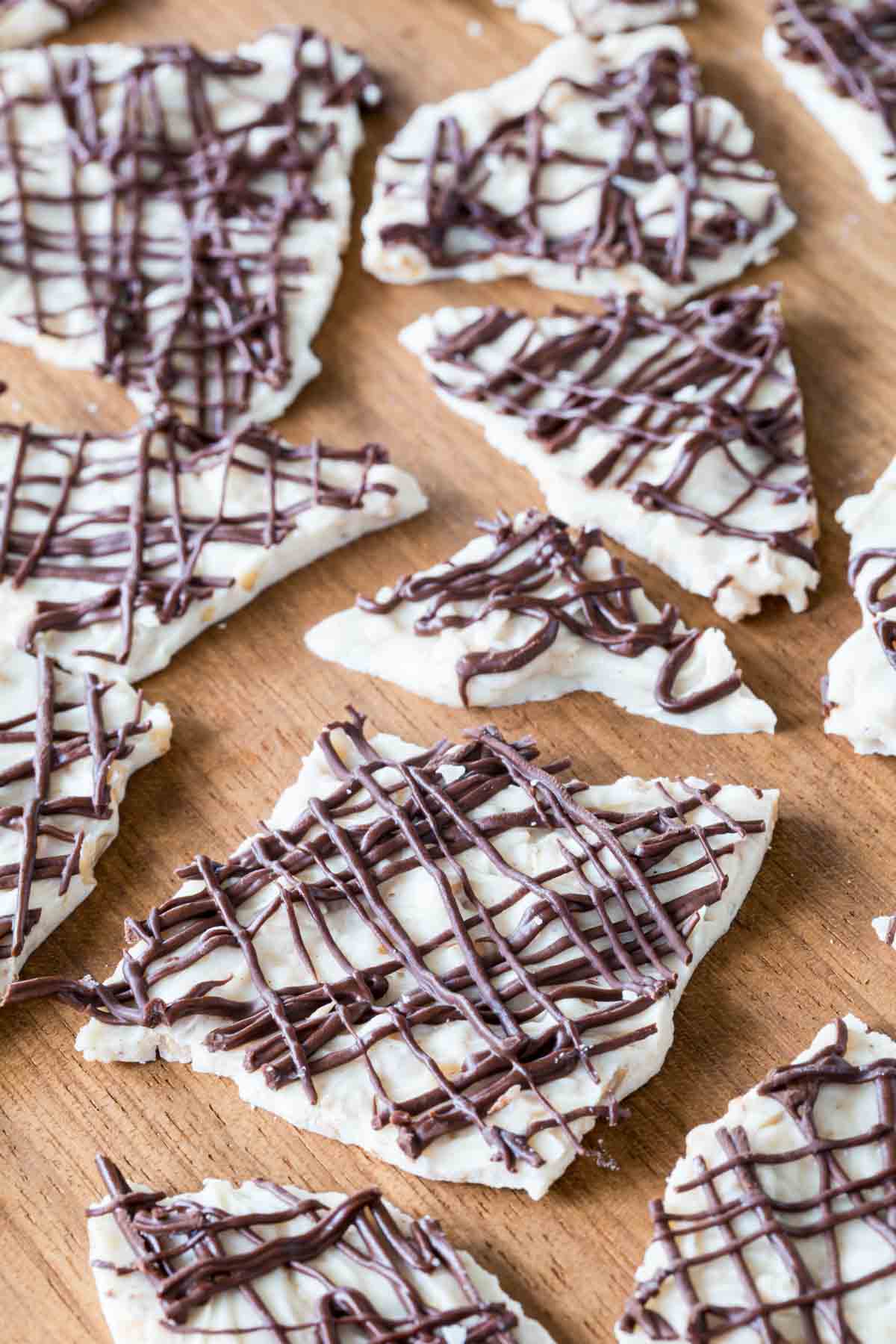 If you like this recipe, you might also enjoy these...
And some from my friends…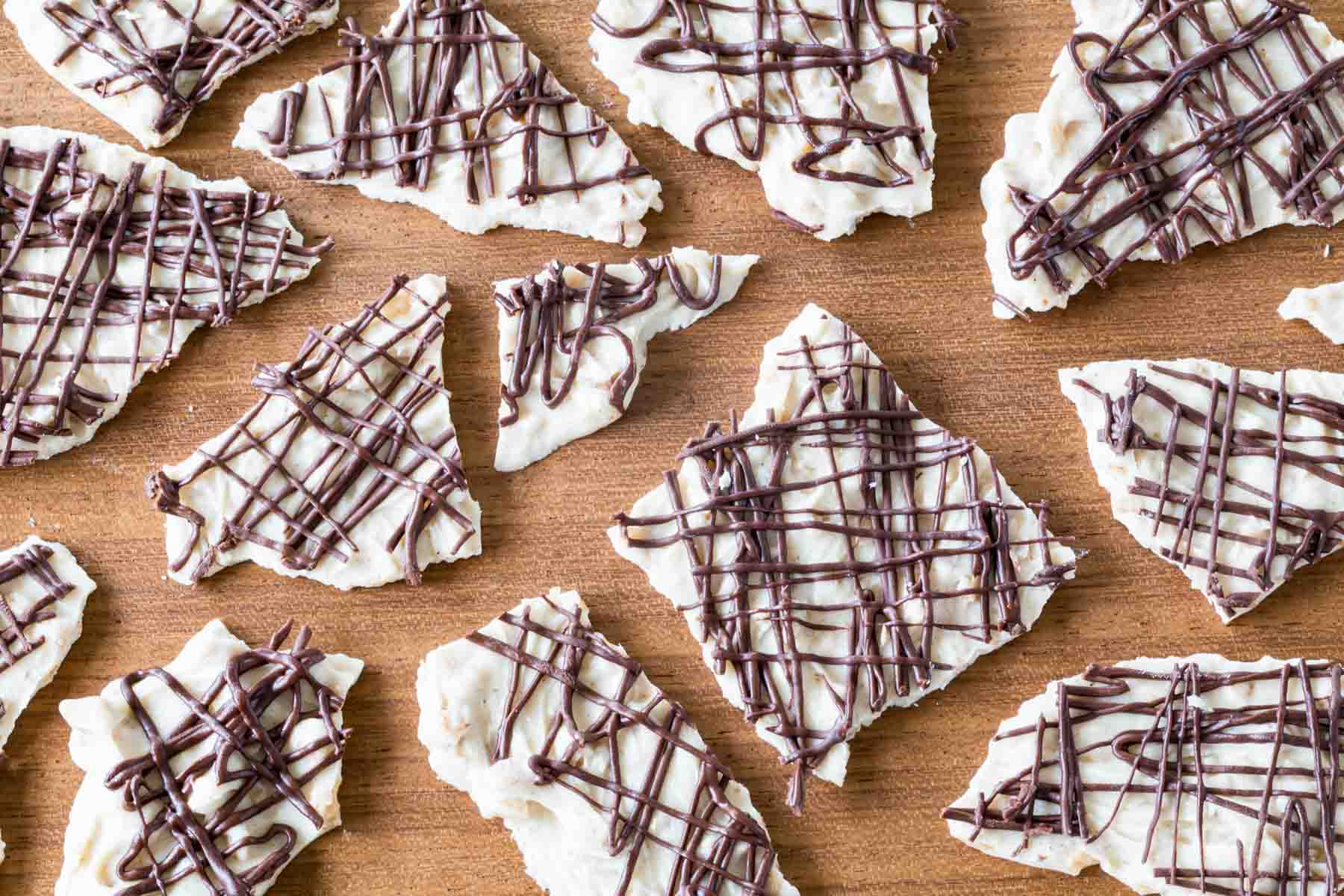 For more yumminess from me and my foodie friends, keep up with me on…
Or sign up to have Cupcakes & Kale Chips delivered straight to your Inbox!
Toffee Pumpkin Spice White Chocolate Bark Recipe
Chocolate bark is one of the easiest treats to make, and so is this Toffee Pumpkin Spice White Chocolate Bark. Plus, triple bonus here. First, those buttery bits of toffee add the perfect amount of crunch. Second, pumpkin pie spice, I mean, need I say more? And the pop of cinnamon and nutmeg are so dreamy with that toffee flavor. And third, spend a few extra seconds melting and drizzling the dark chocolate and not only does it add that amazing combo of dark chocolate with the warm spices, but it makes it all fancy-pants. Homemade candy really doesn't get any simpler, and yet it looks and tastes totally gourmet!
I hope you'll leave a comment and give it a FIVE STAR rating or share a photo on this pin on Pinterest!

Toffee Pumpkin Spice White Chocolate Bark
An easy chocolate candy recipe with bits of buttery toffee and a pumpkin pie spice mix.
Instructions
In a double boiler (or on pot set atop another with about an inch of water), bring the water to a simmer in the bottom, and gently melt the white chocolate chips. Note that I do not recommend melting the chocolate chips in the microwave, as it does not tend to melt as smooth.

As soon as the white chocolate is melted, remove from the heat, quickly stir in the pumpkin pie spice and toffee bits, then pour onto the prepared sheet and spread into a think layer with a

small offset spatula

.

Let harden completely, putting into the refrigerator if necessary.

Melt the semisweet chips in a double boiler or the microwave and transfer to a sandwich bag. Cut off the corner and drizzle over the bark.

Let harden completely, putting into the refrigerator if necessary. Break into pieces and store in an airtight container.
Nutrition Facts
Toffee Pumpkin Spice White Chocolate Bark
Amount Per Serving (1 piece)
Calories 138
Calories from Fat 72
% Daily Value*
Fat 8g12%
Cholesterol 4mg1%
Sodium 19mg1%
Potassium 85mg2%
Carbohydrates 14g5%
Protein 1g2%
Vitamin A 10IU0%
Vitamin C 0.1mg0%
Calcium 44mg4%
Iron 0.4mg2%
* Percent Daily Values are based on a 2000 calorie diet.
Categories:
Enjoy!