This post may contain affiliate links. Read my disclosure policy.
This easy recipe for Gluten Free Chocolate Chip Cookie Dough is the best when you're craving a spoonful of creamy cookie dough, risk-free. I make this edible cookie dough with heat-treated gluten free flour and no eggs, for the perfect sweet treat that's safe to eat.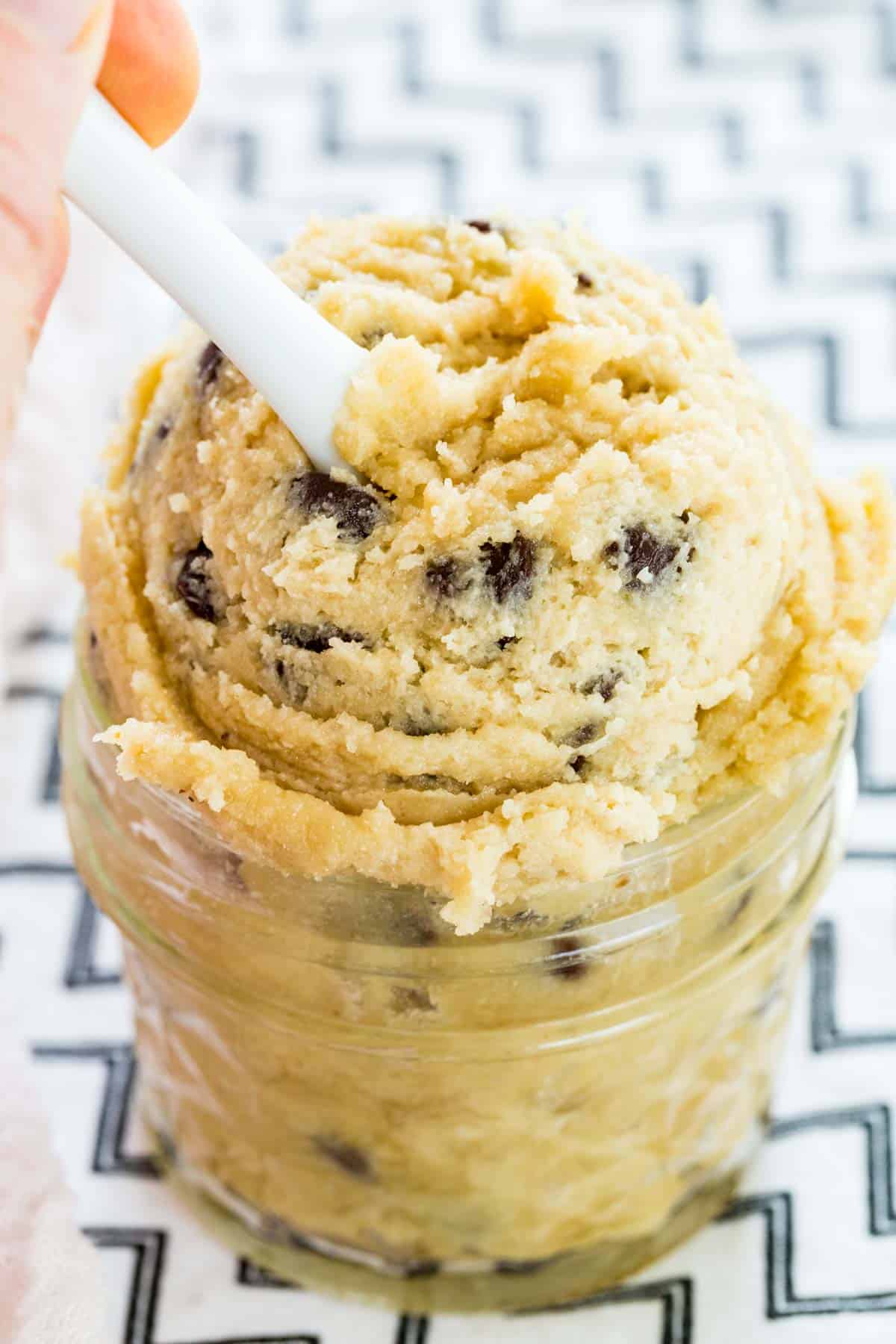 Creamy Chocolate Chip Cookie Dough You Can Eat!
Cookie dough lovers, rejoice! Especially if you're gluten free, because this recipe for creamy, edible gluten-free cookie dough is honestly life changing.
You may have seen tubs of edible cookie dough on store shelves for a while now. However, I've never found a gluten-free version that really wows me. So the hunt continued until eventually, I made my own. The result is rich, homemade chocolate chip cookie dough that's completely safe to eat, on standby anytime a craving strikes.
This recipe comes together in minutes, and can be made gluten free and vegan, so it's perfect as a plant-based dessert, too!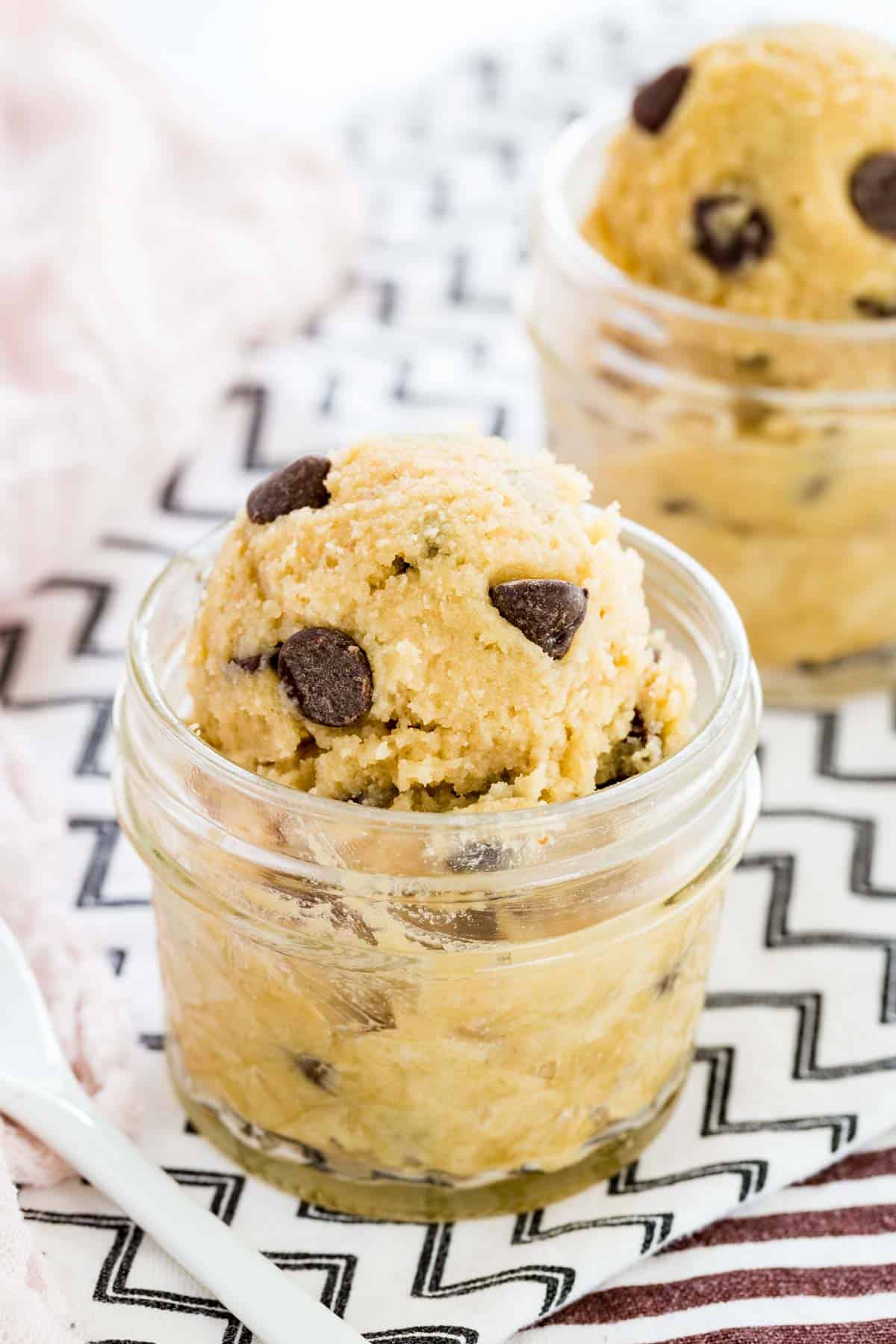 How is Edible Cookie Dough Different?
I think just about every home baker is guilty of sneaking a spoonful (or more) from a batch of homemade cookie dough every now and again. The temptation is just too great. And while the likelihood is small, when it comes to raw ingredients like eggs, the risk of contamination by bacteria is never zero.
The main difference between your average cookie dough and edible cookie dough is that the latter takes that risk out of the equation. Edible cookie dough is made with treated flour and no eggs for a cookie dough that's 100% safe to eat!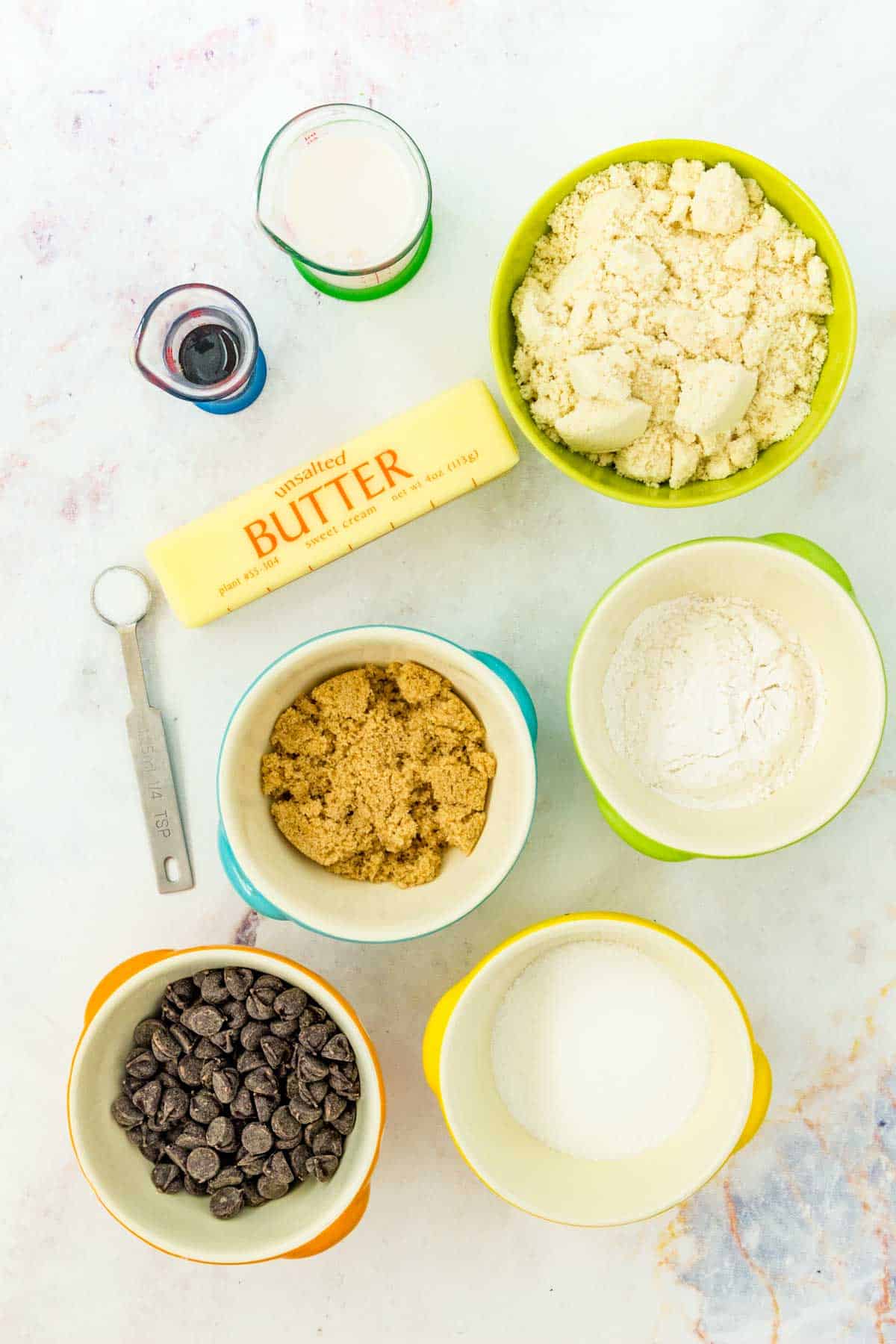 What You'll Need
The ingredients for edible cookie dough are very similar to what you'd need for regular chocolate chip cookie dough, with a few small tweaks. I've outlined what you'll need below, with the full ingredient amounts available in the recipe card.
Butter: I recommend using unsalted butter, but you can use salted and just leave out the salt that comes later in the recipe. Feel free to use dairy-free butter, like Miyoko's, if you're making this recipe vegan.
Sugar: Like a classic chocolate chip cookie dough, this recipe uses a combination of both white and brown sugars for a rich depth of flavor.
Vanilla Extract: Use pure vanilla extract for the most authentic flavor.
Gluten-Free Flour: This cookie dough is made with a blend of almond flour and gluten free 1-to-1 flour (I used Bob's Red Mill). Alternatively, you can use regular all-purpose flour if you're not making this recipe gluten free. In any case, you'll need to heat treat the flour to make it safe for eating, see more details below.
Salt
Chocolate Chips: You can use dairy-free chocolate chips if needed, such as the Enjoy Life brand. Make sure to get good quality chocolate chips for the best possible flavor.
Milk: This edible cookie dough uses milk in place of eggs to add moisture and bind the ingredients together. You can use regular milk, or unsweetened, plain almond milk if you're making vegan cookie dough.
Last updated on June 7, 2023 10:38 am
How to Heat Treat Flour
It's a little known fact that raw flour can actually be just as unsafe to eat as raw eggs! Bacteria like E. coli and salmonella may lurk in flour that's uncooked. To be on the safe side, it's best to heat treat it before making your cookie dough. You can do this quickly and easily in the oven or microwave:
Oven Method: Spread the flour onto a large rimmed baking sheet. Place the flour in a preheated 350ºF oven for about 7-10 minutes, until the temperature of the flour reaches 165ºF. Use an instant read thermometer to take the temperature.
Microwave Method: ​​Place the flour in a microwave-safe dish. Heat it in 30 second bursts, giving it a stir in between, until it reaches a safe 165ºF. This usually doesn't take much longer than a minute, but use a thermometer to be sure.
Once the treated flour has cooled completely, transfer it to an airtight container or bag for storage.
How to Make Gluten-Free Chocolate Chip Cookie Dough
Once your ingredients are at the ready, edible cookie dough is one of the easiest sweet treats you can make in under 5 minutes. Mix the dough, toss in your add-ins, and get your spoons ready. It's that simple!
Make the Dough: Begin by beating the butter, sugar, and vanilla together until the mixture is light and fluffy. Next, add in both flours as well as the salt, then mix until a dough forms. Add in a bit of milk as needed to get the dough to a nice consistency.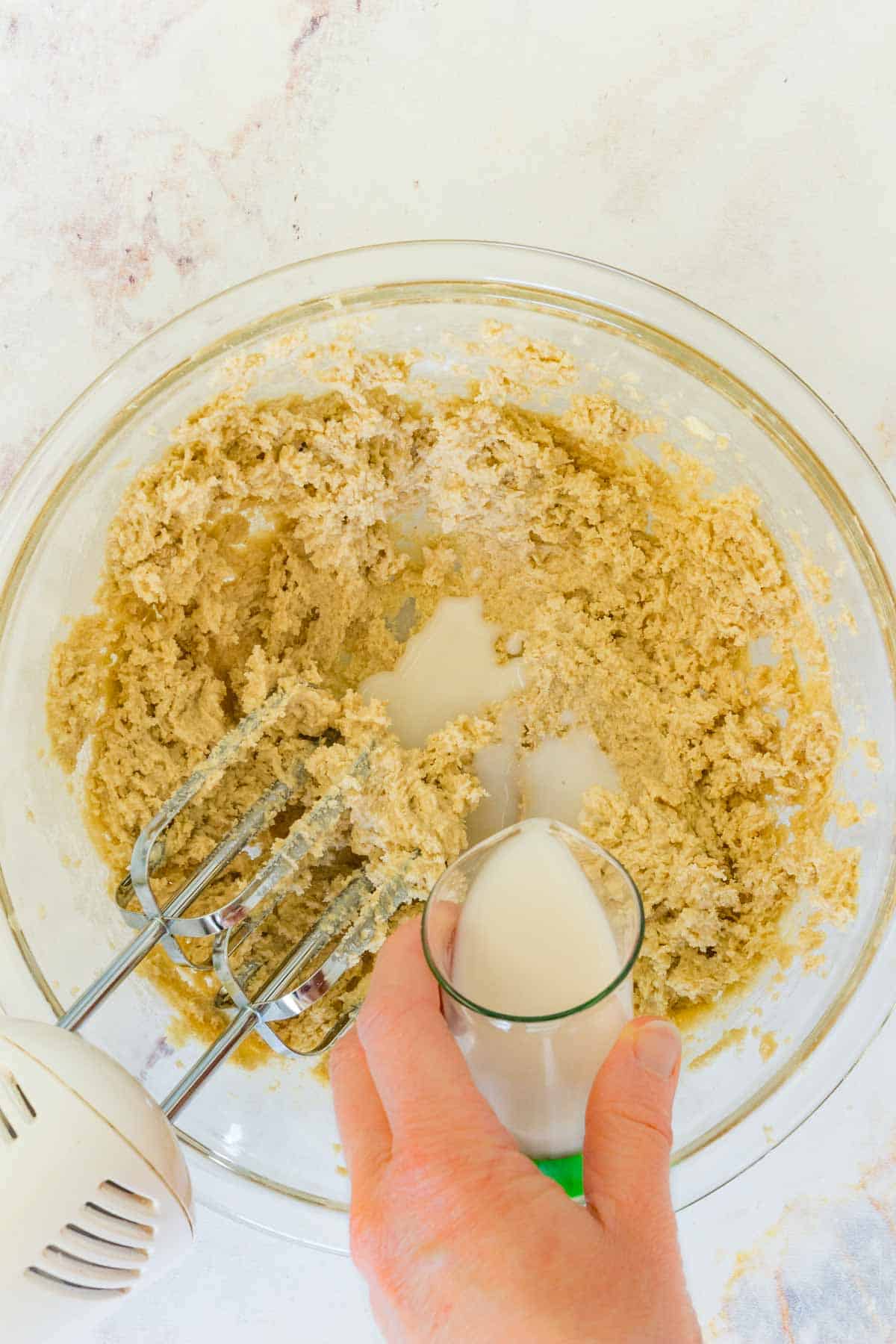 Add Chocolate Chips: Stir in the chocolate chips.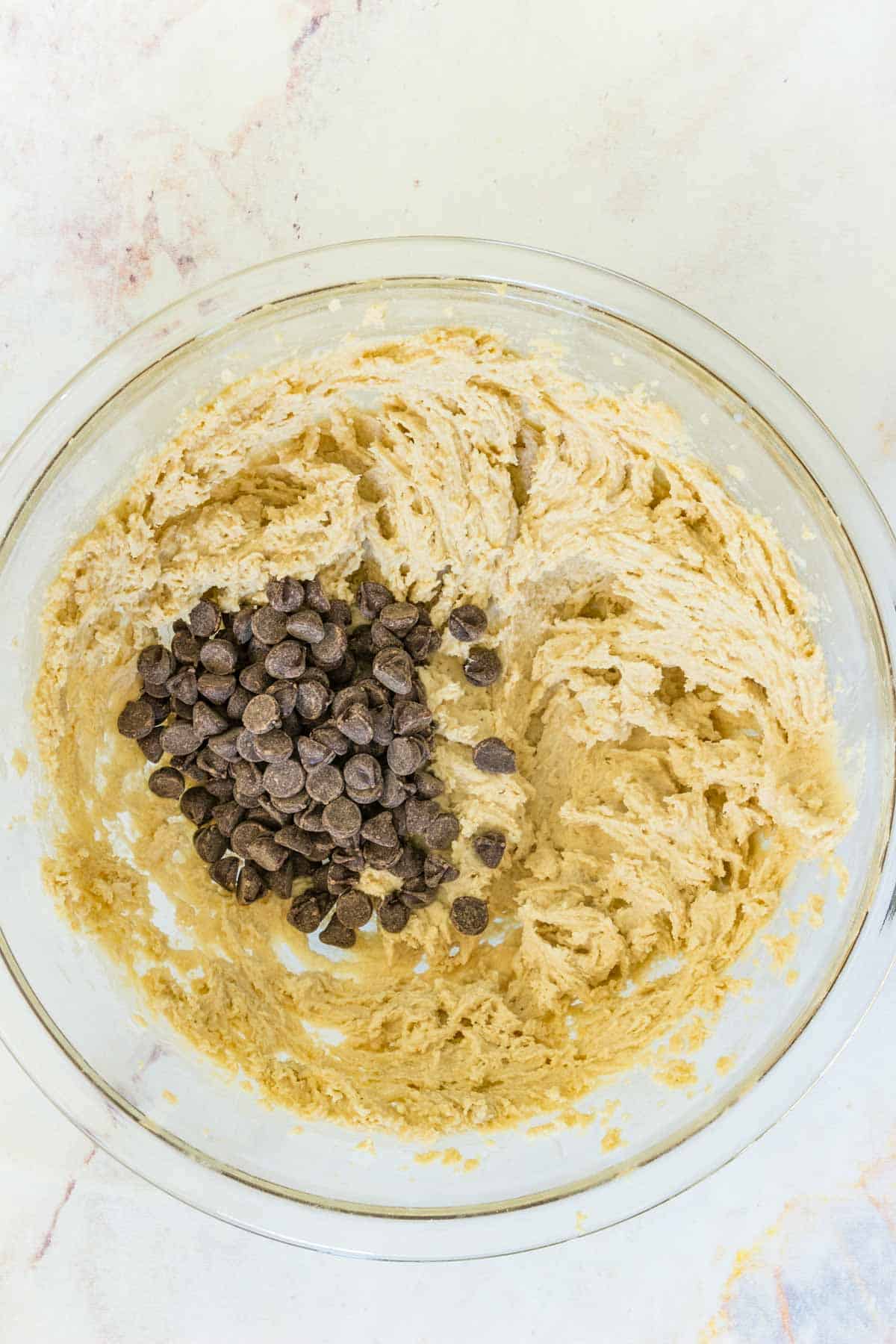 Serve: Enjoy your edible cookie dough as is, or use a cookie scoop to make balls or bites. See the section later on for more serving ideas!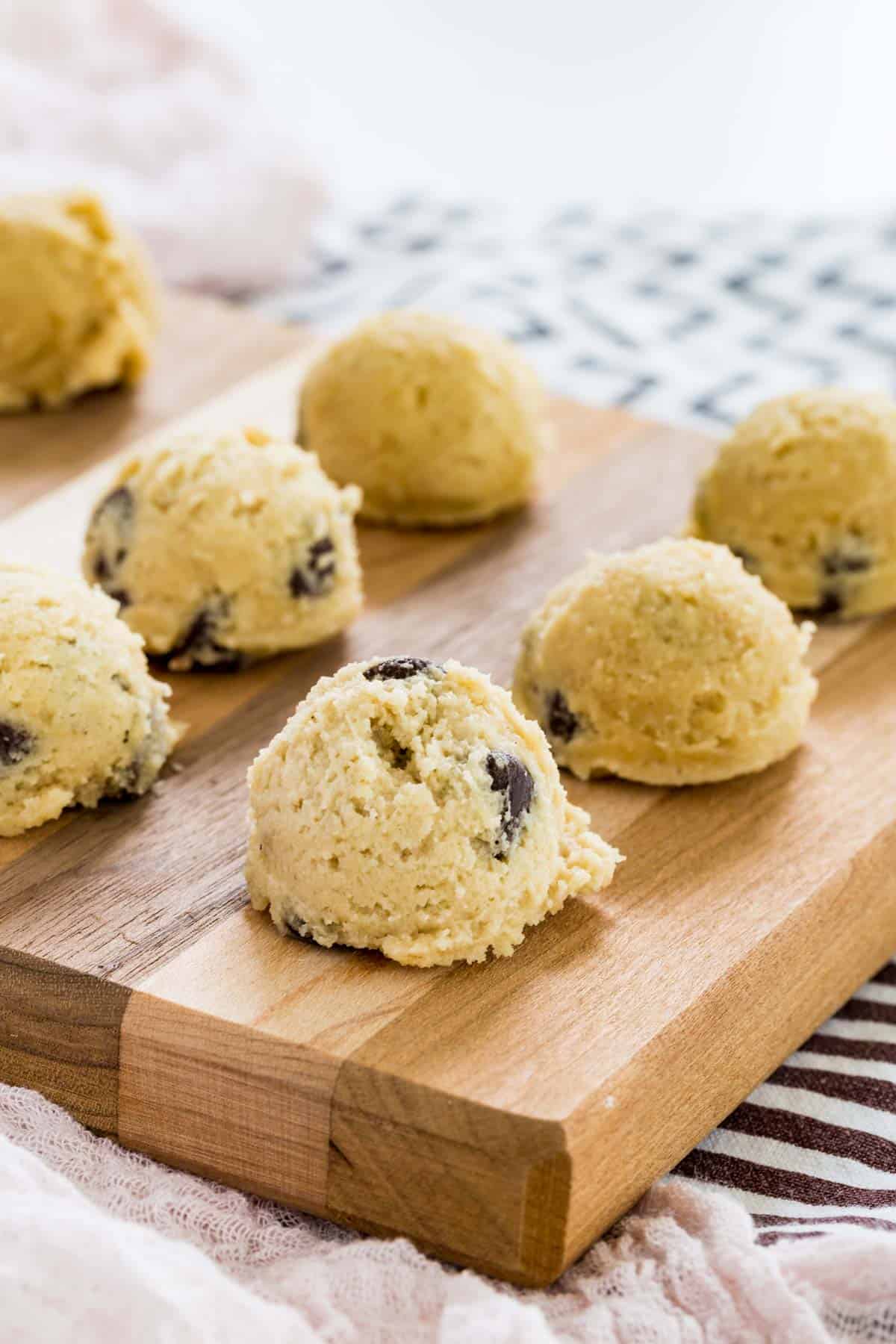 Can I Bake It?
Unfortunately not. With no leavening like eggs, baking powder, or baking soda, this edible cookie dough recipe will fall flat as a cookie pancake in the oven. If you're looking for some delicious baked cookies, however, try my recipe for The Best Gluten Free Chocolate Chip Cookies!
Tips for Success
Heat Treat the Flour: Don't forget to heat your raw flour to at least 165ºF in order to kill off any harmful bacteria.
If the Dough is Crumbly: Chances are there's too much flour. To fix dry, crumbly cookie dough, add more milk a spoonful at a time until you reach a smoother texture. Also, make sure you're measuring your flour correctly. I recommend spooning the flour into a measuring cup, then leveling it off with a knife to avoid over-measuring.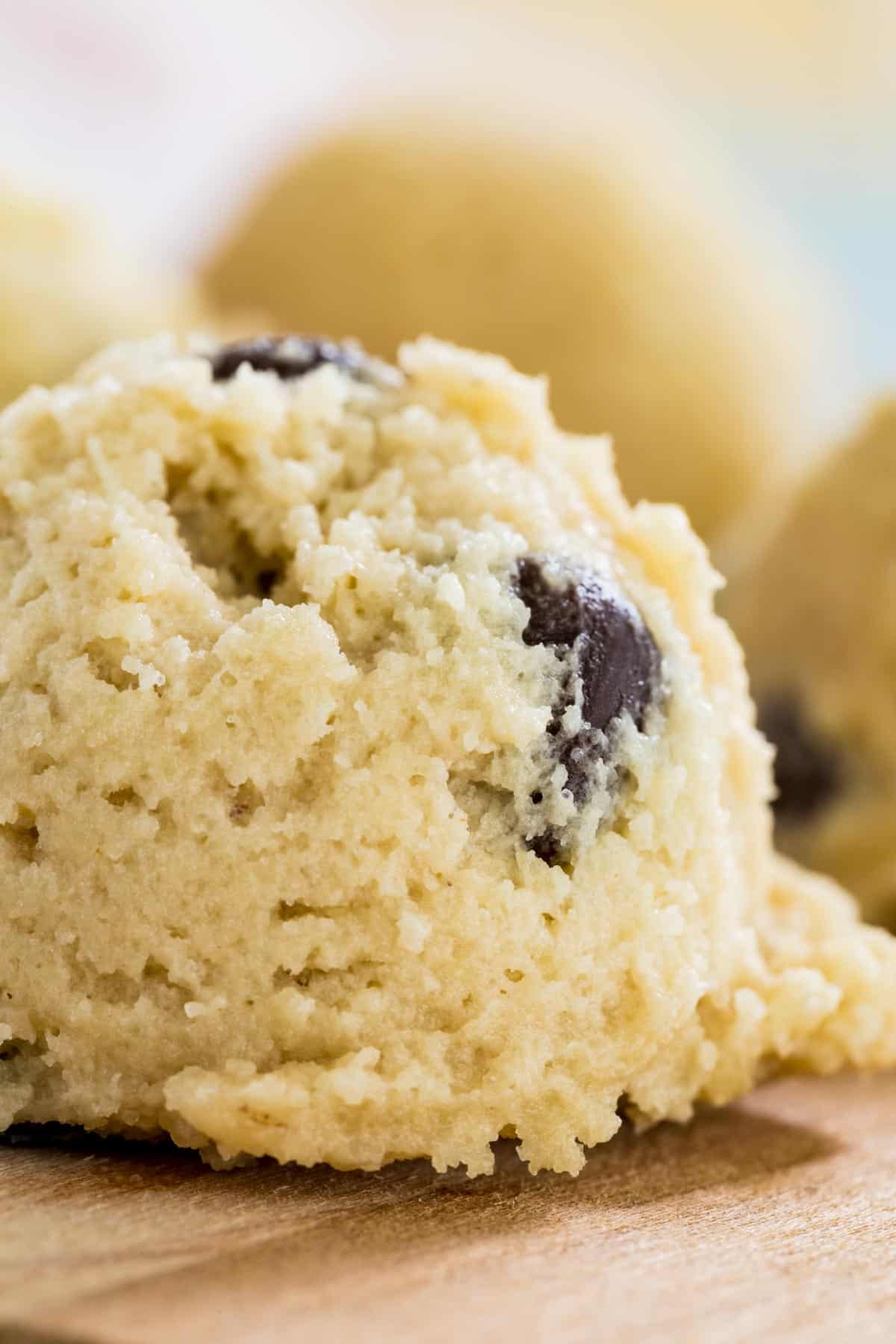 Add-Ins & Variations
Once your gluten-free cookie dough base is made, you can go wild with any add-ins and variations your heart desires. Here are some ideas to try:
Peanut Butter Cookie Dough: Try peanut butter chips in place of (or in addition to) chocolate chips, or mix peanut butter into the dough.
Cookies and Cream Cookie Dough: Add in crushed up gluten free Oreo cookies.
Funfetti Cookie Dough: Stir in rainbow sprinkles for funfetti birthday cake-themed cookie dough. I recommend using jimmies, which don't bleed their color as easily.
Double Chocolate Cookie Dough: Add in cocoa powder for a fudgy, double chocolate treat.
White Chocolate Macadamia Cookie Dough: Mix in white chocolate chips and chopped macadamia nuts.
M&M's Cookie Dough: Add a pop of color with M&M's candy.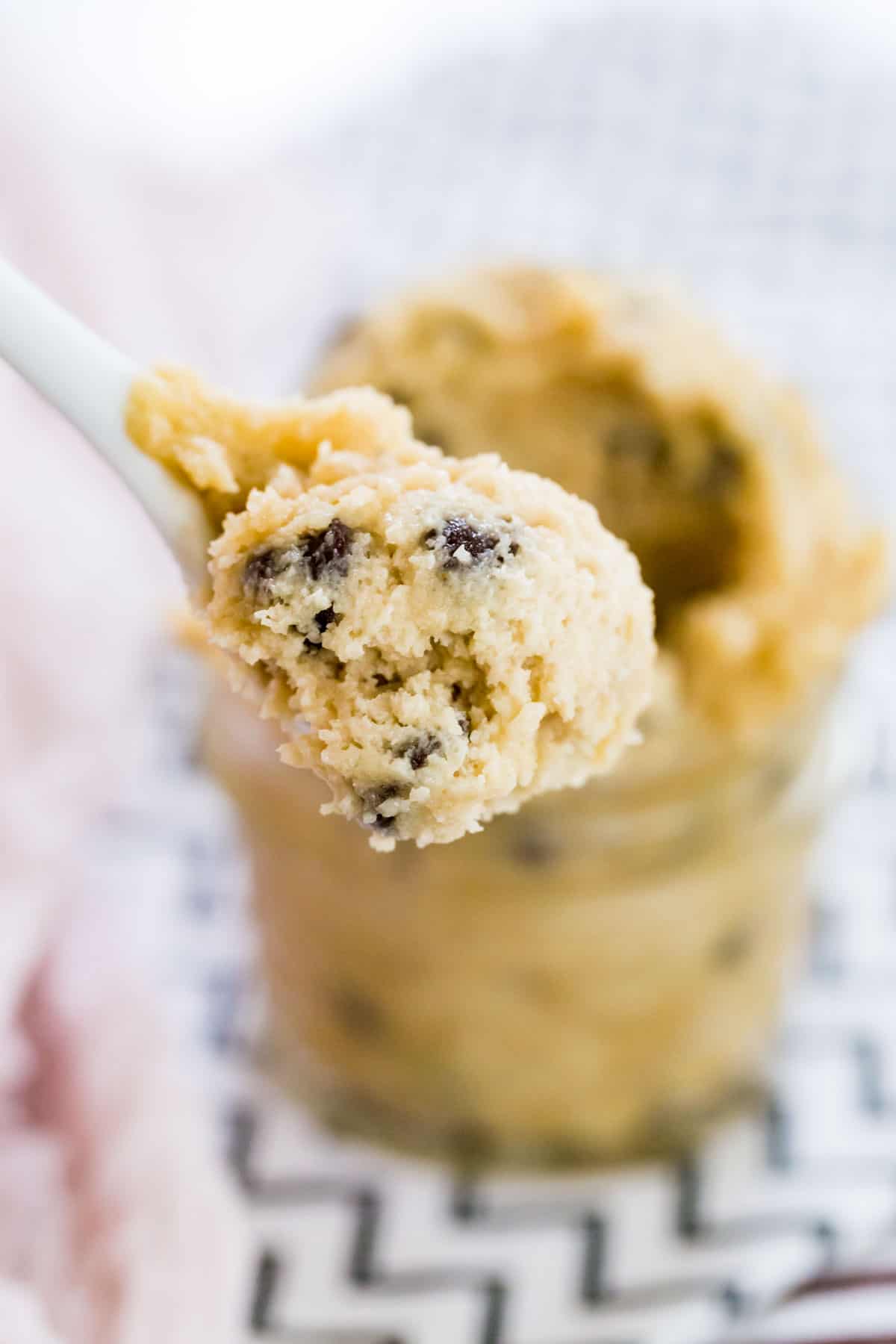 How to Serve Edible Cookie Dough
Having this cookie dough recipe handy makes it so easy to whip up a batch at a moment's notice. Whether I make a batch for movie night, as a sweet treat for the kids, or as a dessert, I never fall short of ways to serve it. Here are some suggestions:
Make cookie dough bites by scooping the dough into balls using a small cookie scoop. Dip them in melted chocolate for something extra special!
Cookie dough makes an easy dessert dip to serve in bowls with gluten free graham crackers or wafers for dipping.
Toss chunks of cookie dough over ice cream, or make your own homemade cookie dough ice cream using the no-churn method.
Include this edible cookie dough in recipes for brownies, cheesecakes (especially no-bake cheesecake!), cakes, and cupcakes.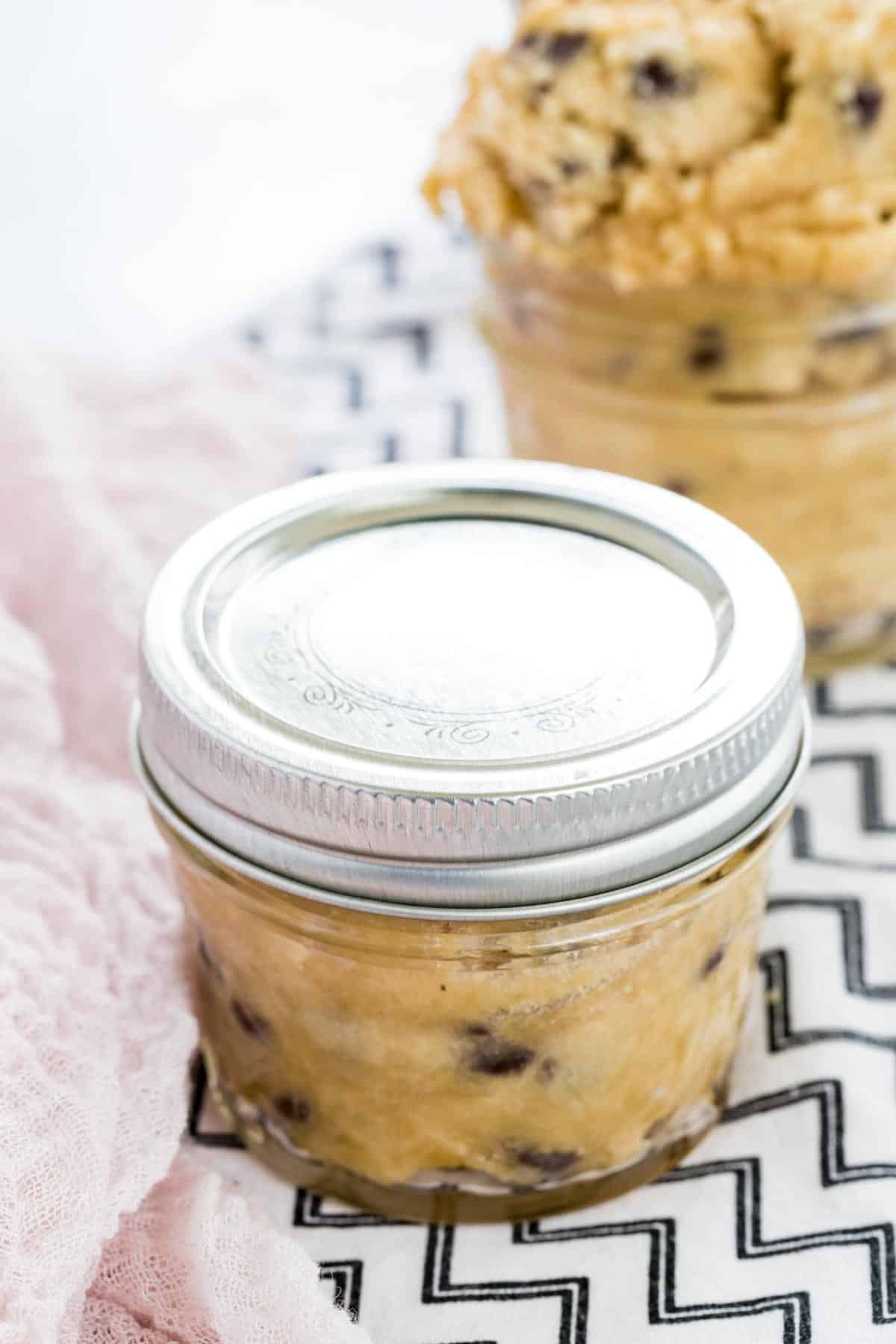 Storage Instructions
Keep your gluten free chocolate chip cookie dough refrigerated airtight for up to 5 days. I like to portion and store the dough in single servings in easy, grab-and-go glass jars – the 4 oz. size is a perfect portion.
I'm not saying that having a jar of cookie dough ready for eating at all times will change your life, but I'm not not saying it either, if you know what I mean.
Can I Freeze This?
Yes! You can also keep your cookie dough in the freezer for up to 2-3 months for longer storage. Simply store the dough airtight in a freezer-safe container and thaw it in the fridge before serving.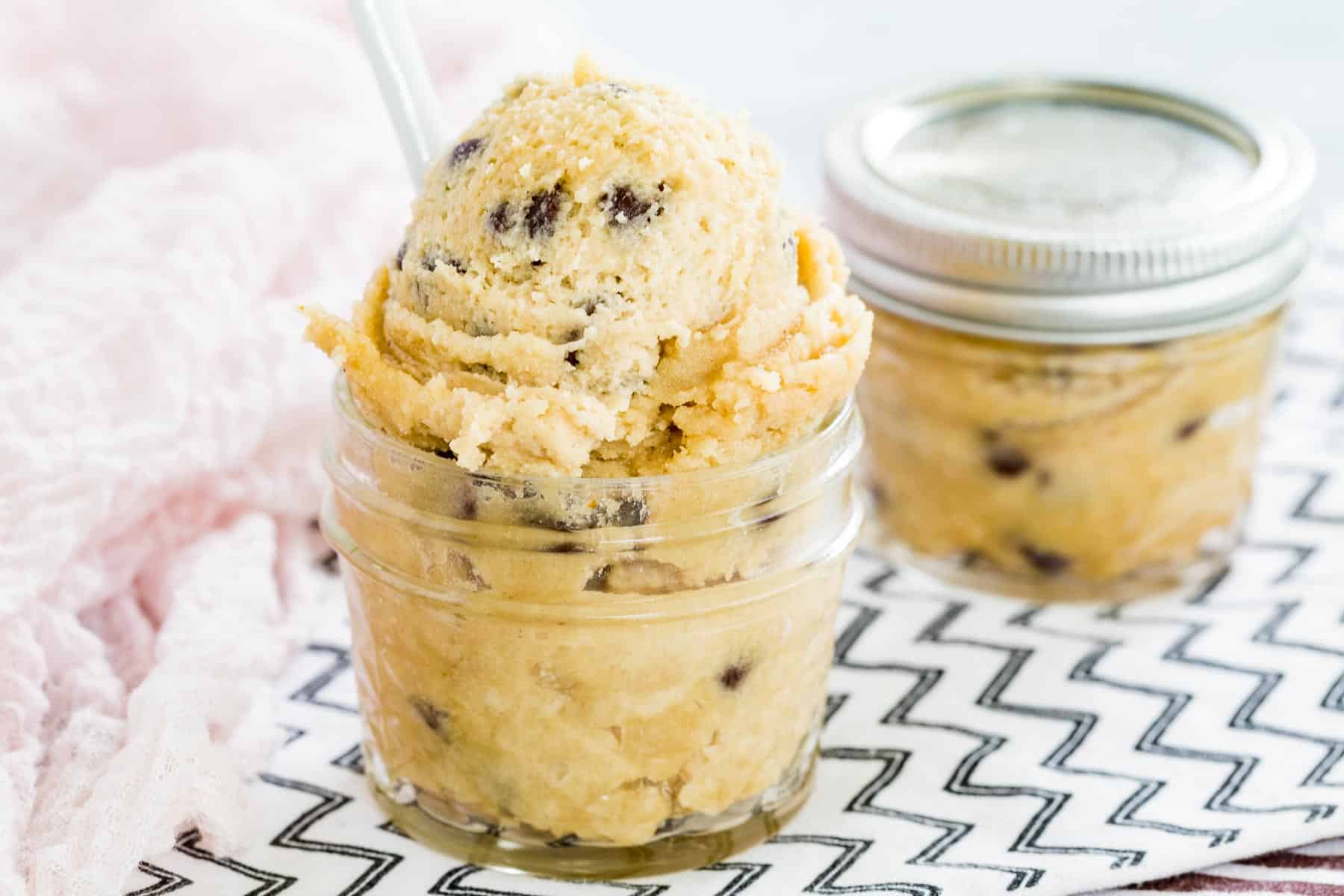 More Easy No-Bake Treats to Try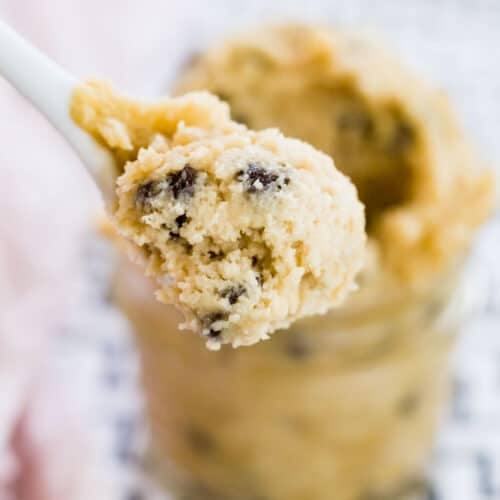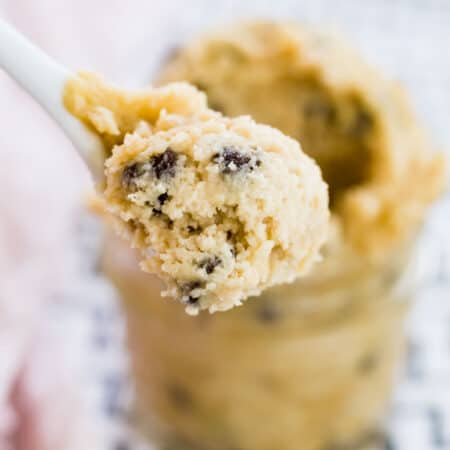 Gluten Free Chocolate Chip Cookie Dough
A 5-minute recipe for Gluten Free Chocolate Chip Cookie Dough that's 100% safe to eat by the spoonful! Creamy edible cookie dough made with heat-treated gluten free flour and no eggs, for the perfect sugary treat.
Ingredients
1/2

cup

unsalted butter

(use dairy-free if vegan, I recommend Miyoko's)

1/4

cup

brown sugar

1/4

cup

white sugar

2

tsp

vanilla extract

1

cup

almond flour

1/4

cup

gluten-free flour

(I use Bob's Red Mill Gluten Free 1:1 Flour Blend), or all-purpose flour if not gluten free

1/4

tsp

salt

1/2

cup

chocolate chips

(dairy-free if vegan)

2-4

tbsp

milk

(unsweetened plain almond milk if vegan)
Instructions
In a large bowl using a hand mixer, beat the butter, sugar, and vanilla extract until light and fluffy.

Fold in the almond flour, all-purpose flour, and salt. Mix until well combined. If needed, add in the milk 1 tablespoon at a time until your desired texture is reached.

Stir in the chocolate chips.

If you want to make balls or bites, using a cookie scoop, scoop out 12 scoops and place them in a parchment-lined lidded container. Or alternatively, serve as a dip or in small bowls or jars with a spoon.
Notes
Refrigerate for up to 5 days.
Nutrition Facts
Gluten Free Chocolate Chip Cookie Dough
Amount Per Serving
Calories 190
Calories from Fat 126
% Daily Value*
Fat 14g22%
Cholesterol 22mg7%
Sodium 54mg2%
Potassium 13mg0%
Carbohydrates 16g5%
Protein 2g4%
Vitamin A 239IU5%
Vitamin C 0.01mg0%
Calcium 30mg3%
Iron 0.5mg3%
* Percent Daily Values are based on a 2000 calorie diet.