This post may contain affiliate links. Read my disclosure policy.
This Chocolate Chip Cookie Pie is one of the best things ever! Probably because it's like having a chocolate chip cookie in a pie crust.
Chocolate Chip Cookie Pie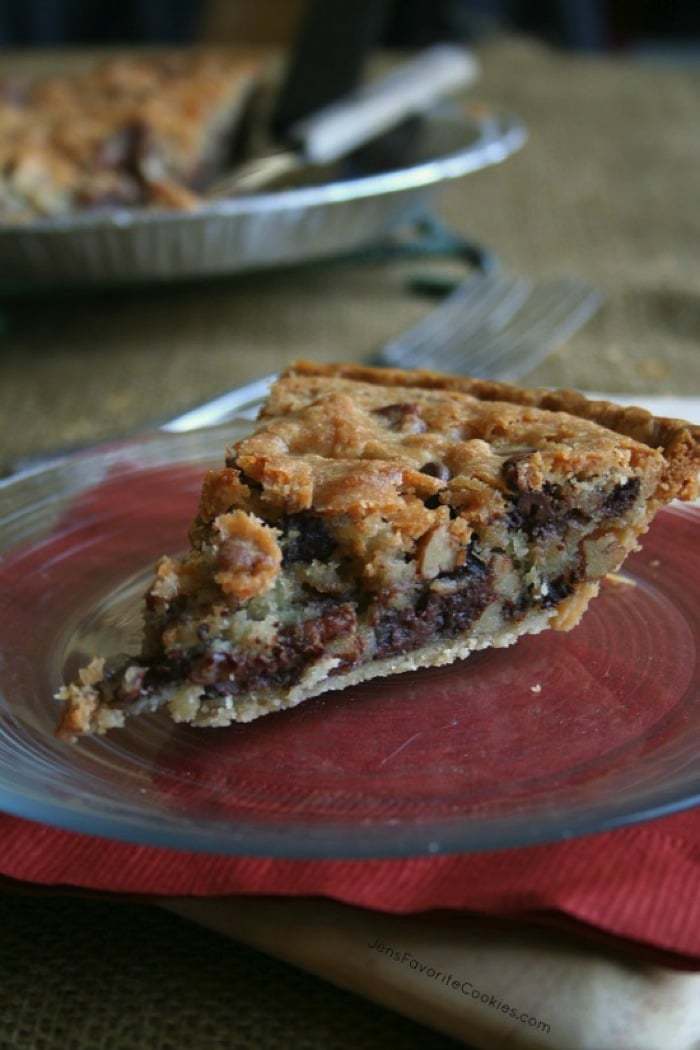 Hey there! I'm Jen from Jen's Favorite Cookies, and I'm thrilled to be chatting with all the amazing Cupcakes and Kale Chips fans today! There are a few things you should know about me. I'm a wife, and mom of three teens. I'm a dog lover and cat hater. I have never used the phrase "This is too chocolatey." And I love cookies. I've even dedicated my blog to simple recipes for cookies, desserts, and snacks. But mostly cookies.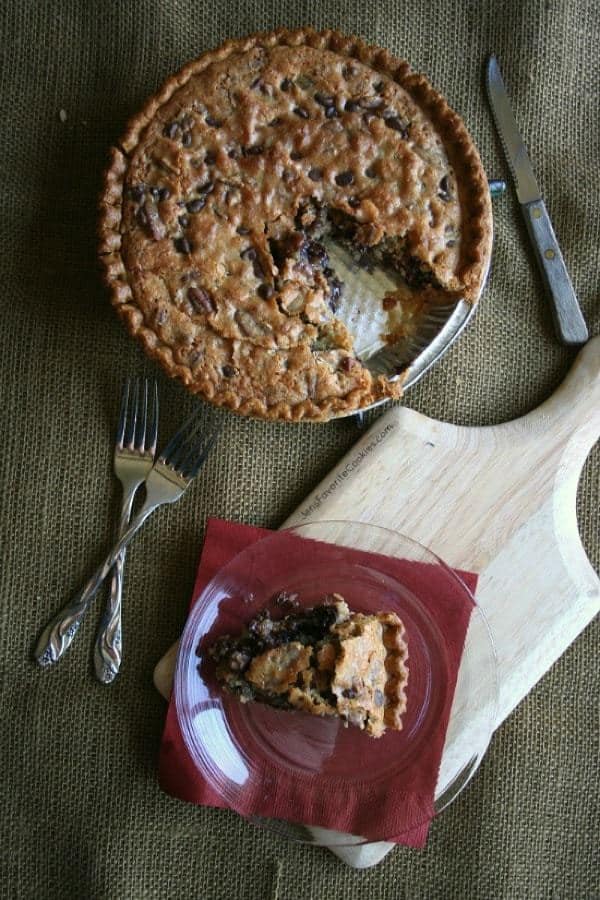 My family is always complaining that I never make the same thing twice. I make 2-3 new desserts every week, so it's always something different and fresh. Each family member has their own idea of what they want me to make again.
My middle child has been begging for homemade banana pudding layered with chocolate sheet cake and whipped cream. He mentions it about once a week.
My husband wants me to re-create the Cherries Jubilee cookies I made for him a while back.
But me, if I was to remake my favorite dessert, what would I make? Actually, I have a list about 20 items long. Welcome to my world. But this pie definitely makes the list. It's so awesome, with chocolate chips and pecans and pie crust!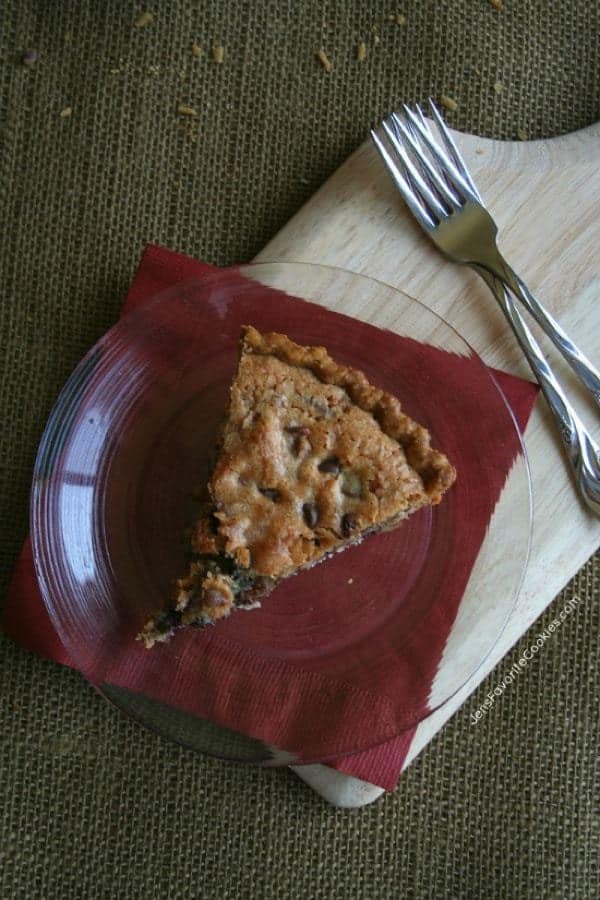 If you are into making your own pie crust, I say go for it. I actually use this crust recipe from Emeril Lagasse to make mine. It's totally flaky and delicious.
While I can make a really delicious pie crust, what I cannot do is make a beautiful one. I think there's something wrong with me. I cannot make a pie crust look nice to save my life. It always looks like my 7-year-old nephew made it. Actually, he would probably do a better job than me.
Therefore, I use a frozen crust. I call for a frozen crust in the recipe, but don't let that stop you from making a fresh homemade crust. Then fill that baby with this pecan and chocolate chip goodness and eat it warm.
Trust me!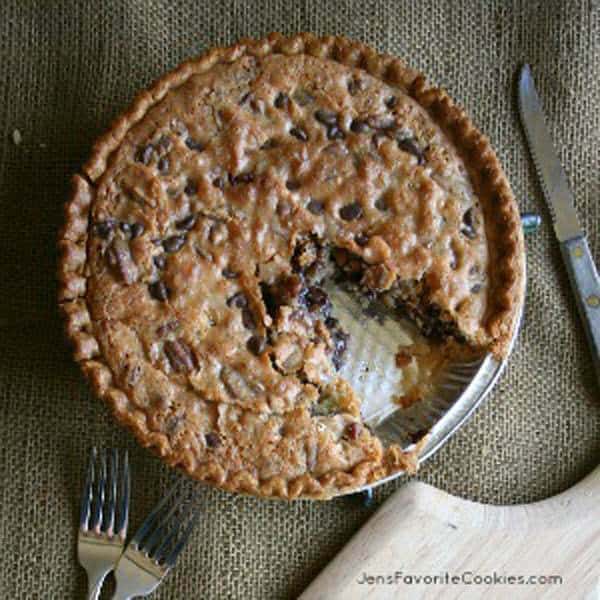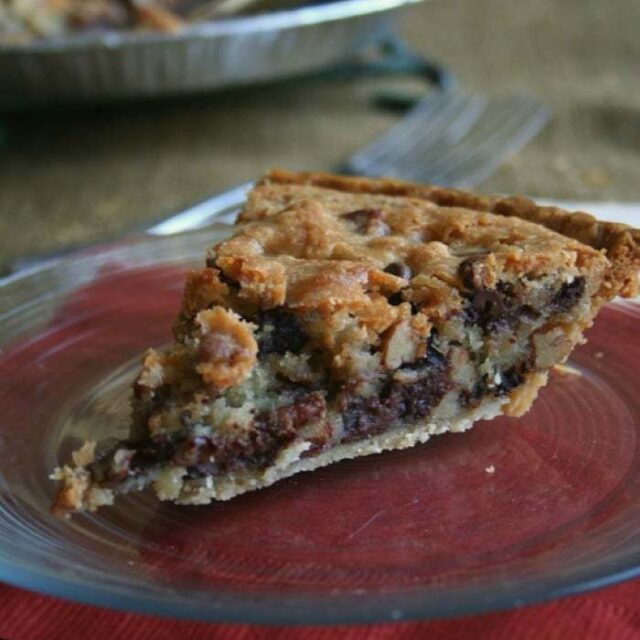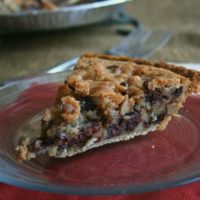 Chocolate Chip Cookie Pie
A yummy dessert that is like a chocolate chip cookie in a pie crust!
Ingredients
1/2

cup

butter

melted

1

cup

sugar

2

eggs

1

teaspoon

vanilla

1/2

teaspoon

salt

1/2

cup

flour

1

cup

chopped pecans

1

cup

chocolate chips

1

frozen pie crust
Instructions
Mix butter and sugar. Add eggs and vanilla and mix well.

Add salt and flour, and mix well.

Fold in pecans and chips.

Pour mixture into pie crust and bake at 325 degrees for 1 hour.

Let cool for 1-2 hours before slicing.
Want more? Check out these chocolate chip recipes!
| | | |
| --- | --- | --- |
| Chocolate Chip Cookie Bark | 100 Chocolate Chip Cookie Recipes | Pumpkin Fudge Chocolate Chip Bars |