This post may contain affiliate links. Read my disclosure policy.
This 10-minute No-Mayo Mustard Coleslaw is a healthier version of a classic barbecue side dish! My coleslaw recipe is just as easy and creamy as the original, made with protein-rich Greek yogurt and tangy mustard.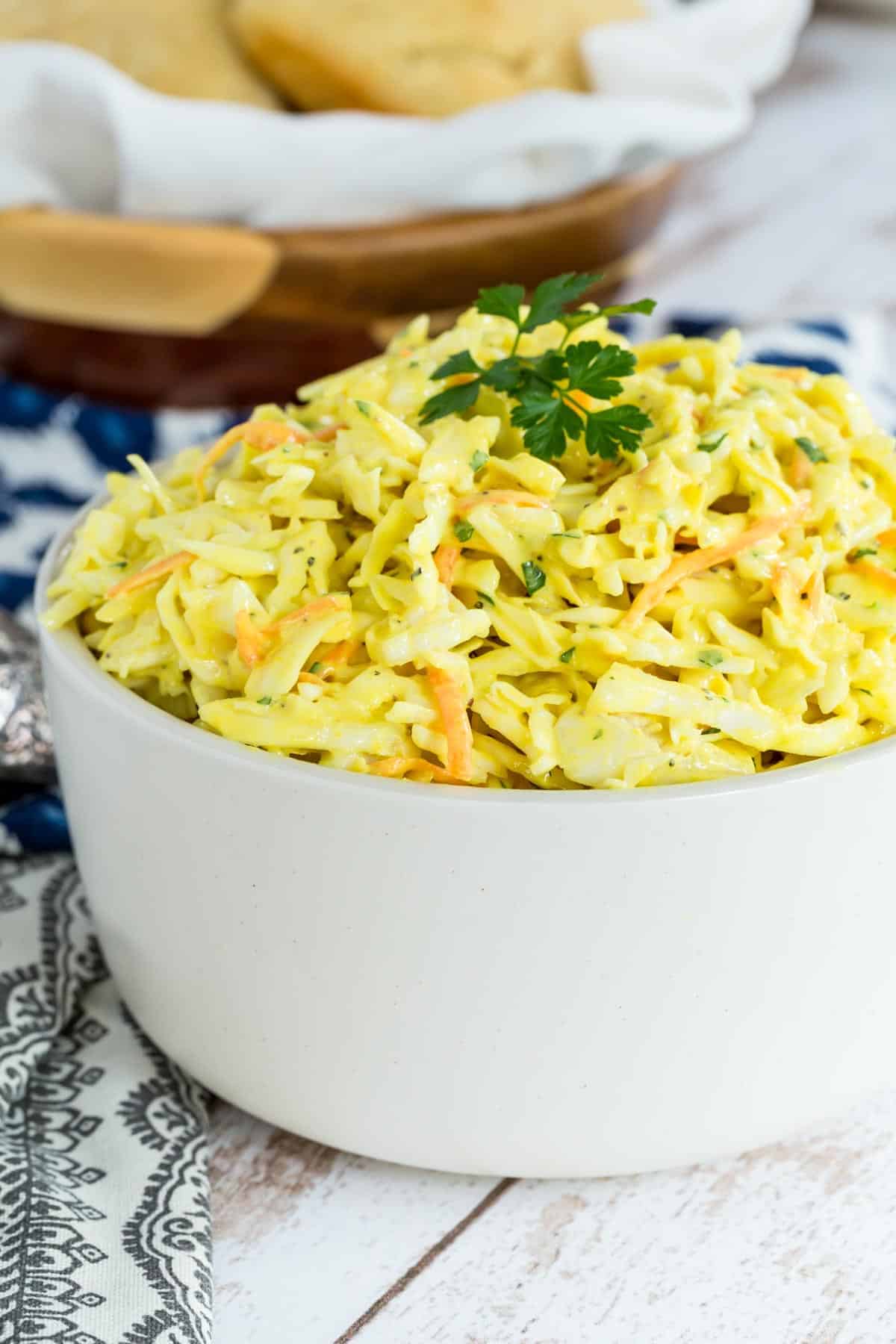 Creamy Coleslaw Dressing Recipe with No Mayo
As some of you may have noticed, I love using Greek yogurt in my recipes (and in case you missed it: Exhibit A, B, C). It's my foolproof substitute for everything from creams, to cheeses, to mayo whenever I'm after a healthier meal!
With this in mind, today I'm sharing a fun, lightened up twist on my classic Homemade Coleslaw. What makes this version healthier than the original? Let's discuss:
The dressing for this coleslaw recipe uses creamy Greek yogurt instead of mayo and yellow mustard instead of Dijon. Meaning less fats and oils, and more nutritious protein!
In place of sugar, this recipe uses honey to lend a bit of natural sweetness to the dressing.
Thanks to the Greek yogurt, no additional milk or dairy is needed!
Overall, it's a mayo-free coleslaw that's still just as versatile, and just as fresh, tangy, and creamy, with a few small tweaks to lighten things up. It tastes amazing, it's quick to make, and it's perfect if you're craving something a little different to serve at your next family barbecue!
Why is it Called Coleslaw?
Fun fact: Coleslaw is the North American spelling for a dish that originated in the Netherlands! The Dutch term is actually "koolsla", which translates to "cabbage salad".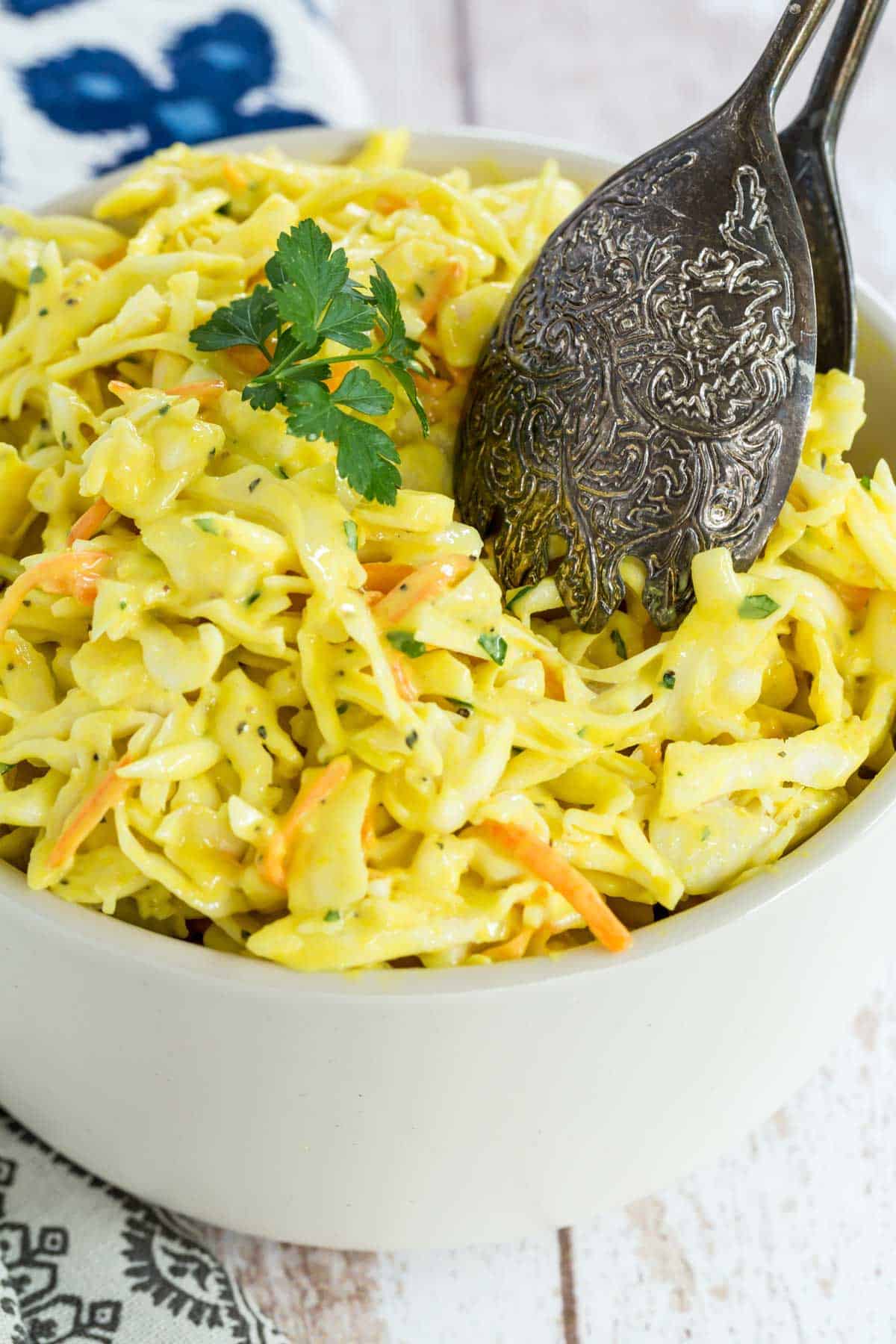 What You'll Need
Coleslaw Mix: Bagged coleslaw mix or shredded cabbage are great in a hurry. Of course, you can also make your own mix with this Quick and Easy Coleslaw Recipe!
Greek Yogurt: Plain Greek yogurt, and not the kind with added flavors or sugars. Greek yogurt is an equally creamy alternative to mayo, with extra protein!
Yellow Mustard: I love the mild heat that comes with this mustard coleslaw. You can also use whole-grain mustard for a stronger flavor.
Honey: Sweetens the dressing up a bit and balances the flavors.
Apple Cider Vinegar: Tangy coleslaw calls for acidity. Apple cider vinegar is my go-to, but you can use alternatives like regular white vinegar, rice vinegar, or wine vinegar as well.
Parsley: Dried or freshly chopped.
Salt & Pepper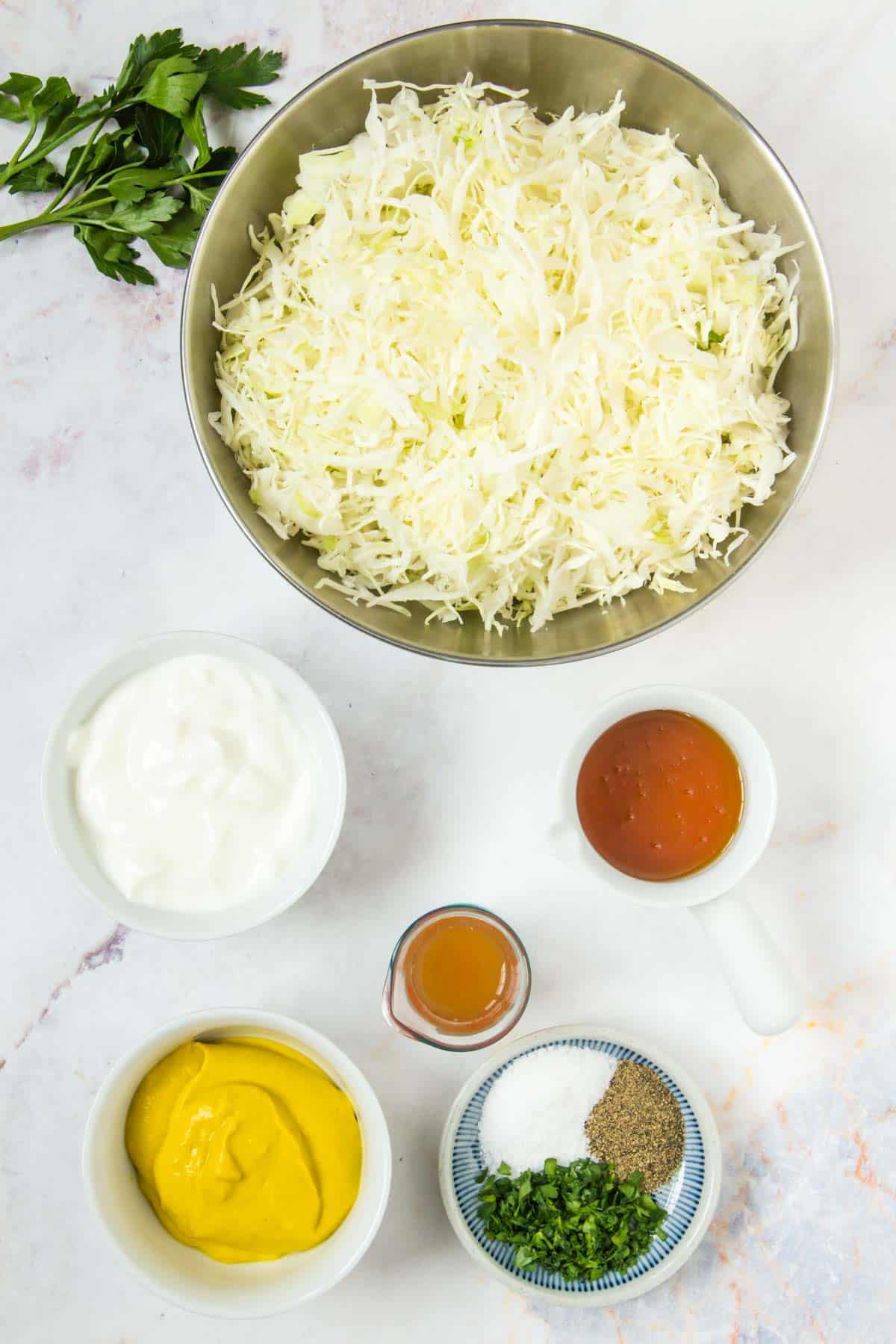 How to Make Mustard Coleslaw
You'd be hard-pressed to find an easier recipe than homemade coleslaw! Here's how to make this mustard-y version in under 10 minutes:
Make the Dressing: In a bowl, whisk together Greek yogurt, mustard, and dressing ingredients.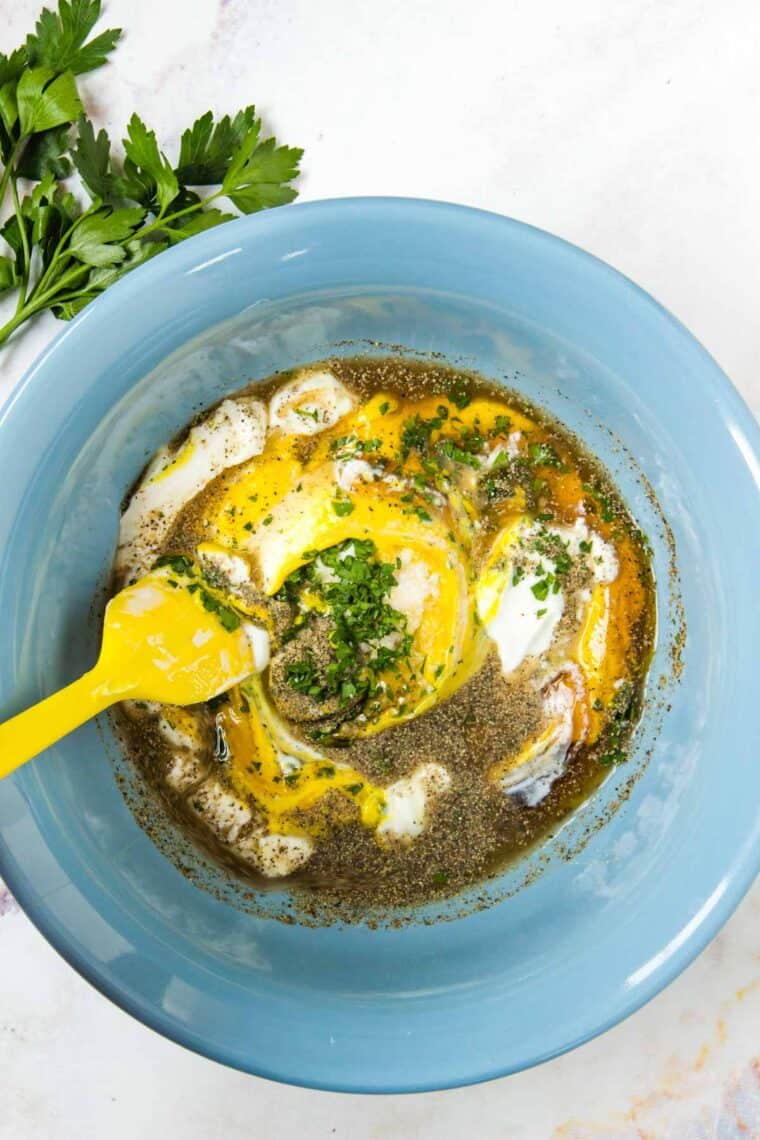 Toss: Toss your store bought or homemade coleslaw mix in the dressing until everything is evenly coated.
Garnish: Give your slaw a sprinkle with chopped fresh parsley, then serve!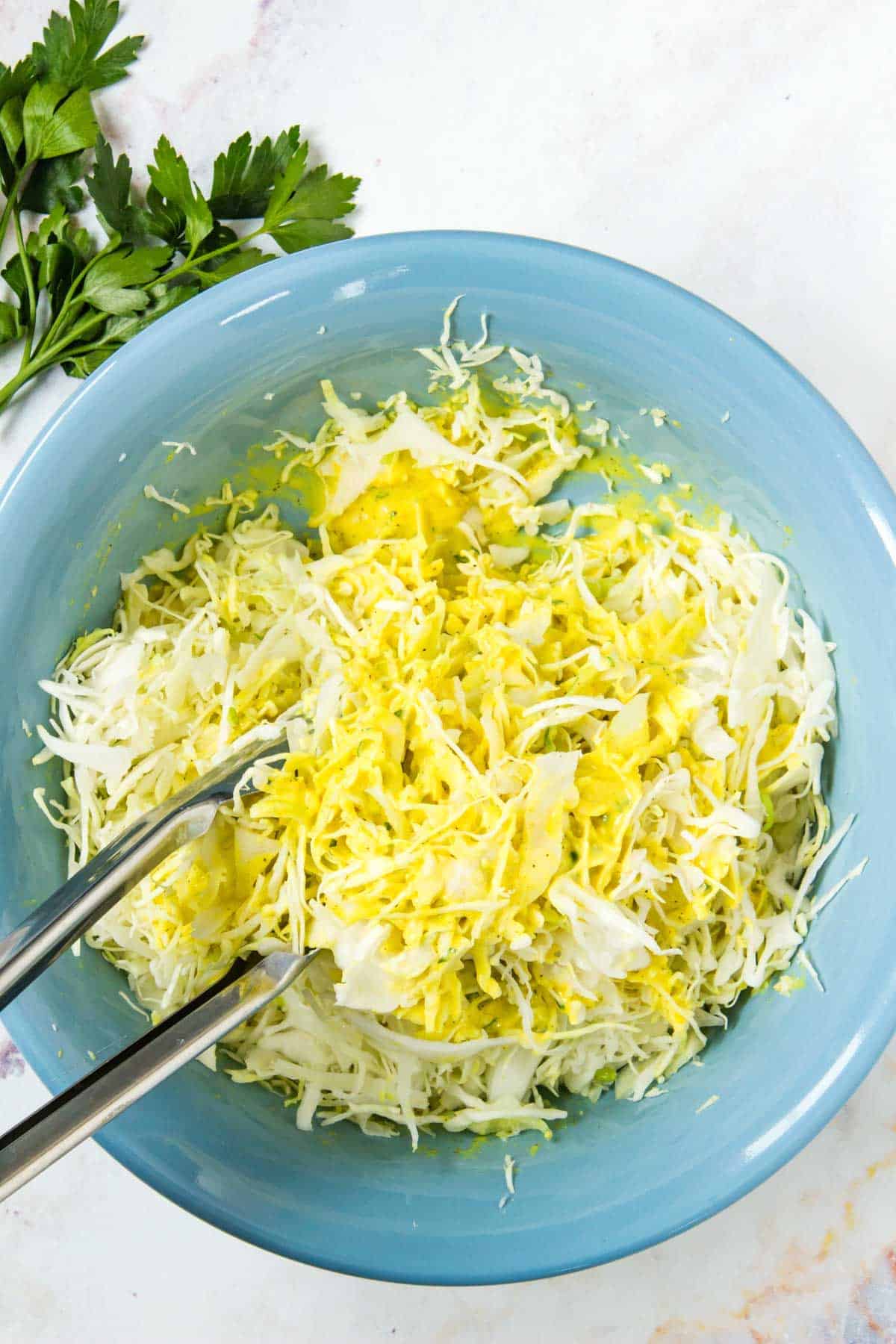 When Should You Dress Coleslaw?
The key to well-dressed coleslaw is in the timing. To keep things nice and crunchy, dress the slaw within 20 minutes of serving. Dressing coleslaw too early, or with too much dressing, will cause it to lose its crunch.
Depending on how creamy you like your slaw, you can add the coleslaw mix to the dressing gradually, tossing in between.
How to Store Dressing for Slaw
You can make the dressing in advance, and store it in the fridge for later use! Homemade coleslaw dressing will keep fresh for 3-5 days when stored chilled and airtight.
If your dressing has sat out at room temperature for longer than a couple of hours, I'd suggest discarding it and starting a new batch.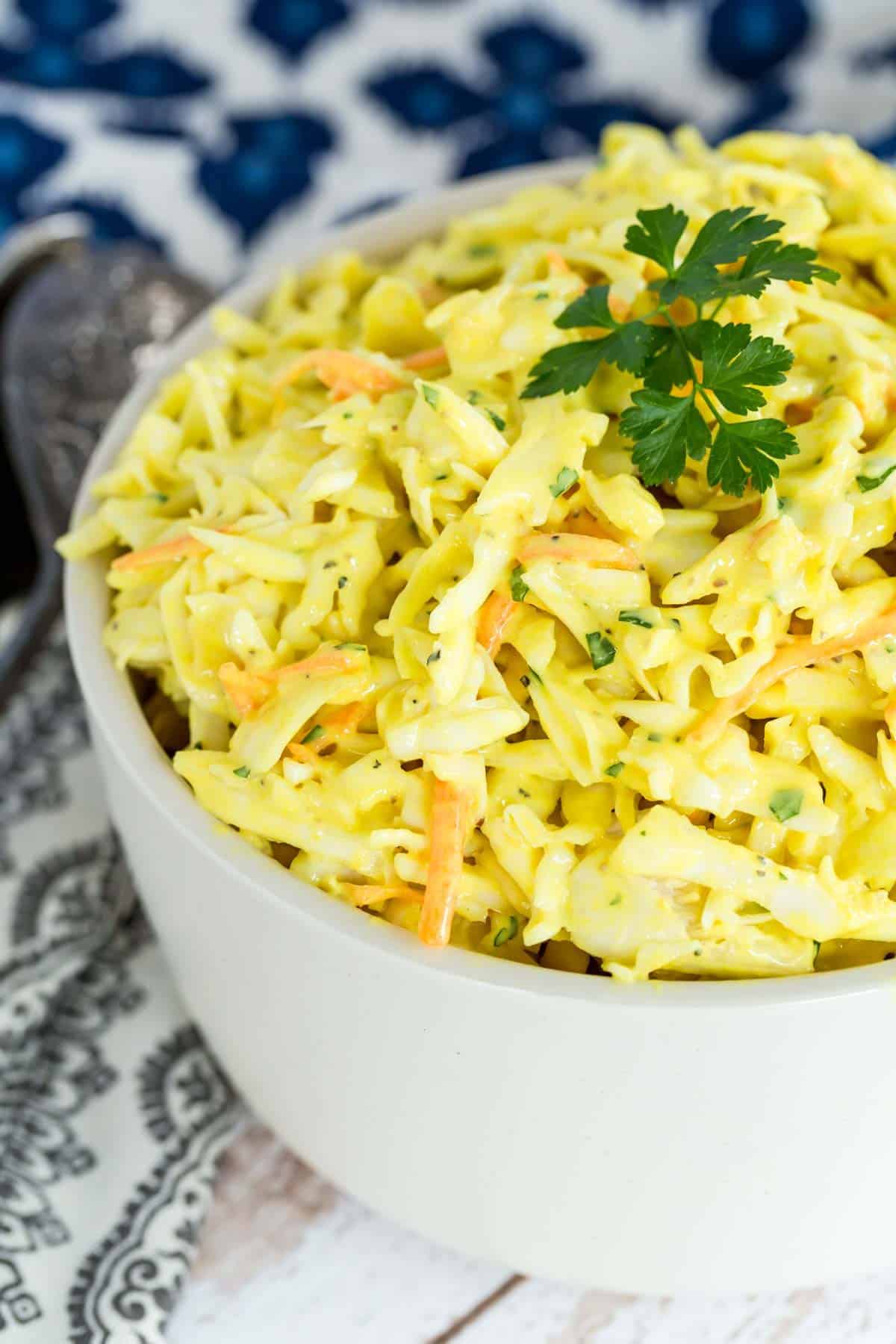 Tips for Success
Choose the Right Yogurt: Plain Greek yogurt works best for this recipe. Regular yogurt isn't as thick, and will lead to a different texture in the dressing. Also make sure it's plain, and not a flavored yogurt like vanilla!
What About Nonfat Yogurt?: You can use 0% nonfat Greek Yogurt, which is what I usually use. If you prefer, lowfat or whole milk yogurt are delicious too.
Make It Fresh, Every Time: Homemade coleslaw is best prepared shortly before you plan on serving it, and no more than 20-30 minutes in advance (see above). You can, however, whisk together the dressing ahead of time and keep this separate from the slaw until you need it. I've included storage tips in the section below!
Keep It Cool: Pop your freshly made coleslaw in the fridge until you're ready to serve. Chilling lets the flavors develop while also helping to keep the texture crisp.
Get Creative With Add-Ins: Switch up the textures and flavors of this coleslaw and add in ingredients like chopped nuts, seeds, craisins or raisins, fresh herbs, or extra veggies. Try combos like my mayo-free Pineapple Coleslaw with macadamia nuts, or this Coleslaw with Apples!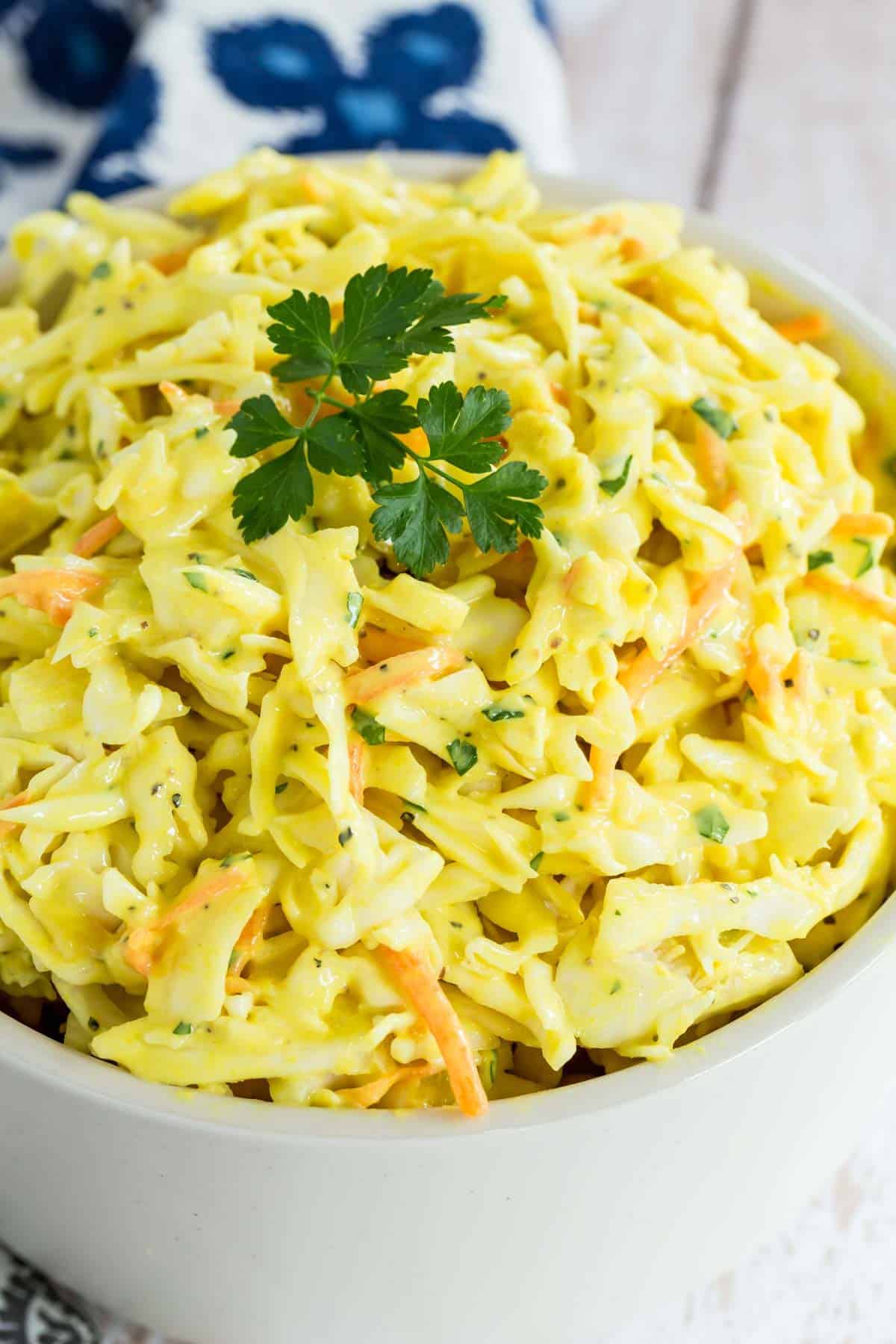 Make it a Meal
Coleslaw is a light and refreshing, easy summer side dish! This no-mayo version is delicious to serve as a side, especially when grilling. You can make it a meal with these ideas: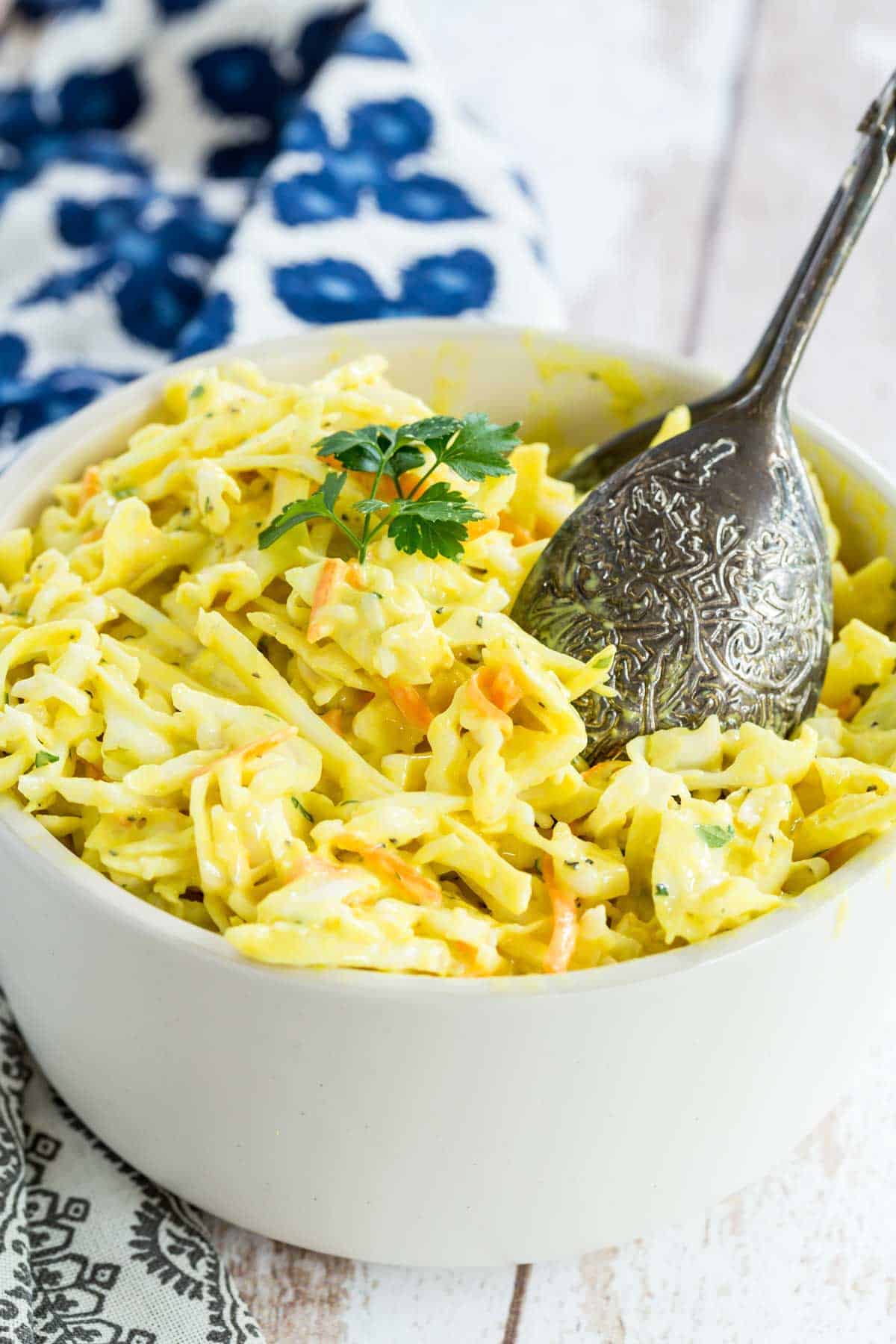 More Healthy Side Dish Ideas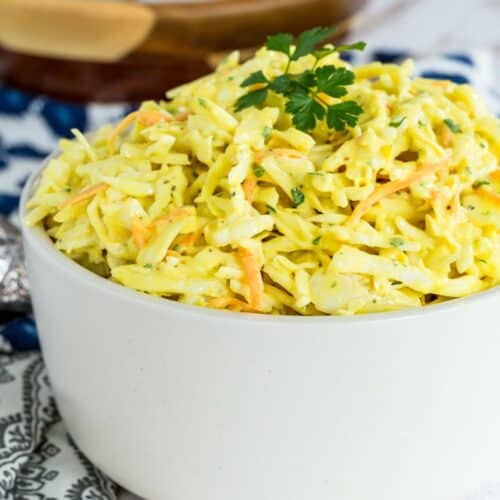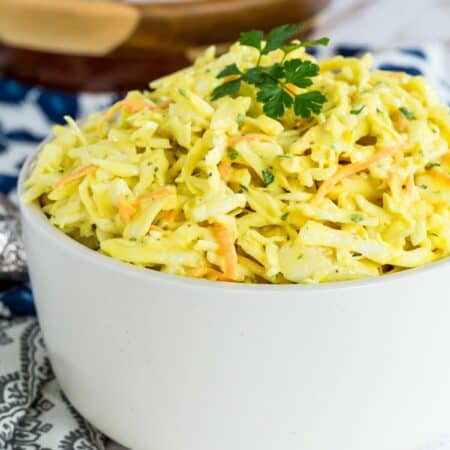 Creamy Mustard Coleslaw
Serve this 10-minute No-Mayo Mustard Coleslaw as a healthier version of the classic BBQ side dish! Made with Greek yogurt and tangy mustard.
Ingredients
1/2

cup

plain Greek yogurt

1/3

cup

yellow mustard

2

tbsp

honey

2

tbsp

apple cider vinegar

2

tsp

Kosher salt

1

tsp

black pepper

1

tsp

dried parsley

(or 1 tablespoon fresh parsley)

14-16

oz

bag of coleslaw mix

(or 6 cups shredded cabbage)
Instructions
In a large mixing bowl, whisk together the Greek yogurt, mustard, honey, apple cider vinegar, salt, pepper, and parsley until well combined.

Add the coleslaw mix to the bowl and toss everything together until it is well coated.

Garnish with extra chopped fresh parsley and enjoy!
Nutrition Facts
Creamy Mustard Coleslaw
Amount Per Serving
Calories 63
Calories from Fat 9
% Daily Value*
Fat 1g2%
Cholesterol 1mg0%
Sodium 952mg40%
Potassium 144mg4%
Carbohydrates 11g4%
Protein 3g6%
Vitamin A 88IU2%
Vitamin C 24mg29%
Calcium 59mg6%
Iron 1mg6%
* Percent Daily Values are based on a 2000 calorie diet.
Categories: