This post may contain affiliate links. Read my disclosure policy.
Make satisfying your sweet tooth a total breeze with easy Gluten Free No-Bake Desserts. Perfect whether you need quick desserts for a party or the holidays, or it's too hot to turn on the oven. Here are over 60 recipes that are the solution – no baking required.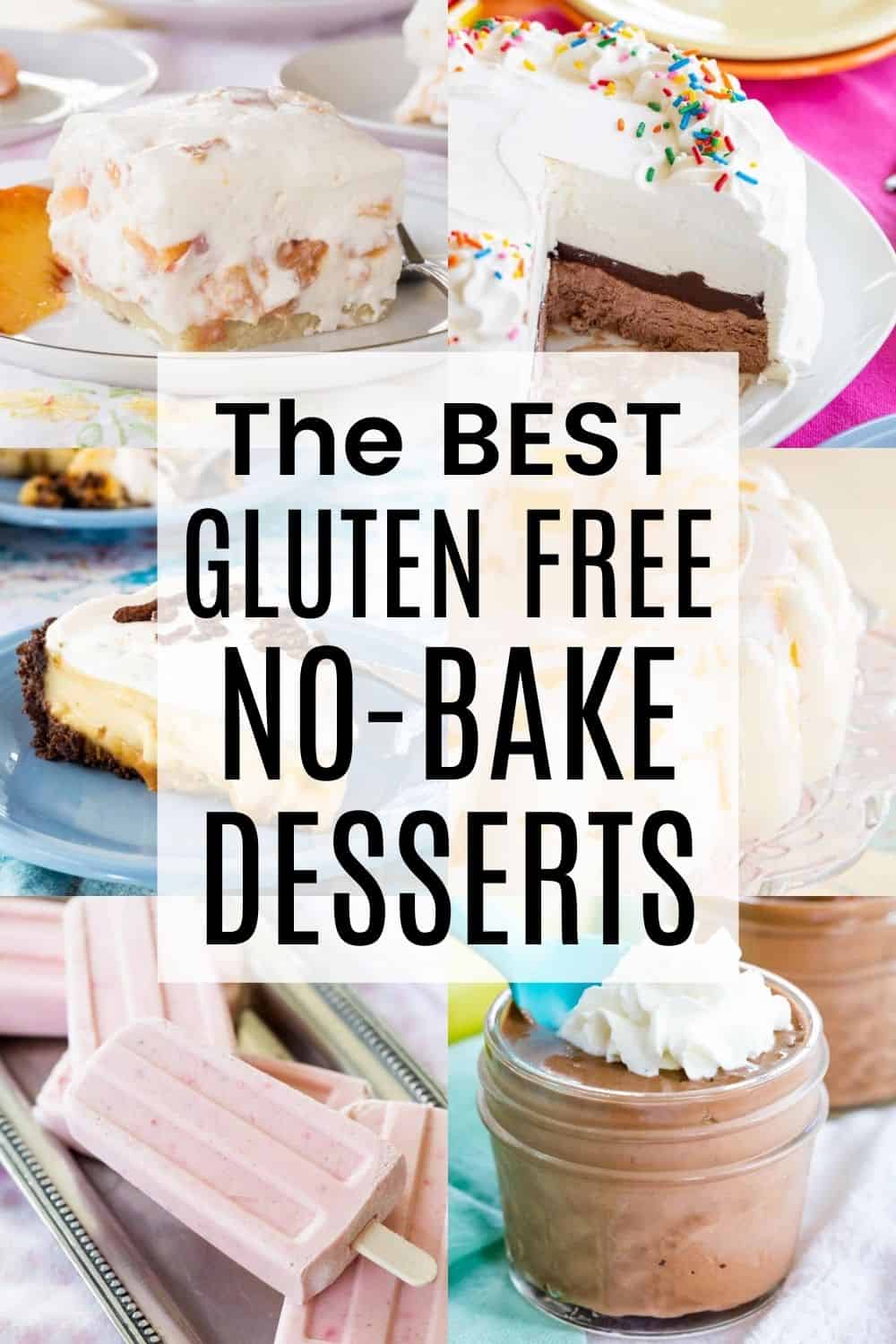 Easy No-Bake Dessert Recipes
Almost everyone in this world likes dessert. I mean, how can you resist a decadent, sweet treat? But baking isn't for everyone, nor is it for all times of the year. That's where these easy dessert recipes come in.
Easy no bake desserts will keep you out having fun instead of baking in a hot kitchen. And they save you time when life gets busy or you have a last-minute invitation to a party. Or maybe you just want a sweet treat and you want it fast, or frozen desserts make you weak in the knees.
Why do you need no-bake recipes?
It's too hot. Easy no-bake desserts are perfect for a hot summer day. The last thing you want to do is heat up your kitchen or spend a ton of time cooking and baking. You can still make something delicious to share with friends and family.
You are cooking with kids. Not only are these easy desserts to make, but the kids can get involved too. There aren't any raw eggs or hot ovens to worry about.
You don't like baking. Some recipes can be finicky and require careful measuring and keeping track of times and temperatures. But that doesn't mean you have to make a trip to the bakery when someone asks you to bring a dessert to a party or picnic. Anyone can make no-bake cookies or pies, and even simple no-churn ice cream.
It's the holidays. Not only will you save time, but things like dessert dips are perfect for holiday parties, a batch of fudge can easily be made for a crowd or to give as gifts, and parfaits look elegant and special but are really quite simple.
What comes to mind when you think of no-bake dessert recipes?
There are many options when it comes to delicious treats with no baking needed. From no-bake pie to no bake cheesecake, puddings and parfaits to dips and ice cream, plus so much more, you'll find something for everyone and every occasion in this collection of over 60 gluten free no bake dessert recipes.
60+ Gluten Free No-Bake Desserts
Pudding and parfaits, pies and bars dips and frozen sweets, candy and so much more – all of these are fabulous options when baking is out of the question. Check out all of these incredible and incredibly easy dessert recipes - no baking required!