This post may contain affiliate links. Read my disclosure policy.
Easy no-bake desserts for kids to make this summer will give them something fun to do and you'll all end up with sweet treats to enjoy! And the best part is that there is no oven needed, so they are the perfect kid-friendly recipes to keep cool and whip up some favorite warm-weather treats. And as a bonus, these all happen to be some of the best gluten-free no bake dessert recipes too (without needing to buy any crazy ingredients)!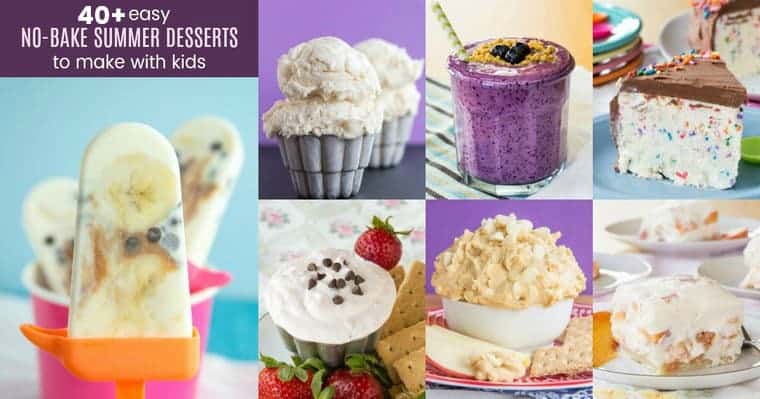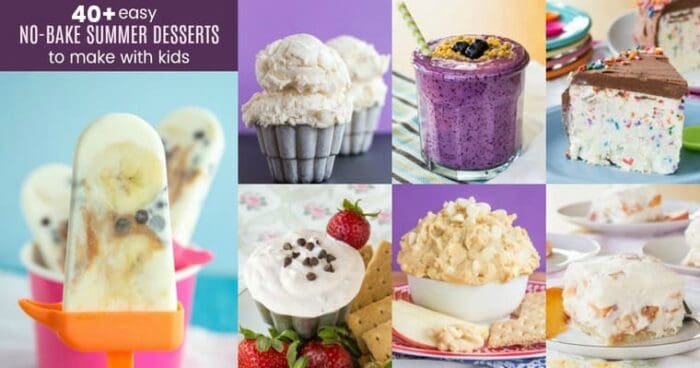 As the weather gets warmer, we are less likely to want to turn on the oven to make cupcakes, cookies, or muffins for the kids. But everyone still deserves a sweet treat every now and then, especially with baseball practice, swimming, and plenty of other activities. So how about some no-bake summer desserts to make with kids?!
A no-bake dessert recipe might require a little cooking on the stove. Or sometimes you might have to melt chocolate or butter in the microwave. But typically they require no cooking at all, making them perfect desserts kids can make.
In this collection, we're covering all kinds of kid-friendly recipes, from frozen desserts to dessert dips, no-bake cookies to smoothies and shakes, and more! Keep cool and whip up some favorite warm weather treats with these easy recipes!
No-Bake Dessert Recipes Kids Can Make
40+ Easy No-Bake Desserts for Kids to Make
A no-bake dessert recipe might require a little cooking on the stove. Or sometimes you might have to melt chocolate or butter in the microwave. But typically the require no cooking at all, making them perfect desserts kids can make. In this collection, you'll find recipes for…