This post may contain affiliate links. Read my disclosure policy.
Get your all-American 4th of July recipes so that you are ready for all of those summer parties and barbecues. From grilling to salads and sides to red, white, and blue treats, you'll be enjoying these patriotic food ideas from Memorial Day through Labor Day, including the fabulous Fourth!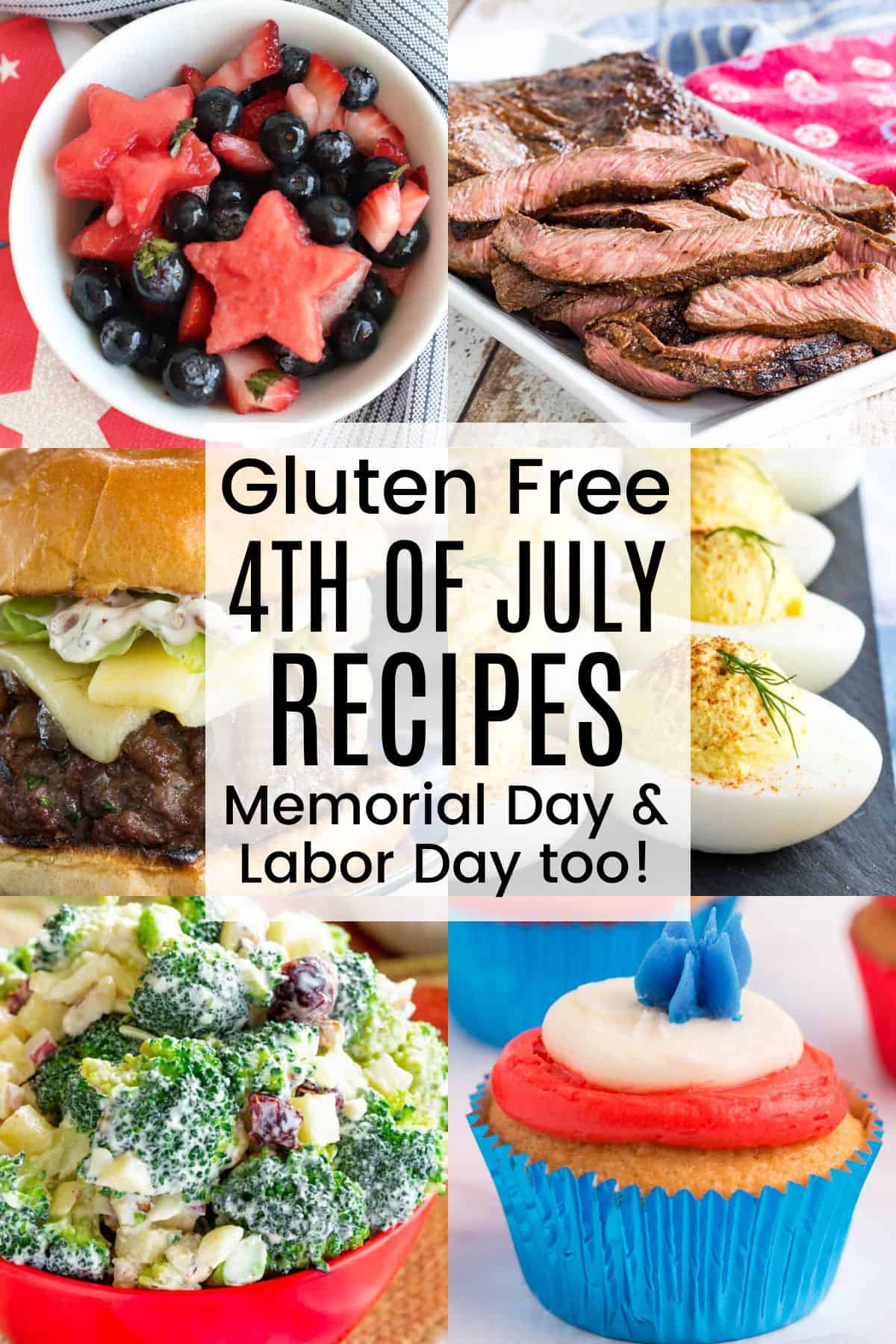 Fourth of July Food Ideas (for Memorial Day and Labor Day too!)
When you are planning your menus for Memorial Day, Fourth of July, or Labor Day, what are you thinking? Cool sandwiches and salads for a picnic? Snacks and treats for the beach? Burgers and hot dogs for a barbecue? Or popsicles and red white and blue sweets for dessert? Well, I think I can help you out there are 4th of July food ideas and recipes galore from Cupcakes & Kale Chips and more of your favorite food blogs.
4th of July Recipes
CLICK ON THE TITLES TO GET THE RECIPES
Key to finding gluten free recipes:
GF – gluten free recipe
GFO – recipe with gluten free option
Appetizers and Snacks
Let's get the party started. And the best way to fo that is with some finger foods everyone can grab and munch on while they say hello to friends and family.
This picnic classic is made without mayo, using Greek yogurt instead. But they are still nice and creamy with the zippy flavor everyone loves.
Turn the classic salad into a cool and easy finger food perfect for dunking in your favorite dressing or dip. Just roll up deli meats and cheese and thread them on a toothpick with lettuce tomatoes, and cucumbers.
All you need are a few ingredients and leftover rotisserie chicken to make this easy appetizer with delicious Greek-inspired flavors.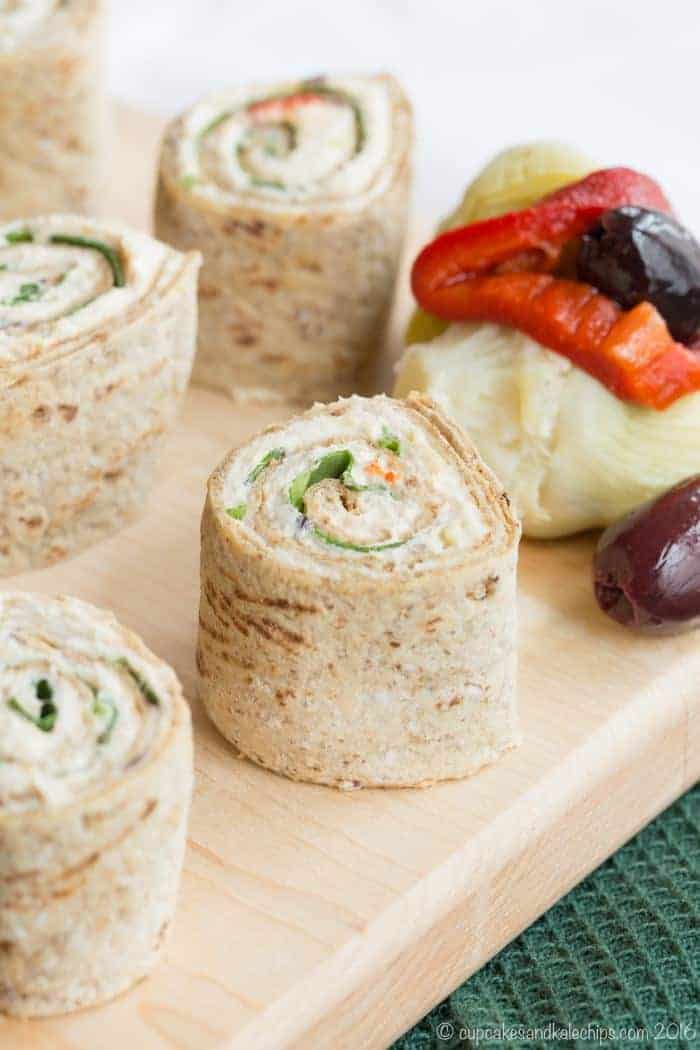 Just layer 4 ingredients and bake until hot and melty. Then rip open that bag of tortilla chips and get ready to scoop up ooey gooey layers of cheese and salsa.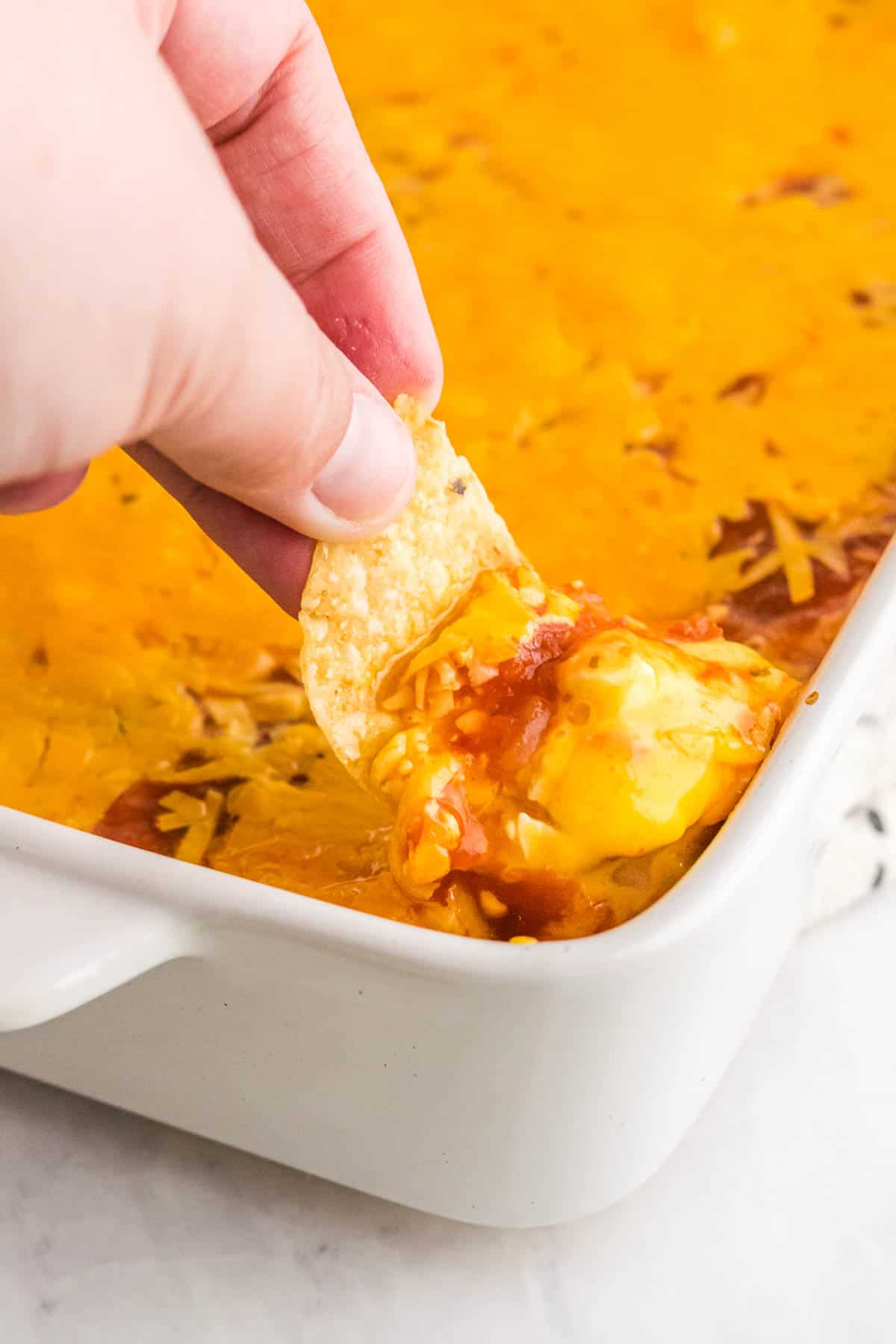 One of the all-time favorite kids snacks is super super fun when you turn it into a kid-friendly version of a charcuterie board. They can DIY their favorite combos.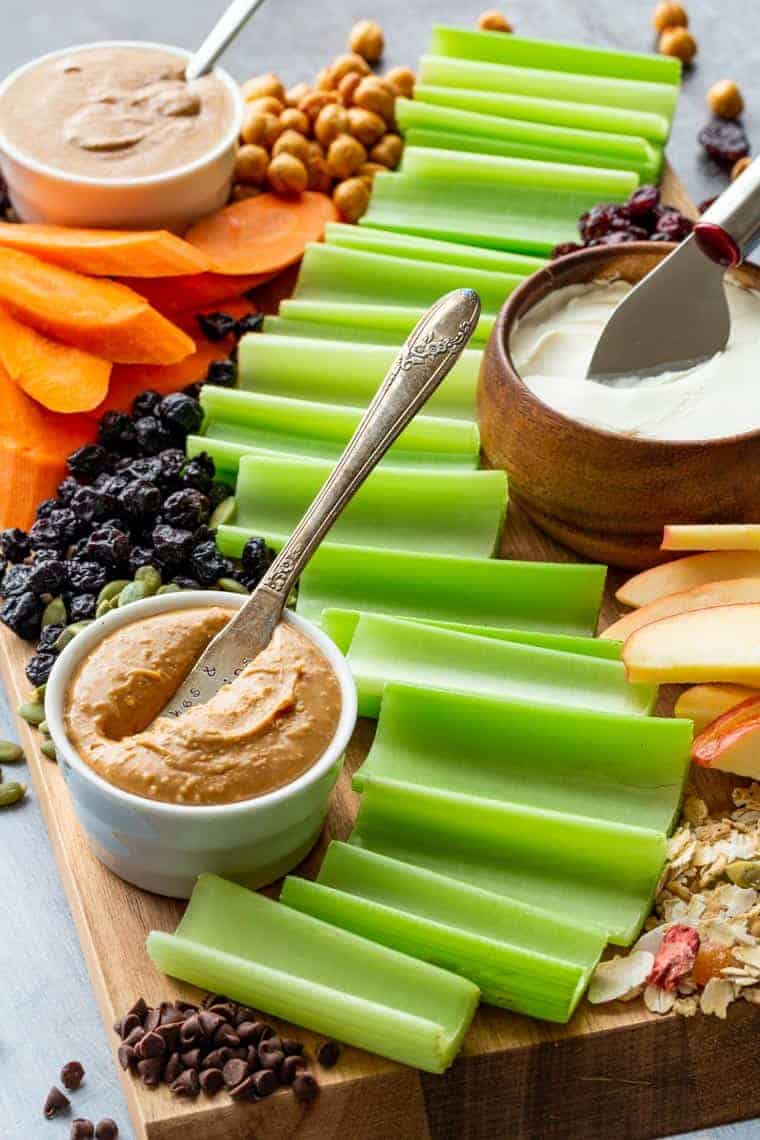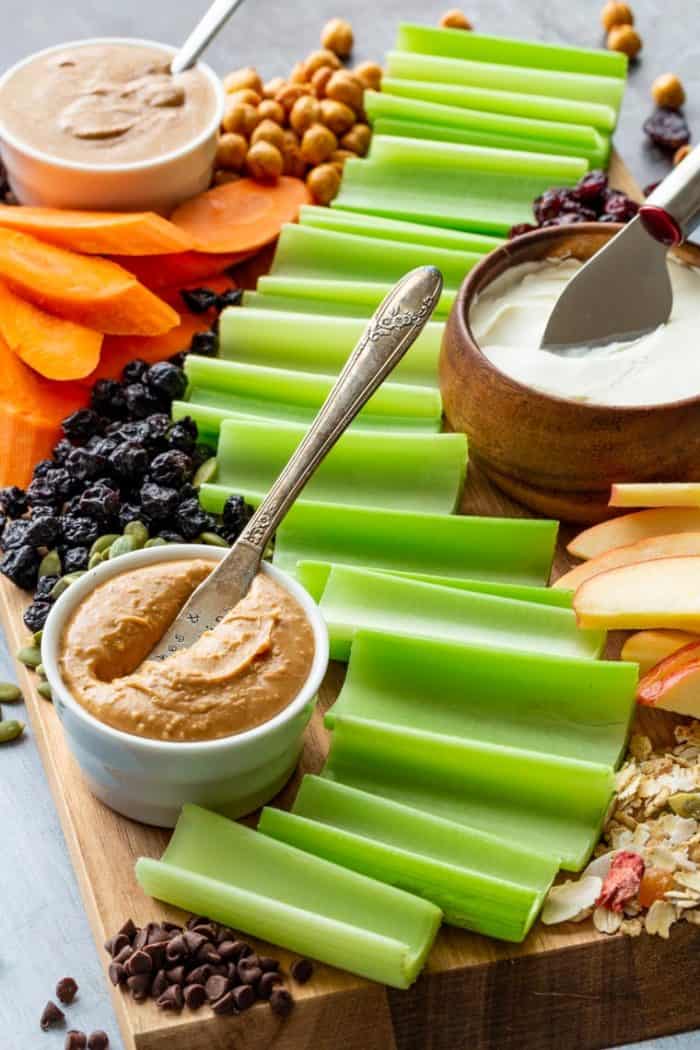 And don't forget the veggie platter and chips with these favorite dips:
Grilled Main Dishes
No collection of 4th of July recipes would be complete without something to toss on the grill. You can go with basic burgers and hotdogs, but maybe you want to level up your barbecue.
The flavor-packed five-ingredient balsamic vinegar marinade gives this grilled flat iron steak a sweet and smoky crust and a tender, melt-in-your-mouth texture.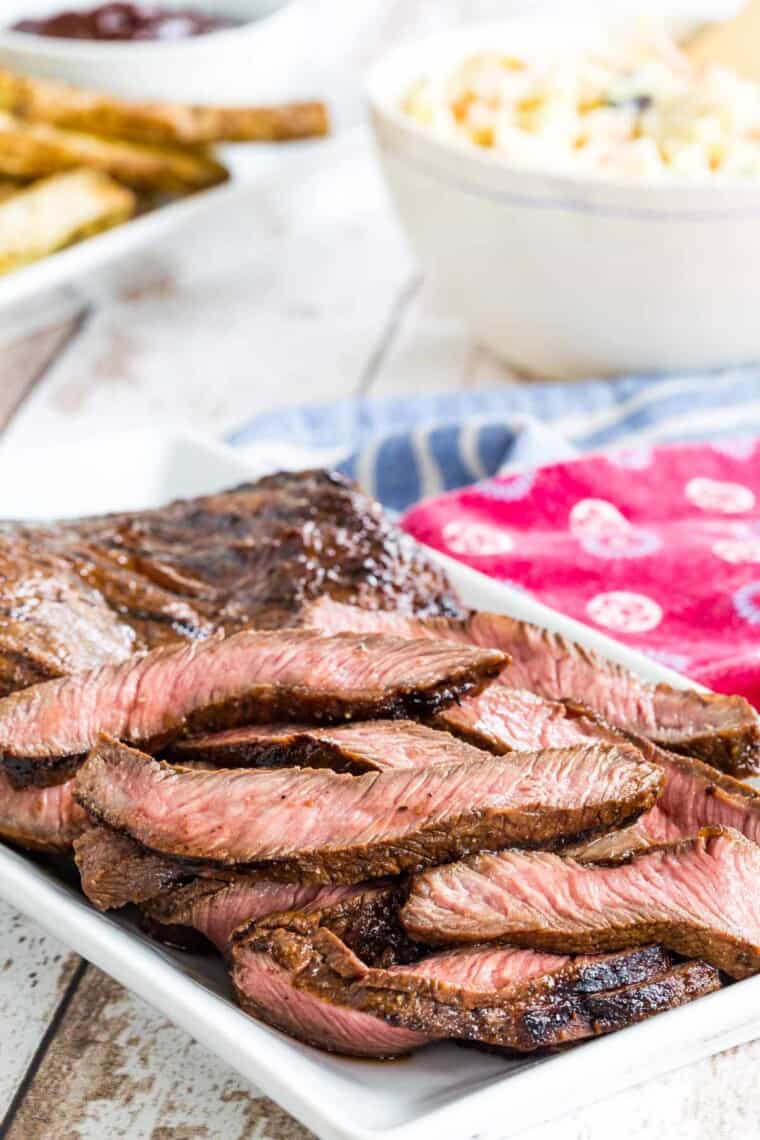 Turn your basic grilled cheeseburger into something totally epic. Inspired by the classic French Onion Soup au Gratin, stuff those caramelized onions inside a juicy beef hamburger and pile all the gooey cheese on top.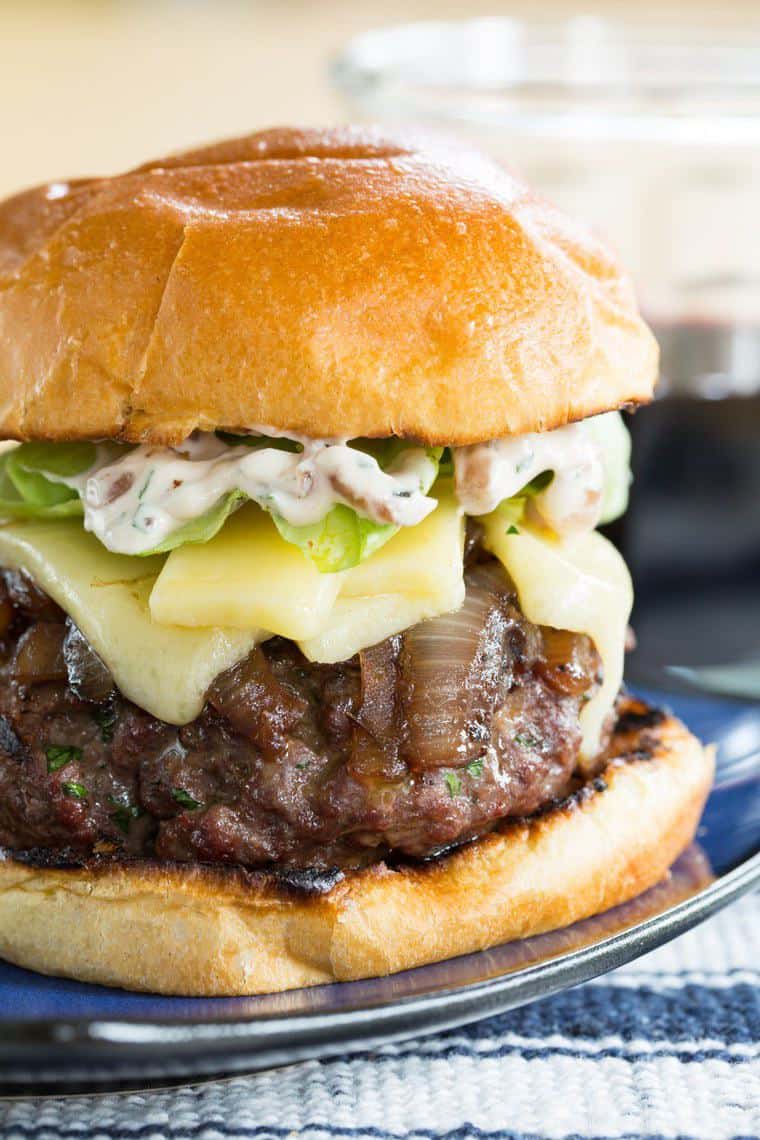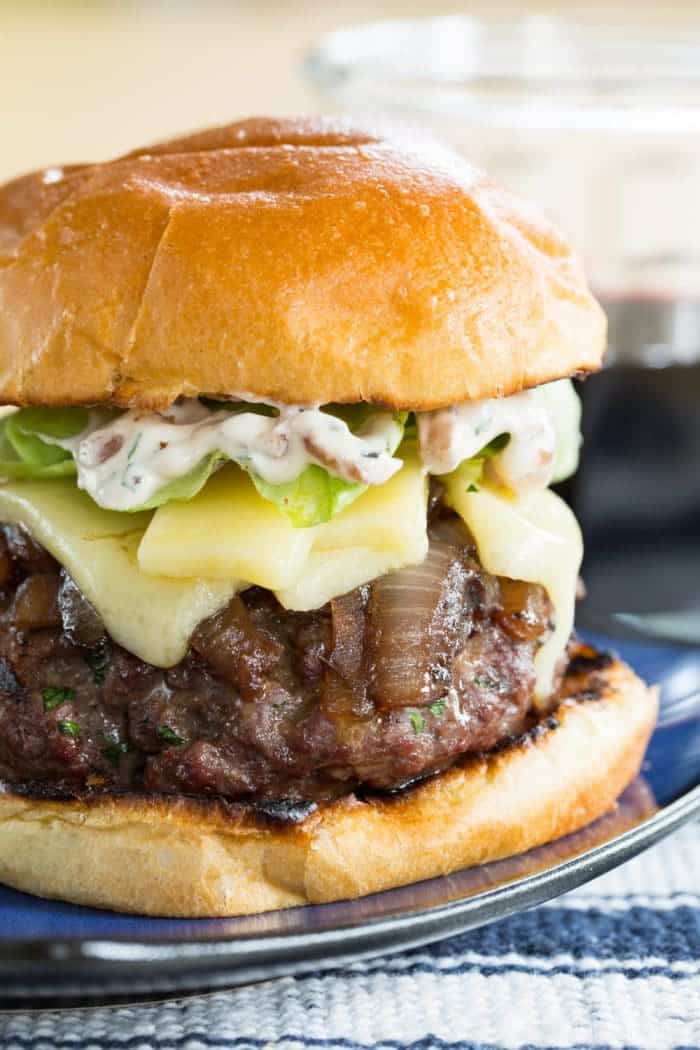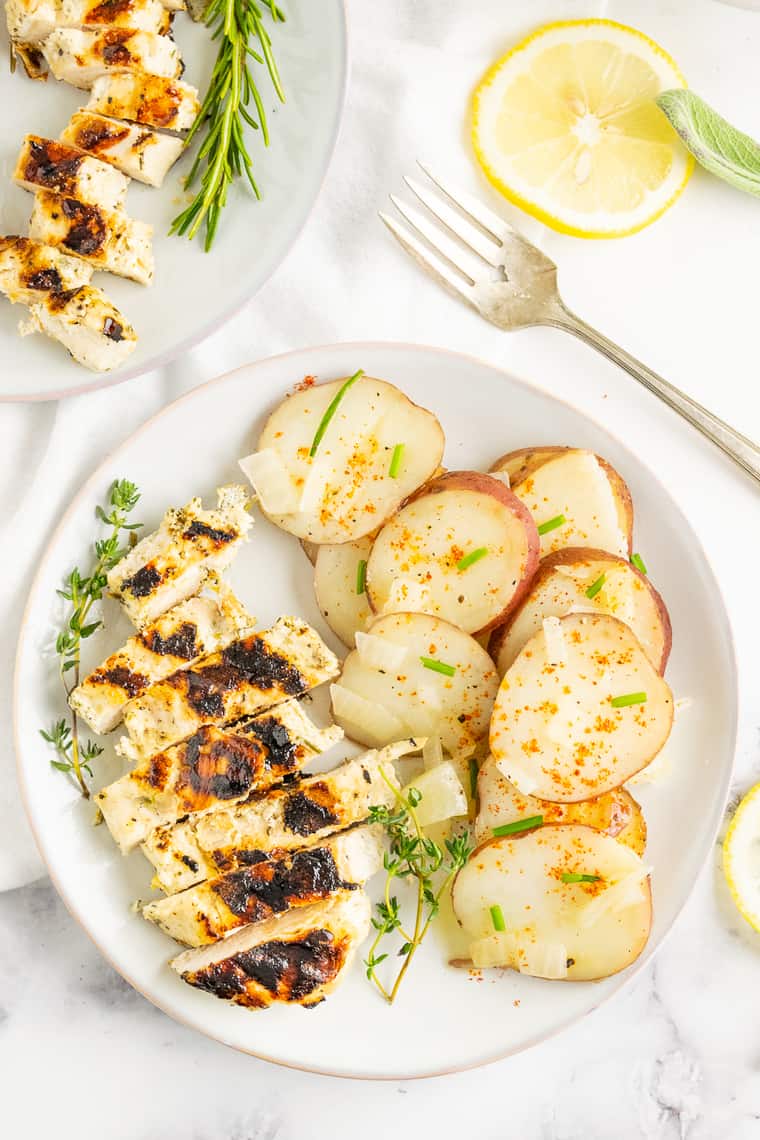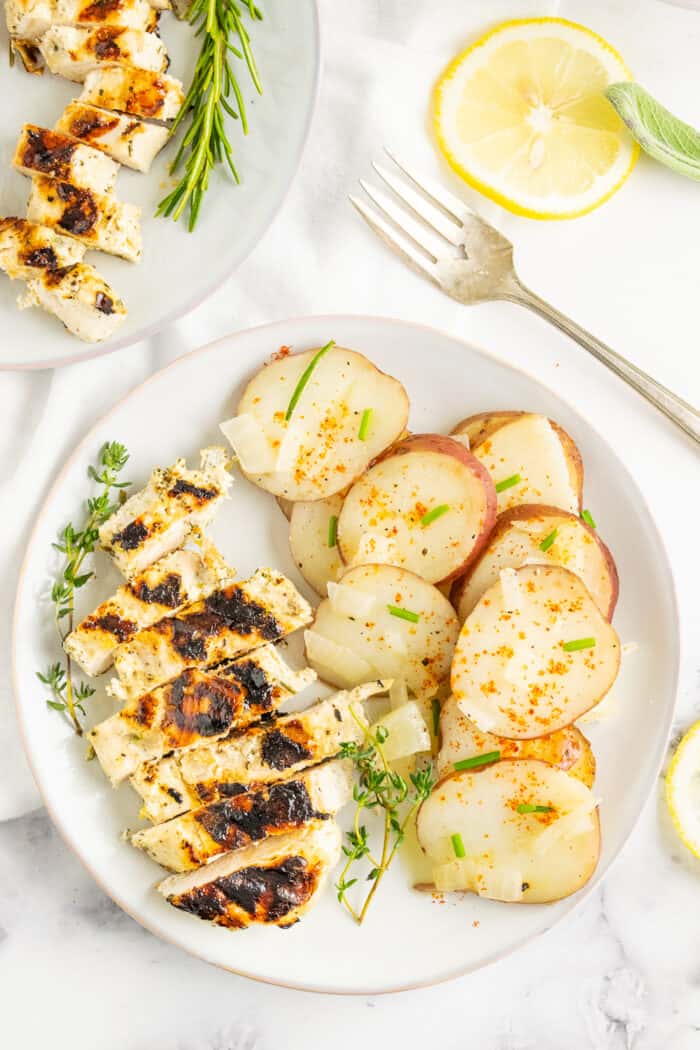 You'll be Top Dog when you load those franks with homemade spicy buffalo ketchup and plenty of smoky bacon and crumbled blue cheese.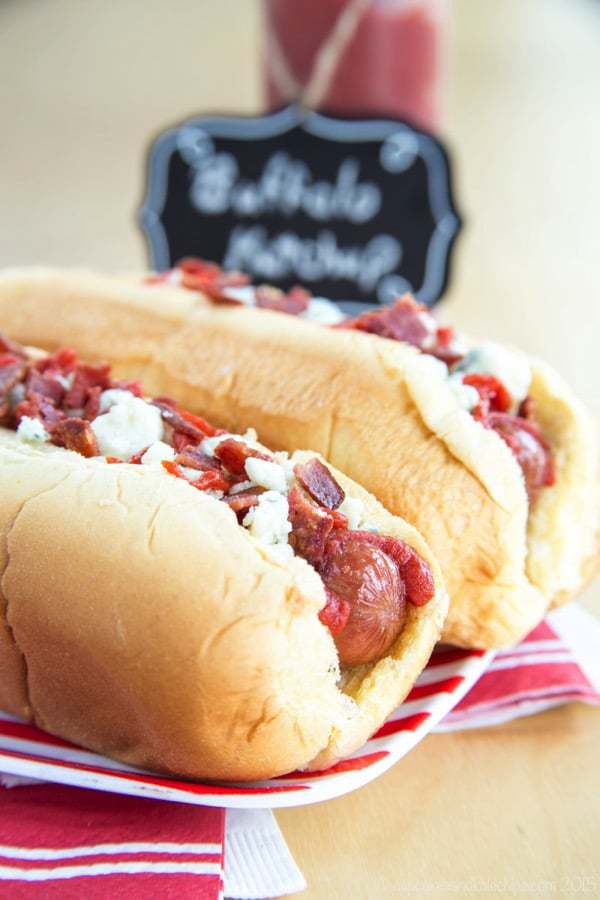 A simple and creative way to dress up some amazing grilled steaks. After cooking your steak on the grill, top it with juicy tomatoes, fresh mozzarella, basil, and balsamic for a summery flavor treat.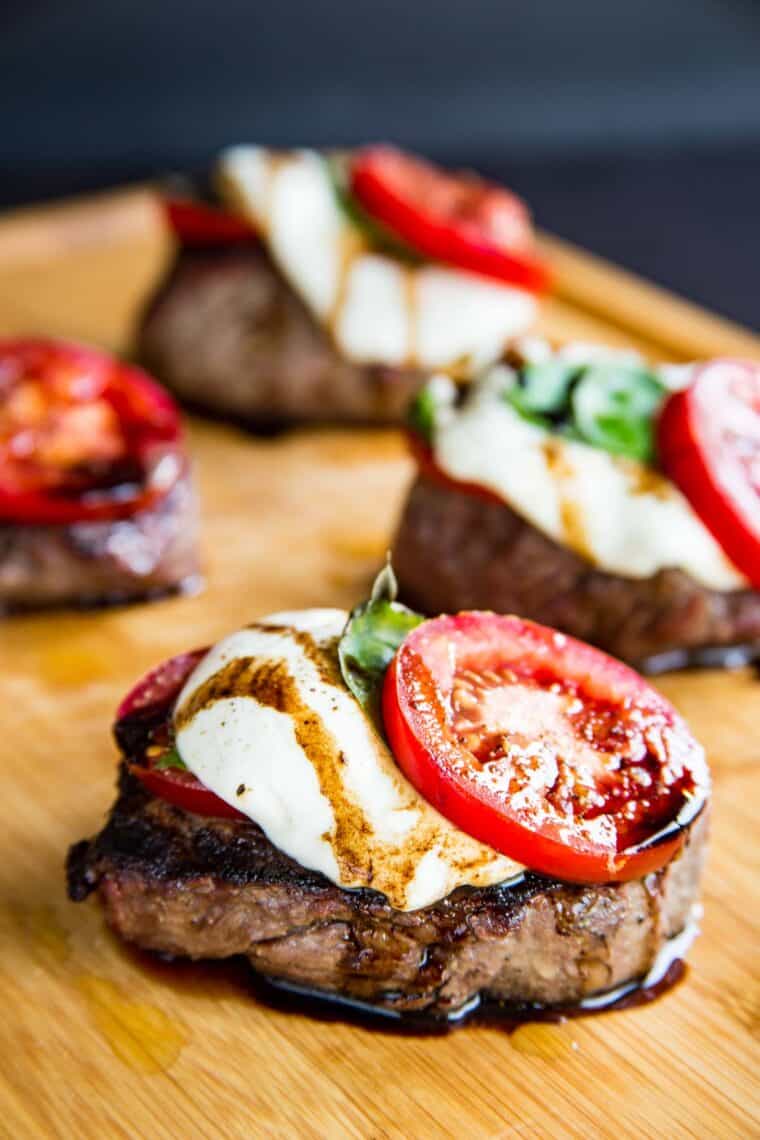 Take a trip to Greece without going any further than your own backyard! Just thread steak and vegetables on skewers and let them soak in an easy marinade for a burst of fresh Mediterranean flavors.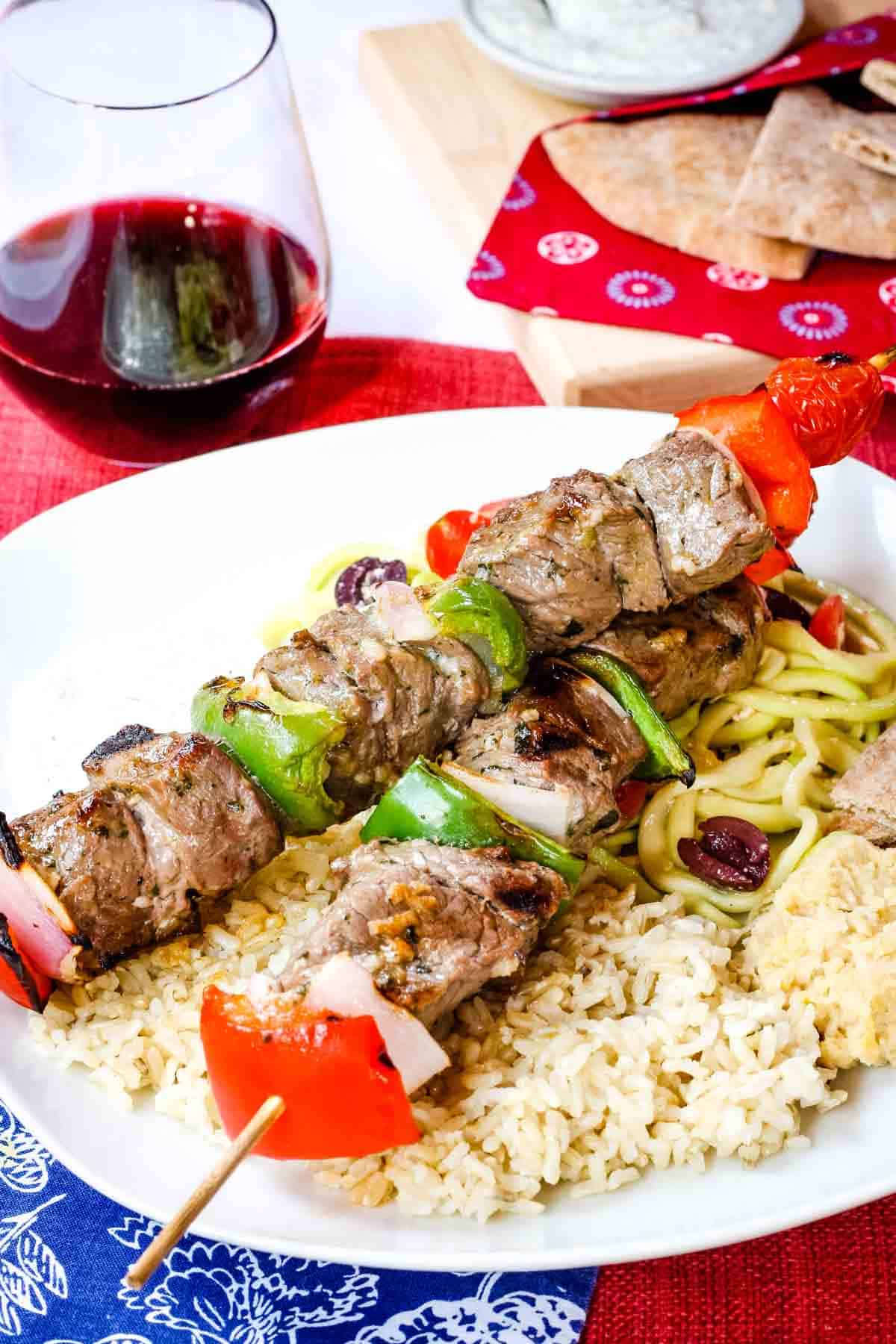 Whatever you are grilling, be sure to slather on this tangy sauce. Smoky and sweet, this rich and thick sauce is so easy to make but next-level deliciousness.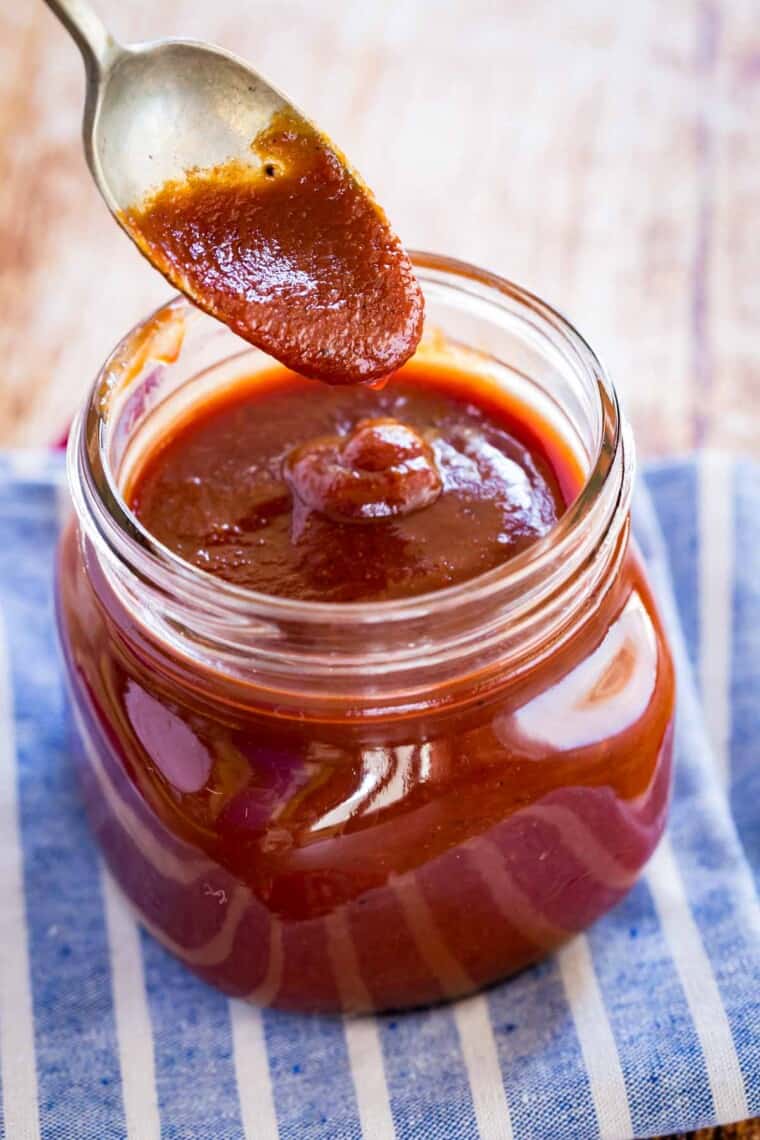 More grilling recipes:
Summer Salads and Sides for Parties
The Fourth of July menu isn't complete without side dishes. From cool salads to hearty beans and potatoes, there is something for everyone.
A no-mayo vegetarian version of the classic picnic side dish. Made with Greek yogurt plus walnuts and cheddar cheese, you get an extra burst of flavors, protein, and crunch.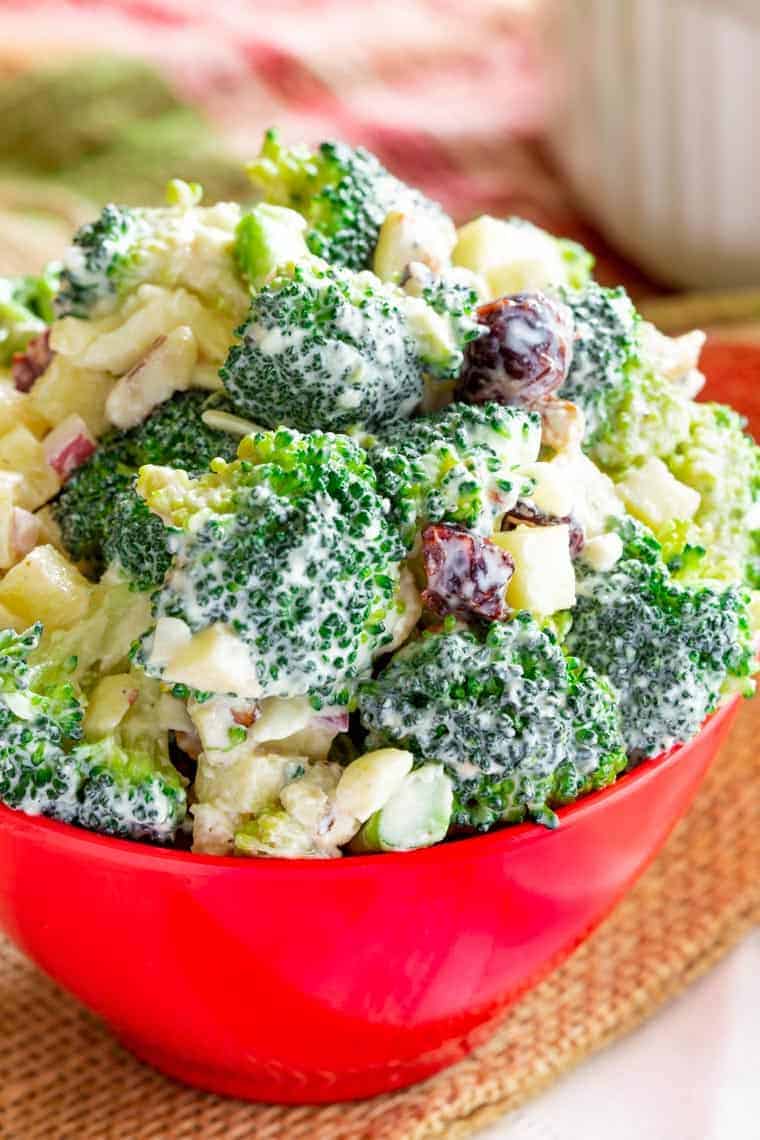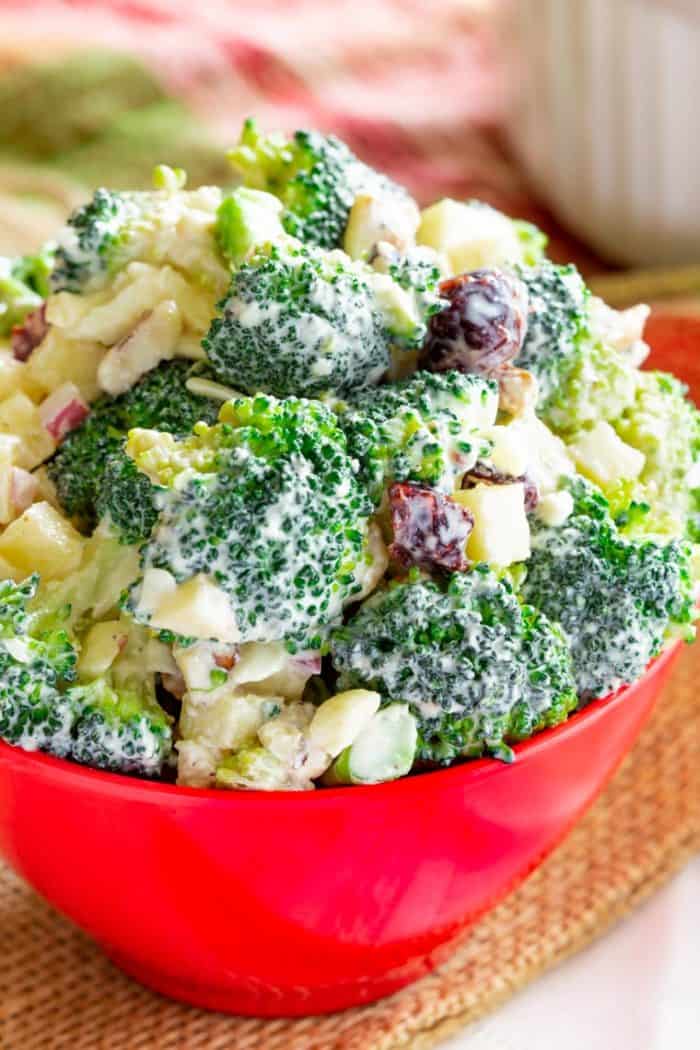 Crisp and creamy with juicy apples, dried cranberries, and a maple Dijon dressing made with Greek yogurt give it a delicious sweet and savory flavor we can all love.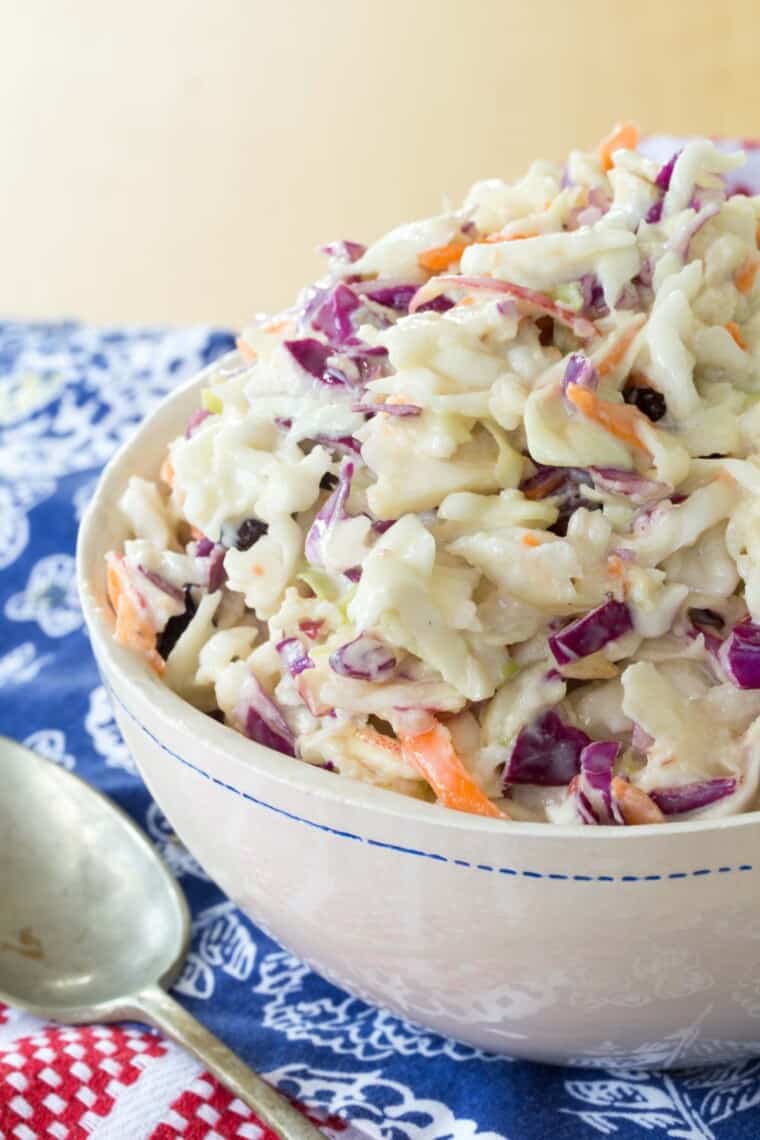 Made with Greek yogurt instead of mayo, and it packs in all of your favorite flavors. You don't even need a Ranch dressing seasoning packet – just simple ingredients from your pantry.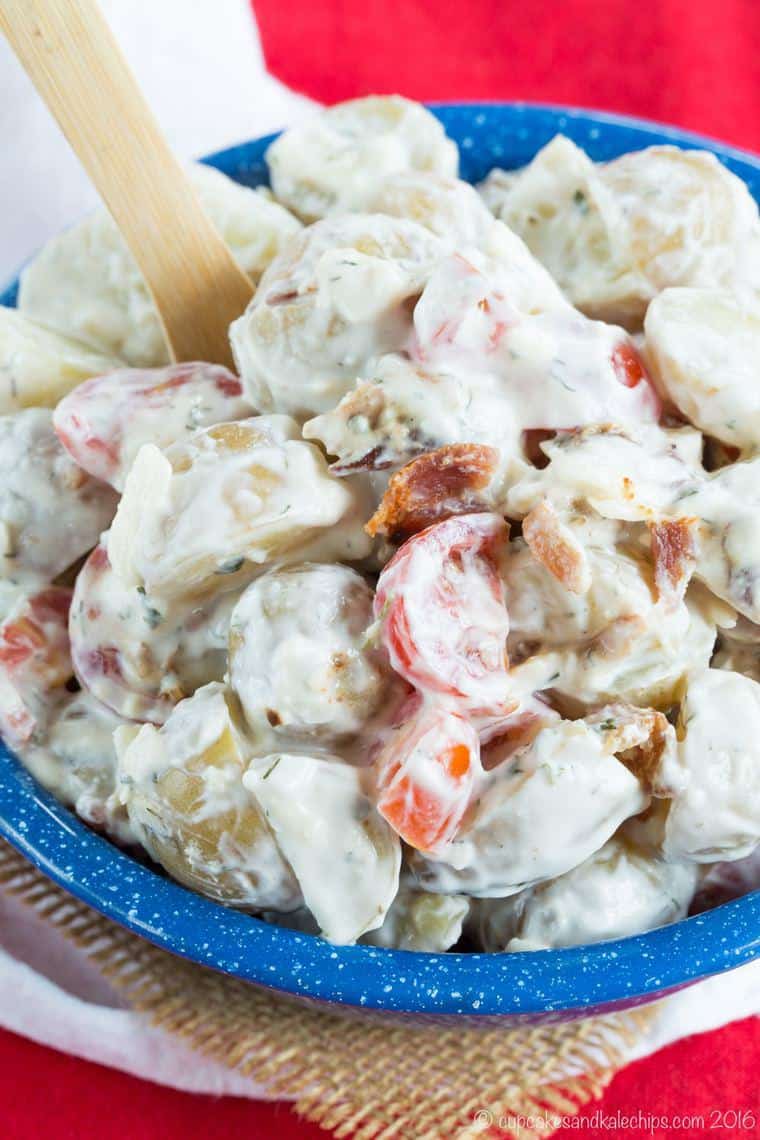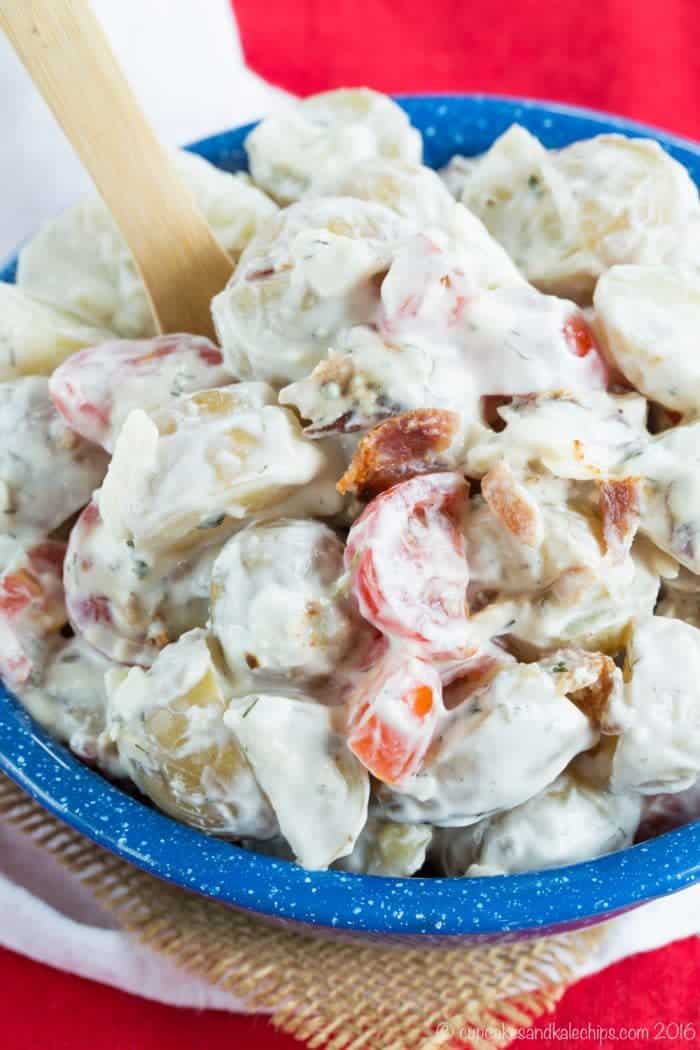 These will have family and friends begging for the recipe. All of the flavors of slow-cooked beans, but none of the effort in a semi-homemade version of the classic barbecue side dish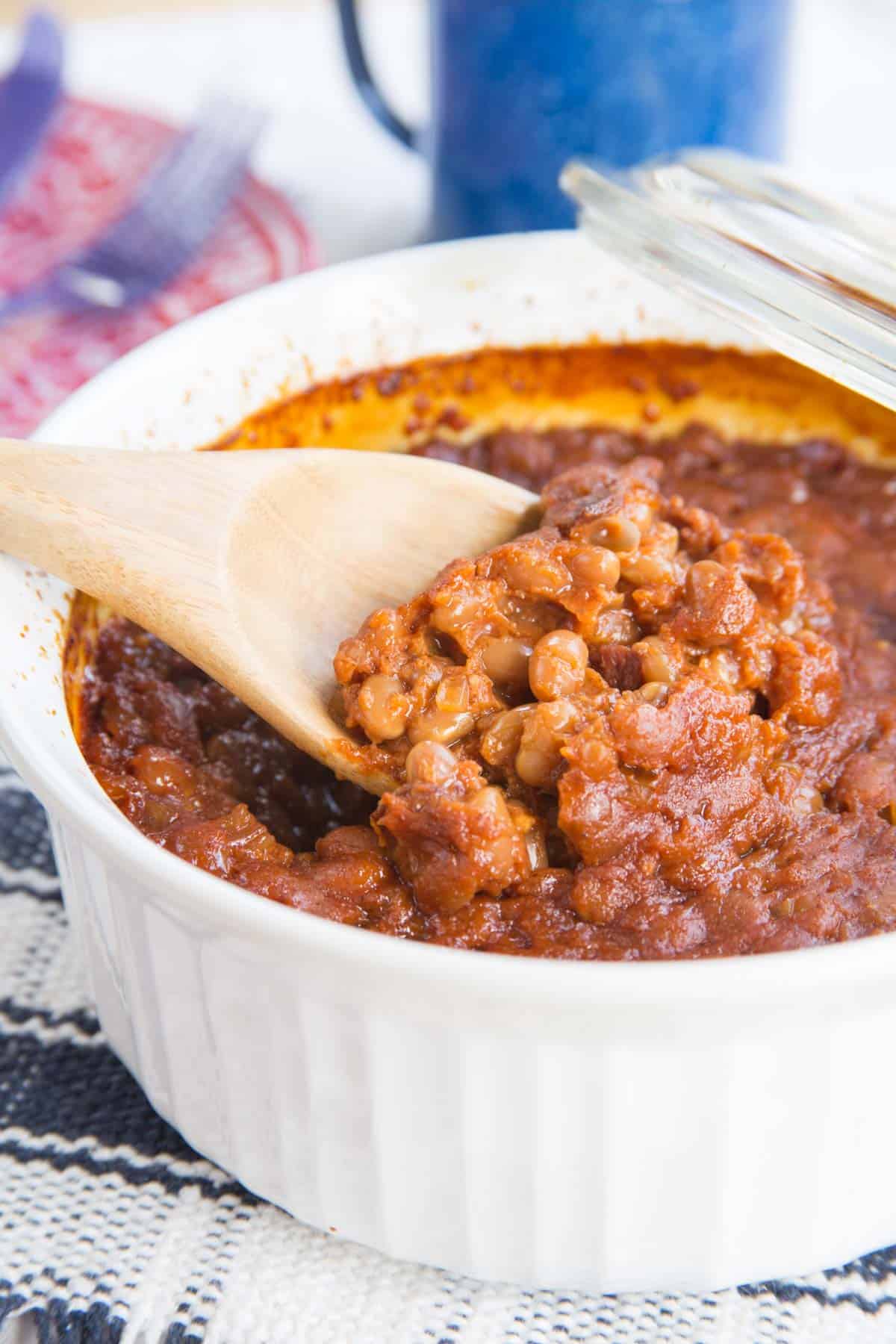 Simple and buttery, this is a side dish recipe you can enjoy any time, anywhere. That's because you can toss those potato foil packs over the fire, but also in the oven or on the grill.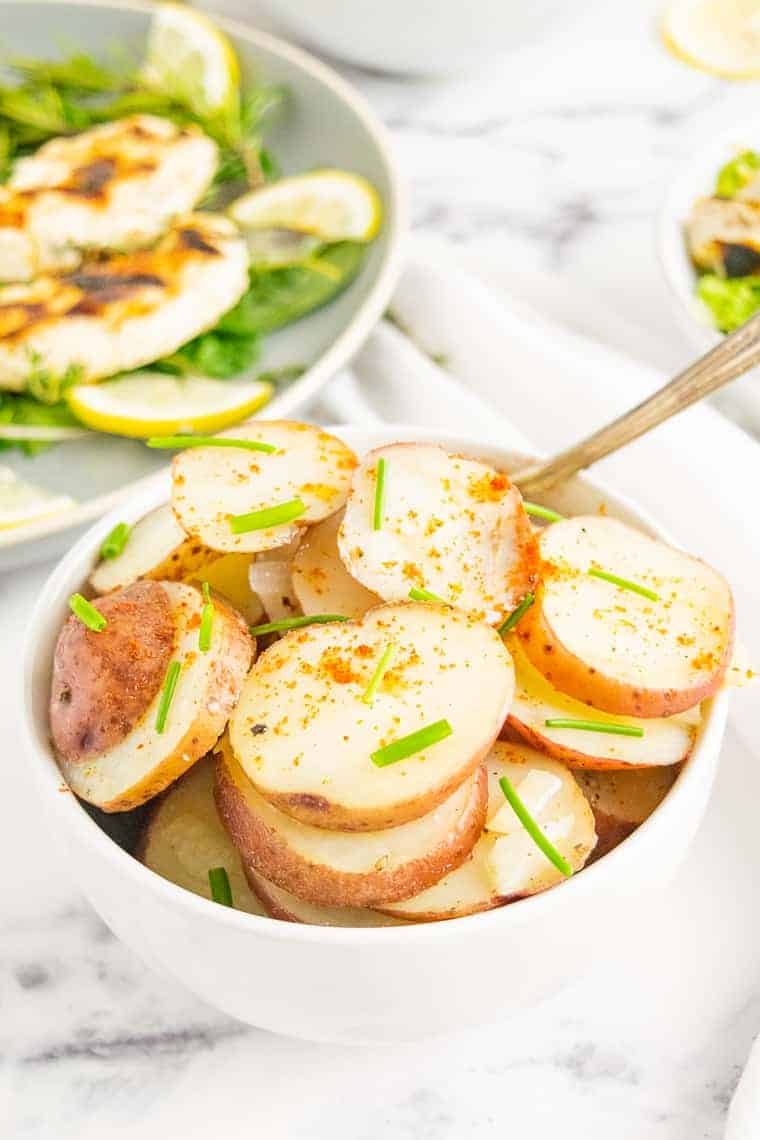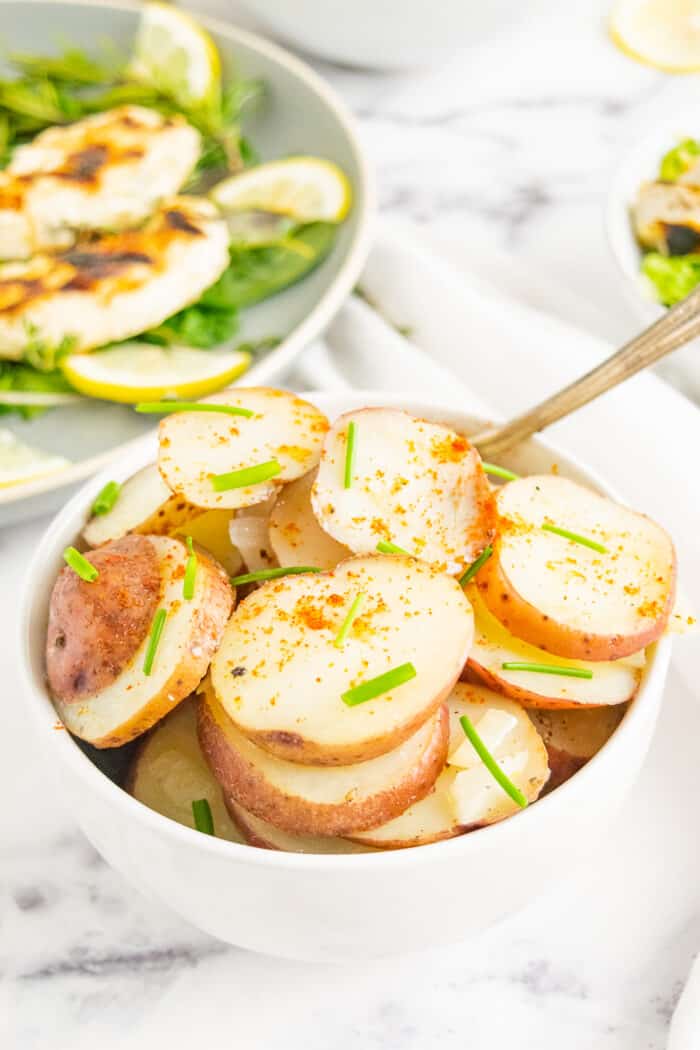 Fresh berries and watermelon stars is perfectly patriotic for the 4th of July and all of the summer holidays. Tossed in a light honey lime dressing, it's sweet, healthy, and delicious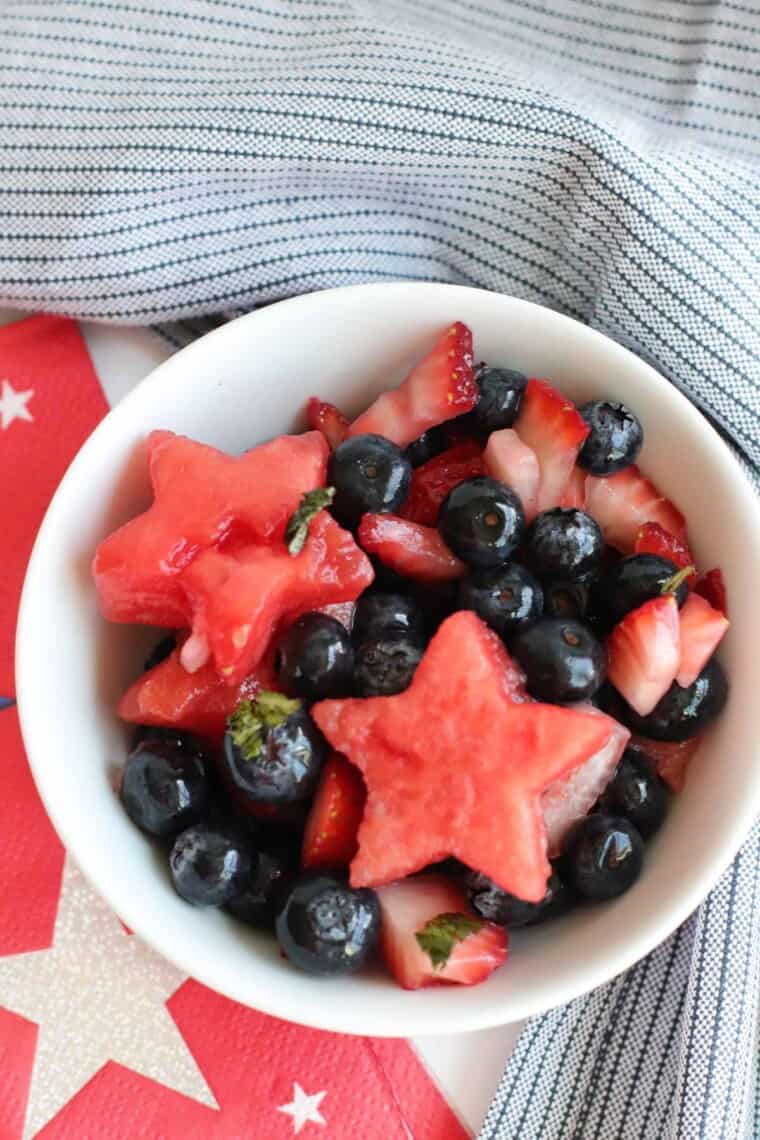 It is light, fresh, and made with just a few basic ingredients that give it a burst of bright Mediterranean flavors. Tomatoes and cucumbers are tossed in a simple dressing of olive oil, lemon juice, and oregano.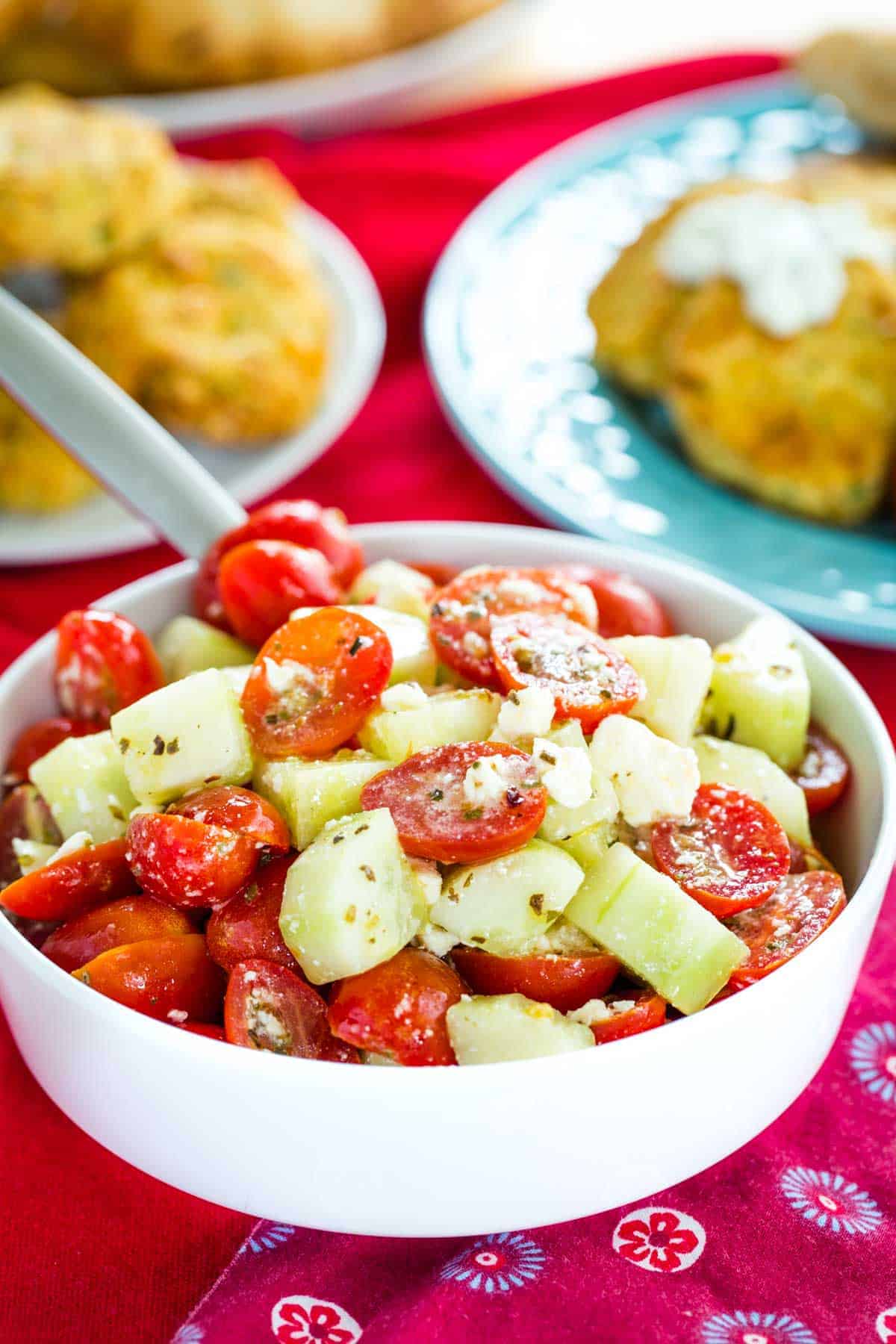 More salads and side dishes:
Patriotic Desserts
Don't let the celebration end without 4th of July recipes for dessert, especially ones in the colors of red, white, and blue. If you don't see something you like here, check out even more 4th of July desserts.
A fun and healthy no-bake dessert for the summer that the kids will love to make and eat. When you use your favorite berries and some festive sprinkles you have an easy red, white, and blue sweet treat for a hot day.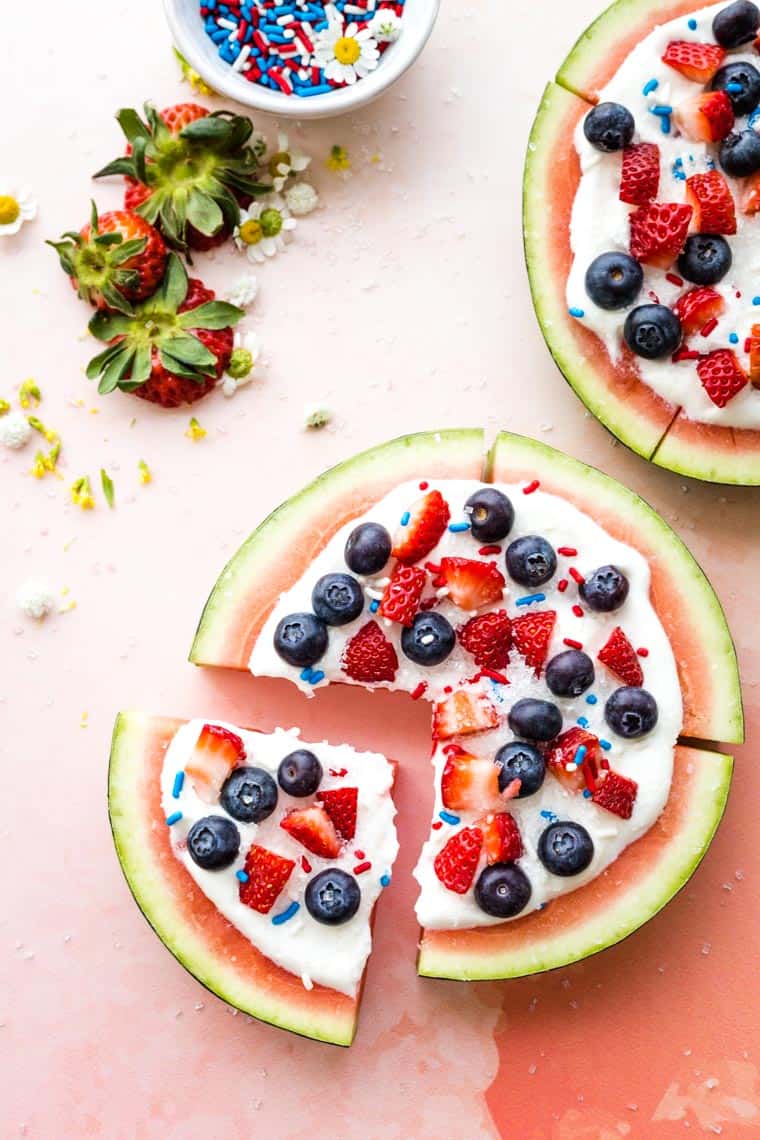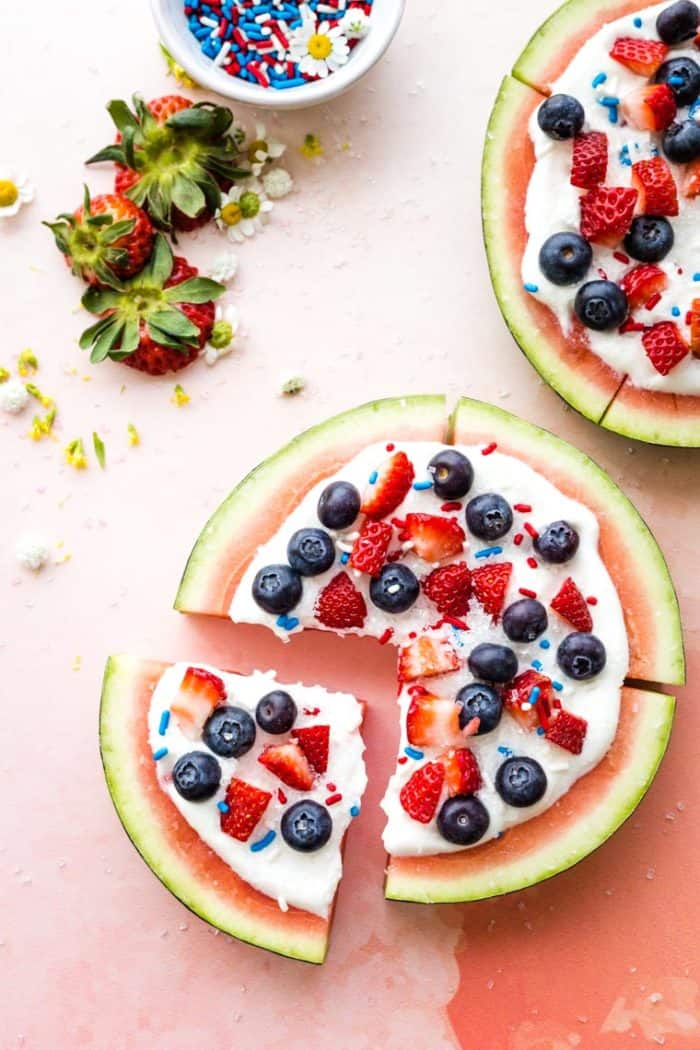 Combine the classic campfire treat with a chocolate cream pie for one amazing dessert recipe. Fill your crust with creamy and rich Hershey's milk chocolate pudding and top it with fluffy toasted marshmallow meringue.
These patriotic treats are made with all the flavors of the classic rocket pop popsicle. With blue raspberry, lemon, and cherry frosting, this red, white, and blue dessert is fun to bring to your summer parties and barbecues.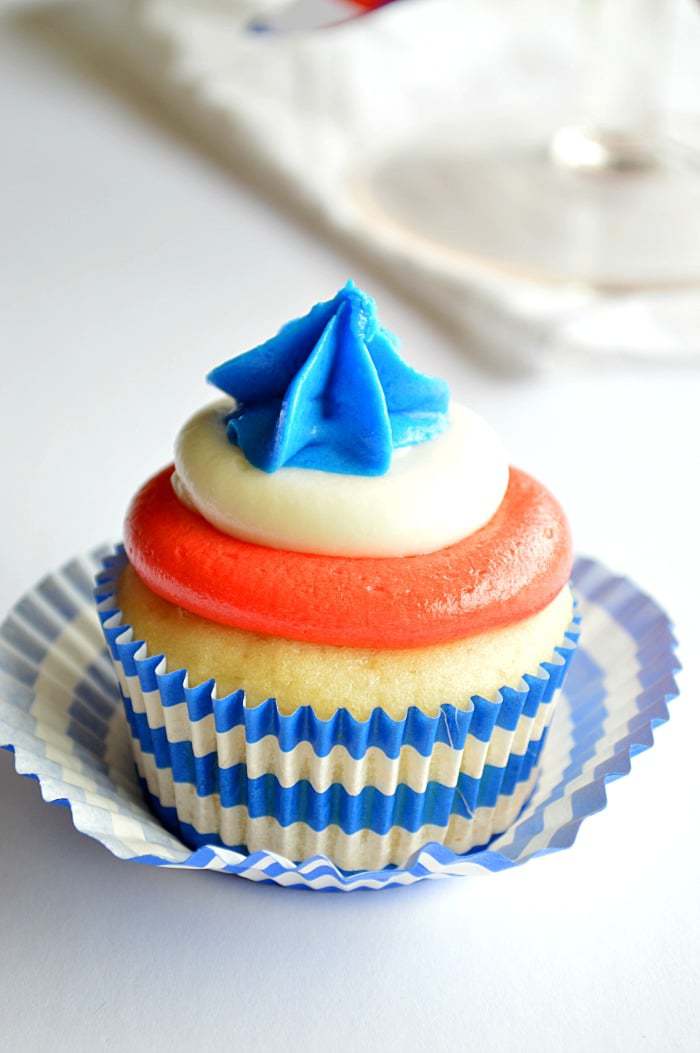 Layers of white cake with fresh strawberry filling and whipped cream come together for a totally heavenly dessert recipe. It doesn't get any more simple and perfect than this classic combination.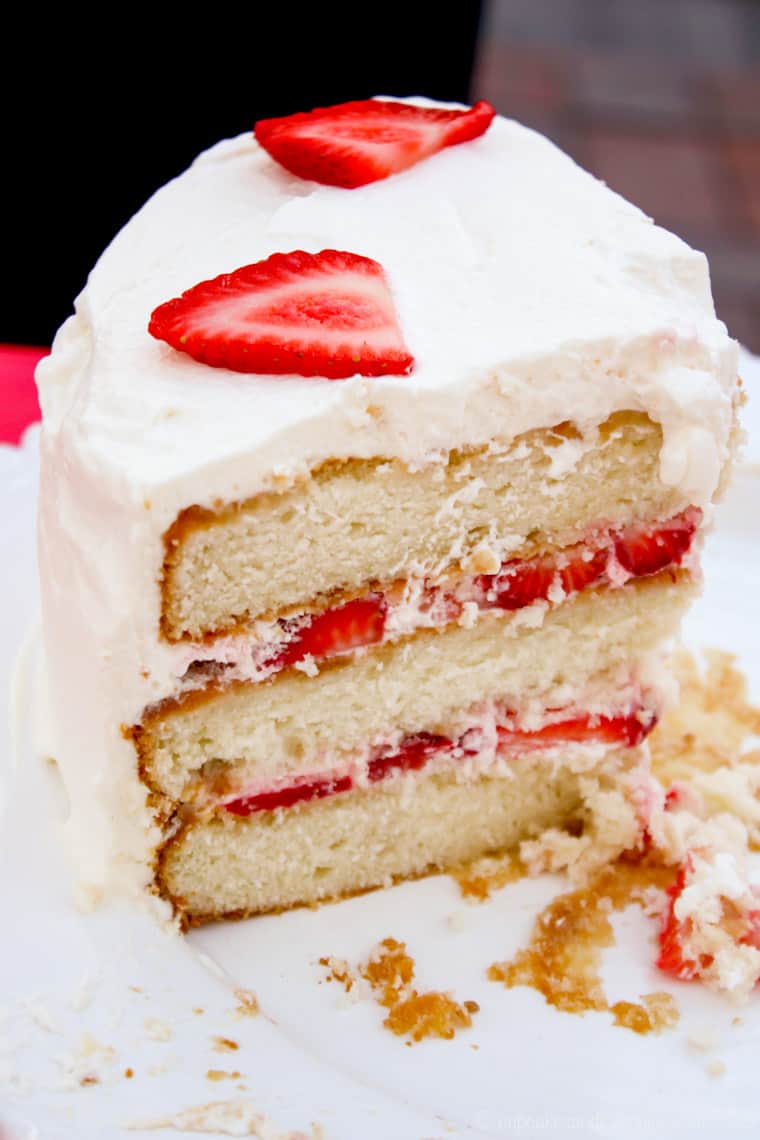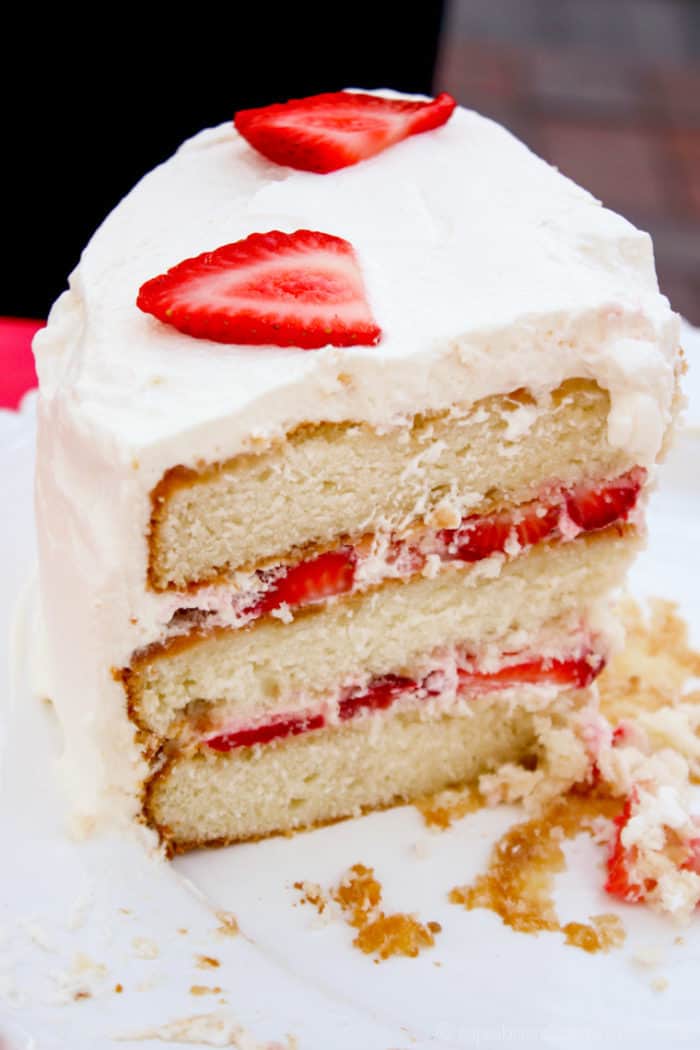 Celebrate summer in style with a classic dessert recipe that combines soft buttermilk sweet biscuits, juicy strawberries, and homemade whipped cream into one ultra-satisfying treat.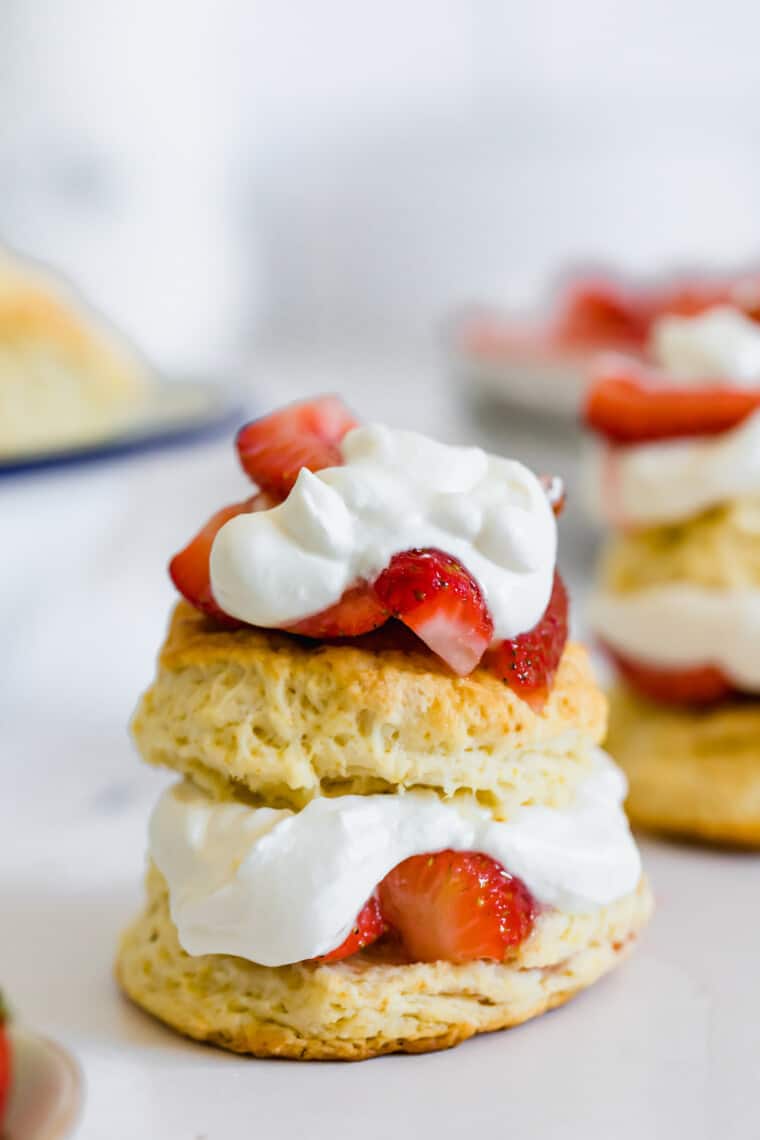 A simple summer dessert recipe that you can make with your favorite store bought or homemade poundcake, even gluten free or low carb. Dunk them in fresh whipped cream, or whipped coconut cream for a vegan option.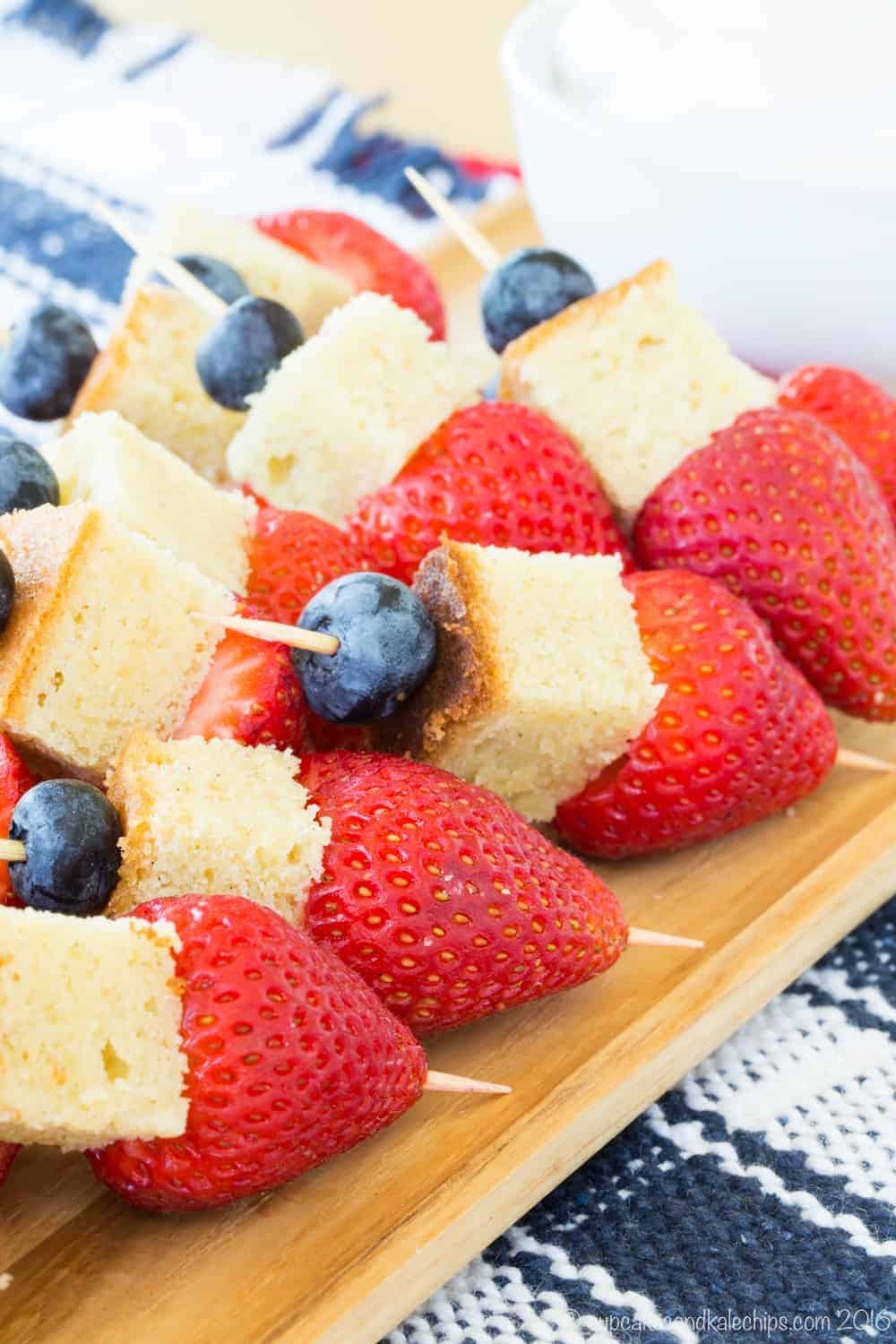 More All-American Desserts:
Then don't forget some Skinny Grapefruit Margaritas or Pina Colada Mules!