This post may contain affiliate links. Read my disclosure policy.
Serve the best Thanksgiving Desserts with your holiday meal this year. Of course, you'll find apple and pumpkin pie, but there are so many more ideas, including cakes, cookies, and more so you can stick with the classics or find something new. Lots of gluten free recipes too!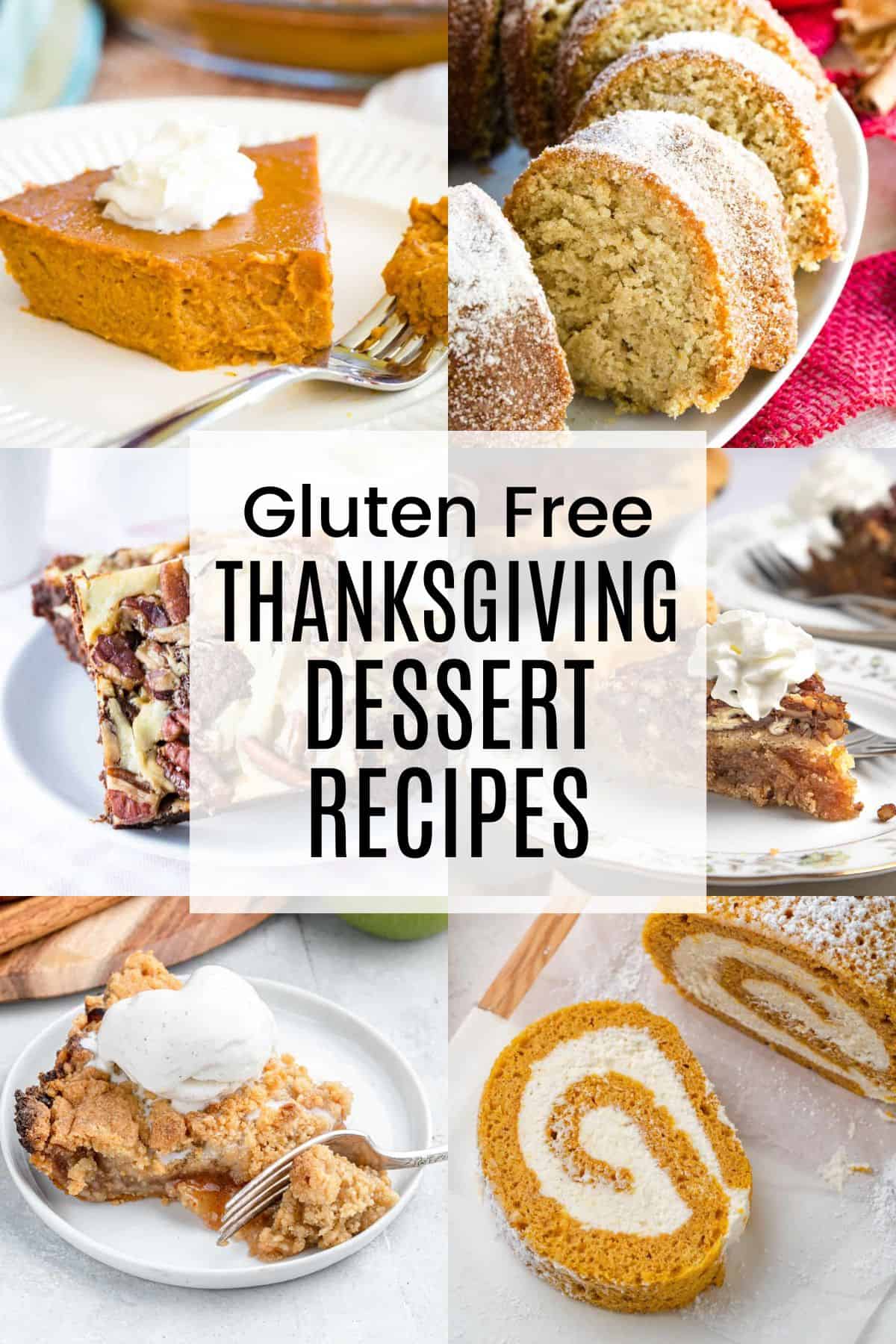 I'll be honest, in my family, we usually stick with plain old apple pie and pumpkin pie for our Thanksgiving dessert. I've never tried sweet potato pie, and I think I've only had pecan pie once or twice.
The "craziest" we go is when my birthday falls on Thanksgiving, and my husband gets me an ice cream cake. I'm not sure why we feel so tied to the same desserts, because there's no reason we can't try some other pumpkin and apple treats, or go completely crazy and go for chocolate or peanut butter instead.
But I'm going to challenge all of us to think outside the pie tin this year and try something new!
Favorite Thanksgiving Dessert Ideas
Find amazing recipes for each of these categories if you keep reading.
Thanksgiving Dessert Recipes
CLICK ON THE TITLES TO GET THE RECIPES
Key to finding gluten free recipes:
GF – gluten free recipe
GFO – recipe with gluten free option
Pies, Tarts, and Crisps
Pumpkin Pie GFO (use gluten free pie crust)
This is the best pumpkin pie for your holiday table. Use your favorite buttery homemade crust or my gluten free recipe. You'll love the custardy sweet pumpkin filling, along with the perfect amount of warm spice.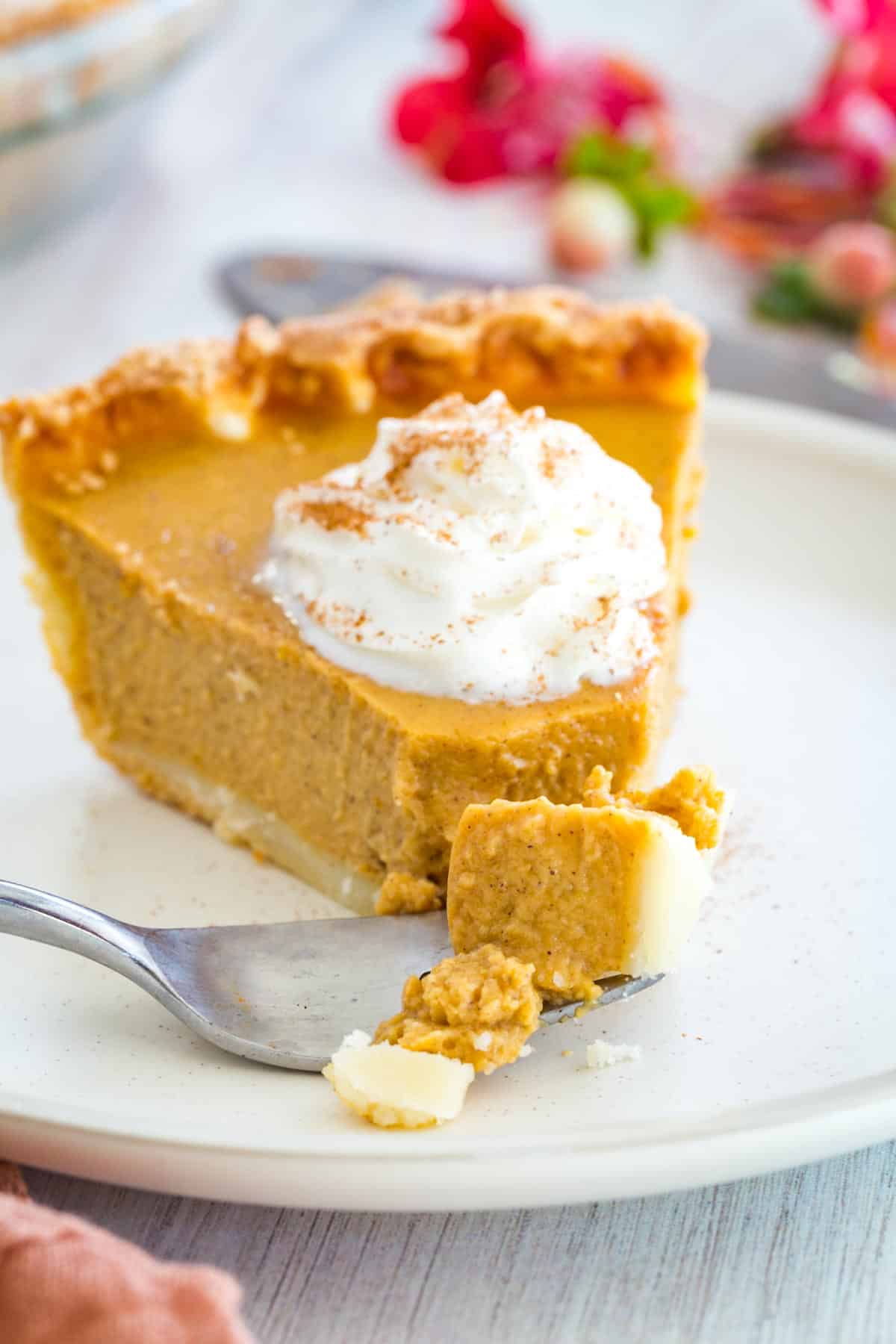 Even if you love a traditional two-crust pie, there's a different kind of apple pie that's every bit as decadent, delicious, and centerpiece-worthy for holiday celebrations. Dutch apple pie has the same pie crust on the bottom but has a twist on top. Instead of a second crust, this version of apple pie has a crumbly, crispy streusel topping.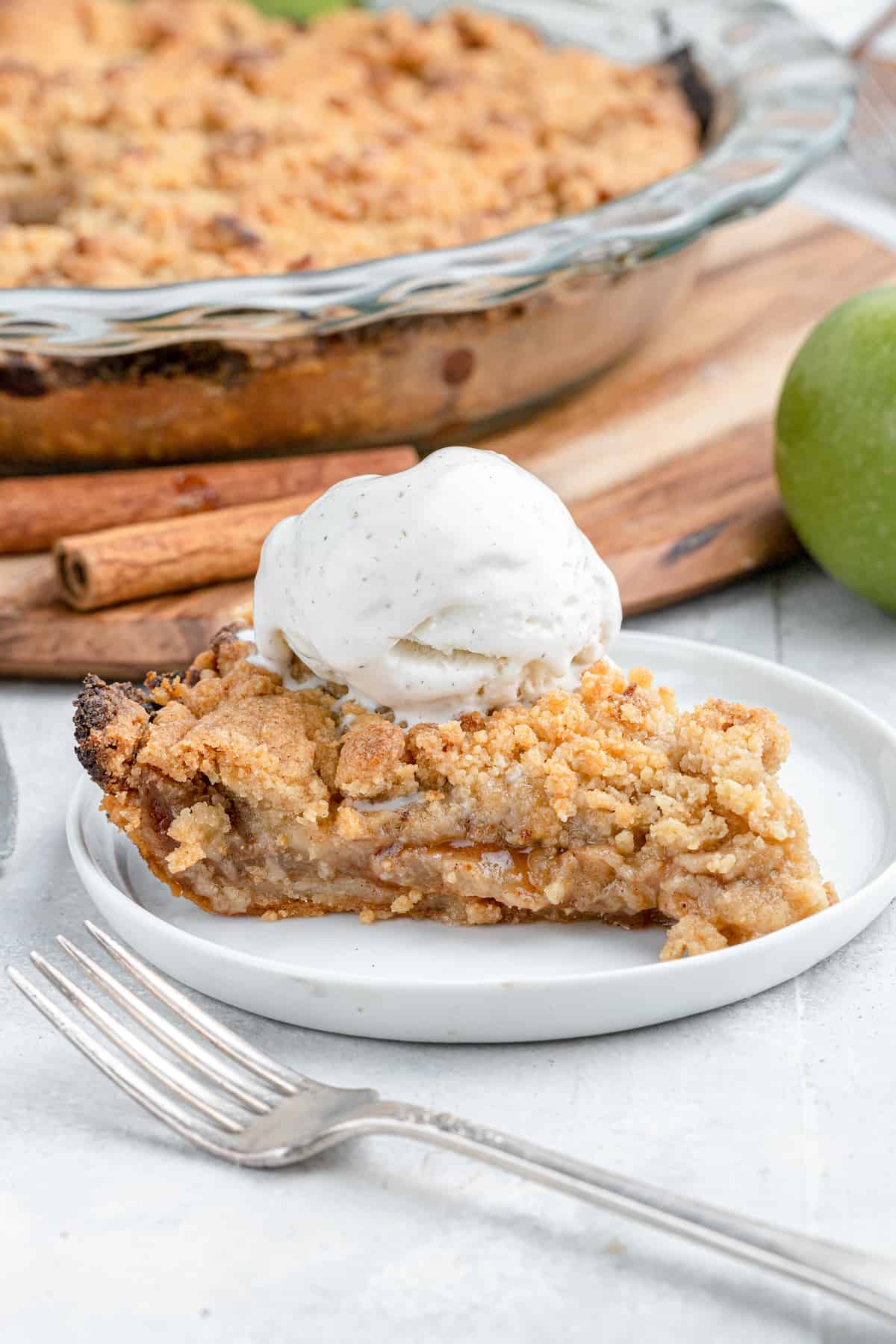 This year for Thanksgiving, combine the classic campfire treat with a chocolate cream pie for one amazing dessert recipe. Use your favorite homemade graham cracker crust or the almond meal crust in this recipe. Fill it with creamy and rich Hershey's milk chocolate pudding and top with fluffy toasted marshmallow meringue
One of my favorite Thanksgiving desserts of all time, this is the easy way to enjoy the best part of the pie. A simple but delicious pumpkin pie filling is poured into ramekins without a crust and baked into individual custards.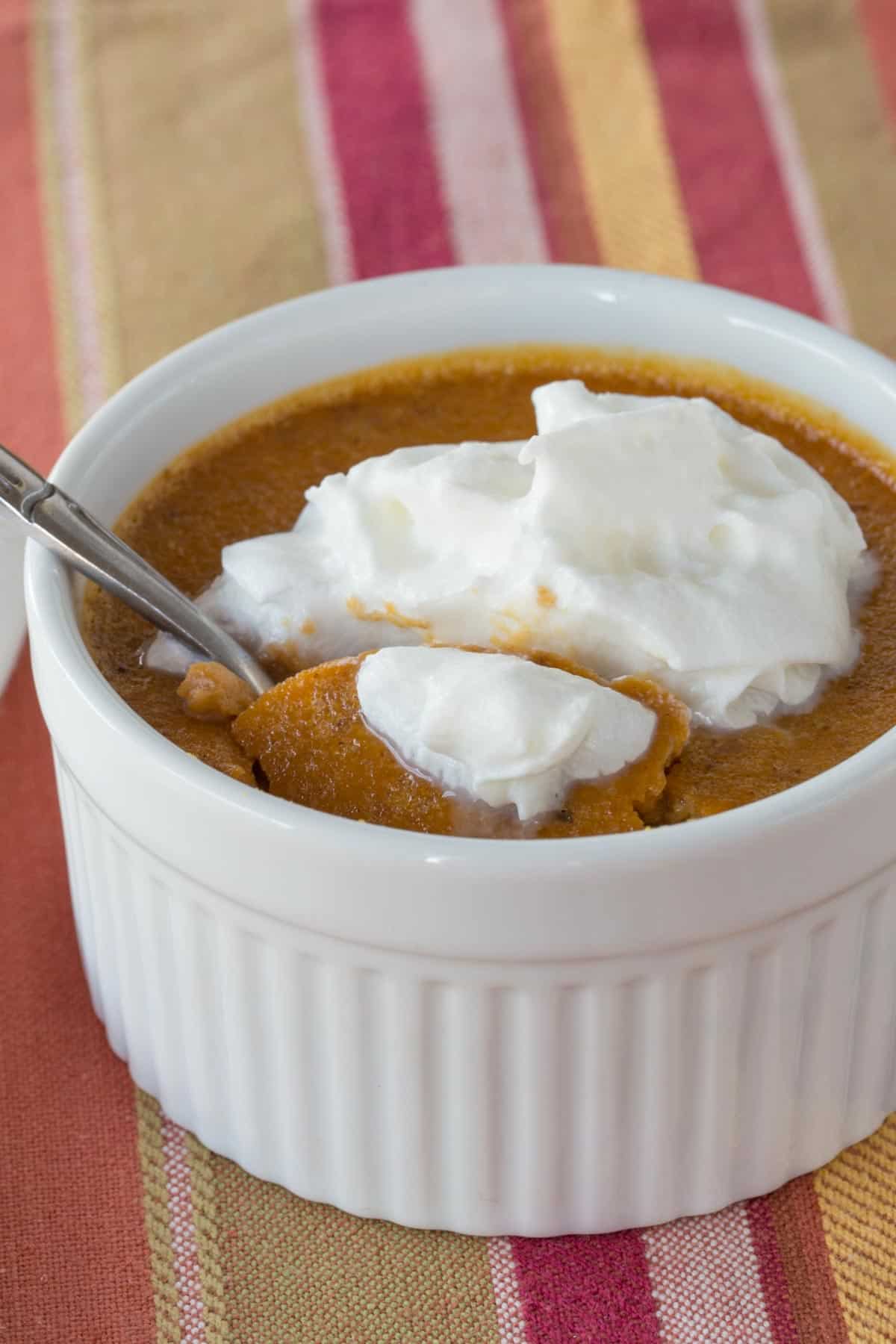 These have a light and fluffy cheesecake mousse filled with sweet, tender apples and the perfect hint of cinnamon. This creamy deliciousness is all on top of a buttery almond meal crust that tastes like shortbread, making this a super easy gluten-free dessert recipe, with an easy, buttery almond crust.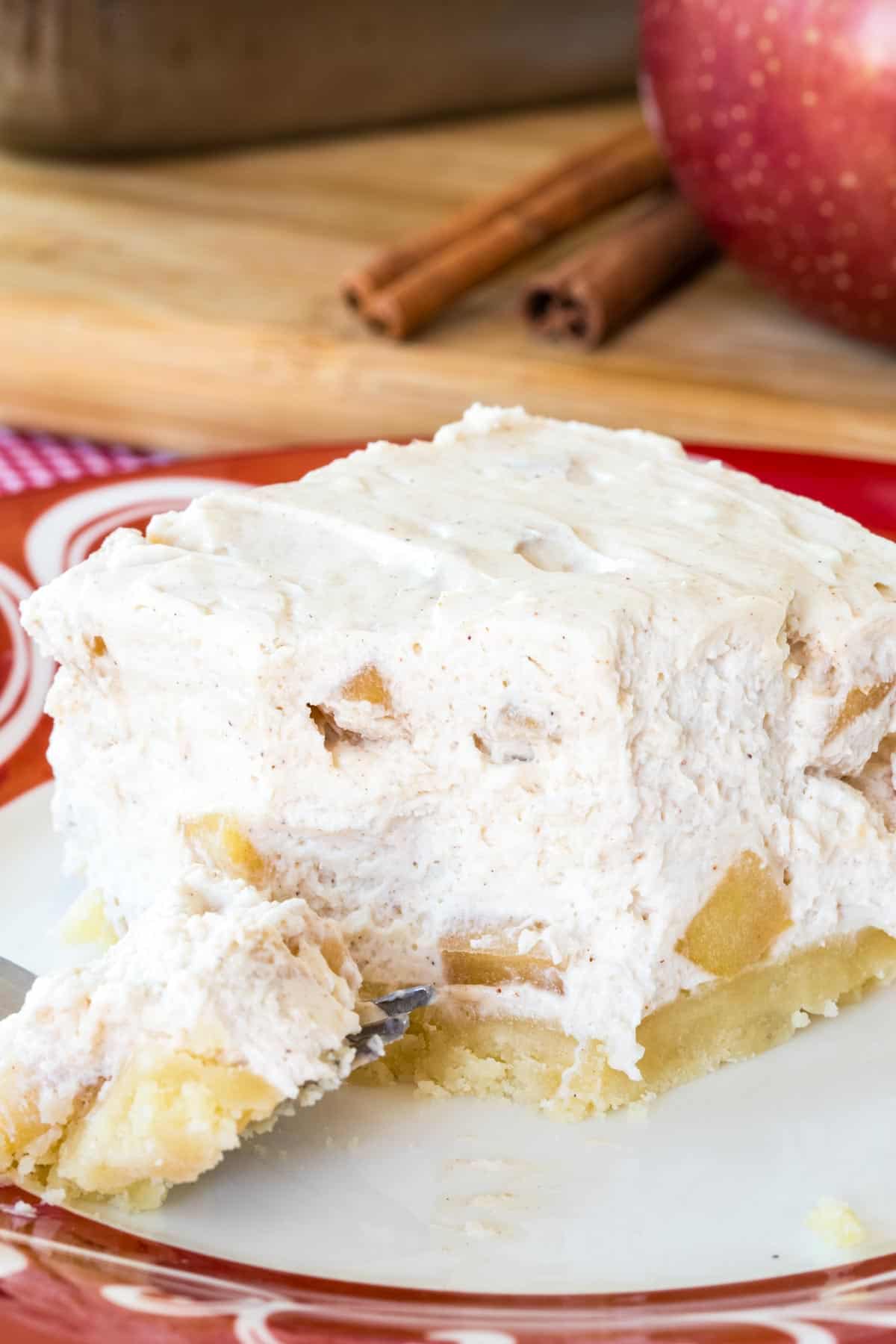 This Southern classic has a soft and creamy texture, somewhat like a pecan pie or buttermilk pie. If you like smooth, indulgent, super chocolatey desserts, this is definitely a recipe you should try. You'll love how the top of the pie has a more cake-like texture, while the inside is soft and fudgy. And this one is made with a gluten free crust and filling.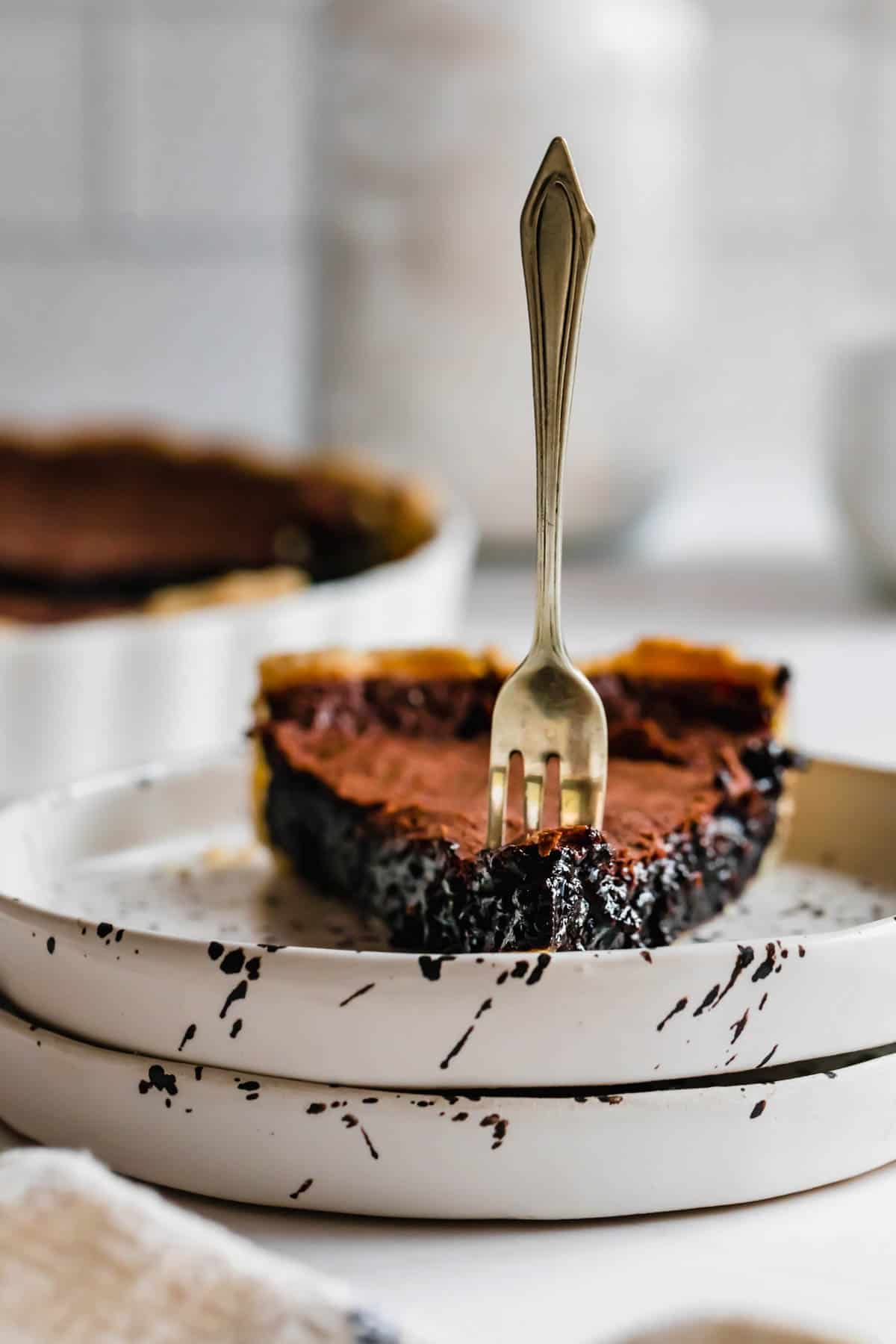 Sweet and creamy but still light, this delicious tart has all your favorite flavors of autumn. Especially since that rich cheesecake filling is on top of a nutty maple pecan crust.
Topped with a buttery, crumbly oat topping, this is the perfect dessert for Thanksgiving. This easy recipe comes together in minutes, so it is much less work than a pie. And it is even better when you serve it with a scoop of vanilla ice cream.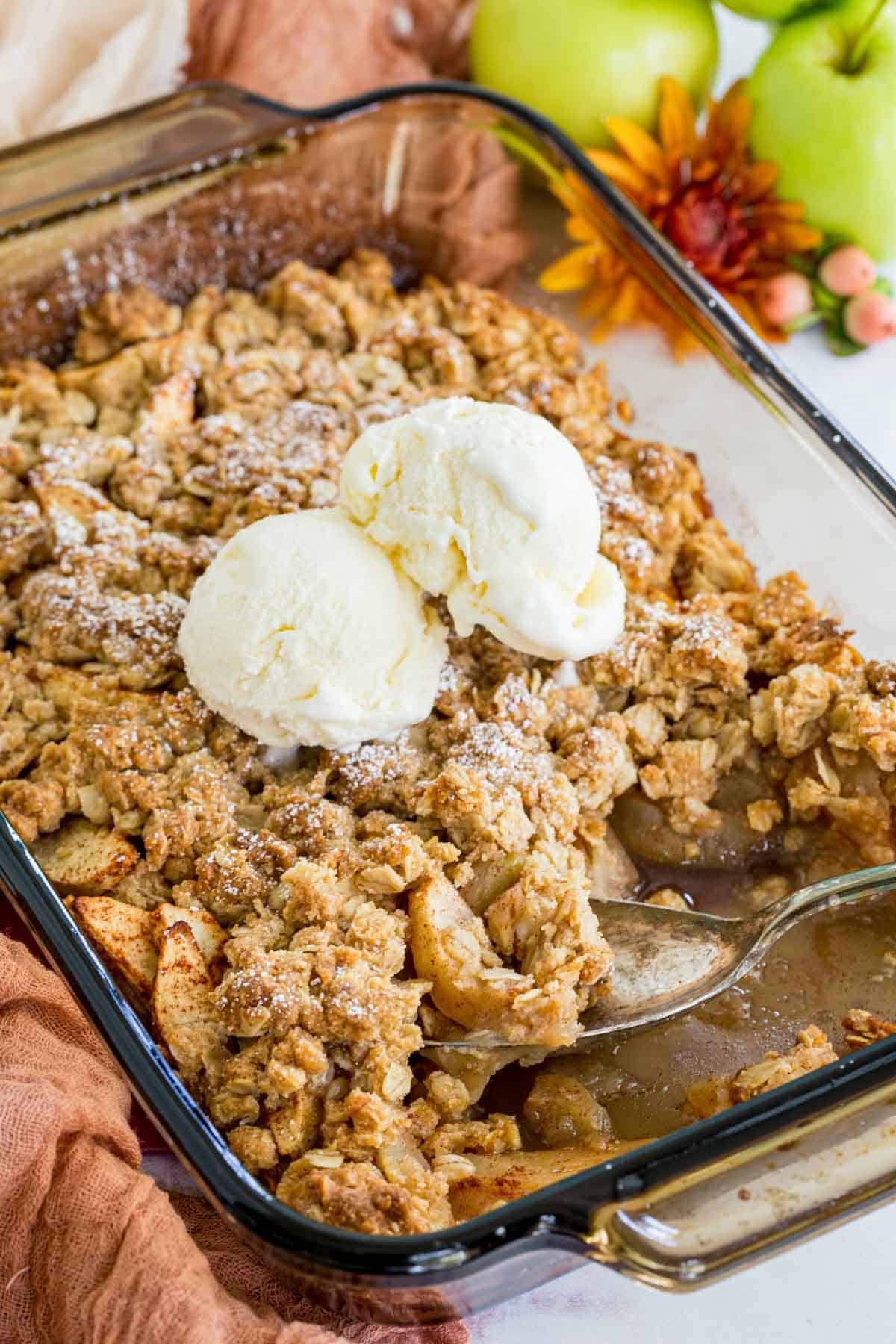 This easy recipe has only 7 ingredients! A creamy gluten free pumpkin pie that's the perfect way to enjoy fall flavors and indulge in a classic Thanksgiving dessert. Technically it might be called a pumpkin custard, but whatever you call it, I'm sure you will love it.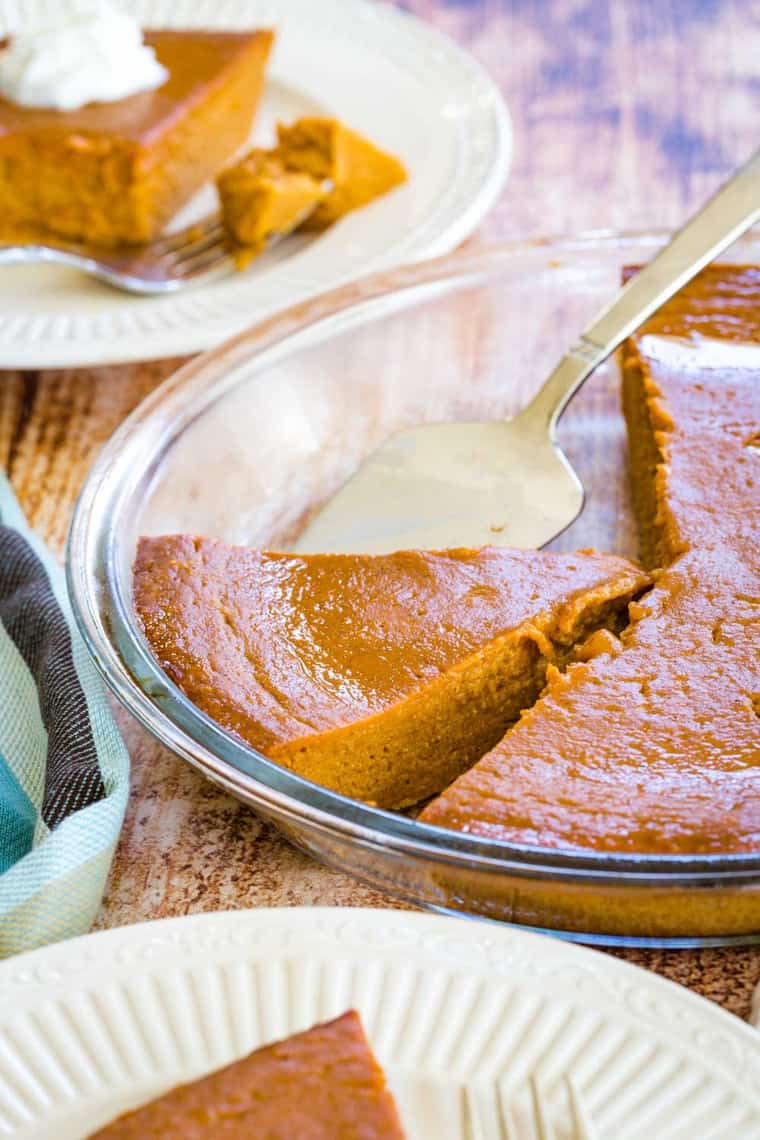 A fun and festive easy dessert recipe perfect for the holiday season. You only need four ingredients to make these super simple and simply dreamy mini cream pies with a crescent roll crust and one of everyone's favorite flavors.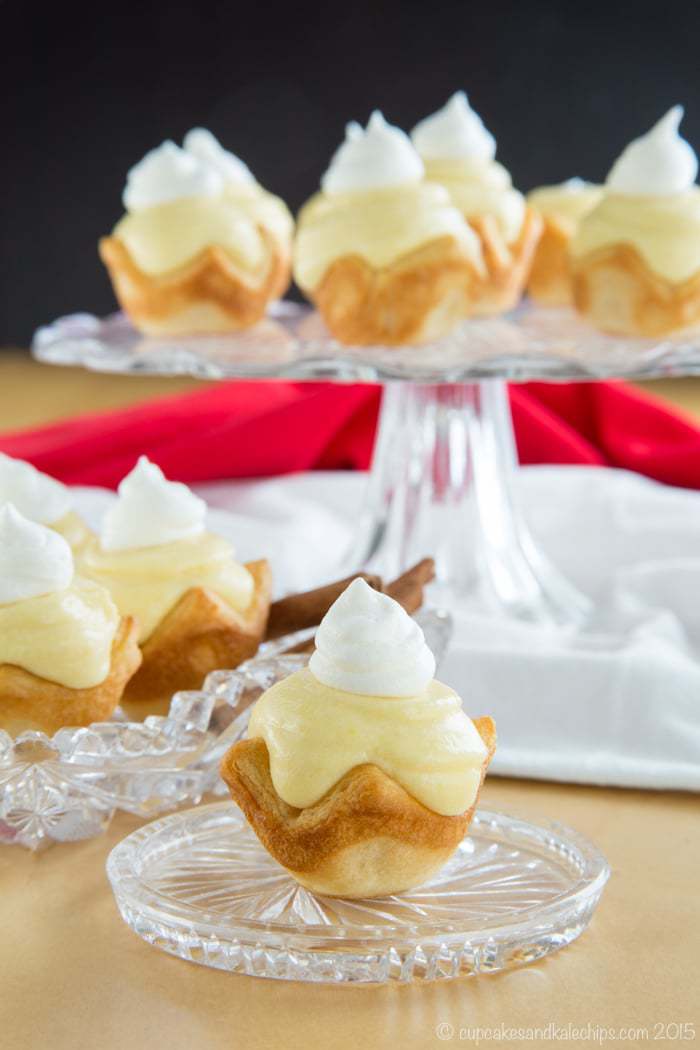 With a luscious layer of dulce de leche on the bottom will be the new dessert recipe nobody can resist. It's a delicious upgrade on the classic with sliced bananas, homemade vanilla pudding, and fresh whipped cream inside a gluten free chocolate crust made from Cocoa Pebbles.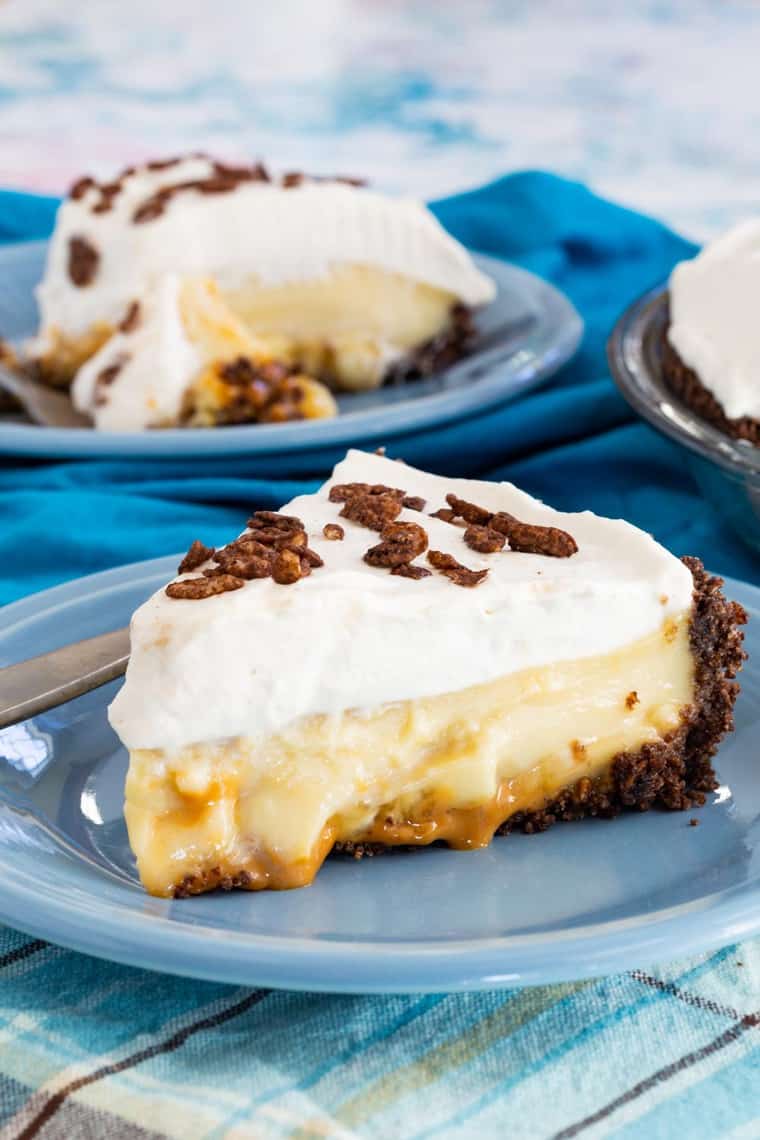 More recipes for pies and crisps:
Cakes
This sweet and tender cake is flavored with apple cider and coated in cinnamon sugar. So not only does it taste like an apple cider donut, it looks like one too.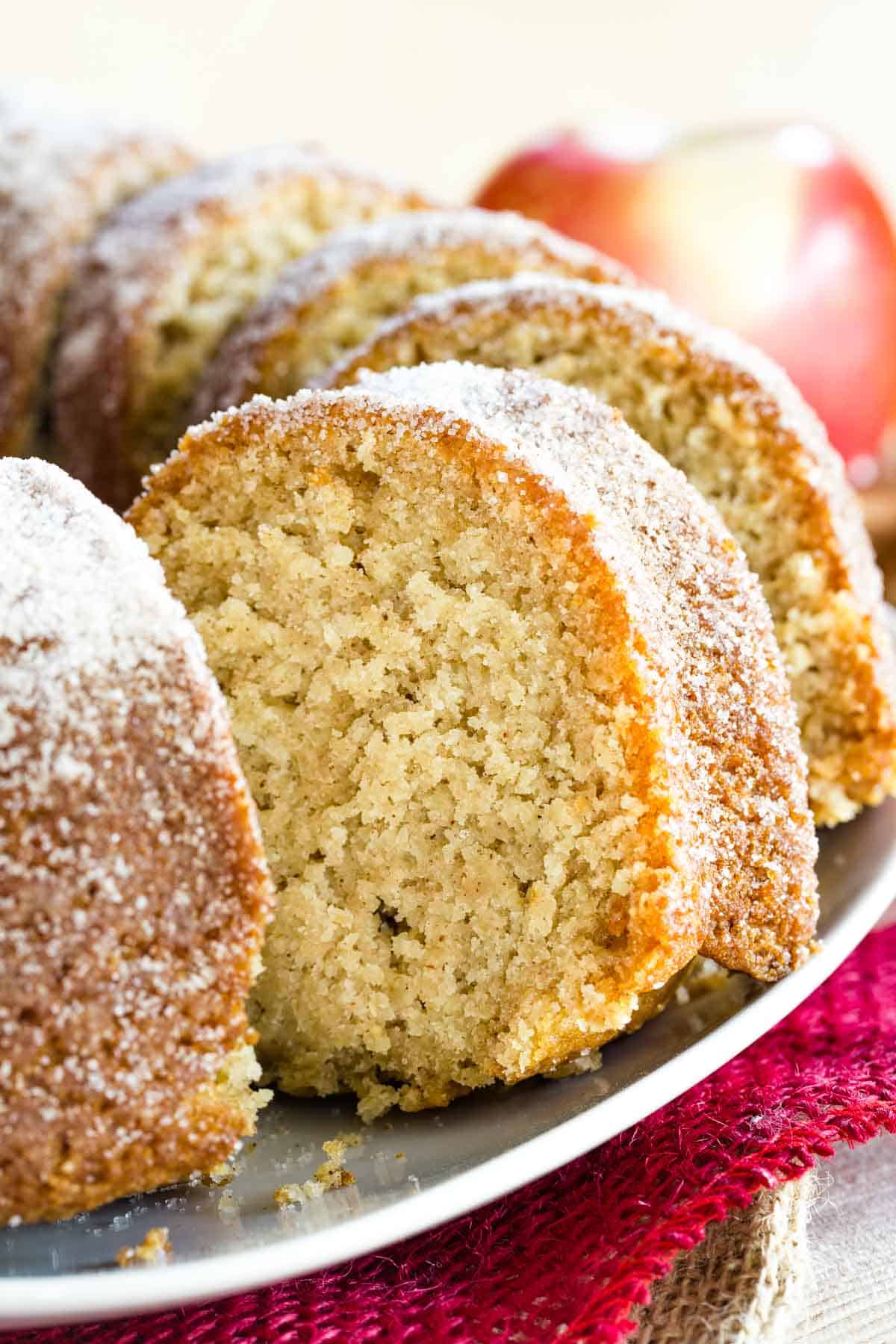 This epic chocolaty gluten free dessert is the ultimate pairing of fall's favorite flavor and total chocolate indulgence. The slightly sweet and earthy flavor of pumpkin with by the warm spices of autumn just seems to go so perfectly with chocolate. And when loaded with chocolate chips for extra little bursts of chocolate, this is a bundt cake recipe worthy of a special celebration. 
Moist and tender with a nutty crumb topping. Bursting with festive flavors of tart fresh cranberries, orange, and cinnamon. And it is easy to make in your food processor.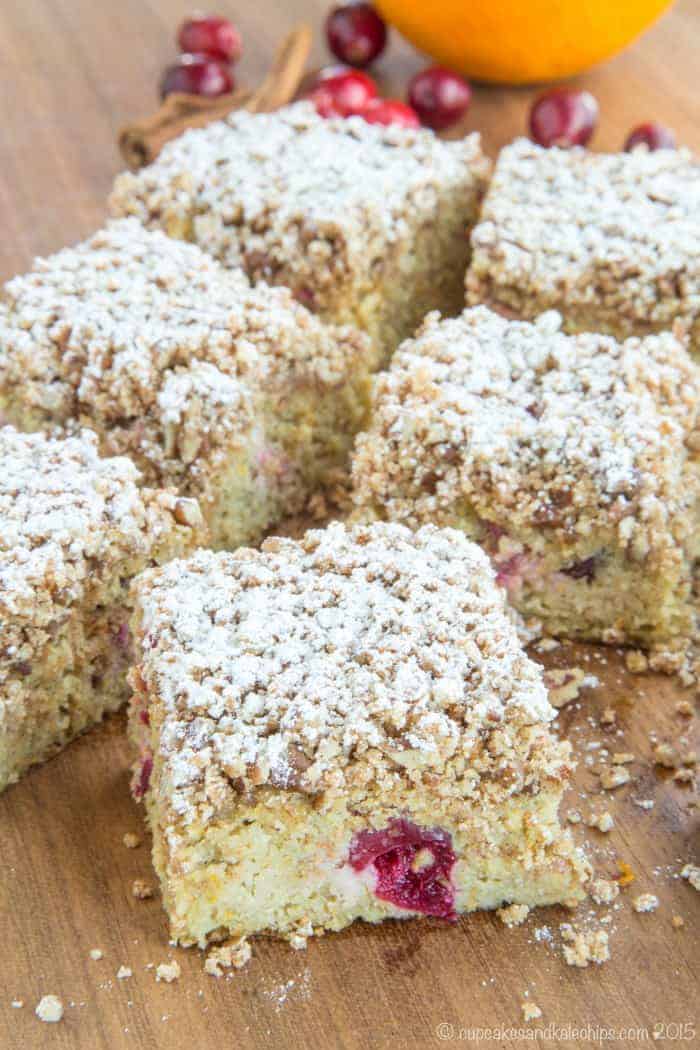 The ultimate layer cake for serious coconut lovers. Inspired by Bobby Flay's recipe, moist white cake is soaked with a coconut simple syrup, layered with creamy coconut filling, and covered with coconut buttercream frosting and toasted coconut.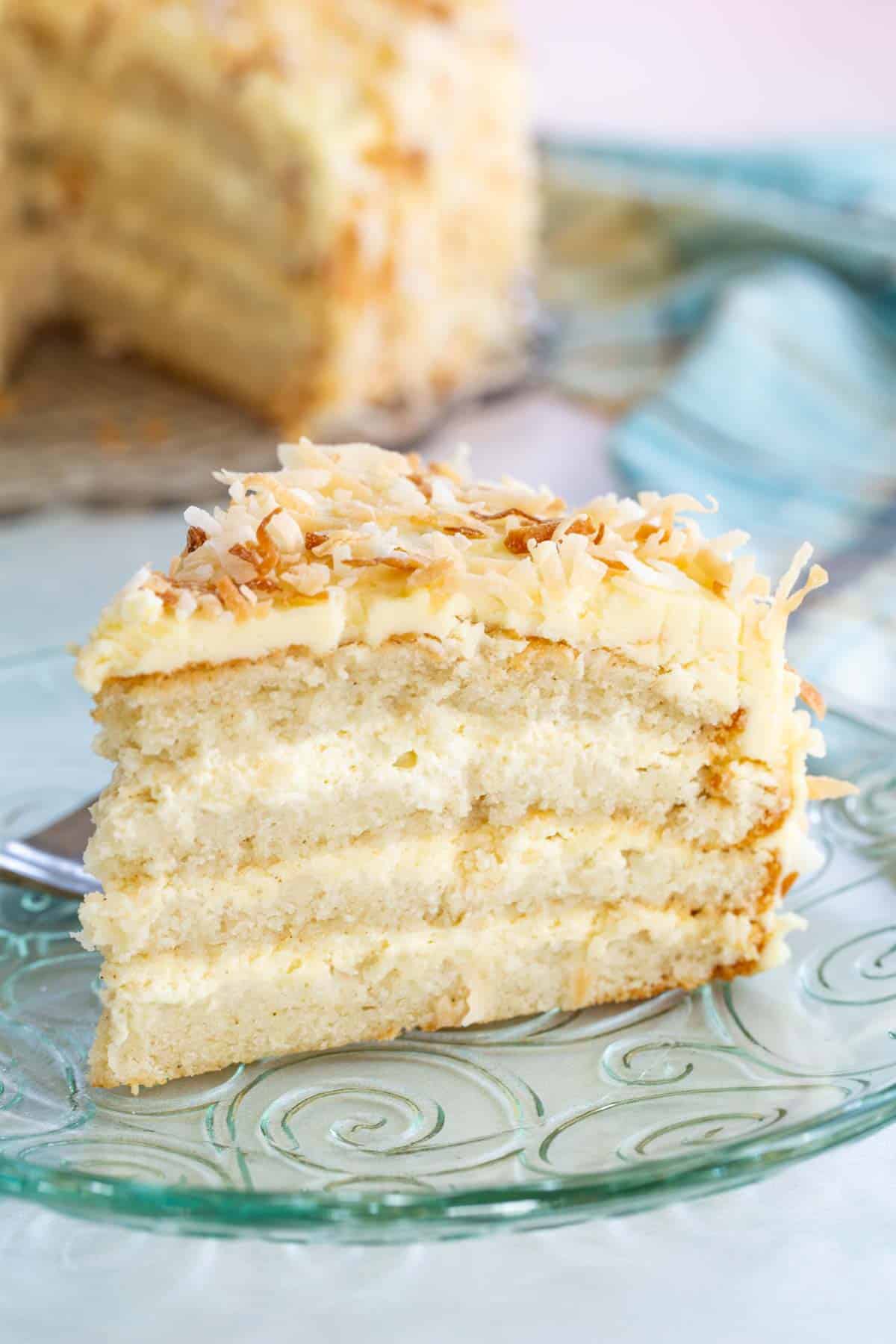 This pumpkin cheesecake roll is kind of like a classic pumpkin cake roll – except the pumpkin is on the inside and the chocolate is on the outside. A simple flourless chocolate cake roll recipe is filled with fluffy pumpkin cheesecake mousse, then coated in chocolate ganache.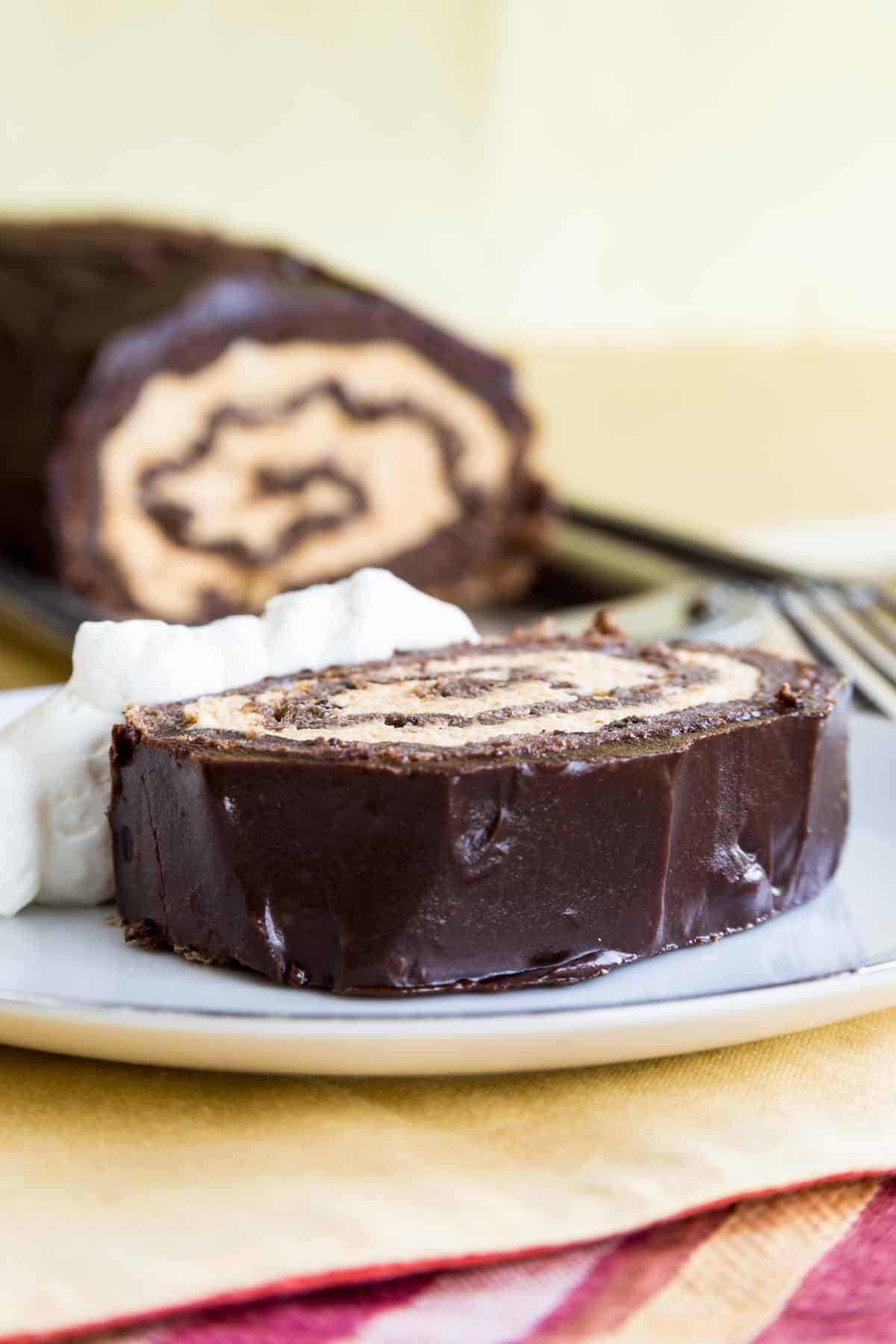 Reese's Poke Cake GFO (use gluten free chocolate cake mix)
I say chocolate and peanut butter are good for any occasion. Chocolate cake is slathered with peanut butter pudding, chocolate frosting, and peanut butter whipped topping, then sprinkled with Reese's Peanut Butter Cups. It is pure heaven!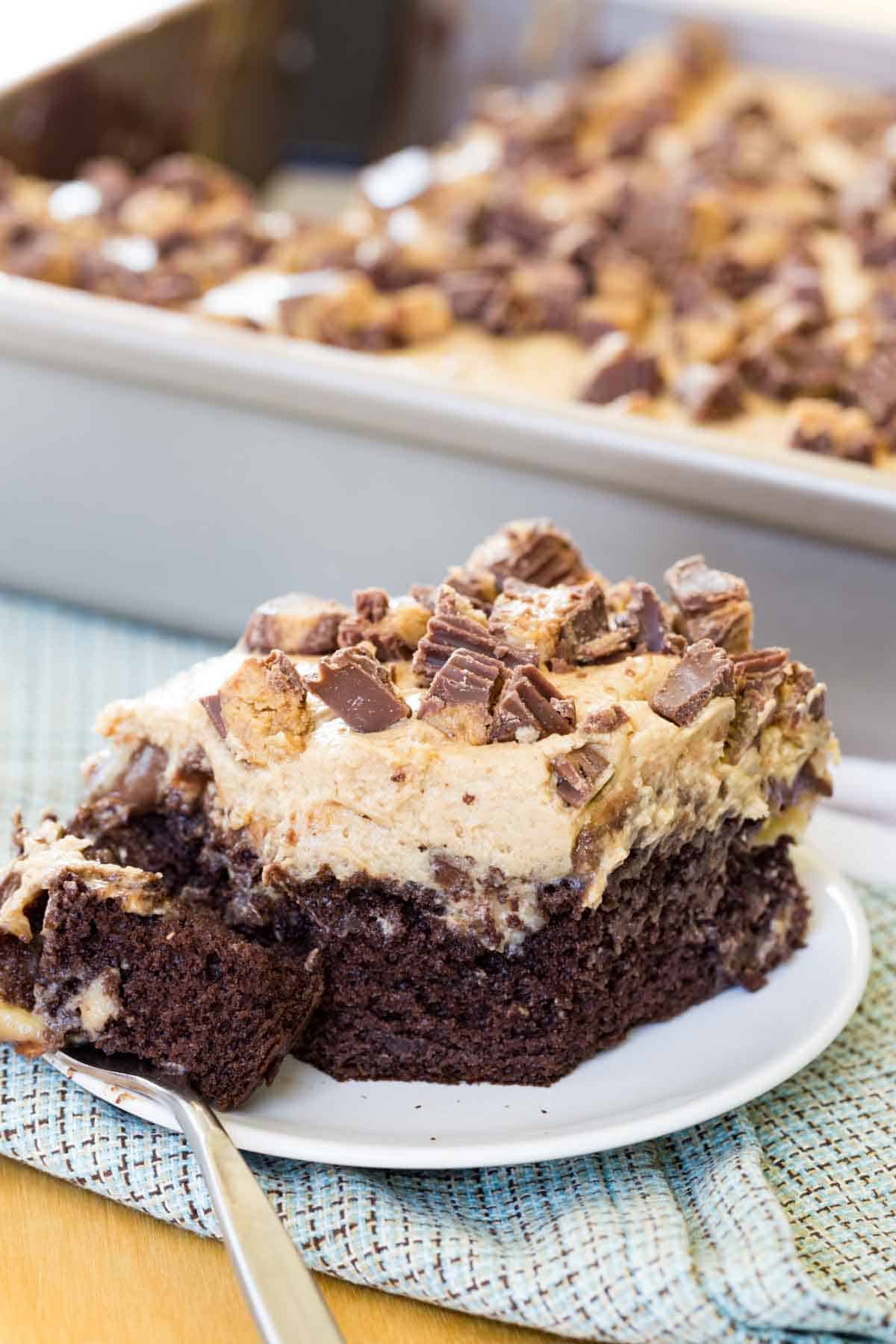 Creamy swirls of pumpkin cheesecake, warm pumpkin spice, and a maple drizzle bring the taste and aroma of autumn to this nutty crumb cake. So simple to make, it comes together in no time in your food processor.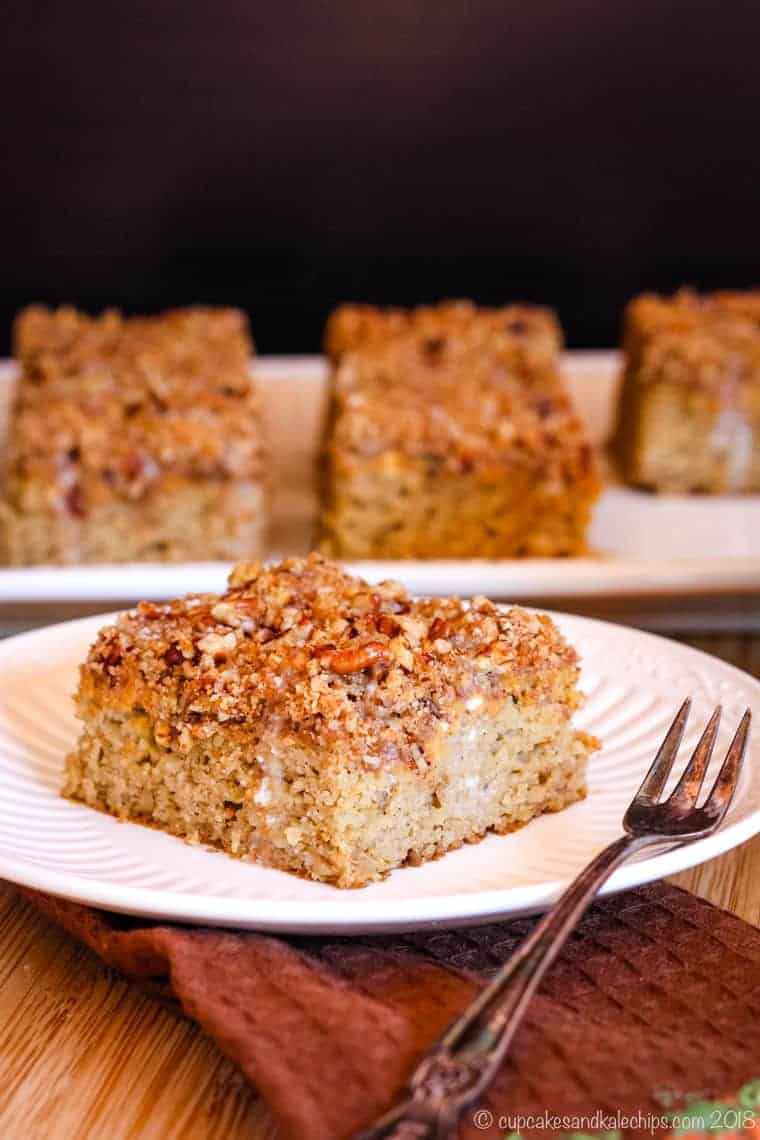 More Thanksgiving Cakes:
Cookies, Brownies, and Bars
Enjoy rich, fudgy brownies swirled with cheesecake and caramel then topped with pecans. These naturally gluten free brownies are the ultimate decadent Thanksgiving dessert recipe for anyone who craves the chocolate, caramel, and pecan combo.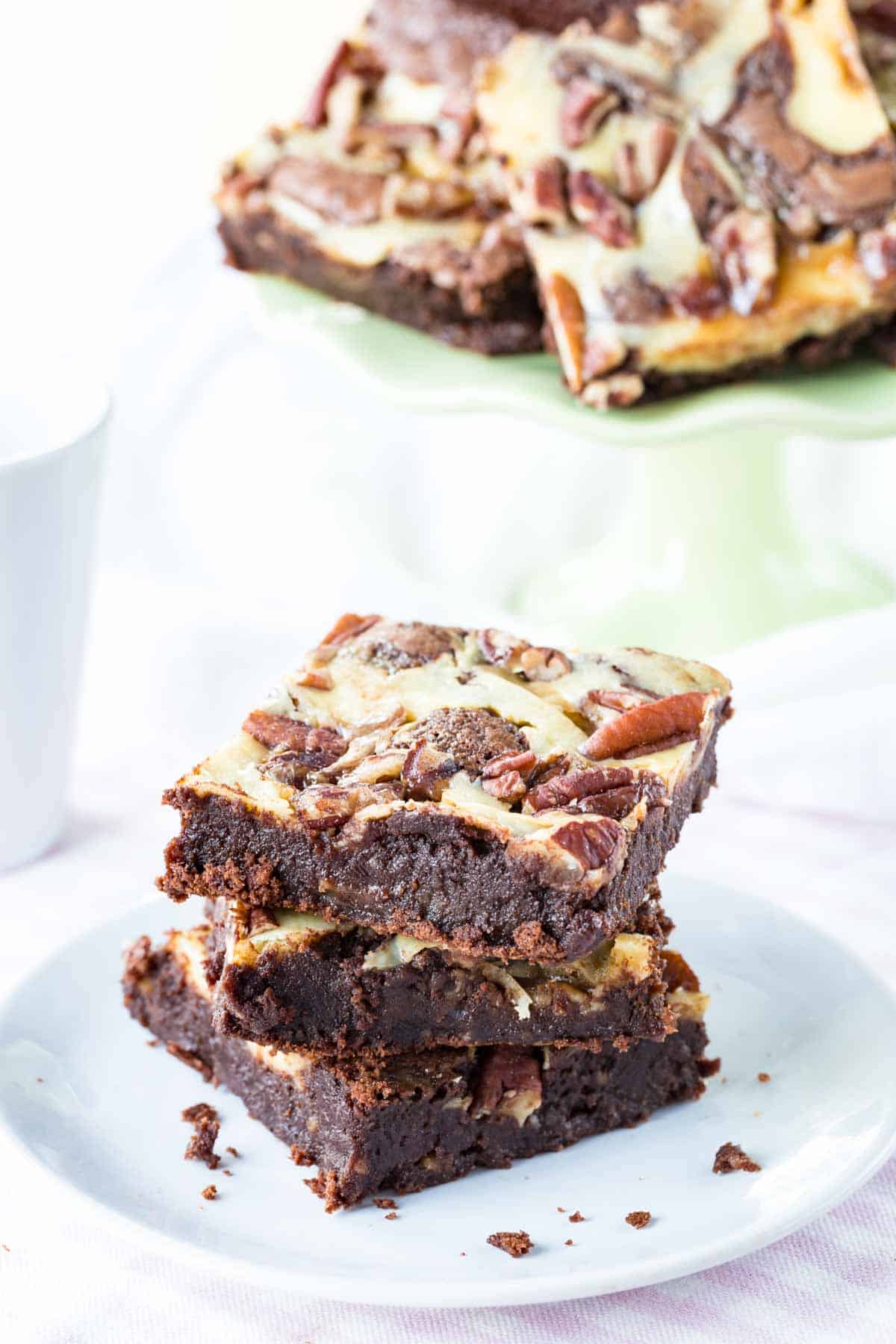 Add a buttery, nutty flavor to the classic snickerdoodle cookie recipe. This traditional cookie is extra special because it is made with brown butter and rich Heath bits and rolled in cinnamon sugar.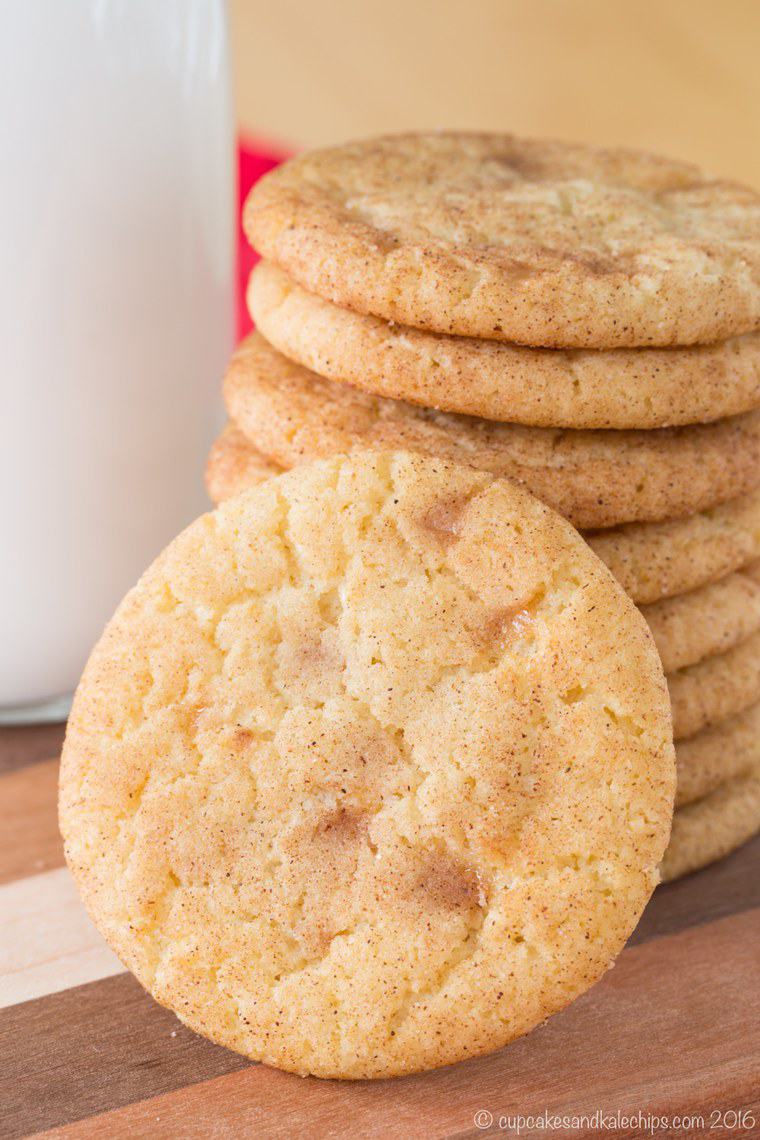 If you are looking for Thanksgiving dessert recipes for a big crowd, this is the one. The easiest and most delicious shortcut to sugar cookie flavor, and it makes a ton! You can't get better than the simple but delicious, buttery flavors of these easy sugar cookie bars packed with white chocolate chips and topped with decadent Browned Butter Pumpkin Spice Frosting! A perfect fall treat that you can even make with gluten free flour.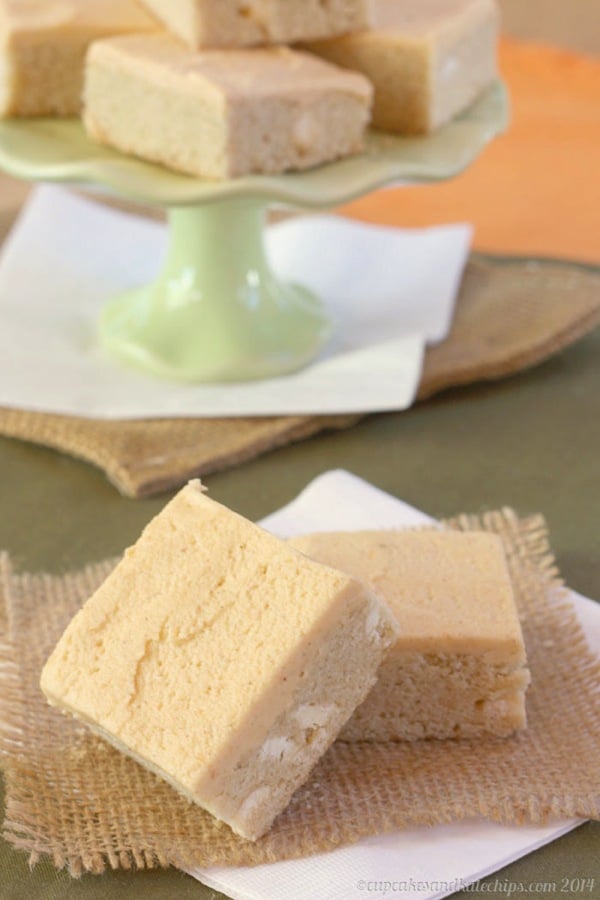 A fall night around a campfire is the best. Now combine two childhood favorites into one gooey chocolate- and marshmallow-filled dessert recipe. No campfire needed for these magic squares!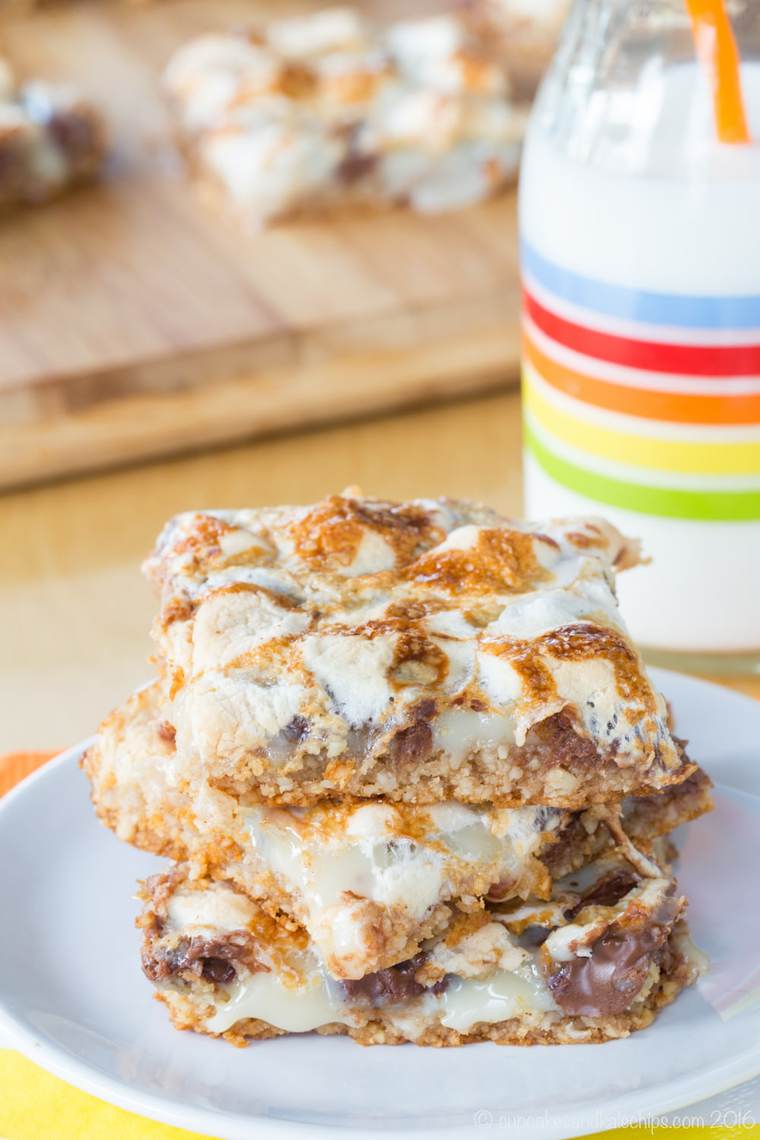 Filled with molasses and spice and everything nice, but it's that crackled sugar topping that makes them extra special. Made the easy way by using a traditional recipe and a 1-to-1 gluten free baking flour, these cookies are crisp on the outside and chewy on the inside. You can also make classic Crackly Gingersnaps with regular all-purpose flour.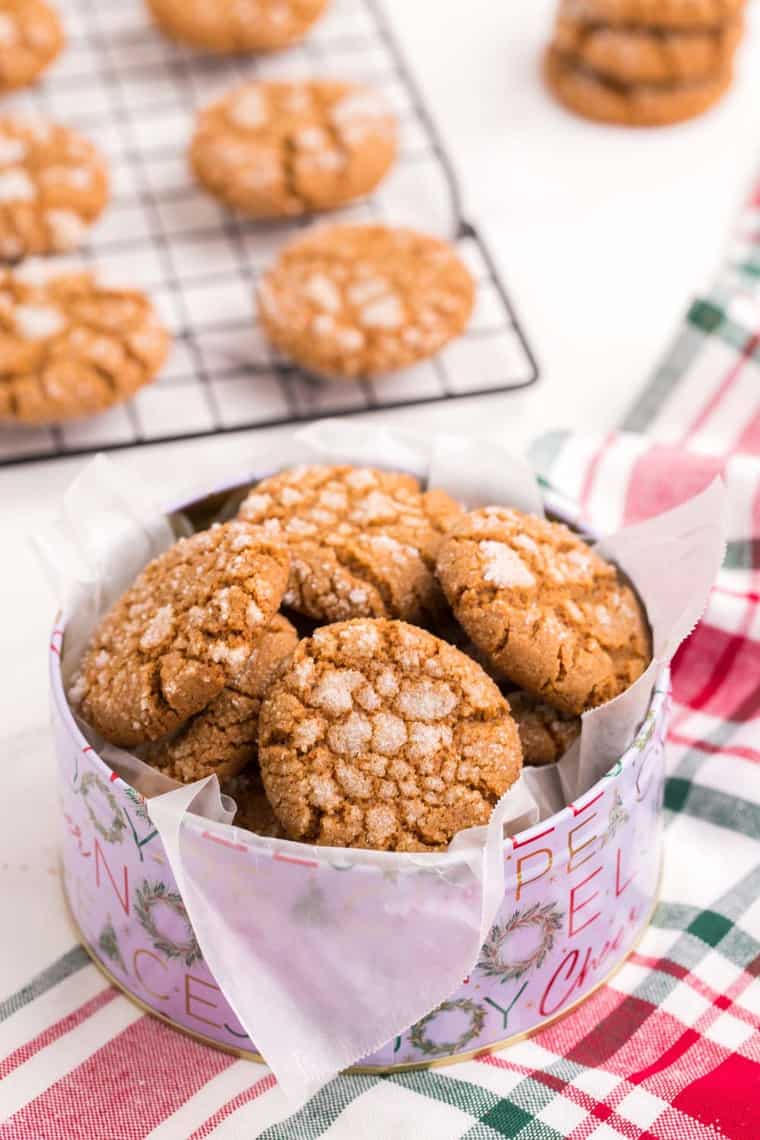 Other Thanksgiving Dessert Recipes
Dreamy little Thanksgiving desserts with layers of light and fluffy pumpkin mousse, fudgy brownies, and fresh whipped cream give you the ultimate combination of pumpkin spice and chocolate. Use your favorite (regular or gluten free) homemade brownie recipe, a box mix, or even store-bought!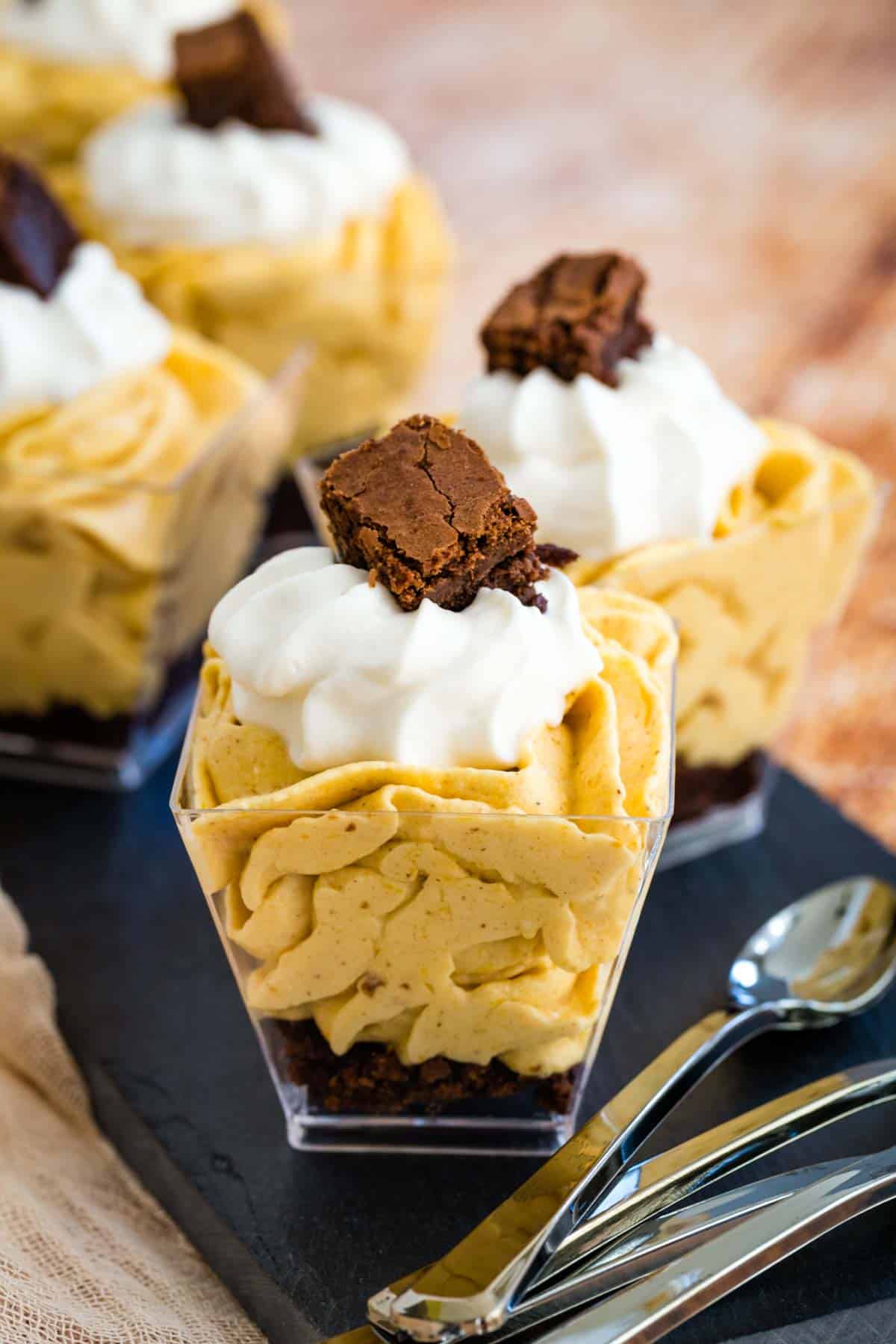 Jello salad is a must-have at Thanksgiving for many people. This one has cubes of fresh orange juice gelatin seemingly floating in a sea of wobbly vanilla ice cream. No box mix needed for this jello salad recipe. But it's still simple with only a few ingredients.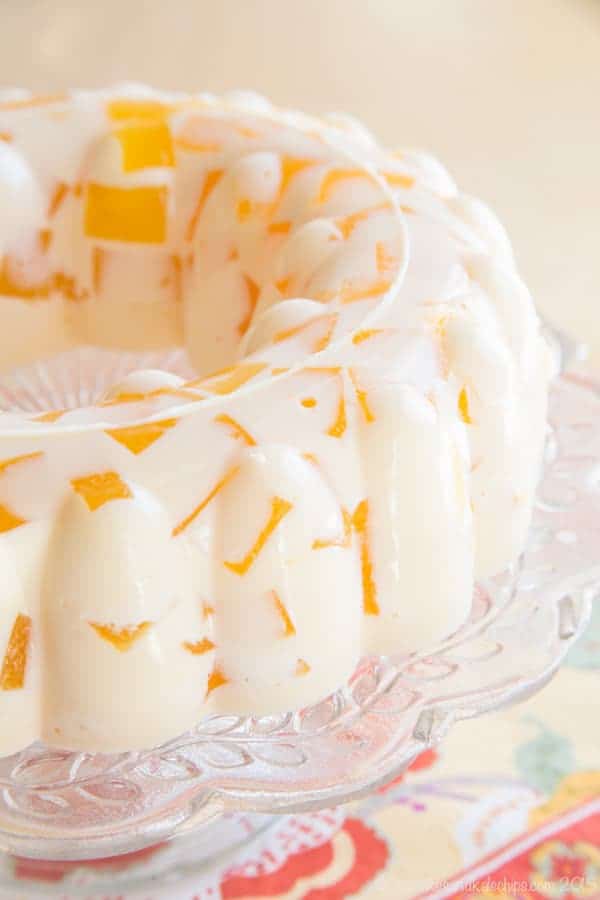 This easy pumpkin ice cream recipe adds the perfect fall flavors to everyone's favorite frozen treat. And it has an unexpected swirl of Nutella for the perfect hint of nutty, chocolate goodness that perfectly complements the pumpkin pie spice.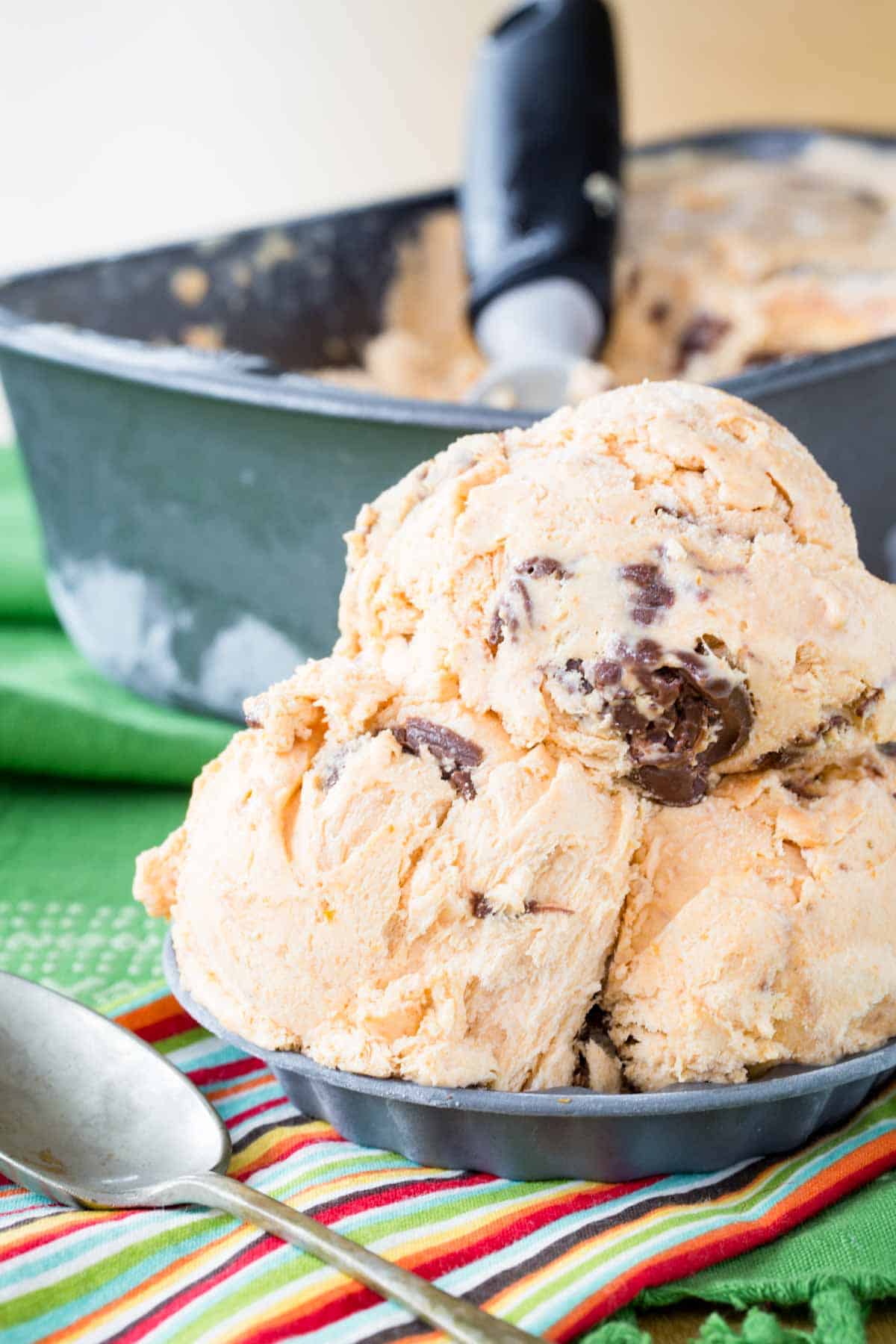 This twist on a basic no-churn cheesecake ice cream is easy and delicious. Add some fall flavors in the form of diced apples in a super simple caramel sauce to a not too sweet and tangy cheesecake ice cream to make an autumn dessert dream.
This sweet and spiced gluten-free pumpkin bread is the perfect quick loaf for the holidays. It is innamon-spiced with a sweet maple glaze to enjoy with coffee or tea,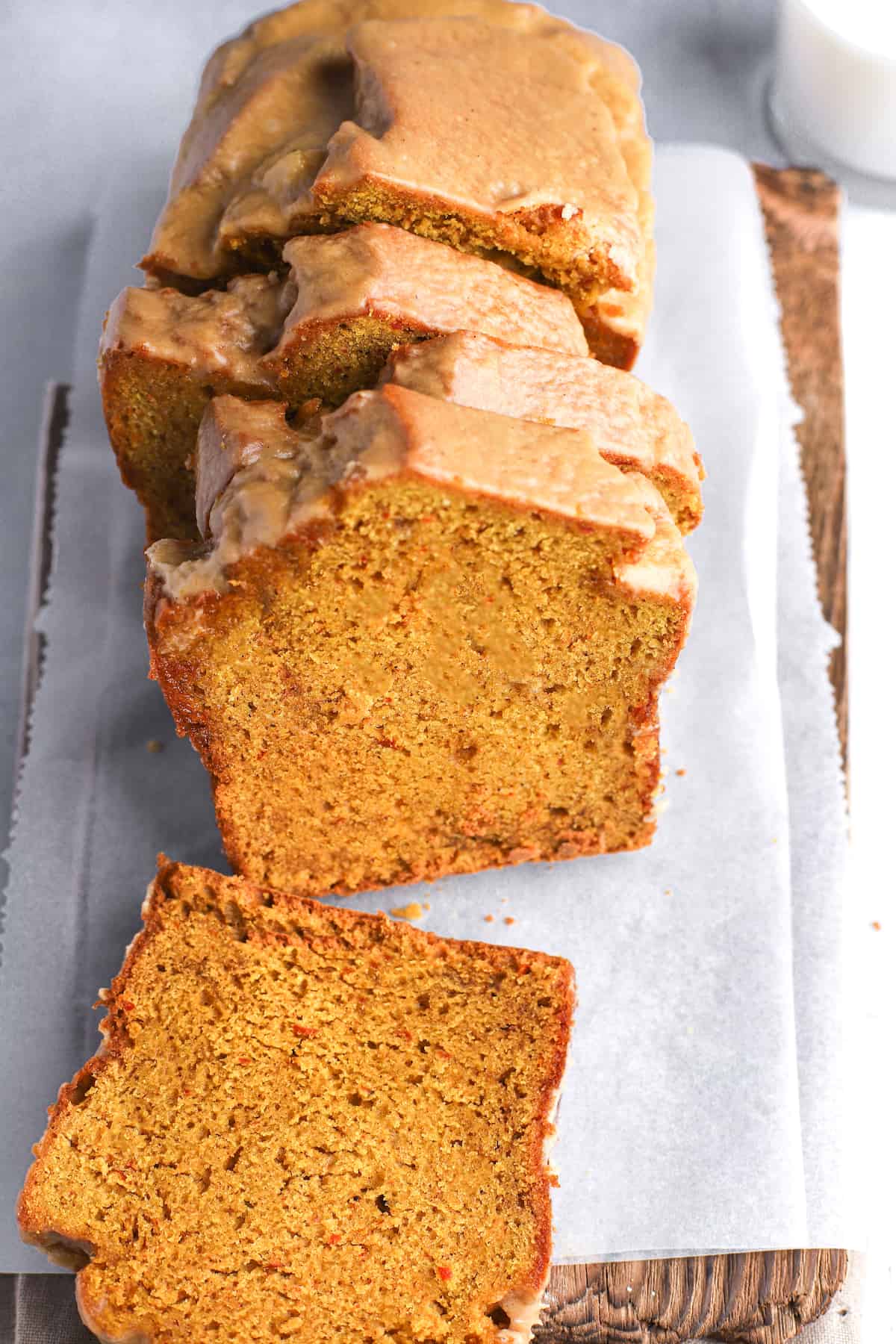 This sneaky-ingreidents flourless cookie dough is loaded with the crunch of pecans and creamy white chocolate chips, plus plenty of gooey caramel. Dip apple slices or gluten free graham crackers.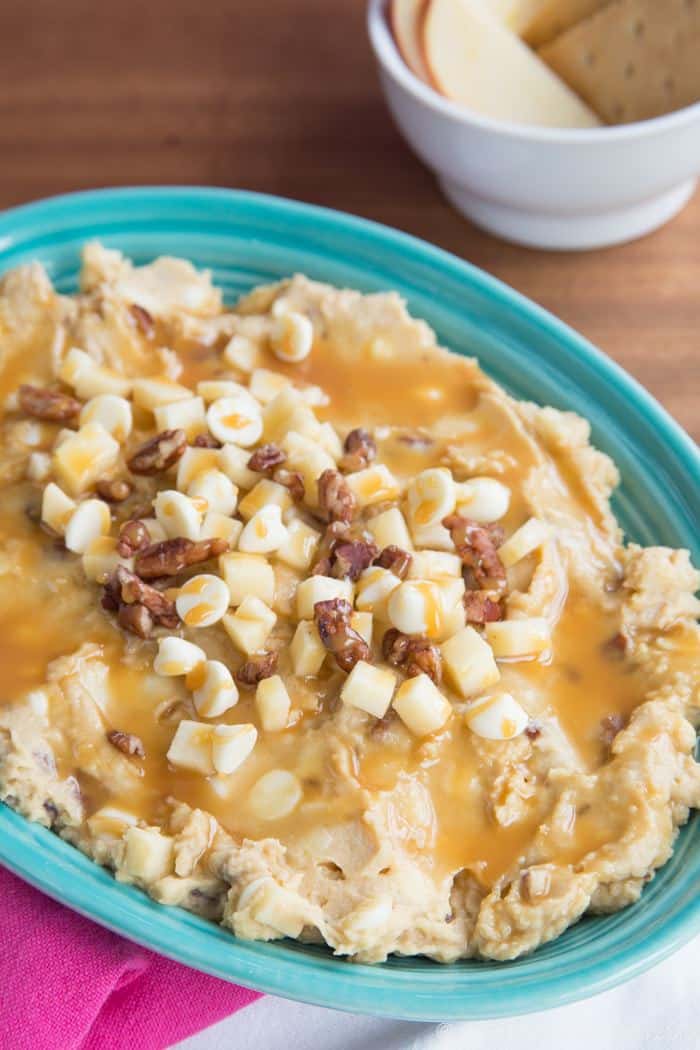 Homemade pumpkin pie pudding is the perfect seasonal treat made extra special with freshly whipped cream and candied walnuts. It's a great Thanksgiving dessert alternative to pumpkin pie!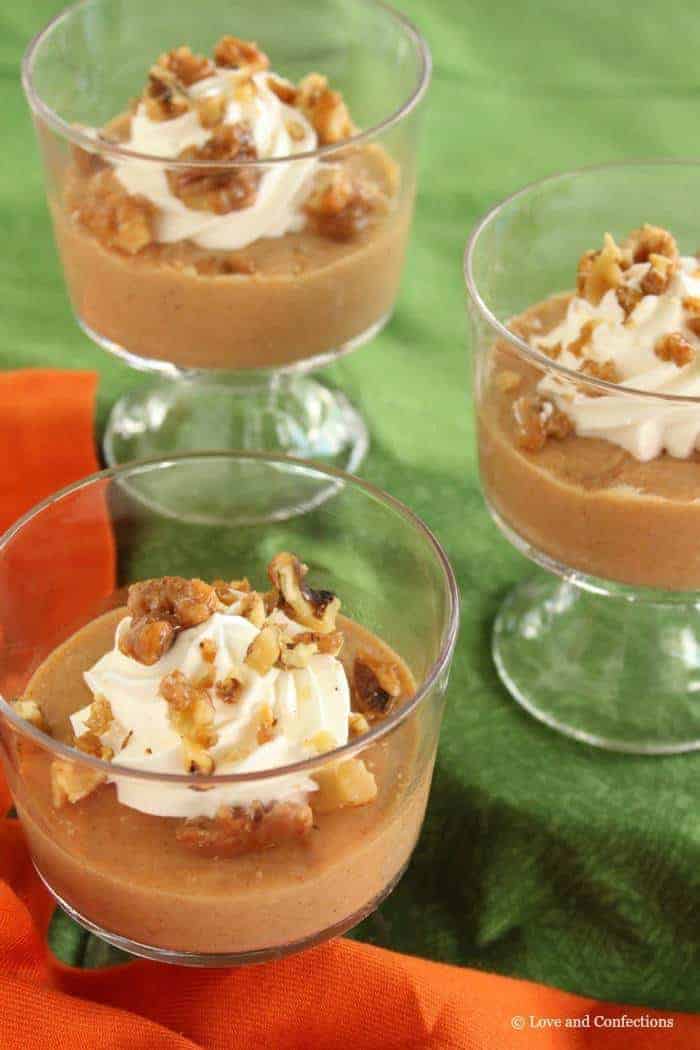 A healthy twist on the classic Snickers Salad recipe with yummy cheesecake flavor. You won't miss out on any of the sweet and creamy deliciousness since it is made with Greek yogurt, honey, dark chocolate, and peanuts instead of whipped topping and Snickers candy bars. 
This white chocolate bark recipe is inspired by those Cranberry Bliss Bars from Starbucks. It has a secret to make it taste like the cream cheese frosting that's studded with dried cranberries and sprinkled with orange zest. 
This sweet snack tastes like pumpkin chocolate chip cookie dough, but it's packed with protein and fiber. A treat that is perfect for dipping everything from pears and apples to graham crackers and pretzels.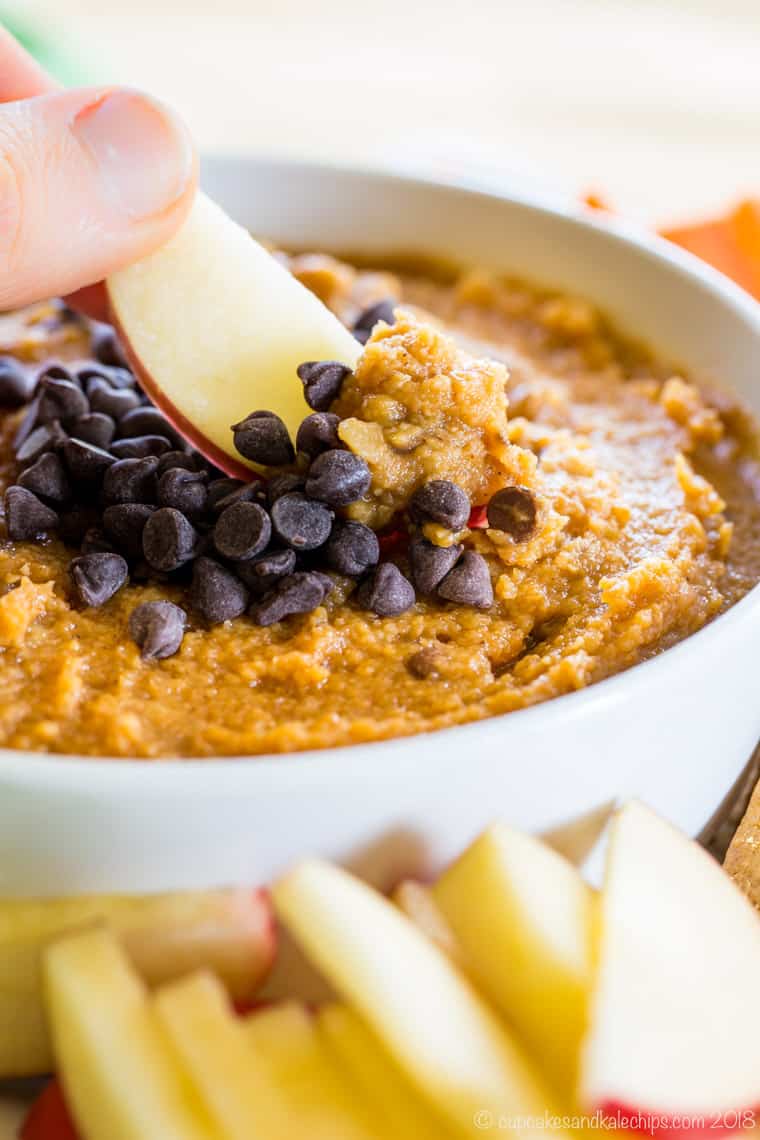 These white chocolate muddy buddies with the creamy flavors and warm spices of a Chai tea latte will be a favorite snack mix during the holiday season. With only four ingredients and a few minutes of prep time, this easy sweet Chex mix might just disappear faster than you can make it.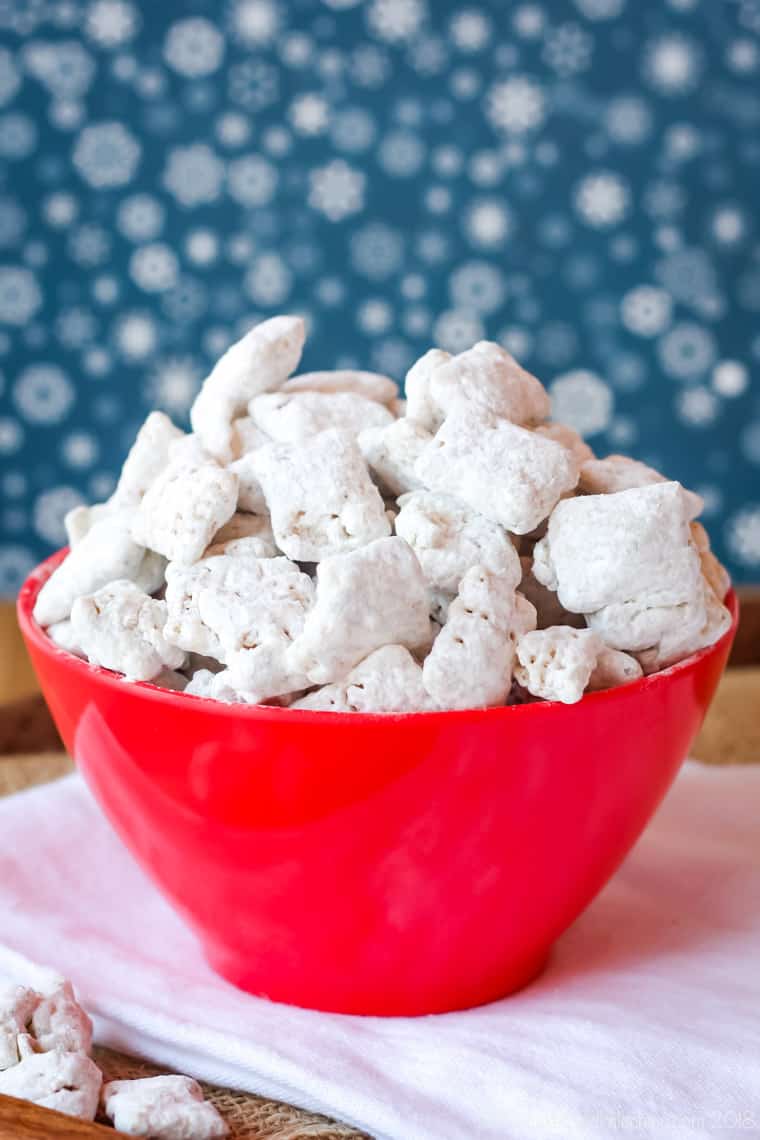 More Thanksgiving Desserts: