This post may contain affiliate links. Read my disclosure policy.
Every year, our Christmas Eve dessert table pretty much consists of one thing… COOKIES! So whether you are doing some last-minute baking, are looking for an activity to do with your kids while they are on winter break, or just want to pin some inspiration for next year, here is my 2013 Christmas Cookie Platter PLUS a roundup of ten more roundups for a total of well over 900 cookie recipes in all!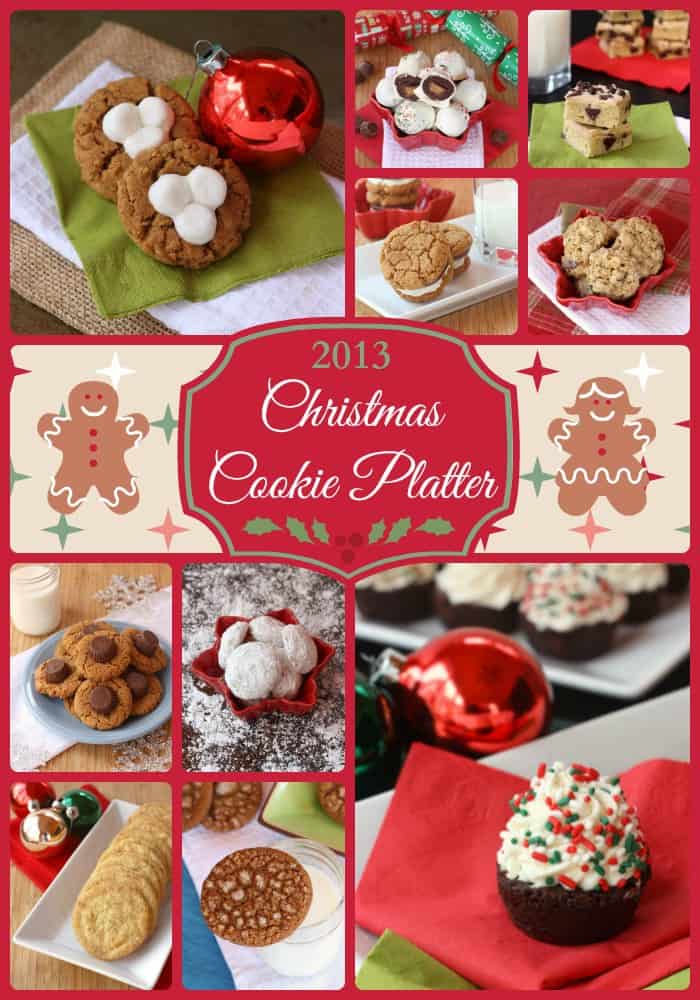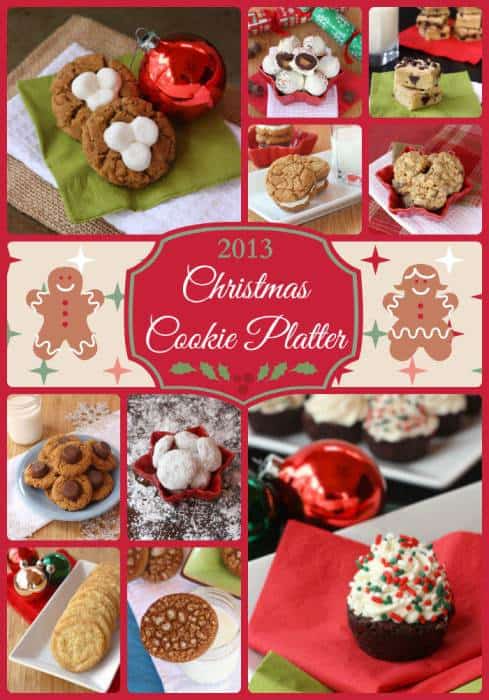 So what is on our cookie platter this year? (clockwise from top left)
Flourless Fluffernutter Thumbprints – Who needs jam when you can make a thumbprint cookie filled with marshmallows?!
Flourless Chocolate Peanut Butter Cup Cookie Dough Truffles – The secret ingredient almost makes these healthy, but they are also super-yummy!
Chocolate Chip Sugar Cookie Bars with Peanut Butter Frosting – A slight variation on the classic sugar cookie bar, these are a fun and easy cookie to make with your kids.
Flourless Browned Butter White Chocolate Cranberry Cashew Oatmeal Cookies – Crisp and chewy oatmeal cookies studded with white chocolate chips, tart dried cranberries and chopped cashews, enhanced with the nutty richness of browned butter.
Flourless Peanut Butter & Nutella S'Mores Sandwich Cookies – Really, need I say more? These are over-the-top and amazing!
Flourless Nutella Marshmallow Cloud Cookie Cups – Chocolaty, hazelnutty cookie cups topped with a fluffy marshmallow buttercream are heavenly.
Crackly Gingersnaps – This classic is The Hubby's favorite, but here is a sparkly, "self-frosting" version.
Orange Cardamom Coco-Doodles – An exotic, almost juicy-tasty "twist" on the classic Snickerdoodle, based on my original Coco-Doodles.
Flourless Double PB Peanut Butter Cup Blossoms – a super peanut butter-y cookie topped with a peanut butter cup, because can you ever have enough peanut butter?
Toffee Almond Snowballs – an update on the classic Snowball (aka Russian Tea Cake, aka Mexican Wedding Cookies), these are buttery, nutty, crumbly cookies with bits of toffee, double-rolled in powdered sugar.
What kinds of cookies did you make this year?
And if you need even more cookie inspiration, here are some more great roundups…