This post may contain affiliate links. Read my disclosure policy.
Take some tasty chicken and veggie skewers…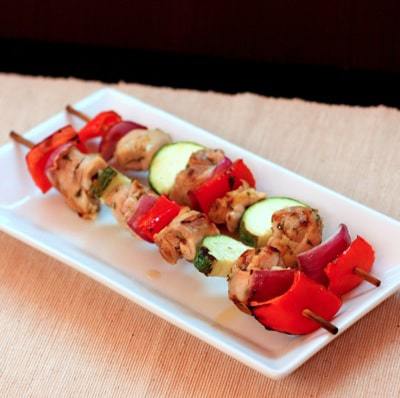 A little homemade tzatziki sauce..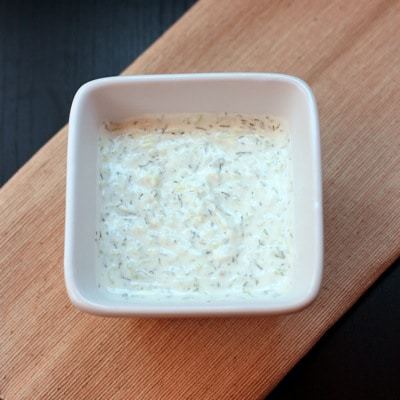 And some tomato feta salad…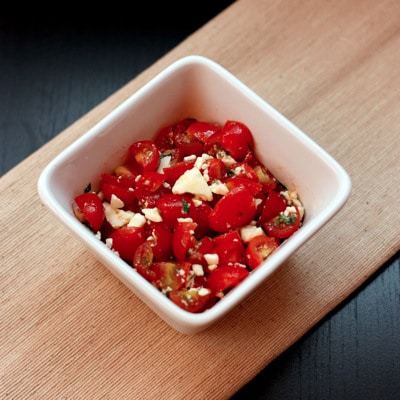 Put it all together…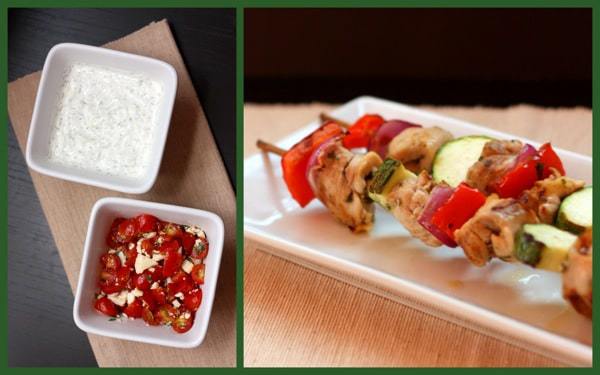 with a scoop of humus and a few pita wedges…
And you have a meal worth of any great Greek or Mediterranean restaurant, right in your own home.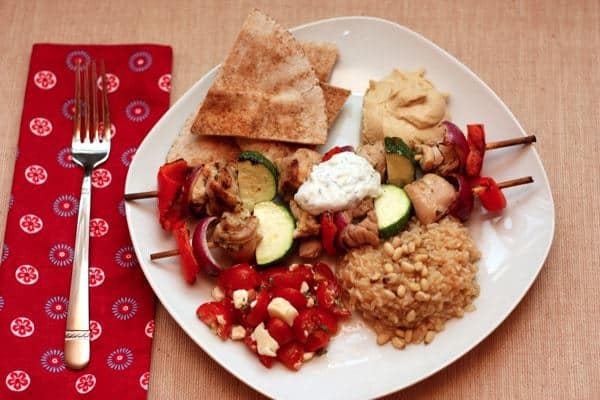 Looks amazing, doesn't it? Tastes even more amazing.
I was so excited when Tara from Noshing with the Nolands asked me if I wanted to do a recipe swap. I had been checking out her awesome recipes, like this beautiful Mousseline Au Chocolat from the JC 100 Challenge, or this totally amazingly decadent recipe for Buttered Lobster Tail with Truffle Oil Popcorn. So I thought this would be a lot of fun.
When I was looking through all of her yummy recipes, the Souvlaki Dinner caught my eye for a couple of reasons. First, I love that she does these Friday Night Cooking Classes with her daughter. I think it is awesome to get kids in the kitchen, and I do as much as I can with The Bug, given his age and attention span. Also, The Hubby and I have a few local Greek and Mediterranean restaurants that we LOVE LOVE LOVE. But everything always sounds so good that we always order and eat more than is really need for our waistlines or wallets. And The Bug's restaurant behavior is temporarily keeping us to much more casual and family-friendly places. Well, this meal easily rivaled an almost identical meal we often order at one of our fave spots.
I followed Tara's recipe for the Tzatziki and Souvlaki, except I didn't have the Umami Paste. I will say, maybe that would amp up the flavor even more, but this was super flavorful without it. Also, for veggies I used a red pepper, a red onion, and a zucchini. I also halved the Tzatziki, and it was plenty for the three of us. In fact, there was enough leftover for The Hubby to take to work with the leftover chicken, veggies and a pita, and I am going to add some olive oil to turn it into a salad dressing for a Greek Shrimp Salad. I'll let you know how that turns out.
I tried to change up her rice a little by using brown rice, since that is what I keep in my pantry, and cook it in my rice cooker. Well, the flavor was amazing, but it didn't cook right, I think because my rice cooker tends to work better with a larger batch than what I made. So go try Tara's recipe, or give it a shot with the brown rice, and let me know how it turns out. Then I served it with the Tomato Feta salad I threw together (keep scrolling for that recipe), and some hummus and pita. Sorry, the hummus and pita were not homemade. I have made homemade hummus before, and pita is something I want to try, but I ended up making this last minute on a night when we were going to go to a minor league baseball game, but thunderstorms kept us away. Alas, no time to do everything.
We absolutely loved this recipe, and it will be a fun one to keep in the archives for when we are craving a good restaurant meal, but don't have a babysitter. And while I wanted to make this meal for an early-bedtime for The Bug date-night-in for me and The Hubby, I am happy that the little guy ate with us, because he thoroughly enjoyed this dinner. Well, except the tomatoes, because I just cannot get him to eat tomatoes, except in sauce or ketchup form. But overall, Bug-Approved (and Hubby, as well).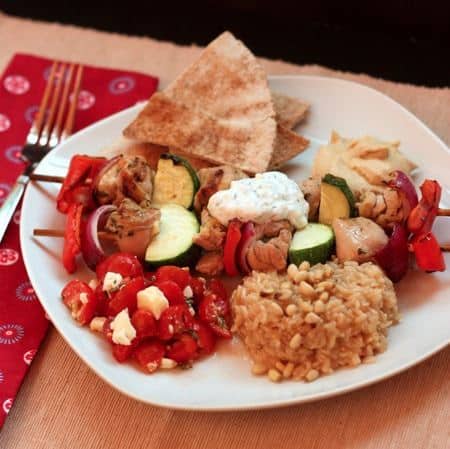 So head on over to Tara's blog to get her Souvlaki Dinner recipes, and check out her take on my Strawberry Cheesecake Smoothie.
Have you ever recreated a restaurant meal at home?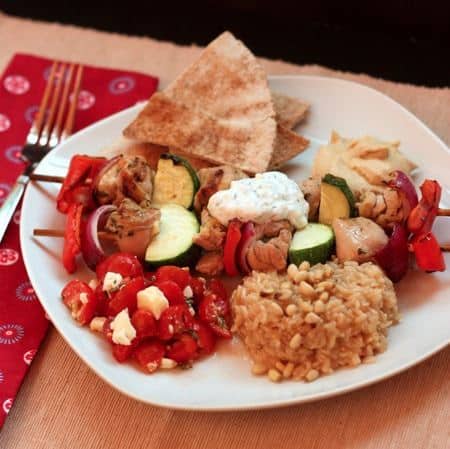 Tomato Feta Salad
Ingredients
1

c

chopped tomatoes

I used quartered grape tomatoes

1

T

olive oil

1

T

fresh lemon juice

1

t

chopped fresh oregano

1/4

c

crumbled feta cheese

1/2

t

kosher salt

pepper
Instructions
Combine all ingredients in a bowl and toss gently
Enjoy!