This post may contain affiliate links. Read my disclosure policy.
Spaghetti squash casserole is a healthy, gluten-free and low carb dinner, replacing traditional pasta casserole recipes. This easy gluten-free casserole recipe uses turkey sausage and mushrooms, making it a healthier version of baked ziti.
It's Improv Challenge day for March, and this month everyone is cooking up recipes using Sausage & Mushrooms. I'm guessing there won't be any desserts this time around. My inspiration was the classic baked ziti, with all of its saucy, cheesy goodness, and stepped it up a bit in flavor and nutrition. Whether you want leftovers to put in the freezer or have to feed a crowd, you've gotta try this Turkey Sausage & Mushroom Spaghetti Squash Casserole.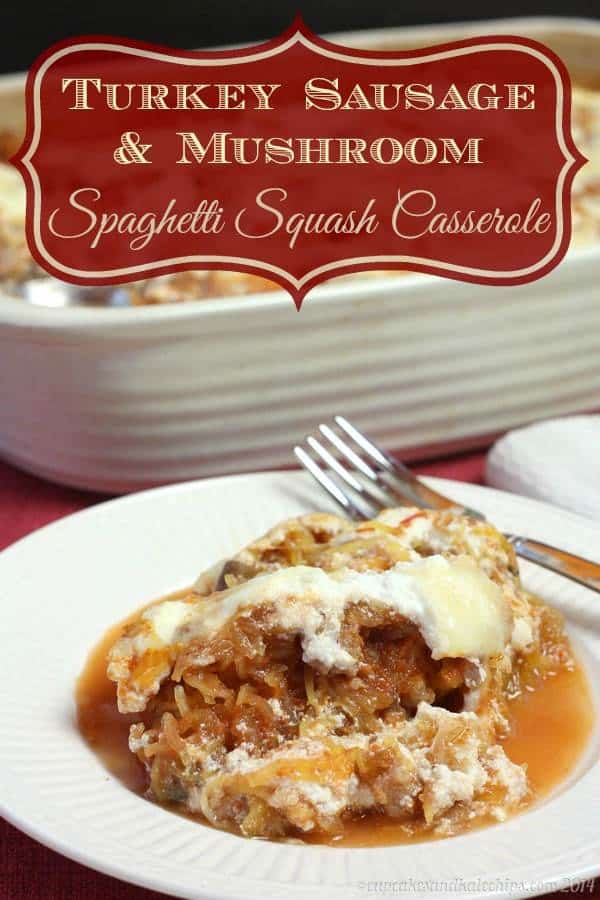 Disclosure: There are affiliate links in this post, meaning that the cost to you is the same, but if you click and make a purchase, I will receive a few pennies. I use the money to help maintain this website and to bring you new recipes!
I'm sorry people. No matter what I do, I can't make spaghetti squash casserole-type dishes look appetizing. Remember my Spaghetti Squash Pastitsio? One of the most delicious things I have ever made for dinner. But seriously, looks like a creature from the deep. It makes me think of the Pirates of the Caribbean movies. Did I say this last time? Same thing holds true with this recipe.
The other thing I can't do is tell you that the whole family loved this. The Bug loathes spaghetti squash. He will eat anything covered in cheese. Anything except spaghetti squash. I baked it while he was at preschool and had it all scraped out and sitting in a bowl when he got home.
"Mom, what's that yellow stuff?"
"Spaghetti squash casserole for dinner tonight."
"Oh, I'm not eating dinner tonight."
Awesome! And he didn't really. Double awesome!
However, if you are going to let the review of a highly opinionated and stong-willed 3 1/2 year old influence your decision to try this spaghetti squash casserole, well, then I guess it's appearance won't change your mind. Hopefully this will – The Hubby, Smiles and I loved this Turkey Sausage and Mushroom Spaghetti Squash Casserole. Baby Smiles was wearing the stuff. 'Nuff said. I mean, it's like baked ziti, only with more flavor from the turkey sausage, more texture and meatiness from the mushrooms, and more veggies and less carbs and stuff because of the spaghetti squash. And then it's made all creamy and gooey and cheesy with ricotta and mozzarella and Parmesan.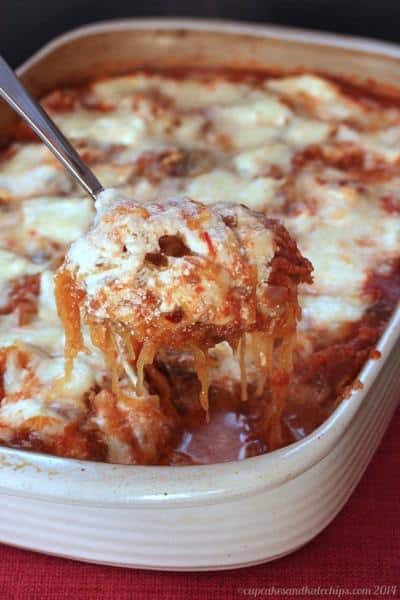 The other thing – this gluten-free spaghetti squash casserole recipe feeds, like, eight to ten people.
I started making it, got my little casserole dish out, and was like, "Umm, no." So I broke out the 9×13 stoneware and it was perfect, except that it looked like I was cooking for wayyy more than my little family of four that includes an anti-spaghetti-squash member. Half of mine is still in the freezer, ready to break out on a busy night!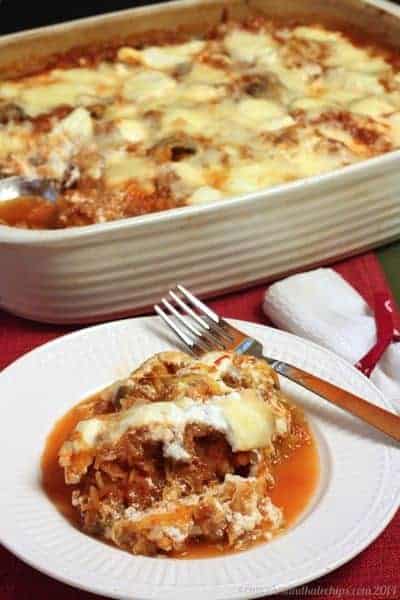 Annnnd, my new genius discovery – instead of breaking out the chainsaw to hack your spaghetti squash in half before you cook it in the oven or microwave, if you have the time, did you know you could just prick it with a fork and throw the whole thing in the oven or a pressure cooker?!?! Brilliant!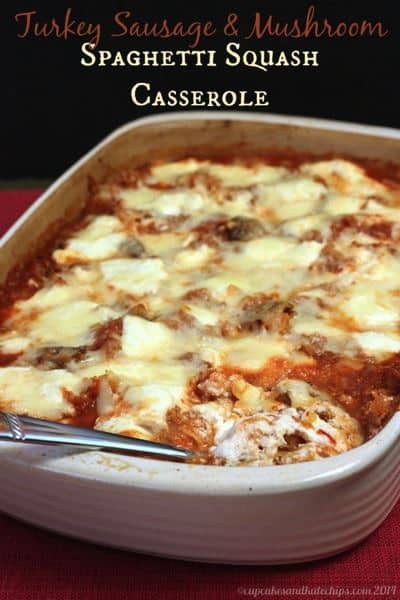 Is there one food that you just will not eat, regardless of how it is prepared?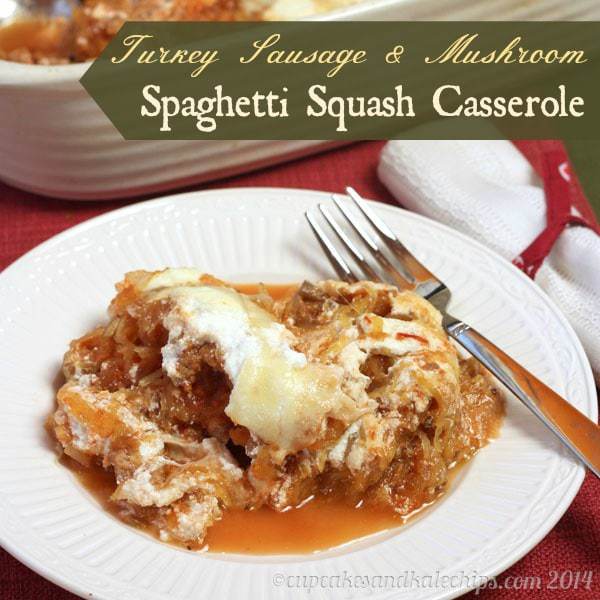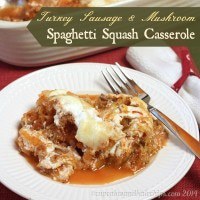 Turkey Sausage & Mushroom Spaghetti Squash Casserole
Take baked ziti up a notch by keeping all the cheesiness, but adding even more flavor and nutrition.
Ingredients
1

spaghetti squash

1

tsp

olive oil

half of a medium onion

chopped

kosher salt & pepper

1

clove

garlic

minced

one pound hot Italian turkey sausage

removed from its casings

one 10 oz. package mushrooms

sliced

one 28 oz. can crushed tomatoes

I use Tuttorosso, which has a little basil in it, so if you use a brand without basil, you may want to add a little fresh or dried

one 15 oz. container ricotta cheese

I used part skim

1

cup

about 4 oz. shredded mozzarella cheese

1/4

cup

grated parmesan cheese
Instructions
Scrape out the "noodles" into a large bowl using a fork and set aside.

Preheat oven to 400°F.

Meanwhile, heat the olive oil in a large saucepan over medium heat.

Add the onion, season with salt and pepper, and cook for about 3-4 minutes, or until onion starts to soften and become translucent.

Add the garlic and cook for another minute or two.

Add the turkey sausage to the skillet, and cook until nearly cooked through, crumbling it as it cooks.

Then add the mushrooms and cook for another 3-5 minutes.

Add the crushed tomatoes and heat through for a minute or two.

Combine the sauce and the spaghetti squash, and transfer to a 9/13 casserole or glass baking dish.

Place dollops of ricotta over the top of the spaghetti squash mixture and stir in partially.

Top with shredded mozzarella and parmesan and bake for 25-20 minutes, or until cheese is melted and lightly browned, and casserole is heated through.

Let sit for 5 minutes or so before serving.
Categories:
Enjoy!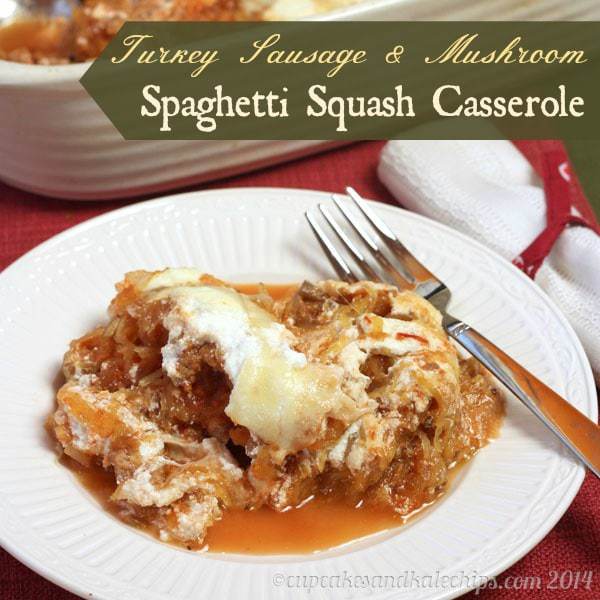 Want some more casserole recipes?
Make sure you check out 12 of the Best Spaghetti Squash Recipes So Good You'll Forget About Pasta!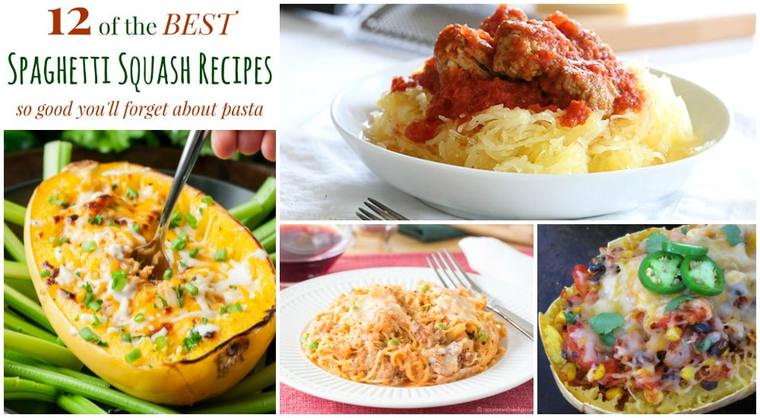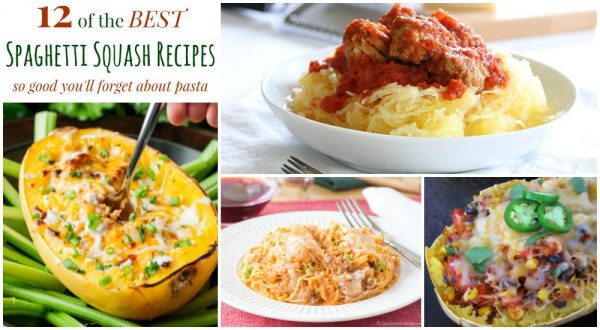 And here are some from my friends…