Gluten Free Golden Fudge Cake
Disclosure: This post may contain affiliate links. Cupcakes & Kale Chips is a participant in the Amazon Services LLC Associates Program, an affiliate advertising program designed to provide a means for us to earn fees by linking to Amazon.com and affiliated sites.
Gluten Free Golden Fudge Cake  has layers of yellow butter cake alternated with thick, fudgy buttercream frosting. So good that you'll never know it's gluten free!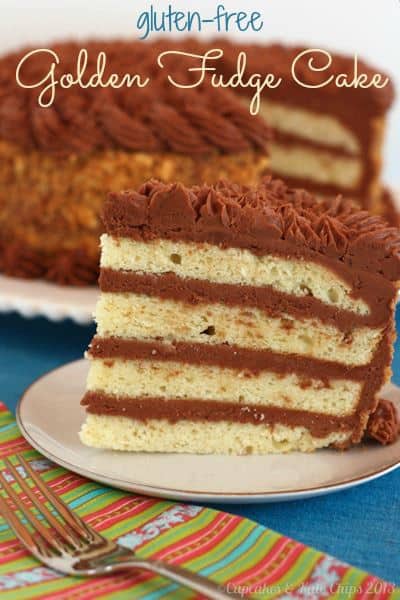 Do you have a Bucket List? You know, a compilation of things you simply have to do and see and accomplish during your life. How about a Recipe Bucket List? I don't have one written down, but I have some ideas in my head – stuffed cabbage, macarons, mastering pie crust. This was one of them…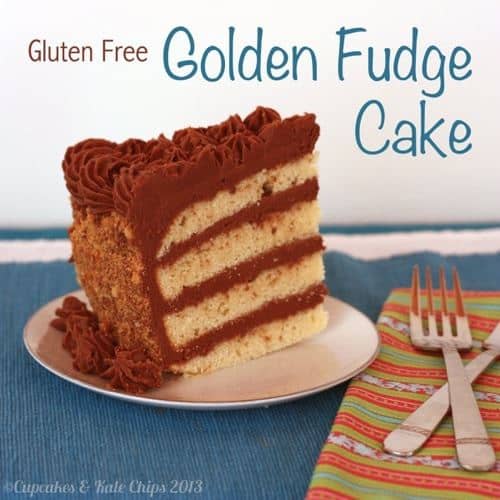 Quick disclaimer – lots of photos here. I had such a hard time picking my faves!
One of my favorite local restaurants is Old Man Rafferty's. They have two locations . One was down the street from the home where I lived in with my parents from when I was 13 until I got married at 25 (minus those years I was at college – a whopping 20 minutes away). The other is only about 10 minutes from where I live now.
Besides a varied menu (which includes one of my favorite salads ever), they have awesome specials that change weekly…  and the dessert case! Oh my! They actually begin the menu with the quote, "Life is uncertain… eat dessert first," then proceed to go on with their dessert menu for several pages before presenting the appetizers and main courses. And when you are ready to order, your server doesn't return with a menu. They send you to the case. Oh, that case of heaven! Gonna be honest – they don't make their ginormous assortment of cakes and pies and tortes in-house, but I really don't care. Wherever they source them from, they are pretty much all amazing. Well, those that I have tried.
But my favorite is the Golden Fudge Cake – four layers of yellow cake separated by thick layers of fudge frosting.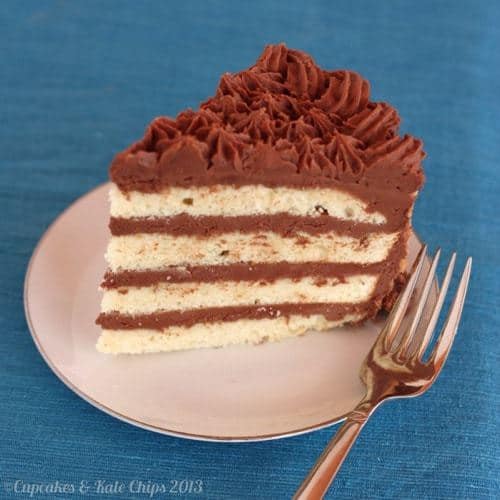 I love fudgy chocolate frosting, but most of the time, to get a fudge frosting, you have to get a fudge cake. And, crazy as it sounds, I am not a chocolate cake girl. Give me a yellow or butter or vanilla cake anyway. I treat myself to a big ol' slice of this cake a few times a year, and I've always wanted to make it myself. But, alas, there is also that darn wheat allergy.
But along came Isabel with an awesome #SundaySupper challenge – to start to tackle our recipe bucket lists. Not only have I wanted to make my own Golden Fudge Cake, but I also have been wanting to do more gluten free baking using actual gluten free flour, and not just black bean cupcakes, easy-peasy macaroons, and flourless muffins.
For my first attempt at a gluten free cake, I could not have been happier! In fact, here I am, writing this post at the last minute, still eating this cake that I had made for New Year's Day. So it does keep well in the fridge for several days. I think I have to freeze the rest before I polish it all off.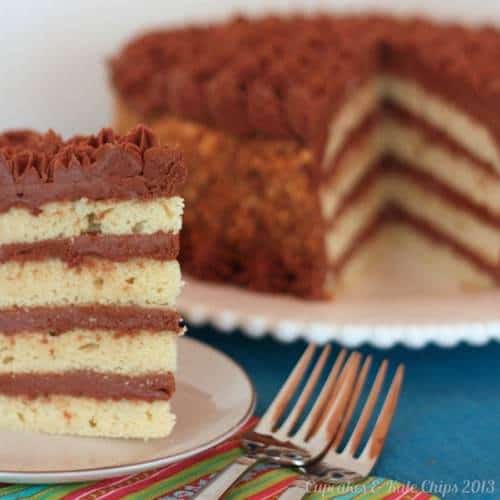 Golden fudge cake is not your super-moist, from a box type cake.
It is a bit drier, more like a pound cake, but it is so close to the actual Golden Fudge Cake. Maybe I would try a little more fat and/or liquid next time because The Hubby, while he did love it and have a couple nice-sized slices during the course of the week, does prefer a little moister cake. Then again, maybe I won't. I loved it as-is, and also enjoy the flavor from the buttermilk. The texture was also quite nice, not grainy or crumbly or spongy, like I thought a gluten free cake might be.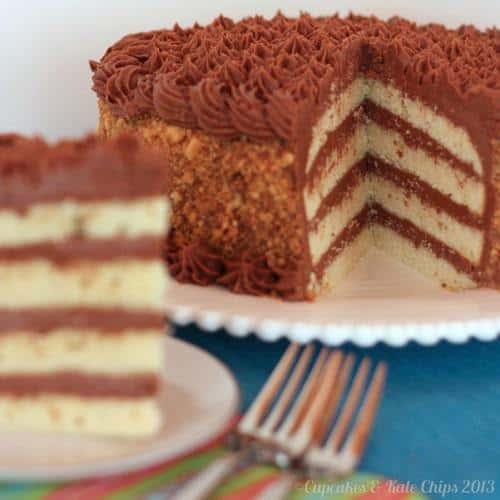 Also, the cake itself is not super-sweet, which makes it the perfect balance against the frosting, which is quite sweet. Although, again, the addition of buttermilk does temper it and keep it from being cloying. The frosting was delicious. Not exactly the same as the restaurant cake, so I may play around with it some more to get it exact, but it was almost like chocolate fudge that I can get at candy shops at the Jersey Shore turned into a frosting.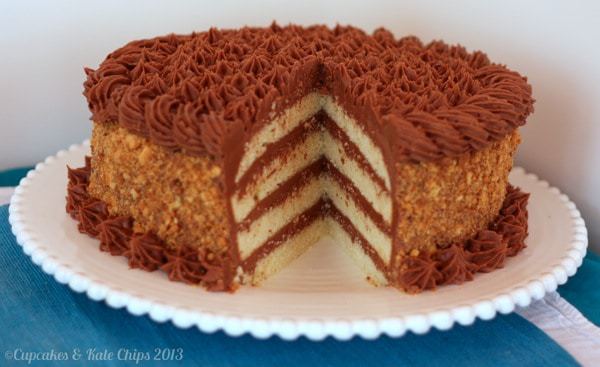 And those lovely crumbs on the outside of the golden fudge cake are not necessary, but since I was attempting to make my cake as close as possible to the original, I had to do it.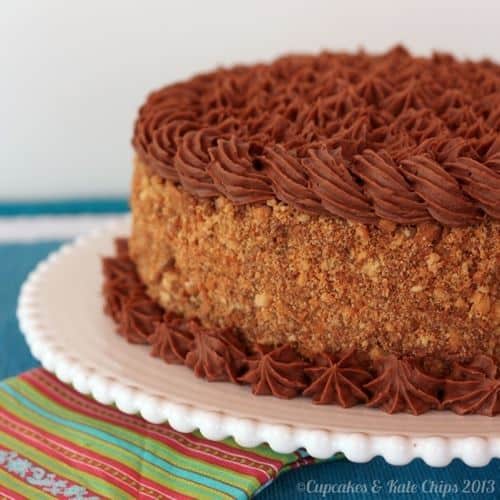 Then I had to have a little fun with my Pampered Chef Easy Accent Decorator! Which does bring me to a quick note about the recipe. I wanted the nice thick layers of frosting, and I wanted to decorate the cake, so I made this ginormous quantity of frosting. You can always cut the recipe in half. But why would you ever do that?! Come on, have a little cake with your frosting!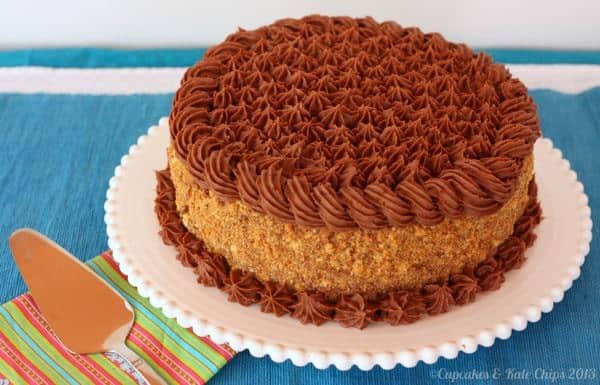 The Hubby knew I was making a gluten free cake, but I accidentally told dad and brother before I served it. I really wanted to see if they noticed any difference, but they loved it, so whatever. My Marine brother had just devoured a bunch of steak and mac & cheese, so since he has to maintain his Marine physique for when he headed back to base the next day, he only had a little. He claims he is not a big sweets guy. Craziness! But dad happily finished his slice of golden fudge cake and the remains of brother's piece. And The Bug was all over it, too! No photos of him eating the golden fudge cake – it disappeared too fast!
This week's Sunday Supper was all about trying something new. I had a blast tackling this golden fudge cake (and eating it)!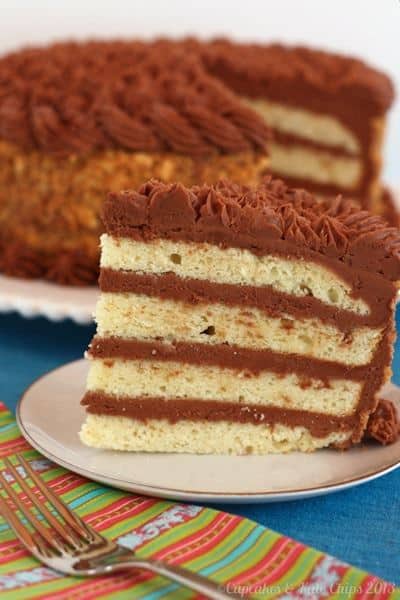 Enjoy the golden fudge cake recipe!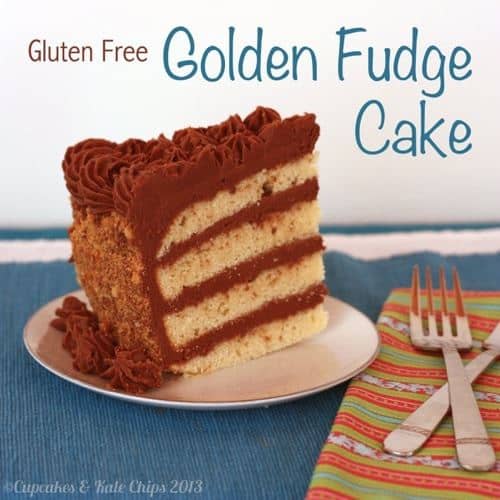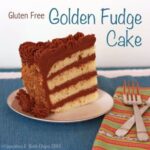 Print Recipe
Gluten Free Golden Fudge Cake
A gluten free golden butter cake with thick layers of fudgy frosting!
Ingredients
For the cake (*See Note):
2

c

brown rice flour

2/3

c

potato starch

1/3

c

tapioca flour or starch

2

t

xanthan gum

1

t

salt

3

t

baking powder

1 1/2

c

sugar

12

T

(1 1/2 sticks) unsalted butter, at room temperature

4

eggs

1

T

pure vanilla extract

1

c

buttermilk

at room temperature
For the frosting (**See Note):
1/2

cup

cocoa powder

8

cups

powdered sugar

(can use more if needed to achieve desired consistency)

8

oz.

semi-sweet chocolate

melted and cooled slightly

2

cups

(4 sticks) unsalted butter

at room temperature

2

t

pure vanilla extract

2/3

cup

buttermilk,

at room temperature
For the buttery crumb coating:
Instructions
For the cake (*See Note):
Preheat the oven to 350°F. Spray with cooking spray or lightly grease two 9" round cake pans, and line with parchment paper.

Sift or whisk together the flours, xanthan gum, salt, and baking powder. Set aside.

In a separate bowl, use an electric mixer or stand mixer to cream the butter and sugar.

Add 1 egg, and beat for a minute or so at high speed, until fluffy. Then add the remaining eggs, one at a time, beating after each addition.

Scrape down the sides of the bowl.

Add the vanilla and beat until smooth.

Reduce the mixer speed to low and alternately beat in the milk and dry ingredients, adding about 1/3 of each at a time, and ending with the dry ingredients. Scrape down the sides of the bowl after each addition.

Divide the batter between the prepared pans. It will be quite thick. Spread evenly. Bake the cake for about 25 minutes, about 3 to 4 minutes past the point where the cake springs back when touched lightly in the center, and a cake tester (or toothpick) inserted into the middle comes out clean.

Remove from the oven, and cool for at least 5 to 10 minutes before turning out of the pan to cool on a rack (I left the cakes in the pan overnight).
For the frosting (**See Note):
Sift together the cocoa powder and powdered sugar to remove any lumps. Set aside.

In a large bowl, using an electric mixer or the paddle attachment of your stand mixer, cream together the melted chocolate and butter until smooth.

Add the vanilla, reduce speed to low, and gradually add the flour and cocoa powder mixture until fully combined.

Slowly add the buttermilk until the frosting reaches your desired consistency. You may need slightly more or less.
For the buttery crumb coating:
Preheat the oven to 350°F.

Using a serrated knife or wire cutter, trim the top of each cake off to make a flat surface.

Take the tops that you cut off, crumble into smaller pieces into a cake pan or baking sheet.

Drizzle the melted butter over the crumbs and toss to coat.

Place in the oven, and bake for 20-30 minutes, or until browned and dried out, stirring and continuing to break the crumbs down smaller as they get crispy, about every 5-10 minutes.
Assembling the cake:
Using a serrated knife or wire cutter, cut each cake in half.

Take one layer and place on a plate or platter. Spread 1 c frosting evenly on top of the layer.

Repeat with the remaining three layers.

Scoop a small amount of frosting into a separate bowl, and put a thin layer on the top and sides of the cake.

Finish frosting the top and sides, reserving some frosting for decoration, if desired.

Press the crumbs into the sides of the cake.

Brush the excess crumbs off the platter, and pipe or decorate with the reserved frosting, as desired.
Notes
Cake adapted from Gluten Free Yellow Cake from King Arthur Flour.
*Based on recommendation from King Arthur Flour website, the flours used here are a replacement for 3 c of King Arthur Gluten-Free Multi-Purpose Flour. I used the individual flours, and not their blend. Frosting is a double batch of Chocolate Buttermilk Frosting from Evil Shenanigans.
**If you don't want such thick layers of frosting, or don't intend to decorate the cake, you can cut my quantities in half to make a single batch.