Lemon Herb Slow Cooker Roast Chicken
Disclosure: This post may contain affiliate links. Cupcakes & Kale Chips is a participant in the Amazon Services LLC Associates Program, an affiliate advertising program designed to provide a means for us to earn fees by linking to Amazon.com and affiliated sites.
Lemon herb slow cooker roast chicken is a flavorful, healthy, gluten free chicken dinner. Fancy enough for dinner guests, yet simple enough to become one of your favorite back to school crock pot recipes!
Disclosure: This post is sponsored by American Family Insurance. All opinions are my own.
Sunday Supper is again joining up with American Family Insurance as they inspire and encourage all of us to #ChooseDreams. As we dream about happy, healthy futures for our families, one thing that is important is nourishing their bodies, and, at this time of year especially, that often means Recipes from the Garden, in particular gardens of our own. Whether from your own garden or just whatever you have leftover from other recipes, grab a few handfuls of any herbs you have on hand to make this simple, flavorful and healthy Lemon Herb Slow Cooker Roast Chicken.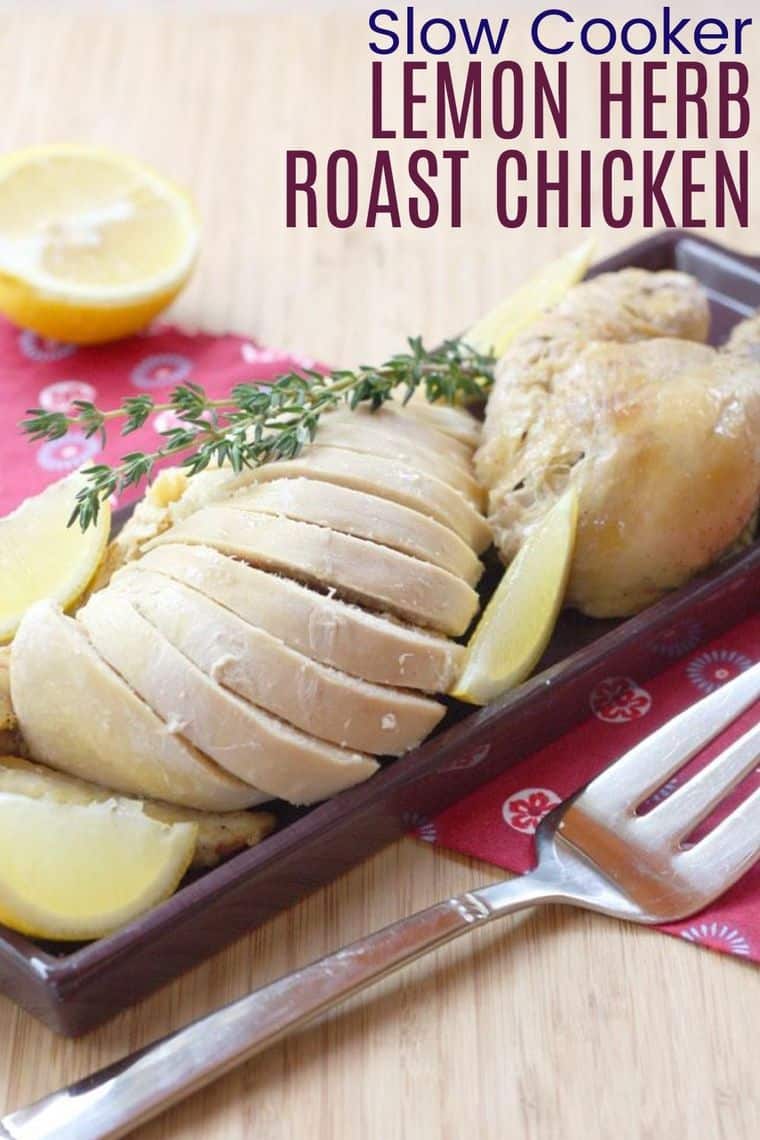 I've got to be honest with you. I have a "Black Thumb". I cannot be trusted with plants. I swear, the minute they get close to me, they keel over. But as a foodie and a mom, I want a garden. First and foremost, I have always wanted an [amazon_textlink asin='B01GDEU5I8′ text='indoor herb garden' template='ProductLink' store='cupkalchi-20′ marketplace='US' link_id='add54876-730b-11e7-a258-913d3e4b0513′]. I love the flavor that fresh herbs bring to dishes without adding a ton of extra calories, but I really only buy herbs when I am planning a recipe that specifically calls for them, like this lemon herb slow cooker roast chicken recipe. There is no spontaneous tossing in of a sprig of thyme or handful of parsley, or finishing off with some chiffonade of basil.
As a mom, I want to teach my children that food comes from the ground, not the grocery store. It doesn't just magically appear on store shelves and into our refrigerator. I also want to encourage them to try new foods or things they think they don't like. The Bug swears that he hates tomatoes and zucchini, and can't be bothered with chewing raw cucumbers. But perhaps if he has a part in growing them, he'll have an interest in eating them.
Luckily, The Hubby is coming to my rescue. Actually it was The Bug. I've mentioned wanting a garden for years, but The Hubby knows that I can't be allowed near plants, and he didn't want to take on the responsibility. But when The Bug told Daddy that he wanted a garden, Daddy immediately started putting plans in motion. He bought some large planters, and is going to be getting some plants from a friend that she started from seeds. And, uber-geek that he is, bought a [amazon_textlink asin='B010NBJLZU' text='hydroponic herb garden' template='ProductLink' store='cupkalchi-20′ marketplace='US' link_id='0ac9d2b2-730c-11e7-8fbd-29daa350d332′] with LED lights and a computer that controls the lights and tells you when to add water and nutrients. Maybe I can even keep these alive!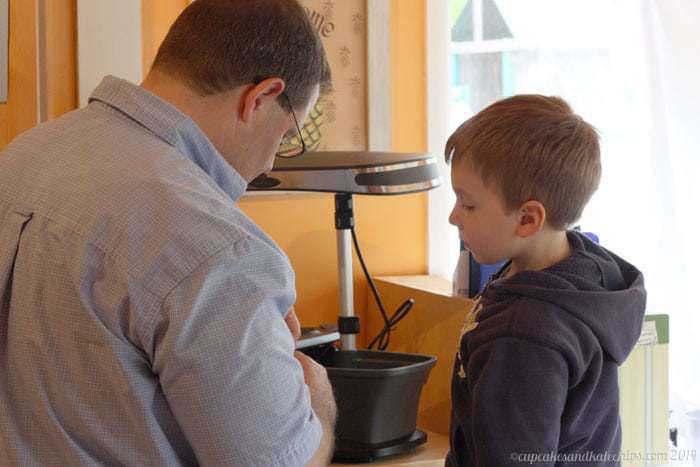 Whether it's technology or enlisting the help of your four-year-old, there is a solution for everyone who wants to who vegetables and herbs – even the botany-impaired. Hopefully by the time you are reading this we have some sprouts in the herb garden and The Hubby and The Bug have planted our outdoor container garden. I am hoping that since the garden was his idea, he'll want to eat the bounty that comes from it. Even the dreaded tomato!!
And I won't just be using up leftover packages of herbs that I bought at the grocery store to make this lemon herb slow cooker roast chicken recipe!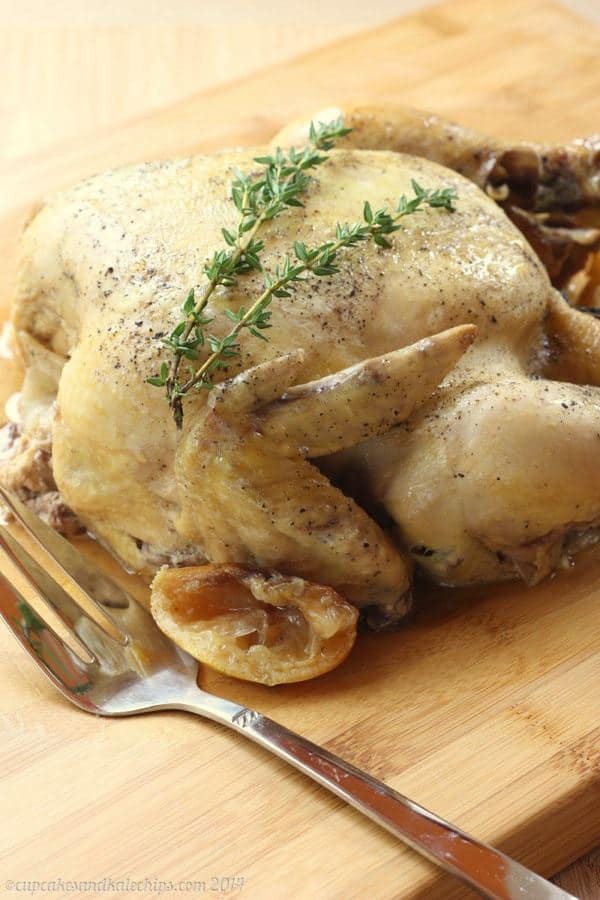 I post a fun "What's for dinner?" thread on my Facebook page everyday, and I love reading what people are making or buying. Every time I mention that I am making a slow cooker roast chicken, undoubtedly someone says, "You can do that?". Yes! And then they say, "Really, you don't add any liquid?" Nope! It really is the easiest way to make a super flavorful and moist chicken with the least amount of effort, or, you know, even needing to be at home. Now I will be honest, if you like crispy skin, this isn't the method for you. But crispy or not, I remove the skin anyway, so this is perfect for me.
This is almost embarrassing to post as a recipe. Really, all I do is season up the bird, chuck a bunch of flavorful and aromatic stuff that I have lying around inside or around the chicken, and turn on the slow cooker. Hours later, my whole house smells like roast chicken.
And this Lemon Herb Slow Cooker Roast Chicken is one of my favorite roast chicken variations.
The flavors and aromas of the lemon and onion and herbs permeate the meat and make it incredibly delicious. I like to use lots of thyme and rosemary, but pretty much anything will do. This time I also had a few sprigs of leftover sage and parsley, so those went in, too.
We actually had this slow cooker roast chicken simply, with a green salad and Creamy Greek Yogurt Honey Lemon Lime Dressing, but certainly you could go with a more traditional Sunday meal. Perhaps some roasted potatoes and green beans or broccoli. And definitely make a bigger chicken than you think you'll need so that you can put the leftovers on sandwiches or in some chicken salad. My friend, Becca, has a healthy chicken Waldorf salad recipe that this would be perfect in!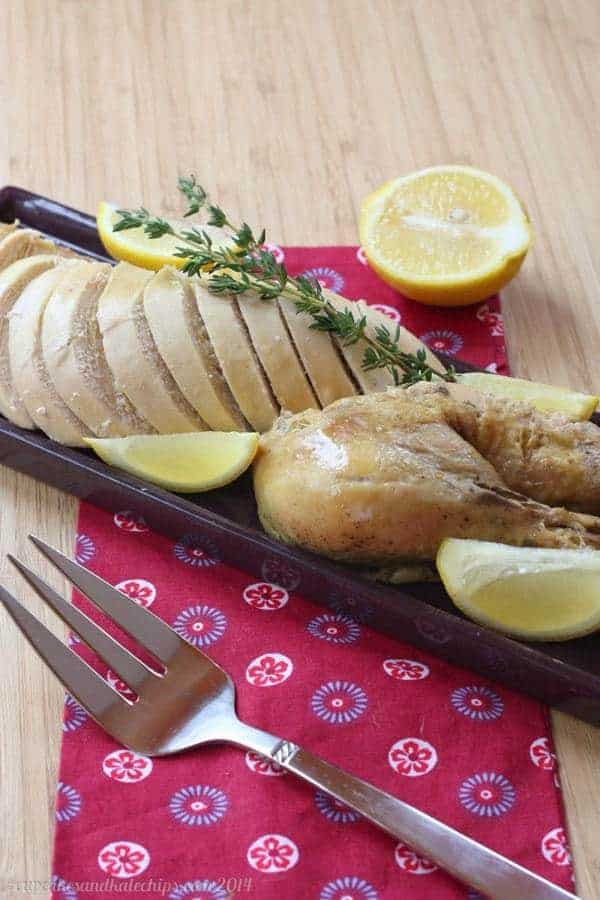 American Family Insurance not only wants to inspire everyone to #ChooseDreams, they also want to help you pursue those dreams. Throughout their social media communities, they will be providing tips and tools, inspiration, statistics and encouragement for dreamers on various topics, and encouraging you to share your stories as we grow this community of dreamers.
That is where Sunday Supper comes in. Together with American Family, we want to encourage and support our readers in their summer gardening projects. And part of that is providing ideas and instructions for planting those gardens and for using your harvest to make delicious and nutritious meals. So I hope you'll try this and many of the other recipes featuring the abundance of the season on the Recipes from the Garden #ChooseDreams Pinterest board. We will be pinning lots of amazing Sunday Supper and Weekday Supper recipes, from appetizers and salads to main dishes and desserts, all summer long!
Follow along with American Family on Linkedin, Youtube, Google+, Twitter, Facebook, and Pinterest, and #ChooseDreams!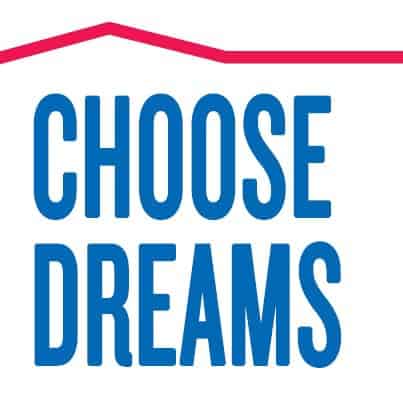 Join the #SundaySupper conversation on twitter on Sunday! We tweet throughout the day and share recipes from all over the world. Our weekly chat starts at 7:00 pm ET. Follow the #SundaySupper hashtag and remember to include it in your tweets to join in the chat. Check out our #SundaySupper Pinterest board for more fabulous recipes and food photos.
Would you like to join the Sunday Supper Movement? It's easy! You can sign up by clicking here: Sunday Supper Movement.
And make sure you check out the entire Sunday Supper menu of Recipes From the Garden at the bottom of this post.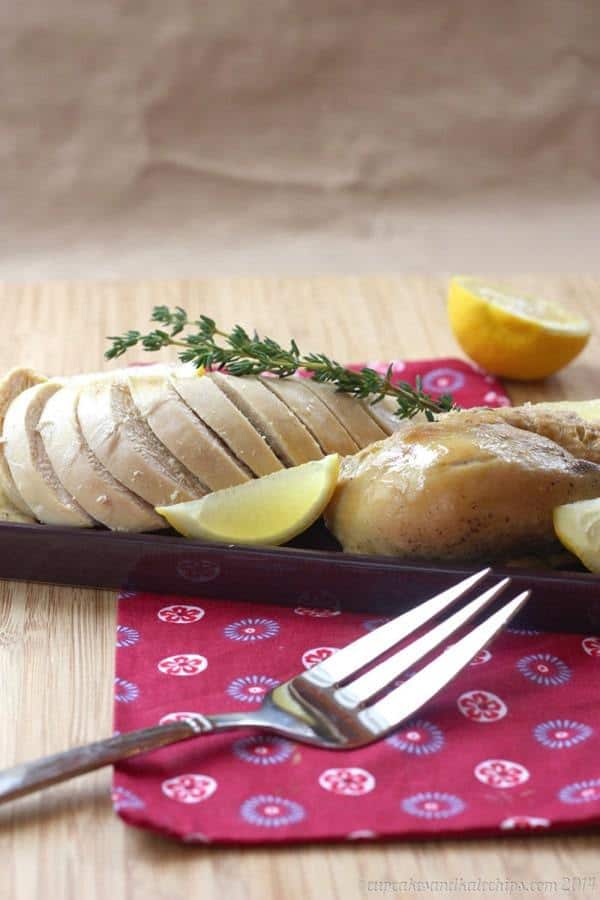 Are you planting a garden this summer?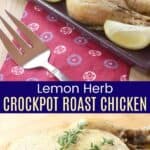 Print Recipe
Lemon Herb Slow Cooker Roast Chicken for #ChooseDreams #SundaySupper
Grab a few handfuls of any herbs you have on hand to make this simple, flavorful and healthy Lemon Herb Slow Cooker Roast Chicken.
Ingredients
One 5-7 pound chicken

two lemons

halved

1-2

teaspoons

kosher salt

One medium onion

peeled and quartered

One large handful fresh herbs

I like parsley, thyme, rosemary and sage
Instructions
Remove the giblets and place the chicken in your slow cooker. Squeeze one lemon over the chicken, and save the squeezed lemon to place in the slow cooker.

Season liberally, inside and out, with the salt and pepper.

Place the lemons, onion and herbs inside the chicken. If it cannot fit, you can place some of the lemon and onion around the chicken.

Cover and cook on low for 6-8 hours, or until fully cooked through. You do not have to add any liquid to the slow cooker.
Enjoy this  lemon herb slow cooker roast chicken recipe!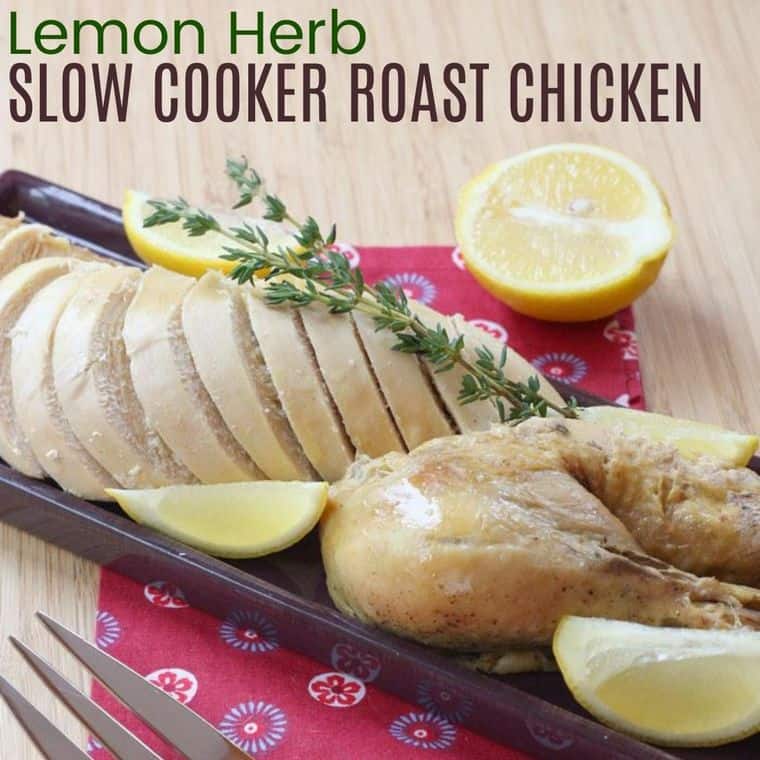 Here are some more recipes featuring my favorite vegetables and herbs…
And here is the entire #SundaySupper menu of Recipes from the Garden: