Now on to Part 2 of my first Foodie Friends Friday.  When I saw Lauren, The Part Time House Wife, post these Grilled Black & Bleu NY Strips, I knew I had to make them.  I mean, put blue cheese on anything, and I'm in.  And I had just the perfect occasion come up just a few days after I saw the recipe – The Hubby invited his friend Joe over for dinner.  Joe is a food blogger's dream for a dinner guest.  As long as he gets a good steak and good wine, he is willing to be a guinea pig for everything else.  So we gave him wine…
and steak…
Wow!  I really can't say any more than that.  The meat was so flavorful from the rub (which I totally want to make to use on other things), and the blue cheese added that nice, creamy tanginess that is so awesome with steak.  And, of course, my Grill-Master Hubby cooked them to perfection.  As always, I provide the flavor…
And he provides the flame.
We decided to do both filets and strip steaks to make everyone happy.  I love a good filet, but I tried a little of the strip steak, and that was amazing, as well.
And you'll see the recipes for the collard greens, potato salad, and dessert (gluten-free chocolate chip cookies and cookie dough truffles) in the coming weeks.  Everything got Joe's stamp of approval.  Dinner is served!
The Bug needed a little steak sauce on his meat, but really he was more interested in crashing his car (perhaps reliving our car accident) than eating.
Do you give your recipes a trial run before serving them to guests, or do you use your guests as guinea pigs?
Other than making some extra rub because we made A LOT of steak (six filets and two strip steaks), the only thing I changed was to used dried minced onion because I didn't have onion powder.  So head on over to The Part Time House Wife to get her awesome recipe for Grilled Black & Bleu NY Strips (or filets).
Enjoy!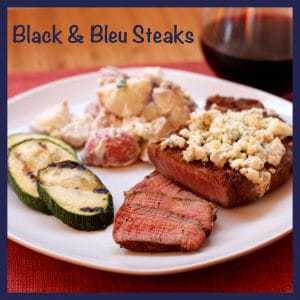 If you like this post, you'll love these: