This post may contain affiliate links. Read my disclosure policy.
Slow Cooker Pineapple Chipotle Beef is a little sweet, a little heat, and hardly any effort since the crock pot does all the work. Pile this meaty goodness on sub rolls for sandwiches, scoop it over rice, roll it up in a tortilla, or pile it on a salad. It's one of our favorite back to school crock pot recipes, so I don't really care what you do, just make this easy slow cooker recipe!
The weather here is ca-ray-zeeeee! Yes, that required three syllables. We have had this polar vortexing winter with snowstorm after snowstorm. March was supposed to kick off with a foot or two of snow, and after all the hype, we ended up with a dusting. Trust me, I am NOT complaining about that. It meant The Bug actually had a full week of school for the first time since, I don't know, early December.
But here it is mid-March and we still have piles of snow. Up until a few days ago, there was no option of going out in the backyard since it was still frozen over. At the moment it's a sloppy, muddy mess. Well, until it drops back to the low 20s and everything freezes over again. Ugh! Just make up your mind already, Mother Nature!!
So that is why I am sharing this chipotle beef recipe. There is something comforting about coming home after being out in the cold to a house filled with the aromas of dinner simmering away in the crock pot. Yet, breaking out your slow cooker when it is warm out is also a good idea. After all, who wants to be slaving over a stove when it is hot out, or when you could be at the park or the pool?
Doesn't matter what season it is, Pineapple Chipotle Beef is always going to be delicious!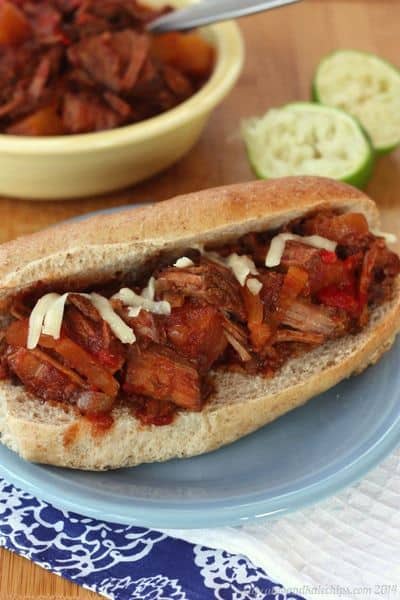 These Slow Cooker Pineapple Chipotle Beef Sandwiches are so flavorful with the slightly spicy, smokiness from the chipotles with the sweetness of the pineapple. I always love that sweet heat combination. This recipe is slightly adapted from Kate at i heart eating. She has some fantastic slow cooker recipes (I love her Balsamic Beef), and all kinds of other amazing recipe, so you should really pop by and check out her blog. So much yumminess, but unfortunately she has been feeling kind of crummy lately due to a rough first trimester, so her awesome blog could use a little attention. Stop by and say Hi to her.
Believe it or not, it has taken me so long to post this easy slow cooker recipe that we ate this for dinner during the Super Bowl. Something about football food made me want to pile the beef on sub rolls and sprinkle it with some shredded cheese for the guys. I think I just dumped it on my plate. Kate used them for tacos. But, especially for the gluten free crowd, I'm thinking rice bowls or taco salad would be fantastic as well. And then we'll just call it Slow Cooker Pineapple Chipotle Beef. See?
Are you a warm weather or cold weather person?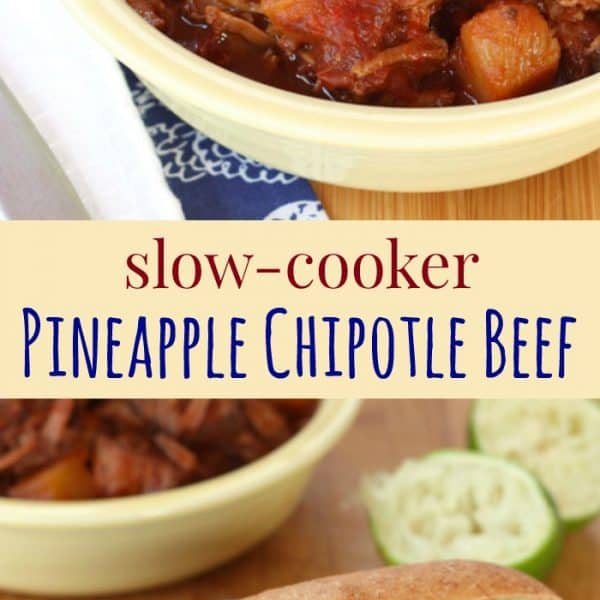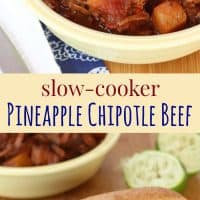 Slow Cooker Pineapple Chipotle Beef Sandwiches
A little sweet, a little heat, and hardly any effort since the crock pot does all the work. You could also use the beef in tacos, rice bowls, or salads.
Ingredients
1

chipotle

minced, plus 1 Tbsp sauce from a can of chipotles in adobo

one 16 oz. can pineapple chunks or tidbits in juice

including the liquid

2

cloves

garlic

minced

2

Tbsp

tomato paste

1

tsp

salt

3-4

lbs.

beef roast

trimmed of excess fat

one onion

thinly sliced

one red pepper

sliced

juice of a lime

sub rolls

shredded sharp cheddar cheese

I prefer Cabot Sharp Light
Instructions
Combine the chipotle, adobo sauce, pineapple and juice from the can, garlic, tomato paste and salt in your slow cooker.

Add the roast, and scatter the onion and pepper on top.

Cook on low for 6-8 hours, or until the beef shreds easily with a fork.

Shortly before serving, remove the beef from the slow cooker, shred to two forks, and return to the slow cooker. Squeeze the lime over the beef and stir to coat in the sauce.

Serve on sub rolls and top with shredded cheese.
Categories:
Enjoy!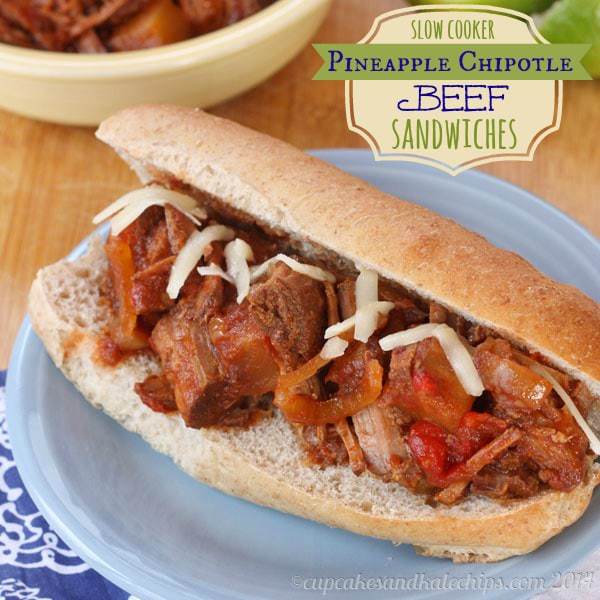 Looking for some more any season slow cooker goodness?
Slow Cooker Tomato Veggie Sauce with Sausages
Plus here are some more from my friends…