This post may contain affiliate links. Read my disclosure policy.
Pie recipes are always a favorite dessert for any season or occasion. From winter holidays to spring and summer fruit, any time of the year is the perfect time for pie. As you are dreaming about dessert in a crust, from peach and apple pies to cherry and berry pies, from custard pies to cream pies, from chocolate pies to nut pies, and even mini pies, make sure you check out this collection of over 70 of the Best Pie Recipes!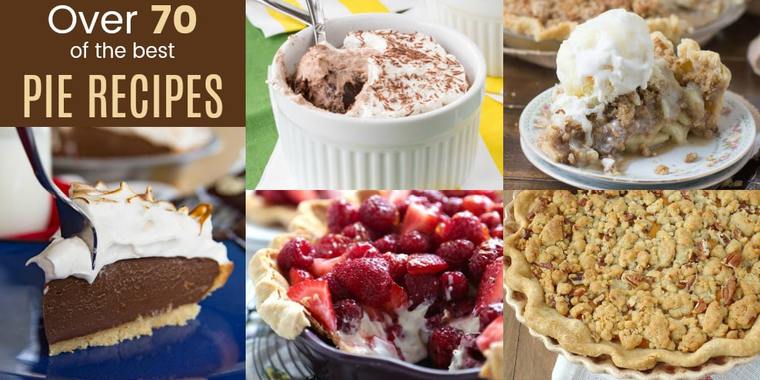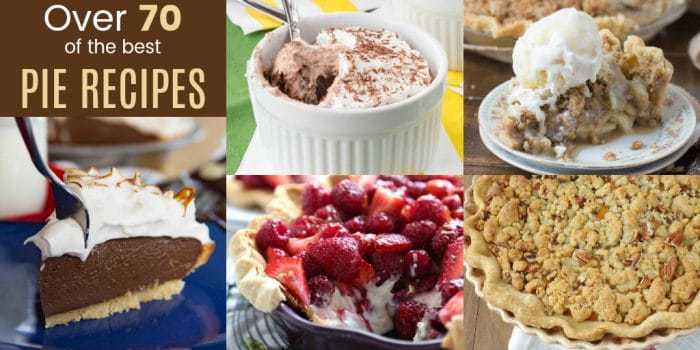 70+ Recipes for How to Make Pie
It's always the season for pie! I mean, who doesn't love their favorite fruits, flavors, and more inside a rich and flaky or buttery and crumbly crust? Many think of pie around the holiday season, when a fresh pumpkin pie or apple pie grace the dessert table. Or maybe you prefer sweet potato or pecan for Thanksgiving or Christmas. Pie recipes are also popular in the summer as a delicious way to enjoy your favorite summer berries or other fruit, like peaches. Coconut and lemon seem to come into favor in the spring around Easter. And then there's the timeless chocolate pies, peanut butter pies, and other cream pies that are amazing at any time of the year.
What are the four kinds of pie?
Traditionally there are four kinds of pie:
Cream pies – cream pies typically have a bottom crust filled with a custard or pudding that can be homemade or made from a mix before pouring into the crust. They are chilled to set and are usually topped with whipped cream.
Fruit pies – fruit is combined with sugar and a thicken and baked in a crust. They can be topped with a second crust, a crumb topping, or left open.
Custard pies – a custard base is made from eggs and usually a form of dairy and then baked in the crust. This includes not only a traditional creamy custard but also pumpkin and sweet potato pie.
Savory – this typically means something along the lines of a pot pie with a top and bottom crust and a savory stew-like filling, or a single crust quiche. But I have to throw Shepherds Pie into the mix, even though this list is all about sweet dessert pies.
Speaking of that list of sweet pies, I really thought that just those three sweet varieties did not do justice to the varieties of dessert pies.
What are the different types of fillings for pie?
Besides those main four, I added:
Chocolate pies – a chocolate pie might fall into the cream pie category, but some pies contain chocolate in other forms, such a Derby-style pie, a brownie pie, or
Nut pies – these include your traditional gooey-filled pies like pecan pie, as well as peanut butter pies of all types.
Mini pies – don't want a slice? Or prefer to have an entire pie to yourself. Use pie crust to make baked or fried hand pies, whip up some pies served in individual ramekins, or even use cookie dough to make wee bitty bite-sized pies.
And of course some pie recipes could fall into more than one category, so I organized them as best as possible. Regardless, I'm sure you'll find something to love.
What are the different types of crust for pie?
Some people might prefer the traditional pastry pie crust, though there is always debate about butter versus shortening, making it by hand versus using a food processor or even buying it pre-made from the store.
And others prefer a crust made from crushed graham crackers or another cookie. It's even possible to swap out that cookie crust for an almond meal crust if you need a gluten free option.
Your pie possibilities are endless. So whether you prefer traditional pie recipes and stick to the classics or want to try something new and creative, you are sure to find something you'll love in this amazing list of the best pie recipes!

70+ of the Best Pie Recipes
You'll definitely find a sweet pie you'll love for dessert! In this list, there are ideas for:

Fruit pies

Cream pies

Custard pies

Chocolate Pies

Nut Pies

Mini Pies