Mini Crustless Pumpkin Pies (Pumpkin Custards)
Disclosure: This post may contain affiliate links. Cupcakes & Kale Chips is a participant in the Amazon Services LLC Associates Program, an affiliate advertising program designed to provide a means for us to earn fees by linking to Amazon.com and affiliated sites.
Crustless Pumpkin Pies are the perfect size to keep all to yourself. Since everybody knows the best part of the pie is the pumpkin pie filling, there is no need to bother with crust making this the perfect individual gluten free pumpkin pie recipe. Don't wait for Thanksgiving to enjoy an easy version of your favorite holiday dessert!
Mini pumpkin pies baked in ramekins are one of Fall's best gluten-free pumpkin recipes! Check out the video to see how easy it is to make these pumpkin custards.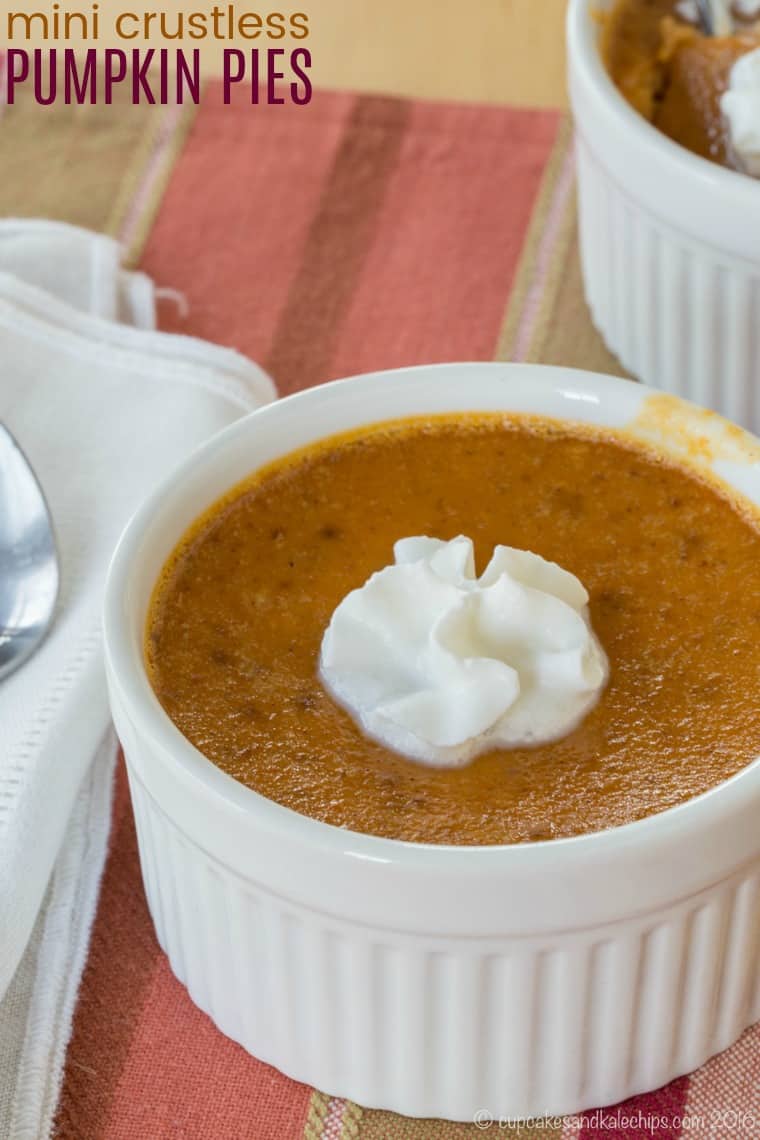 Being born on November 27th, my birthday usually falls or within a day or two of Thanksgiving. As a kid, since we were already getting together as a family on Thanksgiving, and often on the next day for consumption of leftovers, my family birthday celebration was usually done on Thanksgiving. So this meant my candles went in the pumpkin pie, since apple pie is not the best support system for birthday candles. One problem…
I hated pumpkin pie. I really just wanted a Fudgie the Whale, or something. Heck, a Funfetti ice cream cake would have been awesome. But I got pumpkin pie.
Sometime later in life, I actually started liking pumpkin pie. So I began making it, and I always made the Martha Stewart pumpkin pie. Her filling is always perfect. In fact, the Hubby, who claimed to never really like pumpkin pie happily eats it every year. Or he just wants to keep up the facade, since the first time he said he liked it was the first time he spent Thanksgiving with my family.
And he was trying to impress everyone, because he also did the dishes – first man to ever do that in our house. I'm going to keep convincing myself it is because I just make an exceptionally good pumpkin pie.
Except now, since I don't really like crust, have a gluten allergy, and really don't want to fiddle with gluten free pie crust, I stick with no crust pumpkin pie.
Why make Mini Pumpkin Pies?
Because then you can eat an entire pie yourself!
Kidding, sort of. I actually made these for my birthday. I had thought of making myself a birthday cake to post, since Gluten Free Golden Fudge Cake is pretty much my ultimate birthday cake. But, between the gluten-free chocolate chip cookies for two I found in the freezer, the gluten-free pumpkin snack cake I made, and half of a Monster Snickers Pie I managed to consume in just two sittings, I thought the towering pile of cake and frosting that I dream of would be a bit excessive and dangerous to have in my kitchen.
But this is actually built-in portion control.
Plus making these individual pumpkin pies means you can keep some separate gluten free pumpkin pie for those that can't or don't want any crust and leave the regular pumpkin pie for the rest of the family.
Pumpkin Pie without a Crust
These mini pumpkin pies are not much more than pumpkin pie filling baked in little ramekins. By skipping the crust, I suppose you could just call them pumpkin custards, but Mini Crustless Pumpkin Pies sounds way more festive, and it's always more fun to eat your own single serving dessert. Just mix up a perfectly sweet and spice pumpkin pie filling, pour it into custard cups or ramekins, place them in a water bath, and pop them in the oven. If you avoid gluten or just don't want to deal with making pie crust, this mini pumpkin pie recipe is what you need for fall.
To make this recipe, you will need:
RAMEKINS – The most common question I get is what size ramekins to make these mini pumpkin pies in. I use 4 oz. ramekins like these. You could make them smaller or bigger, but you would have to adjust the baking time. I find that this is actually the perfect serving size.
How do you make Mini Crustless Pumpkin Pies? Here are some recipe tips…
You'll need 4 oz. ramekins or custard cups to bake these mini pumpkin pies. Set them in a larger glass baking dish so you can later add water to bake in a water bath.
Speaking of the water bath, while you prepare the filling, start heating some water in a pot or tea kettle.
As mentioned, this pumpkin pie filling is from the Martha Stewart Pumpkin Pie recipe. She uses light brown sugar, which I think gives a nice caramelized flavor versus using white sugar.
The pumpkin puree (NOT pumpkin pie filling) is whisked with the brown sugar, cornstarch, pumpkin pie spice, and eggs until smooth before stirring in evaporated milk. Note that this is NOT sweetened condensed milk.
You can buy pumpkin pie spice, but I usually used the spices in my pantry to make this Pumpkin Pie Spice from How Sweet It Is.
After pouring the mixture into the ramekins, pour the hot water into the baking dish around the ramekins. You can do this ofter you set it on the oven rack if you don't want to carry a heavy dish filled with boiling water.
You'll bake them for about 35 to 45 minutes. The crustless pumpkin pies will still be slightly jiggly when done. They will firm up as they sit in the ramekins and cool. Overbaking is not the end of the world, but they might crack in the middle.
Is it even pumpkin pie without whipped cream? While I love fresh whipped cream like I make for my Gluten Free Strawberries and Cream Cake, I'm a sucker for Cool Whip on my pumpkin pie. #dontjudge
If you are missing the crust or want something crunchy with the pie, sprinkle some graham cracker or gingersnap crumbs on top.
Is Crustless Pumpkin Pie gluten free?
Yes, this is a perfect option for a gluten free pumpkin pie recipe. Rather than trying to make a gluten free crust, there is no crust at all, which takes that out of the equation. And the pumpkin custard is made with cornstarch as a thickener, which is gluten free. All of the other ingredients are gluten free as well, making this a perfect gluten free Thanksgiving dessert.
For more yumminess from me and my foodie friends, keep up with me on…
Or sign up to have Cupcakes & Kale Chips delivered straight to your Inbox!
What are some other gluten free pumpkin recipes?
And if you want to know what to do with leftover pumpkin pie filling, try these Pumpkin Pie Greek Yogurt Parfaits!
Mini Crustless Pumpkin Pies Recipe
Who needs crust when you can enjoy the best part of the pie in your own single-serving dessert? These mini pumpkin pies are perfect to serve for Thanksgiving or any time you want to satisfy your pumpkin pie craving but don't want to deal with making a crust. A sweet pumpkin pie filling with the warm spices of cinnamon and ginger is baked in ramekins for a creamy pumpkin custard. I guarantee these are going to be a hit with your friends and family.
I hope you'll leave a comment and give it a FIVE STAR rating or share a photo on this pin on Pinterest!

Print Recipe
Individual Crustless Pumpkin Pies (aka Pumpkin Custards)
Pumpkin Pie filling, baked in individual ramekins, for those that aren't crust-lovers.
Ingredients
15

ounces

pumpkin puree

3/4

cup

packed light-brown sugar

1

Tablespoon

cornstarch

1/2

teaspoon

kosher salt

2

teaspoons

pumpkin pie spice

3

large

eggs

12

ounces

evaporated milk
Instructions
Preheat oven to 350°F. Place 6 ramekins or custard cups in a large baking dish. Heat a pot or teapot of water to boiling, and set aside.

In a large bowl, combine pumpkin, brown sugar, cornstarch, salt, pumpkin pie spice, and eggs.

Whisk to combine thoroughly.

Add evaporated milk, and stir to combine.

Fill the ramekins with the pumpkin mixture. Pour the hot water in the baking dish around the ramekins.

Bake for 35-45 minutes, or until set in the middle.

Remove from the oven, and let cool in the pan until cool enough to handle.

Remove the ramekins from the water bath. Serve warm, at room temperature, or chilled in the refrigerator.
Nutrition
Serving:
1
g
|
Calories:
248
kcal
|
Carbohydrates:
40
g
|
Protein:
7
g
|
Fat:
6
g
|
Saturated Fat:
3
g
|
Cholesterol:
109
mg
|
Sodium:
301
mg
|
Potassium:
388
mg
|
Fiber:
2
g
|
Sugar:
34
g
|
Vitamin A:
11300
IU
|
Vitamin C:
4.2
mg
|
Calcium:
208
mg
|
Iron:
1.9
mg
Enjoy!
This recipe was originally published on November 27, 2010, and was updated with new photos and a video on November 17, 2016.