This post may contain affiliate links. Read my disclosure policy.
Learn How to Make Jasmine Rice, 5 ways! I'm sharing how to cook jasmine rice on the stovetop, as well as in the rice cooker, Instant Pot, crock pot, and microwave, for perfect, fluffy results every time. Plus, serving suggestions and easy recipes with jasmine rice.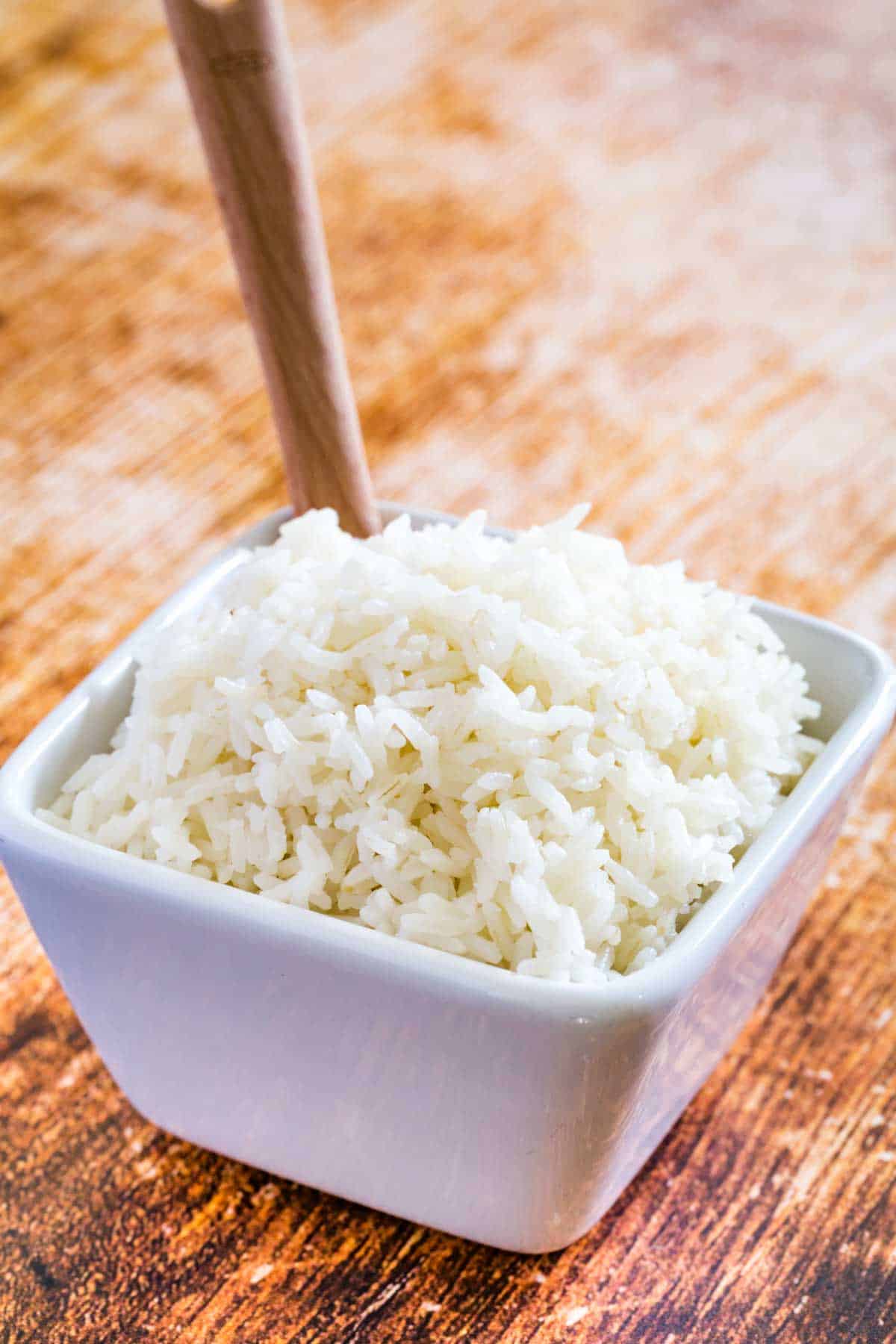 How to Cook Perfect Jasmine Rice, Every Time!
Cooking rice is easy! I'm sharing 5 fool-proof methods for cooking perfect jasmine rice, whether you're going the traditional route with a pot on the stovetop, or using a rice cooker, Instant Pot, slow cooker, or the microwave. You'll have light and fluffy long-grain rice to serve with all your favorite dinner ideas! Or, use cooked rice for easy meal prep.
Below you'll find detailed instructions for making jasmine rice, along with serving suggestions, meal ideas, and ways to use jasmine rice in recipes!
What Is Jasmine Rice?
So, jasmine rice vs. regular White Rice: what's the difference? Jasmine rice is a type of long-grain, fragrant variety from Thailand. Compared to other white rice, the texture of jasmine rice is fluffy when cooked, rather than soft and sticky. Its fragrance is popcorn-like and slightly floral, and it's perfect to use as a side to curries, in soups, in rice bowls, and in loads of other recipes that call for long-grain rice. I've included a few at the end of this post.
Is Jasmine Rice Gluten-Free?
On its own, jasmine rice is a gluten-free grain. Of course, always look out for flavored rice, and rice that comes with seasoning packets or sauces that may contain gluten. And if you're especially sensitive to gluten or celiac, make sure that the rice you're buying is processed in a facility that's free from the risk of cross-contamination with products containing wheat, barley, and rye. Check out my resource post, Is Rice Gluten-Free?, for more details.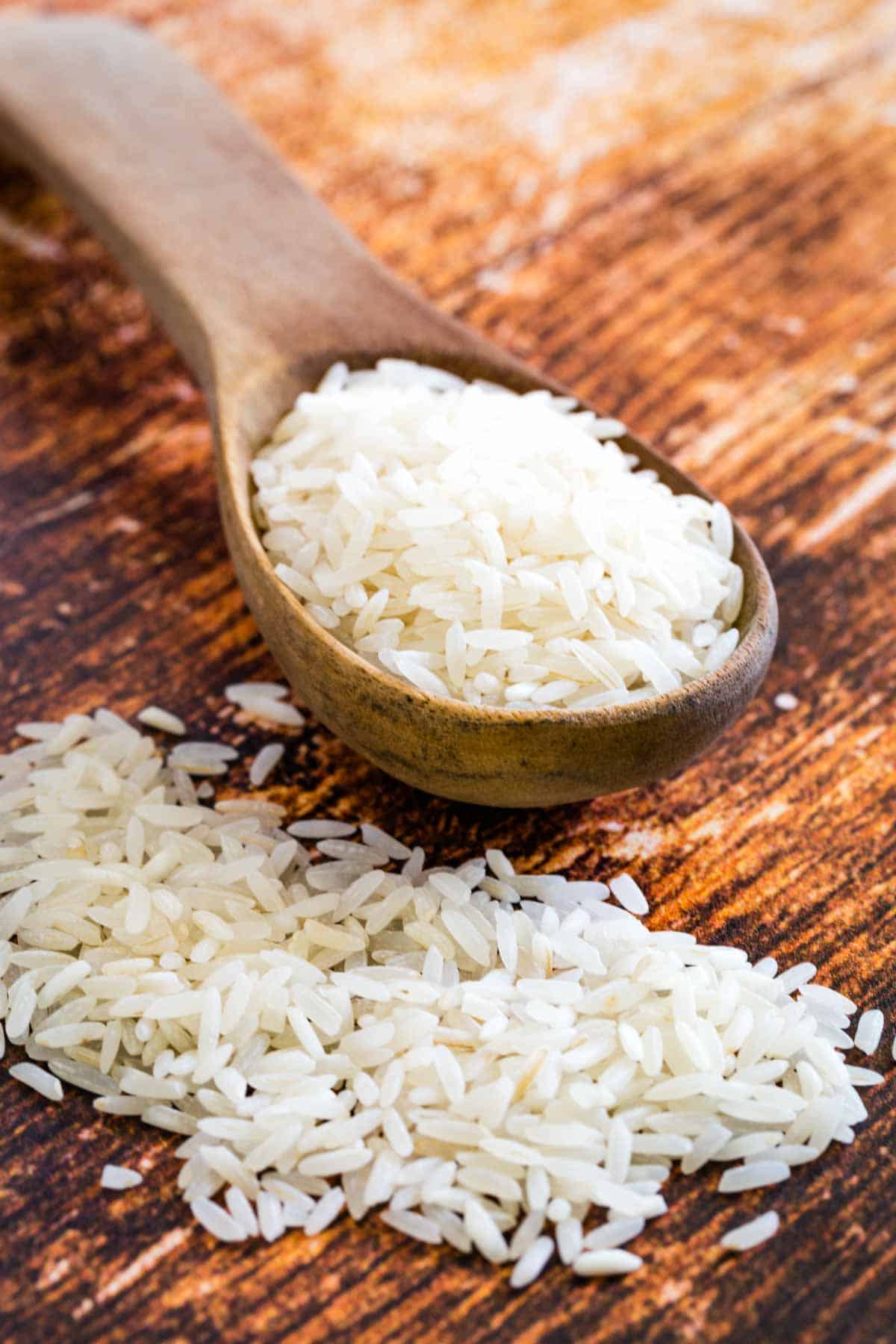 How to Cook Jasmine Rice
The key to perfectly cooked rice is the water-to-rice ratio. In the case of jasmine rice, this ratio is 1 ½ cups of water or liquid for every 1 cup of dry rice (1:1.5). You can make rice using more than just water, too. Stock or broth, or even milk is a good way to add additional flavor during the cooking process.
Below, I go into more detail on the best cooking methods for jasmine rice, including the stovetop, rice cooker, Instant Pot, crockpot, and microwave. Choose your preferred method, and don't forget to always fluff your rice with a fork before you serve it!
Methods
What's the best way to cook jasmine rice? There are a few methods that you can use. I'll summarize them here before we dive into how to cook rice in all 5 different ways:
Stovetop – Making rice using the stovetop method is budget-friendly and space-saving (you probably already own a saucepan).
Rice Cooker – The "push-button" method, and the easiest.
Instant Pot – Yes, you can make jasmine rice in your pressure cooker! As long as it's not instant or minute rice.
Slow Cooker – Like the instant pot, making jasmine rice in the crock pot is another hands-off method. It takes the longest, but slow cooking is great for large batches of rice.
Microwave – A fuss-free method that doesn't require any bells and whistles. Serve your jasmine rice right out of the microwave-safe container you use to cook it in.
How to Make Jasmine Rice on the Stove
First up is the stovetop method. This is the most traditional way of cooking rice, and it gives you a bit more control over the texture of the rice. You can cook your jasmine rice until soft, al dente, etc. depending on what you prefer or what's needed for a recipe.
Heat 1 cup of rice and 1 ½ cups of water in a saucepan over high heat.
Once the rice reaches a boil, lower the heat to medium-low. Cover and simmer with the lid on for 25 minutes, or until all of the water is absorbed.
Take the pan off of the heat. With the lid still on, let the rice sit for an additional 10 minutes. Finally, fluff with a fork and serve.
Stovetop Tip
If most of the water is already absorbed but the rice is still a bit raw (this can happen if your stove or pot runs hot), add an additional 1/4 cup of water as needed.
Rice Cooker Jasmine Rice
Rice cookers are a wonderful invention for consistent, perfectly-cooked jasmine rice (or any rice for that matter) every time. It's by far the easiest method! All you do is push a button to start. The best part is, you don't need to splurge on an expensive cooker to do the job, inexpensive rice cookers work just fine.
Combine 1 cup of jasmine rice with 1 ½ cups of water inside the cooker.
Close the lid and switch the cooker on. That's it!
Instant Pot Jasmine Rice
Making rice in your Instant Pot is a fast, hands-free method. Just keep in mind that it (ironically) doesn't work with instant jasmine rice.
Add 1 cup of rice and 1 cup of water to the Instant Pot.
Close the lid, seal, and set the pressure cooker to cook on High for 3 minutes (note that the IP will take a few additional minutes to come to pressure first).
When the time is up, naturally release the pressure for 10 minutes, then vent the remaining pressure manually. Open the lid and give the rice a fluff before serving.
Pressure Cooking Tip
Give the inside of your electric pressure cooker a light coating of oil or cooking spray before adding the water and rice. This helps to keep the rice from sticking.
Cooking Jasmine Rice in the Microwave
Microwaving rice is another easy method. All you need is a bowl (one that's large enough that the rice won't spill over).
In a microwave-safe dish, combine 1 cup of jasmine rice with 3 cups of water.
Microwave the rice on high, uncovered, for 10 minutes. Next, cover the dish and heat for another 20 minutes at 50% power.
Let the rice sit for 5 minutes, then fluff and serve.
Crock Pot Jasmine Rice
Slow cooking is the ultimate hands-free method for cooking rice. Leave the rice cooking while you run errands, and come home to perfectly fluffy jasmine rice! It's also great for doubling or tripling the amount of rice, for larger batches.
In the bowl of your crockpot or slow cooker, combine 1 cup of rice with 1 ½ cups of water. I like to stir in a spoonful of butter or olive oil, too, to help keep the rice from sticking.
Cover with a lid and set the pot to cook on Low for 2 hours, until all of the water is absorbed.
Slow Cooking Tip
If you're using a particularly large slow cooker (3 quarts or more), double the amount of rice to 2 cups so that it makes a batch that's large enough to cook properly.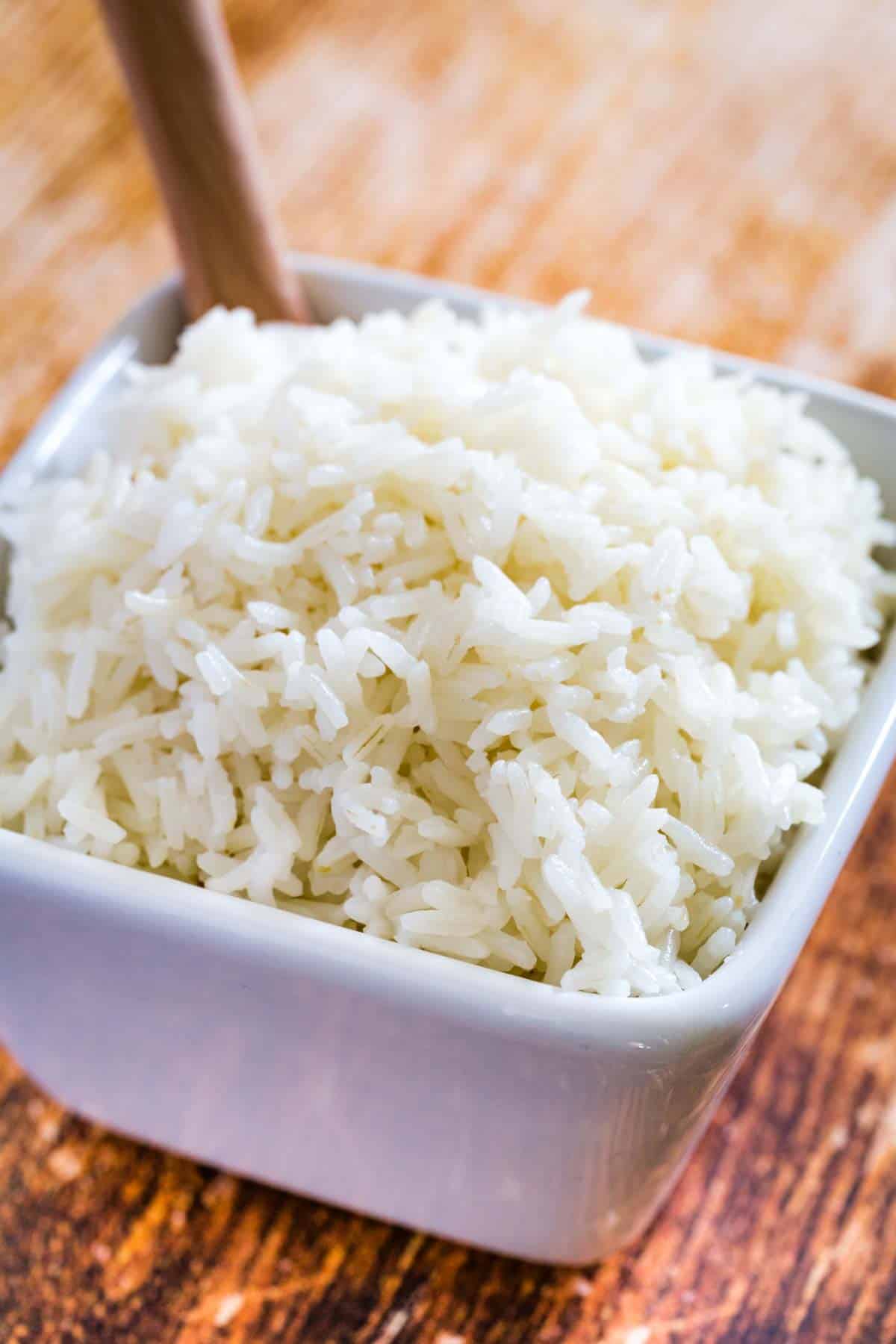 Storing Leftover Jasmine Rice
There's a lot of hesitancy about the best way to store leftover rice. This is due to the risks associated with Bacillus cereus, a heat-resistant toxin that can grow in foods like rice. The best way to minimize the risk is by refrigerating any leftovers as soon as possible, ideally within one hour. It's best to discard rice that's been left out at room temperature for longer than 2 hours.
To store cooked jasmine rice, allow the rice to cool and then store it in a shallow airtight container and refrigerate immediately. Leftover rice should be reheated within 3-5 days. Cooked rice can also be frozen for longer-term storage, see below.
How to Freeze Cooked Rice
Freezing your cooked rice is great for meal prep! Especially if you have lots of leftovers. Same as when refrigerating jasmine rice, you'll want to make sure it's completely cool before transferring the rice to an airtight, freezer-safe container. Remember to label and date your containers! Thaw frozen rice in the fridge and reheat it within 1 month.
How to Reheat Jasmine Rice
Reheating leftover cooked rice is easy to do in the microwave or on the stovetop. Because leftover rice tends to dry out, I recommend adding a spoonful of water per cup of rice when reheating, to help loosen it up.
To reheat rice in the microwave, add the rice to a microwave-safe container with a bit of liquid. Cover, and heat on high for 1-2 minutes until it's piping hot throughout.
To reheat rice on the stovetop, break up the rice in a saucepan and sprinkle it with some liquid. Cover the pan and heat the rice on low for 3-5 minutes, stirring every so often until it's hot.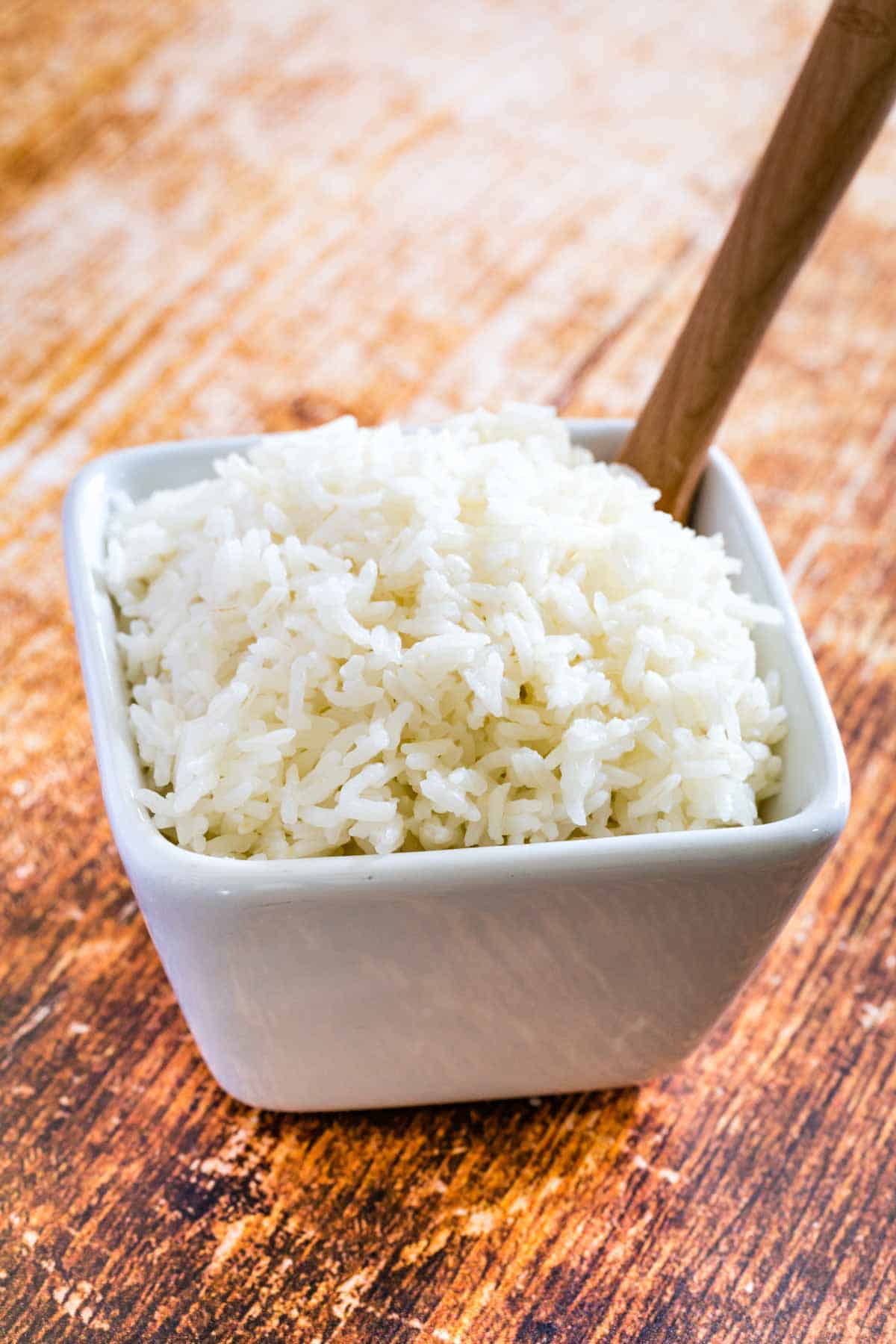 Make it a Meal
There are endless ways to turn rice into a satisfying, healthy family meal. Jasmine rice is particularly great to serve with Asian-inspired dishes and curries and in rice bowls. Here are some ideas.
Rice Bowls
Ideal for meal planning and meal prep, rice bowl recipes are the best way to pile your favorite ingredients over a bed of jasmine rice:
As a Side Dish
Jasmine rice makes the perfect versatile side dish to all sorts of dinner ideas:
Recipes With Jasmine Rice
Turn jasmine rice into delicious, wholesome family-friendly meals. If you have lots of jasmine rice kicking around in the pantry, try these easy recipes: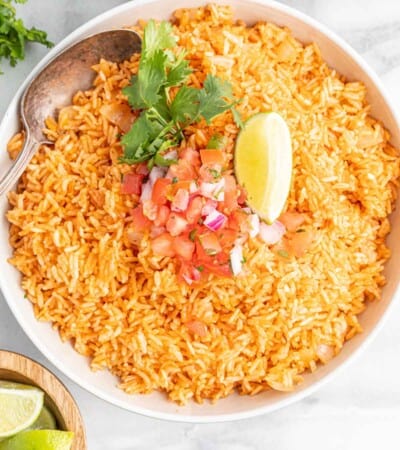 Put your Instant Pot jasmine rice skills to the test and make this easy, restaurant-style Spanish rice! Quick and delicious, this pressure cooker recipe is the perfect side to all your favorite Tex-Mex meals.
Get The Recipe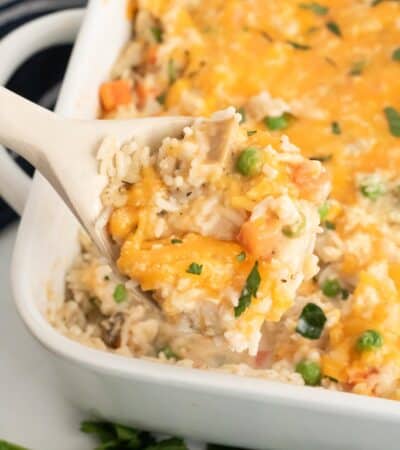 This cozy and satisfying cheesy chicken and rice casserole is pure comfort food, made with long-grain rice and filled with flavor. My version of this classic casserole is gluten-free with a healthy spin.
Get The Recipe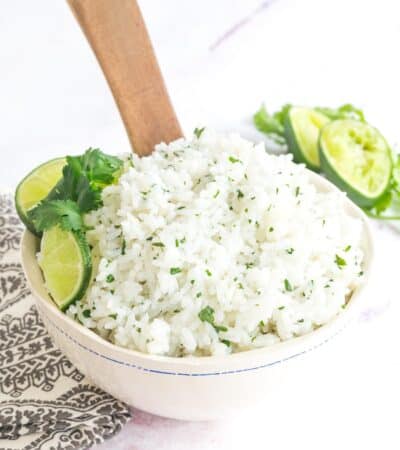 This Chipotle copycat cilantro rice recipe is an easy way to use jasmine rice that's full of bright flavor thanks to fresh chopped cilantro and a squeeze of lime. It's a perfect side dish with Tex-Mex meals and Asian-inspired dinners!
Get The Recipe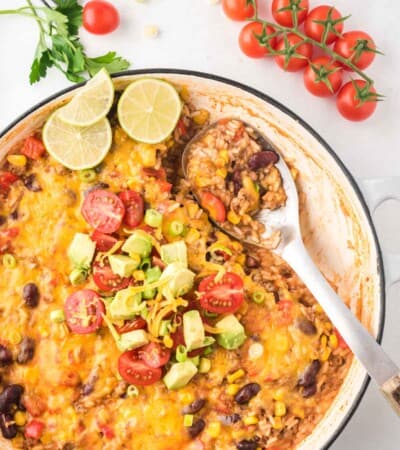 Use parboiled jasmine rice to make an easy Mexican-style one-skillet dinner! This ground beef taco skillet recipe is hearty and cheesy, filled with all the taco flavors we love.
Get The Recipe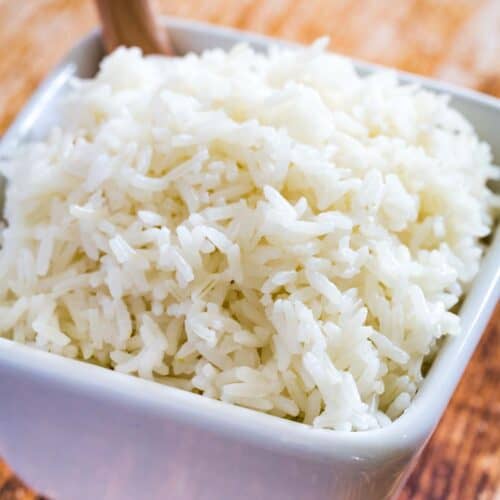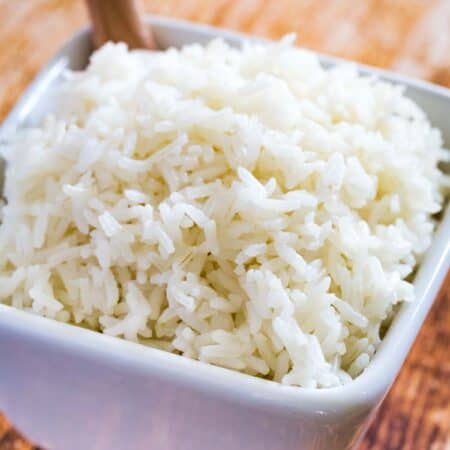 How to Make Jasmine Rice
Learn How to Make Jasmine Rice 5 different ways! Cook perfectly fluffy jasmine rice on the stove, in the rice cooker, Instant Pot, slow cooker, and microwave.
Ingredients
1

cup

jasmine rice

water

(or chicken or vegetable broth, amount varies based on cooking method)
Instructions
Stovetop:
Combine 1 cup rice with 1 and 1/2 cups water in a saucepan.

Bring contents to a boil, then reduce the heat to medium-low and simmer with the lid on.

Cook until all of the water is absorbed, about 25 minutes. If you notice that the water is almost absorbed and the rice is still raw, add another 1/4 cup of cooking liquid.

Remove from heat, keep the lid on, and let it sit for 10 minutes. Fluff with a fork before serving.
Rice Cooker:
Add 1 cup jasmine rice and 1 1/2 cups water to the rice cooker.

Place the lid on the top and turn the cooker on.
Instant Pot:
Coat the liner with cooking spray or oil to help prevent any sticking or foaming.

Add 1 cup jasmine rice and 1 cup water to the electric pressure cooker.

Attach the lid, seal the vent, and set the unit to cook on High for 3 minutes. It will take 5-10 minutes to come to pressure first.

After the cooking ends, use a Natural Pressure release for 10 minutes, then manually release the rest.

Remove the lid and fluff the rice before serving.
Microwave:
Combine 1 cup of brown rice with 3 cups of water in a microwave-safe dish.

Microwave uncovered for 10 minutes on high.

Reduce the power to 50%, cover the dish, and cook for another 20 minutes.

Let sit for about 5 minutes, then fluff and serve.
Slow Cooker:
Add 1 cup jasmine rice and 1 and 1/2 cups water or cooking broth to the crock. If desired, add a tablespoon of butter or oil to prevent sticking.

Stir to combine, then attach the lid.

Cook on Low for 2 hours, or until all of the liquid is absorbed.
Nutrition Facts
How to Make Jasmine Rice
Amount Per Serving (0.5 cups cooked)
Calories 113
Calories from Fat 9
% Daily Value*
Fat 1g2%
Sodium 2mg0%
Potassium 35mg1%
Carbohydrates 25g8%
Protein 2g4%
Calcium 9mg1%
Iron 1mg6%
* Percent Daily Values are based on a 2000 calorie diet.
Categories:
More Easy Cooking How-Tos