This post may contain affiliate links. Read my disclosure policy.
It's Improv Challenge day for April, and this month's theme let us all get really creative – Ebony & Ivory! Rich, fudgy, chocolate goodness, with swirls of cheesecake and gobs of peanut butter cookie dough, pour a glass of milk and sink your teeth into these Flourless Peanut Butter Cookie Dough Cheesecake Brownies.
Flourless Peanut Butter Cookie Dough Cheesecake Brownies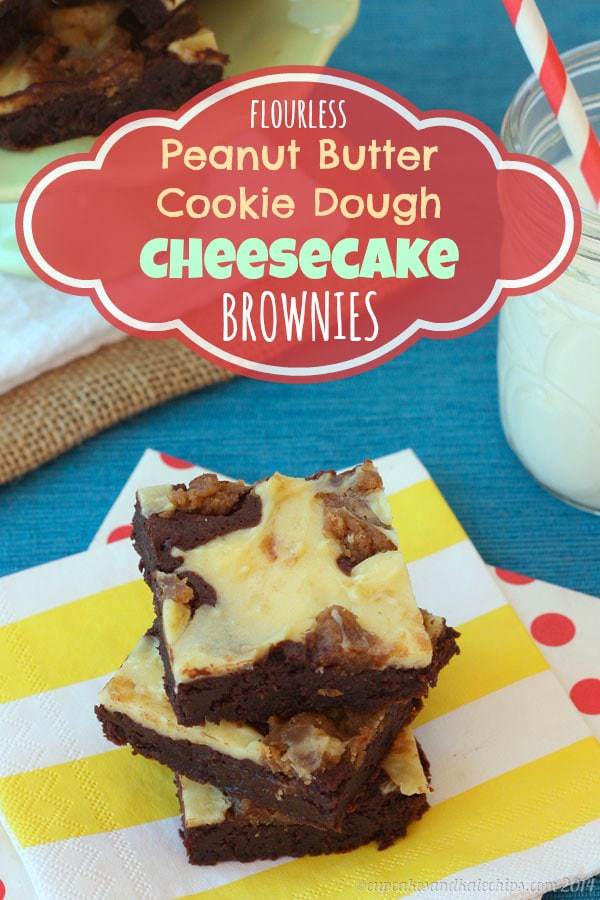 Sometimes life gets away from you. Sometimes ideas exist in your head and just never get put into action. Sometimes you just have to make do with what you've got. Yeah, that kinda happened here. But hey, there's brownies, so it's all good.
I swear, almost since the day I clicked "Publish" on my first blog post, I've had a cookie concept. You've heard of Black & Whites, right? I was never a Seinfeld fan, but they were the subject of the only episode that I have any real recollection of. I think I only watched it because I love these cookies so much. They're a New York thing – a big, thick, cakey, fairly plain cookier, but what totally makes it is that the flat side is frosted with half white vanilla frosting and half chocolate frosting. And it's not your typical buttercream or royal icing that you usually get on cookies. It's somewhere between frosting and a glaze – thick and gooey, not runny, but also not fluffy and buttery. So my concept has been to replace the frosting with a Nutella-based one for the "black" and a sweet mascarpone-based one for the "white", and then to call then Negras & Biancas – an Italian-inspired Black & White! And when I saw this month's theme, I knew now was the time.
Yeah, never happened.
Between all the Valentine's Day treats I made, then the little one's birthday, Easter sweets, Chocolate Peanut Butter Day, well, the cookies never happened. But these did. You see, this recipe was my original plan for Chocolate Peanut Butter Day. But for a day celebrating that awesome combo, I felt like my recipe had to scream, "CHOCOLATE & PEANUT BUTTER". These scream, "CHOCOLATE & CHEESECAKE with some peanut butter." So that meant I ditched these brownies. OK, technically I didn't ditch them, but I had to rethink things and bake more brownies. These kind of became an afterthought.
Till I ran out of time to make something black and white, and remembered that although I was disappointed because my peanut butteryness requirement was not met, they were still super duper incredibly yummy! And they were ebony (almost) and ivory (kind of).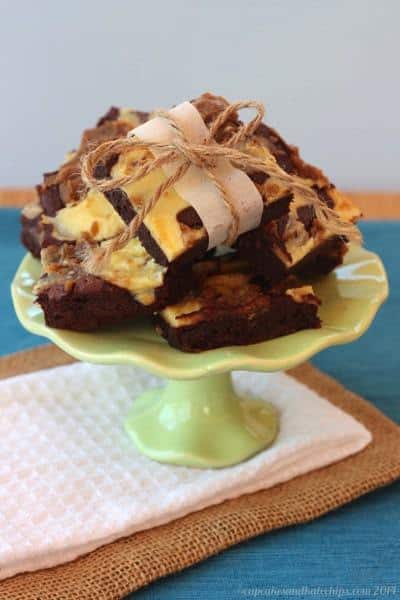 I mean, really, how could I be disappointed with Flourless Peanut Butter Cookie Dough Cheesecake Brownies? It's that same rich, fudgy brownie base that I've been loving lately, only it's got cheesecake swirls. And while I originally intended for peanut butter swirls, the peanut butter mixture didn't really spread and almost turned into gobs of cookie dough. And there is no sugar in the peanut butter mixture, which I think is ideal for that perfect balance of sweet and chocolaty brownies, tangy and rich cheesecake, and salty and nutty peanut butter.
I mean really, how could I not share these with you?!
And guess what – remember the other day how I said that anything I'm not sure if "bloggable" had to get turned into something "bloggable"? Yeah, since I initially slightly irritated with these brownies, despite their deliciousness, most of them are in the freezer. I foresee a "repurposed" dessert in the future. Hmmm, what to make?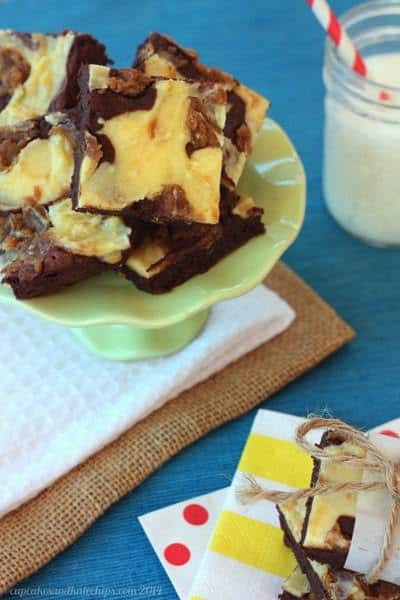 As I mentioned, this recipe is part of the Improv Challenge, which is a blog hop hosted by Kristen of Frugal Antics of a Harried Homemaker. A theme is given, which is two assigned ingredients. Then it is up to the participating bloggers to let the creative juices flow, and see what they can come up with. Then on the third Thursday of the month, we will all publish our new recipes based on the theme. If you are have a blog and would like to join us, click on the picture to the below to learn more. If you are new to my blog, finding me because you have been following the Improv Challenge, then WELCOME!
Check out the links at the bottom of this post to more great Ebony & Ivory Recipes! I can't wait to see what everyone has come up with!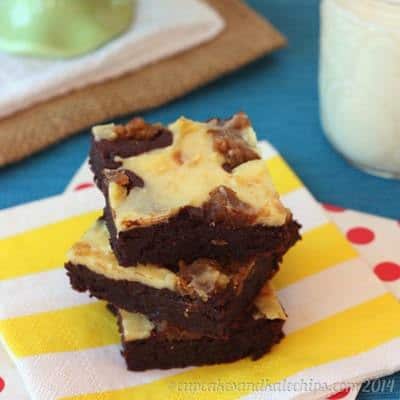 Do you have a favorite Black & White recipe?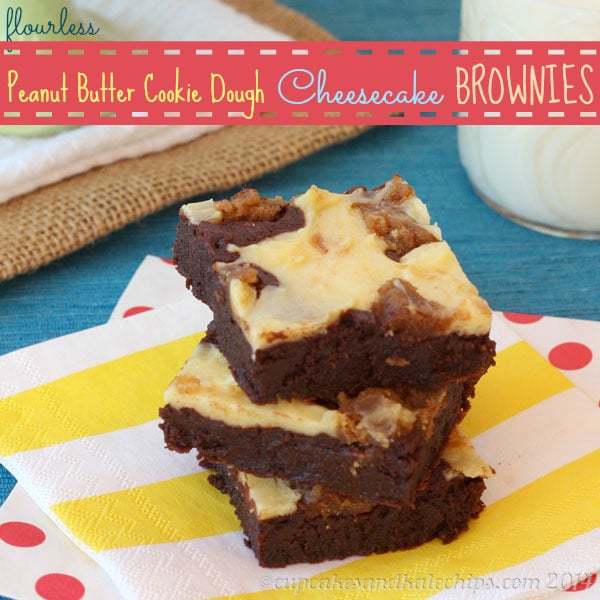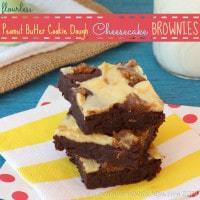 Flourless Peanut Butter Cookie Dough Cheesecake Brownies
Rich, fudgy brownies with cheesecake swirls and gobs of peanut butter cookie dough.
Ingredients
For the cheesecake swirl:
4

oz

cream cheese

light or regular, softened

1

egg yolk

save the white for the peanut butter mixture

¼

cup

powdered sugar

½

tsp

vanilla
For the peanut butter cookie dough:
¼

cup

peanut butter

1

egg white
Instructions
For the cheesecake swirl:
Combine all of the ingredients in a small bowl, and blend until smooth. Set aside.
For the peanut butter cookie dough:
Combine the peanut butter and egg while in a small bowl and stir until fully blended. Set aside.
For the brownies:
Preheat your oven to 350°F and line a 13×9 inch pan with parchment paper (or grease really, really well, though I'd recommend the parchment).

In a double boiler or a bowl set over a simmering pan of water, melt the butter, then add the chocolate chips, stirring until melted. Set aside to cool slightly.

In a large bowl, whisk together the eggs and sugar for a minute or two.

Add melted chocolate mixture a little at a time, whisking well after each addition.

Whisk in the cocoa powder, almond meal, salt, and vanilla.

Pour the batter into the prepared pan and spread evenly.

Place small dollops of the cheesecake mixture and peanut butter cookie dough over the batter and then create swirls with a butter knife or small spatula.

Bake at 350°F for 16-20 minutes, or until just set in the middle.

Cool completely in the pan before cutting.
Categories:
Enjoy!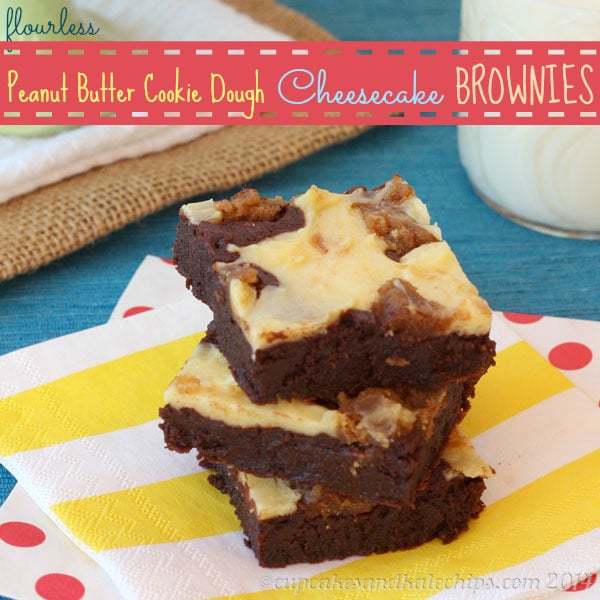 Want more gluten free brownies?
And here are some from my friends…
Plus check out what the Improv-ers are cooking with…