75+ Easy Seafood Recipes for Dinner
Disclosure: This post may contain affiliate links. Cupcakes & Kale Chips is a participant in the Amazon Services LLC Associates Program, an affiliate advertising program designed to provide a means for us to earn fees by linking to Amazon.com and affiliated sites.
Seafood recipes add a little "splash" to dinnertime. It's always a good idea to add more fish and shellfish to your diet because of the many health benefits. But many people just don't know how to prepare seafood. Whether you are looking for fish recipes like salmon or tuna or cod, or prefer shrimp crab, lobster, or other shellfish recipes, there are plenty of seafood ideas for dinner. And this collection has over 75 seafood recipe ideas to make your fish dinner easy and delicious.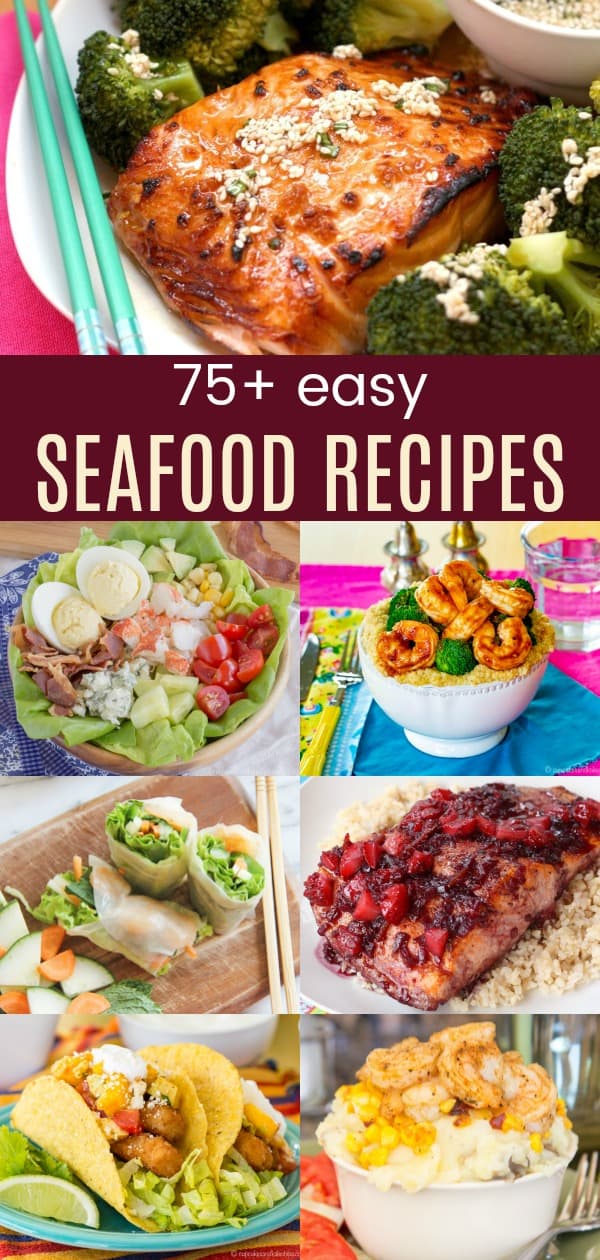 Seafood Ideas for Dinner and More
What is your favorite seafood? Do you prefer fish like salmon or tuna? Or do you go for shellfish like shrimp or crab?
Or maybe you are intimidated by seafood and don't know where to start.
Whether you are novice or a pro when it comes to ocean fare, you are sure to find ideas to inspire you to cook more seafood recipes. This collection has everything from tacos and pasta to soups and sandwiches. Some are quick meals you can whip up in a flash. Others might be more of a meal to impress someone special, but I guarantee they are all simple and delicious.
Salmon Recipes
Salmon is definitely one of the most popular fish. With its many health benefits, from being a good source of protein plus all the omega-3 fatty acids, everyone is trying to incorporate more salmon into their diet. You can cook an entire side of salmon, or cut it into fillets. It can be baked or grilled, pan-seared or smoked, and it lends itself to many flavors, from sweet stick glazy to spicy dry rubs, as well as Asian, Italian, or Tex Mex-inspired flavors.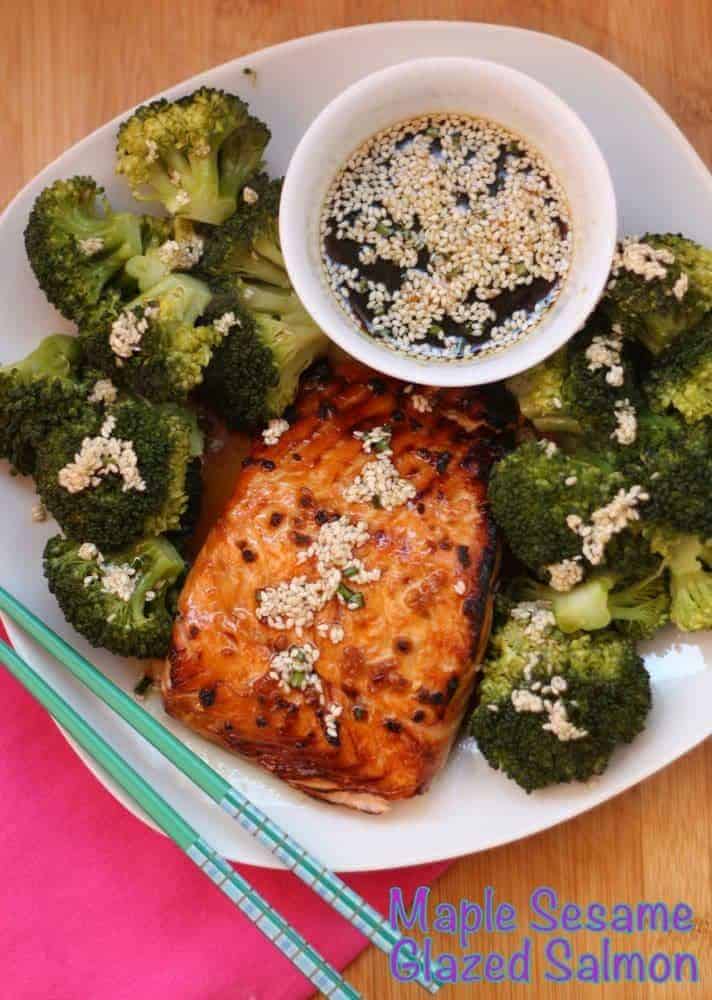 Maple Sesame Glazed Salmon | Cupcakes & Kale Chips
Strawberry Red Wine Glazed Salmon | Cupcakes & Kale Chips
Pesto Salmon Sheet Pan Dinner | Cupcakes & Kale Chips
Smoked Salmon Tart | Cupcakes & Kale Chips
Pan-Fried Salmon with Green Sauce | Give Recipe
Dijon Crusted Salmon | The Lemon Bowl
Salmon Caesar Salad | Two in the Kitchen
Smoked Salmon Deviled Eggs | Sweet & Savory By Shinee
Savory Smoked Salmon 'Cheesecake' | The View from Great Island
Salmon Chowder | Self Proclaimed Foodie
Salmon & Black Bean Nachos | The Weary Chef
Simple 7-Minute Salmon | Pancake Warriors
Easy Honey Glazed Salmon | Two Healthy Kitchens
Poached Eggs Salmon with Cheese Sauce | Diethood
Skinny Hoisin Honey Glazed Salmon | Joyful Healthy Eats
Honey Salmon Baked in Foil | Embellishmints
Chili Garlic Salmon & Broccoli Bowls | Maebells
Pan-seared Salmon with Asparagus | Magnolia Days
Pistachio-Crusted Salmon | Simply Sated
Agave Chipotle Glazed Salmon with Macadamia Cauliflower Rice | With Salt and Wit
One Pot Blackberry Glazed Salmon & Asparagus | Apron Strings
Parmesan Truffle Risotto with Grilled Salmon | Ari's Menu
Salmon on Curried Spinach | The Domestic Front
Salmon Linguine | A Cedar Spoon
Chili-Rubbed Salmon with Avocado Salsa | Sweet Peas & Saffron
Other Fish Recipes
There are also many other types of fish. Tuna is available canned or fresh. You can get cod and other whitefish are fresh fillets or already made into fish sticks. And then there are less common, but equally delicious fish like swai, barramundi, and mahi mahi. These fish can be battered and fried, baked and topped with fresh salsas and sauces, or put into tacos.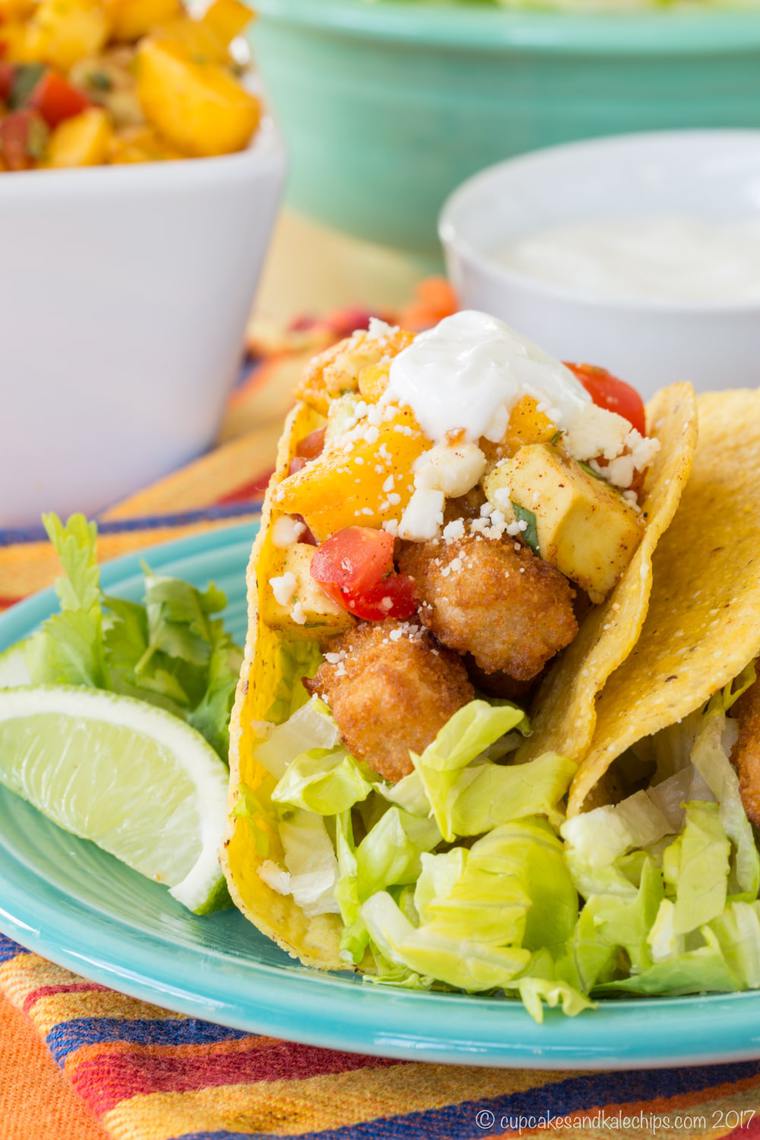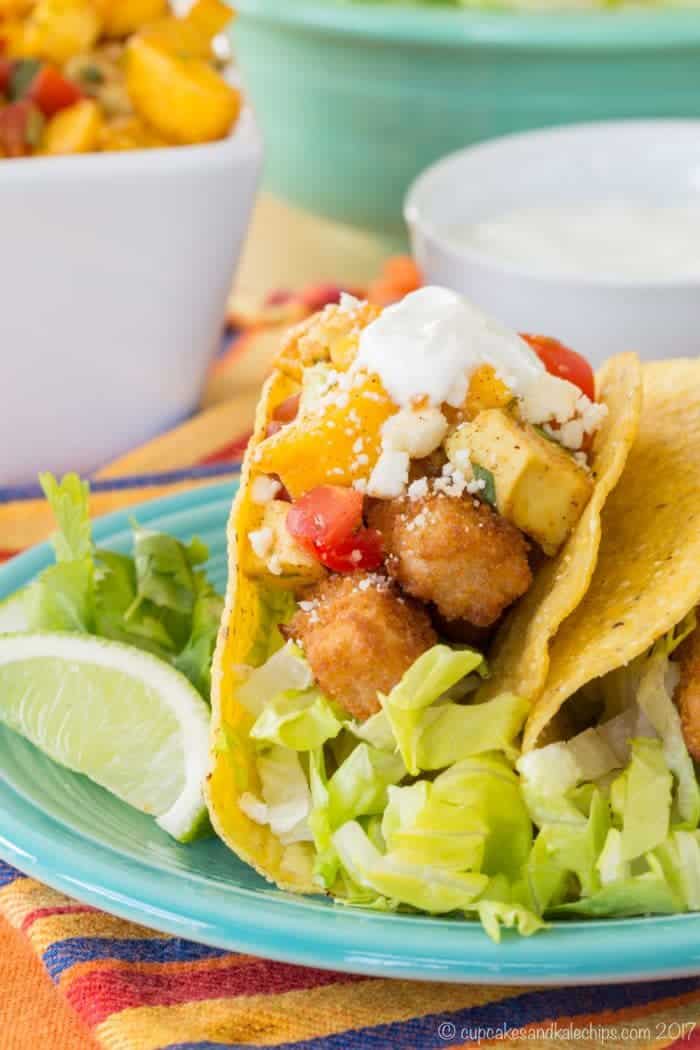 Spicy Tuna Bites | Food Faith Fitness
Creamy Avocado Tuna Melt Quesadillas | Mom's Test Kitchen
Baked Bruschetta Cod | Life's Ambrosia
Sweet & Spicy Swai Fillets with Citrus Salsa | Renee's Kitchen Adventures
Mahi Mahi with Roasted Tomatoes & Fennel | One Sweet Mess
Easy Fish Piccata with Roasted Asparagus | Belly Full
Gluten Free Fried Fish Sticks | Worth Cooking
Baked Swai with Pesto & Ricotta | Farm Fresh Feasts
Garlic Beer Butter Cod with Pale Ale Romesco | The Beeroness
Asian Fish Tacos with Sriracha Crema | Wine & Glue
Hummus-Crusted Baked Fish | Cookin' Canuck
Shrimp Recipes
I feel like I am having Forrest Gump flashbacks. Shrimp might just be one of the most versatile types of seafood. Fried shrimp, shrimp scampi, shrimp gumbo, barbecue shrimp, shrimp salads. It's probably impossible for anyone to not be able to find a shrimp recipe they'll enjoy. Heck, there are over thirty in this list alone.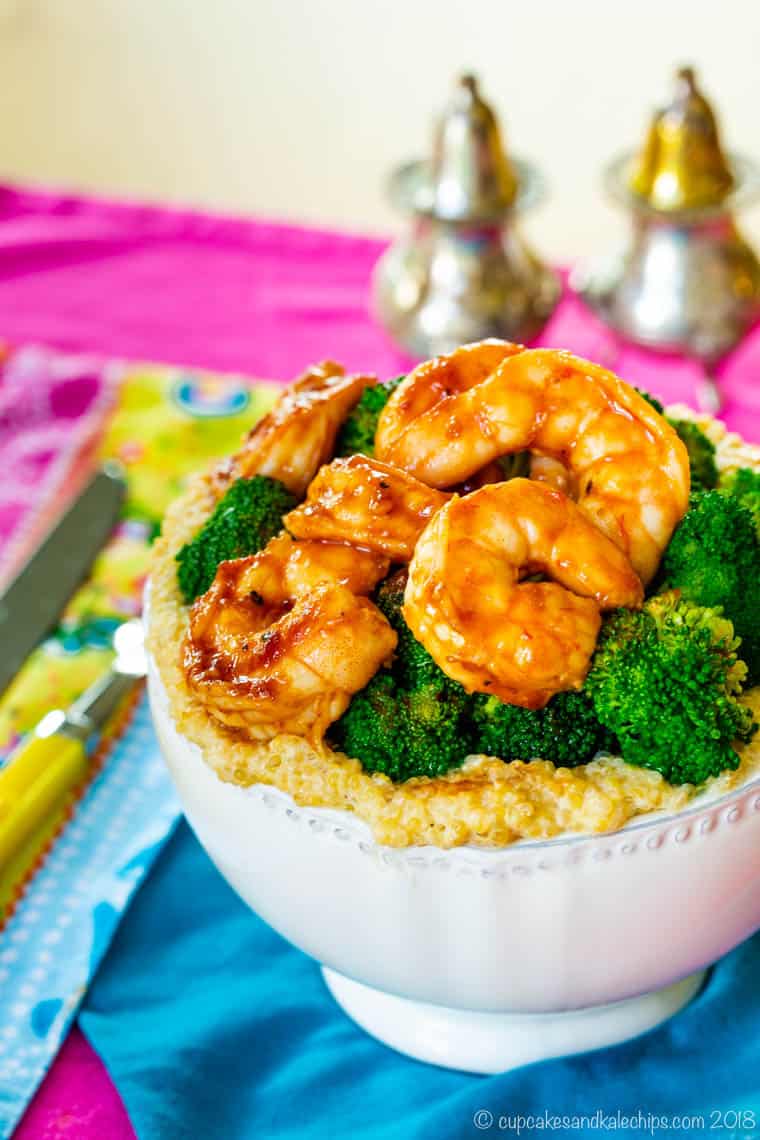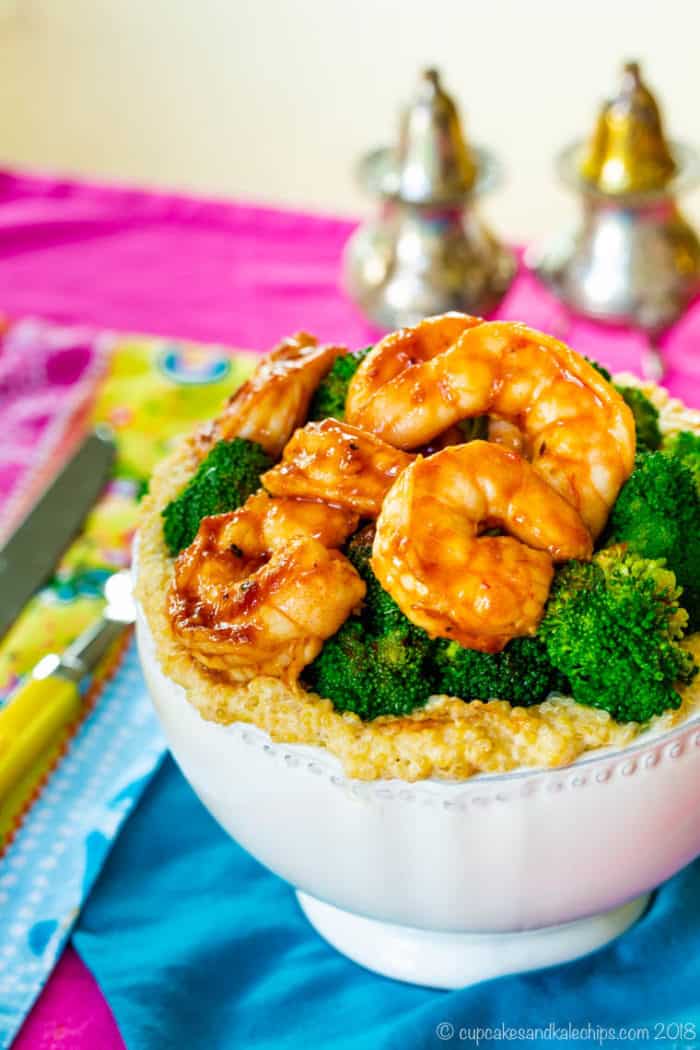 BBQ Shrimp, Broccoli & Cheesy Quinoa Bowls
Honey Walnut and Blue Cheese Shrimp
Fruity Summer Shrimp Salad with Strawberry Lime Poppyseed Vinaigrette
Shrimp & Pasta Bake | Lemons for Lulu
Healthy Brown Rice Bowl with Shrimp & Avocado | Yummy Healthy Easy
Mediterranean Grilled Shrimp Quinoa Salad | Spoonful of Flavor
Shrimp Etouffee | Growing Up Gabel
Jamie's Shrimp Salad | Aggie's Kitchen
Shrimp & Asparagus Stir Fry with Lemon Sauce | Home Cooking Memories
Sweet & Spicy Mango Shrimp | Running to the Kitchen
Spaghetti Squash with Basil-Parsley Pesto & Sauteed Shrimp | The Roasted Root
Shrimp Stuffed Mushrooms | Life Tastes Good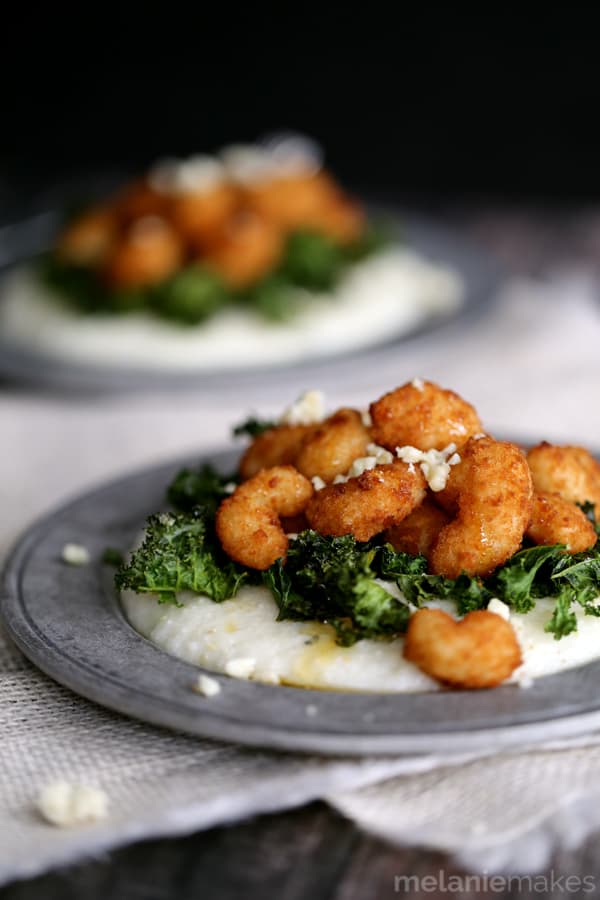 Honeyed Shrimp with Crispy Kale & Gorgonzola Grits | Melanie Makes
Shrimp Nachos with Creamy Garlic Cheese Sauce | Shaken Together
Mediterranean Feta & Shrimp Pasta | Snappy Gourmet
Shrimp Burgers with Scallion Mayo | An Edible Mosaic
Grilled Shrimp Tacos with Sweet Chili Slaw | Endlessly Inspired
Barbecue Shrimp | WonkyWonderful
Grilled Shrimp with Avocado Butter | Tammilee Tips
Shrimp Linguine | Cooking with Curls
Easiest Weeknight Skillet Shrimp | Shockingly Delicious
Shrimp & Grits Casserole | The Kitchen is My Playground
Thai Coconut Shrimp Soup | Taste Love & Nourish
Shrimp Fried Quinoa | Eating Bird Food
Healthy Garlic Shrimp Pasta | Well Plated
Skinny Thai Shrimp Pasta | Back for Seconds
Jalapeno Cornbread Crusted Shrimp Tostadas | The Creative Bite
Shrimp & Asparagus Pasta | Julie's Eats & Treats
Asian Shrimp Salad Bowl | Cooking on the Front Burner
Indian Style Pasta with Prawns & Spicy Yogurt Lemon Sauce | Masala Herb
Spicy Shrimp Bake | Quarter Life Crisis Cuisine
Shrimp Chow Mein | The Little Ferraro Kitchen
Baked Coconut Shrimp with Mango Jalapeno Dipping Sauce | Homemade in the Kitchen
Shells Shrimp & Garlic Pasta | CopyKat Recipes
Lobster, Crab, and Other Shellfish Recipes
Of course, there are plenty of other types of shellfish too. Lobster may be the granddaddy of all seafood. It's rich and elegant and makes a meal extra special. Crab can be eaten simply steamed, or added into soups, sandwiches, crab cakes, and more. And let's not forget about clams, mussels, scallops, and all the other delicious shellfish in the ocean.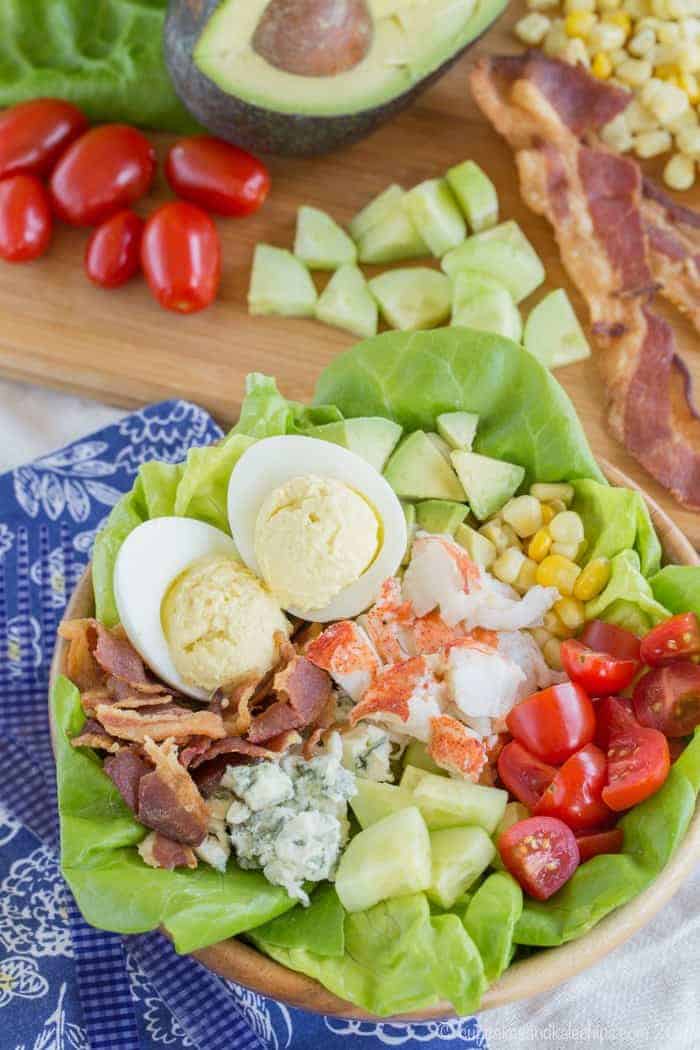 Pan Seared Scallops with Lemon Caper Sauce | The Recipe Critic
Crab & Bacon Sliders | It's Yummi
Jumbo Lump Maryland Crab Cakes | Savory Simple
Clam Chowder topped with Pancetta | Erren's Kitchen
Perfect Broiled Lobster Tails | Sweet C's
Lobster Tacos with Toasted Ancho Chili Sauce | Hola! Jalapeno
Mixed Seafood Recipes
When you can't decide, just combine your favorite types of seafood into one dish. In cuisines all over the world, you'll find soups and stews with multiple varieties of fish and shellfish. And pasta dishes often combine a few different types of seafood.
Caldo de Camaron y Pescado | All Roads Lead to the Kitchen
Manhattan Style Roasted Vegetable Chorizo Seafood Chowder | Rock Recipes
New England Clam Chowder with Flounder | Courtney's Sweets
Shrimp & Crab Gumbo | Stephie Cooks
Seafood Alfredo Stuffed Shells | Will Cook For Smiles
Seafood Pasta Bake | Call Me PMc
Brazilian Fish Stew | Dizzy Busy & Hungry
For more yumminess from me and my foodie friends, keep up with me on…
Or sign up to have Cupcakes & Kale Chips delivered straight to your Inbox!