This post may contain affiliate links. Read my disclosure policy.
Was your Valentine's Day filled with Hearts and Flours?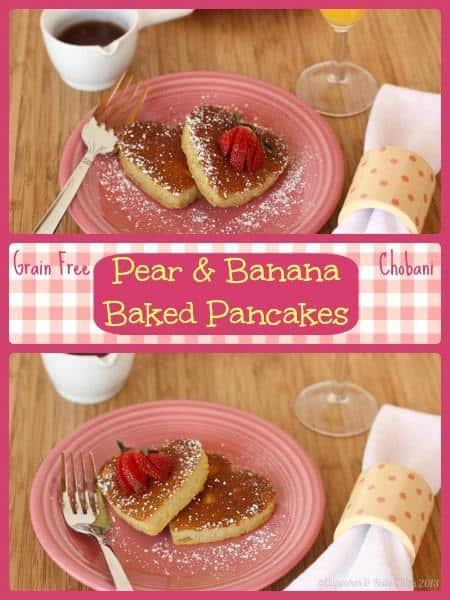 Yep, you read that right – flours. You see, today is Improv Challenge Day, and our theme for February is Hearts and Flours. Isn't Kristen all cute with her play on words there? So I thought I would whip up a batch of Grain Free Chobani Pear & Banana Baked Pancakes. The flour – almond flour. The hearts – well, I think you can see those quite plainly.
Gonna be honest with you, Valentine's Day wasn't all that special around these parts. The Hubby and I haven't really made a big deal out of it in years, and prefer to reserve the bigger celebration for our anniversary – you know OUR special day, and a day not near any major holidays so restaurants aren't overcrowded, understaffed, overpriced, and underwhelming. I also haven't really been much into venturing into stores other than the necessary grocery shopping, and The Bug wasn't feeling too crafty, so cards and gifts weren't happening. The gestational diabetes has not really put me in the mood to make special treats (though I have spent the past few weeks drooling over those of my fellow bloggers – HELLO!), and I had recently made us a nice, fancy meal that I just didn't have the energy to replicate or try to live up to. Luckily The Hubby was very understanding.
I did have to grocery shop that morning, so I managed to pick up some things and throw together what turned out to be a pretty special and delicious dinner (I wish I had written what I did to marinate the London broil because it was incredible, but I will share with you the cauliflower side dish very soon). With one card from us, and Valentines from classmates and grandparents, we did get to sit and enjoy watching The Bug open his cards and a few small trinkets, and then devour part of a chocolate heart. And The Bug (aka The Hubby) got me a gift certificate for a pedicure. Which, really, I would be going for anyway even without a gift certificate, since I can't reach my toes, and have a thing about people (yes, even doctors and nurses who couldn't care less and are looking at a whole lot more important and less pretty parts of me than my toes) seeing my feet looking gnarly, but, you know, it's the thought….
I actually made these Grain Free Chobani Pear & Banana Baked Pancakes over the weekend after Valentine's Day, when I was feeling a bit more energetic and inspired. I am lying. I actually was quite zombie-esque. I had insomnia, and had been up since 3:30 am, so figured I'd make my boys something nice for breakfast. I had seen a similar recipe from Ann at The Fountain Avenue Kitchen, but she used plain yogurt, and I wanted to play around a little more with my samples of the new Chobani Pear and Banana flavors.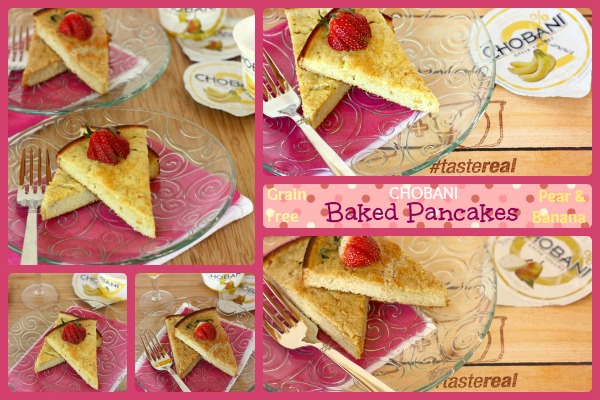 Melting the butter or coconut oil in the pan before adding the batter gives these pancakes the nice browned bottom (which you can see on the hearts that I flipped over) and slightly crispy edges (like you see on the wedges). The Hubby thought they had a texture similar to, but lighter than a cornbread. The flavor was light, with random bursts of fruit bits from the yogurt, and they weren't too sweet, so you can adjust that to your own liking with powdered sugar or maple syrup. I'd love to try them with some other Chobani flavors, and even some mix-ins – nuts or chips would be sooo good.
The best thing is that you can mix them up in minutes, toss them into the oven, and simply slice them into wedges…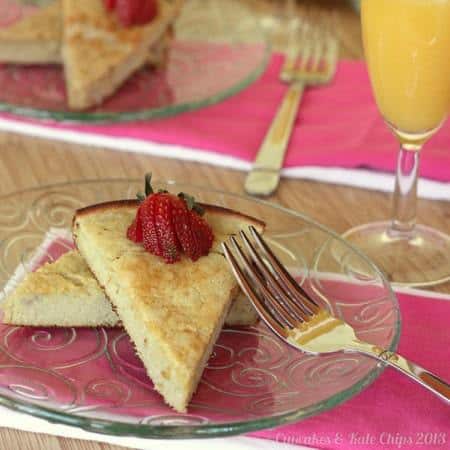 Or break out the cookie cutters to make them even more special…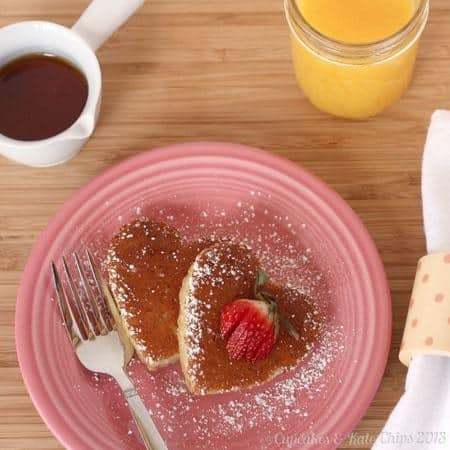 Then feed the cut off little pieces and edges to your toddler, who doesn't know the difference, since you cut his food into pieces anyway (no, I didn't do that!). The leftovers reheat nicely, and check out next week's What's in the Lunchbox Wednesday and you'll see what I did with some of them.
As I mentioned, this recipe is part of the Improv Challenge, which is a blog hop hosted by Kristen of Frugal Antics of a Harried Homemaker. A theme is given, which is two assigned ingredients. Then it is up to the participating bloggers to let the creative juices flow, and see what they can come up with. Then on the third Thursday of the month, we will all publish our new recipes based on the theme. This month's theme –hearts & flours. If you are have a blog and would like to join us, click on the picture to the below to learn more. If you are new to my blog, finding me because you have been following the Improv Challenge, then WELCOME!
Annnd, big surprise… Pancakes?! Yep, totally Bug-approved!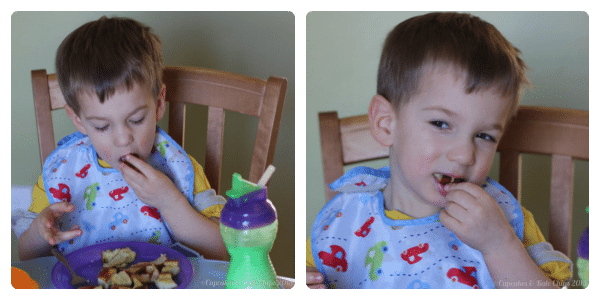 Check out the links at the bottom of this post to more great Hearts & Flours Recipes! I can't wait to see what everyone has come up with!
How was your Valentine's Day? Was it full of hearts and flours, or, err, umm, flowers? Or was it just a regular day?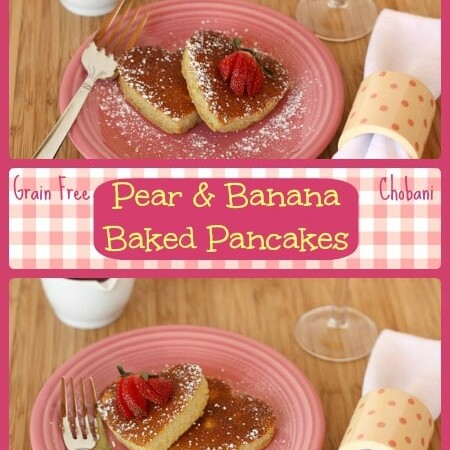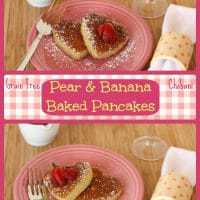 Grain-Free Chobani Pear & Banana Baked Pancakes
Pear and Banana Baked Pancakes are a simple and special breakfast. Full of protein, and gluten- and grain-free, customize them with any Greek yogurt flavor. Serve with powdered sugar or maple syrup!
Ingredients
For the Banana Pancakes:
6

ounce

container Chobani 2% Banana Greek yogurt

3

eggs

1/8

teaspoon

ground nutmeg

1/4

teaspoon

kosher salt

1/4

teaspoon

baking soda

1

teaspoon

vanilla extract

3/4

cup

almond flour

1

tablespoon

coconut oil or butter

I used coconut oil
For the Pear Pancakes:
6

ounce

container Chobani 0% Pear Greek yogurt

3

eggs

1/2

teaspoon

cinnamon

1/4

teaspoon

kosher salt

1/4

teaspoon

baking soda

1

teaspoon

vanilla extract

3/4

cup

almond flour

1

tablespoon

coconut oil or butter

I used butter
Instructions
For the Banana OR Pear Pancakes:
Preheat oven to 425°F.

Combine all of the ingredients except the almond flour and butter or coconut oil in a medium bowl and whisk until thoroughly combined.

Stir in the almond flour.

Place the coconut oil or butter in a 9 in. round cake pan and place in the oven for a minute or two, or until melted.

Pour the batter into the pan, and bake for 12-15 minutes, or until set, and the edges are browned.
Notes
*Servings recorded as 8 for both a pear pancake and a banana pancake (i.e. 4 for each pancake).
Nutrition Facts
Grain-Free Chobani Pear & Banana Baked Pancakes
Amount Per Serving
Calories 224
Calories from Fat 153
% Daily Value*
Fat 17g26%
Cholesterol 125mg42%
Sodium 276mg12%
Potassium 108mg3%
Carbohydrates 7g2%
Protein 13g26%
Vitamin A 180IU4%
Vitamin C 0.01mg0%
Calcium 111mg11%
Iron 1mg6%
* Percent Daily Values are based on a 2000 calorie diet.
Categories:
Enjoy!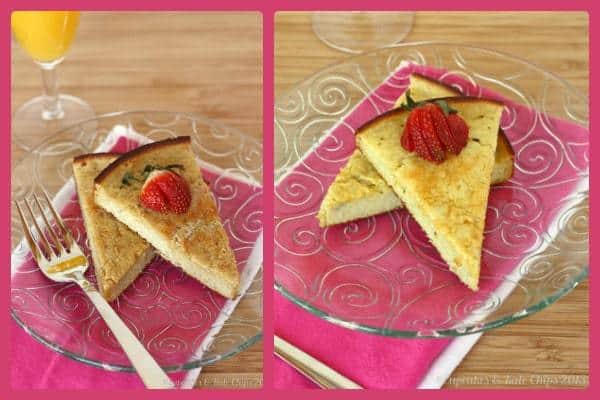 Disclaimer: The author received samples of Cobani 2% Banana and 0% Pear Greek Yogurt for recipe development and review purposes. All opinions are my own.
This recipe was shared with: #glutenfreefridays #28, I'm Lovin' It, Weekend Potluck #55, nifty thrifty sunday #97}, Thursday's Treasures