This post may contain affiliate links. Read my disclosure policy.
From classic buttermilk pancakes to protein-packed flapjacks to chocolate hotcakes, these are over 10 of the best Gluten Free Pancake Recipes. Each one is easy to make and perfect for any morning. Just add your favorite toppings and enjoy!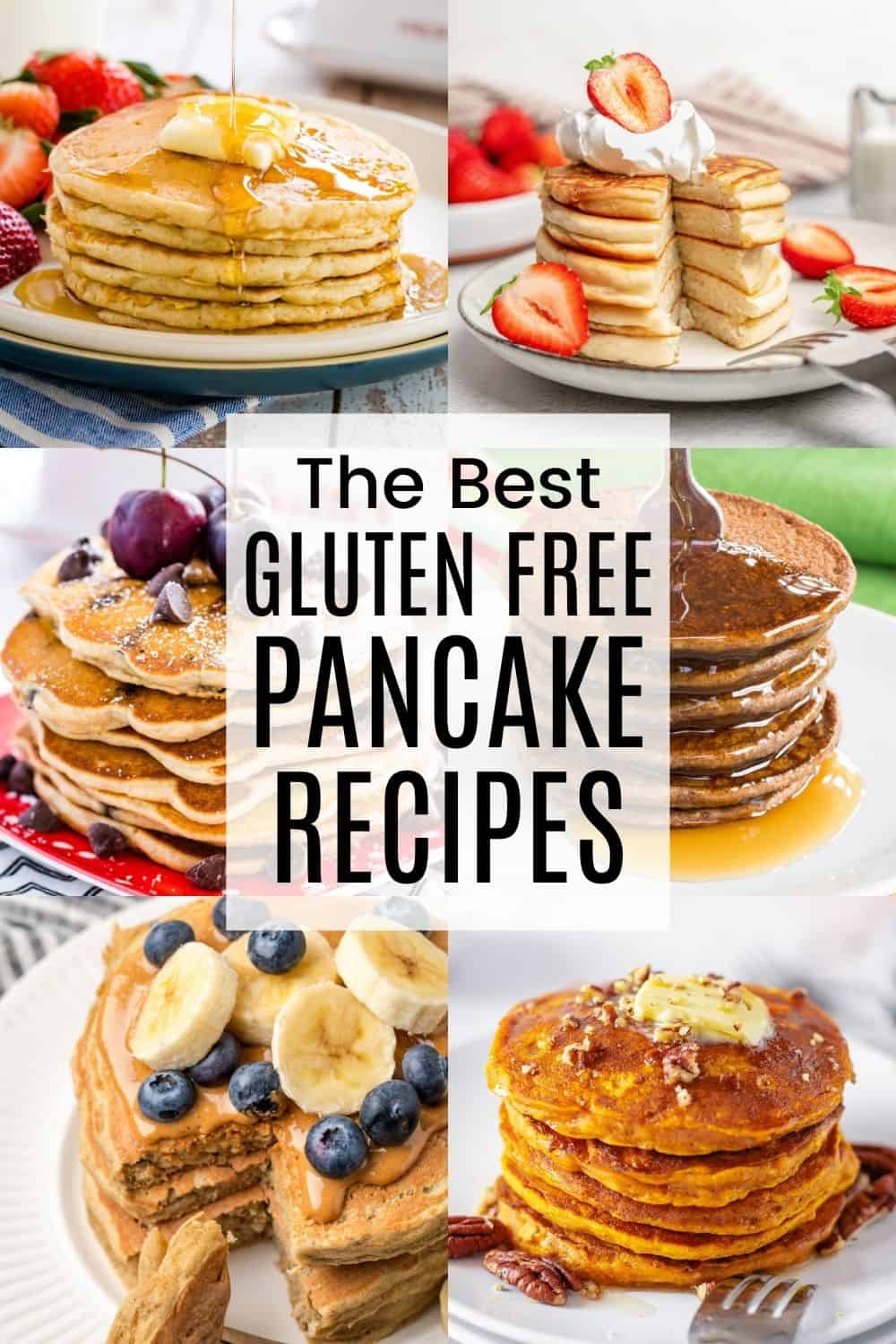 The Best Gluten Free Pancake Recipes
We love all breakfast foods in my house, from savory breakfast sandwiches to sweet honey buns. But there's one breakfast dish that we just can't get enough of – pancakes. Traditional buttermilk pancakes, perfectly spiced pumpkin pancakes, sweet chocolate banana pancakes…it doesn't matter. We love them all.
We've tried pretty much every gluten free pancake recipe out there and today I'm sharing with you our very favorites. These recipes make the very best gluten free pancakes you'll ever try – soft, fluffy, and each one made with just a few ingredients.
Why You'll Love These Recipes
So what makes these the best gluten free pancake recipes? Here are a few reasons.
No dry, bland pancakes. Gluten free pancakes don't have to be dry and bland. Each one of these pancake recipes is fluffy, moist, and so tasty. Just the way a pancake should be!
Easy to make. Each of these gluten-free pancake recipes can easily be prepared on a busy weekday morning or for a lazy weekend brunch in just a few steps.
Made with pantry staples. The majority of the ingredients in each of these recipes are things you likely already have in your cupboard so you can whip these up anytime you want, without running to the store.
Tips for Making Pancakes
Each of these recipes below has some specific tips and tricks but in general, here are a few things to keep in mind when making pretty much any pancake recipe.
Don't overmix the batter. Overmixing the batter can lead to dense pancakes so to keep them light and fluffy, mix just until the ingredients are combined.
Measure ingredients carefully. Be sure carefully measure the ingredients, especially the dry ingredients like flour, as using too much or too little can easily affect the texture of the pancakes.
How to tell when to flip pancakes. Before flipping pancakes, the bottom should be set and slightly golden. Bubbles will appear on the top. You can use a spatula to peek under the pancake to make sure the bottom is fully set, then flip.
Keep the pancakes warm. You'll likely need to cook the pancakes in several batches, so to keep the rest warm I like to place them on a plate in an oven preheated to the lowest temperature. You can also just place them on a plate and cover the plate with a lid, depending on how many you are making.
10+ Easy & Healthy Gluten Free Pancake Recipes
More gluten free pancakes