Banilla Nutella Frozen Yogurt Pops – August #ImprovChallenge
Disclosure: This post may contain affiliate links. Cupcakes & Kale Chips is a participant in the Amazon Services LLC Associates Program, an affiliate advertising program designed to provide a means for us to earn fees by linking to Amazon.com and affiliated sites.
Disclaimer: Yoplait provided travel accommodations and samples of the Yoplait Greek yogurt. As always, all opinions are my own.
There are those that love vanilla, and those that just can't live without chocolate  But this month for the Improv Challenge, we've got both "Vanilla & Chocolate". Not one to leave well enough alone with such a classic combo, I added banana and hazelnut in my Banilla Nutella Frozen Yogurt Pops, made with Yoplait Greek.
Clearly my foodie nature has had a major influence on The Bug. Most often when left to his own devices with a room full of toys, if he is not playing with his Toy Story friends (as he calls them), he is "cooking". Often he is cooking for them. Last week was all about having a big birthday party for Jessie the Cowgirl.
But the funny thing is that we put away his big play kitchen and most of his kitchen stuff when we had to make room for baby gear in the den, so he gets creative – little plastic stacking cups (really a toy for babies) become cupcakes, a string of blue plastic beads are blueberries. We get invisible cakes and ice cream all the time. And everything is chocolate. Always chocolate. Chocolate cake. Chocolate ice cream. Chocolate pizza. Chocolate grilled cheese. Chocolate spaghetti. Chocolate oatmeal (oh wait, that's a thing).
Clearly my boy is on Team Chocolate! Sorta wish he were on Team Vanilla when we go to the boardwalk and get ice cream cones. C'est la vie.
Well, these Banilla Nutella Frozen Yogurt Pops may not be blueberry beads or invisible chocolate cakes, but they are pretty darn tasty, and only have a few more calories than The Bug's cuisine, since they are made mainly from Greek yogurt and bananas (ohhh, and just a smidge of Nutella), so they are also packed with protein and calcium. Health food, clearly! 😉  Well, maybe I won't go that far, but as far frozen desserts go, you could certainly do a lot worse.
To make the swirls, I put alternating dollops of the banilla mixture and Nutella mixture in a plastic storage bag, cut off the corner, and squeezed it into the molds and paper cups, but you could certainly just layer it (I have more perfectionism than patience, so that wasn't going to happen and meet my exacting standards), or put the dollops in directly and swirl it with a knife or skewer or chopstick.
As I mentioned, this recipe is part of the Improv Challenge, which is a blog hop hosted by Kristen of Frugal Antics of a Harried Homemaker. A theme is given, which is two assigned ingredients. Then it is up to the participating bloggers to let the creative juices flow, and see what they can come up with. Then on the third Thursday of the month, we will all publish our new recipes based on the theme. This month's theme – vanilla & chocolate. If you are have a blog and would like to join us, click on the picture to the below to learn more. If you are new to my blog, finding me because you have been following the Improv Challenge, then WELCOME!
Check out the links at the bottom of this post to more great Vanilla & Chocolate Recipes! I can't wait to see what everyone has come up with!
So are you on Team Vanilla or Team Chocolate?  I need both – twist.. with rainbow sprinkles 😉
Print Recipe
Banilla Nutella Frozen Yogurt Pops
Swirls of banana vanilla & chocolate hazelnut Greek yogurt are the perfect sweet & healthy combination, with only three ingredients.
Ingredients
2

cups

vanilla Greek Yogurt

(or four 5.3-6 oz. single-serving containers

1

overripe banana,

mashed (about 1/2 cup)

1/2

cup

Nutella

or other chocolate hazelnut spread
Instructions
In a small bowl, combine 2 cups (or two of the containers) of Greek yogurt and the mashed banana, and stir until thoroughly incorporated.

In a small bowl, combine the remaining Greek yogurt and the chocolate hazelnut spread, and stir until thoroughly incorporated.

Fill popsicle molds or small paper or plastic cups by layering the two yogurt mixtures (swirl with a knife, skewer or chopstick, if desired), or, to create swirls, place alternating large dollops of the yogurt mixtures in a large plastic storage bag, cut off the corner for about a 1/2-3/4 inch opening, and pipe into the molds or cups.

Insert sticks and place in freezer several hours, until frozen.
Nutrition
Calories:
213
kcal
|
Carbohydrates:
30
g
|
Protein:
8
g
|
Fat:
7
g
|
Saturated Fat:
7
g
|
Cholesterol:
3
mg
|
Sodium:
33
mg
|
Potassium:
240
mg
|
Fiber:
2
g
|
Sugar:
25
g
|
Vitamin A:
13
IU
|
Vitamin C:
2
mg
|
Calcium:
27
mg
|
Iron:
1
mg
Enjoy!
Let's see what the other Improv-ers have cooking…

Need some more frozen vanilla or chocolaty goodness? I've got some for you…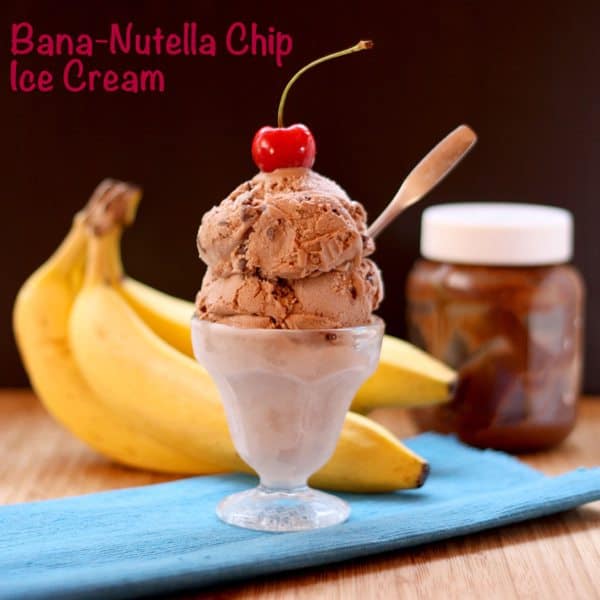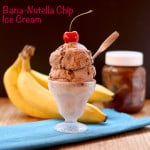 Salted Ripple Chip (No Machine) Ice Cream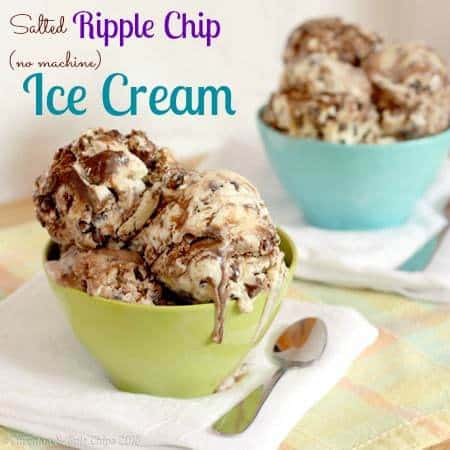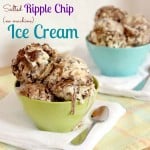 Chocolate & Peanut Butter Frozen Yogurt Bars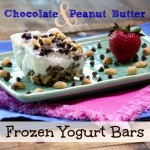 As well as a few of my other foodie friends…