Turkey Pot Pie Soup
Disclosure: This post may contain affiliate links. Cupcakes & Kale Chips is a participant in the Amazon Services LLC Associates Program, an affiliate advertising program designed to provide a means for us to earn fees by linking to Amazon.com and affiliated sites.
Turkey Pot Pie Soup is the perfect meal to make with your leftover turkey. Everyone is always looking for recipes to make with Thanksgiving leftovers. Nothing is easier or more comforting for a weeknight dinner than a steamy bowl of turkey soup. This one ups the comfort food factor by combining that turkey vegetable soup with a classic pot pie recipe to make it a bit more hearty and delicious when you top it with pie crust crackers.

Disclosure:  I received free samples of McCormick Gluten-Free Recipe Mixes from McCormick mentioned in this post as part of the McCormick Gluten-Free Recipe Mixes Launch and was compensated for previous recipe posts. I was under no obligation to use their product in any further posts such as this one. As always, all opinions are my own.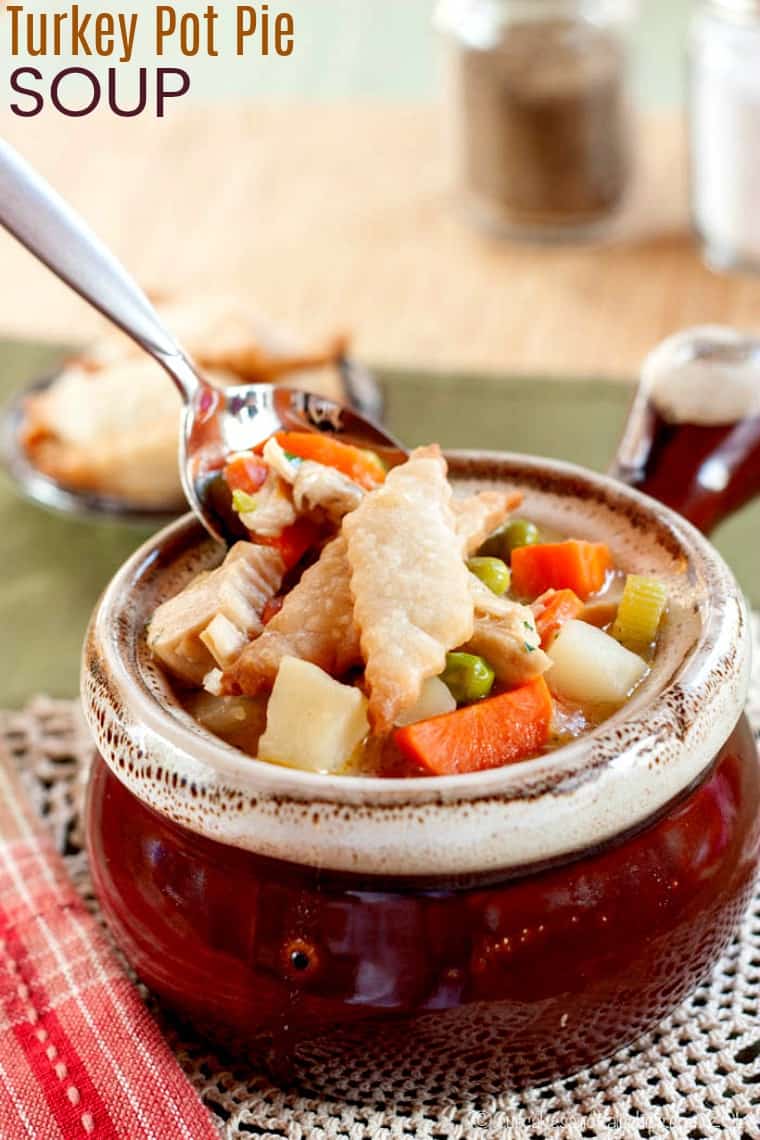 I'm about to disappear into a black hole known as "Packing All of my Belongings Into a Big Truck and Not Seeing Any of My Stuff Till That Big Truck Shows Up at My New House and Then I Have to Unpack Everything". I have a few new posts of my own coming up, and then some friends pinch-hitting for me. But this may be my last opportunity before Thanksgiving to share a few things that I am thankful for this year.
First and foremost, The Hubby. He has been through so much this year – his job satisfaction going down the tubes, then the bittersweet news that his entire group was being eliminated, to finding a new job that is exciting but intense and stressful because it is something so new to him. Along with that new job comes this move to a new state. He has had to juggle sleeping in a hotel all week, spending the weekends unpacking, repacking, working on the house, catching up on life, instead of just being able to have fun with his boys. He puts our needs ahead of his own and takes on so much. That means he hasn't been able to just kick back and relax and spend quality time with his family.
I am thankful that he works so hard for the benefit of all of us, and thankful that we are going to be moving into a beautiful new home in an interesting area. But more than anything, I am thankful that we are almost at the end of this road and ready to settle in so that he can just enjoy the fruits of his labor. He deserves it.
Speaking of those boys, I am thankful everyday that they continue to love me even when I feel that I'm not being as good of a mommy as I could or should be. I'm thankful that King Stuff enjoys spending time with other people and playing with kids at school. But I am even more thankful for the ginormous smile and squeals when he sees me walk through the door to pick him up. Even though The Bug doesn't show his affection the same way, I am thankful that he is so smart and independent. And when he does tell me or anyone that he loves them, it is with total intent, and not just words. Just like his daddy.
I am thankful for my family and friends for ongoing support and kind words and helping hands and fun times. I am especially thankful for my mom, stepdad, and sister. They have helped us so much with the boys, especially these last few months when we needed someone to watch them so we could do projects on the old house, search for a new one, pack the old one, unpack in the new one, and everything else in between. We haven't had the most fun autumn, but it would have been so much more miserable for those boys if they didn't have their grandparents and aunt to play with them. I wish I could say more, but I honestly cannot put into words my gratitude.
I am thankful for this blog, and the joy it brings me. I'm thankful for all of you who read my ramblings and cook my recipes. I never thought life would take me on this type of career path. But I am loving what I do, and only hope that I can continue to grow my passion into a business because it is so fulfilling in so many ways. I'm thankful for all that I have learned and continue to learn everyday.
I'm thankful for the connections I've made. I've had great experiences and opportunities, especially this year. I've found unique friendships that I never would have discovered otherwise. I have a village of support and encouragement and inspiration from so many walks of life. And there is a common thread that ties us all together – our love of food and sharing and community. You give me knowledge and strength and comfort and laughter.
And ideas for recipes that warm my belly, my heart, and my soul, like this one…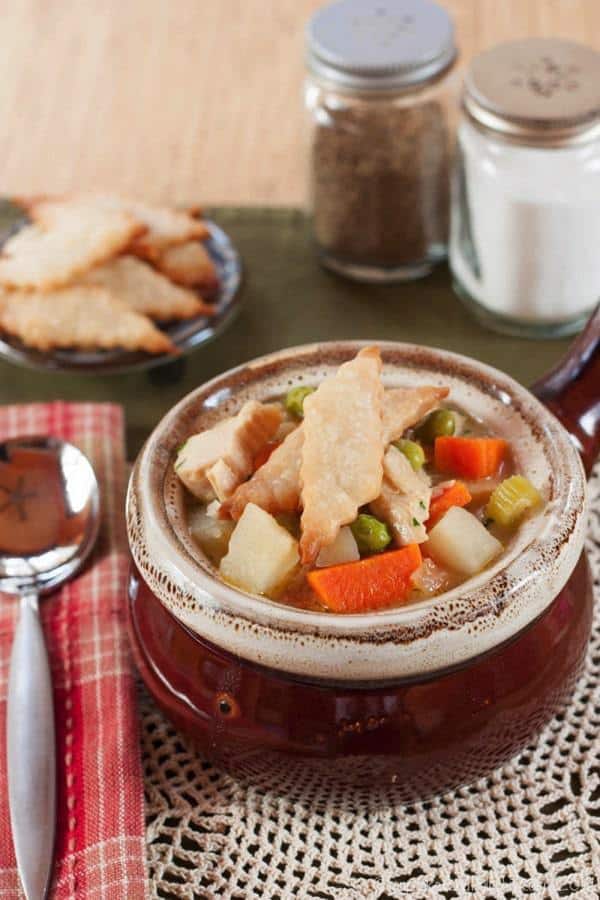 Pot Pie Soup Made with Leftover Turkey
This turkey soup recipe was inspired by Aimee's Beef Pot Pie Soup over at Shugary Sweets.
Hers sounded amazing, and I thought it was total genius that she used a McCormick Beef Gravy Mix to give the broth a thick, rich flavor and texture. I had just been working with the new gluten free mixes from McCormick to make Gluten Free Stir Fried Beef and Broccoli and Chicken Taco Corn Chowder. However, I hadn't used the Turkey Gravy Mix yet.
In addition, I just so happened to have leftover Slow Cooker BBQ Rubbed Turkey Breast. So with Thanksgiving coming up, I knew it had to be done.
And guys, this Turkey Pot Pie Soup is amazing. That hearty turkey meat, tons of veggies, and yes, some leftover pie crust baked into "crackers" making it much easier than rolling out crust and making a traditional pot pie recipes.
Can you make Chicken Pot Pie Soup?
Of course! If you don't have leftover turkey from Thanksgiving or another meal, you can use leftover chicken if you've made a Lemon Herb Slow Cooker Roast Chicken or Rosemary Balsamic Roast Chicken. Alternatively, you can pick up a rotisserie chicken from the grocery store.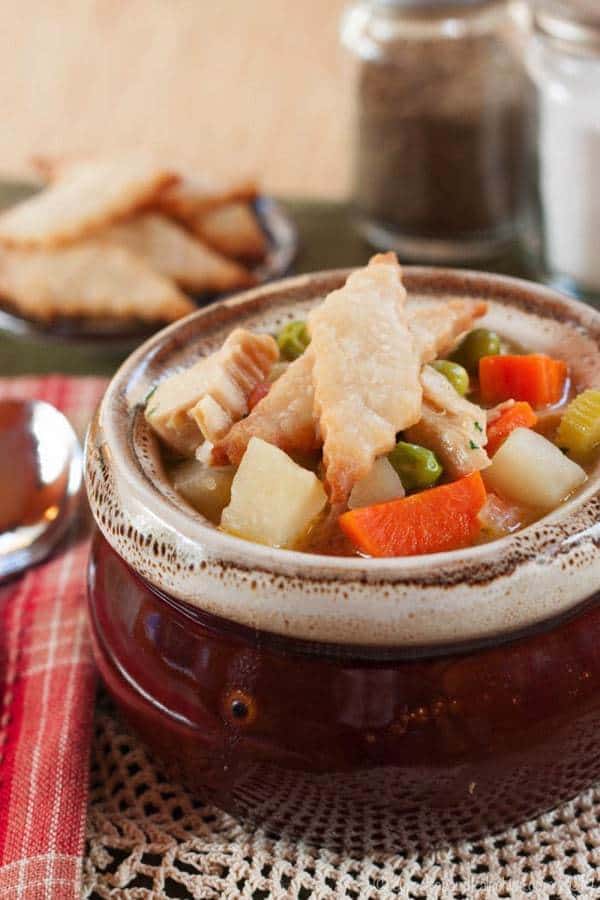 How do you make Turkey Pot Pie Soup gluten free?
[amazon_link asins='B00LP6E70C,B00IV6GNB0′ template='ProductCarousel' store='cupkalchi-20′ marketplace='US' link_id='aae5388b-e757-11e8-a76a-5d0e3e0642c4′]
Of course the turkey and vegetables are gluten free. Unless you've made your own, do verify that your chicken stock is gluten free.
As I mentioned, this soup if made with a turkey gravy mix from a packet. McCormick has Gluten Free Turkey Gravy Mix that works beautifully in this recipe.
When I first created this recipe, there was a Pillsbury gluten free pie dough available in the refrigerator section of the grocery store. Unfortunately that product is not available anymore, but there are a number of gluten free pie crust mixes you can buy. Or you can make your own simple gluten free pie crust that uses a mix of brown rice flour, tapioca starch, and potato starch. You can also try a gluten free pie crust that simply uses a gluten free all purpose blend and xanthan gum.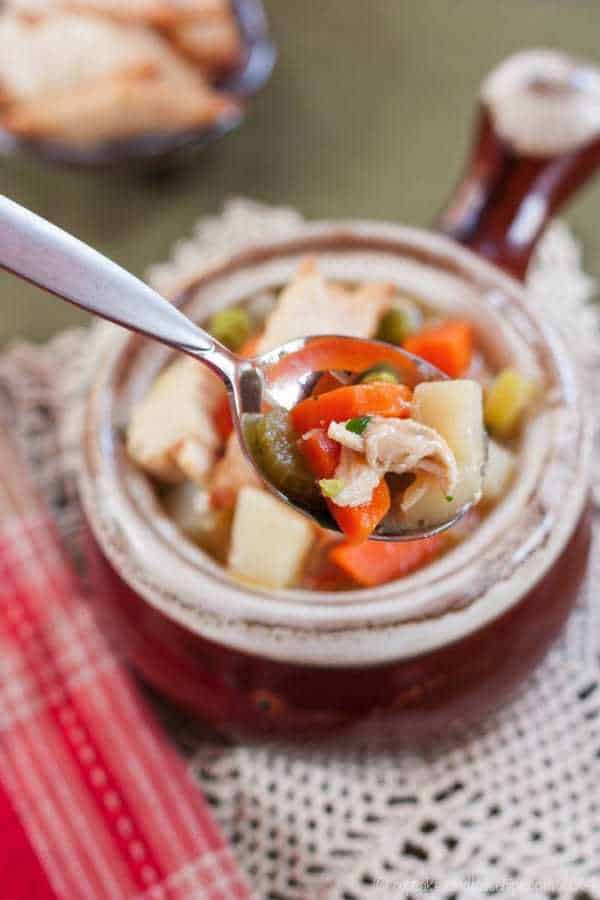 What soup can you make with leftover turkey?
Basically any chicken soup recipe can be made with turkey instead, so give these a try…
Plus a few from my friends…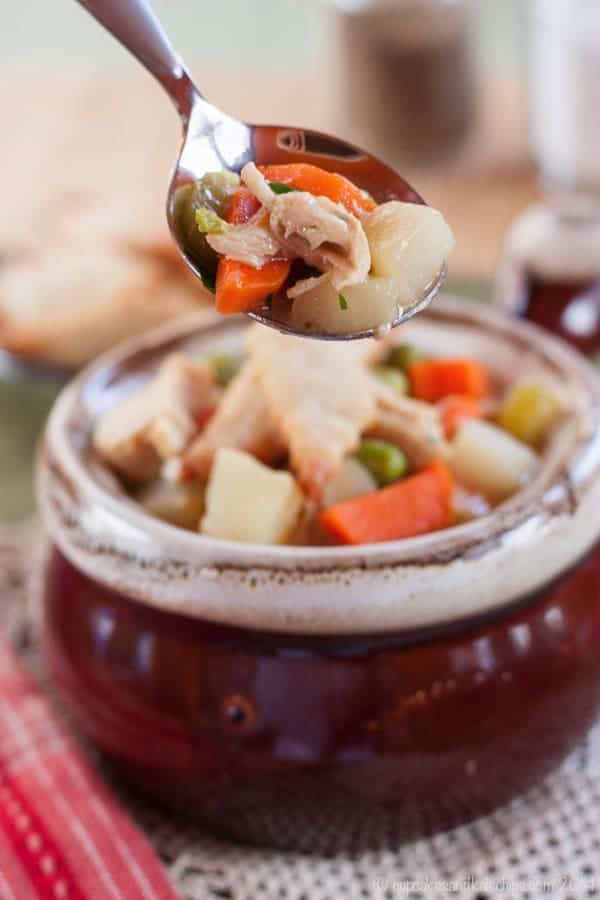 For more yumminess from me and my foodie friends, keep up with me on…
Or sign up to have Cupcakes & Kale Chips delivered straight to your Inbox!
What do you need to make turkey pot pie soup?
[amazon_link asins='B01N7WL4IP,B007P6N09K' template='ProductCarousel' store='cupkalchi-20′ marketplace='US' link_id='3946952d-ec3c-11e8-928b-37912563a3c8′]
SOUP CROCKS – These aren't entirely necessary, but I love the vintage look of these soup crocks. Mine technically are vintage, since I found them in my mom's cabinet years ago. Of course they are classic for French Onion Soup, but they keep any type of soup nice and warm. I think the ones with the lids and handles are adorable, but they also have ones that are just basic bowls which might be more practical and easy to store.
Turkey Pot Pie Soup Recipe
This easy turkey soup recipe based on the classic chicken pot pie is the comfort food you need in winter. The flavors are incredible, with gravy mix intensifying the poultry flavor versus just using chicken broth. Plus, the addition of cheese doesn't actually make it cheesy. It simply gives it a rich, silky, creamy texture. And the addition of pie crust "crackers" – genius. You get the crisp flakiness, but it's so much easier, and no soggy-crust leftovers.
I hope you'll leave a comment and give it a FIVE STAR rating or share a photo on this pin on Pinterest!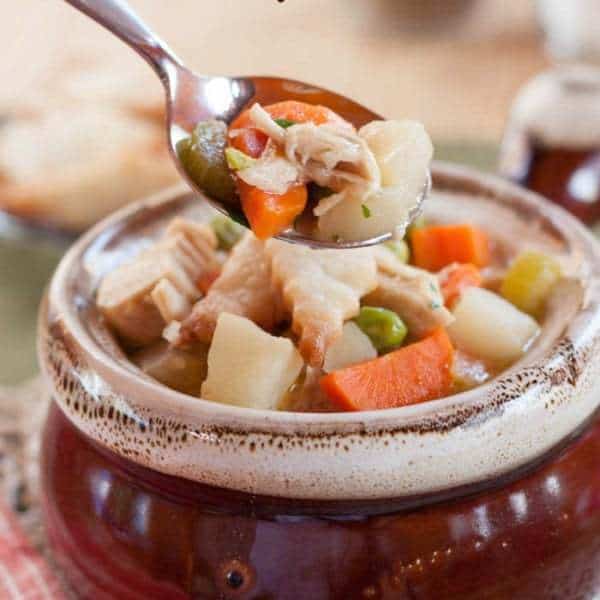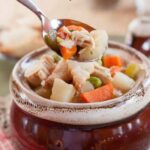 Print Recipe
Turkey Pot Pie Soup
A steamy bowl of soup is an easy and comforting way to use up your Thanksgiving leftovers.
Ingredients
Dough for a single pie crust

homemade or storebought (gluten free, if needed)

1

Tablespoon

olive oil

half of an onion,

diced

2

celery stalks,

sliced

1

cup

sliced carrots

1

large potato,

peeled and chopped into about 1/2 inch cubes

1

teaspoon

kosher salt

1/2

teaspoon

black pepper

1

cup

milk

1

package McCormick Turkey Gravy Mix

(regular or gluten free)

2

cups

chicken or turkey broth or stock

1/2

cup

frozen peas

2

cups

chopped cooked turkey

1

cup

shredded cheddar cheese

1

Tablespoon

minced fresh parsley,

or 1 teaspoon dried

Additional salt and pepper,

to taste
Instructions
Note: This can be done while the soup is simmering. Preheat oven to temperature indicated in the pie crust recipe or directions. Roll out the dough to 1/4 inch thick and cut into 1-inch strips. Place on a parchment-lined baking sheet and bake until golden brown. For the gluten free pie crust, I baked at 425°F for 9 to 11 minutes. Remove from the oven and set aside to cool.

In a large pot, heat the olive oil over medium high heat. Add onion, celery, carrots, potato, salt, and pepper, and saute for about 4 or 5 minutes.

While the veggies are cooking, in a small bowl, whisk together the milk and gravy mix.

Add the gravy mixture, broth, turkey, and peas to the pot.

Cover and bring just barely to a boil, reduce heat, and simmer for about 15 minutes, or until the potatoes and carrots are soft.

When ready to serve, slowly add the cheddar cheese in small amounts, stirring well after each addition.

Stir in the parsley, and adjust seasoning to taste with salt and pepper.

Serve with the pie crust crackers.
Nutrition
Calories:
278
kcal
|
Carbohydrates:
17
g
|
Protein:
15
g
|
Fat:
15
g
|
Saturated Fat:
5
g
|
Cholesterol:
43
mg
|
Sodium:
970
mg
|
Potassium:
467
mg
|
Fiber:
3
g
|
Sugar:
2
g
|
Vitamin A:
3980
IU
|
Vitamin C:
17.9
mg
|
Calcium:
226
mg
|
Iron:
2.4
mg
Enjoy!
Originally published Nov 13, 2014