This post may contain affiliate links. Read my disclosure policy.
No-bake creamsicle cheesecake parfaits with the orange and vanilla flavors of a Creamsicle, all in a no-bake, gluten-free single serving dessert! These Creamsicle cheesecake parfaits are one of the best gluten-free no bake dessert recipes in my recipe box. For a miniature desserts perfect spring holidays and parties with bright colors and flavors with an easy gluten-free option, make these Mini No-Bake Creamsicle Cheesecake Parfaits.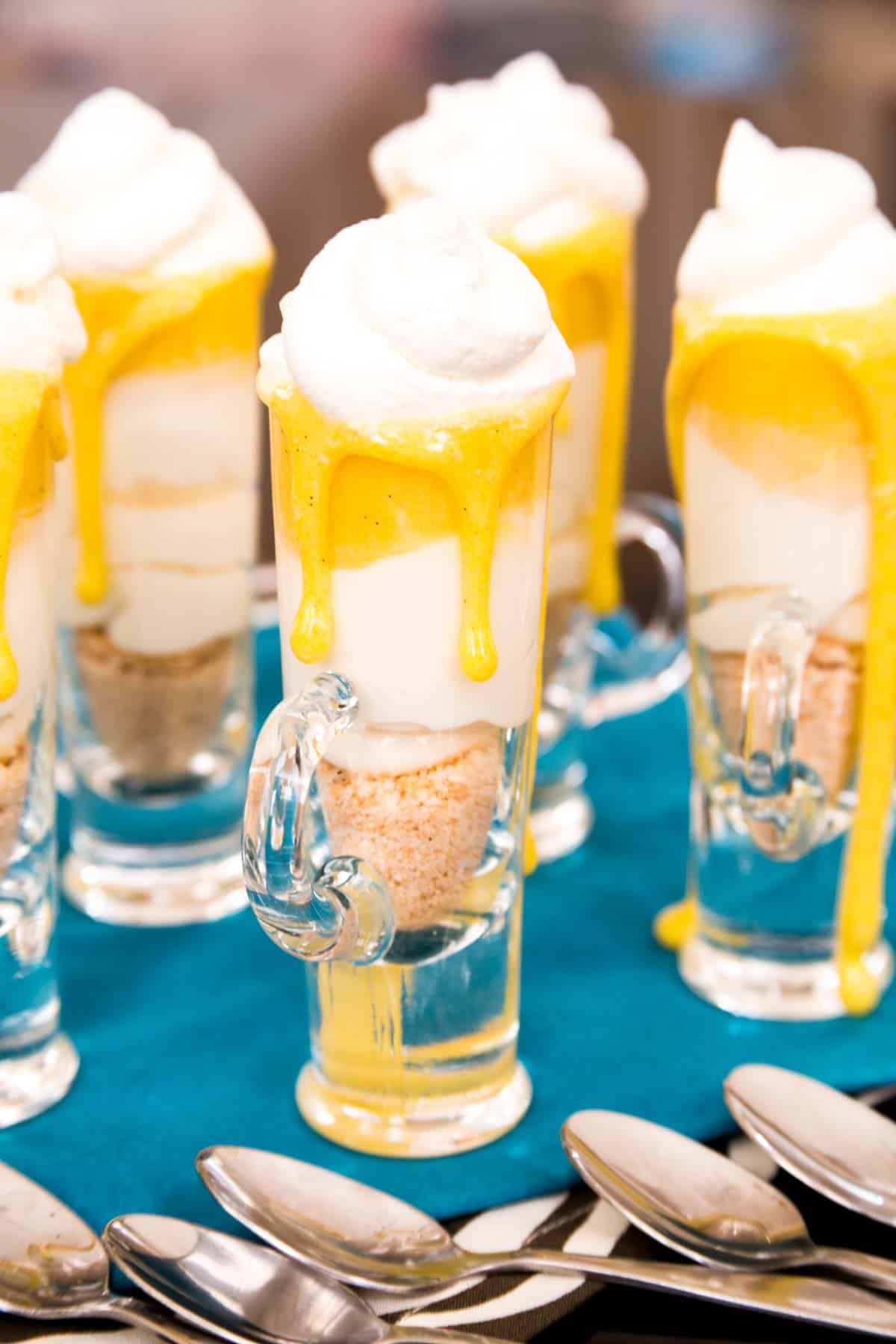 Gluten-Free No-Bake Cheesecake Parfaits
Last week, I chatted a little about how I do really enjoy this whole work-from-home thing, and being way from office nonsense. Never mind that I have a pretty awesome commute. One thing I do miss is the travel. I didn't travel a lot, so the amount of travel I did was fun and exciting, since it was usually in Europe. Oh, how I love Europe!
The first time I set foot on non-U.S. soil (other than the one time I spent about 6 hours in Montreal) was when I got off a plain a Heathrow Airport to spend two months in England. Those were literally the best two months of my life because not only did I get to see the major tourist attractions of London, as well ad Canterbury and Cambridge, but being there so long, I really got to peruse markets, see local music and comedy shows, have a pint or two in some cozy little pubs, and really experience local life. Before heading home, I even got to spend a weekend in Paris and a week in Italy. Heaven!
The travel I did after that was not as leisurely, and I didn't have as much free time. But I got to see a few sites here and there, and when visiting our suppliers, they definitely wanted to wine and dine us. This means I sampled everything from a massive pork shank at a biergarten in Germany, Belgian chocolate, artisanal gelato, fresh pizza and pasta, the best tiramisu in the world, and meat roasted basically in a fireplace, plus so much more in Italy, a molecular gastronomy meal from the head chef at a chemical company (yeah, go figure), a multi-course meal in a castle, a high end meal on a Swiss mountainside, massive prawns and fabulous pastries in Portugal. I could go on and on. And the best part – it wasn't on my dime! Well, a little of it was, but most of it wasn't.
I really need to go back! But for now, the closest I'll get is when we go to EPCOT Center this summer, during out family vacation to Disney World. Well, hopefully when our boys are older…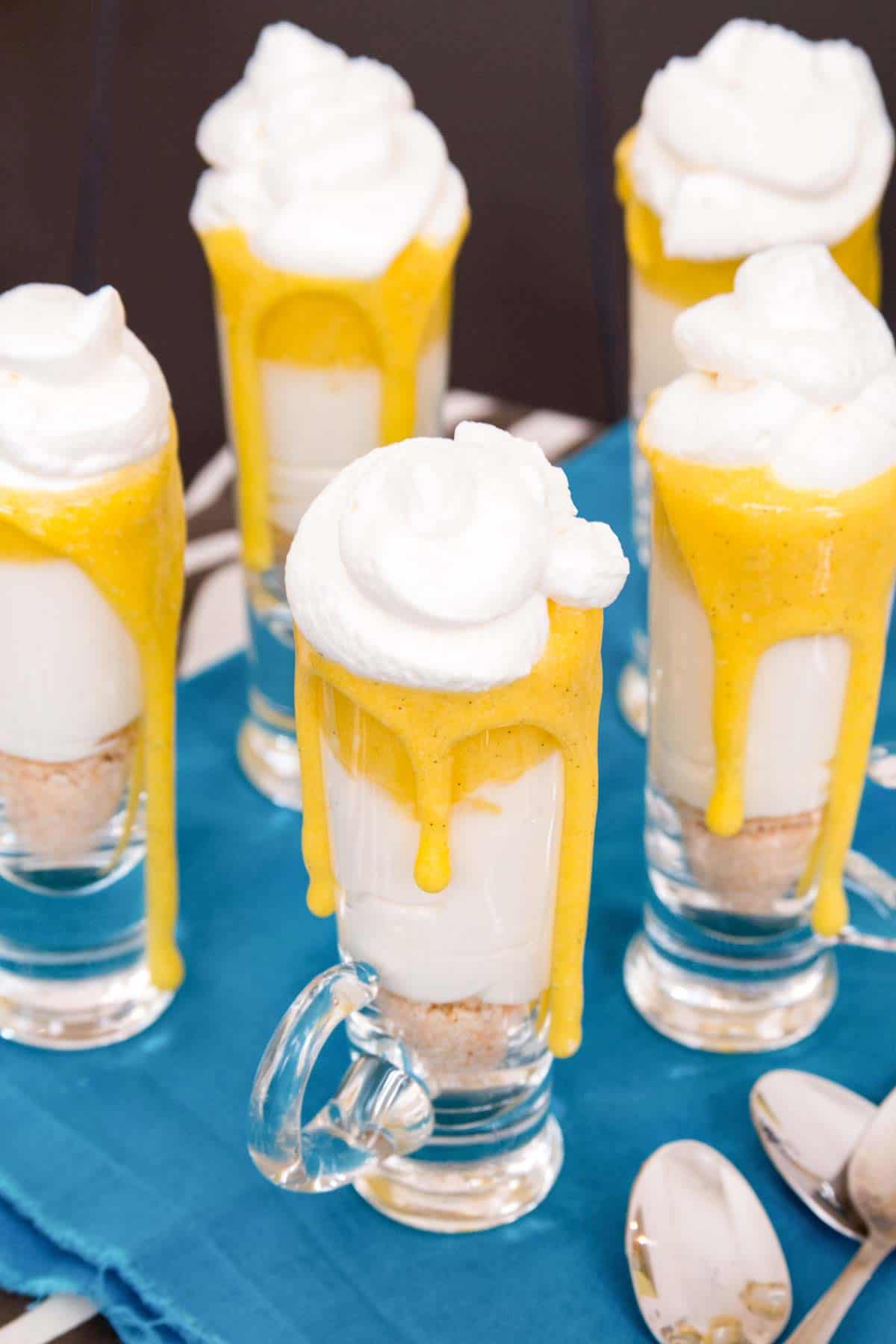 How Do You Make No-Bake Mini Creamsicle Cheesecake Parfaits?
Gather some shot glasses or other mini dessert glasses, or you can pick up disposable mini dessert cups.
For the crust, you can you the standard graham cracker crumbs, but if you needed a gluten-free option, you can either find gluten-free graham crackers or crumbs, or grab that almond meal you might already have in your pantry. Just press the crumbs or meal into the bottom of the glasses.
Whip up a simple no-bake cheesecake recipe with just cream cheese, heavy cream, powdered sugar, and vanilla, and fill the cups or glasses.
Then top with your favorite citrus curd. You can make this Vanilla Bean Grapefruit Curd, or buy a jar of lemon curd. If you want that classic creamsicle flavor of vanilla and orange, follow this Easy Microwave Citrus Curd recipe from The View from Great Island.
A topping of whipped cream and you are good to go.
No-Bake Mini Creamsicle Cheesecake Parfait are a fabulous change from my usual tendency to make desserts more on the chocolaty or peanut buttery or caramely side.
Easy, versatile and soooo delicious – mini creamsicle cheesecake parfaits are a perfect springtime sweet!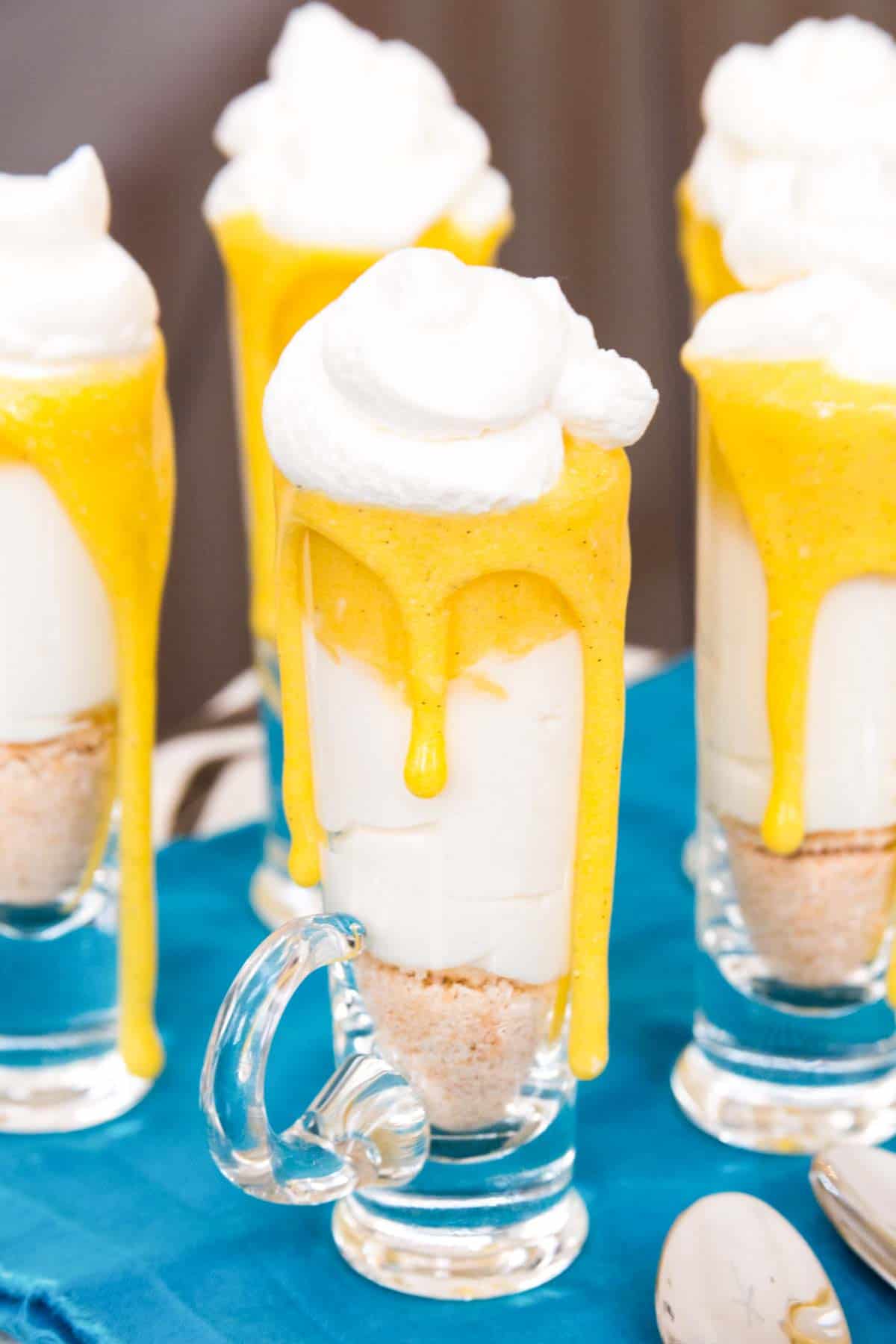 Here are some more parfaits for you…
Plus some from my friends…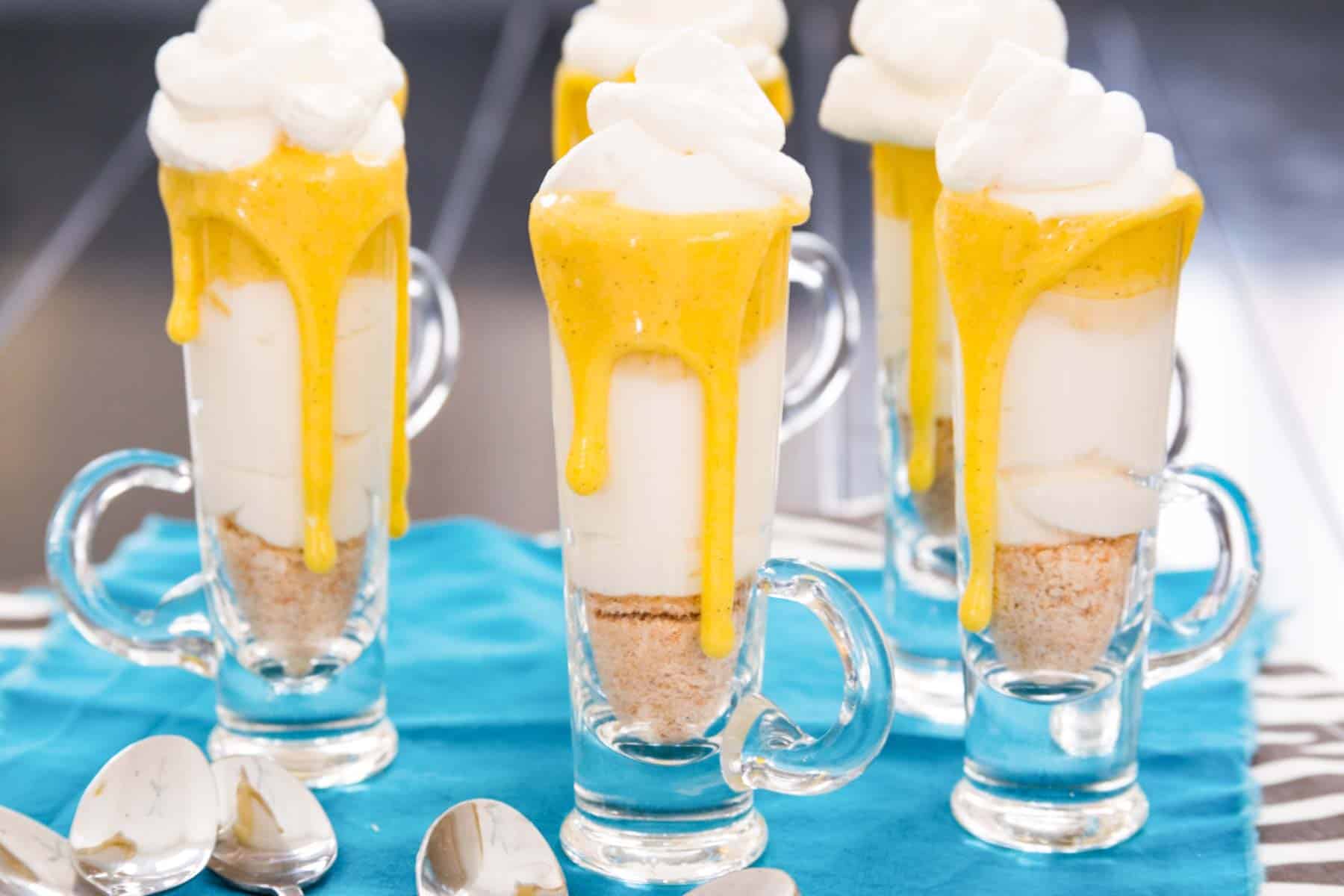 [amazon_link asins='B06XVG4XHH,B075F3ZP68,B013J4U73S,B004VELEGU,B00473RWXY' template='ProductCarousel' store='cupkalchi-20′ marketplace='US' link_id='acd26ab8-2c40-11e8-9f0d-db19debab1f1′]
Enjoy this No-Bake Mini Creamsicle Cheesecake Parfaits recipe!