Apple & Blue Cheese Chicken Salad
Disclosure: This post may contain affiliate links. Cupcakes & Kale Chips is a participant in the Amazon Services LLC Associates Program, an affiliate advertising program designed to provide a means for us to earn fees by linking to Amazon.com and affiliated sites.
So you grilled up a bunch of chicken the other day, "roasted" one in your slow cooker, or picked up a rotisserie bird from the grocery store, and today you don't want to heat up your kitchen. But you do want a healthy and delicious lunch or dinner. Clearly it's time for chicken salad with crunch, tang, and creaminess from Greek yogurt instead of mayo, like this Apple & Blue Cheese Chicken Salad.
Apple & Blue Cheese Chicken Salad
Oh my gosh, you guys, I hardly remember what it feels like to cook in my kitchen. Today is July 23rd. On June 27th we left for vacation in Vermont, and arrived home over a week later. I was home for barely a week, and in that time I unpacked from a week at the condo in Vermont, meaning not only clothes, but also food, toiletries, toys, hiking shoes, swimming gear, and the laptop and DSLR camera that a food blogger just cannot travel without, and repacked. And not just repacked, but repacked for my kids to stay at my mom's for ten days and for me to be at my mom's (which also means pool and beach gear), and, in the middle of that ten day span, I had to also be packed to travel to Orlando for five days for a conference. Let's just say that during the few days I was actually home, not much cooking happened, and what I did cook was reaaaaallly basic stuff.
Then at mom's she spoiled me a bit a did a lot of the cooking, when we didn't go out, the Food & Wine Conference Committee and hotel staff spoiled me in Orlando with some fabulous food. Now I've been home for less than seven of the last, what, twenty-six-ish days, and we just arrived back home today. I spent the two hours between opening the door from our 3 1/2 hour drive and dinnertime dumping my kids in their playroom, unloading the car, unpacking, cleaning up, doing laundry, and so on and so on and so on.

MY LATEST VIDEOS
I may miss my kitchen, but we went to the diner. And now I still have no food, so I'm thinking we'll be getting by on some turkey sausage, frozen veggies, and whatever else I can scrounge up before I get to the grocery store. Some food blogger I am!! Nevermind that. What a lousy mom and wife! Sheesh!
But you don't need to be in your own kitchen, heck, you barely even need to be in a kitchen at all to make this…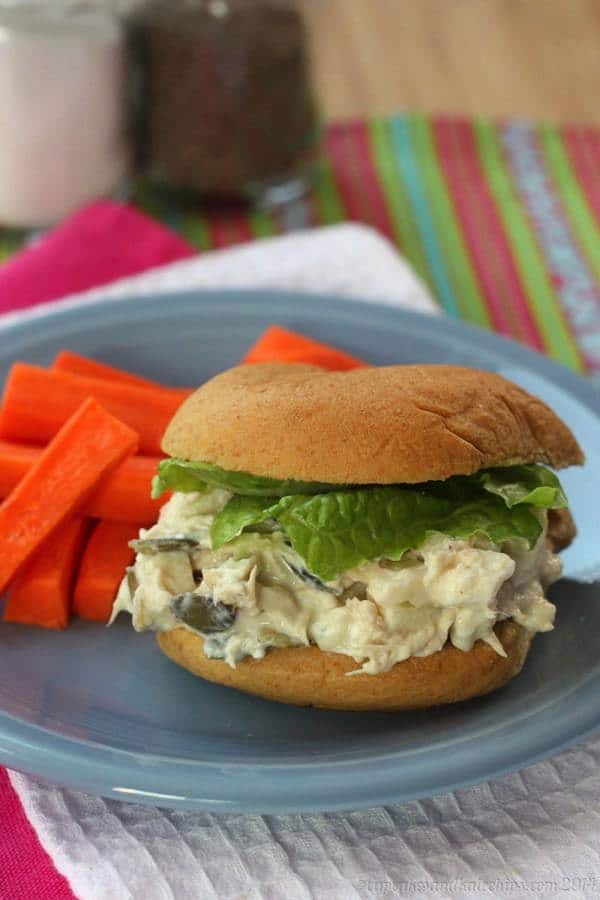 I've gotta tell you, guys, I made this chicken salad ages, ago, and while I love a nice cool meal in the hot summer, the is definitely a recipe that'll take you right into fall with the touch of honey and crispy apples that give a bit of freshness against the creamy Greek yogurt and the rich tang of blue cheese. Some pepitas or walnuts provide an additional element of texture.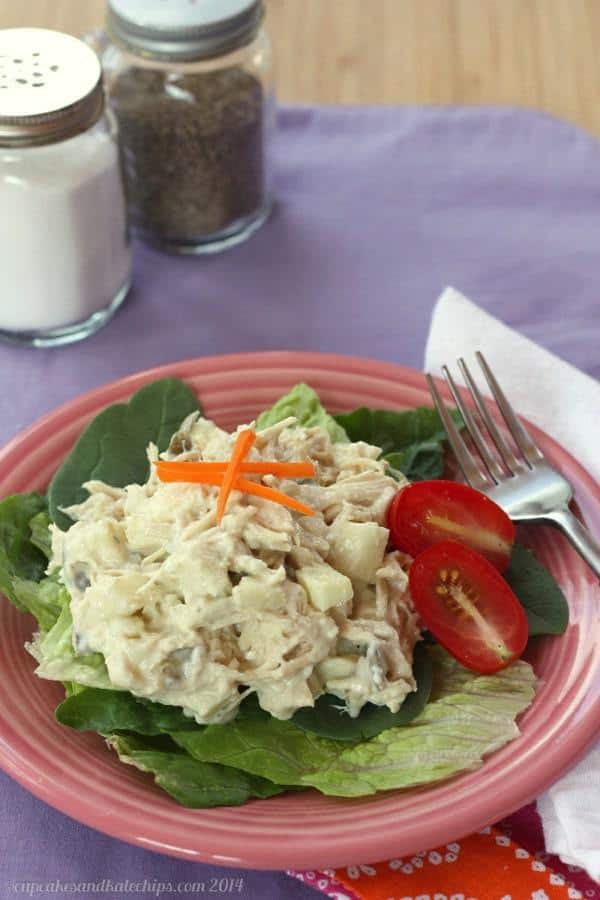 Pile it on a salad, scoop it up with some crackers, stuff it in a pita, or make a sandwich. Lunch, dinner, or even as an appetizer or snack, the beauty of chicken salad is that it is so easy and so versatile. You'll make every member of the family happy.  I know I did.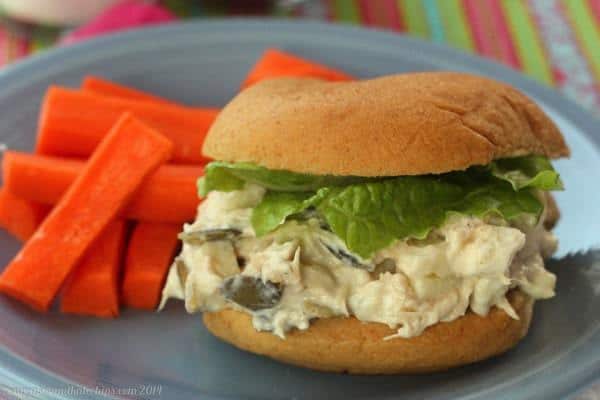 Have you been traveling a lot this summer?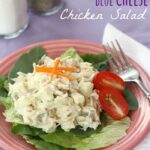 Apple & Blue Cheese Chicken Salad
A healthy chicken salad with crunchy apples, tangy blue cheese, and creaminess from Greek yogurt instead of mayo.
Course:
Chicken, Dinner, Lunch
Ingredients
2/3

c

plain Greek yogurt

2

Tablespoons

Dijon mustard

1

Tablespoon

honey

About 2 c shredded

cooked chicken (about 3/4 lb boneless, skinless chicken breasts)

1

small apple

peeled, if desired, and chopped

1/2

cup

crumbled blue cheese

1/4

cup

pepitas

pumpkin seeds or chopped walnuts

salt and pepper

to taste
Instructions
In a large bowl, combine the Greek yogurt, mustard, honey, and vinegar, and stir until evenly mixed.

Add the chicken and stir to coat evenly.

Gently mix in the apples, blue cheese, and pepitas or walnuts.

Serve on a sandwich, salad, crackers, pita, etc.
Enjoy!
Want some more chicken salad ideas?
Plus a few from my friends…