This post may contain affiliate links. Read my disclosure policy.
Easy to make no bake mini chocolate cheesecakes with peppermint. Perfect for the holidays!
The Twelve Guest Posts & Roundups of Christmas continues with this fabulous recipe from my friend Kim! Make sure you also head over to Cravings of a Lunatic to enter our amazing giveaway for a $200 Amazon Gift Card and your choice of cookbooks!
No Bake Chocolate and Peppermint Cheesecakes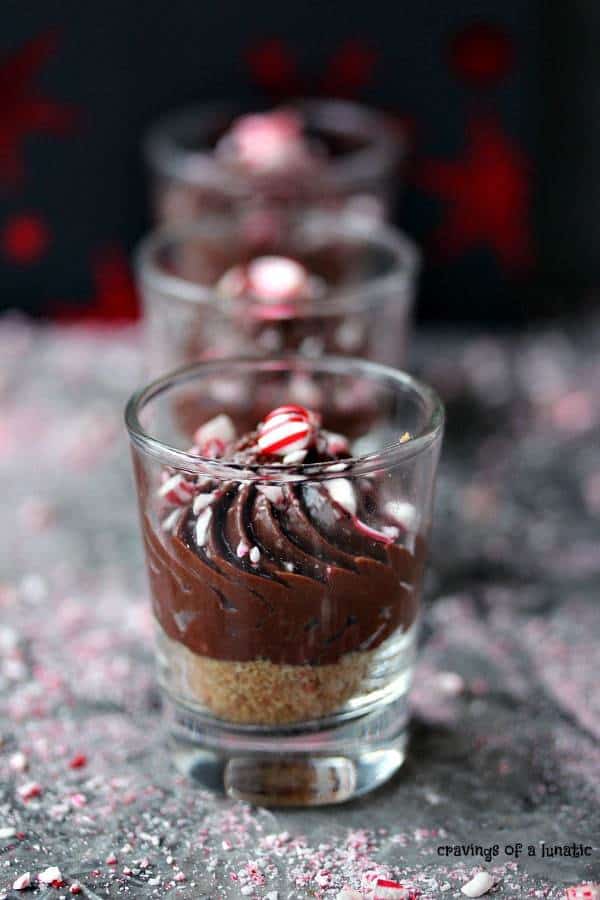 Hello to all Brianne's peeps. I'm Kim, and I'm the blogger behind Cravings of a Lunatic and Kiss My Smoke. I'm also a mom to two awesome hooligans, plus mom to lots of fur kids. We have a horse, three cats, a demon dog, a lovebird and two parakeets. It's a bit of a crazy household. It's never quiet but it's always amusing.
I'd like to start off by thanking Miss Brianne for having me today. I dig this lady so very much. I've had the pleasure of meeting her at a conference earlier this year. She is as sweet in person as she is on the blog. It's always cool to meet folks and they turn out to be just as genuine as you imagine them to be.
When she put a call out for helpers while she moved I was happy to oblige. The added bonus of it being a Christmas event was super appealing too. I love the holiday season. The trees, the lights, the baking, it's all right up  my alley.
My Mom was really into Christmas. She would go all out every year, making everything so special for us kids. Our house was not a peaceful one but my Mom always tried to go the extra mile for us at Christmas. She tried so hard to make sure we had peace on that day. I look back now and I know it must not have been easy for her, but she always made it seem effortless.
She would save up extra money all year to buy extra gifts for us, she would make sure all the gifts were wrapped in a special way. She even went as far as to put tags on them so the gifts we received came from an array of Christmas characters. We would get gifts from Mrs. Claus, Rudolph, all the other reindeer, even from the elves on Christmas specials. It was just her way of making us smile a little bit more on Christmas morning.
I keep up that tradition with my own kids. They get little gifts from all our pets, plus gifts from each of the Christmas characters. I even go as far as to use different writing for each character. It takes me all the live long day to do, but it's so worth it to make my kids laugh. To me that's what Christmas is all about. Family bonding, and lots of giggling.
We have lots of other traditions too. We make a whole day of trimming our tree. We go pick a real one out together, then set it up, have dinner while the branches settle, then decorate it for hours. We usually put up at least two trees. One always has to be real. It's just something I love doing.
Another tradition is making gingerbread houses. I would liken ours more to a gingerbread village though. I make an ice castle every year (stay tuned to my blog, I'll be sharing it once I make this year's), the kids and hubs make differently shaped houses. Then we make little creatures like polar bears out of candy. It gets really out of hand. We use a huge hutch as the base for the village and even go as far as to make a skating rink for all the creatures with trees all around it.
I know right. We're a bit nuts. But don't let the sound of it fool you. It's not fancy or perfect, usually it looks like drunks made the whole thing. It's all good though, we have so much fun doing it. And that is the whole point. Sitting at the table together, laughing and telling jokes. Poking fun at each other while we eat half the candy we're suppose to be using for the village. It's a total riot.
One thing that makes these events special is we always plan them around a big dinner. Usually it's roast beef, or lasagna. Then we have dessert, and this family is big on cheesecake. I am notorious for making cheesecake in all forms, but mostly for mini cheesecakes. My family and friends love it, so I make it often. This one is super easy to make, and a perfect fit for the holiday season.
I hope you get a chance to make this. I wish you and yours a very happy holiday season.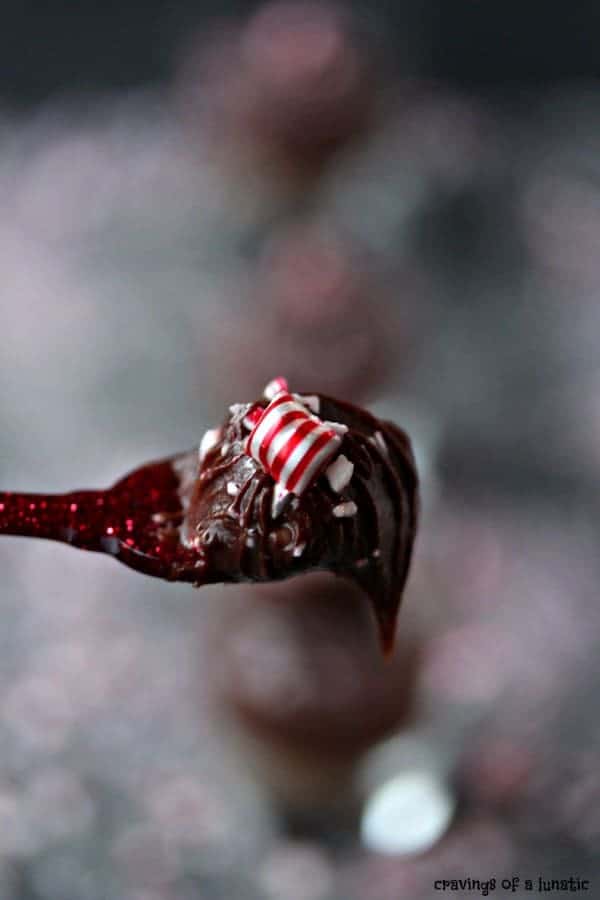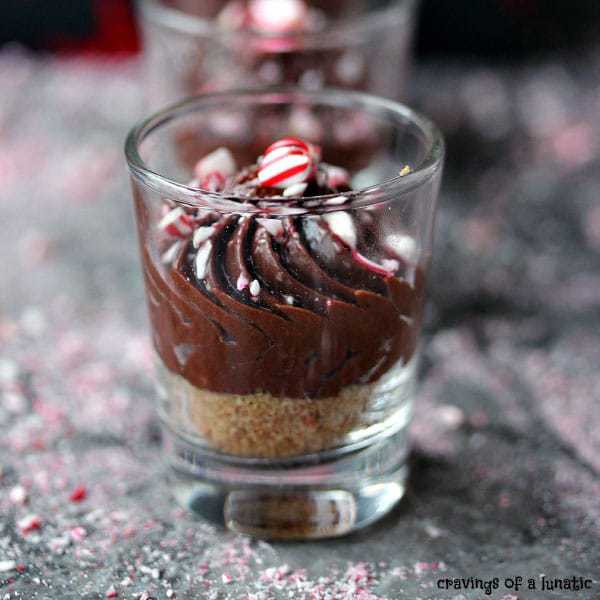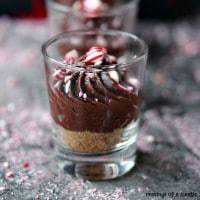 No Bake Chocolate and Peppermint Cheesecakes
Ingredients
1 1/2

cups

graham crumbs

2

tablespoons

melted butter

8

ounces

of cream cheese

1/4

cup

granulated sugar

8

ounces

of marshmallow fluff

8

ounces

of semi sweet chocolate

melted and cooled

1

teaspoon

peppermint extract

you can substitute vanilla extract

1/2

cup

of crushed peppermint
Instructions
In a medium sized bowl, combine the graham crumbs and melted butter. Stir until combined. Spoon into serving dishes evenly. Press down with the end of a honey dripper (works really well) or flat object. Set aside.

In a stand mixer combine the cream cheese and granulated sugar, whisk on high speed until fluffy. Add the marshmallow fluff, melted chocolate and peppermint extract, whisk on high speed until combined. You can add half of the crushed peppermint to the mixture now if you like crunch inside your cheesecake, if not you can just top the cheesecakes with it. Transfer the mixture to a piping bag and pipe into serving dishes.

Top with crushed peppermint.

Serve with a big old peppermint loving smile!
Notes
You can substitute vanilla extract if you find peppermint overwhelming.
You can add the crushed peppermint inside the cheesecake filling if you like, but again if you want a more mellow peppermint flavour you can also leave it out.
This is really good with coconut instead of peppermint too. One of my personal favourites.
Categories: