Nutty Maple Granola
Disclosure: This post may contain affiliate links. Cupcakes & Kale Chips is a participant in the Amazon Services LLC Associates Program, an affiliate advertising program designed to provide a means for us to earn fees by linking to Amazon.com and affiliated sites.
Nutty Maple Granola doesn't skimp on the nuts, plus it has yummy oats, seeds, cinnamon, and just the right amount of sweetness for a healthy snack or breakfast. This homemade granola recipe can be made with whatever you have in your pantry and also happens to be gluten-free and vegan.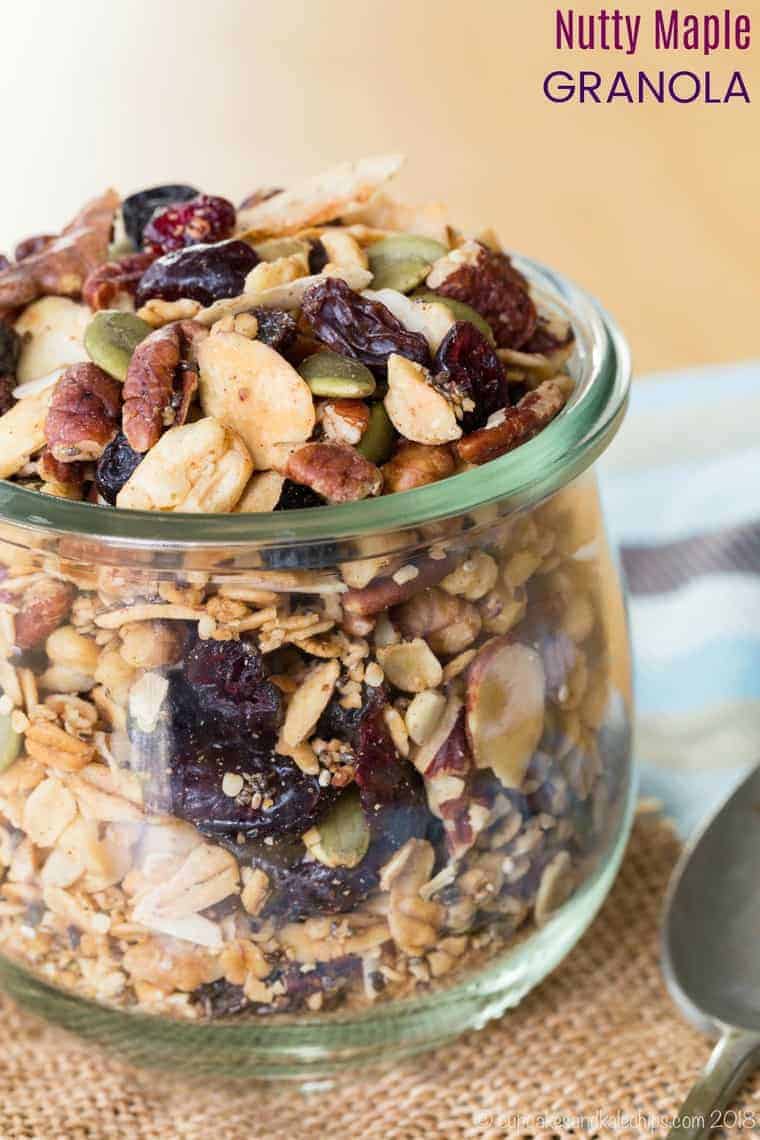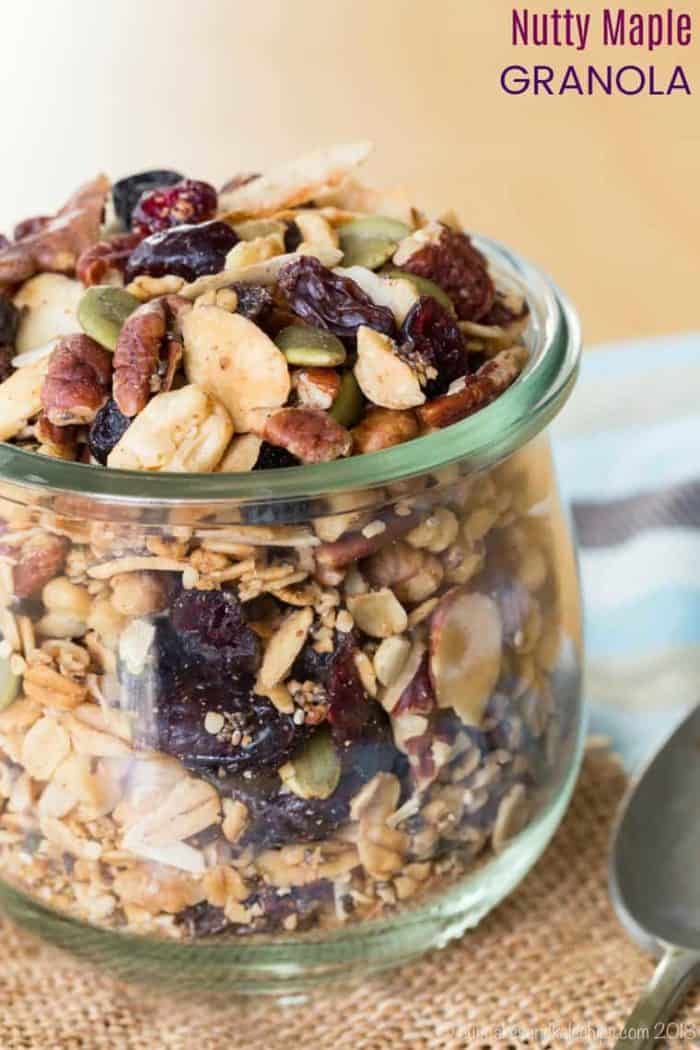 Homemade Gluten-Free Granola Recipe
When I was working, I had to travel to Europe several times, and once for two weeks to China and India. And seriously, the best thing about many foreign hotels is their insane breakfast buffets. These spreads catered to the breakfast preferences of many different countries and cultures, from eggs and bacon and potatoes, to waffles and pancakes and french toast, to knockwursts and bratwursts and whatvever-wursts, to congee and sushi and dumplings. Now granted, I was traveling for business, so I did stay at pretty decent hotels. But even the smaller ones all seem to know how to do breakfast right. And one thing that always seem to have it a bowl of plain, thick yogurt, another of fresh fruit preserves, and yet another filled with granola. More often than not, even with all of the other choices, I went for that – a little dairy, a little protein, a little fruit – just what I needed to power through the insane schedule that I usually had while traveling (one time involving 7 airplane flights in 10 days).
Back at home, the store-bought granola always left something to be desired for me. Many seem to have a lot more sugar and fat than I am really looking for, not enough nuts and fruit, and way too much "filler". So, I started making my own…
Nutty Maple Granola is the first homemade granola recipe I ever made!
And I love this so much more than anything storebought. So many granolas you find in the grocery store have a ton of "filler", whereas this one is truly packed with has a pretty high ratio of nuts and seeds to oats, a good amount of dried fruit, and just the right amount of sweetness, but without adding any refined sugars. You can use whatever nuts and seeds you have on hand, even all of one kind, but I prefer to mix it up by throwing in some walnuts, pecans, cashews, and basically whatever I can find in my pantry since each one seems to have at least on particular standout nutritional stat, like walnuts for Omega-3's, cashews for minerals and B-vitamins, and almonds for Vitamin E. Here is a great source for lots of nutritional information about many different nuts and seeds. I do always make sure to add some sliced almonds because they give a similar texture to oats while still keeping this Nutty Maple Granola a bit heavier on the nuts.
The same goes for the seeds and dried fruit. I've used any and every combination of flax seeds, sesame seeds, chia seeds, and hemp seeds, plus dried cherries, driied blueberries, dried cranberries, and, of course, the standby that every mother always has in the pantry – raisins. You can truly customize Nutty Maple Granola with whatever you prefer!
[amazon_link asins='B002T1IDYI,B00AQFGL3O,B000G0KJG4,B00Y5VO7F4,B00F739OFC' template='ProductCarousel' store='cupkalchi-20′ marketplace='US' link_id='2874851c-17e3-11e8-ac5b-cb4f2ce77610′]
Gluten-free granola is not always easy to find in stores!
When I found out about my wheat allergy, I realized that packaged granola often contains things like wheat and barley flakes, or even wheat germ. So that is why I came up with this recipe. While I don't need to seek out the gluten-free oats because that small potential for cross-contamination is not a risk for my type of allergy, this can be gluten-free if you purchase the gluten-free oats.
How will you enjoy eating Nutty Maple Granola?
If you like this granola recipe, you can also try these…
For more yumminess from me and my foodie friends, keep up with me on…
Or sign up to have Cupcakes & Kale Chips delivered straight to your Inbox!
Nutty Maple Granola Recipe
Versatile because you can use whatever nuts, seeds, and dried fruit you have in the pantry, you'll find yourself making this granola all the time. It makes a great breakfast or snack with milk or sprinkled over some yogurt, if you can keep yourself from eating it by the handful.
I hope you'll leave a comment and give it a FIVE STAR rating or share a photo on this pin on Pinterest!

Print Recipe
Nutty Maple Granola
Nutty Maple Granola doesn't skimp on the nuts, plus it has yummy oats, seed, cinnamon, and just the right amount of maple sweetness for a healthy breakfast or snack.
Servings:
40
servings (about 1/4 cup)
Ingredients
3

cup

oats

(gluten free, if needed)

3

cups

nuts

(any combination of raw walnuts, pecans, pistachios, etc.)

1/2

cup

sliced almonds

1/4

cup

chia seeds

1/4

cup

sesame seeds

(or more chia seeds)

1/2

cup

raw pumpkin seeds

(aka pepitas)

1/4

cup

water

1/4

cup

olive oil

1/2

cup

real maple syrup

1

teaspoon

cinnamon

1

teaspoon

vanilla extract

1

teaspoon

kosher salt

1 1/2

cup

dried fruit

I like equal parts (any combination of raisins, dried cranberries, dried blueberries, dried cherries, etc.)
Instructions
Preheat your oven to 250°F. Line a large cookie sheet with parchment paper or a Silpat.

In a large bowl, combine the oats, nuts, seeds, and coconut.

In a small bowl, combine the water, olive oil, maple syrup, cinnamon, vanilla, and salt.

Add the wet ingredients to the dry ingredients, and toss until it is evenly distributed and moistened.

Bake for 1 to 1 1/2 hours, stirring every 20 minutes, or until dry and golden.

Toss the dried fruits in with the granola mixture.

Allow to cool and store in an airtight container.
Nutrition
Serving:
0.25
cups (approximately)
|
Calories:
165
kcal
|
Carbohydrates:
15
g
|
Protein:
3
g
|
Fat:
10
g
|
Saturated Fat:
2
g
|
Sodium:
66
mg
|
Potassium:
134
mg
|
Fiber:
2
g
|
Sugar:
7
g
|
Vitamin C:
0.1
mg
|
Calcium:
37
mg
|
Iron:
1.1
mg
Enjoy!