Creamy Cauliflower Broccoli Cheese Soup
Disclosure: This post may contain affiliate links. Cupcakes & Kale Chips is a participant in the Amazon Services LLC Associates Program, an affiliate advertising program designed to provide a means for us to earn fees by linking to Amazon.com and affiliated sites.
Creamy Cauliflower Broccoli Cheese Soup is a healthier version of a popular favorite comfort food. By swapping some of the heavier ingredients for sneaky hidden veggies, you can enjoy a healthy keto soup that's still cheesy, but also low carb and gluten free.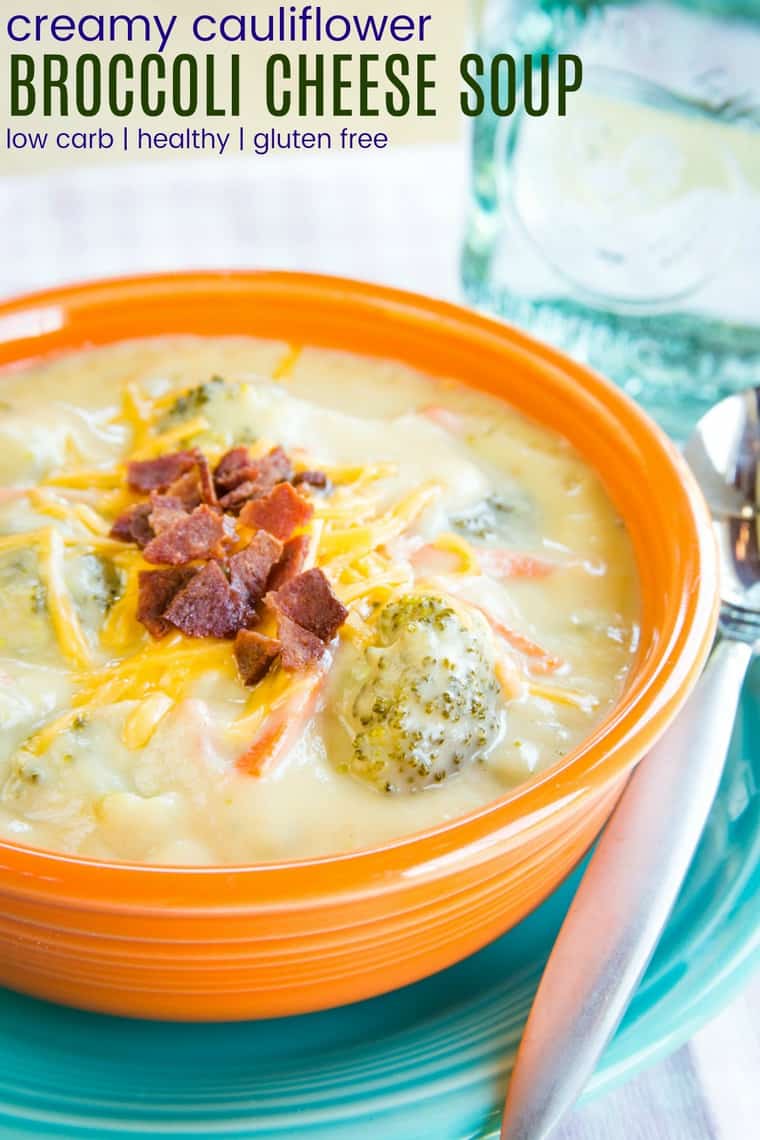 We have an issue with table manners in my house. And the issue so much isn't the lack thereof as it is how The Hubby and I view and react to the kids' table manners. The Hubby is the strict one when it comes to meals. He wants them seated and carefully picking up their food with a spoon or fork, then neatly putting it in their mouth. Food landing on their clothes, laps, and especially the floor drives him nuts. He definitely isn't as old school as saying that children should be seen and not heard because he absolutely loves chatting with them about their days and whatever else they come up with (sometimes he is even more patient than me with the five year old storytelling that never seems to get to the point), but if they start getting too silly or interrupting when he is talking about topics that small children find oh-so-fascinating, like unproductive meetings at work, politics, or how we are going to make sure we use up out medical flex spending account this year, he gets a little agitated.
You guys, I have five and two year old boys.
Now don't get me wrong, I don't encourage or allow them to act like barbarians, running around like maniacs and shoveling their food into their mouths while it flies in all directions. But there are two things.
First, I'm realistic. Again, five and two. Boys. They're gonna be messy. Even when they try their hardest. They're also gonna be antsy. They have already had a long day (let's not get into the fact that they have a bad habit of waking up at 5:30 am for no particular reason), been in and out of the car, the bus, school. It's highly unlikely that they are going to want to sit for a nice family meal and dinnertime conversation for any longer than it takes them to devour their dinners. Sometimes they don't even want to really sit while they are eating. I get it. If we are at a restaurant, it's a different story because that's a safety concern. But if a little wiggling or a random stroll around the kitchen makes them happy, so be it.
Second, I'm kind of a touchy-feely eater myself. Maybe it's the foodie in me that sees eating as an experience for all of the senses. Maybe I'm still a child myself on the inside. Maybe I just recognize that my children are still discovering the world, and part of that is experiencing textures, in addition to flavors and smells and sight. And that since they are still children, messes are a part of eating, a part of learning, a part of life. Plus I'm also known to use my fingers to pop green beans in my mouth. I'd rather get my hands in there to carve the meat off of a slow cooker roast chicken, versus getting all cumbersome with tongs and forks and knives. You'll never catch me using a knife and fork to eat pizza.
And you guys, this soup, let me tell you, I did use my finger to swipe out the last little bit of Creamy Cauliflower Broccoli Cheese Soup from the bottom of the bowl.
Creamy Cauliflower Broccoli Cheddar Soup
I have been craving the Broccoli Cheddar Soup from Panera, but since it is thickened with wheat flour, I can't have it. I knew it was time to make it myself, but I figured I'd put my own healthier spin on it. So you know what that means in my kitchen – cauliflower!!! I mean, I'm the queen of cauli-tots, to the point where I even have a half dozen or so favorite cauli-tots recipes.
And I don't call this Creamy Cauliflower Broccoli Cheddar Cheese Soup for nothing. It is so velvety and smooth (though I'm sure my Blendtec helps with that), but there's no cream, no butter, and no flour for thickening, making this a naturally gluten free and low carb broccoli cheese soup recipe. But there is plenty of cheese to make it rich and super flavorful, and I always feel that with cheddar cheese, the sharper the better. Since the soup is made from cauliflower, plus all of the broccoli and carrots swimming in that sea of golden goodness, it is full of good vegetable nutrition.
And did I mention the cheese?
This healthy broccoli cauliflower soup recipe would be perfect for a hot meal on a cold day with a piece of Gluten Free Apple Butter Corn Bread or maybe alongside an Italian Country Salad.
Want to chat with fellow foodies? Join my No-Fuss Food and Fun group on Facebook. Everyday we have fun topics, share recipes and ideas, ask and answer questions, and see all of my new Cupcakes & Kale Chips creations! If you'd like to check it out, you can request to join HERE.
For more yumminess from me and my foodie friends, keep up with me on…
Or sign up to have Cupcakes & Kale Chips delivered straight to your Inbox!
What are more low carb soup recipes?
Creamy Cauliflower Broccoli Cheese Soup Recipe

Print Recipe
Creamy Cauliflower Broccoli Cheese Soup
A veggie-packed, healthier version of a favorite restaurant soup. Total comfort food. Gluten free and low carb
Ingredients
1

tablespoon

olive oil

1

small

yellow onion

chopped

1

head

cauliflower

core removed and chopped into small florets

1/4

teaspoon

nutmeg

1/2

teaspoon

dry mustard

1

pinch

cayenne pepper

4

cups

chicken broth

or vegetable broth

3

cups

broccoli fresh florets

or frozen

1/3

cup

julienned carrots

(1-2 large carrots)

6

ounces

shredded cheddar cheese

plus more for sprinkling on top, if desired

salt and pepper

to taste

crumbled bacon

optional, for sprinkling on top
Instructions
Heat the olive oil in a large pot or dutch oven over medium heat. Add the onions and sauté until translucent, about 4-5 minutes.

Add the cauliflower, nutmeg, dry mustard, cayenne, and a pinch of salt and peper and saute for a minute or two.

Add the chicken broth, bring the mixture to a boil and simmer, uncovered, for least 20 minutes, or until the cauliflower is very tender, such that it can be mashed easily with a fork. You can break it up a little while it's cooking to help speed the process along.

Use an immersion blender, or transfer the mixture to a blender, and puree until smooth and creamy. Return the soup to the pot over medium heat and add the broccoli and carrot. Bring to simmer and cook 25 minutes, or until the broccoli is tender (if you are using frozen broccoli, you only need to cook until the broccoli is thawed and heated through)

Reduce the heat to low and stir in the cheese a little at a time. If you want a thnner soup, add additional broth or water to desired consistency. Season to taste with salt and pepper.

Serve in bowls and sprinkle with additional shredded cheese and crumbled bacon, if desired.
Nutrition
Serving:
1
g
|
Calories:
185
kcal
|
Carbohydrates:
9
g
|
Protein:
10
g
|
Fat:
12
g
|
Saturated Fat:
6
g
|
Cholesterol:
29
mg
|
Sodium:
798
mg
|
Potassium:
606
mg
|
Fiber:
3
g
|
Sugar:
3
g
|
Vitamin A:
1755
IU
|
Vitamin C:
98.2
mg
|
Calcium:
259
mg
|
Iron:
1.2
mg
Enjoy!