This post may contain affiliate links. Read my disclosure policy.
Nutella chocolate chip cheesecake no-churn ice cream cake is an absolutely delicious no-churn ice cream cake recipe! Yes, I combined a Nutella chocolate chip cheesecake with an easy no-churn ice cream recipe! Homemade no-churn cheesecake ice cream with ribbons of chocolate hazelnut ganache and mini chips atop a simple gluten-free chocolate hazelnut crust. This no-churn ice cream cake is finished with a thin coating of whipped cream.
I got an email from my friend Isabel the other morning. It doesn't really matter exactly what it was about. What matters is that this brief note embodies everything that Isabel is all about and reinforces why she is one of my mentors in this crazy world of food blogging. For this of you who don't know her, Isabel is Family Foodie, and the founder of the Sunday Supper Movement, inspiring families to gather around the dinner table as a way of life, and the Food and Wine Conference, a place for food bloggers, writers, entrepreneurs and more gather to share their knowledge with each other as they connect and break bread together.
The beginning of this empire of sorts that she has built came from one simple tweet and evolved into what it is today because of the three words that come to mind when I think of her – passion, persistence, and priorities.
She truly loves her work – the blogging, the business, the food, the photography, and everything else that goes along with it. She has big dreams and has laid a well thought-out and solid path to make these dreams come true, and then instead of being satisfied, she just continues to dream bigger. She has inspired others, taught others, given others opportunities to grow themselves and their businesses. And yet at the end of the day, it's all about her children and husband and parents and all of her relatives and friends. They are the ones who are at the heart of this mission, but she is not going to let her commitment to the mission and the business interfere with the place where it all started – her family.
Back to that email I mentioned. I was asking her advice on a certain situation, and due to timeline and other information that came about in the meantime, I didn't hear back from her until after I had already made the decision. Why? Well she was on vacation with her family, and while I know she was tending to the immediate needs of her business while she was on vacation, it was the time with her family that she was truly focused on.
In her response, while she reiterated her support for me, she also reminded me that opportunities will always come around, but major events in the life of my family and children only happen once. This is why I respect her and value her advice so much. I can't thank her enough for the opportunities and experience she has given to me, and I hope that I can continue to learn from her example so that I can grow and achieve success while keeping my family at the forefront of everything I do.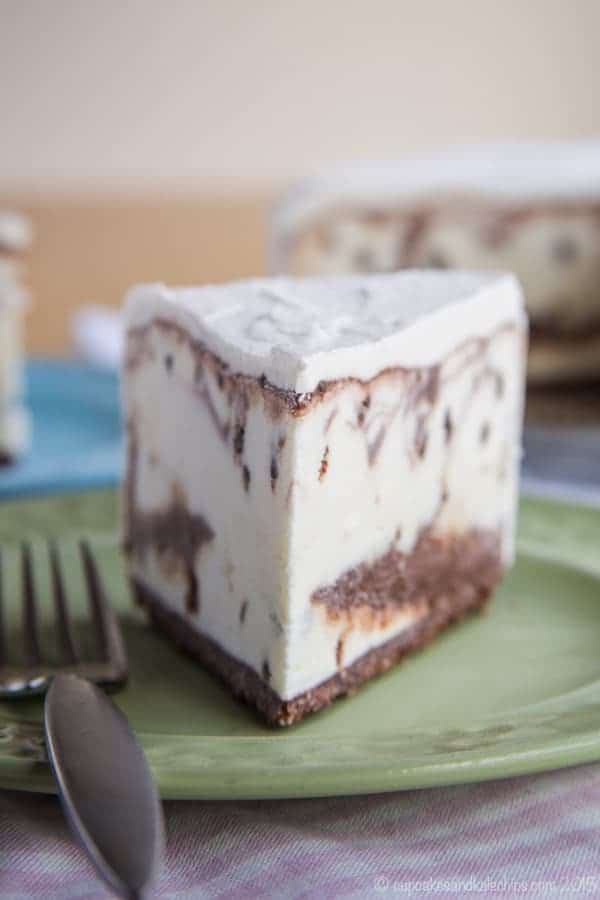 I have another huge supporter in my life – The Hubby. With all of the things that he has going on at work, the unending to-do list at home, and a drive to always be getting something accomplished, he just came with me to Maine this weekend in order to watch me cross the finish line in my first race. He puts up with all of my crazy ideas and disordered ways of doing things, and always helps me see the big picture to make decisions, while still letting me make the actual decision.
Oh gosh, and there is so much more. His birthday was last week, and the boys and I weren't even home, since I had to bring them to Delaware to stay with my mom while we went to Maine. He never complained once that our family celebration took place over the weekend.
For these two very special people, I had to make one very special birthday dessert. The Hubby's lack of complaining about us not being there on his birthday may have something to do with the fact that some of this was still in the freezer, and now I am sending Isabel a virtual slice…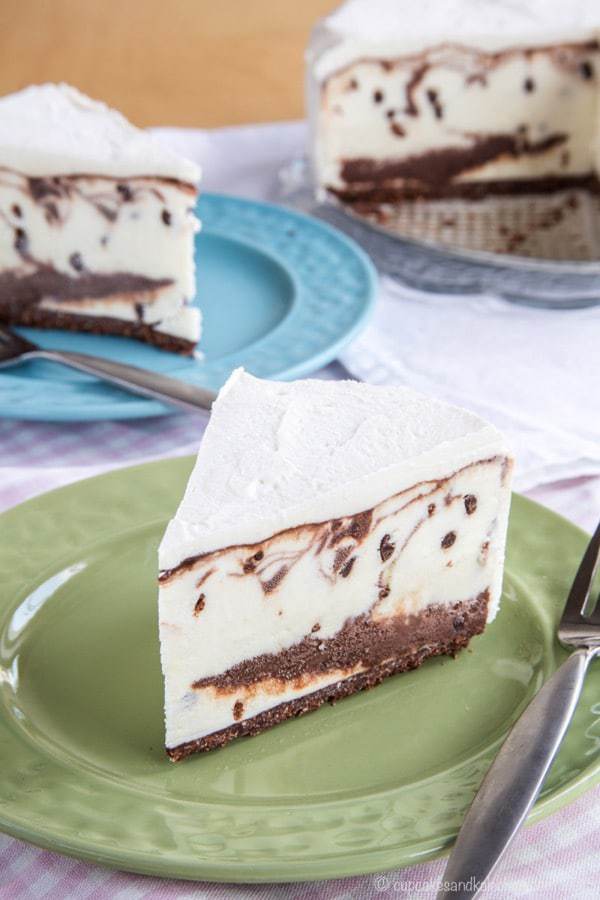 Nutella Chocolate Chip Cheesecake No-Churn Ice Cream Cake just doesn't do justice to all of the amazing flavors in this celebratory dessert.
I wanted to call it homemade no-churn Nutella ganache swirled chocolate chip cheesecake ice cream cake with a gluten free no-bake chocolate hazelnut crust, but I don't think Google would like me very much for that. It also makes it sound way more complicated than it is.
The crust comes together in just a couple of minutes and joins the chocolate ganache that you just made in the fridge while you make the super simple no churn ice cream base. Then after it's all whipped and swirled and frozen, a thin layer of whipped cream get spread on there just to smooth it all out and make it pretty. I am totally in love with adding cream cheese to no-churn ice cream. The usual no-churn ice cream is so easy and fabulous, but the sweetened condensed milk (plus all of the other stuff I tend to gob in there) can make it a little sweet. Adding cream cheese balances that out and adds a little tang. The Nutella ganache is a must. I was just going to swirl in some Nutella, but in ganache form, it melts slightly faster than the ice cream, giving you some fudgy gooeyness with that perfect hint of hazelnut. And chips because you know me and my need texture and crunch in ice cream.
The Hubby says that this is the best no-churn ice cream cake I've made, and one of the best desserts. I'm so happy to have made him something for his birthday that he truly loved, and I can only hope that Isabel would enjoy it too!
But just in case, here are a few more birthday cakes I've made…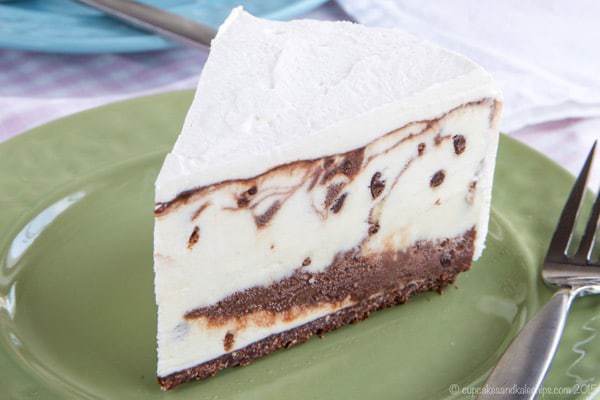 What sweet treat would you make for someone special on their birthday?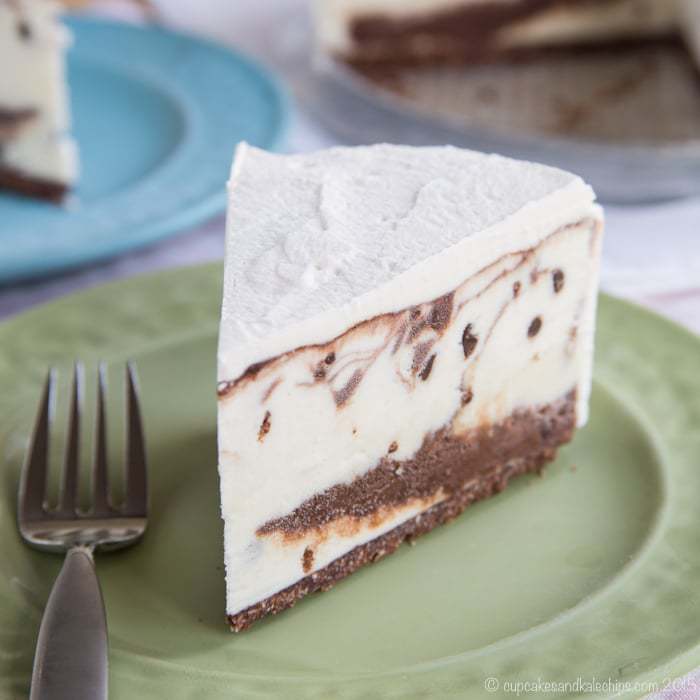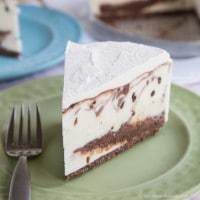 Homemade No-Churn Nutella Chocolate Chip Ice Cream Cheesecake
Classic cheesecake meets ice cream cake in this simple but special frozen dessert swirled and studded with chocolate and hazelnut goodness atop an easy and gluten free crust.
Ingredients
Instructions
For the Nutella ganache:
Place the morsels and Nutella in a heat-proof bowl.

Heat the heavy whipping cream in a small saucepan on the stove or in the microwave in a microwave-safe container until just simmering.

Immediately pour over the morsels and Nutella, and stir until smooth. Place in the refrigerator until ready to use.
For the crust:
Line just the ring of a 9-inch springform pan with plastic wrap, leaving the bottom uncovered (you could probably skip this, but it will make it easier to remove later).

Toss the almond or hazelnut meal, cocoa powder, and powdered sugar together in a bowl using a fork.

Pour over the melted butter and stir until evenly moistened.

Press firmly into the bottom of the springform pan, pressing down with a glass or the bottom of a measuring cup.

Place in the refrigerator until needed.
For the ice cream cheesecake:
Place a large glass or metal bowl in the refrigerator or freezer for whipping the cream.

Using an electric mixer or whisk attachment, beat together the cream cheese, sweetened condensed milk, and vanilla extract until smooth. Set aside.

In the chilled bowl, using an electric mixer or whisk, beat the heavy cream to soft peaks.

Gently fold the cream cheese mixture into the whipped cream, then fold in the chocolate chips.

Spread the ice cream evenly over the crust in the prepared pan.

Gently pour about one cup of the ganache over the ice cream mixture and swirl with a butter knife. Carefully pour the remaining over the top of the ice cream mixture (Note, if you would like a thick ganache layer on the top of your ice cream cheesecake, you can freeze the cake after swirling the one cup through the mixture, then once firm, pouring the remaining ganache over the top and freezing until firm.).

Place the pan in the freezer for at least several hours, or until firm.

While it is in the freezer, prepare the whipped cream topping. Working quickly, remove the frozen ice cream cheesecake from the freezer, remove the ring and plastic wrap, and spread an even layer of the whipped cream topping over the cake. Return to the freezer for another hour or two.
For the whipped cream topping:
For best results when whipping the cream for both the ice cream and the whipped cream topping, make sure the heavy cream is very cold, and put your bowl and whisk attachment or beaters in the freezer for a bit.

Combine the ingredients in a bowl.

Using the whisk attachment of a stand mixer or hand mixer, whip the cream to stiff peaks.
Nutrition Facts
Homemade No-Churn Nutella Chocolate Chip Ice Cream Cheesecake
Amount Per Serving (1 slice)
Calories 684
Calories from Fat 459
% Daily Value*
Fat 51g78%
Cholesterol 133mg44%
Sodium 253mg11%
Potassium 363mg10%
Carbohydrates 48g16%
Protein 11g22%
Vitamin A 1400IU28%
Vitamin C 1.4mg2%
Calcium 274mg27%
Iron 1.9mg11%
* Percent Daily Values are based on a 2000 calorie diet.
Categories:
Join me in celebrating Isabel's Birthday with all the delicious food and drinks her #SundaySupper family prepared!
In addition to my Nutella Chocolate Chip Cheesecake No-Churn Ice Cream Cake, we have:
Birthday Drinks:
Birthday Appetizers:
Birthday Main Courses:
Birthday Desserts: