This post may contain affiliate links. Read my disclosure policy.
A melt-in-your-mouth mash-up of gingersnaps and whipped shortbread, these Whole Wheat Molasses Glazed Shortbread Cookies are sure to be a new Christmas cookie classic!
The Twelve Guest Posts & Roundups of Christmas continues with this fabulous recipe from my friend Taylor! Make sure you also head over to Food Faith Fitness to enter our amazing giveaway for a $200 Amazon Gift Card and your choice of cookbooks!
Whole Wheat Molasses Glazed Shortbread Cookies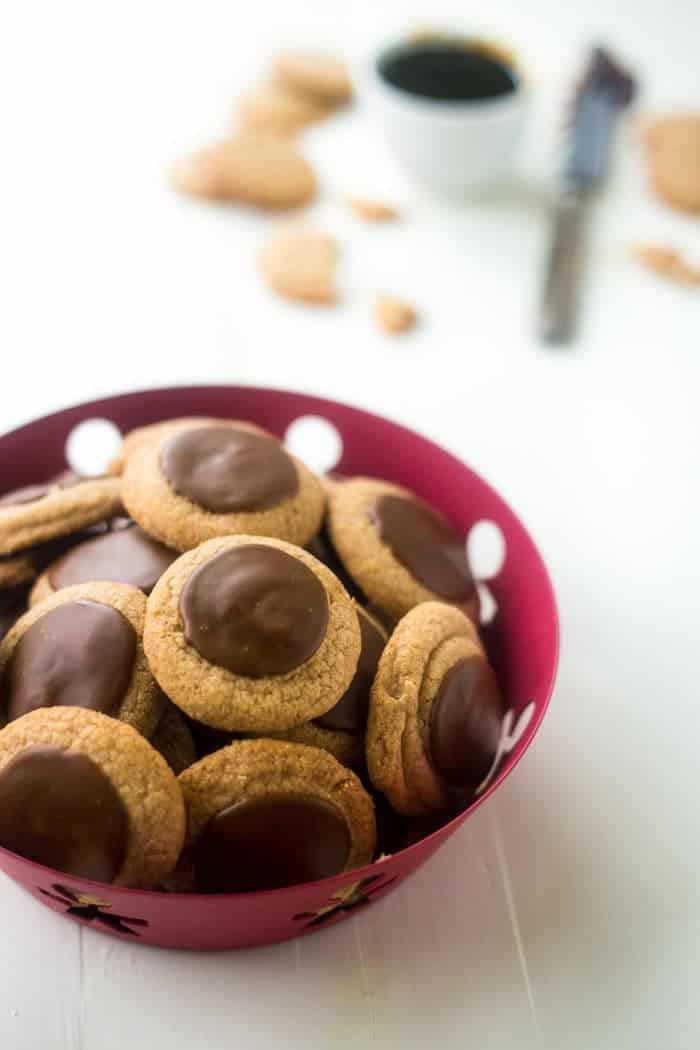 Hi! I'm Taylor from Food Faith Fitness, and I am SUPER pumped UP to be guest posting for Brianne today! She is such a great lady and I am happy to call her my friend!
Today I am bringing you a hybrid. A hybrid of two of the BEST DARN Christmas cookies in the entire Milky Way,
Get it? Milky Way. Milk and cookies?
Never mind.
Anyway.
There had been an ongoing battle In the Food Faith Fitness household – I call it the Christmas Cookie Skirmish.
Really though, it was just my husband begging me to make his favorite Holiday treats, gingersnaps, while I wanted to make MY favorite goodies, Whipped shortbread cookies.
See, notso exciting. I just like to be dramatic. If you've read my blog, you knew this LOOONG LONG ago.
Anyway, the sequel.
Because I am a wife who likes to earn gold stars, I wanted to make the Hubster happy. BUT, because I am also a selfish wife, I wanted to make MY taste buds happy.
Life problems amIright?
SO, you know what the best way to solve such a dilemma? SMOOSH THE COOKIES INTO 1.
Like a transformer. A cookie Transformer.
You may not be able to drive around in it, but you can eat it. Which, in my opinion, is about 100.89% better anyway.
The whipped shortbread cookie has been my favorite Christmas cookie ever since I knew what a cookie was. I am kind of obsessed with how light and delicate they are….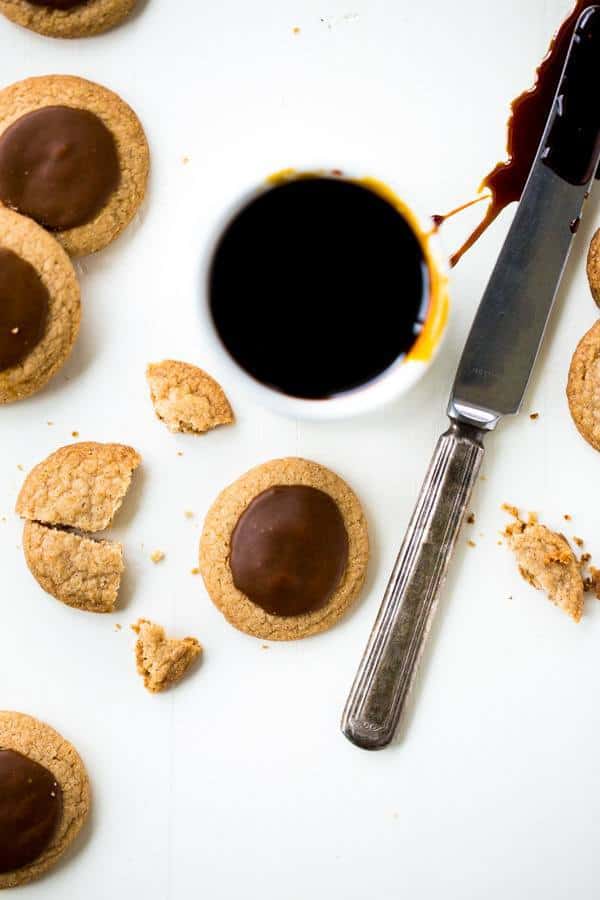 And it gets even better when you bite into them and. They.Just.Melt.
I die.
Now, the whipped shortbread DOES require an eeensy (read: a lot) bit of patience because, as you MAY have guessed from the name, you need to whip the dough.
Whip it. Whip it good.
Sorry, had to.
Which also means you have to test not only your patience, but your willpower. With all that standing around and whipping, there is EXTRA time to make the executive decision to throw the cookies to the wind and just go face first into the light-as-air dough.
I know you've thought about it. Don't lie.
These soft little bites are finished with the EASIEST molasses glaze which not only dresses them up (so they're Christmas party appropriate you know) but gives them hint of gingersnap taste.
Just without the snap. Because melty in your mouthy > Snappy. All day. All the time.
I don't know how to creative say this, so I am just going to be a little bossy:
Make these cookies.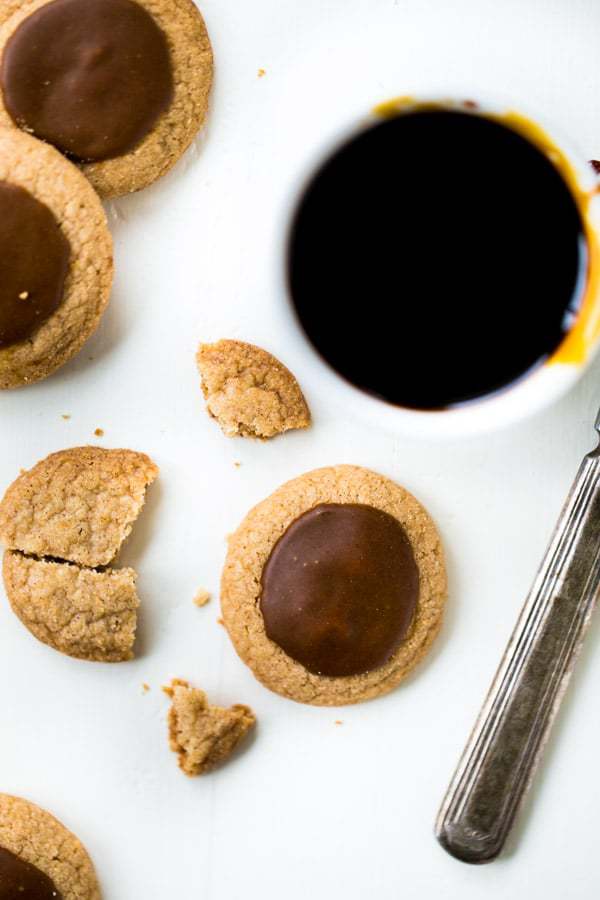 Your Christmas baking experience depends on it.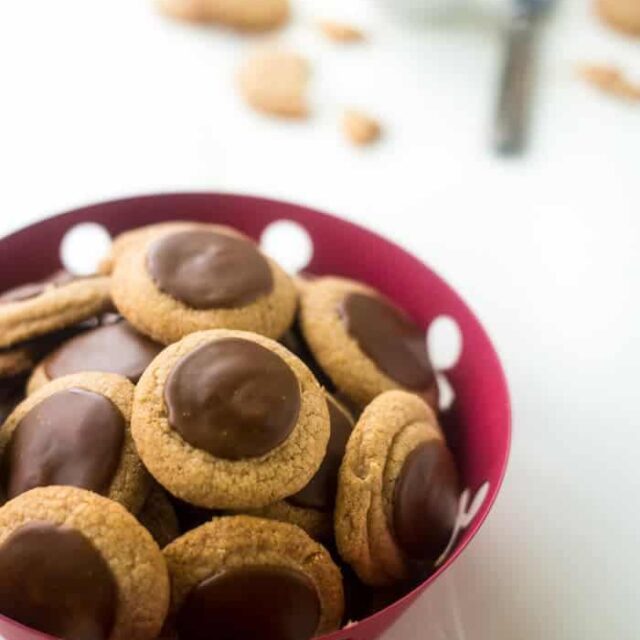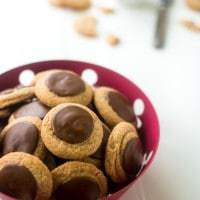 Whole Wheat Molasses Glazed Shortbread Cookie
A melt-in-your-mouth mash-up of gingersnaps and whipped shortbread, these will be a new Christmas classic!
Ingredients
For the cookies:
½

Cup

Butter

softened to room temperature

2

Tablespoons

Light brown sugar

packed

3

Tablespoons

Powdered sugar

sifted

¼

teaspoon

Vanilla extract

½

Cup

+ 3 Tablespoons White whole wheat flour

3oz

3

Tablespoons

Cornstarch

1

teaspoon

Cinnamon
For the glaze:
¼

Cup

Powdered sugar

sifted

½

teaspoon

Cinnamon

2

teaspoon

Molasses

½

teaspoon

Milk
Instructions
Preheat your oven to 350 degrees and lightly spray a cookie sheet with cooking spray. Set aside.

In a large bowl, beat together the butter, brown sugar and powdered sugar until well combined.

Add in the vanilla and beat the mixture at high speed for 5 minutes, scraping down the sides as needed. You want the butter VERY fluffy.

In a medium bowl, stir together the flour, cornstarch and cinnamon. Add it into the butter mixture a little at a time until full mixed in. Beat at high speed for an additional 5 minutes. The texture should be that of frosting.

Transfer the dough into a pastry bag and press out balls about 2 Tbsp tall, only flattening slightly. You want the dough to remain in a ball shape and be taller than it is wide.

Bake until just golden brown, about 12-13 minutes. Let cool on the pan 10 minutes and then (VERY GENTLY) transfer to a wire rack to finish cooling.

Once the cookies are cooled completely, whisk together the glaze ingredients and spread onto the middle of the cookies.

Let the cookies sit for 1-2 hours until the glaze hardens. DEVOUR