This post may contain affiliate links. Read my disclosure policy.
Ringing in the new year calls for luxurious little nibbles and dips. So for a simple but elegant party appetizer recipe, take four ingredients and whip up some White Truffle Parmesan White Bean Hummus.
White Truffle Parmesan White Bean Hummus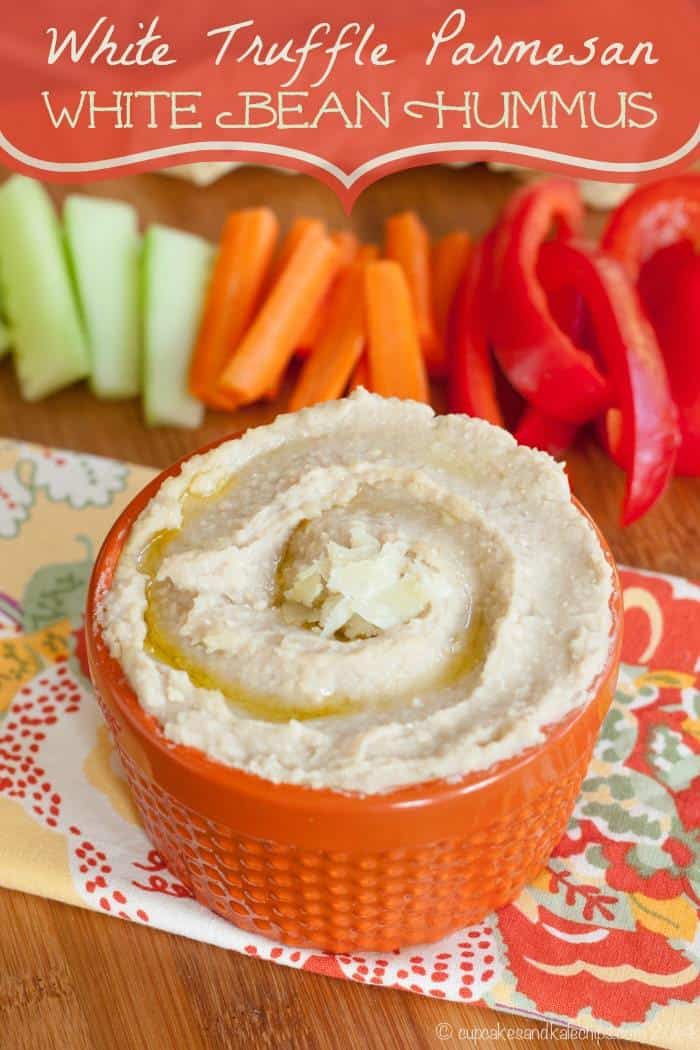 Disclosure: I am a Brand Ambassador for Hamilton Beach, and they provided me with a Stack and Snap™ 10 Cup Food Processor to review and one to give away to a reader. No additional compensation was received. As always, all opinions are my own.
Well, you guys, I know you haven't heard a lot from me for most of the month of December, but I'm ba-ack. Well, kind of. I've appreciated all of my amazing bloggy buds stepping into my virtual kitchen and giving you such a wide array of amazing recipes with their awesome guest posts. We have been in the new house for about a month not, and I'm starting to see a teeny tiny light at the end of a very long tunnel. A good portion of our stuff is in cabinets and closets and drawers. I'm not going to say that it is organized yet, but it's better than trying to find stuff in boxes. Especially with the way it was packed. I know the movers wee trying to distribute weight evenly, but this is kind of how things went.
Rip tape off of box.
Dig under a pile of paper, unwrap, unwrap, unwrap.
Find one small bowl that I use as a photography prop. Assume the entire box contains photography props, so set it aside for now.
Wonder where my (cornstarch/balsamic vinegar/quinoa/brown rice/rice cooker/oatmeal) is.
Dig through several other boxes that contain about 75% paper and 25% actual stuff. Find 6 of my 10 coffee mugs.
Repeat.
Find forks. FORKS!!
Go back to original box. Dig out some more photography props and set on a table.
Find frying pans. PANS!!
Put away pans. Don't like them intuit cabinet, so move to another cabinet.
Continue digging in the same box.
Find oatmeal. OATMEAL!!
Pull another 49874987459482 sheets of paper out of box.
Box is now empty, but table is covered with photography props and floor is covered with paper.
I now have forks (FORKS!), pans (PANS!), and oatmeal (OATMEAL!), but can't walk to the stove to cook anything, nor can I eat at the table.
Shove paper in box. It no longer fits in the box it came from, even though all contents that were packed in the box have been removed.
Get lectured by The Hubby that I should flatten out and fold the paper so that I fit more in the box than I actually removed from the box.
Repeat with sheets (SHEETS!).
Repeat with towels (TOWELS!).
This is what occurred for three weeks! Oh, but we have a Christmas tree! Probably only because a brand spanking new fake one showed up on our doorstep. I think all of the paper and boxes in out house would have made a live one too much of a fire hazard.
You know what else showed up on my new front porch the day I arrived. A brand spanking new Stack and Snap™ 10 Cup Food Processor from Hamilton Beach! Luckily I was able to find the beans. And the truffle oil. Because, you know, priorities…
Can I tell you, I am totally loving this new Stack and Snap™ 10 Cup Food Processor! Honestly, I was a little skeptical. I had a big, heavy duty one, and I wasn't sure how this one would "stack up" to the competition. Despite boasting a large ten cup capacity, it's compact appearance made it seem small. I didn't think it would fit, but I used the shredding blade to make a double batch of Cauli-Tots, and it easily held and entire head's worth of cauliflower shreds. And yet somehow it's not too big. With my old one, I suppose because of the shape and orientation of the blade, if I was making up some hummus or white bean dip with only a single can of beans of chickpeas, it seemed like it wasn't full enough, and I had to keep scraping down the sides in order to get an even consistency. That was not the case with this food processor.
It also whipped up these beans and shredded that cauliflower in no time. I also loved that you could stack it all together and press the power button, but it doesn't activate until the food pusher is in place in the feed tube. So I don't have to worry about safety (I have lots of little fingers around this house, plus I can be pretty accident-prone myself), nor did I have to turn it off and on every time I wanted to load more into the feed tube. Plus the Big Mouth feed tube meant I didn't have to chop my cauliflower into tiny pieces in order to feed it in and shred it up.
On my old food processor, there was nothing to lock the blade onto within the bowl itself, so when you removed the blade, there was basically a hole in the bottom of the bowl such that if you had more than an inch and a half or so of contents in the food processor, it would spill out of that hole as soon as you removed the blade. This bowl is completely sealed, so no spilling or leaking. I was very happy to see this!
Finally, is is also fairly light, so even though I keep mine in a low cabinet, it isn't as difficult to take in an out as my old heavy one, so I definitely see myself using it more. But because of its suction cup feet, it's not vibrating and moving all over your counter when you have it running.
I am definitely super excited that the Stack and Snap™ 10 Cup Food Processor has a home in my new kitchen!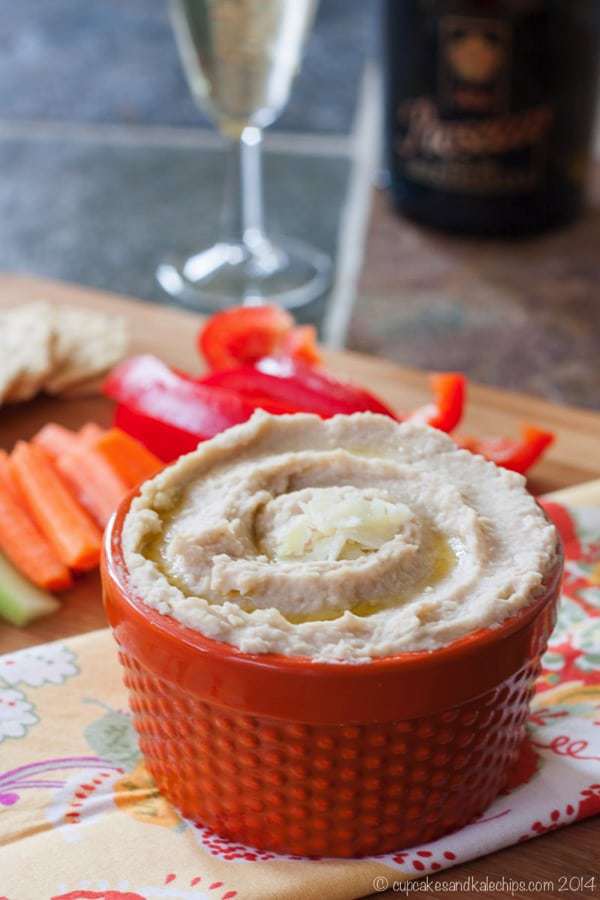 I am also a total fan of White Truffle Parmesan White Bean Hummus. I love using white beans in hummus-type dips because they blend up super smooth without a ton of oil, or the need to remove the skins, which you sometimes have to do in order to make a very smooth chickpea hummus. Also, since I was using truffle oil, which has a rich, strong flavor, I didn't want to use a ton of it. Nor did I want to mask the flavor by adding additional unflavored olive oil. That is the beauty of truffle oil – since truffles themselves are so expensive, it's a more affordable way to get that indulgent, umami flavor. Some parmesan cheese (preferable a good Parmigiano-Reggiano if you are really going to go for the gusto) for a little sharp bite and lemon juice to cut the richness and add a bit of acidity and you have a total high-end appetizer dip that'll knock the socks off of your friends and make them think you're all fancy-pants and stuff, when all you did was whiz up four ingredients in your food processor.
Chop some veggies, break out some crackers or crostini and pop a cork on a bottle of Prosecco and your swanky New Year's Eve party is good to go!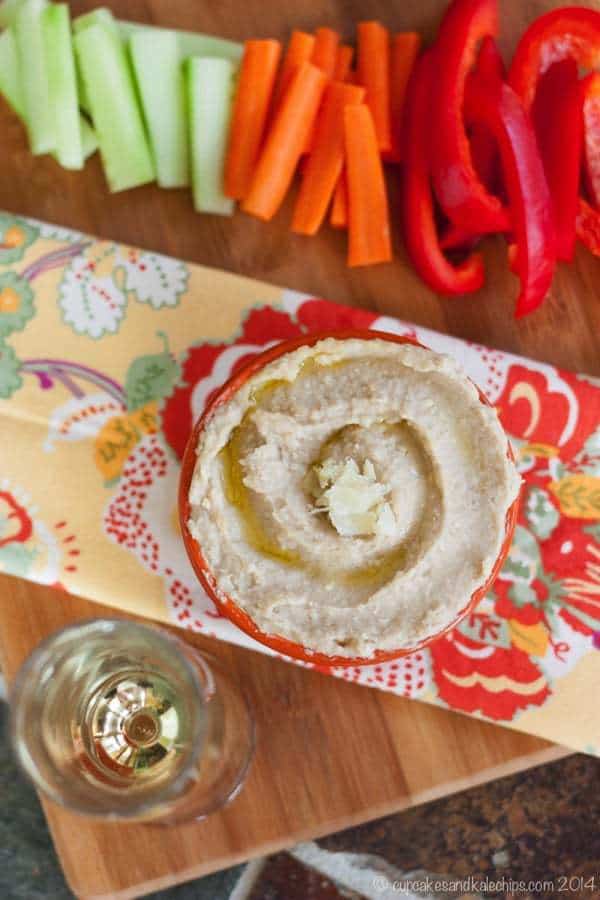 GIVEAWAY HAS ENDED! Thanks for entering!
Soooo, do you want to win a Hamilton Beach Stack and Snap™ 10 Cup Food Processor of your own? Of course you do…
As long as you are a resident of the United States and 18 years of age or older, you can get your hands on one of these babies! You have till 11:59 pm on January 5th, 2015 to enter! Good luck!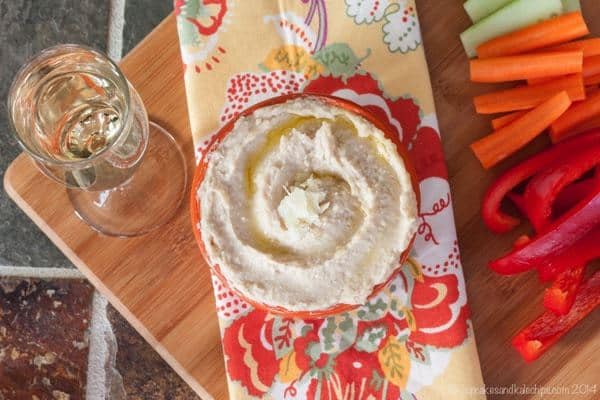 What are you most looking forward to in 2015?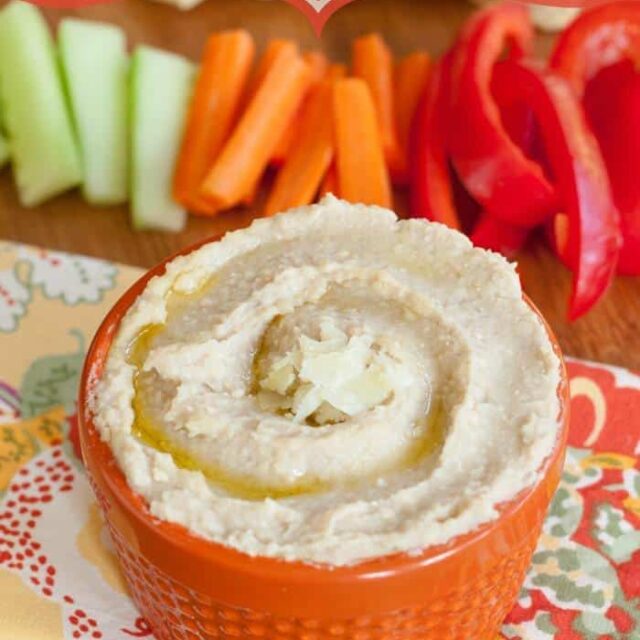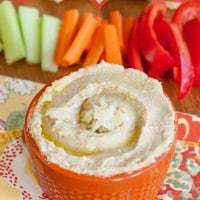 White Truffle Parmesan White Bean Hummus
A simple but luxurious party appetizer that only takes four ingredients and five minutes.
Ingredients
One 15 oz. can small white beans

drained (reserve a small amount of the liquid in case you need to add to your dip to adjust the consistency) and rinsed

¼

cup

parmesan cheese

2

Tablespoons

freshly squeezed lemon juice

1

Tablespoon

white truffle oil

plus 1 teaspoon for drizzling over the top, if desired

salt and pepper

to taste

A few shaved pieces of parmesan for garnish

if desired

Veggies

crackers, crostini, etc. for dipping
Instructions
Combine the drained beans, parmesan, lemon juice, and truffle oil in a food processor in puree until smooth. Add a little of the reserved bean liquid, if desired to reach your preferred consistency.

Add salt a pepper to taste, pulsing the food processor a few time to mix in thoroughly.

Garnish with a drizzle of additional truffle oil and shaved parmesan, if desired.

Serve with veggies, crackers, or crostini for dipping.
Categories:
Need some more simple dips to make in your new food processor?
Plus here are a few from my friends…