This post may contain affiliate links. Read my disclosure policy.
Spiced almonds are so easy to make yourself, and they are a quick and easy holiday food gift! Save some money by making salty spiced almonds at home.
Sorry! I know over the past few months, you may have come to expect new recipes on Tuesdays and Thursdays. But it is the holidays, and I am BEAT!! Of course, that doesn't mean I don't want to share some yumminess with you. So I thought I would give you a little preview of #SundaySupper New Year's Potluck with Emeril with these Spiced Almonds.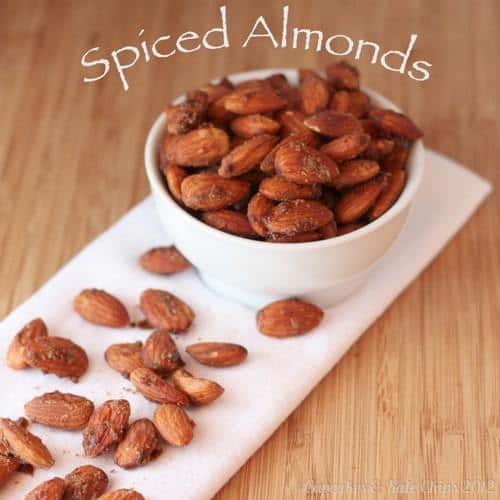 This week for #SundaySupper, we are having a potluck party featuring recipes from Emeril's Potluck and Emeril's Kicked-Up Sandwiches cookbooks. So you are going to see lots of great recipes from these cookbooks, plus have the opportunity to win your own copy from me and some of the other participants. Just check out all of our blog posts for details on how to win. You will have to join our Twitter chat on Sunday, December 30th at 7pm EST, and you know you are going to want to, because we will be talking about all kinds of fun things like gathering your friends and family together and sharing good food. And that is what the holiday season is all about. All you have to do is follow the #SundaySupper hashtag or you can follow us through TweetChat.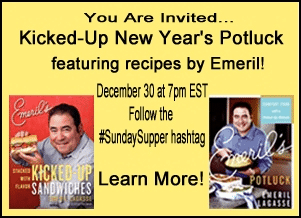 I am going to be bringing you an awesome recipe for "Paul's Make the Whole Crew Happy Sausage Meatballs with Red Gravy", but in the meantime, I thought I would give you a sneak peek at a recipe from Emeril's Potluck cookbook.
We are making spiced nuts!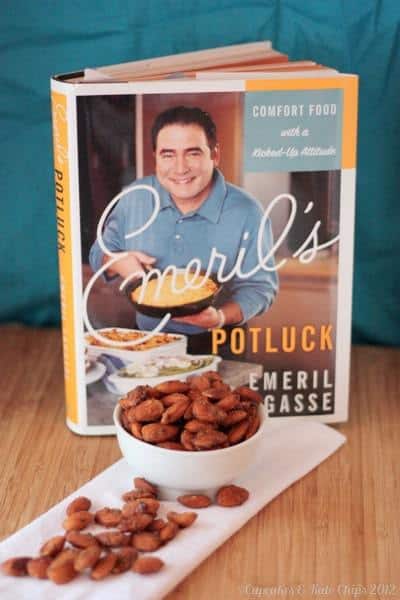 I bought a giant Costco-sized bag of almonds and still had a bunch left. So at the last minute, I thought I would make a small batch of these nuts to bring for snacking. They also go on top of Winter Fruit & Feta Salad. Totally a last minute decision, but these babies whipped up so fast. I put them together between opening presents from Santa and getting ready for church. By the time we got back from mass, they were cool and ready to throw into an airtight container to bring along. What a quick and easy idea to bring to a potluck, or to package up as a tasty gift!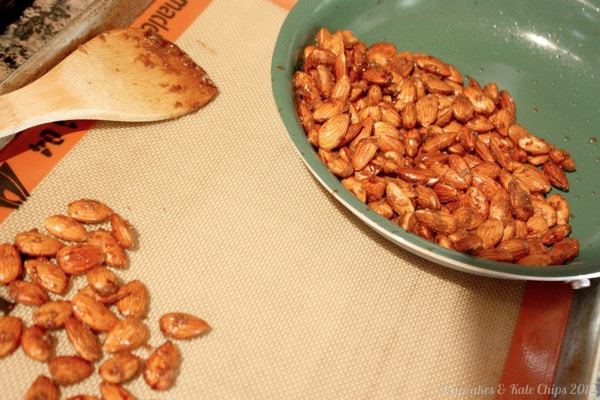 Slightly sweet, with a little kick at the end, these spiced almonds were tasty to eat on their own, and perfect on the salad.
My entire Christmas dinner consisted of a huge serving of the salad, a healthy sprinkling of spiced almonds, and a nice filet that my uncle grilled. And as I sit here writing this, it is all I can do to keep myself from finishing them off.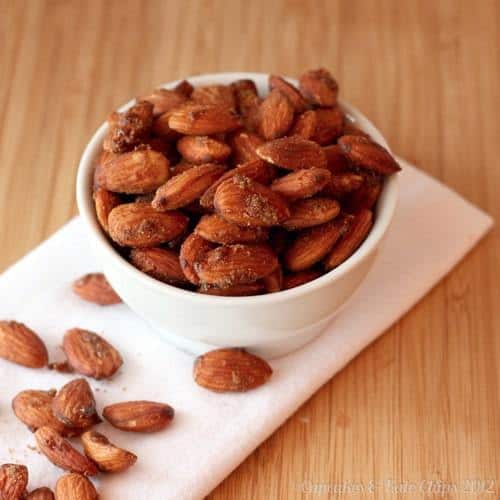 But I want to save room for some leftover desserts.
So I hope I have your mouth watering for a fun and tasty #SundaySupper. And if you don't want to wait to find out if you will win one of these cookbooks, you can always order your own copies of Emeril's Potluck and Emeril's Kicked-Up Sandwiches cookbooks.
Enjoy!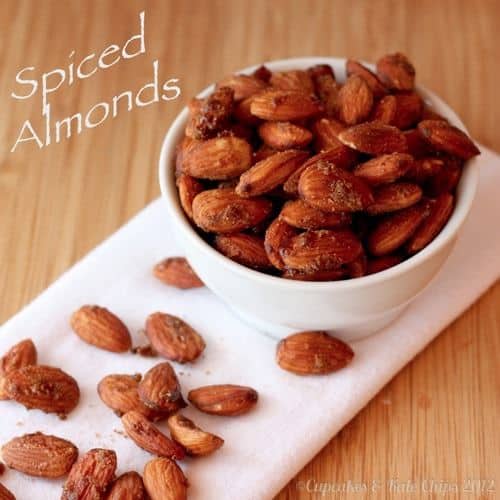 You can find this recipe, plus the meatballs I mentioned and lots more by coming back here and visiting these #SundaySupper participants on Sunday, December 30th. 25 Bloggers will be giving away 25 copies of Emeril's Cookbooks!*
Sunday Supper NYE Potluck Drinks:
Sunday Supper NYE Potluck Starters:
Sunday Supper NYE Potluck Dishes and Sandwiches:  
Sunday Supper NYE Desserts: