This post may contain affiliate links. Read my disclosure policy.
An ice cream float jello mold gets a little sparkle for springtime celebrations when you add some color and pizzazz with sparkling cider. This Sparkling Ice Cream Float Gelatin Mold is one of the best gluten-free no bake dessert recipes you can make. Delicious and fun, with very little effort!
Disclaimer: This recipe was developed through a sponsored partnership with Martinelli's. As always, all opinions are my own.
My first grader had a writing assignment about "Why Spring is the Best", and he had to give reasons and examples to support his position. Many people would say it's the warmer weather, the beautiful flowers, or maybe even the start of baseball season. He went a little different direction, focusing on why spring is the best this year versus any other year, and said it's because of our upcoming trip to California.
Now I suppose this isn't too surprising, as there is a lot to look forward to with this trip. We are heading out west for my brother's wedding, but extending it to a full vacation since we have to fly all the way across the country. He and his little brother are going to wear tuxes and be ring bearers in the wedding. It's their first time on an airplane and the furthest they've ever traveled.
However, do you think any of those were his supporting reasons and examples?
Nope. Spring is apparently the best because on the trip to California he won't have to go to school and gets to sleep late. Guys, my kids like school and never sleep late. Uncle Zack's wedding does happen to fall on the list of what he will be doing when he isn't going to school, but it got second billing to Disneyland.
Ah, kids. Well, bonus points for thinking outside the box, I suppose.
Our trip to California is going to be pretty fun and all, but in general my favorite thing about spring is fun and fruity no-bake desserts that also are a little outside the box…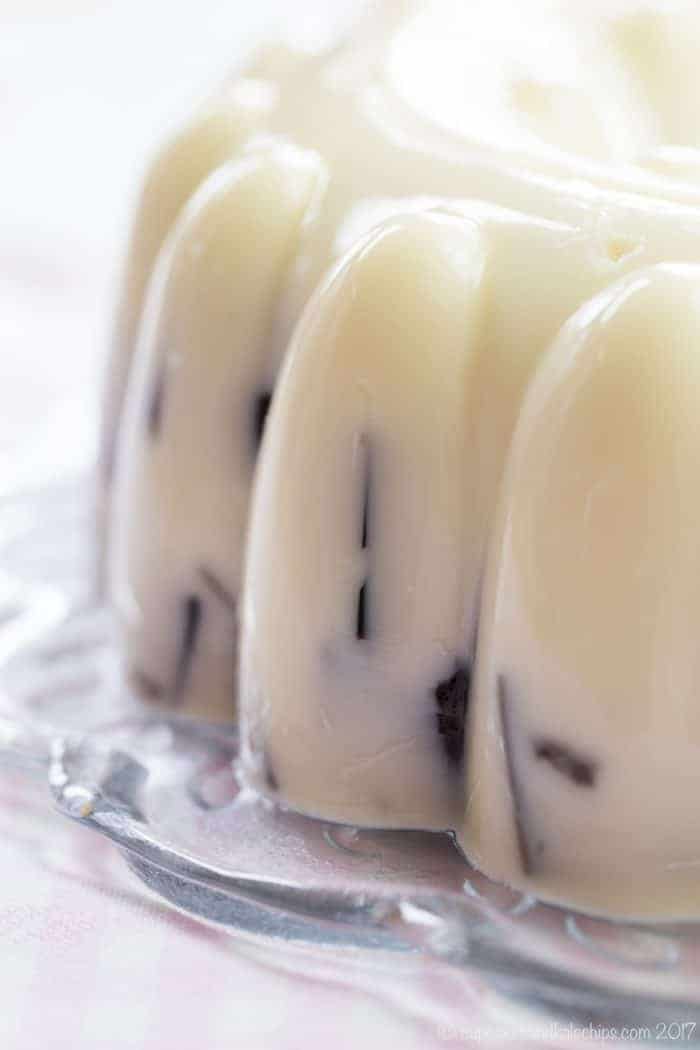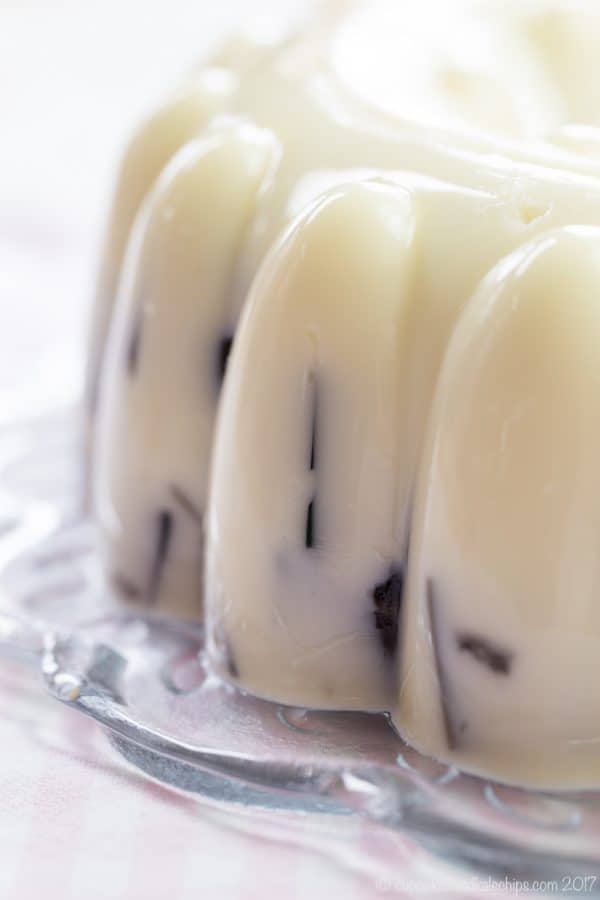 Sparkling Ice Cream Float Gelatin Mold is a true showstopper.
While it does take a little time and attention, it's actually quite simple to make this gorgeous dessert that puts a modern spin on a favorite retro treat. And there's a few secrets and surprises to make it extra special. So it's called a "ice cream float gelatin mold", right? That's because there's actual ice cream in the creamy layer! It's made the same way you would make any gelatin dessert. Sprinkle the powdered gelatin over some cold liquid, dissolve it in hot liquid, then add some more cold liquid and chill. Only this time the second cold liquid is melted vanilla ice cream. And it's not just poured into a container to chill. It's poured over gelatin cubes that were made the same way, but out of something that adds a festive twist to any occasion…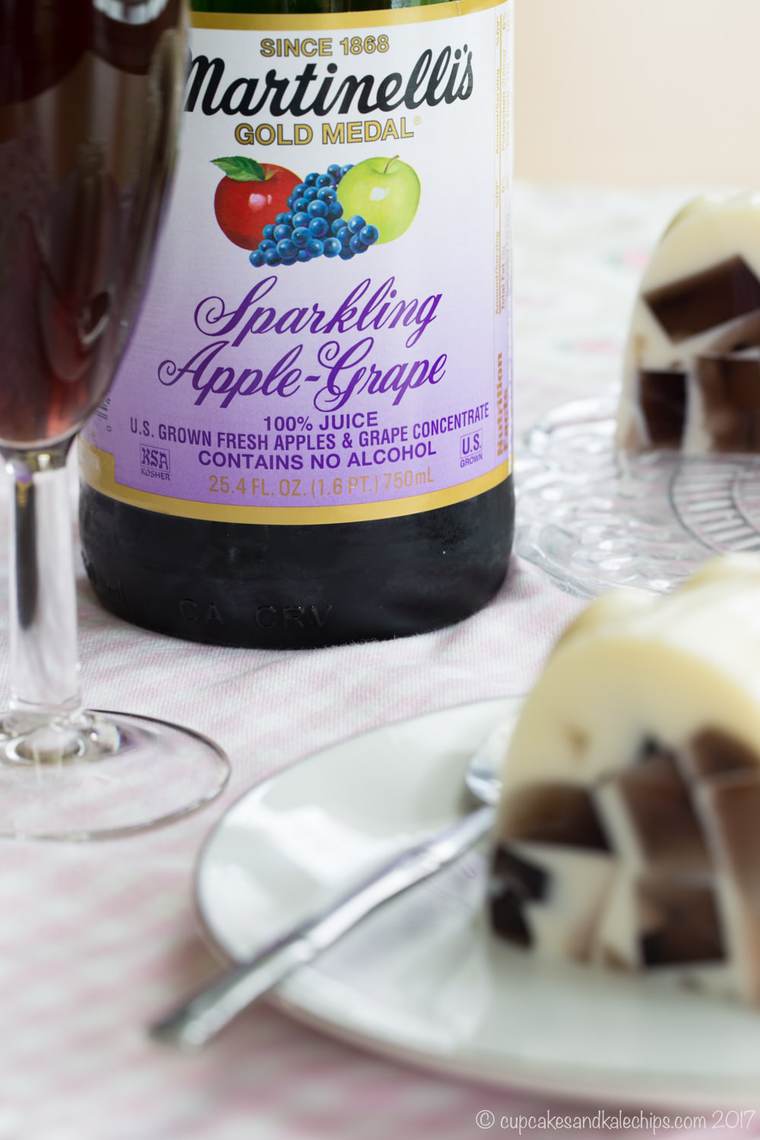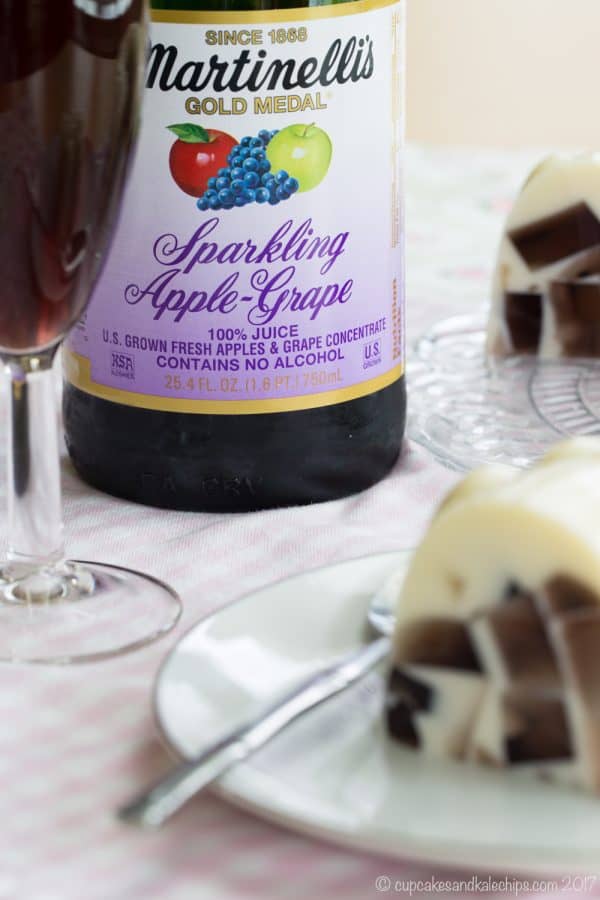 Martinelli's Sparkling Juices and Cider are my favorite way to make any celebration a little extra special. And while we enjoy toasting with a glass, it also was a fun way add a delicious sweet and fruity flavor plus colorful flair to this recipe. Remember my Creamsicle Jello Mold made with orange juice cubes? This time I used Martinelli's Sparkling Apple-Grape Juice to make the cubes that float in the sea of ice cream gelatin. I think the purple color makes it a perfect new addition to your Easter dessert spread.
Having a baby shower? Try Sparkling Apple-Cranberry. Or maybe a bridal shower calls for Sparkling Apple-Pomegranate. Mom is a bit more traditional? Serve her a slice on Mother's Day made with the classic Sparkling Apple Cider.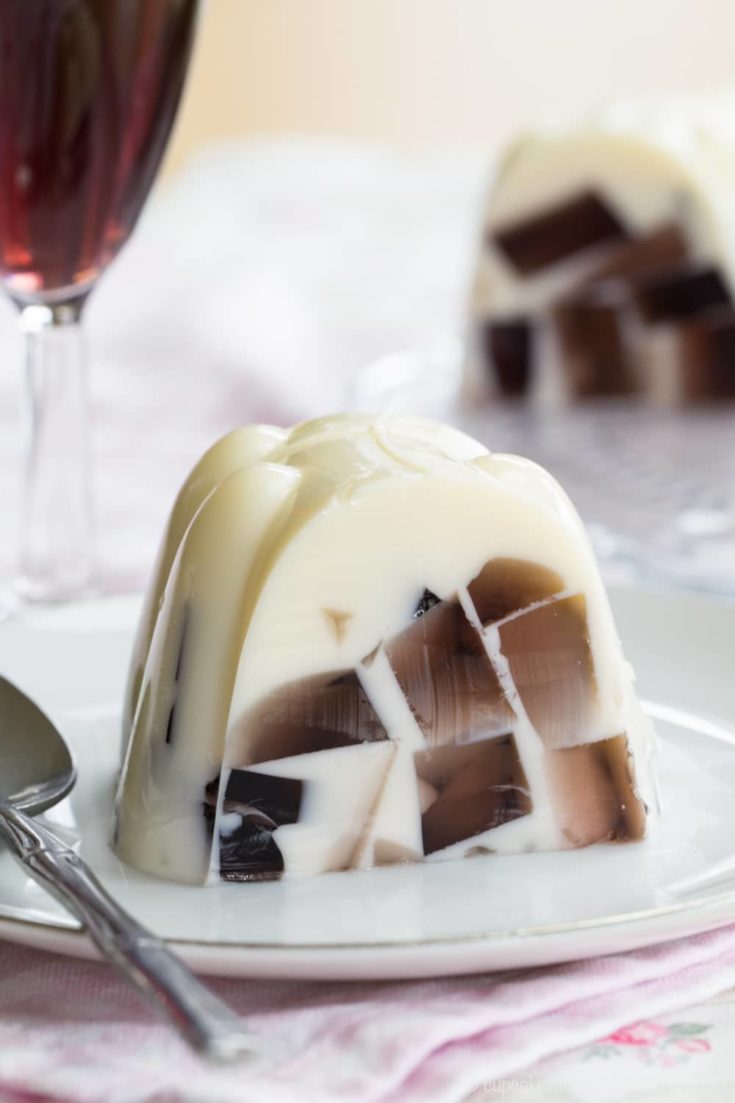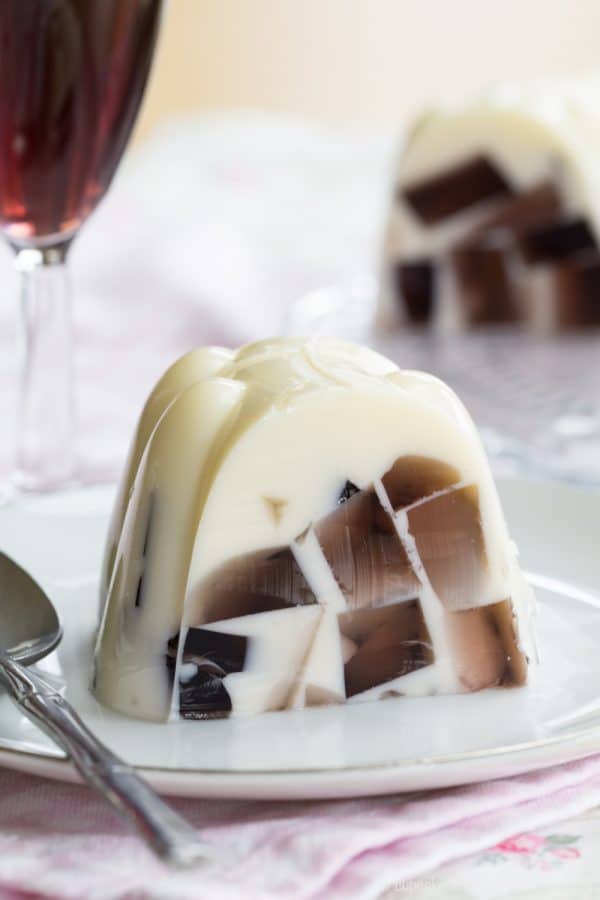 Need some more ideas for your party menu?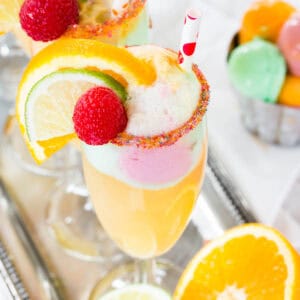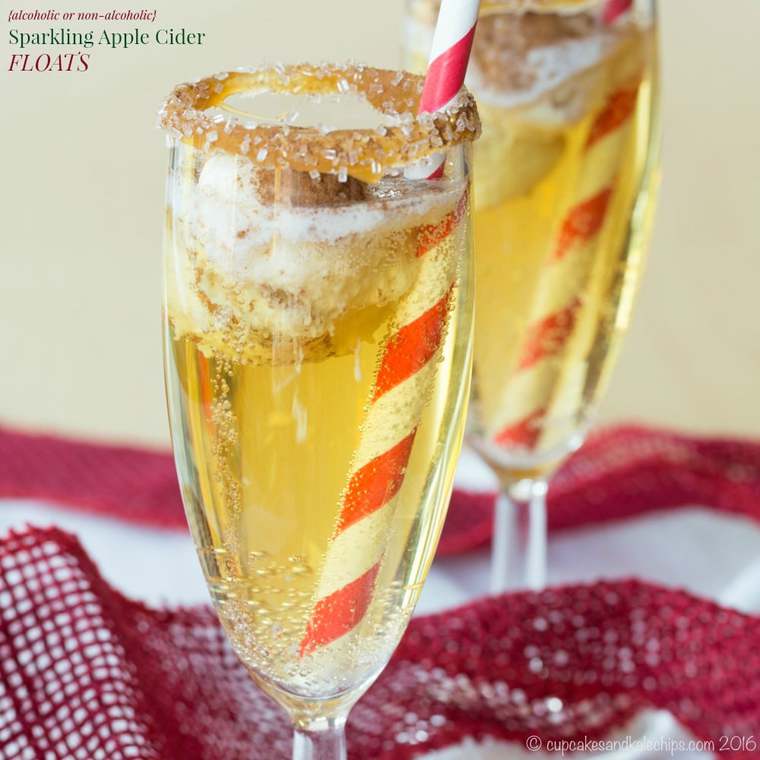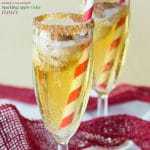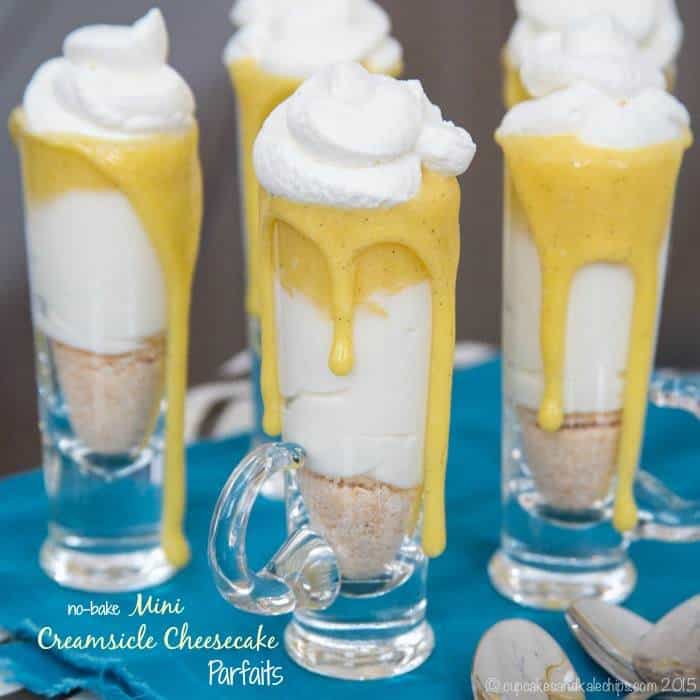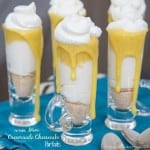 You can have your cake and cider and eat it too with Sparkling Cider Bundt Cake from Crazy for Crust. For a party appetizer, make these Slow Cooker Little Smokies from FoodieCrush with Sparkling Cider. Or serve Apple Cheesecake Crepes for brunch from Sugar and Soul.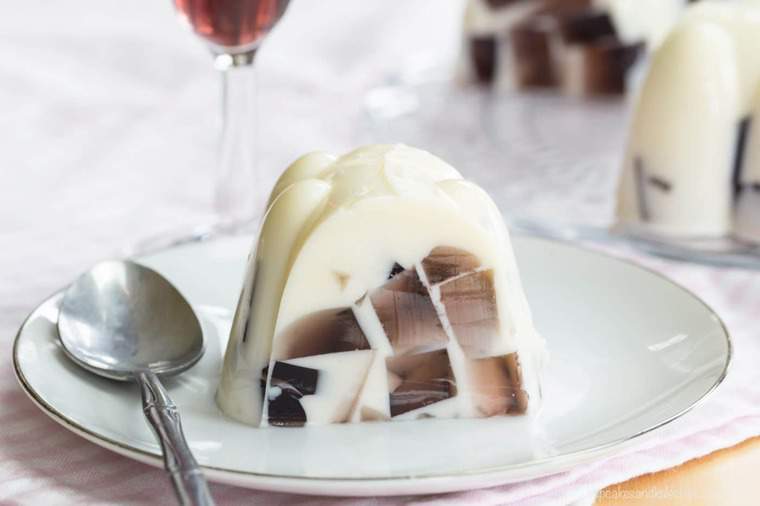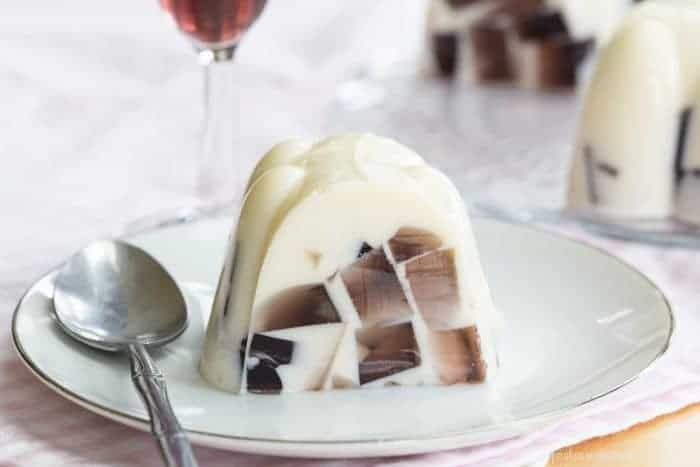 For more yumminess from me and my foodie friends, keep up with me on…
Or sign up to have Cupcakes & Kale Chips delivered straight to your Inbox!
Here's the Sparkling Ice Cream Float Gelatin Mold recipe…
I hope you'll leave a comment and give it a FIVE STAR rating or share a photo on Pinterest!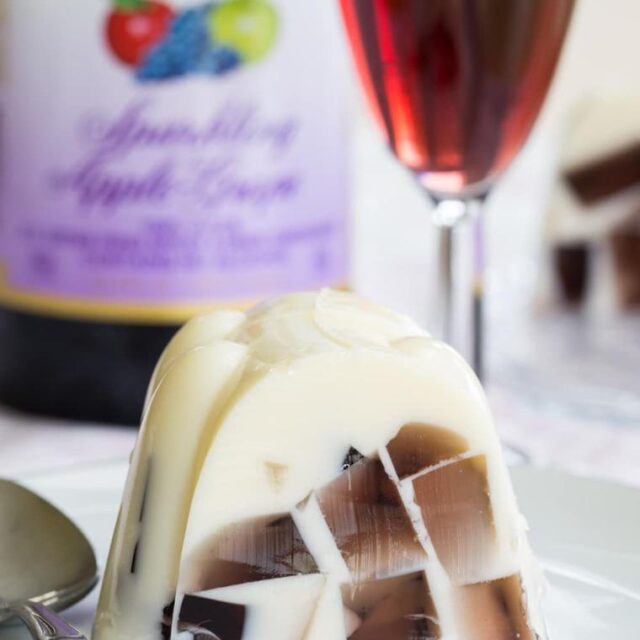 Sparkling Cider Ice Cream Float Gelatin Mold
a simple but impressive no-bake dessert made with your favorite Sparkling Cider or Juice
Ingredients
For the Sparkling Gelatin
2

envelopes

unflavored gelatin

1/2

cup

cold water

1/2

cup

boiling water

1/4

cup

sugar

2

cups

Martinelli's Sparkling Apple Cider or Sparkling Juice

I used Sparkling Apple-Grape
For the Vanilla Ice Cream Gelatin
2

cups

vanilla ice cream

3

envelopes

unflavored gelatin

1/2

cup

cold water

1

cup

boiling water

1/4

cup

sugar
Instructions
For the Sparkling Gelatin
Sprinkle the 2 packets of gelatin over the cold water. Let sit until absorbed and softened.

Pour the boiling water over the gelatin and stir until completely dissolved.

Stir in the sugar and Sparkling Cider, and stir to dissolve the sugar.

Pour into a 9x13 baking dish and refrigerate for at least 4 hours, or until firm.

Cut into small cubes and transfer to a mold or square baking dish. Store in the refrigerator.
For the Vanilla Ice Cream Gelatin
Melt the vanilla ice cream in a small saucepan on the stove or in the microwave. Set aside to come to room temperature.

Sprinkle 3 packets of gelatin over the cold water. Let sit until absorbed and softened.

Pour the boiling water over the gelatin and stir until completely dissolved.

Add in sugar and stir to dissolve.

Stir in the melted ice cream.

After ensuring the mixture is at room temperature, pour the ice cream mixture over the sparkling cider cubes and refrigerate overnight.

Cut into slices or cubes.
Nutrition Facts
Sparkling Cider Ice Cream Float Gelatin Mold
Amount Per Serving (1 slice)
Calories 105
Calories from Fat 18
% Daily Value*
Fat 2g3%
Cholesterol 9mg3%
Sodium 27mg1%
Potassium 83mg2%
Carbohydrates 17g6%
Protein 3g6%
Vitamin A 95IU2%
Vitamin C 0.5mg1%
Calcium 32mg3%
Iron 0.1mg1%
* Percent Daily Values are based on a 2000 calorie diet.
Enjoy!