This post may contain affiliate links. Read my disclosure policy.
Cauliflower cheesy bread sticks are low-carb, gluten free appetizers that are so crispy, spicy and delicious, you won't miss the heavy game day snacks. And they are even better when you kick them up, like these Blue Cheese Cauliflower Cheesy Bread Sticks with Buffalo Marinara Dipping Sauce.
Blue Cheese Cauliflower Cheesy Bread Sticks with Buffalo Marinara Dipping Sauce –> CLICK HERE TO PIN THIS RECIPE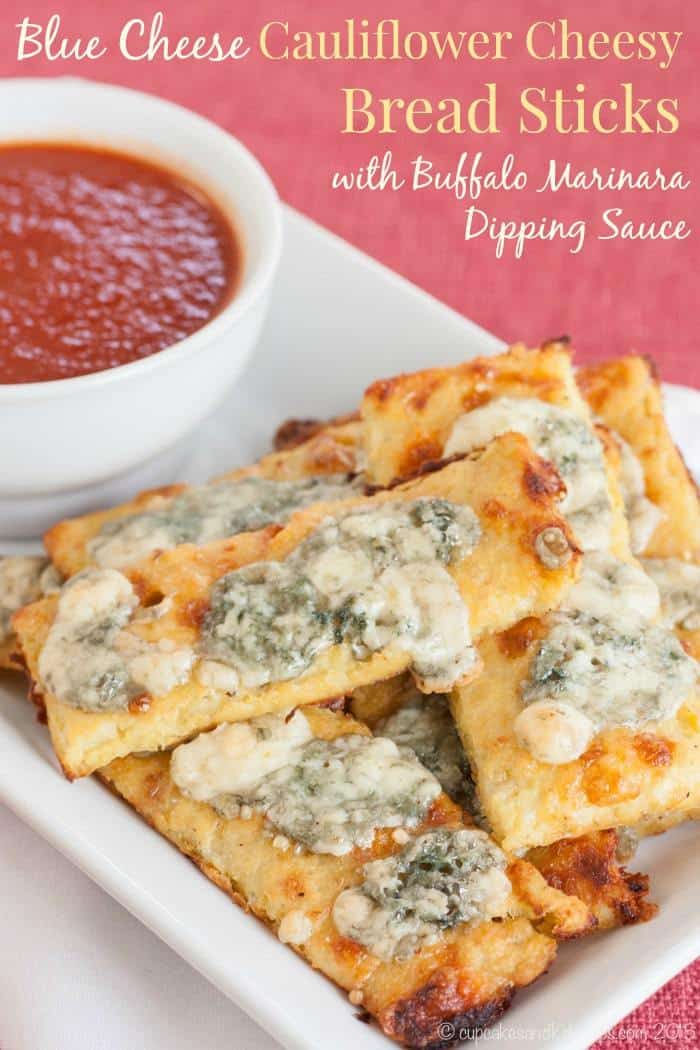 Disclosure: There are affiliate links in this post, meaning that if you click and make a purchase, the cost to you is the same, but I will receive a few pennies. I use the money to help maintain this website and to bring you new recipes!
The big game is just days away, and I'll be honest, I'm feeling a bit out of the loop. If I stretch my brain a bit, I think I can remember who is playing. But since it's not any of the teams that any member of my family roots for, nor is it any of the local teams here in the greater D.C. area, I really have not paid a bit of attention. And it isn't just the teams and players. I couldn't even tell you who is performing he halftime show or singing the National Anthem. I haven't even seen any sneak peeks of the commercials. I'm feeling seriously un-American. We have a huuuuge TV that we'll watch the game on, I can certainly throw together some game day grub, but for various reasons, we aren't even planning on having company.
Can you say lame-oooooo?!
Sure, we'll watch. Well, The Hubby will watch the game, I'll probably be on Pinterest or Twitter or something, then peek up when the game goes to commercials, and we'll hope that the timing of the halftime show aligns with when the boys have to go to bed, because, let's face it, the performance is always overrated anyway (or at least I try to convince myself of that since The Hubby never wants to leave it on – football purist that he is, he can't stand anything associated with making the game into a spectacle). Honestly, rather than snacks, I'll probably just make a nice Sunday dinner.
Tell me something, though – is it also un-American to be totally obsessed with bread sticks that don't contain any actual, well, umm, bread?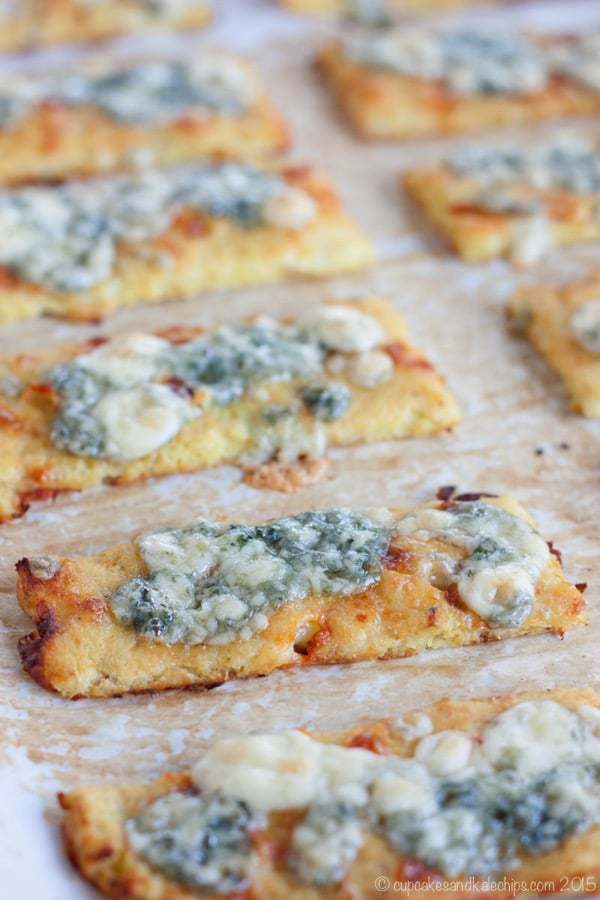 Because you guyssssss, Blue Cheese Cauliflower Cheesy Bread Sticks are amazing. Crispy, cheesy, with the buttery, nutty goodness that happens when cauliflower and cheese come together and get a little crispy on the edges. Top that with rich, pungent blue cheese and oh my goodness, I can't even begin to describe they crazy flavor action going on. But wait, there's more. Just to put it over the top, yes I went there – Buffalo Marinara Dipping Sauce. No words, people, seriously no words.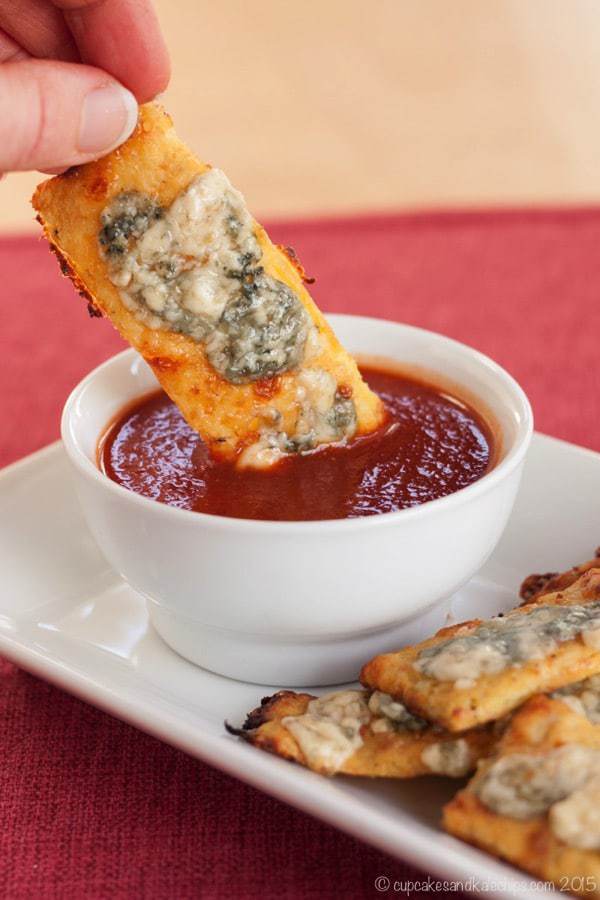 I'm gonna warn you – make a double batch of cauliflower cheesy bread sticks. I wish I did, because the four of us made quick work of that pile of bread sticks. Yup, even the little dude was happily dunking into his own bowl of Buffalo marinara (he's a notorious double dipper). I cannot wait to make these again. Maybe Sunday. Unless that makes me, like, quintuple un-American. Whatever – football schmootball. Just give me a plate of these breadless sticks and a glass of wine and I'll be a happy mama!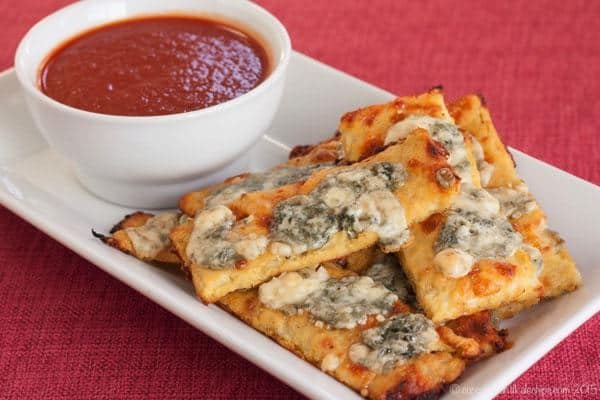 A couple of things you might need to make the cauliflower cheesy bread sticks recipe:
[amazon_link asins='B008J8MJIQ,B00SVVVCU2′ template='ProductCarousel' store='cupkalchi-20′ marketplace='US' link_id='4e745012-d9db-11e7-b55a-81a28cefc1b6′]
Are you excited about the big game?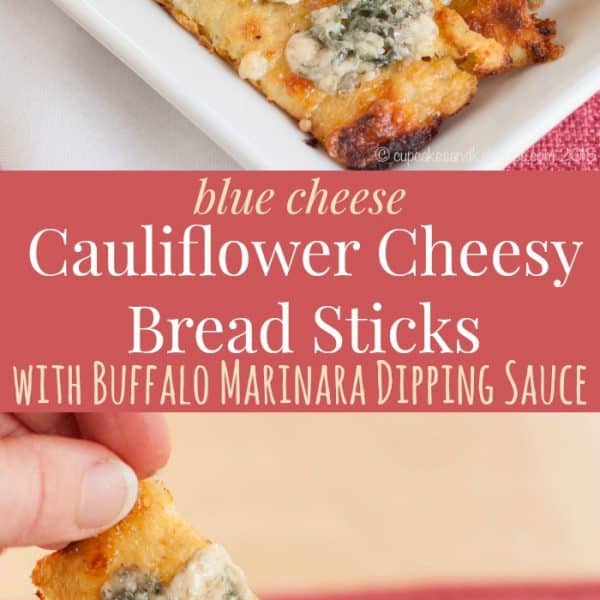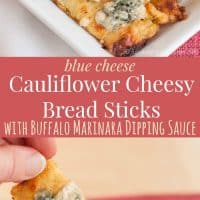 Blue Cheese Cauliflower Cheesy Bread Sticks with Buffalo Marinara Dipping Sauce
You'll never miss the carbs when you make these tasty breadless sticks and dunk them in a spicy sauce.
Ingredients
For the bread sticks:
1

head

cauliflower

about 2 pounds

1

large

egg

1/2

cup

shredded Monterey Jack cheese

I used Cabot

1/4

teaspoon

dry mustard

Salt and pepper

1/2

cup

crumbled blue cheese
For the Buffalo marinara:
Instructions
For the bread sticks:
Preheat oven to 450°F. Line a baking sheet with parchment paper.

Remove the outer leaves from the cauliflower and cut it florets. Place in a food processor and pulse until it is the consistency of rice.

Transfer the cauliflower to a microwave-safe bowl, cover with a lid or plastic wrap, and cook in the microwave for 10 minutes. You can also steam the cauliflower.

Allow the cauliflower to cool until you can handle it, then transfer to a kitchen towel or cheesecloth and squeeze out as much liquid as possible.

Place the cauliflower in a bowl and add the egg, dry mustard, Monterey jack, ¼ teaspoon kosher salt and 1/8 teaspoon pepper. Mix to combine.

Transfer the mixture to the prepared baking sheet and spread into a rectangle about 8 x 12 inches and ¼-inch thick.

Bake in the oven 15-20 minutes until firm and set in the middle and browned on the edges.

Remove the baking sheet from the oven, cut into 12 sticks and separate the sticks slightly.

Sprinkle the blue cheese over the sticks. Return the pan to the oven and and bake another 5-7 minutes until cheese is melted and edges are browned.

Serve with Buffalo marinara sauce for dipping.
For the Buffalo marinara:
In a small saucepan, melt the butter over medium heat.

Add the tomato sauce, garlic powder, Worcestershire and hot sauce, starting with 2 tablespoons and adding more to taste. Bring to a simmer and adjust seasoning with salt and pepper, if needed.

Serve with bread sticks.
Nutrition Facts
Blue Cheese Cauliflower Cheesy Bread Sticks with Buffalo Marinara Dipping Sauce
Amount Per Serving (1 piece)
Calories 70
Calories from Fat 36
% Daily Value*
Fat 4g6%
Cholesterol 26mg9%
Sodium 294mg12%
Potassium 244mg7%
Carbohydrates 3g1%
Protein 4g8%
Vitamin A 215IU4%
Vitamin C 26.2mg32%
Calcium 82mg8%
Iron 0.6mg3%
* Percent Daily Values are based on a 2000 calorie diet.
Categories:
Enjoy!
And if I'm not making cauliflower cheesy bread sticks for game day grub, I'm making cauliflower wings or tots like these…
And here are a few from my friends…