This post may contain affiliate links. Read my disclosure policy.
Gluten-free dessert for two recipes are perfectly-sized dessert recipes to make just two servings for yourself and someone special. When you have celiac disease or a gluten allergy you can't just go to any bakery and pick up a cake or some cookies. But you still want an easy and special way to celebrate Valentine's Day, a special occasion, or date night in with the one you love. So you need some simple gluten-free small-batch dessert like these quick and easy desserts for two.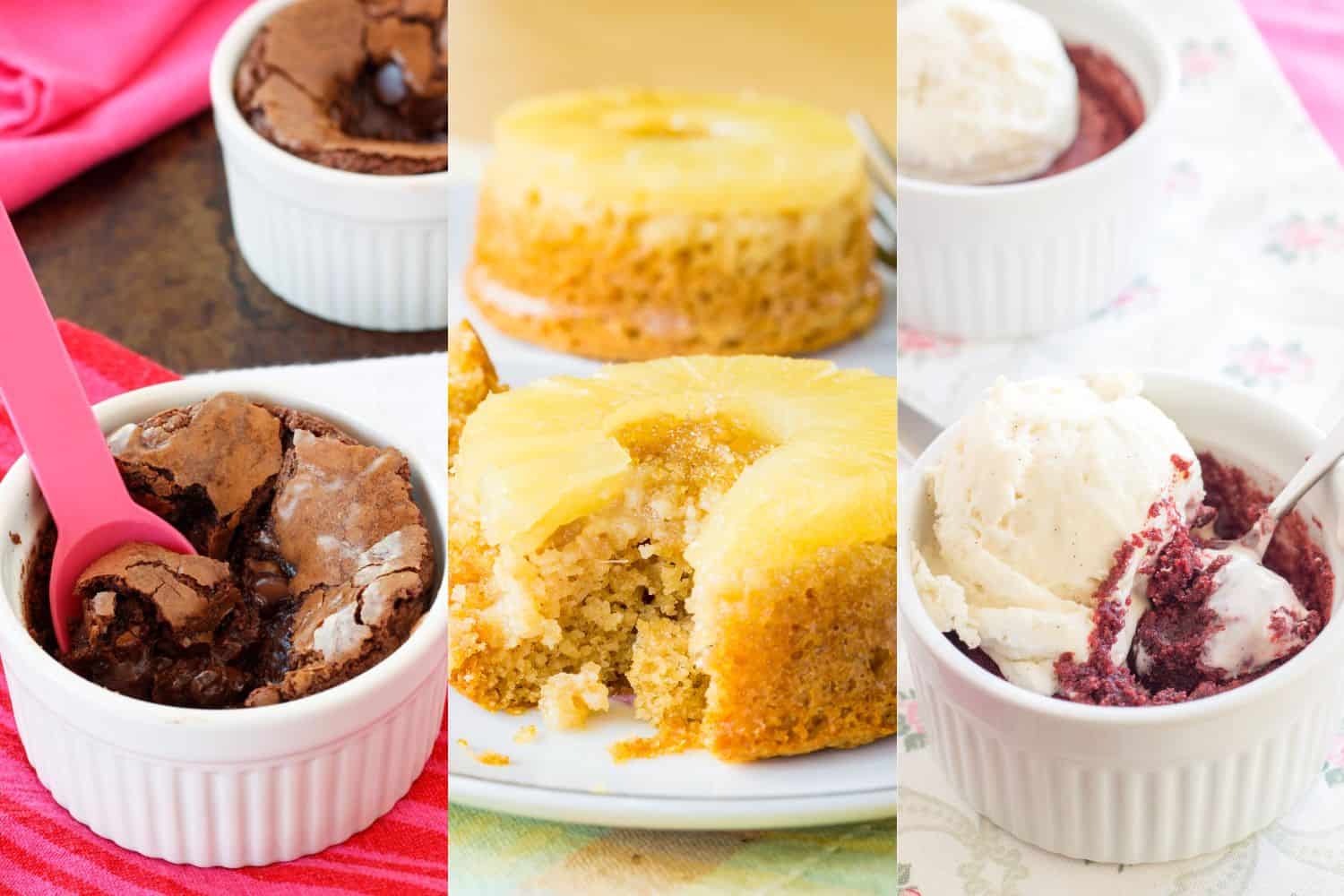 It is possible to make decadent gluten-free desserts that taste just as delicious as their conventional counterparts. And you don't need a laundry list of special ingredients. Gluten-free brownies, gluten-free cookies, and gluten-free cakes can all be made in miniature versions. And you can make these mini gluten free desserts with normal ingredients. Most are pantry ingredients that you'd find in any typical dessert recipe. And you might need just one or two types of gluten-free flours that are fairly easy to find.
How to Make the Best Gluten-Free Dessert Recipes for Two
I started making gluten-free desserts for two when I didn't want to have a ton of leftovers after enjoying a decadent treat. Because if there was leftover Gluten-Free Golden Fudge Cake or Peanut Butter Cup Flourless Chocolate Cake Roll, you can bet I'd be digging in. These recipes are a great option when you just want to enjoy something delicious. But you don't want to keep eating it every night for a week. They are also perfect for treating someone you love to a special meal.
[adthrive-in-post-video-player video-id="sdSJKqSE" upload-date="Tue Feb 06 2018 00:00:00 GMT+0000 (Coordinated Universal Time)" name="Gluten-Free Desserts For Two" description="These easy gluten-free dessert for two recipes are perfectly-sized small-batch dessert recipes to make just two servings for yourself and someone special."]
Or maybe you are going to keep both for yourself, and that's totally fine too. I may or may not have done that myself. But there's something fun about having your own dessert that you don't have to share.
What do you need to make these gluten-free dessert for two recipes?
Sometimes gluten-free baking comes with a laundry list of different flours, starches, and gums. That is often a deterrent for many people because they may be hard to find or expensive. These recipes mostly contain normal ingredients like butter, sugar, chocolate chips, eggs, and basics like that The only flours you'll find in these recipes are almond meal, oat flour (made from gluten-free oats ground in a blender), and in a couple cases just a little brown rice flour. You can usually find all of these items in a regular grocery store, or order them from Amazon (these are affiliate links, and I will earn a small commission at no cost to you for any purchases you make through these links).
For the gluten-free deep dish recipes, 6 oz. ramekins are perfect for the single servings. A small whisk can be helpful, and I love my mini spatulas for folding, scraping, and smoothing the batters in the ramekins.
Now check out these irresistible and easy Gluten-Free Dessert for Two Recipes…
This gluten-free dessert for two recipe is perfect if you love a soft and chewy, rich and buttery chocolate chip cookie fresh out of the oven. But you don't want four dozen of them sitting around all week. Made simply with almond meal and oat flour, these have a perfectly crumbly texture and a slightly nutty flavor. Put them over the top by adding a scoop of your favorite ice cream.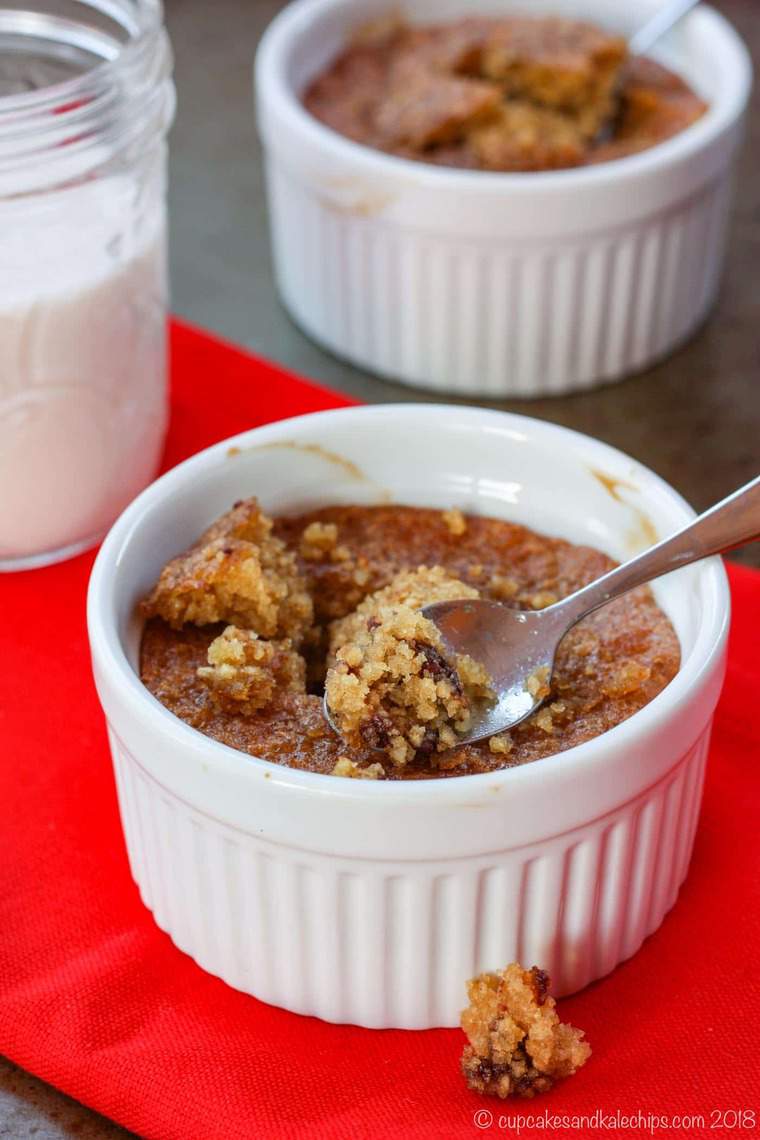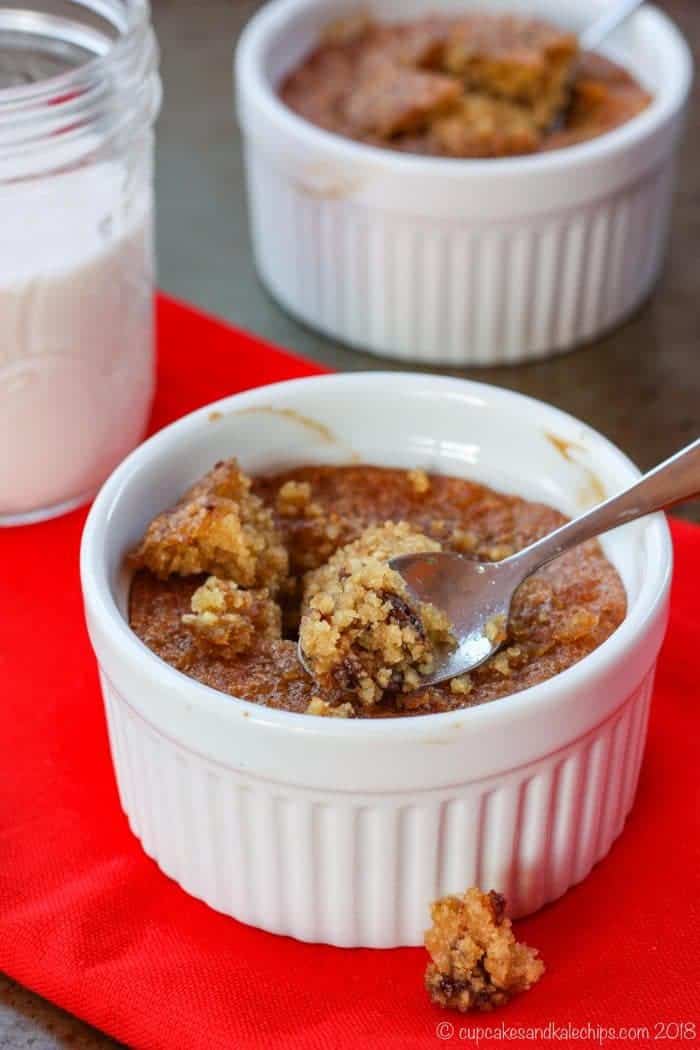 These brownies are perfect whether you are looking to make a special dessert for just you and your sweetie, are having a good friend over. Or maybe you are cooking for yourself and don't want to have a ton of leftovers. Rich and fudgy, ooey gooey, and with a fairly simple ingredient list. This is a gluten-free dessert for two recipe that will be loved by everyone!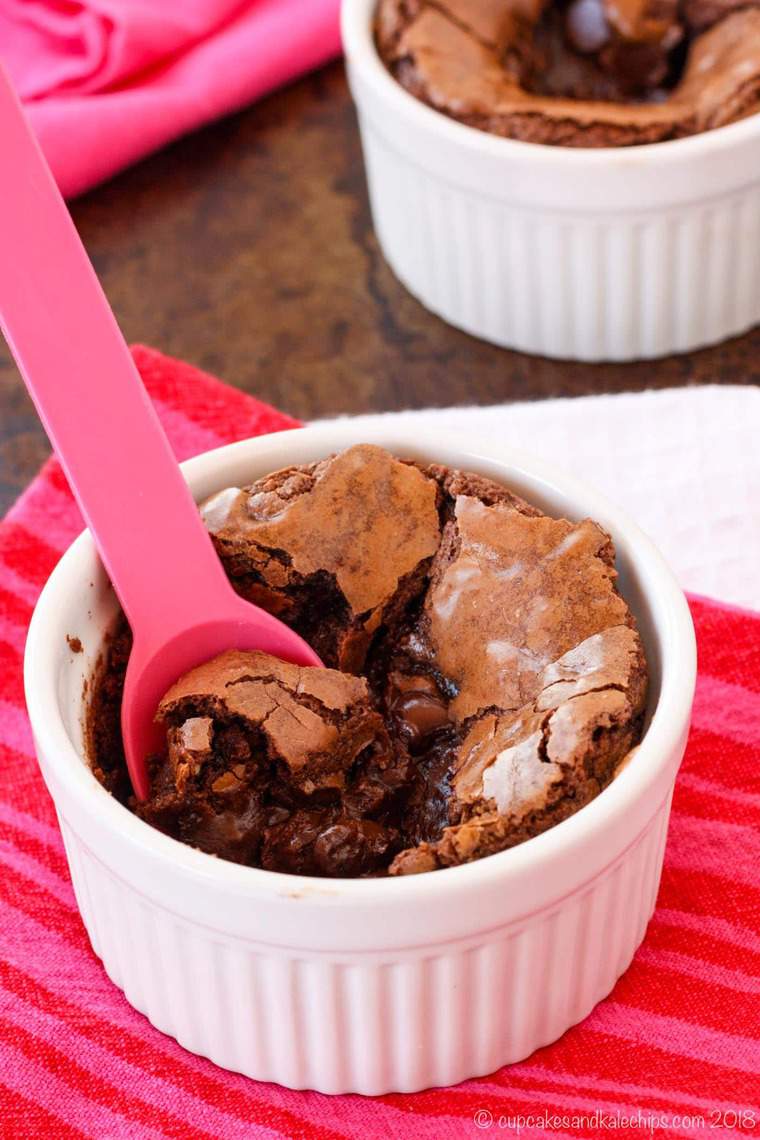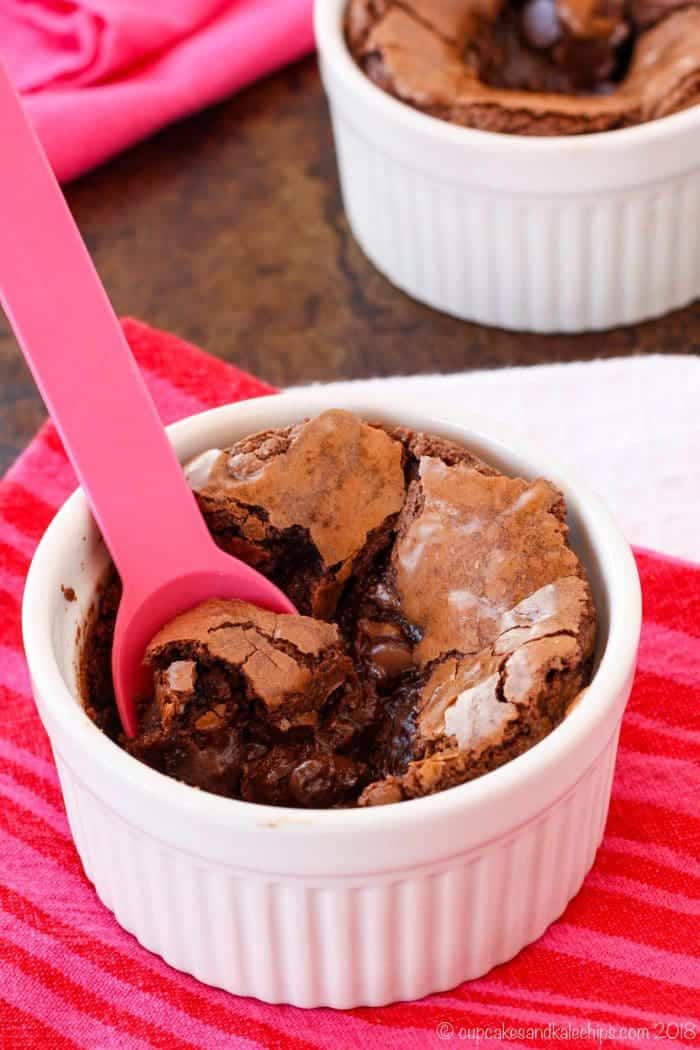 Classic red velvet cake gets scaled down in this gluten-free dessert for two. This gluten-free brownie recipe is warm, rich and fudgy for the ultimate chocolate dessert to share with someone special because it makes just two servings. As it comes out of the oven, it's just begging for a scoop of ice cream. You'll especially enjoy this Vanilla Bean Cheesecake No-Churn Ice Cream. It reminds you of cream cheese frosting, which is red velvet's best friend.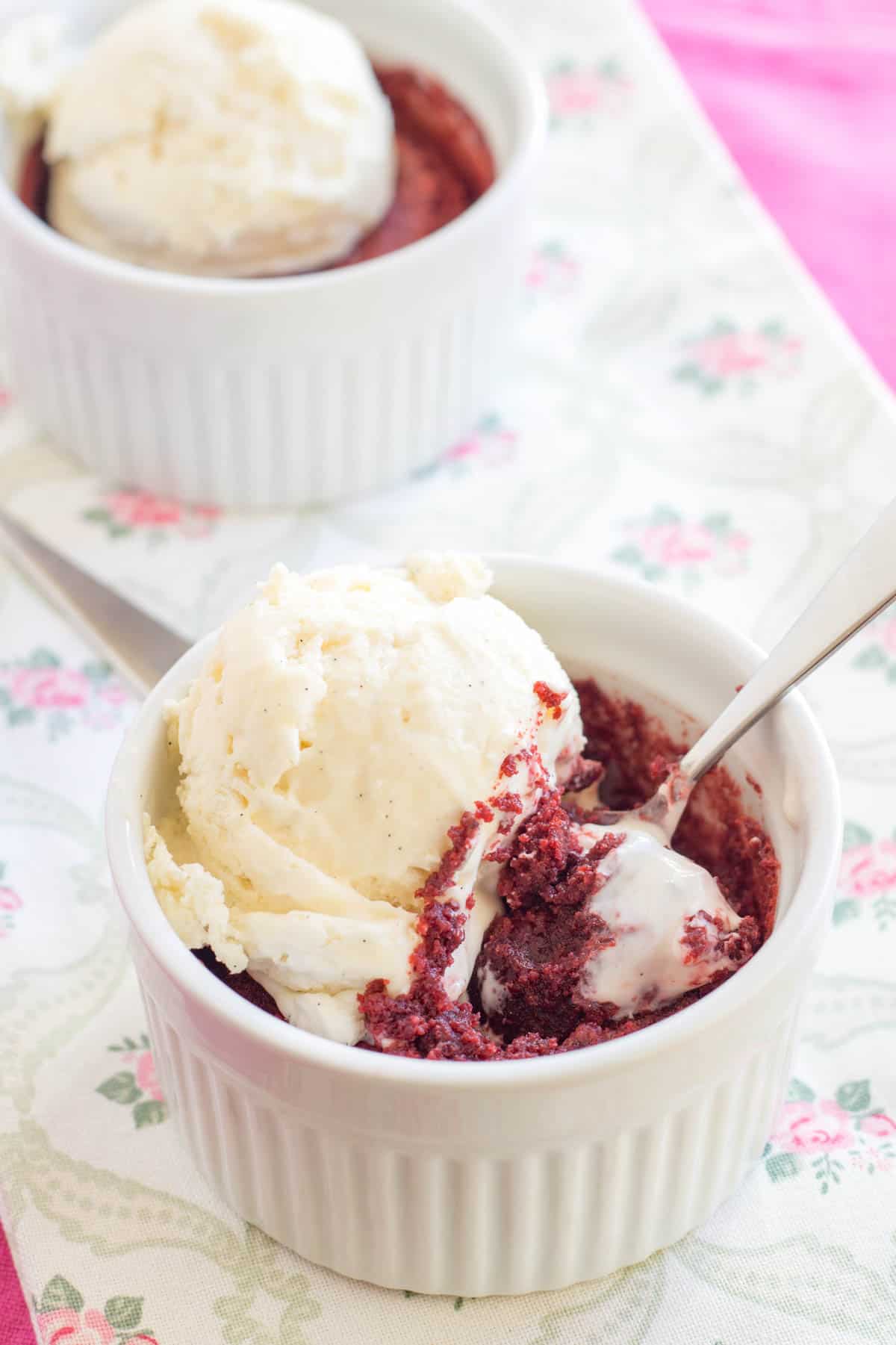 Moist, tender carrot cake studded with nuts and raisins, topped with a creamy and tangy Greek yogurt cream cheese topping that makes just enough to share… but only if you want to! There are a few steps to this one. You'll be separating and whipping the egg white to stiff peaks before folding them into the beaten egg yolk and sugar mixture. But it only takes a few minutes, and it is worth it for the fluffy texture it imparts.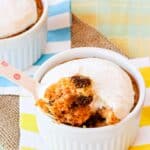 The traditional pineapple upside down cake gets scaled down, and not only made gluten free but even a little healthier. It's an easy recipe for two little individual snack cakes that are made with a few simple ingredients. Additionally, it is sweetened with only a bit of honey making them a better-for-you dessert or even a special after-school snack.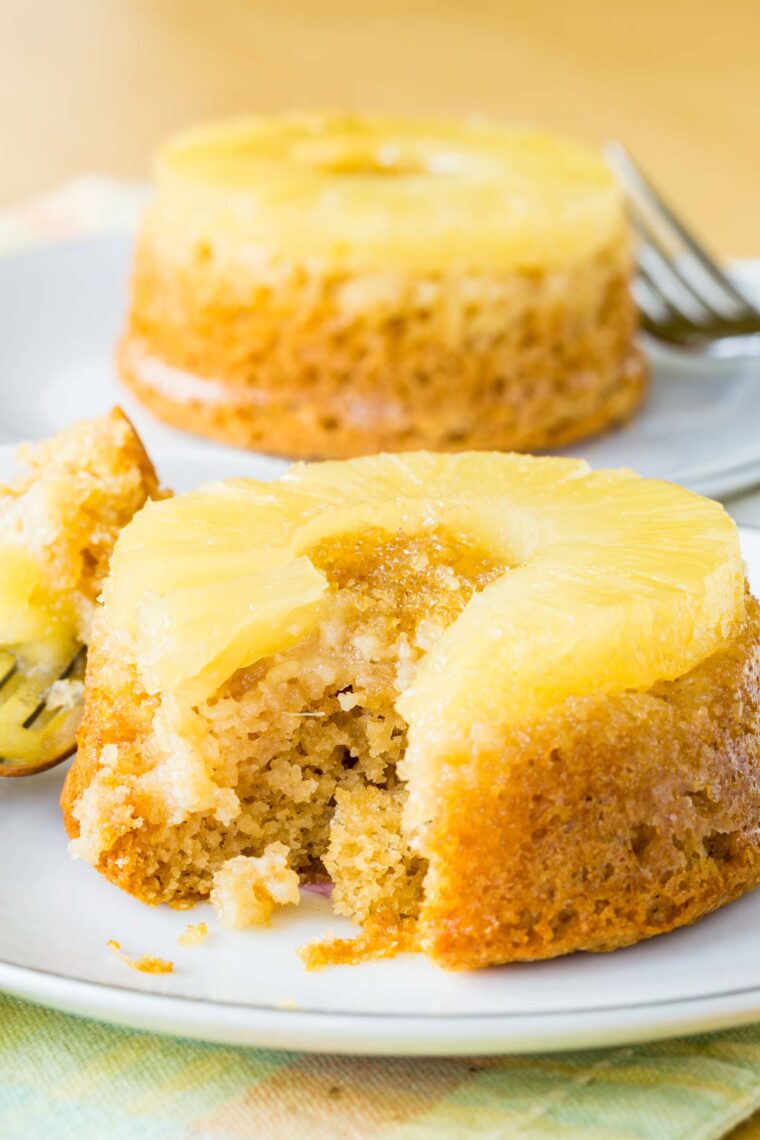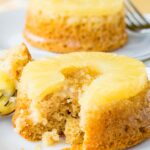 This simple gluten-free dessert recipe differs from the others. It's not a baked dessert, yet it still makes an elegant and easy sweet treat with only two servings. Chocolate and orange are an unexpectedly complementary flavor pairing. And the pistachios add richness and crunch. Combine them all atop some creamy Greek yogurt to serve something that is simply impressive.

Still looking for more gluten-free desserts for two?
Check out this amazing collection of 15 Sinfully Simple Gluten-Free Desserts for Two from some of the best food bloggers.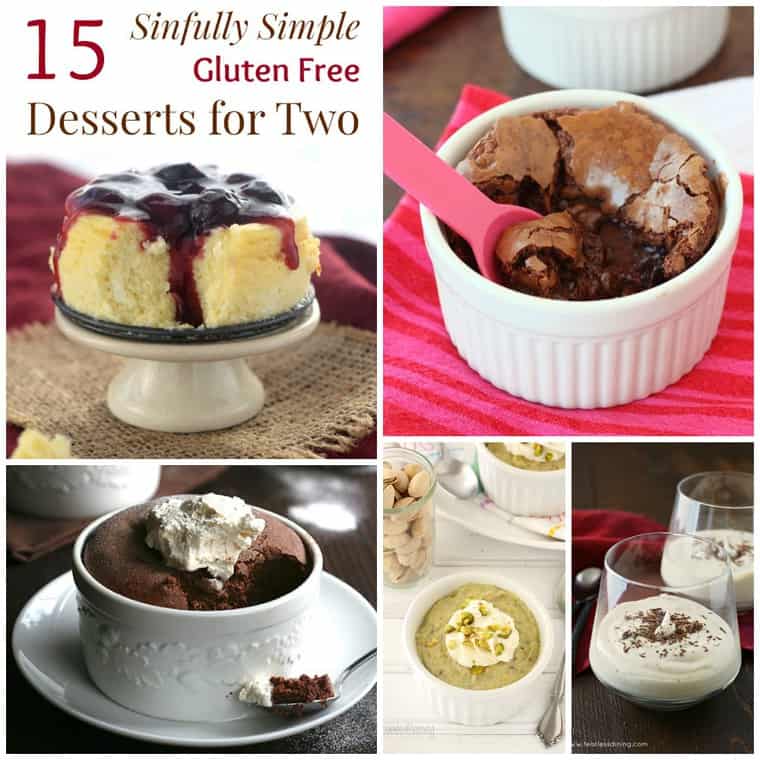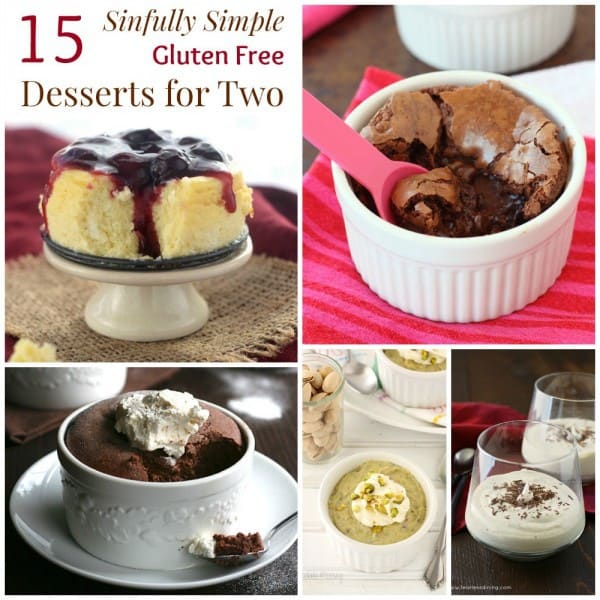 Want to chat with fellow foodies? Join my No-Fuss Food and Fun group on Facebook. Everyday we have fun topics, share recipes and ideas, ask and answer questions, and see all of my new Cupcakes & Kale Chips creations! If you'd like to check it out, you can request to join HERE.
For more yumminess from me and my foodie friends, keep up with me on…
Or sign up to have Cupcakes & Kale Chips delivered straight to your Inbox!